The ITT List
Thursday Jun 14, 2012 2:44 pm
The Justice Department's Battle Against Medical Marijuana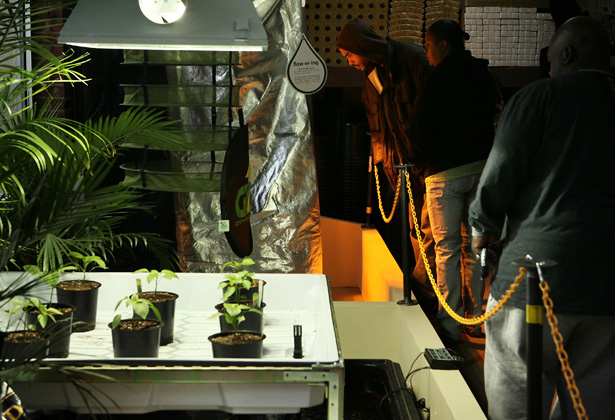 The U.S. Department of Justice has started cracking down on landlords who rent commercial space to medical marijuana distributors, Reuters reports today.
While 17 states and Washington, D.C. have legalized medical marijuana, any possession or use of the substance remains banned—and therefore punishable—under the federal Controlled Substances Act. The Justice Department under President Bush made a point of not distinguishing between medical and recreational use, and more than 200 raids on medical dispensaries were conducted during his administration. While President Obama's Justice Department signaled early on it would not pursue medical marijuana users, in October of last year prosecutors began aggressively targeting clinics and dispensaries in California.
In April Obama explained his stance, justifying the Justice Department's action by saying he couldn't ignore federal law. Earlier this month, in front of the House Judiciary Committee, Attorney General Eric Holder insisted his department was only pursuing those businesses that overreached their respective state's laws. The department has threatened to directly shut down medical marijuana distributors while applying pressure through a range of indirect tactics, such as pushing banks to stop lending to those distributors. This approach has not produced the results they hoped for.
Now federal prosecutors are threatening to bring asset forfeiture lawsuits against landlords in California who rent space to businesses in the medical marijuana industry. If landlords do not evict the businesses, the justice department may be able to take away their property under a civil statute that allows for government seizure of drug trafficking-related assets.
On the other coast, New York governor Andrew Cuomo proposed earlier this month that his state decriminalize possession of up to 25 grams (roughly an ounce) of marijuana, declassifying it from a misdemeanor to a violation resulting in a fine—the plan has the backing of New York City mayor Michael Bloomberg. In a number of other states, legalization is also shaping up be a major election issue.
A medical marijuana measure is on the November ballot in Ohio, while full-blown legalization measures are up for consideration by the people of Colorado and Washington. The Massachusetts Medical Marijuana Initiative and Proposition 19 to legalize medical marijuana in Nebraska are still searching for enough signatures to find spots on the ballots in those respective states. The citizens of Detroit are also considering decriminalizing possession of up to one ounce of marijuana on private property—this comes after Michigan passed a ballot initiative legalizing medical marijuana in 2008.
Some have speculated that the ballot initiatives and higher political profile of the issue might help Obama—a noted one-time pot enthusiast himself as part of the 'Choom Gang' in high school—by bringing more left-leaning voters to the polls, particularly in Colorado, Ohio and Michigan, which look testy in this year's presidential race. Others have questioned this logic, pointing to past examples where marijuana-related ballot measures didn't have an effect on races for public office.
Regardless, Obama is facing more and more pressure on the issue both domestically and internationally—Latin American leaders broached the subject in an April summit (which was overshadowed by the secret service prostitute scandal). In January of 2011, Obama was the first sitting president to discuss marijuana legalization as a legitimate topic of debate, also talking about shifting how the government views drug use and addiction. If this debate has taken place within his administration, though, it has yet to be reflected in its policies.
0 comments ·