Thursday, Aug 16, 2012, 11:13 am
Wikileaks' Assange Granted Political Asylum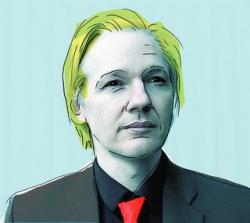 Eight weeks after seeking refuge in the Ecuadoran embassy in London, Julian Assange has been granted political asylum by the government.
Assange is the creator of Wikileaks, a website devoted to exposing secrets in government. In July 2010, the website released 92,000 documents regarding U.S. involvement in Afghanistan, which exposed unreported civilian killings and portrayed the military as ineffectually managing the war.
The following November, Wikileaks, in coordination with the New York Times and other media organizations, published non-classified diplomatic cables involving the U.S. State Department. These revealed unprecedented--and sometimes embarrassing--insights into the inner workings of U.S. diplomacy, which officials claim have strained relations with several foreign countries. Several members of Congress called on the Justice Department to charge Assange with treason.
In December 2010, Assange was accused of sexually abusing two women in Sweden during a summer trip to Stockholm. Sweden petitioned the British government to extradite him for questioning. Assange appealed the extradition to the British courts, arguing that the Swedish government will extradite him to the United States to face treason charges if he is turned over. Controversy on the Left ensued, with some progressives saying the charges were trumped-up or politically motivated, and some feminists accusing them of unfairly dismissing the women's stories.
This May, the British Supreme upheld the extradition request and Assange sought the protection of the Ecuadoran embassy in the U.K. For the past two and a half months, Ecuadoran foreign ministers have debated whether or not to grant him asylum, while British officials have called on them to turn him in. On Wednesday, British officials told Ecuador that if Assange was not turned over, a raid of the Ecuadoran embassy would be justified.
Ricardo Patino, Ecuador's foreign minister, said they decided to grant Assange asylum because "we believe that his fears are legitimate, and there are threats that he could face political persecution if the measures aren't taken to avoid them."
Despite the decision, British officials maintain that will fulfill its obligation to extradite Assange to Sweden.
"Under our law, with Mr. Assange having exhausted all options of appeal, UK authorities are under a binding obligation to extradite him to Sweden," the British Foreign Office said in a press statement. "We shall carry out that obligation. The Ecuadorian government's decision does not change that."
Joseph Misulonas
Joseph Misulonas is a summer 2012 In These Times editorial intern.
More by Joseph Misulonas
View Comments