Tuesday, Oct 23, 2012, 3:00 pm
Pussy Riot Prisoners Sent to Soviet-Era Camps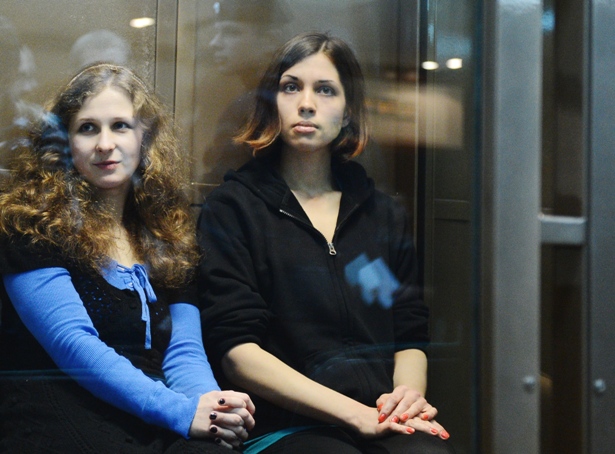 The two remaining prisoners from the activist punk band Pussy Riot, Maria Alyokhina, 24, and Nadezhda Tolokonnikova, 22, have been sent to penal colonies to serve the remainder of their two-year prison sentences, which are scheduled to end in March 2014. Pussy Riot tweeted Monday that the prison camps they were sent to "are the harshest camps of all the possible choices."
The women were sentenced to two years in jail last month after being convicted of "hooliganism motivated by religious hatred" for a February protest in which they burst into Moscow's main cathedral and performed a "punk prayer." The song called for the Virgin Mary to rid Russia of Vladimir Putin, who was beginning a controversial March election that would lead him to his third term as the president of Russia—despite Russia's two-term limit.
During an October 10 appeal hearing, the judge decided that Alyokhina and Tolokonnikova should finish out their two-year sentences, despite the women's insistence that their actions were politically motivated. A third jailed member, Yekaterina Samutsevich, has her sentence suspended on the basis that she played a smaller role in the protest.
On Monday, defense lawyer Violetta Volkova told the Agence France-Presse (AFP) that Alyokhina was sent to a women's prison camp in the Siberian region of Perm, while Tolokonnikova was sent to a camp in Mordovia, in central Russia. AFP news explains:
The Perm region in the Urals Mountains and Mordovia in central Russia host a vast network of prison camps dating back to the Soviet era and infamous for their tough conditions. … The Perm region, where temperatures can fall as low as minus 50 degrees Celsius in winter, housed Stalin-era labour camps, one of which has been turned into a museum about the history of political repression. … Mordovia is a region dotted with lakes that is chiefly known for its prison camps dating back to the Stalin era. In the 1930s and '40s, the prison population here numbered 23,000 prisoners, according to the regional prison service's website.
The prison camps are also notably far from Moscow, where the women had petitioned to serve their sentences in order to stay close their families. Tolokonnikova has a 4-year-old daughter named Gera, and Alyokhina has a 5-year-old son, Filipp. Mordovia is about 400 miles from Moscow, while Perm is about 900 miles away. Lev Ponomaryov of the For Human Rights movement tells the Moscow Echo, "Evidently the women have been sent to distant colonies so it's harder for the Pussy Riot members to contact relatives and lawyers, and also it's harder for the public to check on their fate."
As if this didn't already seem like the plot of a Soviet spy novel, The Guardian reports that the public and the women's families and lawyers are in the dark about the women's current whereabouts and specific prison-camp destinations.
View Comments