Tuesday, Jan 29, 2013, 4:27 pm
AFL-CIO President Promises 'Full-Fledged Campaign' to Pass Immigration Reform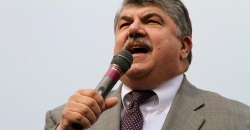 Unions are putting their full weight behind the push for immigration reform, according to the leader of the country's largest labor federation.
AFL-CIO President Richard Trumka told Yahoo News on Tuesday that organized labor is "entirely behind" immigration reform and will embark on a "full-fledged campaign" to ensure Congress passes effective immigration policies. White House officials have acknowledged organized labor as one of the key supportive groups backing immigration reform.
From Yahoo News:
Labor wants to see a comprehensive overhaul—"It can't just be hit and miss," Trumka added—that does a better job of managing legal immigration to meet labor market needs, ensures employers are not exploiting undocumented immigrants, gives those on U.S. soil illegally a path to citizenship and makes sure that families are not broken up, he said.

Trumka also noted that unions are "a little concerned" about a proposed provision in the bipartisan Senate framework requiring that undocumented immigrants seeking legal status provide "a proven history of employment." That could be difficult—employers may not want to admit that they hired such workers—but it could "be defined in a very broad sense," he said.
Camille Beredjick
Camille Beredjick is a student of the Medill School of Journalism at Northwestern University and a Spring 2013 ITT intern.
More by Camille Beredjick
View Comments