Tuesday, Dec 10, 2013, 11:30 am
In Chicago, the War Is Far From Over, Says Documentary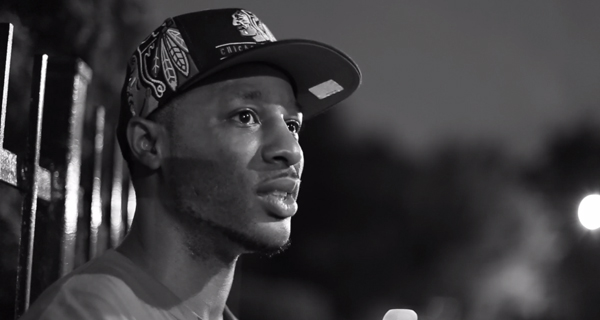 4,265 U.S. citizens have been killed in Chicago since 2001—2.5 times more than in the Afghanistan War zone.
So opens Will Robson-Scott's 13-minute documentary short "Chi Raq", a meditation on the violence and poverty that has wracked Chicago for years. Filmed in black and white, many of the lingering shots of the city and its inhabitants could stand alone as haunting portraits of a community left behind by politicians and half-hearted philanthropists.
Without the intrusion of any narrator, the subjects of "Chi Raq" stand before a camera—some with remorse, some with frustration or nihilism—to publicly address the danger prevalent on the streets of their neighborhoods. Through this intimacy, the viewer begins to see them as people whose narrative perspectives should be at the forefront of local policy-makers' discussions.
Robson-Scott titled the film "Chi Raq" after the unofficial, and contentious, moniker given to the city by various local and national media outlets—a name that brings to mind the trauma of war. In "Chi Raq," we encounter the soldiers of the South and West sides, where the homicide rate is highest: men in gangs who are fighting for power and economic survival. We hear about the civilian casualties: the unintended victims of stray bullets. And then we see those left behind: the men and women who grieve for lost friends and family.
The interviews unveil a reality about Chicago's poorest neighborhoods that some outsiders may prefer to ignore—that for many residents, day-to-day existence can literally be life-threatening. And, as Robson-Scott's interviews show, the cycle of violence often begins early, when adolescents are arrested for relatively minor crimes and then find themselves unable to escape the lingering emotional and societal consequences.
"First thing I remember was being arrested when I was a shorty ... I was like 13," one unnamed man says, describing his coming-of-age within the revolving door of the juvenile justice system. Standing amongst friends, there is no bitterness in his voice, just an unflinching understanding of his circumstances. He continues, "So once I became a part of the system, it kinda f---ked me up."
Another man, also unnamed, explains how this struggle for survival can eclipse any other long-term alternatives. "They say there's a better way, but for some of us that's a picture we can't even see," he says. "What we do every day is a better way for us."
Though politicians have stressed the importance of targeting individual offenders as a means to combat the bloodshed, Robson-Scott's film shows that the lack of city investment in crucial areas like safe public schools and trauma centers has been devastating for violence-prone areas.
"Something is missing for the young men," says Valerie Kyles, the mother of a son killed by gunfire in 2012.

Cecilia Scott, whose nephew was robbed and murdered even though he was not a part of a gang, agrees, "They need to set a center up and let these kids go play basketball or get on the computer or do something besides violence." She continues, holding back tears, "Violence is not going to make nobody—they're going to be in jail or they're going to be dead."
While the documentary does not tackle the history or policies behind Chicago's inequality, it portrays the emotional realities for those living in one of the country's most segregated citiies, effectively striking at the heart of what decades of disregard have begotten.
Watch the film, released online August 7 by independent production company Protein TV, here.
More by Analeah Rosen
View Comments