Friday, Jan 24, 2014, 3:15 pm
Victory in Seattle Inspires Chicago Socialist Campaign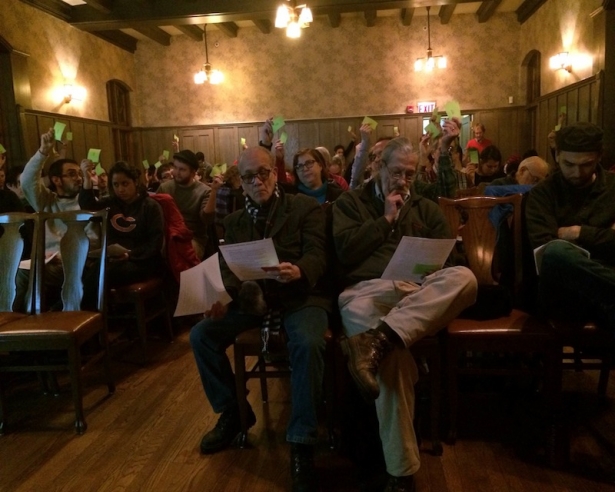 If a socialist can win an election in Seattle, why not Chicago? That was the spirit at the University of Illinois-Chicago's Jane Addams Hull House Museum on Wednesday night, where close to 100 Chicagoans gathered for the founding meeting of the Chicago Socialist Campaign.
Drawing on the example of Seattle's Kshama Sawant—who in November became the first socialist in recent memory elected to a city council—the campaign seeks to run a socialist candidate for alderman in Chicago's 2015 city council race. Activists also plan to use the electoral effort to amplify the demands of popular movements in Chicago, such as the call for a $15 minimum wage.
The January 22 meeting drew members of several socialist organizations—including Solidarity, Socialist Alternative and the International Socialist Organization—as well as members of community organizations and unions, such as Chicago Teachers Union, AFSCME and Service Employees International Union. Overall, the mood was hopeful. Shaun Harkin, a member of ISO, called the campaign "an exciting opportunity," and his sentiment appeared to be shared by an ebullient crowd.
Inspired by Sawant's victory, Chicago organizers first held an impromptu meeting last month to gauge interest in a similar effort in the Windy City. They emerged with a vision statement that calls for building a "people-centered" movement to "make real and lasting change" to the system.
On Wednesday, they turned to fine-tuning that vision statement and discussing organizing and campaigning plans. The biggest question, of course, is who to choose as a candidate. The campaign plans to begin by deciding where to run a candidate, as aldermen must reside in their own ward. By February, the research committee plans to have identified four wards conducive to electing a socialist candidate based on community support and incumbent vulnerability. One ward will be ratified by vote in a February open meeting.
Attendees expressed belief that a suitable candidate would arise organically from grassroots organizing. But organizers did identify the type of candidate they hope for—a socialist who would represent a multitude of community voices.
Ervin Lopez, a local teacher and community organizer, noted that the movement was seeking to represent a population that wasn't necessarily in the room. "Right away my first observation was that it seems like another predominately white-Left socialist group," Lopez said of the event, adding that local labor and activist leaders from the South and West Sides of the city weren't present.
The Chicago campaign is also seeking an independent socialist candidate—someone without a socialist party affiliation. In doing so, it is making an important departure from the Seattle model, where Sawant ran as a member of the Socialist Alternative party. Chicago is home to many existing socialist organizations and independent socialists who, organizer Isaac Silver believes, must be brought together to achieve operational unity.
Organizers hope to have a candidate by late spring, but the deadline is Aug. 26, 2014, when the campaign can officially begin collecting signatures for the ballot. A minimum of 473 valid signatures is needed to gain ballot access. Campaign organizers aim to secure at least four times that many, while also registering new voters, whom they see as key to the movement because many potential supporters do not vote for either major party.
The sense that the major political parties had failed to represent the masses pervaded the room on Wednesday. Organizer Eugene Lim said the campaign was not just about winning office, but reclaiming the word "socialist" to mean those who fight for the proletariat and the disenfranchised. "If we go forward in those arenas," he says, "We have won."
View Comments