Monday, Jul 7, 2014, 4:31 pm
Confronting Chicago's Tortured Past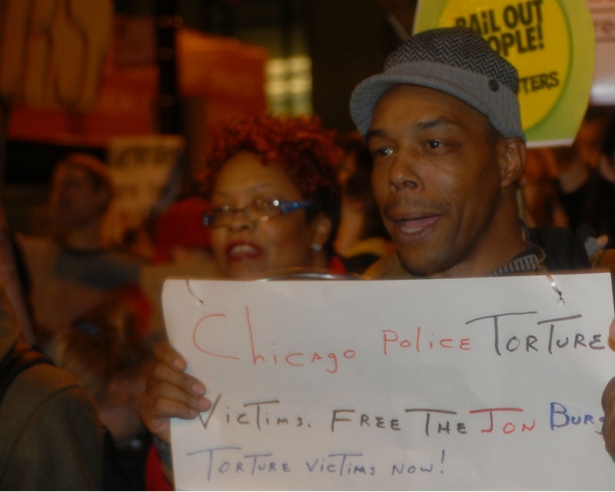 Last year, Chicago Mayor Rahm Emanuel issued an apology for a spate of police torture during the 1970s and 80s, during which the Chicago Police Department arrested and tortured an estimated 118 African-American men and women in order to obtain confessions and intimidate community members. Emanuel called this period "a dark chapter of the history of the City of Chicago," but said it was one that the city has to "move on" from. But while some are asking for the books to be closed, human-rights advocates are pushing forward with a campaign to secure reparations for torture survivors and to free those still behind bars for crimes they didn't commit.
In April, hundreds of people gathered in downtown Chicago to demand reparations for survivors of police torture, including the creation of a $20 million fund and a formal apology from the city of Chicago. The Chicago Torture Justice Memorials project and Amnesty International organized the action, a march from the JW Marriot in the Loop, the site of Amnesty International's annual general meeting, to a rally at Daley Plaza, where protesters chanted, "City Hall, we want justice." The participants held black banners with the names of known victims of Police Commander Jon Burge and his subordinates, known as the "midnight crew."
In May 1972, Burge, a former military police investigator in Vietnam, was promoted to police detective and assigned to Area 2 on the South Side of Chicago. For nearly 20 years afterwards, Burge took part in and later oversaw the systematic torture of more than a hundred African-American men, who were beaten, suffocated, burned and electro-shocked during interrogations.
Despite multiple statements and complaints denouncing reported torture in the Area 2 Violent Crimes Unit—including a 1991 Amnesty International report—Burge continued as the head of a South Side police headquarters until February 1993, when the Chicago Police Board fired him for torturing and physically abusing Andrew Wilson. However, he was not criminally charged at the time and due to the statute of limitations, Burge was never convicted for torture. But on January 2011, the former officer was sentenced to 54 months in prison for lying about torture and abuse committed by the Chicago Police Department.
On May 30, 1973, Anthony Holmes was allegedly electro-shocked repeatedly and suffocated by Burge and another detective. "The very last time [that I passed out and was brought back]… I felt like I was dying," explained Holmes in 2006. "I said this is it. I'm in. Whatever you want me to say or do, I did it. Killed the president? Yes, I did that too. I didn't care, I just wanted to get out of there." Holmes confessed to a murder he says didn't commit and spent 30 years in the penitentiary. Released in 2004, Holmes has received neither compensation nor an apology from the city.
"It's just shocking and galling to me that while our government recognizes that Anthony was tortured and victimized in this way, we've provided no support for him whatsoever, no reparations, no redress whatsoever," says Joey Mogul, partner at the People's Law Office, a Chicago-based organization of attorneys that has fought for the civil rights of victims of police brutality and against wrongful convictions for more than 40 years. The Office has represented torture victims of the Chicago Police Department for the last 26 years.
Like Holmes, most Burge torture victims and their families have received no compensation or support from the state. Several former inmates have been exonerated and gone on to win sizeable civil rights settlements, some for over $6 million.
But torture survivors are demanding something more substantial. A reparations ordinance, proposed in October 2013 by Chicago Aldermen Howard Brookins Jr. (D-21) and Joe Moreno (D-1), would require the creation of a $20 million fund, in addition to a formal apology from the city, free enrollment at city colleges, healthcare and psychological treatment for the victims, among other things. A scheduled hearing on the proposed ordinance was postponed this spring.
Johnny Plummer is another inmate who, as a result of alleged torture and intimidation from police, confessed to a crime he later said he hadn't committed. Arrested at the age of 15, Johnny has spent more years in prison than outside of it.
"He challenged his confession, appealed and filed post-conviction petitions," says Mogul. But 23 years later, Johnny is still incarcerated. "The court has perpetually decided to believe the officers' testimony … over his testimony."
Jeanette Plummer, Johnny's mother, recalls the first time her son told her he was tortured. Johnny called her crying, saying that the police beat him. When she visited him, she saw the bruises on her son's body. "I know what I see with my own eyes, and I'll never forget how my son's body looked," says Plummer. "He was just a baby, he was 15 years old. How can you do that to a 15-year-old kid?" Jeanette says she doubted that anyone would believe her, but filed a police report nonetheless. "Ever since then, it's like a nightmare," says Johnny's mother. "I can't sleep, I wonder if my son's safe."
Jeanette tells In These Times that it was overwhelming to see the number of people who attended April's protest. "I started crying," she says. "I didn't know that many people supported us. We need that kind of support and I hope they don't stop fighting. I'm not going to stop fighting."
Johnny's mother says that the families and victims need people to know what happened in order to fight for justice. "People were tortured, that's not something that they can wash away." Since Johnny has been in jail, his grandmother, his two aunts and his father have passed away. "That man [Burge] did some damage, that man tore up a whole lot of people's lives. They can never get that time back," says Jeanette.
Mogul says that the People's Law Office is seeking to have Plummer's conviction thrown out and the original case re-tried in in light of overwhelming evidence suggesting torture committed by Burge's crew.
In the meantime, Jeanette and Johnny are optimistic. "Johnny has hope that he is going to get out…All l can do is keep fighting until he comes home, because he's definitely coming home," says Jeanette.
View Comments