Wednesday, Jun 22, 2016, 7:00 am · By George Lavender
Hepatitis C affects an estimated 1% of the general population but 17% of the prison population. Until relatively recently, treatment for the disease had extremely limited success rates and highly unpleasant side effects. That's changed with the introduction of new drugs that are significantly more effective at treating the disease.
However, not all prisoners have been able to receive the new drugs, something that has prompted some prisoners to take corrections departments in Massachusetts, Minnesota and Pennsylvania to court. At issue is the cost of the newer drugs. Take Solvadi and Harvoni, for example, two of the most successful new drugs. A single pill of each costs $1,000 and $1,125 respectively. Prison departments that are using the newer treatments have seen their spending on Hepatitis C increase dramatically.
A study published earlier this year in the Annals of Internal Medicine argues that treating Hepatitis C in prisons, has consequences outside prison walls as well. In fact, the study claims that the move is cost-effective in the long-run. This was a recent story I produced for Marketplace:
Dr. Jagpreet Chhatwal, assistant professor of radiology at Harvard Medical School, has studied the economics of treating hepatitis C in prisons and said that while the drugs are expensive, liver transplants and treatment for patients with hepatitis C in its later stages are also costly.

He said treating the disease in prison is worth it in the long run because cutting the number of infected people in prison has a dramatic impact on the number of people living with the disease society wide. That's because the average length of time anyone spends in prison is three years, but it can take 20 or even 30 years before the more damaging consequences of hepatitis C manifest. By that point, the majority of those who had been in prison have been released and would require treatment in the community.

Chhatwal said his findings show that if all prisons tested all prisoners and treated all those who needed it, they would diagnose between 41,900 and 122,700 neses of the disease in prison over 30 years. To do this, he said, would require prisons on average to ramp up spending by an extra 12 percent. Continue reading…
Monday, Jun 20, 2016, 11:40 am · By George Lavender
"Even if the sentence is light, hopefully this will wake people up," she said. "I want the judge to know that he ignited a tiny fire. If anything, this is a reason for all of us to speak even louder." Stanford sexual assault survivor (via Buzzfeed)
Earlier this month, Brock Turner, a former Stanford University Student was sentenced to six months in jail for sexual assault. On "good behavior" he will serve three. There has been a long-running campaign against campus sexual assault for many years, but this case gained national attention after a statement by the survivor of the assault went viral.
The statement, which she read in court, is directed for the most part at Turner himself. She describes the assault and the effects it has had on her. She describes being revictimized by Turner's testimony, and the accusatory lines of questioning she faced. She also thanks those who had supported her, including the two other students who witnessed the assault and intervened.
Her letter received widespread attention. Among those prompted to respond publicly was Vice President Joe Biden who described himself as "filled with furious anger" and wrote "An Open Letter to a Courageous Young Woman."
The court case prompted intense public discussion and many, many, articles written about the legal and criminal justice issues it raises. Here I've tried to compile just some of those responses
Sunday, Apr 24, 2016, 7:38 pm · By George Lavender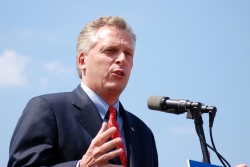 Virginia's Governor Terry McAuliffe restored the voting rights of more than 200,000 people previously convicted of felonies on Friday.
In a statement McAuliffe said: "Too often in both our distant and recent history, politicians have used their authority to restrict peoples' ability to participate in our democracy. Today we are reversing that disturbing trend and restoring the rights of more than 200,000 of our fellow Virginians who work, raise families and pay taxes in every corner of our Commonwealth."
According to a report by the Sentencing Project, in 2010 nearly 6 million people were unable to vote because of a felony conviction. The same report found that felony disenfranchisement disproportionately affected African Americans. Rates of disenfranchisement were four times higher amongst African Americans compared to the rest of the population. Virginia was one of three states, where more than one in five African Americans are disenfranchised because of a prior felony conviction.
McCauliffe is a prominent Clinton ally, leading some Republicans to suggest the move was motivated by electoral politics in a swing state, than about civil rights. Virginia's Republican Party Chairman John Whitbeck told Fox News voting rights should be restored to "those who have paid their debts to society" but "there are limits." He went on "Gov. McAuliffe could easily have excluded those who have committed heinous acts of violence … . His decision doesn't speak of mercy. Rather, it speaks of political opportunism."
As Politico reports, the Governor used an appearance on ABC to hit back at his critics.
"Well, I would tell the Republicans quit complaining and go out and earn these folks' right to vote for you. Go out and talk to them," the Democratic governor told George Stephanopoulos. "I find it very—and in fact, I think some of the language that has come out of the Republicans, I would tell them to be very careful at how they frame this, very careful of their rhetoric."

Republicans, he continued, "have an opportunity to go out and get these individual new voters to vote for them. But make your argument." Continue reading...
According to the New York Times' Nate Cohn the move could have a small but significant impact on elections in Virginia. He notes that "ex-felons are less likely to vote than nonfelons, even when ex-felons are eligible to vote" but that in a best-case scenario for Democrats re-enfranchised voters could add 29,400 extra votes for Democrats. "In the 2012 election, that would have increased Mr. Obama's margin of victory to 4.6 percentage points from 3.9" Cohn writes.
"There aren't many things that can move the results of a presidential election by a half-point. The Clinton or Sanders campaign would undoubtedly spend millions of dollars to earn that kind of extra edge. Mr. McAuliffe has given it to them." Continue reading...
Virginia follows Maryland in restoring voting rights to those convicted of felonies. The Maryland legislature passed a bill in February restoring the rights of 40,000 Marylanders, about half of whom live in Baltimore.
Tuesday, Mar 15, 2016, 1:05 am · By George Lavender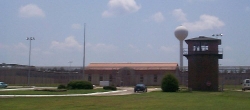 Alabama's Governor blamed "a volatile mix of overcrowding and understaffing" for two prisoner uprisings at state facilities in the space of three days. Governor Robert Bentley called for immediate action to "reduce overcrowding and provide facilities that are safer and more secure for both inmates and corrections officers."
The William C. Holman Correctional Facility was placed on lockdown after prisoners stabbed the prison warden and a corrections officer and set fire to parts of a dormitory on Friday night. The prison was said to be under the control of corrections officers on Saturday, but on Monday morning prisoners again barricaded themselves in a dormitory. According to the AP the dormitory was again under corrections control by the evening.
Videos from the uprising were apparently posted online along with statements from prisoners themselves, like this one posted on AL.com
It's not the first time that Alabama prisoners and politicians have highlighted overcrowding and poor conditions inside Alabama's prisons. About 24,000 prisoners are currently held in prisons designed for around 13,000.
The Prison Complex previously reported on the prisoner-led "Free Alabama Movement" as well as efforts by legislators to reform the state's prison system.
Governor Bentley advocates building three new men's facilities and closing 13 of the state's 15 prisons.
Friday, Mar 4, 2016, 10:31 pm · By George Lavender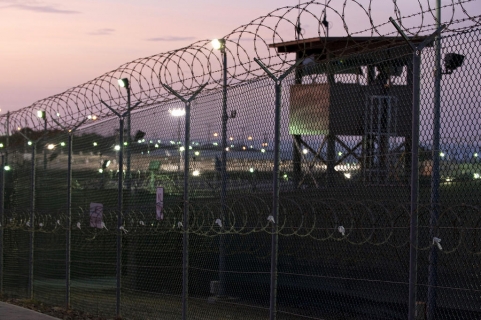 Keeping his campaign promise to close Guantanamo Bay detention camp has so far eluded President Obama.
Questions about the legality of detaining foreign nationals without trial, as well as accusations of torture at the site have dogged the detention facility since the first prisoners arrived in 2002. There are now less than 100 detainees remaining at Guantanamo. This February the Department of Defense sent Congress a new plan to close the camp. Under the plan, detainees cleared for transfer to other countries will continue to be moved out of Guantanamo and the remaining detainees will be transferred to the US. The small number that have been convicted under the controversial military tribunal system would serve their sentences here, others would be charged and tried in either military or civilian courts. The remainder would continue to be held without charge under law-of-war detention.
But there's a major obstacle to this plan: Congress.
Congress has repeatedly passed legislation that prevents the use of federal funds to transfer detainees to the US. National and local politicians opposed to the transfers say that bringing detainees suspected of terrorism to the US will put Americans at risk. Advocates for closing Guantanamo point out that there are already 349 people convicted of terrorism serving sentences in the US.
If, and that's a big "if," detainees were ever brought to the US, where would they be held? The new plan does not name specific facilities, but in the past a number of existing prisons have been suggested, and a team from the Pentagon recently visited several other sites. Here are the prisons that are reportedly being assessed, or have previously been considered for detainees.
Midwest Joint Regional Correctional Facility, Fort Leavenworth
Listed in a Government Accountability Office (GAO) report as a possible facility to hold Guantanamo detainees, the Midwest Joint Regional Correctional Facility is one of three federal prisons at Leavenworth. Robert Bales, the US Army soldier found guilty of killing 16 Afghan civilians in what became known as the Kandahar Massacre, was held here and also at the North East Joint Regional Correctional Facility (NEJRCF) in Washington before his trial. The NEJRCF was also listed in the GAO report.
US Disciplinary Barracks, Fort Leavenworth
The US Disciplinary Barracks first opened in 1874 and was rebuilt in 2002. It's the military's only maximum security facility for court martialed male officers and is also the site of the military death row. It has frequently been proposed as a possible location for Guantanamo detainees, but faces local political opposition. Kansas Governor Sam Brownback, together with the Governor of South Carolina, Nikki Haley, wrote to the Defense Secretary Ash Carter, opposing any transfer of detainees to his state. Their letter called those in Guantanamo "among the most deadly terrorists in history" and concluded "please know we will take any action within our power to make sure no Guantanamo Bay detainees are transferred to South Carolina and Kansas."
Naval Consolidated Brig, Charleston
The Naval Brig at Charleston has already been used to hold terrorist suspects. Jose Padilla, a US citizen designated an "enemy combatant" was held for three and a half years without trial here before being tried in a federal court and convicted of conspiracy. He is currently serving his sentence at ADX Florence, the only super-maximum security prison run by the Bureau of Prisons, which holds several prisoners convicted of terrorism. The GAO report also pointed to the Naval Consolidated Brigs in Chesapeake and Miramar as possible locations for Guantanamo detainees.
Federal Correctional Institute, Florence
Along with Centennial Correctional Facility, FCI Florence is one of the Colorado prisons the Pentagon team assessing alternatives to Guantanamo planned to visit. FCI Florence is nextdoor to ADX Florence. Both FCI Florence and Centennial Correctional Facility are in Representative Doug Lamborn's (R) district. Representative Lamborn voiced his opposition to the Pentagon even considering the two prisons saying "The people of Colorado do not want the world's worst terrorists housed in our own backyard and we will not stand for this" he went on to say he would do "everything in my power to resist these unlawful terrorist transfers from taking place." Governor John Hickenlooper (D) sounded a more conciliatory note, his spokesperson said "The governor, like the Pentagon, wants to have a full understanding of the costs, risk and impacts for Colorado."
Centennial Correctional Facility, Cañon City
Colorado's Department of Corrections opened Centennial Correctional Facility in 2010 and closed it just two years later, due to a lack of prisoners. Designed with 948 isolation cells, the prison was intended to hold prisoners in solitary confinement but the state's reduction in use of solitary meant that the $208 million prison was used only briefly and now sits empty.
AUSP Thomson
The federal government purchased the "state-of-the-art, maximum-security prison" from the State of Illinois in 2012 for $165 million. It had been touted as a possible site for detainees, but by the time the government took ownership of the prison, Congress had already blocked the use of federal funds to transfer Guantanamo prisoners to the US.
Even if Congress agreed to allow the transfer of detainees to one or more of these facilities some advocates, such as the ACLU, have raised concerns that serious issues with the detention and treatment of terrorism suspects would remain.
Importing indefinite detention and unfair military commissions would just create "Guantánamo North" on American soil, entrenching the prison's blight on our nation's core values and the rule of law. And it will perpetuate, and possibly worsen, the agony of men denied an end to their plight. Continue reading...
With the Republican leadership in Congress publicly opposed to any transfer of detainees a deal to move them to the US seems unlikely.
Wednesday, Mar 2, 2016, 1:04 pm · By George Lavender
Have you ever wondered how companies make money from incarceration?
These recently released graphics, produced by the research and policy center In The Public Interest, map some of the many ways private companies are involved in each stage of the criminal justice and immigration systems.
The Prison Complex spoke with Donald Cohen, the Executive Director and founder of In The Public Interest.
What sparked this interest in private companies in the criminal justice and immigrant detention systems?
We did it for a few reasons. We focus a lot on private prisons and we realized that it went much further, that there was a lot of private involvement in all the steps that someone walks through when they're walking through the corrections or immigrant detention system.
We wanted to give a picture of the entire industry. Private incentives and private interests in public goods in corrections are not aligned with public goals. They make more money by having more people in beds and providing more of these services. We don't want that. We want less people in these services, we want money spent on education and the things we value. The final reason we wanted to do it, and this is the beginning of a larger project, we wanted to show how much profit is being extracted from the system of corrections which could be used for far better things. Better pay for corrections officers would actually help because there's high turnover. But also mental health services, and job services and education.
How did you come up with these maps?
Over the last few years we've been collecting lists of companies in the industry, and there are industry sources. One of the documents we used a lot was produced by a company that does analysis for investors. They're saying "look at all the opportunities in corrections!"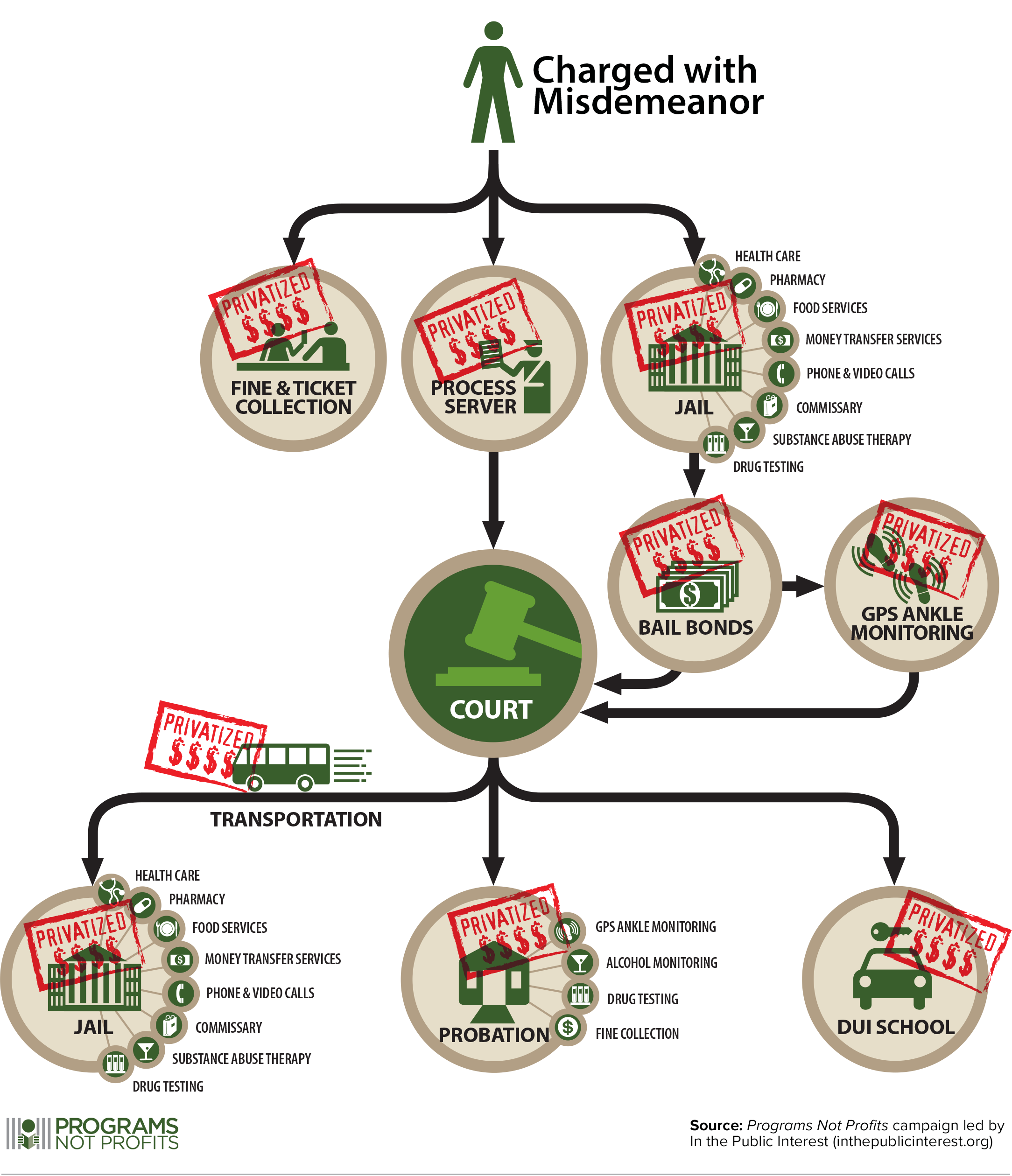 Why focus on private prisons?
(The point is often made that) it's only 10% of the population. Our work is in the context of a broader analysis around mass incarceration. There are different things we should be doing to reduce prison populations.. We think one key element of (that) strategy is to remove (private company's) power and influence which is clearly a clash between their interests, which is more heads in beds, and ours, which is less heads in beds.
This interview has been edited for clarity
Friday, Feb 19, 2016, 12:50 pm · By George Lavender
Albert Woodfox, the last member of the "Angola 3" still behind bars, is expected to be freed Friday afternoon after more than forty years in prison, mostly in solitary confinement. Woodfox had always declared his innocence in the killing of prison guard Brent Miller in 1972. As Maya Lau of The Advocate reports, by entering a no contest plea to lesser charges of manslaughter and aggravated burglary, he is entitled to be released from prison for time served.
A Black Panther activist at the Louisiana State Penitentiary at Angola, Woodfox and co-defendant Herman Wallace maintained they were blamed for the killing because they had agitated for better conditions during one of its bloodiest periods. Woodfox was convicted twice for the murder, once in 1973 and again in 1998, but judges identified problems with the way the grand juries were selected, overturning the convictions.

U.S. District Court Judge James Brady, one of those judges, went even further last summer, ordering the state to release the 69-year-old Woodfox and banning the Attorney General from retrying him for the crime. But the 5th U.S. Circuit Court of Appeals overturned Brady, saying a third trial could go forward.

Continue reading...
Together, Woodfox, Wallace and Robert King, another Black Panther Party member, became known as the "Angola 3," after the original name of the Louisiana State Prison. King, who was never charged with Miller's murder but who authorities maintained had been involved, was released in 2001. Wallace was freed from prison in 2013, and died three days later of advanced liver cancer.
Monday, Jan 18, 2016, 3:00 pm · By George Lavender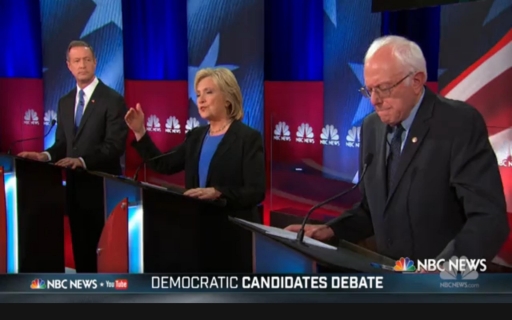 Are you Feeling the Bern or Ready for Hillary? Here's where the three Democratic presidential candidates stand on criminal justice issues.
Hillary Clinton
During this campaign Clinton has talked repeatedly about the need to end "mass incarceration," and she continued that theme at the debate.
"One out of three African American men may well end up going to prison. That's the statistic," Clinton told the audience "I want people here to think what we would be doing if it was one out of three white men."
Clinton's positions on criminal justice issues have shifted over the years. As The Marshall Project puts it, Clinton has gone from "young, idealistic lawyer who represented people convicted of rape and murder and opposed the death penalty" to "wife (and a vocal supporter) of Bill Clinton, the tough-on-crime, pro-death penalty governor of Arkansas" to the First Lady who "vouched for a crime bill that significantly contributed to mass incarceration."
Along with both Bernie Sanders and Martin O'Malley, Clinton's campaign has promised to eliminate the sentencing disparity between powder and crack cocaine which research has suggested results in significantly harsher penalties for poor people and people of color. At the debate, Clinton said "we have to move away from treating the use of drugs as a crime and instead, move it to where it belongs, as a health issue."
But there are differences between Clinton's criminal justice plans and those of her opponents. For instance, both Sanders and O'Malley oppose capital punishment, while Clinton has said she is not in favor of abolishing the death penalty.
Clinton also faced criticism from activists earlier in the campaign for her links to private prison companies. Her campaign later announced that they would no longer accept donations from federally registered lobbyists or PACs for companies involved in incarceration and that money she has already received will be donated to charity. (Both her Democratic opponents have pledged to end for-profit incarceration if elected)
Bernie Sanders
After facing criticisms from some in the Black Lives Matter movement Bernie Sanders released a wide-ranging set of campaign positions, including several policy pledges specifically on criminal justice and policing.
At the debate, Sanders noted that as Mayor of Burlington he had worked "very closely and well with police officers, the vast majority of whom are honest, hard- working people trying to do a difficult job" but "if a police officer breaks the law, like any public official, that officer must be held accountable."
Sanders went on to say that police departments should be "de-militarized" and that they should "look like the communities they serve in their diversity." (How you actually achieve that is complicated) He also argued "whenever anybody in this country is killed while in police custody, it should automatically trigger a U.S. attorney general's investigation."
As a member of Congress, Sanders voted against the death penalty at almost every opportunity, and has supported efforts to decriminalize marijuana. (He recently called for the drug to be removed from the government's list of banned substances, a step further than his two opponents who only want it recategorized) He initially opposed an early version of what became "The Violent Crime Control and Law Enforcement Act (1994)" which he said was not "a crime prevention bill" but "a punishment bill." He voted in favor of the final bill introduced by Senator Joe Biden and signed into law by President Bill Clinton, because, he said, it included the Violence Against Women Act.
Martin O'Malley
Martin O'Malley has also made criminal justice reform a central part of his campaign.
Among dozens of policy proposals O'Malley supports are plans to "Ban the Box" and restore voting rights to people with felony records. As president, O'Malley says he would "strongly support legislation that would end the drug felon ban on access to SNAP and TANF assistance." At the January debate he was asked about his record in Maryland:
I drove our incarceration rate down to 20-year lows, and drove violent crime down to 30-year lows, and became the first governor south of the Mason-Dixon line to repeal the death penalty.
(While this is broadly-speaking correct, the data suggests that incarceration rates and violent crime had actually been in decline before he took office as Governor.)
O'Malley has been criticized for supporting positions on the campaign trail he opposed in office. "What happened to the zero-tolerance Baltimore mayor who became the no-parole-for-lifers governor of Maryland?" asks Dan Rodricks at the Baltimore Sun "Where's the guy who was once bullish on mandatory minimums?"
As Governor, O'Malley vetoed a bill which would have rolled-back mandatory minimum sentences for second-time convicted drug dealers, and told a radio show "drug dealing is a violent crime."
O'Malley's platform states that law enforcement "must treat all communities fairly and earn their trust" and proposes a range of measures to encourage " independent investigations of policing cases" and "strengthen federal civil rights protections." During the debate he also drew heavily on his record as Mayor and Governor:
.. we were able to save a lot of lives doing things that actually worked to improve police and community relations. The truth of the matter is, we created a civilian review board. And many of these things are in the new agenda for criminal justice reform that I've put forward.

We created a civilian review board, gave them their own detectives. We required the reporting of discourtesy, use of excessive force, lethal force. I repealed the possession of marijuana as a crime in our state.
But O'Malley's legacy has been questioned. One in three Maryland residents in state prison are from Baltimore and the death of Freddie Gray in police custody, as well as the riots that followed prompted criticism of O'Malley's time in office. Matthew Crenson, a political sceience professor at Johns Hopkins University, told ThinkProgress, O'Malley's "tough-on-crime" approach might share some responsibility for the unrest.
"One of the possible costs is that this creates a great deal of tension in relationships between the police and communities in their policing, because it means they're always hassling people for minor offenses," he said. "And that could conceivably create the atmosphere in which it's very easy for a riot to break out when something like Freddie Gray's death occurs.." Continue reading...
Sunday, Jan 10, 2016, 4:40 pm · By Aviva Stahl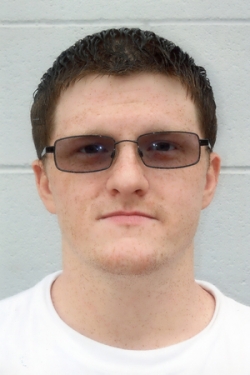 While there has been a lot of interest in recent years in journalism about prisons and the criminal justice system, less well known is the journalism being done by prisoners themselves. From the San Quentin News in California to Prison Radio in Pennsylvania there are dozens of prison newspapers and radio stations and individual authors writing and publishing from inside prison. Among them is Christopher Zoukis, an award-winning writer, currently incarcerated at FCI Petersberg in Virginia. Since he was first locked up, in 2006, Christopher has published three books and written for a number of outlets, including Prison Legal News Service, the Huffington Post, AND Magazine and the New York Journal of Books. But writing behind bars is fraught with difficulties, as Zoukis told Aviva Stahl in this recent interview.
When did you first start thinking about being a journalist? What drew you to it?
I would say that I was a prison writer before becoming an incarcerated journalist. I wanted to make something of my time in prison and I wanted to connect with others like myself. In a way I suppose I was searching for community and camaraderie.
But as time went on things changed. No longer was I writing poems, but more and more serious articles. While yes, this is the direction that I wanted to take my work, I didn't so much feel that it was a choice, but almost an obligation or an honorable duty. I'm now the guy people come to when they don't know where else to turn. This is a responsibility that gives my life in here purpose, but also a tremendous weight.
My work is not always successful in the vein that I view my published work not as the end of the process, but the beginning. The goal of the writing is primarily to expose injustice, correct wrongs, and hold governmental wrongdoers accountable for their actions. But one of the people that I wrote about, Ashley Jean Arnold, a transgender prisoner incarcerated at FCI Petersburg, took her life on February 24, 2015. To date that has been my greatest failure. It is due to Ashley that I realize the work that incarcerated journalists engage in isn't merely asserting that prisoners are an essential stakeholder in the discussion, but that without our input more lives will be lost.
Talk about the process of reporting from the inside (e.g., meeting and establishing rapport with sources/interviewees; conducting interviews; doing research for current or future stories; writing up; communicating with editors, etc.).
In terms of the process, it is all pretty much the same these days. When a story is not yet on my radar, a prospective interview subject will approach me and explain what is going on with them. This could be in the law library, walking the track, in the chow hall, or, as of last night, while working out on the small rec field. Regardless of how I meet them, we usually sit down and I try to understand if they have something worth exploring.
In terms of research, I have to rely on my friends outside of prison to help me when the law library computers aren't enough. Note that I can gain access to case law, federal regulations, and statutory law, but not the internet or any scholarly journals. Due to these limitations, I extensively rely on Google Alerts. Friends print and mail these to me on a daily basis. On the other hand, when I want to delve into a specific topic, I ask an outside contact to search it out online and mail me whatever she finds.
If I find that there is a need that I can fulfill, or at least try to, then I'll use the same old tools of the trade that others have used before I was even born: paper and pen. I sit down, outline what the person has explained to me, show it to them to ensure that I'm understanding them correctly, and then get to drafting. This is where my tools of the trade differ. Federal prisoners don't have access to true word processors. Instead I have access to a clear Swintec typewriter and the Corrlinks.com/TRULINCS computer system. For larger projects I use the typewriters, but for articles I use the computers, which allow me to email friends and family. Using this monitored email system I can draft my articles and zip them off to my outside contacts, who then make submission to specific outlets for me. This is one area where I'm largely at a loss because it's often not worth it to convince editors to sign up to the email service, so I can't communicate with them directly. Instead I must rely on my outside contacts to do so for me.
What is the greatest challenge you face in reporting?
I would say that there are three areas that cause me much trouble: source material, technology, and the media in general. For the most part, I have to come up with my own article ideas and, hence, source material. This is never easy. The only publication that actually helps me with this is Prison Legal News, who, understanding the plight of incarcerated writers, send the materials that I require in order to fulfill the articles that they assign. My gratitude for this knows no bounds. Paul Wright and Alex Friedmann, Publisher and Managing Editor of PLN, intimately know the problems that incarcerated writers have due to being incarcerated writers at one point in their lives.
The other two areas go hand in hand. Being incarcerated in a federal prison, I'm very much disconnected from the outside world. This makes it very difficult to show my value to mainstream media outlets and to simply obtain the materials that I need to do timely report on developing stories. It's hard to get someone to invest in myself as a writer when I can't communicate with them on a regular basis due to communication barriers. Prison administrators also make this challenging due to restricting access to communications (e.g., limitations on telephone minutes, email access, and visitation) and retaliatory actions against incarcerated writers. The deck is stacked against us from the start.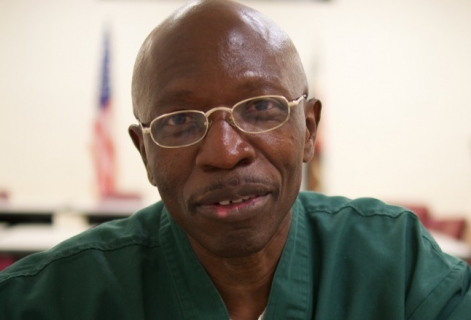 This article originally appeared on the Colorado Independent
A judge has lifted convictions against a Denver man who has served more than 28 years behind bars for an attack he said from day one he didn't commit.
The prosecution of Clarence Moses-EL hinged on a sole piece of flimsy evidence – an assertion by the victim of the 1987 rape and assault that his identity as her attacker came to her in a dream.
"The weight of that dream has been pressing down on me, pressing down on me hard, for more than 28 years," Moses-EL said in an interview withThe Colorado Independent earlier this month.
Today, during a phone call just after learning of the ruling, an elated Moses-EL – who turned 60 last week – said that weight is finally lifted.
"A whole lot of stress has been taken off me knowing I don't got to deal with the badness no more," he said.
"Victory!" he continued. "Right is on my side. And it has been on my side the whole time."
Today's ruling by Denver District Judge Kandace Gerdes comes after District Attorney Mitch Morrissey has fought for years to uphold the conviction despite increasing evidence of Moses-EL's innocence.
Denver officials' missteps include:
Destroying all DNA evidence. After a judge granted Moses-EL an order to test the rape kit, the victim's clothes and other key evidence for genetic fingerprinting, authorities in 1995 put the evidence in a box marked "DO NOT DESTROY." Then, they threw it in a dumpster. Destroying the evidence prevented Moses-EL from proving his innocence for more than two decades.
Refusing to re-open the case in 2006, when Morrissey's office started prosecuting L.C. Jackson for a similar rape of a mother and her daughter. Jackson was the first man the victim in the Moses-EL case named in her outcry, but police and prosecutors never investigated him. Even though Morrissey knew of Jackson's criminal past, the DA asserted — incorrectly — that Jackson was never named by the victim in Moses-EL's case.
Ignoring a statement by the lead police investigator that he always had doubts about the case
Trying to suppress new blood evidence showing it's highly likely that someone with L.C. Jackson's blood type was the attacker, and highly unlikely that it was someone with Moses-EL's blood type
And trying to prevent L.C. Jackson from confessing in court
Morrissey's office didn't return inquiries today about the new ruling.