Monday, Jun 2, 2014, 8:00 pm · By George Lavender
Debtors' prisons were formally abolished in the United States in 1833. Before then if a defendant couldn't pay their court fees or fines, that is where they would end up. A century and a half later, in Bearden v Georgia, the Supreme Court ruled that judges cannot send people to prison for failure to pay fines without finding out their ability to pay.
If a State determines a fine or restitution to be the appropriate and adequate penalty for the crime, it may not thereafter imprison a person solely because he lacked the resources to pay it. Williams v. Illinois, 399 U. S. 235; Tate v. Short, 401 U. S. 395. If the probationer has willfully refused to pay the fine or restitution when he has the resources to pay or has failed to make sufficient bona fide efforts to seek employment or borrow money to pay, the State is justified in using imprisonment as a sanction to enforce collection. Continue reading...
That case came on top of an earlier Supreme Court decision which established that extending someone's prison term because they are unable to pay a fine violates their Fourteenth Amendment rights. How to determine whether someone "willfully refused" to pay, has proven difficult. As a year-long NPR investigation found, defendants who are unable to pay are doing time.
Tuesday, May 27, 2014, 7:59 pm · By George Lavender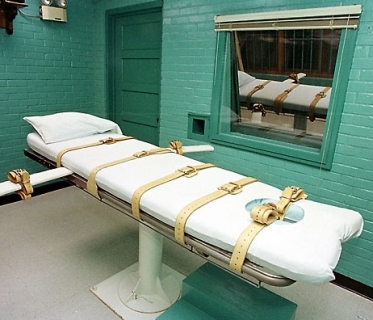 Tuesday, May 27, 2014, 8:00 am · By George Lavender
An investigation is underway into the death last week of a prisoner in a mental health unit at a Florida prison. According to the Miami Herald, Damion Foster died in the unit at at Charlotte Correctional Institution on Thursday after an altercation with corrections officers.
Foster died when corrections officers were attempting a "cell extraction,'' the source told the Miami Herald.

The DOC "is prepared to take immediate action to ensure accountability, based on the outcome of the investigation and the medical examiner's report,'' agency spokeswoman Jessica Cary said.

Foster was suicidal, but it's not known how or why he died, sources said.
Florida's Department of Law Enforcement is investigating Foster's death. Florida's Department of Corrections is already facing criticisms for another death in its custody. Darren Rainey died June 23rd 2012 after being locked in a small shower.
"I can't take it no more, I'm sorry. I won't do it again,'' he screamed over and over, according to a grievance complaint from a fellow inmate, as Rainey was allegedly locked in a shower with the scalding water turned on full blast.

A 50-year-old mentally ill inmate at the Dade Correctional Institution, Rainey was pulled into the locked shower by prison guards as punishment after defecating in his cell and refusing to clean it up, said the fellow inmate, who worked as an orderly. He was left there unattended for more than an hour as the narrow chamber filled with steam and water.

When guards finally checked on prisoner 060954, he was on his back and dead. His skin was so burned that it had shriveled from his body, a condition referred to as slippage, according to a medical document involving the death. Continue reading...
Darren Rainey's autopsy was carried out more than a year and a half ago, but the Medical Examiner has not yet ruled on the cause of death, according to the Miami Herald, "because the police probe has been pending."
Saturday, May 24, 2014, 8:00 am · By George Lavender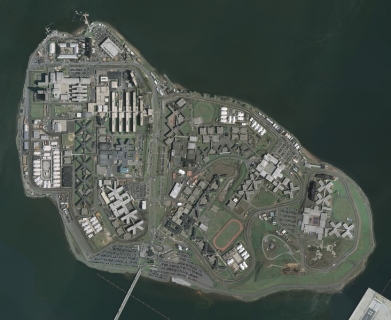 Two deaths on Rikers Island have raised concerns about the treatment of prisoners with mental health issues inside New York City's largest jail. Writing in the New York Daily News, former corrections commissioner Bernard Kerick said something was "very wrong" at the jail.
With assaults on the rise and two mentally ill inmates dying after acting out and then being neglected in their cells, as officers allegedly ignored their calls for help, it's clear the system is again spinning out of control.
Kerick was responding to a report by the Associated Press that a prisoner with mental health issues had died after being left alone in a cell for seven days.
After a mentally ill Bradley Ballard made a lewd gesture to a female guard at the Rikers Island jail, he was locked in his cell alone for seven increasingly agitated days in which he was denied some of his medication, clogged his toilet so that it overflowed, stripped off his clothes and tied a rubber band tightly around his genitals.

During that period, guards passed Ballard's cell in the mental observation unit dozens of times, peering through the window in the steel door but never venturing inside — until it was too late.

The 39-year-old Ballard was eventually found naked and unresponsive on the floor, covered in feces, his genitals swollen and badly infected. He was rushed to a hospital but died hours later.

"He didn't have to leave this world like that. They could have put him in a mental hospital, got him some treatment," Ballard's mother, Beverly Ann Griffin, said from her Houston, Texas, home. "He was a caring young man." Continue reading...
Ballard died on September 11th, just five months before another Rikers prisoner "baked to death" in an overheated cell. According to the Associated Press, Jerome Murdough was arrested for trespassing in February, after sleeping in the stairwell of a public housing building.
Friday, May 23, 2014, 8:00 am · By George Lavender
Alameda, Calif., became the latest county to announce that it would no longer keep undocumented immigrants in jail at the request of immigration authorities alone. Wednesday's announcement by the sheriff's department means Alameda will no longer comply with detainers issued by Immigration and Customs Enforcement (ICE). Announcing the change, Sheriff's Capt. Colby Staysa ordered anyone currently in jail solely because of an "immigration hold" to be released immediately.
Alameda follows neighboring Contra Costa county, as well as counties in Washington, Colorado, and Oregon, who have decided not to comply with so-called "ICE detainers" after a federal judge in Oregon ruled that Clackamas County had violated a detainee's Fourth Amendment rights by holding her without probable cause. That came on top of an earlier decision by the Third Circuit Court of Appeals which ruled that law enforcement agencies are not required to honor the detainers, and that the decision to do so is voluntary.
Sunday, May 18, 2014, 8:00 am · By George Lavender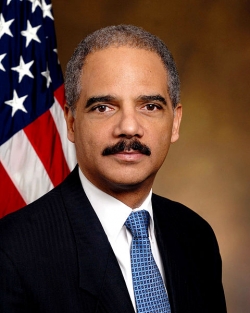 Attorney General Eric Holder used the 60th anniversary of Brown v Board of Education, to address "the struggle that still must be waged" for racial justice in the criminal justice system. On May 17th 1954 the Supreme Court overturned the doctrine of "separate but equal" schooling, established almost six decades earlier under Plessy v Ferguson.
Since the era of Brown, laws making classifications based on race have been subjected to a legal standard known as "strict scrutiny." Almost invariably, these statutes, when tested, fail to pass constitutional muster. But there are other policies that too easily escape such scrutiny because they have the appearance of being race-neutral. Their impacts, however, are anything but. This is the concern we must contend with today: policies that impede equal opportunity in fact, if not in form.
Speaking to students at Morgan State University, Maryland, Holder returned to an issue he himself has previously referred to as "the school-to-prison pipeline."
Codified segregation of public schools has been barred since Brown. But in too many of our school districts, significant divisions persist and segregation has reoccurred – including zero-tolerance school discipline practices that, while well-intentioned and aimed at promoting school safety, affect black males at a rate three times higher than their white peers.
In an apparent reference to the public outcry over comments by Clipper's owner Donald Sterling, Holder cautioned against focussing solely on overt displays of racism, and instead urged his audience to look at the subtler forms of racism that still exist. The Attorney General took issue with Chief Justice John Roberts, for arguing that "the path to ending racial discrimination is to give less consideration to the issue of race altogether." Quoting another Supreme Court Justice, Sonia Sotomayor, Holder suggested that "(T)he way to stop discrimination on the basis of race is to speak openly and candidly on the subject of race."
Saturday, May 17, 2014, 8:00 am · By George Lavender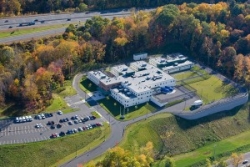 Women at a Massachusetts jail have been subject to "degrading and unconstitutional" searches by male correctional officers according to a class action lawsuit filed on behalf of hundreds of prisoners. As Victoria Law at Solitary Watch reports, the searches were carried out on prisoners being transferred to solitary confinement.
"When women are moved to the Segregation Unit for mental health or disciplinary reasons, they are strip searched. With four or more officers present, the inmate must: take off all her clothes, lift her breasts and, if large, her stomach, turn around, bend over, spread her buttocks with her hands and cough, and stand up and face the wall. If the woman is menstruating, she must remove her tampon or pad and hand it to a guard. An officer with a video camera stands a few feet away and records the entire strip search. This officer is almost always male."

This is a description of what has happened when women are taken to solitary confinement at the Western Massachusetts Regional Women's Correctional Center (WCC) in Chicopee. The procedure has been followed not only for women being sent to isolation for violating jail rules but also women who are being placed on suicide watch or who have requested protective custody. Since September 15, 2008, on approximately 274 occasions, a male corrections officer recorded the strip search with a handheld video camera; 178 women were affected by this practice.
A report by the American Civil Liberties Union (ACLU) released last month examined the use of solitary confinement in women's prisons. The ACLU report, "Worse Than Second Class: Solitary Confinement of Women in the United States" found that sexual assault in prison "remains a serious problem in spite of increased awareness of the issue."
Wednesday, May 14, 2014, 5:00 pm · By George Lavender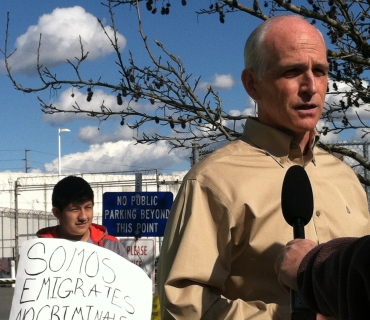 U.S. Rep. Adam Smith (D-Wash.), whose district includes the Northwest Detention Center where hundreds of detainees took part in a hunger strike earlier this year, introduced new legislation last week that he believes will provide greater oversight of immigration detention. The Accountability in Immigration Detention Act would guarantee minimum nutritional standards, minimum pay rates for work, as well as mandate unannounced inspections of detention facilities. The Prison Complex spoke with Rep. Smith about the legislation, the hunger strike, and the prospect of comprehensive immigration reform.
Tuesday, May 13, 2014, 11:00 am · By George Lavender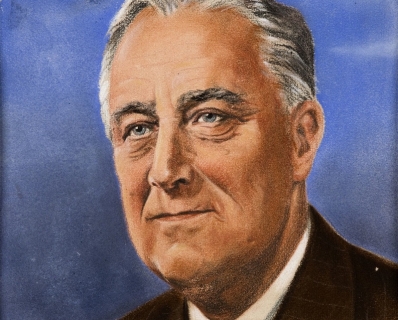 Thursday, May 8, 2014, 10:00 am · By George Lavender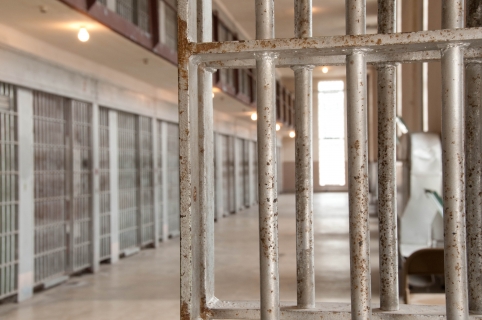 This week, federal prisons began notifying all 217,000 prisoners about a new initiative to reduce thousands of sentences. Mark Osler, Professor of Law at the University of St Thomas in Minnesota, has advocated for greater use of clemency for years, and started a commutations clinic, now in its third year. He previously worked as a federal prosecutor in Detroit, where he says he "became aware of some of the problems we were creating with our prosecutions, probably even more than we were solving." The Prison Complex spoke with Professor Osler about what the Department of Justice's new clemency initiative means.