Sunday, Sep 21, 2014, 6:10 pm · By George Lavender
Florida's prison chief took the drastic measure of firing thirty two prison guards on Friday amid widespread accusations of criminal wrongdoing and misconduct in the state's prison system. The Miami Herald reports that many of those fired were connected with suspicious deaths in custody
Eighteen of those fired by Secretary Michael Crews were involved in the death of Matthew Walker at Charlotte Correctional Institution on April 11. Walker, 55, was killed in what the DOC is calling an "inappropriate use of force."

Five other fired corrections officers from Union Correctional had been accused of using excessive force in the death of inmate Rudolf Rowe on Aug. 16, 2012. Continue reading...
Among those dismissed on Friday was Rollin Suttle Austin. In 2010, a prisoner at Franklin Correctional, Randall Jordan-Aparo, died after being gassed on Austin's orders. An investigation by Florida Law Enforcement found that Jordan-Aparo's death was unrelated to the gassing.
Austin remained on the job for three years, until a team of prison system inspectors visited Franklin to look into unrelated wrongdoing and stumbled onto the circumstances behind Jordan-Aparo's death, calling it a case of "sadistic, retaliatory" behavior by guards. Continue reading...
Jordan-Aparo's death is now under investigation by the US Department of Justice. The Miami Herald's investigation found Austin's personnel file contained multiple allegations of wrongdoing.
Austin allegedly operated very much the way corrections officers have been trained for decades, according to Ron McAndrew, a prison consultant who studied the phenomenon of "goon squads'' while he was warden at Florida State Prison in Starke in 1998.

McAndrew testified in legislative hearings that "goon squads" of guards have long roamed Florida's prisons, attacking inmates and enforcing vigilante justice, while higher-ups turned a blind eye, as they did in 1999 when a squad of guards beat and killed Death Row inmate Frank Valdes.

McAndrew said the sheer number of Austin's complaints — and the similar pattern of abuse alleged in them — should have been a red flag to his superiors at the prison and in Tallahassee. Continue reading..
As reported here at The Prison Complex, Florida's prisons have faced increased scrutiny in the wake of the 2012 death of Darren Rainey. Rainey, who was diagnosed with mental health issues, was allegedly locked in a scalding hot shower by prison guards as punishment for defecating in his cell. When his body was found an hour later, "his skin was so burned that it had shriveled from his body, a condition referred to as slippage" the Herald reports.
Tuesday, Sep 16, 2014, 2:33 am · By George Lavender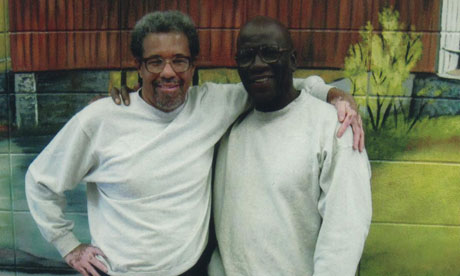 Albert Woodfox has been in solitary confinement for much of the past 40 years. Along with Herman Wallace and Robert King, Woodfox is one of the "Angola Three," three members of the Black Panther Party who spent much of their lives in solitary confinement inside the walls of Louisiana State Prison, Angola. King was released in 2001, after 29 years in solitary confinement. Wallace, who was recently featured in the documentary film "Herman's House," died in 2013, three days after his release from prison. The last member of the Angola Three still incarcerated, Woodfox launched a lawsuit to challenge his continued solitary confinement, and along with Robert King, is seeking damages from prison officials. The family of Herman Wallace, settled with the state.
The Prison Complex caught up with George Kendall Director of the Public Defender Initiative, at Squire Patton Boggs, who is working on the case.
Friday, Sep 5, 2014, 4:33 pm · By George Lavender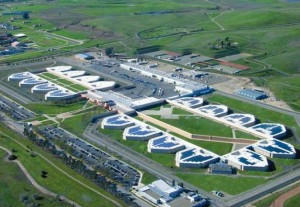 Women inside Alameda County jails in California are being forced to undergo pregnancy tests. As Susie Cagle on RH Reality Check reports, "no one can say for exactly how long Alameda County jails have been forcing arrested women to take pregnancy tests, and no one can really explain why."
In June, the American Civil Liberties Union of Northern California filed a lawsuit against the county sheriff's department challenging the practice.
"If the Alameda County Sheriff's Department is genuinely concerned about the health of women in their custody, voluntary pregnancy testing should be administered as part of a comprehensive health exam," said Elizabeth Gill, Senior Staff Attorney at the ACLU of Northern California. "Forcing a woman to take a pregnancy test is a clear violation of a person's constitutional rights, as well as a violation of other state law." Continue reading..
Cagle reported on mandatory pregnancy testing in Alameda, after her own arrest while covering the Oakland General Strike in 2011. She writes, "the story of Alameda's mandatory pregnancy tests is really the story of how U.S. prisons have grappled with an influx of young women over the past four decades: with supreme incompetence and intermittent malice."
One after another, women held at Alameda County jails told me similar tales of coercion and confusion, regardless of their alleged crime or their personal medical history. (The women all asked to remain anonymous.)

"They made me take one even though I'm infertile, told them so, and even though that could have easily been verified with one phone call. They had a woman cop watch me pee, I think because I had indicated I didn't want to take a pregnancy test," one woman told me in a written message.

"They told me it was because 'Glen Dyer can't hold women, so all women being held at Glen Dyer need to take a pregnancy test,' which didn't make any sense," wrote another.

"It struck me for the first time when I was forced to pee in the cup, that I really could be coerced to do things that I didn't want to do, and that it didn't take much either. I was pretty furious that even my own bodily fluids were not my own," a third woman wrote in her prison diary, which she shared with me. Continue reading...
The ACLU court case is expected to be heard this fall. The reason for testing in the first place remains unclear. It's also not apparent whether the testing was done at the behest of the sheriff or the private company managing healthcare in the jails.
Thursday, Sep 4, 2014, 8:45 pm · By George Lavender
North Carolina's longest serving death row prisoner was freed this week after 30 years in prison for a crime he did not commit. Henry Lee McCollum and his half-brother, Leon Brown, who had been serving a life-sentence for the same crime, were released on Wednesday. The two half-brothers' sentences were vacated after DNA evidence implicated another man in the 1983 rape and murder of an 11 year old girl.
As Slate reports, their convictions were based in large part on false confessions.
McCollum and Brown were 19 and 15 at the time local police were investigating the murder of Sabrina Buie. Both confessed to the crime after lengthy police interrogations. They recanted shortly after—in fact McCollum has recanted 226 times—but were convicted, largely on the basis of the false confessions, even though no physical evidence connected them to the crime scene. Police also hid exculpatory evidence for years. Continue reading..
The majority of false confessions documented by the National Registry of Exonerations, occurred in homicide investigations. Samuel Gross, editor of the registry, told The Prison Complex:
..this is a reflection of "the fact that far greater resources are expended on investigating homicides than other cases." This produces a higher clearance rate "but in addition it also produces a higher rate of false positives, of errors. Put a lot more effort into it you get more convictions you also get a higher number of false convictions."
It might be hard to understand why someone would confess to a crime they did not commit, but there are some common factors. Dahlia Lithwick at Slate points to a 2011 article by Brandon Garrett of the University of Virginia Law School, which seeks to explain how those false confessions come about.
Because detailed confessions represent such powerful evidence, when defense attorneys tried to challenge the confession evidence they all failed. This was true even when there were some clear signs that these were confessions proffered by vulnerable people who may have been subject to highly coercive techniques. Of those 40 exonerees who confessed, for instance, 14 were mentally disabled or borderline mentally disabled, and three more (at least) were mentally ill. Thirteen of the 40 were juveniles. All but four were interrogated for more than three hours at a sitting. Seven described their involvement in the crime as coming to them in a "dream" or "vision." Seven were told they had failed polygraph tests. Like Sterling, all of them waived their Miranda rights. Despite all these hints that their confessions were lengthy and coercive, and despite the fact that they were mostly vulnerable individuals, none had any luck challenging their confessions before trial. The confessions were thought to be such powerful evidence of guilt that eight were convicted despite DNA tests at trial that in fact excluded them as the culprit. Continue reading..
Both McCollum and Brown, who have intellectual disabilities, were interrogated by police without an attorney present.
Monday, Sep 1, 2014, 5:20 pm · By George Lavender
Mentally ill prisoners held in isolation in California will be housed in separate units away from other prisoners under a plan to improve care and comply with a court order, the Los Angeles Times reports.
The cellblocks — while still isolating prisoners from the rest of the population and largely from one another — will increase the time those inmates are allowed outside their cells and the amount of treatment they receive.

In an undated memo to wardens filed in court Friday, state prisons director Michael Stainer described an intent to "offer a robust mental health program" within what he called "alternative segregated housing."

U.S. District Judge Lawrence Karlton immediately accepted the plan, submitted as part of a long-running class-action lawsuit, commending both the state and inmate lawyers for the "substantial effort." Continue reading...
As the New York Times reports, California incarcerates large numbers of mentally ill people.
Prisons and jails around the country have seen the numbers of mentally ill inmates increase as state hospitals have closed and community mental health services have been reduced by budget cuts. California is no exception. More than 27 percent of male prisoners and almost 38 percent of female prisoners suffer from mental illness, according to department statistics. Continue reading...
Tuesday, Aug 12, 2014, 3:31 pm · By George Lavender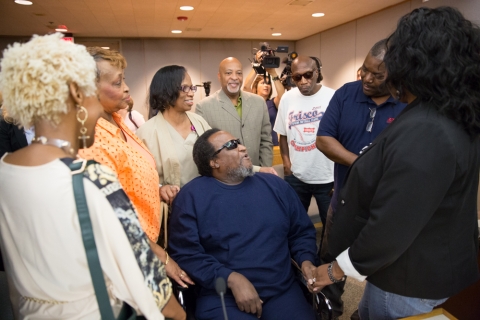 The answer is: We don't know.
"The great majority of people convicted of criminal offenses are guilty," says Samuel Gross, editor of the National Registry of Exonerations and a law professor at the University of Michigan, "but the great majority are not everyone."
This year the National Registry of Exonerations, the only body tracking exonerations nationally, has already recorded more than 50 cases in which "a person who has been convicted of a crime is officially cleared based on new evidence of innocence." The interactive list ranges from people in prison for a matter of years to some incarcerated for decades and shows a steady rise in the number of recorded exonerations over the last two decades.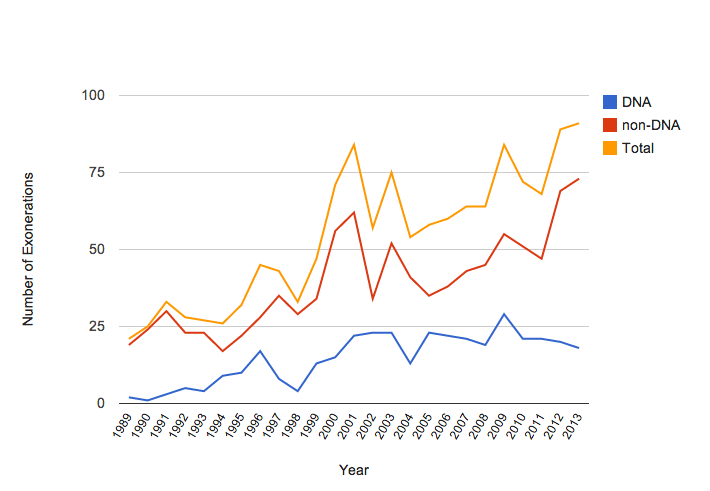 As reported here at The Prison Complex, there have been a string of high-profile exoneration cases this year.
Just last month Michael Phillips took a step towards clearing his name having previously been convicted in the 1990 rape of a 16 year-old girl in Dallas, Texas. His exoneration was highly unusual because it took place as the result of a review by the prosecutor's office, not because of legal action on Phillips' behalf. As the Washington Post reports, Phillips even plead guilty to the original crime.
Phillips pleaded guilty because, he said later, his attorney told him that as a black man who had been accused of raping a white teenager, he should try to avoid a jury trial. He went to prison for a dozen years and, after his release, spent another six months in jail after failing to register as a sex offender. Continue reading...
Exonerations can offer a limited insight into the wider issue of wrongful convictions. The National Registry of Exonerations currently lists 1,409 cases. According to Gross his team have got better at tracking the number of exonerations, but he says "the great majority of wrongful convictions never come to light at all. Exonerations are a minority of the people convicted."
Wednesday, Jul 30, 2014, 7:00 pm · By George Lavender
Denver's jail abuse scandal took another turn on Wednesday after a former prisoner filed a federal civil rights lawsuit against the city and two sheriff deputies. Anthony Waller suffered a broken nose and teeth after being thrown against a window, the Denver Post reports.
Anthony Waller's complaint, filed in U.S. District Court in Denver, seeks $5 million in damages and an injunction that would allow the courts to supervise operations of the Denver jails.

"For decades the Defendant the City and County of Denver has been incapable of stopping the use of excessive force by its law enforcement," the lawsuit says. "The only remedy is for outside intervention to address the systemic, culturally ingrained use of excessive force by Denver law enforcement." Continue reading...
The incident which took place in September 2012, was captured by a court video camera. The deputy involved was suspended for 40 days.
The video is one of several showing sheriff's deputies choking, hitting, kicking, and tasing prisoners.
On Monday, Mayor Michael Hancock called for an outside review of the Denver Sheriff Department, following multiple allegations of abuse inside the city's jails.
Hancock announced the plan to bring an outside look at the agency during an interview with Colorado Public Radio.

"It would be beneficial to get some external eyes," Hancock said on Colorado Matters.

Hancock's call comes a week after Gary Wilson stepped down as sheriff amid a growing number of abuse cases. Continue reading..
Hancock said he had been "incensed" by the abuse allegations. ""It's not just one case we've been following up on. There's been a string of incidents. Enough is enough."
As the Colorado Independent reports, one video shows a prisoner on suicide watch being tased, apparently without provocation.
Friday, Jul 25, 2014, 5:47 pm · By George Lavender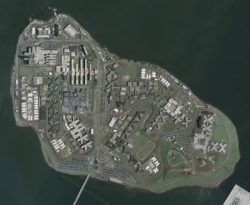 "Judge Shopping," trying to have a case heard in a court deemed most likely to give a favorable hearing, is relatively well known. According to the New York Post, legislators in New York, may be guilty of a more unusual activity: "DA Shopping."
In an extraordinary development, lawmakers have quietly passed a bill that would transfer prosecution of alleged crimes committed in Rikers Island prison from Bronx District Attorney Robert Johnson to Queens DA Richard Brown.

Rikers, technically part of The Bronx, sits in the East River ­between the two boroughs and is reached via a Queens bridge.

The measure breezed through the Assembly and the Senate last month after the correction- ­officers union complained that the Bronx DA zealously pursues criminal cases against officers, but not inmates.
New York City's main jail has been rocked by a series of allegations of abuse and corruption including cases investigated by the Bronx DA. If Governor Andrew Cuomo signs the measure into law, Johnson would lose the right to prosecute crimes committed in the jail. The legislation has the backing of the Correction Officers' Benevolent Association.
Thursday, Jul 24, 2014, 1:08 pm · By George Lavender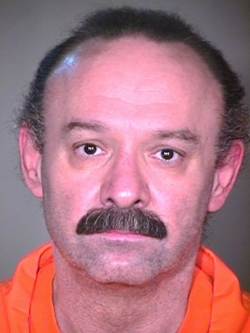 It took Joseph Wood almost two hours to die in Arizona's execution chamber on Wednesday during which he "snorted and gasped" according to witnesses. His legal team have called for an investigation into the execution.
Troy Hayden of Fox 10 News quoted by The Arizona Republic said Wood's death was "very disturbing to watch ... like a fish on shore gulping for air. At a certain point, you wondered whether he was ever going to die." As the Guardian reports, Wood's lawyers filed an emergency motion as the execution was taking place.
According to the emergency motion, Wood was seen to be still breathing at 2.02pm, and the next minute his mouth moved. "He has been gasping and snorting for more than an hour," his lawyers said. When the officials in charge of the execution checked the prisoner at 3.02pm – an hour and 10 minutes after the procedure began – he was confirmed still to be alive. Continue reading…
On Wednesday defense attorneys filed emergency appeals with Arizona's top court, arguing Wood had received inadequate counsel during his trial, and challenging the secrecy surrounding the origins of the drugs used to execute him.
Wood's lawyers have used a new legal tactic in which defense attorneys claim their clients' First Amendment rights are being violated by the government's refusal to reveal details about lethal injection drugs. Wood's lawyers were seeking information about the two-drug combination that will be used to kill him, including the makers of the drugs. Continue reading…
A federal appeals court earlier this week ruled in Wood's favor, before the Supreme Court allowed the execution to go ahead.
Wood's execution is the latest in a series of executions critics have described as "botched." In January the execution of Dennis McGuire at the Southern Ohio Correctional Facility took 25 minutes. His defense attorney called the execution a "failed, agonizing experiment.'' That same month, Michael Wilson was killed with a three-drug mix that had been obtained from a compounding pharmacy. Wilson's final words were "I feel my whole body burning."
Tuesday, Jul 22, 2014, 8:20 pm · By George Lavender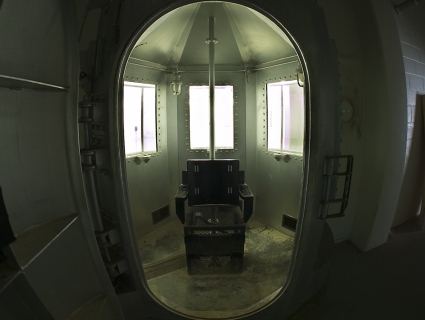 A federal judge in Arizona delivered his own damning verdict on America's death penalty system on Monday, just one week after another judge in California ruled that state's execution process amounted to "cruel and unusual punishment." (For more context see The Prison Complex interactive timeline, including the recent California ruling here).
"Botched" executions, most recently in Oklahoma, as well as increased difficulty obtaining the necessary drugs have prompted renewed debate about the use of the death penalty in the US, and of lethal injection in particular.
As reported by The Guardian, Judge Alex Kozinski's public criticism came in a somewhat surprising form:
Paradoxically, Kozinski's radical critique of the modern death penalty is contained in a dissent to the latest ruling from the ninth circuit appeals court that in effect prevents the state of Arizona from carrying out an execution on Wednesday. The court, with Kozinski dissenting, on Monday declined to re-hear the case of Joseph Wood, who had been scheduled to die by lethal injection for the 1989 murders of his estranged girlfriend, Debra Dietz, and her father, Eugene Dietz, in Tucson. Continue reading…
The court's denial, with Kozinski dissenting, prevented the state of Arizona from moving ahead with Wood's execution. At the time Kozinski said he had "little doubt" the decision would be overturned by the Supreme Court justices. He was proven right on Tuesday.
Kozinski said that the nationwide trend to switch to lethal injection from other forms of execution had been "misguided" and that "subverting medicines meant to heal the human body to the opposite purpose was an enterprise doomed to failure." Use of lethal injection was first proposed in New York back in 1888 but rejected in favor of electrocution. Oklahoma became the first state to pass a law allowing for lethal injections in 1977, and five years later Texas became the first state to carry out an execution.