Thursday, Jul 9, 2015, 10:00 am · By George Lavender
Two years ago, prisoners across California went on hunger strike to oppose the use of long-term solitary confinement in the state. It was the third such protest in as many years. The hunger strikers had a set of five core demands:
1. Eliminate group punishments for individual rules violations;

2. Abolish the debriefing policy, and modify active/inactive gang status criteria;

3. Comply with the recommendations of the US Commission on Safety and Abuse in Prisons (2006) regarding an end to long-term solitary confinement;

4. Provide adequate food;

5. Expand and provide constructive programs and privileges for indefinite security housing unit inmates.
In 2012 the California Department of Corrections and Rehabilitation which runs the state's prison system instituted a "Step Down" program which officials said would make it possible for inmates to earn their way out of isolation.
In an in-depth article Victoria Law examines what has, and hasn't changed since then. (The full article is available on TruthOut here )
Three people have been paroled while in the Step Down program. But for Lorenzo Benton, spending 25 years in the security housing unit continues to be a barrier to freedom. Benton was placed in step five and transferred to Ironwood State Prison, where he joined various programs, including a vocational masonry program. But when he appeared before the parole board, he recounted, "The board felt that I continued to demonstrate criminal-minded thinking because I refused to debrief. The board had the audacity to tell me that, because I refuse to debrief, it appears that I was trying to retire from the gang with honor." The board also held his previous rules violations reports against him, including one issued in 2013 for his participation in the hunger strike. "I had not received a 115 since 2007 (disobeying a direct order) and prior to that, 1997 (contraband: possession of staples)," he explained. He was given a five-year denial, meaning that Benton, who has been in prison since 1977, will not be eligible for consideration until 2020. Still, he does not regret his actions. "Initially, I was not a strong believer in the success of a hunger strike," he wrote in May 2015, months after his parole denial. "I mistakenly felt we did not have the mass/organized support that would be needed to force change on the system of solitary confinement, but I am glad to have been proven wrong on this."
Friday, Jun 26, 2015, 3:36 pm · By Toshio Meronek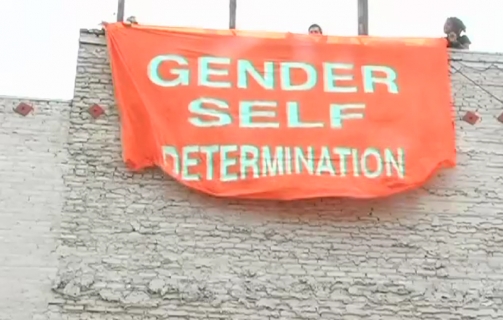 When queer and transgender people fought back against police brutality during the riots at Stonewall Inn in New York City and Compton's Cafeteria in San Francisco back in the 1960s, it was a time when you could go to jail for how you dressed or who you had sex with. The Supreme Court recently ruled in favor of marriage equality for LGBT people. But how much has actually changed?
The LGBT progress narrative promoted by the mainstream media applies mainly to the whitest and most affluent among us. With the rise of mass incarceration, today the problem of queer criminalization is arguably worse. Queer and trans people of color and those from low-income backgrounds suffer the most—and are imprisoned in higher numbers than in those early days of the gay liberation movement. (Black trans women are the most targeted: one in every five black trans women has spent time behind bars.)
Thursday, Jun 25, 2015, 12:02 pm · By Dayton Martindale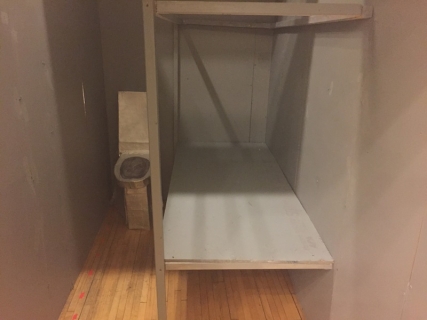 Smaller than five by 10 feet, up to 24 hours a day, every day for months, years, even decades. This is the environment thousands of prisoners across the state of Illinois in solitary confinement are constricted to every day—but not for much longer, if a new lawsuit is successful.
On June 24, the Uptown People's Law Center (UPLC) and Winston & Strawn LLP announced a class action suit alleging that the Illinois Department of Corrections abuses solitary confinement and urging stricter compliance with national standards. At a press conference at the In These Times offices, UPLC Executive Director Alan Mills declared there are "too many people kept in isolation and solitary, kept there too long, put there for too little, kept in too awful conditions."
Friday, Jun 12, 2015, 12:07 am · By Victoria Law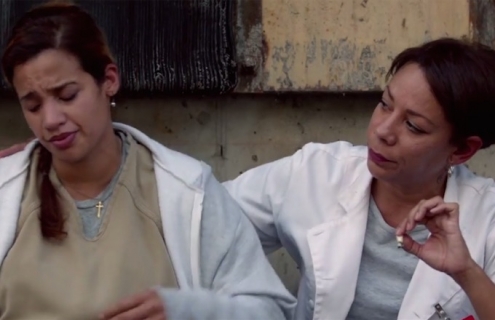 Season Three of Orange is the New Black comes out today, and this season, Daya Diaz (Dascha Polanco) reaches her due date.
Daya's pregnancy is no longer a secret from guards and fellow prisoners. She's visibly pregnant (although no one seems to know how far along she is) and everyone knows the reason for her plus-size uniform. We see her mooning over the correctional officer who impregnated her and planning their future together. We see her worrying about who will take care of her baby. We see her continuing to scoop out eggs and slop to the hundreds of women on line at the prison's cafeteria.
What we don't see is Daya receiving any medical attention whatsoever.
Friday, May 29, 2015, 2:13 pm · By George Lavender
It was 38 times lucky for Ernie Chambers. This week the Nebraska legislator finally succeeded in passing a veto-proof bill to abolish the state's death penalty.
As the New York Times reports, Nebraska is the first predominantly Republican state in more than 40 years to do away with capital punishment.
After more than two hours of emotional speeches at the Capitol here, the Legislature, by a 30-to-19 vote that cut across party lines, overrode the governor's veto of a bill repealing the state's death penalty law. After the repeal measure passed, by just enough votes to overcome the veto, dozens of spectators in the balcony burst into celebration.

The vote capped a monthslong battle that pitted most lawmakers in the unicameral Legislature against the governor, many law enforcement officials and some family members of murder victims whose killers are on death row. The Legislature approved the repeal bill three times this year, each time by a veto-proof majority, before sending it to Mr. Ricketts's desk. Adding to the drama, two senators who had previously voted for repeal switched to support the governor at the last minute. Continue reading...
Chambers introduced a bill to repeal Nebraska's death penalty every year since he was elected in 1970. In 1979, his bill passed the legislature only to be vetoed by then-Governor Charles Thone. This time around there were enough votes to over-ride a veto from Governor Pete Rickett a staunch supporter of capital punishment.
In an interview with The Guardian, Chambers attributes his bill's success this time around to shifting attitudes among Republicans.
…Chambers says that he believes that the conservatives who voted to abolish the death penalty were merely being true to their fundamental principles. "Conservatives have vowed that whenever they find a government program that isn't working, they will scrap it. And if there is a government program that doesn't achieve its goals, it's the death penalty."

He adds: "The irony is that the so-called conservatives are now giving the same arguments against the death penalty that the abolitionists have always given." Continue reading…
Nebraska has not put an inmate to death since 1997 when Robert E Williams was executed by electric chair.
Monday, May 25, 2015, 1:00 pm · By George Lavender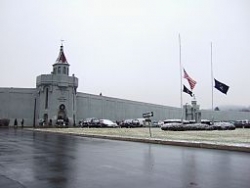 Beatings, burnings, stabbings, sexual assaults and shootings. All took place in the aftermath of the 1971 Attica prisoner uprising according to witness testimony released this month for the first time.
The four-day rebellion at the Attica Correctional Facility left 43 people dead, most of them killed by gunfire from state troopers and correctional officers in the operation regain control of the prison. The uprising began on September 9th 1973 when inmates took hostages and released a "Manifesto of Demands."
As the Guardian reports, in the aftermath of the uprising Judge Bernard Meyer was tasked with investigating whether what had happened at Attica had been covered-up by authorities.
Meyer concluded that there was no "intentional cover-up", but wrote that serious errors, omissions and delays tainted the investigation: "The decision to conduct the investigation sequentially or chronologically rather than topically was a serious error of judgment."

His findings have been public for decades, but the hundreds of pages of factual evidence he used remain sealed in two other volumes of the report. Of particular concern to Meyer was whether investigators had a conflict of interest as they interviewed inmates, who might face criminal charges over the riot, about what guards did afterwards. Continue reading…
Monday, May 11, 2015, 11:08 am · By Alice Ollstein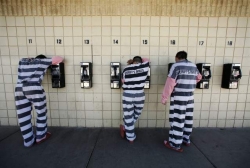 With federal action expected this summer to regulate the cost of prison phone calls, the National Sheriffs' Association announced they may "significantly limit or eliminate altogether" the right of prisoners to make those calls.
Incarcerated people and their families — who are disproportionately low-income — have fought for decades against the often exorbitant rates charged for a phone call home by companies that hold exclusive contracts and provide kickbacks to the jails themselves.
In 2013, they appeared to win a major victory when the Federal Communications Commission (FCC) passed an interim rule to cap the cost of calls between states at 25 cents per minute — meaning 15-minute calls that used to be as high as $17 could no longer cost more than $3.25. In announcing the change, the FCC said the current fee structure is "unjust and unreasonable."
But this reform has sparked a revolt from those who benefited financially from the old system: the prison phone industry that makes more than a billion a year in profits, and the state and county governments that get "commissions" from those calls that they use to pad their budget. In some states, commissions make up as much as 94 percent of the cost of the call, funneling millions of dollars to cash-strapped local jurisdictions.
Deborah Golden, an attorney with the DC Prisoners' Rights Project, told ThinkProgress she views these commissions as "another tax on poor people and people of color."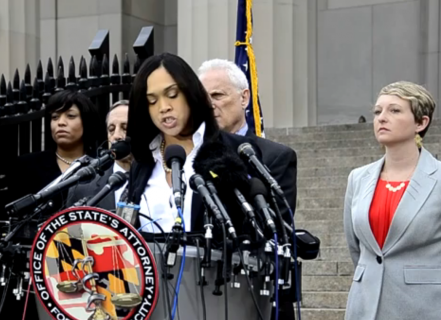 Remember, we are not fighting for the freedom of the Negro alone, but for the freedom of the human spirit, a larger freedom that encompasses all of [hu]mankind.

--Ella Baker
Today, six Baltimore police officers were charged with crimes related to the arrest and death of Freddie Gray. While it is important that we hold these officers accountable for their acts of brutality, we must remember that accountability does not end with bringing criminal charges or even securing a conviction against these officers.
In many recent incidents involving law enforcement violence, we have focused our attention on individual accountability, instead of the need for transformative institutional change.
About fifty years ago, as uprisings spread across the country, the Kerner Commission issued a report stating the ongoing legacy of racial injustice in the country demanded, "remedy" not "reaction."
Yet, fifty years later as Black youth in Baltimore who are shut out of their classrooms and denied access to public transportation and Black adults who are shut out of employment opportunities took to the street following the killing of Freddie Gray, the local, state, and federal government response has once again been repression and reaction, not remedy.
We stand in solidarity with the people of Baltimore and the millions of black people across the country who are tired of poverty, racism, and state-sanctioned murder. We recognize anger, fear, despair, and outcry, as not just normal but rather encouraging responses against a system that has offered silence, repression, or death.
Friday, May 1, 2015, 11:57 am · By George Lavender
Pennsylvania's controversial "Revictimization Relief Act," was declared unconstitutional on Tuesday. The law, which opponents dubbed "The Silencing Act," allowed victims of personal injury crime to bring a civil action against the perpetrator of that crime, "for conduct which perpetuates the continuing effect of the crime on the victim."
The law passed last October in response to a commencement speech given by prisoner Mumia Abu-Jamal at his former college. In an interview with The Prison Complex earlier this year, David Shapiro a lawyer and professor at the MacArthur Justice Center at Northwestern Law School said the law was "incredibly vast in the amount of speech it prohibits."
The New York Times reports that US District Judge Christopher Conner wrote "throughout its brief legislative gestation, the law was championed primarily as a device for suppressing offender speech."
"A past criminal offense does not extinguish the offender's constitutional right to free expression," Conner wrote. "The First Amendment does not evanesce at the prison gate, and its enduring guarantee of freedom of speech subsumes the right to expressive conduct that some may find offensive."

He said law was unlawfully purposed, vaguely executed and patently overbroad, and said legislators "fell woefully short of the mark." Continue reading…
Judge Conner noted that the law did not define "offender" and as a result "prisoners and non-prisoners alike- had instantly modified their conduct for fear of falling within the ambit of the act."
Opponents of the law celebrated the ruling but the Times reports that the law's supporters were preparing to find ways to restore the measure in some form.
Rep. Mike Vereb, a suburban Philadelphia Republican who sponsored the law, said that if an appeal is not taken he plans to push for an amended version of the law in the Legislature.

"It wasn't suppressing speech, it was suppressing harassment and revictimization of our victims," Vereb said. "This is the first ring of the bell in this fight. The victims need fighters, we're fighters." Continue reading…
Saturday, Apr 25, 2015, 10:00 am · By George Lavender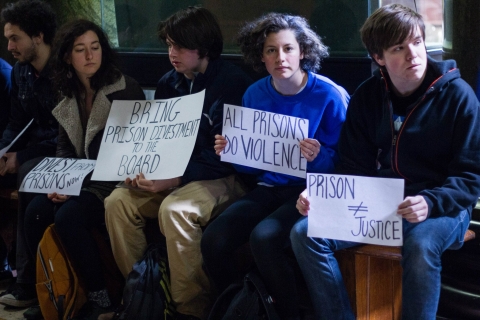 "Bring Prison Divestment to the Board" read the message on one placard as students at Columbia University took part in a sit-in on Friday.
The sit-in outside Columbia President Lee Bollinger's office was organized by the Columbia Prison Divest campaign which is attempting to persuade the school's Board of Trustees to pull its investments from private prison companies. Organizers say the school has around $10 million invested in G4S and Corrections Corporation of America.
"We found this investment to be fundamentally at odds with what Columbia claims to be, and what Columbia should be" Dunni Oduyemi, a campaign organizer, told the Prison Complex.
In a major success for the campaign, last month the University's Advisory Committee on Socially Responsible Investing voted to recommend divestment. The Committee's resolution stated that they were concerned about the business model used by private prison companies.
"…(It) creates incentives for increasing the level of incarceration in the United States, which is remarkably high both in historical terms in the U.S. and in international comparisons. The profits of private prison companies increase in the utilization of prison services, both in the occupancy rate for existing facilities and in the construction of new facilities. This gives private prison companies incentives to lobby for legislation, police and prosecutorial practices, and sentencing decisions that increase (or at least maintain) current incarceration levels. In the Committee's opinion, an investment whose positive performance is linked to an increase in already high levels of incarceration does not fit with the University's mission and values."
The Committee was formed in the wake of Columbia students' fraught campaign against South African Apartheid and uses three main criteria to consider divestment from companies: community sentiment, the merits, and the possibilities for shareholder engagement.
On the first, Dunni Oduyemi says that Columbia Prison Divest has widespread support, not just among students but faculty as well who "don't want to be complicit in unjust incarceration either." For the second criteria, Oduyemi says the campaign has successfully argued that "there is nothing redeemable about mass incarceration or in participating in or profiting off of mass incarceration." Finally, after some initial disagreement, organizers say they were also able to persuade the Committee "there's no way that private companies could be redeemable even if they went through different reforms."
Ultimately, the decision to divest from the private prison companies will be taken by the Board of Trustees, of which President Lee Bollinger is a member, and the sit-in was intended, Oduyemi says, to keep up pressure on him. According to organizers the campaign will meet with Bollinger on Monday.
Photos via Jo Chiang