Sunday, Feb 22, 2015, 11:00 am · By George Lavender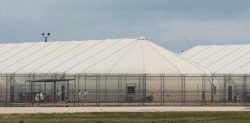 An uprising by prisoners at a much-criticized private prison in Texas has left the facility "uninhabitable." Thousands of federal prisoners from the Willacy County Correctional Center in Raymondville, Texas, will be moved to other facilities according to Reuters
The disturbance began early on Friday at the Willacy county correctional center in Raymondville, Texas, which primarily holds individuals who have entered the United States illegally. The prison, which is run by the private company Management & Training Corp, is located about 40 miles (64 km) from the Mexican border.

The unrest began when prisoners refused to come to breakfast or report for work in a bid to protest problems with medical services at the facility, the Express-News newspaper and local broadcaster KGBT-TV reported.

The inmates broke out of their housing structures and converged in the recreation yard, setting fire to several kevlar domes, or tents, that serve as prison housing, the paper said.

By Saturday evening, the disturbance was largely under control, but the prison had suffered sufficient damage to require the transfer of as many as 2,800 inmates, according to a statement from US bureau of prisons published by KGBT. The process of moving the inmates is expected to continue into next week, the statement said. Continue reading…
The prison is one of 13 "Criminal Alien Requirement" (CAR) prisons in the United States. Managed by private companies on behalf of the Federal Bureau of Prisons, the facilities are mostly used to hold low-security non-U.S. citizens convicted of immigration offenses or drug-related crimes.
As reported here at The Prison Complex, the ACLU last year released a damning report describing Willacy as "a physical symbol of everything that is wrong with enriching the private prison industry and criminalizing immigration."
"Believe it or not I care" is a Management & Training Corporation (MTC) company slogan on display at Willacy County Correctional Center in Raymondville, Texas. But a new report by the ACLU is calling that slogan into question. Last summer, 30 prisoners at the facility were placed in isolation units "for refusing to leave the recreation yard and return to their dormitories after prison officials ignored their complaints of toilets overflowing with raw sewage," according to the report. Continue reading…
Management & Training Corporation, the company that runs the facility, was subject to a lawsuit filed two years ago by prisoners at its East Mississippi Correctional Facility. Photos taken as part of a tour of the prison, showed charred door frames, exposed electrical wires, and blood soaked cell floors. According to the ACLU "many of the mentally ill prisoners are undertreated, leading to extreme behavior like throwing excrement, swallowing shards of glass and cutting their flesh with sharp objects."
Thursday, Feb 19, 2015, 8:00 am · By George Lavender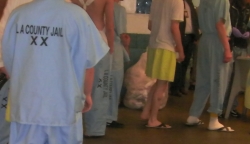 One in seven people living with HIV passes through a correctional facility each year, according to the CDC. In California alone more than 1,000 prisoners are known to be HIV positive. People in prison are also disproportionately at risk of contracting other sexually transmitted infections including HIV/AIDS, gonorrhea, chlamydia and syphilis.
For years, health organizations have recommended providing condoms to prisoners to help slow the spread of these diseases. While several foreign prisons do make them available, here in the US only two states and a handful of jails currently provide condoms to prisoners. That's in part because sex between prisoners is against prison rules in every state, and actually a crime in some.
In this report for Al Jazeera America, I visited one of the few locked settings that does provide condoms to prisoners: Men's Central Jail in Los Angeles.
"Do you guys want condoms?" Deputy Javier Machado, of the Los Angeles County Sheriff's Department, asks a dormitory full of prisoners in the Men's Central Jail. "If you want condoms you need to get in line. If not, I need you on your bunk."

A worker with the county's Public Health Department places a box full of brightly colored condoms on a table and begins to hand them out, three at a time. Waiting in line, one prisoner loudly declares that he's getting the condoms "for someone else," drawing laughter from the others. The distribution takes only a matter of minutes, but the weekly act is hardly typical.

While Los Angeles has been handing out condoms in the county jail for more than a decade, it remains one of just a handful of jail and prison systems that do so. In September, Calif. Gov. Jerry Brown took a step toward making condoms more widely available, signing a bill that will introduce them at the state's 34 adult prisons. As in most states, the jails in California are short-term facilities run by county sheriffs, while the prison system, which holds prisoners after they've been sentenced, is managed by the state government. Continue reading...
It was third time lucky for a bill to make condoms available in California prisons. Two previous versions of the legislation had been vetoed by Governor Schwarzenegger and Governor Brown. While some states provide condoms for conjugal visits, California is only the second state in the country to officially provide inmates with condoms specifically for sex with other prisoners.
In 1987, Vermont's Department of Corrections gave notice that it would allow condom distribution in its prisons, a shift in policy that was "directly related to concern regarding transmission of AIDS," according to the memo announcing the change. Under that policy, which remains in effect, Vermont prisoners can request a condom from a nurse in a one-on-one meeting. Delores Burroughs-Biron, who directs health services for the Vermont corrections department, says she welcomes the California act: "Good for them. If we really want to take care of people not just in the short term but the long term, then one of the things that we do is to make sure their health is protected."

The World Health Organization recommends that condoms be provided in prison and jails, something several other countries already do, but prisons in the United States have been slow to follow suit. With the signing of the Prisoner Protections for Family and Community Health Act, California's prison system becomes the largest in the United States to allow condoms to be distributed in its facilities. The act requires the state's Department of Corrections and Rehabilitation to develop a five-year plan to expand the availability of condoms in all California prisons. Continue reading...
During a pilot study on providing condoms in one California state prison, officials looked to San Francisco's decades old program as a model. In this KQED report staff and prisoners at the jail talk about how they feel about condoms being available, as well as some of the more unusual uses prisoners have found for condoms.
Thursday, Feb 19, 2015, 12:00 am · By George Lavender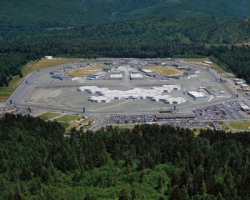 "Members should uphold human rights in all their professional endeavors." That's Ethical Standard 1.4 of the American Institute of Architects. For many years Architects/Designers/Planners for Social Responsibility has campaigned for the AIA to censure architects who design isolation units and execution chambers. As Zachary Edelson reports for the Architectural Record, in December the AIA rejected a proposed amendment on the issue.
The amendment would have stipulated that AIA members "shall not design spaces intended for execution or for torture or other cruel, inhuman, or degrading treatment or punishment, including prolonged solitary confinement." In effect, this would have prohibited members from designing facilities such as execution chambers, interrogation suites meant for torture, and super-maximum-security prisons that enable long-term solitary confinement. The proposed amendment would add "enforceable language" to an existing AIA ethics rule that states, "Members should uphold human rights in all their professional endeavors." The ADPSR submitted the proposal along with a set of endorsement letters and two petitions (one was worded for architects, the other for educators—they have accrued more than 2,100 signatures on Change.org). Continue reading...
"Questions of scope and enforceability" were the primary reasons the AIA ultimately rejected the amendment as Michael Kimmelman reports for the New York Times
"It's just not something we want to determine as a collective," Helene Combs Dreiling, the institute's former president, told me. She said she put together a special panel that reviewed the plea. "Members with deeply embedded beliefs will avoid designing those building types and leave it to their colleagues," Ms. Dreiling elaborated. "Architects self-select, depending on where they feel they can contribute best."

What are the ethical boundaries for architecture? Architecture is one of the learned professions, like medicine or law. It requires a license, giving architects a monopoly over their practices, in return for a minimal promise that buildings won't fall down. Raphael Sperry, the Bay Area architect who spearheaded the petition to the institute, thinks the public deserves more in return for that monopoly. Continue reading…
Raphael Sperry and his colleagues argue that architects should be expected to maintain ethical standards in much the same way that professional medical associations require doctors not to take part in executions. He points out that the United Nations and other international human rights organizations specifically prohibit the death penalty and the use of long-term solitary confinement and so architects should not participate in the construction of facilities for those purposes. As the New York Times notes, New York City voted to ban the use of solitary confinement for inmates aged 21 and under just weeks after the AIA decision.
"Is there nothing so odious that the A.I.A. wouldn't step in?" he asked. "What about concentration camps? The A.I.A. is basically saying business is more important than human rights. Yes, this is a tough profession. But you don't gain respect by hunkering down in a position of fear. You just dig yourself deeper into a hole."

If architects want more respect, he argued, they need to take a stand. This is an interesting moment, with echoes in the past. A century ago, movements like the Bauhaus, looking to improve design for the masses, emerged from a culture in which the widening gulf between rich and poor was sundering civil society. Continue reading…http://www.nytimes.com/2015/02/17/arts/design/prison-architecture-and-the-question-of-ethics.html?_r=1
Sperry was also featured in this episode of 99% Invisible "An Architects Code"
Wednesday, Feb 18, 2015, 1:00 pm · By George Lavender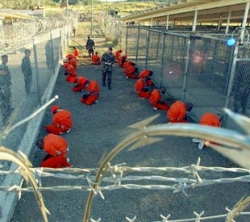 The Guardian has an exclusive report on allegations of torture carried out by a former Chicago detective.
Richard Zuley is accused of torturing detainees in Chicago's north side and later as a lieutenant in Guantánamo. Journalist Spencer Ackerman writes that Zuley's conduct is under investigation in several cases. The report comes a week after another disgraced former Chicago police commander, Jon Burge, was released from home monitoring.
Zuley's record suggests a continuum between police abuses in urban America and the wartime detention scandals that continue to do persistent damage to the reputation of the United States. Zuley's tactics, which would be supercharged at Guantánamo when he took over the interrogation of a high-profile detainee as a US Navy reserve lieutenant, included:

• Shackling suspects to police-precinct walls through eyebolts for hours on end.

• Accusations of planting evidence when there was pressure for a high-profile murder conviction.

• Threats of harm to family members of those under interrogation used as leverage.

• Pressure on suspects to implicate themselves and others.

• Threats of being subject to the death penalty if suspects did not confess. Continue reading…
Details of Zuley's record in Chicago, where he worked from 1977 to 2007, began to emerge after Lathierial Boyd's wrongful conviction for murder was overturned in 2013. Spencer Ackerman reports that in a federal civil-rights lawsuit Boyd accuses Zuley of "planting evidence and withholding crucial details." At the time of his release Boyd had spent 23 years in prison, as the Chicago Tribune reported at the time.
Boyd was ordered released after having been convicted for a 1990 shooting that killed one man and seriously wounded another outside a bar in Wrigleyville. He was sentenced to 82 years in prison.

Boyd's lawyers had argued that the conviction rested primarily on the testimony of the wounded man, Ricky Warner. They contended Warner initially told police he did not know who shot him, but during the trial Warner testified that Boyd has shot him and the other man over a drug debt.

The attorneys also noted that nine witnesses viewed a line-up that included Boyd and none of them identified Boyd as the shooter.

Boyd's alibi was that he was at his sister's home some 20 miles from the crime scene eating pizza and watching a Chicago Bulls game. His sister testified to that, as did a veteran Cook County sheriff's deputy who was there as well.

Cook County State's Attorney Anita Alvarez, told reporters the decision to vacate the convictions followed investigations by the office's Conviction Integrity Unit, which was launched in an effort to root out wrongful convictions. Continue reading…
Former deputy commander of Guantánamo's investigative task force for the military commissions, Mark Fallon, told the Guardian that based on Zuley's interrogations at the military prison "if that's any reflection of what he did in Chicago, it would not surprise me that he's got a few issues going on right now."
Saturday, Feb 14, 2015, 4:00 pm · By George Lavender
"Pennsylvania's system is riddled with flaws, making it error prone, expensive and anything but infallible." That's according to Tom Wolf, the state's governor who, as CNN reported, on Friday announced a moratorium on all executions.
"Numerous recent studies have called into question the accuracy and fundamental fairness of Pennsylvania's capital sentencing system," he said. "These studies suggest that inherent biases affect the makeup of death row. While data is incomplete, there are strong indications that a person is more likely to be charged with a capital offense and sentenced to death if he is poor or of a minority racial group, and particularly where the victim of the crime was Caucasian."

The governor stressed that the impetus was to re-examine a flawed system of justice, and in no way a sentence commutation for the 186 individuals on Pennsylvania's death row. Continue reading…
Pennsylvania has the fifth largest death row population in the United States, according to the Death Penalty Information Center but like several states has faced difficulty obtaining the drugs used in lethal injections in recent years. An execution last year was postponed because Pennsylvania officials were unable to obtain the necessary drugs. The prisoner, Hubert L Michael Jr., is still on death row at State Correctional Institution Greene.
Thursday, Feb 5, 2015, 2:51 pm · By George Lavender
Back in November 2013, 18-year-old Sasha Fleischman, fell asleep on the number 57 bus home from school in Berkeley, California. Fleischman who identifies as agender, wore "a t-shirt, a black fleece jacket, a gray newsboy cap and a gauzy white skirt" according to an article by Dashka Slater in the New York Times.
As the AC Transit bus made its way through Oakland another teenager on the bus flicked a lighter, setting fire to Fleischman's skirt. "Sasha's legs were left charred and peeling. Taken by ambulance to a San Francisco burn unit, Sasha would spend the next three and a half weeks undergoing multiple operations to treat the second- and third-degree burns that ran from thigh to calf."
Richard Thomas, the 16-year-old who set Fleischman's skirt on fire would later be charged as an adult with two felonies, each with a hate crime clause.
In a 2013 article in The Nation magazine Michael Bronski, Ann Pellegrini and Michael Amico explain how hate crime legislation is used.
The term "hate crime laws" is commonplace, but people often do not understand the intent or ramifications of such laws. It is important to understand why they were written in order to understand what they do and don't do. While hate crime laws proliferated in the early 1980s, their legal roots are deeper. Throughout US history, violent, discriminatory acts against certain groups of people were not taken seriously. One solution was to enact new laws to make sure the laws already on the books were enforced. In the 1930s, when the lynching of African-Americans was pervasive throughout the country—3,446 black Americans were lynched between 1882 and 1968, one every ten days—activists lobbied Congress to pass anti-lynching laws. These would allow the federal government to legally intercede when states would not. A federal law was never passed. Only in 1968 did the Civil Rights Act make it a federal crime to "by force or by threat of force, injure, intimidate, or interfere with anyone … by reason of their race, color, religion, or national origin." Soon states began passing their own legislation, based, to a large degree, on a model drafted by the ADL, to which "gender" and "sexual orientation" were later added.

Although all of these laws are worded differently, they usually contain three similar provisions. First, animus against the victim must be explicitly articulated. That is, the perpetrator must actively indicate that the crime is being committed because of a "hate" for the victim's race, religion, ethnicity or sexual orientation. Second, state or federal authorities will officially keep track of the number of incidents by recording them as hate crimes. Third, hate crimes carry with them "penalty enhancement," usually meaning stiffer sentencing, because they are understood as injuring not only an individual but a community. In the New York State penal code, for instance, if you are convicted of assault in the second degree, a D felony, you could be sentenced to up to seven years in prison. If your second-degree assault is recorded as a hate crime, the prosecutor can bump the charge up to a third-degree assault, a C felony, which carries a sentence of up to fifteen years. Continue reading…
As The Nation article describes, while some liberal groups have argued hate crime laws protect people, others have criticized such legislation as being selectively enforced, with poor people and people of color disproportionately charged and imprisoned.
As Slater writes "a majority of those charged with bias crimes do not fit the stereotype of the squinting, bristle-headed loner sporting a swastika tattoo." Thomas too does not fit that description. He was on the bus on his way back home to "Deep East" Oakland. Later, he would write to Fleischman, apologizing for his actions. "I am not a thug, gangster, hoodlum, nor monster. Im a young african american male who's made a terrible mistake" he wrote "i've also been hurt alot for no reason, not like i hurt you but ive been hurt physically and metally so i know how it feels, the pain and confusion of why me i've felt it before plenty of times."
Saturday, Jan 24, 2015, 1:08 am · By Maya Schenwar
On January 27th, domestic violence survivor Marissa Alexander will walk out of Florida's Duval County jail -- but she won't be free.
Alexander, whose case has gained some notoriety, endured three years of jail time and a year of house arrest while fighting off a prison sentence that would have seen her incarcerated for the rest of her life -- all for firing a warning shot that injured no one to fend off her abusive husband. Like many black women before her, Alexander was framed as a perpetrator in a clear case of self-defense. In November, as her trial date drew close, Alexander accepted a plea deal that will likely give her credit for time served, requiring her to spend "just" 65 more days in jail. Media coverage of the development suggested that Alexander would soon have her "freedom," that she would be "coming home."
Many accounts of the plea deal, however, missed what Alexander will be coming home to: she'll return to "home detention" -- house arrest -- for two years.
In other words, an electronic monitor, secured around her ankle at all times, will track her every movement. Alexander will also be paying $105 per week to the state in monitoring fees, as is the custom in Florida and more than a dozen other states.
Such a situation is certainly preferable to being caged in a prison cell. However, does Alexander's release -- and that of others in her shoes -- mean freedom? In reality, an ever-growing number of cages are proliferating around us, even if they assume forms that look nothing like our standard idea of a cage.
As mass incarceration is falling out of fashion -- it's been denounced by figures across the political spectrum from Eric Holder to Newt Gingrich -- a whole slate of "alternatives to incarceration" has arisen. From electronic monitoring and debilitating forms of probation to mandatory drug testing and the sort of "predictive policing" that turns communities of color into open-air prisons, these alternatives are regularly presented as necessary "reforms" for a broken system.
Sunday, Jan 11, 2015, 2:45 am · By George Lavender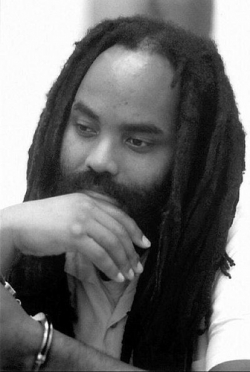 A controversial Pennsylvania law which could limit the ability of Mumia Abu-Jamal and other prisoners to write or speak publicly is being challenged in court. On Thursday, lawyers filed a motion for a preliminary injunction to prevent SB508 being enforced.
The "Revictimization Relief Act" was passed in October last year, sixteen days after Abu-Jamal delivered this prerecorded commencement speech at his former college.
Imprisoned for the 1981 murder of a Philadelphia police officer, Daniel Faulkner, Abu-Jamal's writing and commentaries have gained him a worldwide following. In passing the new law, outgoing Pennsylvania Governor Tom Corbett was quoted by The Washington Times described Abu-Jamal as an "unrepentant cop killer" who had "tested the limits of decency."
The new law reads, in part, "a victim of a personal injury crime may bring a civil action against an offender in any court of competent jurisdiction to obtain injunctive and other appropriate relief, including reasonable attorney fees and other costs associated with the litigation, for conduct which perpetuates the continuing effect of the crime on the victim."
To find out more about the law and the legal challenge to it The Prison Complex spoke with David Shapiro, a lawyer and professor at the MacArthur Justice Center at Northwestern Law School.
Wednesday, Dec 31, 2014, 4:36 pm · By George Lavender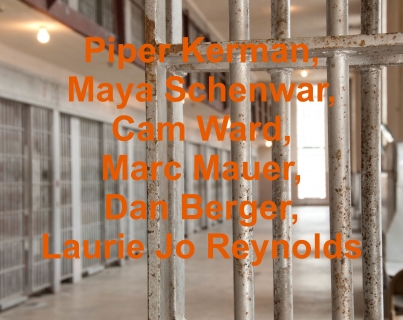 As 2014 comes to a close The Prison Complex asked several people with experience of the criminal justice system for their view on the past year and their hopes or fears for the year ahead.
Piper Kerman
Author of Orange is the New Black: My Year in a Women's Prison
What was the most promising development in criminal justice in 2014?
The most promising development of 2014 was peaceful mass demonstrations against police brutality that enforces racial hierarchy. It's going to take both public pressure and persuasion to see necessary changes to the criminal justice system, and the front end of the system - policing, court reform, sentencing reform - is the name of the game if we want to see fewer Americans with criminal convictions (and obviously fewer confined in prisons and jails).
What was the worst moment in criminal justice in 2014?
The Missouri and New York grand jury results in the Brown and Garner cases really laid bare how corrupt and dysfunctional the courts system is. Getting attention and heat on the courts system is difficult because it's so wonky and "unsexy", but we can't get justice in the streets or in prisons and jails without focusing on courtrooms.
What should we watch for in 2015?
I think it's going to be a strange and interesting year because of growing rhetoric and activity from conservatives about justice reform. Just remember, when it comes to the criminal justice system..."follow the money". Those that benefit from the current system aren't going to back off their profits easily.
Maya Schenwar
Author of Locked Down, Locked Out: Why Prison Doesn't Work and How We Can Do Better
What was the most promising development in criminal justice in 2014?
The sweeping protests against police violence over the past several months have been an enormously important development. Many of these protests have expanded far beyond the specific tragedies that sparked them; they are exposing the ways in which the entire criminal legal system (including, of course, law enforcement) is built on anti-black racism and is fundamentally unjust. These activists have called us to imagine our way beyond policing--to rethink what we mean when we talk about "safety" and "justice."
What was the worst moment in criminal justice in 2014?
This past year contained many disappointments and horrors in the realms of criminalization and punishment--including ongoing and intensifying police violence toward communities of color (particularly black communities), and the news that the prison population had actually increased in 2013, breaking the modest decrease of previous years. One moment I have been thinking about a lot recently is the release of Obama's very short list of commutations and pardons earlier this month. Despite signals from the Justice Department earlier this year that thousands of clemency petitions would soon be granted, a mere eight individuals (all incarcerated on drug charges) received sentence commutations. Even if many more commutations are granted next year, the lack of clemency granted this year reveals an ongoing disregard for the lives of those behind bars--a disregard for the fact that every day and every minute counts, and that we are participating in rendering incarcerated people's lives disposable with every minute we ignore them.
What should we watch for in 2015?
In 2015, I think we should pay close attention to the ongoing rise of activism against policing, as well as the growing movements for decarceration, geared toward shrinking the prison-industrial complex as a whole. At the same time, we must be wary of the ways in which, as prison "reform" (and even policing "reform") gains popularity, the system simply finds new ways to imprison people. For example, as prison budgets are presumably reduced in California as a result of Proposition 47's passage, we must ensure that the savings are not simply transferred to policing and "alternative" forms of incarceration. And most of the reforms on the table for changing the way police operate do not address the fundamental injustices that ground their existence. We must watch for "reforms" that are simply the status quo masquerading as change.
Monday, Dec 29, 2014, 12:59 am · By George Lavender
At least in some parts of the country.
Clemency is the general term for the power to either commute someone's sentence or pardon their crime. Across the country, governors and the president used the holiday season to exercise this executive power to commute and pardon hundreds of sentences, many of them for drug offenses.
As the Chicago Tribune reports outgoing Illinois Governor Pat Quinn was among those to do so.
After inheriting a backlog of more than 2,800 requests that now-imprisoned former Gov. Rod Blagojevich took no action on during his tenure, Quinn's office said he has acted on 3,962 clemency petitions, granting 1,418 and denying 2,544 petitions, since taking over in 2009.

That represents a nearly 36 percent approval rate for the petitions he has considered, which experts say ranks among the highest for any current governor. Continue reading...
Governor Quinn was not the only outgoing governor to use their power of clemency to pardon some of those convicted of drug offenses. Governor Mike Beebe, whose term expires next year announced earlier this month that he will pardon his own son for a 2003 marijuana conviction. Vox notes Beebe "could right that wrong for a lot more Arkansas families if he wanted to." Beebe's son was one of 5, 876 people arrested for marijuana possession that year. An ACLU study found black Arkansans were three times more likely than whites to be arrested for marijuana possession.