Monday, May 11, 2015, 11:08 am · By Alice Ollstein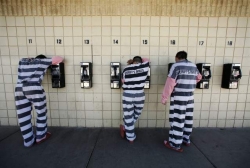 With federal action expected this summer to regulate the cost of prison phone calls, the National Sheriffs' Association announced they may "significantly limit or eliminate altogether" the right of prisoners to make those calls.
Incarcerated people and their families — who are disproportionately low-income — have fought for decades against the often exorbitant rates charged for a phone call home by companies that hold exclusive contracts and provide kickbacks to the jails themselves.
In 2013, they appeared to win a major victory when the Federal Communications Commission (FCC) passed an interim rule to cap the cost of calls between states at 25 cents per minute — meaning 15-minute calls that used to be as high as $17 could no longer cost more than $3.25. In announcing the change, the FCC said the current fee structure is "unjust and unreasonable."
But this reform has sparked a revolt from those who benefited financially from the old system: the prison phone industry that makes more than a billion a year in profits, and the state and county governments that get "commissions" from those calls that they use to pad their budget. In some states, commissions make up as much as 94 percent of the cost of the call, funneling millions of dollars to cash-strapped local jurisdictions.
Deborah Golden, an attorney with the DC Prisoners' Rights Project, told ThinkProgress she views these commissions as "another tax on poor people and people of color."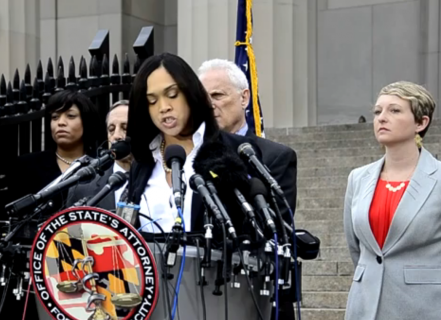 Remember, we are not fighting for the freedom of the Negro alone, but for the freedom of the human spirit, a larger freedom that encompasses all of [hu]mankind.

--Ella Baker
Today, six Baltimore police officers were charged with crimes related to the arrest and death of Freddie Gray. While it is important that we hold these officers accountable for their acts of brutality, we must remember that accountability does not end with bringing criminal charges or even securing a conviction against these officers.
In many recent incidents involving law enforcement violence, we have focused our attention on individual accountability, instead of the need for transformative institutional change.
About fifty years ago, as uprisings spread across the country, the Kerner Commission issued a report stating the ongoing legacy of racial injustice in the country demanded, "remedy" not "reaction."
Yet, fifty years later as Black youth in Baltimore who are shut out of their classrooms and denied access to public transportation and Black adults who are shut out of employment opportunities took to the street following the killing of Freddie Gray, the local, state, and federal government response has once again been repression and reaction, not remedy.
We stand in solidarity with the people of Baltimore and the millions of black people across the country who are tired of poverty, racism, and state-sanctioned murder. We recognize anger, fear, despair, and outcry, as not just normal but rather encouraging responses against a system that has offered silence, repression, or death.
Friday, May 1, 2015, 11:57 am · By George Lavender
Pennsylvania's controversial "Revictimization Relief Act," was declared unconstitutional on Tuesday. The law, which opponents dubbed "The Silencing Act," allowed victims of personal injury crime to bring a civil action against the perpetrator of that crime, "for conduct which perpetuates the continuing effect of the crime on the victim."
The law passed last October in response to a commencement speech given by prisoner Mumia Abu-Jamal at his former college. In an interview with The Prison Complex earlier this year, David Shapiro a lawyer and professor at the MacArthur Justice Center at Northwestern Law School said the law was "incredibly vast in the amount of speech it prohibits."
The New York Times reports that US District Judge Christopher Conner wrote "throughout its brief legislative gestation, the law was championed primarily as a device for suppressing offender speech."
"A past criminal offense does not extinguish the offender's constitutional right to free expression," Conner wrote. "The First Amendment does not evanesce at the prison gate, and its enduring guarantee of freedom of speech subsumes the right to expressive conduct that some may find offensive."

He said law was unlawfully purposed, vaguely executed and patently overbroad, and said legislators "fell woefully short of the mark." Continue reading…
Judge Conner noted that the law did not define "offender" and as a result "prisoners and non-prisoners alike- had instantly modified their conduct for fear of falling within the ambit of the act."
Opponents of the law celebrated the ruling but the Times reports that the law's supporters were preparing to find ways to restore the measure in some form.
Rep. Mike Vereb, a suburban Philadelphia Republican who sponsored the law, said that if an appeal is not taken he plans to push for an amended version of the law in the Legislature.

"It wasn't suppressing speech, it was suppressing harassment and revictimization of our victims," Vereb said. "This is the first ring of the bell in this fight. The victims need fighters, we're fighters." Continue reading…
Saturday, Apr 25, 2015, 10:00 am · By George Lavender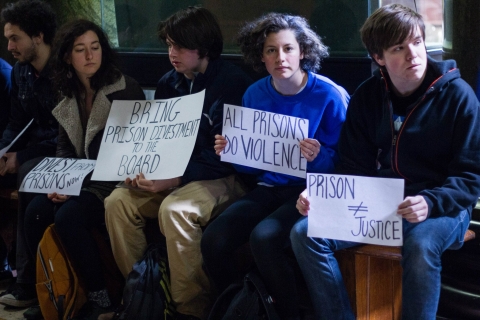 "Bring Prison Divestment to the Board" read the message on one placard as students at Columbia University took part in a sit-in on Friday.
The sit-in outside Columbia President Lee Bollinger's office was organized by the Columbia Prison Divest campaign which is attempting to persuade the school's Board of Trustees to pull its investments from private prison companies. Organizers say the school has around $10 million invested in G4S and Corrections Corporation of America.
"We found this investment to be fundamentally at odds with what Columbia claims to be, and what Columbia should be" Dunni Oduyemi, a campaign organizer, told the Prison Complex.
In a major success for the campaign, last month the University's Advisory Committee on Socially Responsible Investing voted to recommend divestment. The Committee's resolution stated that they were concerned about the business model used by private prison companies.
"…(It) creates incentives for increasing the level of incarceration in the United States, which is remarkably high both in historical terms in the U.S. and in international comparisons. The profits of private prison companies increase in the utilization of prison services, both in the occupancy rate for existing facilities and in the construction of new facilities. This gives private prison companies incentives to lobby for legislation, police and prosecutorial practices, and sentencing decisions that increase (or at least maintain) current incarceration levels. In the Committee's opinion, an investment whose positive performance is linked to an increase in already high levels of incarceration does not fit with the University's mission and values."
The Committee was formed in the wake of Columbia students' fraught campaign against South African Apartheid and uses three main criteria to consider divestment from companies: community sentiment, the merits, and the possibilities for shareholder engagement.
On the first, Dunni Oduyemi says that Columbia Prison Divest has widespread support, not just among students but faculty as well who "don't want to be complicit in unjust incarceration either." For the second criteria, Oduyemi says the campaign has successfully argued that "there is nothing redeemable about mass incarceration or in participating in or profiting off of mass incarceration." Finally, after some initial disagreement, organizers say they were also able to persuade the Committee "there's no way that private companies could be redeemable even if they went through different reforms."
Ultimately, the decision to divest from the private prison companies will be taken by the Board of Trustees, of which President Lee Bollinger is a member, and the sit-in was intended, Oduyemi says, to keep up pressure on him. According to organizers the campaign will meet with Bollinger on Monday.
Photos via Jo Chiang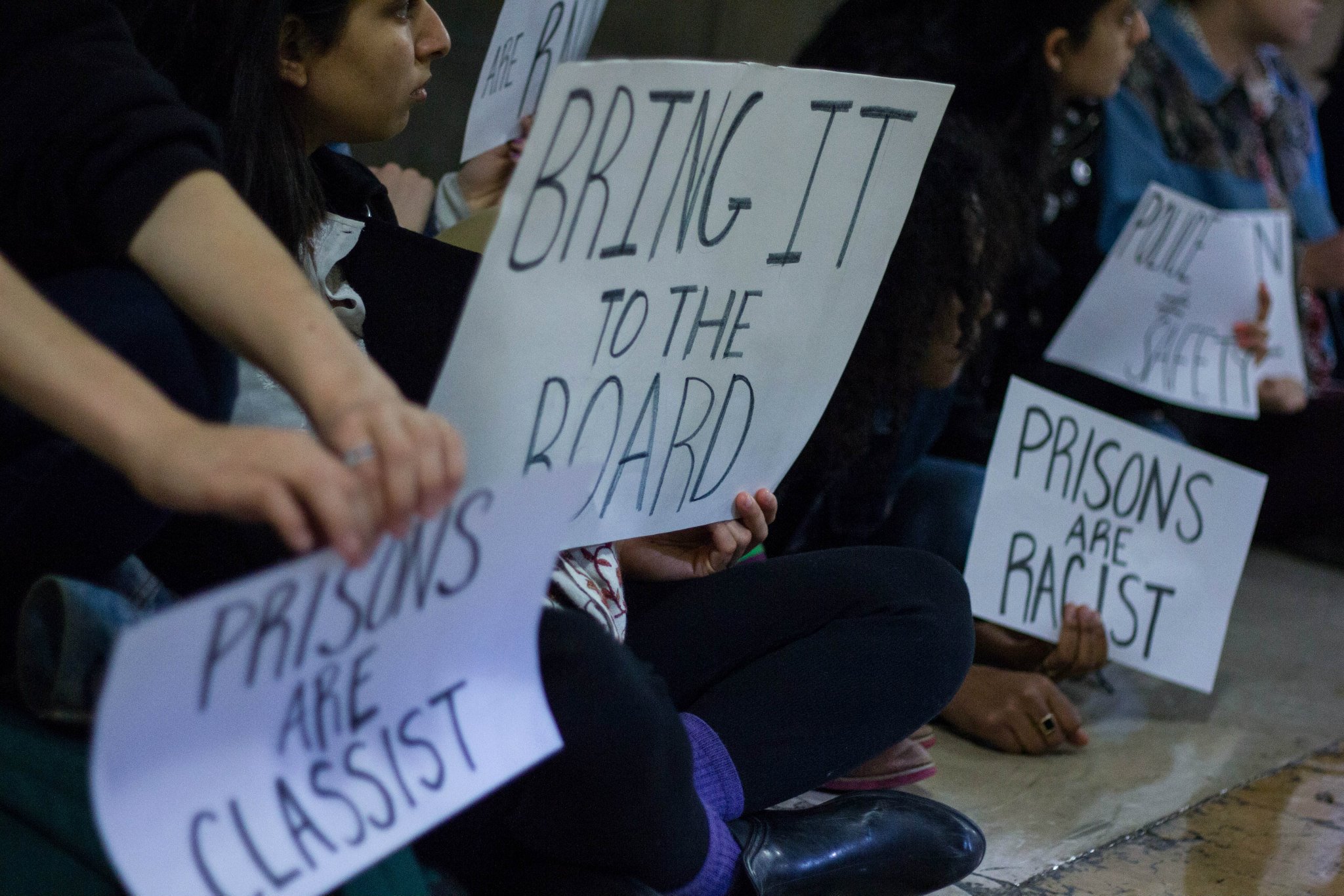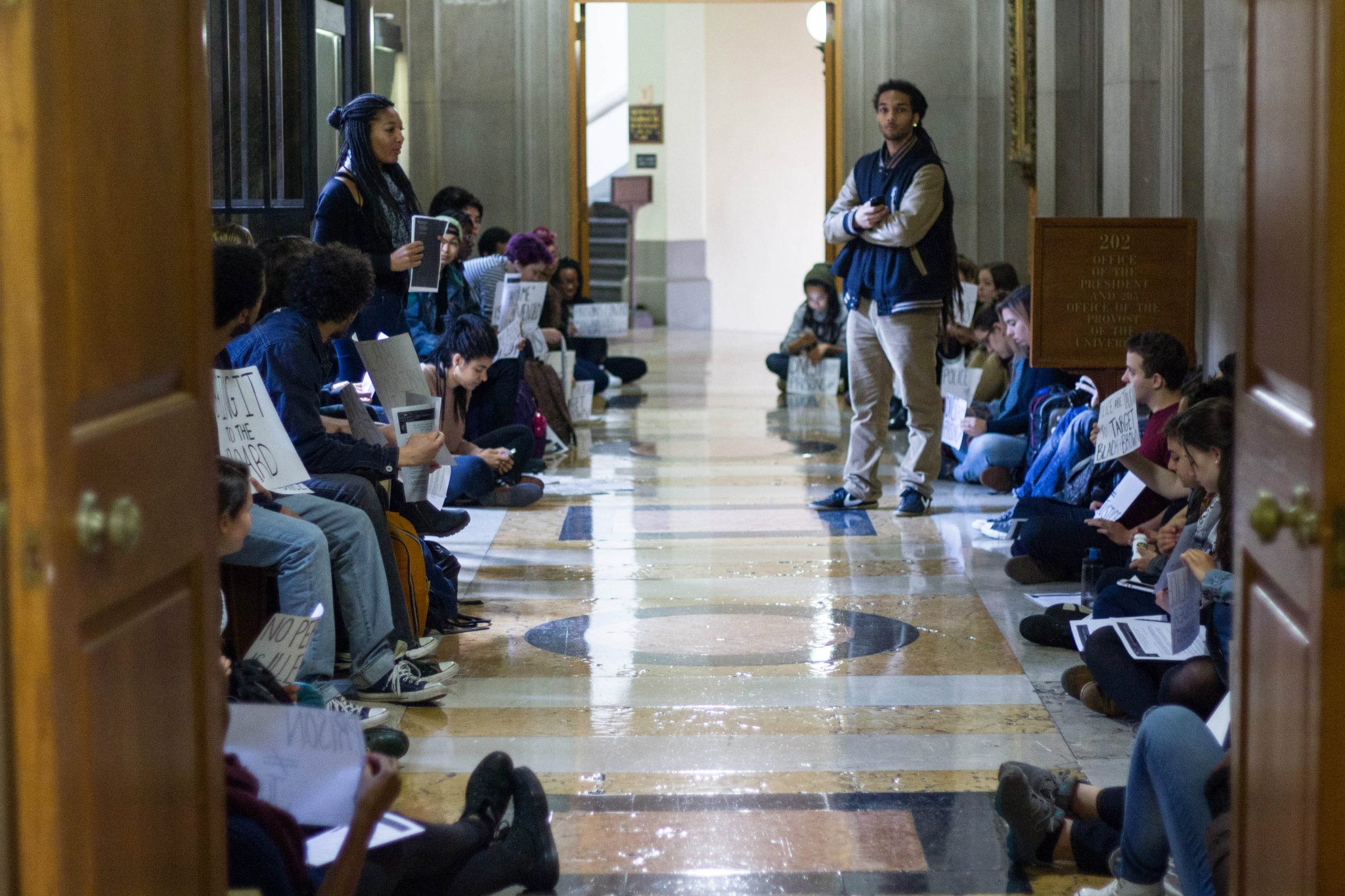 Monday, Apr 6, 2015, 7:00 am · By Dan Berger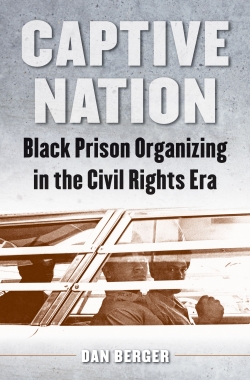 From CAPTIVE NATION: BLACK PRISON ORGANIZING IN THE CIVIL RIGHTS ERA by Dan Berger. Copyright © 2014 The University of North Carolina Press. Used by permission of the publisher. www.uncpress.unc.edu
The late 1970s was a hard time for black prison organizing. What were once perceived as extreme forms of imprisonment—punishment and isolation without end—were becoming the norm of confinement. Even the limited physical movement that had been possible a decade earlier was becoming more difficult, while the conflict between guards and dissident prisoners had not subsided. In short, conditions inside had become increasingly volatile. On the outside, many organizations that had been focused on prisoner issues had splintered or disappeared. Although there was no shortage of either outrage or organizing, fewer people were paying attention to what was happening in prisons. Several organizations that had worked to improve prison conditions during much of the preceding two decades had folded or moved on to other areas of activism. The remaining organizations were smaller and often governed by a sense of scarcity that prevented coalitions from forming or lasting.
Further, many organizations lacked the capacity to deal with the traumas faced by currently and formerly incarcerated people. Years of witnessing, experiencing, and fearing violence took a toll on people. After spending most of their adult—and in some cases their juvenile—lives incarcerated, some people faced steep challenges in life on the other side of prison walls. They saw cities declining and a Left ill equipped to handle people in crisis. Economic recession, urban redevelopment, and a growing ideology of privatization meant that the government offered fewer resources to help people in need.
The combination of these factors made the late 1970s a time of bloody transition for prison organizing. In California, a series of violent episodes resulted in the deaths of several leading figures and severely weakened the prison movement. Wounded and with a shrinking sense of possibility, black prison organizing survived by prioritizing survival strategies. The use of nationalism increased as a way of maintaining a larger worldview as the immediate surroundings became more constricted.
Black prison organizing always referred simultaneously to conditions in prison and conditions in the world outside of prison. The prison defined their efforts, and this dialectic solidified the nationalist mantra of self-reliance: prisoners needed to look out for one another because American institutions had proven themselves hostile to black survival. Prisoners needed to use whatever resources were at their disposal, especially education and physical self-discipline, to bolster their political resolve. "We begin with ourselves,with study and practice," Atiba Shanna wrote in his outline for rebuilding the prison movement. Similar sentiments appeared in New Afrikan prison papers: as prisoners grappled with an expanding and increasingly repressive prison system, they argued that any hope for change lay in perfecting themselves—their physical care, intellectual acumen, and cultural proficiency—while simultaneously confronting the government. Such sentiments provided a left-wing gloss on the emerging conservative rhetoric of "personal responsibility" rather than government stewardship, even if such personal discipline was offered as a necessary step to rebuild a radical challenge to the state.
Tuesday, Mar 31, 2015, 11:55 pm · By George Lavender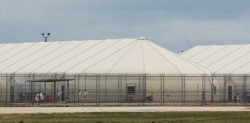 After an uprising in February by prisoners at Willacy County Correctional Center, Texas, the privately-run facility was left "uninhabitable." All 2,834 inmates were transferred to other facilities and the prison closed. Whether the prison will remain closed remains to be seen, but Daniel Tyx at the Texas Observer has been looking into the economic promises made before the center was built, and what its closure could mean for the local area.
When I traveled to Raymondville, an impoverished town 50 miles north of Brownsville, Willacy County leaders were waiting to see how long it might take for the prison to reopen—or if it would reopen at all. A decade ago, persuaded by a consortium of private prison salesmen, the county had entered into a kind of Faustian bargain, staking its financial future on a continual supply of state and federal prisoners. Now, as Willacy County faces a gaping hole in its budget, $128 million in debt still owed on Tent City, and the loss of its largest employer, I'd come to find out if the prison that was supposed to be the county's economic salvation would end up being its undoing.

At Tent City, the parking lot was nearly empty, but the two lock-ups next door—the Willacy County State Jail, operated by Corrections Corporation of America, and the Willacy County Regional Detention Center, a U.S. Marshals Service prison also contracted to MTC—were bustling. Drivers lined up three or four deep at the gate to have their IDs scrutinized by the guards. Before the riot, the three prisons in this sprawling complex could house up to 4,500 inmates, roughly a quarter of the county's population. The prisons are so central to the area's identity that locals have given their town a nickname that's stuck: Prisonville. Continue reading…
Willacy's story is not unique. Across the US many towns, particularly those in rural areas, have been offered what Ruth Wilson Gilmore author of "Golden Gulag" calls "a prison fix."
When private prison representatives first showed up in Willacy County in the 1990s, they distributed spreadsheets promising millions of dollars a year for a county whose major source of income, agriculture, was in decades-long decline. They even suggested the possibility that all local taxes could eventually be eliminated. And because the bonds would be issued not by the county but by a quasi-governmental organization known as a local government corporation, all that revenue—and the debt to finance it—would be virtually risk-free, they said.

For county leaders whose budget was in the red, the temptations proved impossible to resist. Continue reading…
Last year, an ACLU report described Willacy as "a physical symbol of everything that is wrong with enriching the private prison industry and criminalizing immigration." The facility was one of 13 "Criminal Alien Requirement" (CAR) prisons in the United States, managed by private companies on behalf of the Federal Bureau of Prisons (BOP).
Sunday, Mar 15, 2015, 7:32 pm · By George Lavender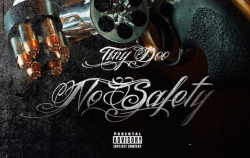 Rapper Tiny Doo and his co-defendants could see charges under a little-used California gang law dismissed on Monday.
The San Diego case received widespread attention because of the charges against Brandon "Tiny Doo" Duncan. Duncan was among those charged in connection with several shootings, allegedly carried out by the Lincoln Park gang. But it's not claimed Duncan was involved in any of them, as ABC10 reported last year:
Though Duncan hasn't been tied to the shootings, prosecutors argued that he benefited from the shootings because his gang gained in status, allowing him to sell more albums.

"We're not just talking about a CD of anything, of love songs. We're talking about a CD (cover) … there is a revolver with bullets," said Deputy District Attorney Anthony Campagna. Continue reading..
The album "No Safety" was a mixtape of songs. The Prison Complex spoke with Deanne Arthur of Brian E Watkins and Associates Law, the firm that represents Duncan.
UPDATE: The charges were dismissed on Monday, but as Deanne Arthur explains in this interview the District Attorney could re-file the charges
How did this case get started?
How it got started was that the DA's office has decided to use a law 182.5 that has not been used before and has been on the books since 2000. It was originally struck-down as being unconstitutional by the legislators (but) it got on the books through Proposition 21 which was pushed through by the District Attorneys Association. They pushed it through (via) Proposition 21. (They) called it basically a crackdown on gang violence. It was put on the books in 2000 and then kind of went silent. There was a lot of uproar when they were trying to originally pass it and then the DA's Association passed it through Prop 21 and I think they were meticulous in letting it kind of be quiet for a bit so maybe the public would forget how the law came about and knowing that the legislators initially struck it down.
How did Brandon "Tiny Doo" Duncan become involved in this case?
They have targeted Lincoln Park Gang which is a local San Diego gang. Lincoln Park (is also) an area of San Diego. There's Lincoln Park High School there's a Lincoln Park Neighborhood. Brandon Duncan was born and raised in Lincoln Park he went to Lincoln Park High School so he is friends (with) and knows everyone from that neighborhood. He was documented as a gang member at 17 and being documented didn't necessarily mean he had any active involvement. Documentation can just be from the police officers having contact with you.. it has nothing to do with any criminal activity that Brandon Duncan had done, in fact Brandon Duncan has no criminal record at all. Brandon Duncan (is) now 33 years old. When they brought these charges they decided to round up individuals from that Lincoln Park area. Brandon Duncan was arrested (for) 9 shootings that they (the DA) say he had nothing to do with. The shootings are unsolved (and) they don't even know that the Lincoln Park (gang) were the ones that did the shootings. They arrested him and he actually spent 8 months in jail, just by simply creating the rap album. They didn't cite specific lyrics they just said the creation of this rap album is what promotes violence. I also have to note that the album was not out there for sale it was a mixtape so they didn't say that Brandon Duncan was deriving profits. They were just saying he promotes gang violence and he benefits from gang violence by reputation and stature, his reputation is bolstered which enables him to make gangster rap music. At the conclusion of the prelim which was broken up into two parts the judge bound over on the first group (Brandon Duncan's group of defendants) and he did not bind over the second group meaning that he said that there wasn't enough probable cause to make them stand trial. He didn't say that based on any new facts as related to the second group, it was all the same set of facts. The judge basically said he had opportunity to re-read over the law (and) he just determined that the law was not constitutional in the way they were applying it. The defense counsel and the prosecution were arguing over whether the way the law was being interpreted. We determined that "willful" applied to all three elements "promote, further, benefit" whereas the prosecution alleged that you don't have to willfully benefit. That's how they (the prosecution) determined you don't have to have knowledge of the crime. When the judge dismissed the second half (of the defendants) he put on the record that in all fairness he would have to go back and basically unbind over the first half because he had reconsidered his decision. But in the process he learned that he did not have jurisdiction to do that so he continued to have Mr Duncan bound over. Mr Watkins (Brandon Duncan's attorney) went ahead and put Mr Duncan on calendar to get his bail reduced… he was able to get Brandon Duncan's bail reduced (from) $1 million.. down to $500,000 and then $50,000 which allowed Mr Duncan to bail out. Mr Watkins made the argument that now Mr Duncan was being held to go forward with a trial simply on a procedural technicality but the judge said that we'll have to file motions to dismiss because he didn't have jurisdiction to change his mind. That enabled us to file what we call a 995 motion which is a motion to dismiss… the prosecution (at the same time) filed a motion to reinstate the charges against the other co-defendants. Those motions were heard in front of a new judge and that new judge is also the same judge that will hear all of our motions to dismiss. That judge put on the record that he did not agree with how the prosecution was interpreting 182.5 and that he believed that knowledge is required in order to hold them (the codefendants) liable and (potentially) face twenty five years to life nine times they have to have some kind of knowledge of these crimes and that they have to willfully benefit. There's no way to impute knowledge on Mr Duncan at this point when the prosecution has said several times that Mr Duncan had no knowledge (of the crimes). He's part of the codefendants simply over the rap album "No Safety."
There's been a lot of attention paid to Brandon Duncan, but another defendant in that same group is Aaron Harvey, can you tell us how he came to be involved?
Aaron Harvey was also one of the codefendants in Mr Duncan's group and Aaron Harvey is similarly situated to Mr Duncan in that he has no criminal record. Mr Harvey was pulled out of Las Vegas to answer these charges. Mr Harvey has grown up in Lincoln Park.. his family still lives there, his parents still live there, his brother still lives there. The other codefendants Mr Harvey is friends with. They considered him an active gang member simply by hanging out with his neighbors hanging out with his friends that he went to high school (with). The only difference between Mr Harvey and Mr Duncan is that Mr Harvey is on trial through association on Facebook and Facebook posts …and Mr Duncan is there for the album "No Safety" but they both run into freedom of speech issues.
Why do you think the DA has chosen to use this law now?
I can't say what is in their mind about why they are trying to use it now. One argument that they tried to make was social media has become so much bigger now but I don't give merit to that argument because social media has been around for years. (Maybe) it's just a new group that have come in and decided they want to make a name for themselves (with this prosecution). I can't get into their head as to why they would use it.
Do you think this is a bad law or bad application of the law?
It's two-fold. I think that the law is vague which allows for this type of misapplication and allows for these young men to have spent almost a year in jail while we try to figure it out. But the main problem is that the DA's office is applying it wrong. You don't have to be a lawyer to read a common sentence "willfully promote, further, or benefit," anyone who's ever had an English class knows that that "willfully" applies to all three words. And as lawyers we all know laws do not have extra wording in them, every single word means something. So I do think it is a travesty how they have misinterpreted this law where it seems pretty clear to anybody. I think they have wholly misapplied it.
What in your opinion are the wider implications of this case?
This case has huge implications because it (represents) such an infringement on free speech and due process. It's infringing on due process in that you're rounding up these individuals (who do not necessarily have) knowledge of crimes. Just because that you dislike what Mr Duncan is rapping about or you dislike what Mr Harvey put on his Facebook, doesn't allow you to criminalize that behavior. People might feel comfortable that this just applies to gang members (and say) "I'll never be in that position" but if we permit (the DA) to use this, what is to stop them expanding on anything else they don't like. I think this is just a stepping stone and we need to stop it here.
Could you sum up what will happen on Monday?
On Monday, all the co-counsel that represents all the co-defendants all will go before Judge (Louis R) Hanoian who was not the presiding Judge. Judge Gill has heard all the prelims in this case but a 995 (the motion being made on Monday) is basically talking about the previous judge and we-have to say that that judge made a mistake so a new judge has to hear it. I'm pretty sure they're not going to go into factual issues as much as application of the law so everyone's going to argue that the DA's office is applying the law wrongly just as we have been doing in the prelim. I'm optimistic so I believe that he will grant our motion to dismiss
That won't necessarily be the end of this case though?
Although Mr Duncan is being charged for creating a rap album the underlying charge is shooting into an inhabited dwelling and attempted murder. The underlying felony is violent, so anytime you have a violent felony and it's dismissed prior to trial the DA has the opportunity to re-file that case three times...I believe the DA is already appealing Judge Hanoian's ruling to deny their motion to reinstate the charges against the others, and they may take the opportunity to re-file against all the codefendants. My hope would be that the DA's office would make a better decision on who they want the defendants to be in this case and if they do decide to re-file that they will re-file only against the defendants that have some type of culpability or probable cause to believe that they should be part of this complaint. They (should) not go forward on all the individuals that they know had absolutely nothing to do with, or no knowledge of these crimes.
This interview has been edited for clarity
Tuesday, Feb 24, 2015, 12:00 pm · By George Lavender
Captive Nation: Black Prison Organizing in the Civil Rights Era is published at a time of growing interest in movements against mass incarceration and police violence. The Prison Complex spoke with the author, Dan Berger, about why he became interested in the history of black prison organizing, and what lessons and perspectives that earlier period of prison activism might offer today's campaigns.
You began corresponding with political activists in prison when you were younger, could you talk a little bit about what prompted you to start writing to them?
When I was a teenager we moved from upstate New York to Florida, which was a very big move. I had been getting involved in activism around the time that we moved and had several friends who had been arrested in protests, and a couple of them had been beat up by the police. So from an early age I had a certain kind of consciousness about the criminal justice system. And then when we moved I was looking for other organizers and folks that had been involved who could show me the ropes. That was really hard to find in suburban Florida. I wrote to lots of different progressive and radical organizations, and ultimately came across groups that were doing support work for political prisoners in the US. And so out of that I started corresponding with people when I was about 16, and those correspondence became friendships that continue to this day.
Who were you writing with?
The first people I wrote with were Sundiata Acoli, a former Black Panther who was arrested with Assata Shakur on the New Jersey Turnpike in 1973 and who has been imprisoned ever since. A federal appeals court has <recently> said he should be granted parole and that the state of New Jersey had in fact erred by keeping him in prison for so long, (although that decision is now on hold. I wrote with Ray Luc Levasseur who got out of prison <11> years ago. I wrote with David Gilbert, former member of the Weather Underground who is also still in prison and who was arrested in October 1981 one month before I was born, in New York as part of a tragically failed robbery of a Brinks truck in which two police officers and a security guard were killed. He's been in prison ever since. Later, I wrote with others too, including Veronza Bowers, Marilyn Buck, Oscar Lopez , Herman Bell, and Jalil Muntaqim.
Based on who you chose to write to, it sounds like you were already forming your own political views, but to what extent do you think that correspondence shaped your own politics?
I came to realize, and I say this in the book, that one of the best places for a white suburban teenager to learn about histories of Black Power and other social movement histories as well as the devastating realities of US racism and imperialism was from people in prison. This was the mid to late 1990s, the era of "there is no alternative." Those correspondences were tremendously helpful for my own political development to have extended access to alternate viewpoints, alternate histories that I wasn't seeing elsewhere. But I think it was ultimately most helpful in being able to discover my own voice and my own politics. I don't think I got my politics from people in prison, but my politics were definitely shaped in conversation with people in prison as well as people who had been in prison but were released. I think it really opened the door to me on the whole set of conversations and histories and communities that had been so shut out of the dominant discourse—including among many activists and among historians.
Talk about when you first decided to write a book about black prison organizing and why?
I consciously decided to write this book when I was in graduate school. I went to graduate school interested in researching the history of prison organizing. But in many ways, the origins of this book really start with the correspondences I developed in high school and the realization at how many stories of the 1960s and 1970s had yet to be told. I was particularly interested in how people in prison were themselves participants in social movements. I knew from my friends in prison how much they and others were very involved in trying to stop the spread of HIV and AIDs in prison and to confront the abysmal, what-passes-for-healthcare in prison. I knew that that work was happening in the 1980s and 90s but I was also hearing about the 1960s and 70s, about there being a larger movement in prisons and around prisons. So I went to grad school really hoping to look more into that. That ultimately became my dissertation and ultimately became my book project. I think I've been consciously working on this book about 7 years but it really feels like an encapsulation of conversations and investigations that I've been doing for more like 15 or 16 years. Part of what I found in that research, and this has been true in my own organizing experience, was that the organizing in prison at its best has been more than just about what was happening in prison, and has never been limited to people who are in prison. What so struck me about black prison organizing in the 1950s, 60s and 70s was how central the prison was to a larger movement for racial, social, and economic justice.
Sunday, Feb 22, 2015, 11:00 pm · By George Lavender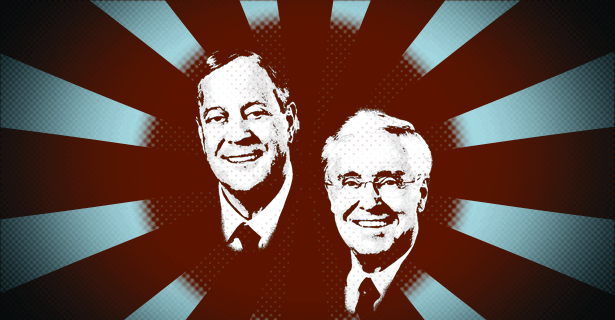 Conservative Koch Industries' inclusion in the list of funders of a new criminal justice reform campaign raised eyebrows when it was announced on Thursday. But one incongruity has flown under the radar: Controversial billionaires Charles and David Koch have strongly backed some of the leading Republican opponents to criminal justice reform.
The $5 million Coalition for Public Safety brings together an unlikely coalition of groups ranging from liberal groups such as the Center for American Progress to right-wing organizations like FreedomWorks for what they themselves call "the largest national effort to make the U.S. criminal justice system safer, fairer, and more cost effective." As the New York Times reports, the announcement has been touted as evidence of a rare show of unity amongst Republicans and Democrats.
For groups traditionally considered opponents, working together has required something of a leap of faith. But they say that they see an opening and are giving the new coalition three years to demonstrate results.

"A lot of people throw a lot of things around, and then you try to get things done," said Mark Holden, general counsel for Koch Industries, which has been the subject of fierce attacks from the left and has responded in kind. "We are just going to put it to the side and hopefully they will as well. We have said all along that we are willing to work with anyone and this shows it."

Officials at the Center for American Progress said that they did not make the decision to join the partnership lightly given the organization's clashes and deep differences with both Koch Industries and many of the conservative groups.

"We have in the past and will in the future have criticism of the policy agenda of the Koch brother companies, but where we can find common ground on issues, we will go forward," said Neera Tanden, the president of the center. "I think it speaks to the importance of the issue." Continue reading…
Even the staff of the new organization come from backgrounds working for both political parties. Executive Director Christine Leonard previously worked for both the Obama administration and for Democratic Senator Edward Kennedy, while Deputy Director Sekemia Mwonyonyi has worked for Republican Senators Tom Coburn and Mike DeWine.
Much has been made of the apparent cross-party consensus on criminal justice reform that has seen Republicans come out in favor of reforms that would reduce prison sentences for certain crimes.
Among Republicans, Senator Rand Paul in particular won praise for co-authoring bills with Democrats aimed at decreasing the use of mandatory minimums. Senator Paul, who himself received $17,000 from Koch Industries in his successful 2010 election campaign, has said reform is "part of the sort of libertarianish message that I've always had – that the war on drugs has been unfair and it just turns out that it's had a real racial component to it."
The Koch's backing for the new group is not as out-of-place as it may first seem; the company has previously leant its financial support to other criminal justice reform efforts. But a look at the brothers' recent political donations shows continued financial support for some of the most prominent opponents of such reform efforts.
Take the Smarter Sentencing Act, which a Vera Justice Institute report last year called a "criminal justice Rorschach test." According to the Institute's report, "people see different things in it. Some see it as a vital and moderate step away from unfair federal drug sentencing provisions … [o]thers see it as a major retreat in the fight against serious drug crime."
Of the three most prominent Senate Republican opponents of the Smarter Sentencing Act, two are listed by OpenSecrets.org as recipients of Koch Industries money. In the past election alone, the company has contributed $17,900 to Texas Senator John Cornyn's reelection campaign and $10,000 to Alabama Senator Jeff Sessions. To put that in context, Senator Cornyn received the third largest total donation from Kochs Industries to a Senate campaign.
Senators Cornyn and Sessions, along with Senator Chuck Grassley, last year wrote an open letter to their Senate colleagues to express 'concerns' with the Smarter Sentencing Act. The Senators expressed concern that the Act would benefit "some of the most serious and dangerous offenders in the federal system."
Sunday, Feb 22, 2015, 10:00 am · By George Lavender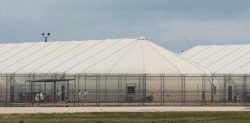 An uprising by prisoners at a much-criticized private prison in Texas has left the facility "uninhabitable." Thousands of federal prisoners from the Willacy County Correctional Center in Raymondville, Texas, will be moved to other facilities according to Reuters
The disturbance began early on Friday at the Willacy county correctional center in Raymondville, Texas, which primarily holds individuals who have entered the United States illegally. The prison, which is run by the private company Management & Training Corp, is located about 40 miles (64 km) from the Mexican border.

The unrest began when prisoners refused to come to breakfast or report for work in a bid to protest problems with medical services at the facility, the Express-News newspaper and local broadcaster KGBT-TV reported.

The inmates broke out of their housing structures and converged in the recreation yard, setting fire to several kevlar domes, or tents, that serve as prison housing, the paper said.

By Saturday evening, the disturbance was largely under control, but the prison had suffered sufficient damage to require the transfer of as many as 2,800 inmates, according to a statement from US bureau of prisons published by KGBT. The process of moving the inmates is expected to continue into next week, the statement said. Continue reading…
The prison is one of 13 "Criminal Alien Requirement" (CAR) prisons in the United States. Managed by private companies on behalf of the Federal Bureau of Prisons, the facilities are mostly used to hold low-security non-U.S. citizens convicted of immigration offenses or drug-related crimes.
As reported here at The Prison Complex, the ACLU last year released a damning report describing Willacy as "a physical symbol of everything that is wrong with enriching the private prison industry and criminalizing immigration."
"Believe it or not I care" is a Management & Training Corporation (MTC) company slogan on display at Willacy County Correctional Center in Raymondville, Texas. But a new report by the ACLU is calling that slogan into question. Last summer, 30 prisoners at the facility were placed in isolation units "for refusing to leave the recreation yard and return to their dormitories after prison officials ignored their complaints of toilets overflowing with raw sewage," according to the report. Continue reading…
Management & Training Corporation, the company that runs the facility, was subject to a lawsuit filed two years ago by prisoners at its East Mississippi Correctional Facility. Photos taken as part of a tour of the prison, showed charred door frames, exposed electrical wires, and blood soaked cell floors. According to the ACLU "many of the mentally ill prisoners are undertreated, leading to extreme behavior like throwing excrement, swallowing shards of glass and cutting their flesh with sharp objects."