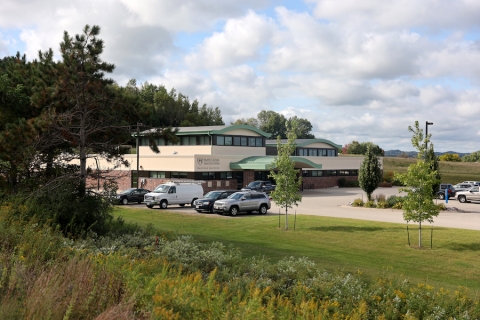 Small rural Midwest community hospitals, squeezed by financial and regulatory pressures, are scaling back on services, merging with larger hospital systems and searching for other creative ways to survive in the short term, an Institute for Nonprofit News investigation by 12 news organizations in seven states revealed.
Rural health experts said the real challenge in this quiet transformation will be to redesign rural health delivery so that residents do not lose access to high quality, timely care.
"Usually there are two sides to every story, but there are not really in this one," said Alan Morgan, chief executive officer at the National Rural Health Association. "Everyone realizes we're at a crisis point."
Thursday, Sep 19, 2019, 12:51 pm · By John Ikerd
We are now seeing a corporate takeover of dairy production, which is the last bastion of full-time, independent family farms in animal agriculture.
In an April 2018 blog post, Farm Aid noted that, since 1970, the number of American dairy farmers has dropped by more than 93%, from more than 640,000 to about 40,000 today.
The post goes on: "In an industry dominated by corporate interests, family farms are constantly at risk of going under. A consistent, severe slump in milk prices in recent years has pushed many dairy farm businesses beyond the point of survival. In the last year, there's been a 3% drop in the number of dairy farms, with the future of those remaining increasingly uncertain."
There has been little cause for hope over the year since this Farm Aid blog post and little hope for a significant improvement in prices for at least a year in the future. Considering this stark situation, independent dairy farmers would do well to review how the corporate takeover of other sectors of animal agriculture has come about.
Monday, Sep 16, 2019, 5:12 pm · By Conner Martinez
Driving into the rural community of Adelanto, Calif., you are greeted by a large sign that reads "Adelanto, The City With Unlimited Possibilities." Unfortunately, the sign's statement is incompatible with the environment surrounding it, a seemingly endless desert with sparse housing, almost no community spaces and a massive immigration detention center.
Adelanto's reality may finally change, however, with a new bill (AB 32) banning private prisons, including immigrant detention centers, passed by the legislature September 11, and now expected to be signed by Gov. Gavin Newsom (D). Though the effects are uncertain, the bill's passing could mean Adelanto's detention center closing as early as next March. That would not only put an end to the consistent human rights violations committed inside the facility, but it would also end the city's long, failed attempt at using detention as a development strategy, providing an example for other rural communities across America who have gone down the same disastrous path.
In his 1944 State of the Union Address, President Franklin Delano Roosevelt noted that while the Constitution guaranteed a set of political rights, they were in some respects inadequate. To ensure equality, Roosevelt proposed an Economic Bill of Rights that would guarantee full employment with adequate income; freedom from unfair competition; adequate housing, health care, and education; Social Security; and fair incomes for farmers.
Many items from the Economic Bill of Rights have emerged in the 2020 presidential campaigns, such as the call for free post-secondary education, affordable housing, anti-trust enforcement, Medicare for all, and a living wage. Yet, only Sens. Elizabeth Warren (D-Mass.) and Bernie Sanders (I-Vt.) have expressed their support for rural people by endorsing a "Farmers Bill of Rights."
Basically, the Farmers Bill of Rights aims to break the stranglehold of the big agri-corporations, stop the wave of farm consolidation and re-empower the small, family farmers who actually work the land.
Even as humans have brought more and more of ourselves into existence—7.7 billion as of 2019—our species has continued to degrade and destroy the Earth's natural systems that make human life possible. Humans have depleted nonrenewable resources and sullied renewable resources essential to life, such as water and air, and so undermined not only ecosystem health but human health as well.
In late 2017, four environmentalists came together to create the non-profit EcoHealth Network (EHN) to address this growing crisis. Bound by a common vision of a future where the health of people and the health of ecosystems are connected, the group promotes ecological restoration through the creation of a worldwide network of restoration projects, whose researchers will share resources and expertise.
About a century ago, the American chestnut tree was attacked by the invasive fungal pathogen Cryphonectria parasitica. The fungal blight drove the tree—an estimated 3-4 billion once grew in the United States—to functional extinction.
Now, scientists at the State University of New York College of Environmental Science and Forestry (SUNY ESF) claim to have genetically engineered a resistant American chestnut variety. They aim to petition the required regulatory agencies (USDA, FDA, EPA) for approval of their genetically engineered chestnut in the near future, with the stated goal of restoring the species to nature.
However, the choices made about the genetically engineered (GE) American chestnut will set a precedent for the future use of biotechnology on other forest tree species and, even more broadly, on the use of biotechnology as a tool for conservation.
Tuesday, Jul 9, 2019, 12:09 pm · By Jim Goodman
JFK, as it turns out, was wrong when he noted 60 years ago that the word "crisis" is a combination of the Chinese brush strokes meaning danger and opportunity. While he was linguistically incorrect, we get what he was saying. A crisis situation can be the impetus for change, an opportunity for society to figure out better ways to move forward.
Today, the largest crisis in the minds of farmers is the overarching threat of an increasingly variable and changing climate. With the added pressures of stark economic inequality and the increased cost of living—up 14% over the last 4 years—the economy is decidedly not " the greatest economy in the history of our country."
Wednesday, Jul 3, 2019, 1:55 pm · By Stephanie Woodard
Bodies frozen in the snow, a baby with five bullet wounds, small children shot at such close range their clothes and bodies were singed with gunpowder. Army general Nelson Miles was shocked by what he found at Wounded Knee. He arrived several days after the carnage, which occurred December 29, 1890. A battle-hardened Civil War veteran, he was appalled by what he called in a letter to his wife, "the most abominable criminal military blunder and a horrible massacre of women and children."
Over Miles' objections, 20 Congressional Medals of Honor were soon awarded to U.S. Army soldiers involved. When more medals were suggested later in 1891, Miles called them "an insult to the memory of the dead."
Five U.S. Representatives are co-sponsoring a bipartisan bill called the Remove the Stain Act, which seeks to rescind the Wounded Knee awards.
Wednesday, Apr 10, 2019, 11:34 am · By Michael J. Dax
After cutting their final acres of wheat in eastern Colorado, Jim and Tracy Zeorian, the husband and wife team that make-up Zeorian Harvesting and Trucking, started the process of loading their combine, header truck, and trailer to make the journey to their next job in Jordan, Mont. Even after the two trips needed to move their equipment, they were still early. The spring wheat they planned to cut wouldn't be ready for a few weeks, but that didn't mean it was time to rest.
After setting up camp in the small RV park tucked away on the edge of town, Jim parked their bright yellow, New Holland combine with contact information in the windshield next to the café that marks the town's western entrance.
Tracy, a third-generation harvester, has been coming to Jordan since 1981. In those days, there were enough custom harvesters—also known as custom cutters or "Wheaties"—that they would all set-up together on the outskirts of town in makeshift camps that would disband as soon as they moved onto the next town. Many harvesters already had work lined-up, but others arrived in hopes of finding jobs, and it was common for harvesters to park their equipment in a public place so that farmers with acres to cut could easily find and hire them.
Those days are mostly over. The large, raucous harvest camps of the past are a stark contrast to the Zeorian's inconspicuous campsite adorned with picnic table, grill and potted flowers. Back then, Jordan might have had as many as 20 crews looking for work, but in 2018, Zeorian's was the lone combine sitting outside town.
Thursday, Feb 21, 2019, 11:34 am · By Winona LaDuke
Manoomin (wild rice) now has legal rights. At the close of 2018, the White Earth band of Ojibwe recognized the "Rights of Manoomin" as a part of tribal regulatory authority. The resolution states, "It has become necessary to provide a legal basis to protect wild rice and fresh water resources as part of our primary treaty foods for future generations." White Earth, the largest Ojibwe tribe in Minnesota, relies on wild rice for sustenance, not only monetarily, but as "food for the spirits." This new White Earth law is similar to one adopted by the 1855 Treaty Alliance, and reflects traditional laws of Anishinaabe people.
The law begins: "Manoomin, or wild rice, within all the Chippewa ceded territories, possesses inherent rights to exist, flourish, regenerate, and evolve, as well as inherent rights to restoration, recovery and preservation."