Thursday, Jun 7, 2018, 4:00 pm · By Stephanie Woodard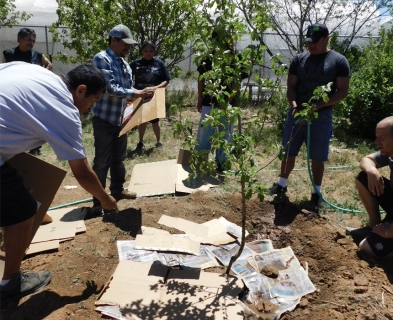 "Don't despair, if you feel political decisions nowadays are not being made on your behalf—or even against your wishes," says Clayton Apikan Brascoupé, a Mohawk farmer who has lived and worked for many years at Tesuque Pueblo, in New Mexico.
His solution? "Start by planting trees," he says. "They are a positive answer to climate change and much more. Trees build up soils organically and increase their water-holding capacity. They sequester excess climate-altering carbon dioxide. They attract beneficial insects that help other crops and produce food, medicine, building material and other useful items. Planting them can transform a community."
Brascoupé directs the Traditional Native American Farmers Association (TNAFA), headquartered in Santa Fe, New Mexico, which has engaged the Indigenous community through this very practice. Tiny TNAFA, comprised of its director and a few volunteers, specializes in projects that are accomplished easily with inexpensive locally sourced items, yet have enormous effects. "Our philosophy is keeping small and collaborating with people who are committed to doing this work," says Brascoupé. "They can then run with the ideas."
In May, TNAFA held a two-day tree-planting and -care workshop. The course attracted some 25 students from an Apache community, the Navajo Nation and other Pueblos, including Acoma, Zuni, Taos, Hopi and Ohkay Owingeh (formerly called San Juan Pueblo). Participants put in trees and mulched them with donated plant debris from a large commercial greenhouse operation and with easily obtained discarded cardboard and newspaper ("it's everywhere!" says Brascoupé). Water was diverted from sources, like runoff from buildings, that might have been ignored or lost otherwise.
Saturday, Jun 2, 2018, 12:00 pm · By Wenonah Hauter
[Editor's Note: The term "manure" is inaccurately used in the story below to describe the waste generated by Confined Animal Feeding Operations (CAFOs). For centuries, manure—an agriculturally essential fertilizer derived from animal excreta—has been used by people who value soil fertility and healthy plants, but industrial farms with thousands of confined animals are a new system outside of that scale. As the author makes clear, the volume of animal excreta generated by these operations has created a pollution crisis in rural communities across the nation (and in the Great Lakes). Why? Because it's not used as a fertilizer. CAFOs are not farms, after all. Animal excreta becomes manure in its use, or planned use, to support plant growth. Its mere existence doesn't get that honorable title. So when corporate agribusiness executives sit around a table and ask, "How the hell are we going to get rid of this stuff?" they are not talking about manure. They've got a waste disposal problem, which they dump on their neighbors.]
In 2008, Cabot Oil and Gas started fracking operations in Dimock, Penn. It was around that time the community started noticing their water was turning brown and making people and animals sick. One woman's water well exploded. Fracking had come to town.
It's a familiar story in other rural communities—from Pennsylvania to Montana and Texas—where fracking has contaminated drinking water resources and emitted toxic air pollution associated with higher rates of asthma, birth defects and cancer.
But the story is similar in other communities where fracking or other extreme fossil fuel extraction isn't happening. Air and drinking water that's been dangerously polluted from industrial operations affect communities across Iowa, including the state's largest city, Des Moines. Polluting facilities are operating in Central Oregon, North Carolina, Wisconsin and Maryland. None of those places are fracking, but they are host to another environmental hazard facing rural communities: factory farms.
Like the fossil fuel cartel, this highly consolidated industry prioritizes profits at the cost of our environment. Factory farms are an industrial model for producing animals for food where thousands of cows, pigs or birds are raised in confinement in a small area. While farms can and do apply manure as a fertilizer to cropland, factory farms produce more manure than nearby fields can absorb, leading to runoff into surface waters and contaminants leaching into groundwater. And storing concentrated quantities of manure releases toxins like ammonia and hydrogen sulfide into the air, threatening nearby communities—and even leading to worker deaths. The nearly half a million dairy cows on factory farms in Tulare County, Calif., produce five times as much waste as the New York City metropolitan area and carries chemical additives and pathogens like E. coli, many of which are antibiotic resistant.
(Editor's Note: The American Farmland Trust (AFT), a non-profit founded in 1980 to protect U.S. farmland and water supplies from encroaching development, has just released Farms Under Threat: The State of America's Farmland—the first in a series of reports that will track past, present and future threats to agricultural resources nationwide. This first report finds that, between 1992 and 2012, over 30 million acres of farmland—an area roughly equivalent to the landmass of New York State—were irreversibly lost to development. Furthermore, according to the organization's research, nearly 11 million acres of the converted farmland were among the "best land for intensive food and crop production." Below is AFT's introduction and a link to the full report.)
The United States is blessed with a remarkably productive agricultural landscape. Cropland, pastureland, rangeland, and woodland support a regionally diverse food and farming system capable of ensuring domestic food security. Agricultural land contributes to state and local economies, supplies lucrative export markets, and bolsters the nation's balance of trade. These exceptional natural resources sustain valuable wildlife habitat, provide flood control and fire suppression, scenic views, and resources for hunting and fishing. This land also acts as an enormous carbon sink, drawing down carbon from the atmosphere, which helps combat climate change. By 2050, the demands on agriculture to provide sufficient food, fiber, and energy are expected to be 50 to 70 percent higher than they are now. Given a limited land area in the United States and the need to feed and house an increasing number of people, it is more important than ever to protect the agricultural land and natural resources needed for long-term sustainability.
This call for action is documented and reinforced by the findings of Farms Under Threat: The State of America's Farmland by American Farmland Trust. The report's research shows that between 1992 and 2012, almost 31 million acres of agricultural land were irreversibly lost to development. That is nearly double the amount of conversion previously documented and is equivalent to losing most of Iowa or New York. As alarming, this loss included almost 11 million acres of the best land for intensive food and crop production. This is land where the soils, micro-climates, growing seasons and water availability combine to allow intensive production with the fewest environmental impacts. These precious and irreplaceable resources comprise less than 17 percent of the total land area in the continental United States. Their conversion was equivalent to losing most of California's Central Valley, an agricultural powerhouse.
Thursday, May 24, 2018, 10:00 am · By David Vail
It is easy to frame conservation as a clash between environmentalists and polluters. But this view can greatly oversimplify many complex choices. What does conservation look like when ideas about nature cut across political lines?
In my book, Chemical Lands: Pesticides, Aerial Spraying and Health in North America's Grasslands since 1945, I explore how pilots, scientists and farmers developed practices for "cropdusting" on the Great Plains after World War II. This industry took shape years before Rachel Carson published Silent Spring, a sweeping critique of widespread use of synthetic pesticides, in 1962.
Chemical companies made broad promises about these "miracle" products, with little discussion of risks. But pilots and scientists took a much more cautious approach. Well before a national environmental movement emerged, local producers developed their own ways to study safety and health questions as early as the 1950s. If protecting agricultural health here meant using pesticides to meet production goals, they wanted to understand the risks too.
Tuesday, May 22, 2018, 12:00 pm · By Jessicah Pierre
(Editor's Note: On May 17, the United Way's ALICE Project released a report that finds, despite record low unemployment and stock market highs, 43 percent of Americans are struggling to pay for basic necessities—food, rent and child care. In the United States today, 66 percent of all jobs pay less than $20 per hour and millions of Americans have no retirement plan and no savings.)
Thousands of civil rights advocates, low-wage workers, and religious leaders kicked off massive protests on May 14, launching a 40-day campaign across the nation in an effort to revive Martin Luther King's Poor People's Campaign.
The Poor People's Campaign brings together poor and marginalized people from all backgrounds, places, and religions to stand up for their lives and rights by calling for a "revolution of American values." They're taking aim at the evils of systemic racism, poverty, the war economy and ecological devastation.
The first Poor People's Campaign in 1968 brought thousands of Americans of all races together to fight for fair incomes and living standards. After King was murdered that same year, the movement slowed down. But with the fights for racial and economic equality as intertwined now as they were 50 years ago, organizers believe that the movement's vision for America couldn't come at a better time.
Thursday, May 17, 2018, 8:00 am · By CELDF
According to recent polls, only 20 percent of Americans know how many U.S. Senators there are, and only one in seven young Americans could identify either Iraq or Afghanistan on a world map. A majority of Americans were unable to name more than one of the protections guaranteed by the First Amendment to the Constitution.
The same polls show that 20 percent of Americans believe the sun revolves around Earth, and that 30 percent of Americans were unable to answer what year 9/11 took place. Yet, 22 percent of us were able to come up with the name of every member of the Simpson family.
This is, after all, the country in which the Flat Earth International Conference was held in 2017 (make sure to check it out this November in Denver), and featured workshops with names like "NASA and other Space Lies" and "It's Flat Like God Made It."
Perhaps less mind-blowing, but equally disturbing and far more hazardous, is our acceptance of "news" that is delivered to us. The meme "fake news" has been making its way around our cosmos over the past couple of years, thanks to a Trump administration that polls really well with the flat-earthers. But the truth is, on many topics, we have "diluted" news. They are summaries of what's happening in our country, but rarely explain why.
It is at our own peril that we do not understand why what's happening in our country is happening. Nor do we understand how our system of government and law not only allows the why, but supports it.
When we understand the "why," we are a dangerous public to those in power. Not knowing the "why" makes us easier to control.
Tuesday, May 15, 2018, 12:00 pm · By Angela Serratore
It's easy to imagine the glamorous early 20th-century woman who might wear the tiara in front of me. Delicate and adorned with wispy white feathers that wouldn't come cheap, this aigrette (the French word for egret) would rest atop the head of a rich and fashionable society figure. Such an ornament made of feathers represented the height of contemporary style.
And for many others, the tiara would be a walking symbol of man's inability to respect the natural world, for as a 1917 Field and Stream story on migratory birds and the devastation fashion wrought upon them notes, each bunch of feathers on an aigrette "probably means that a mother egret has been murdered and her three or four baby herons have been left to starve to death in the nest."
These birds, and their repurposing as gaudy fashion statements, are the subject of a new exhibit at the New-York Historical Society marking 100 years since the passage of the 1918 Migratory Bird Act Treaty, a piece of legislation that put a swift end to the hunting of birds like egrets (and swans, eagles and hummingbirds). Open through July 15, Feathers: Fashion and the Fight for Wildlife showcases a collection of garments and accessories made with the feathers, beaks, and in some cases, the full bodies of dead birds. Paintings by John James Audubon depict those same birds alive and in-flight, making a case for what activists, governments, and ordinary citizens can do in the face of seemingly inevitable environmental destruction.
Friday, May 11, 2018, 12:00 pm · By Emeline Posner
On a small plot of land on the outskirts of Chicago, a farm collectively owned by gender-non-conforming immigrants will cultivate produce and a younger generation of food justice activists. That's the vision that Viviana Moreno, Nadia Sol Ireri Unzueta Carrasco and Jazmín Martinez, organizers and farmers based in Chicago's Little Village neighborhood, are working to turn into reality.
Catatumbo Collective, as the three call themselves, told Rural America In These Times in an email: "We're approaching a worker-owned farm through an intersectional and holistic lens that understands that our community's issues can be addressed in part by sustainable farming and food justice educational programs."
Viviana, Ireri and Jazmín have known each other from years of organizing against deportations in Chicago and working in Little Village's Semillas de Justicia community garden.
Of Venezuelan and Mexican heritage, the three incorporate their families' experiences—with land stewardship and NAFTA-driven migration—and the history of campesinos' and Indigenous peoples' land struggles into their approach.
As they got more involved with Chicago's urban agriculture movement, Ireri found few resources that provided the needed historical or cultural context. "History of the land, history of the exploitation and abuse of people working the land, and the history of resistance and resilience by Indigenous people and people of color," Ireri says, was lacking.
They found a resource in Soul Fire Farm, a people-of-color-led farm and educational center based in Grafton, N.Y. Last summer, they all attended Soul Fire's Black and Latinx Farmer Immersion, a program designed to impart ecologically-restorative farming techniques to people of color and to foster conversation about racism, and racial justice, in the food system.
This week's hunt for rural stories of interest uncovered two interviews definitely worth sharing. The first, courtesy of the Rural America Roundtable podcast with Todd Plimpton, is a conversation with agricultural economist, professor and author John Ikerd. The second, produced by the hard-rock music magazine Revolver, is a short four part video series with Maynard James Keenan—the eccentric lead singer of Tool, A Perfect Circle and Pucifer—about his lesser-known winemaking and community-building efforts in the Black Hills of Yavapai County, Ariz.
Often featured on Rural America In These Times, Ikerd, now in his eighties, was raised on a small dairy farm in southwest Missouri before electricity and indoor plumbing reached that part of the state. He received B.S., M.S. and Ph.D degrees in agricultural economics and worked for a time in corporate agribusiness before going into academia. According to his bio, during the farm crises of the 1980s, Ikerd "experienced first-hand the failures of the policies he had been advocating to farmers." He then shifted the focus of his work to sustainable agriculture and economic sustainability. "Sustainable Capitalism," linked to below, explores the economic and cultural disconnect that's taken place since the industrialization of agriculture in the 1950s, and what it will take to repair the damage.
Keenan, 53, is the frontman for two of the most successful the hard rock bands in the world. But in 1981, inspired by Bill Murray's character in Stripes, Keenan joined the U.S. Army so he could go to art school on the G.I. Bill. His first band to make it big, Tool, formed in 1990 and has sold millions of records since. A Perfect Circle formed in 1999 and released their first record in 14 years last month. Despite international fame, Keenan could walk down most streets without getting recognized—even in the pre-internet music industry heydays, he avoided (and often ridicules in his lyrics) Hollywood. In 2004, Keenan founded Caduceus Cellars, a farm and winery in the tiny town of Jerome, Ariz. (Editor's note: even as a longtime Tool fan, I didn't know about Keenan's work in Jerome until I saw him speak at the Business Alliance for Local Living Economies conference a few years back in Phoenix.) "The Art of Work," streaming below, is about the importance of doing work that matters to us and how doing it the right way can transform a community for the better.
In short, though Ikerd and Keenan come from radically different backgrounds, they've come to some pretty similar conclusions about the state of our economy and culture.
Thursday, May 3, 2018, 11:00 am · By Paul Deaton
Things are bad when the coop sends the suicide hotline number with the milk payment.
Milk prices are currently about $15 per hundred pounds (cwt) while cost of production at family farms is more than $22 per hundredweight. Like so many segments of agriculture, consolidation is driving down costs and small farmers are going out of business.
The National Family Farm Coalition (NFFC) believes the federal government should do something about it and has written a letter to congress and the USDA.
"The nation's dairy farmers are again in dire straits, just like we were in the 1980s," Jim Goodman, Wisconsin dairy farmer and board president of National Family Farm Coalition said in a press release. "Proposed safety nets are totally inadequate and without real long-term market reform, dairy farmers will continue to lose their farms. Consumers who care where their milk comes from and policymakers claiming to care about rural America must support these steps to ensure farmers a fair price. Without immediate government action, the days of the small dairy farm are numbered."