Friday, Oct 26, 2018, 10:07 am · By Stephanie Woodard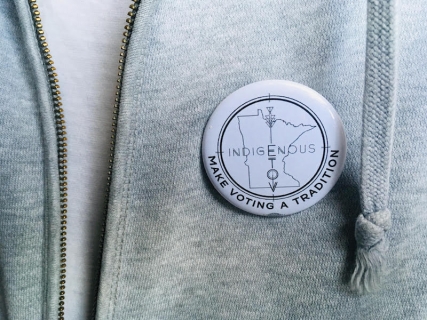 Silicon Valley met Indian country in Minneapolis. Over two days in early-October, longtime software developer Deepak Puri taught tribal representatives—from Leech Lake, Red Lake, Menominee, Rosebud, Sisseton-Wahpeton, Crow Creek, Lower Brule, Navajo and more—to use cheap, fast, off-the-shelf technology to supercharge voter access to the polls in Indian country.
Wednesday, Oct 10, 2018, 10:52 am · By Stephanie Woodard
A major voting hurdle for Native Americans in North Dakota used to be thought of as a kind of force of nature, sort of like gravity or sunshine: Indian reservations didn't have named, numbered streets. And without these designations on the tribal IDs that Natives carry, they couldn't vote in the state.​
There was no way around the problem. No residential address on tribal IDs meant no ballot box access for Native people—unless they were willing to undertake prohibitively long and costly drives and other hurdles to get an alternate ID. "It is a voter-suppression technique North Dakota targets at its Native population," accuses OJ Semans, the Rosebud Sioux co-director of Four Directions civil rights group.
In September, the Eighth Circuit Court of Appeals issued a decision in a voting-rights case brought by the Native American Rights Fund on behalf of Native plaintiffs.
The court backed North Dakota's ID law.
Monday, Oct 1, 2018, 2:00 pm · By Kaolin Sewell
Once every five years, the farm bill reauthorizes farm and nutrition programs nationwide, covering programs such as healthy food access for low-income Americans and protecting our environment.
The current version – set to expire on September 30 – took two years to finalize and cost nearly $1 trillion in its final form. The 900-page legislation set food policy for the next decade but is usually renewed every five years.
The implementation of the farm bill began in 1933 as a slice of then President Franklin Delano Roosevelt's New Deal. The farm bill aims to fulfill three goals – keep food prices reasonable for consumers, make sure there is sufficient food supply and to protect our natural resources.
Congressional leaders from the U.S. Senate and the U.S. House of Representatives are continuing to reconcile their versions of the 2018 Farm Bill, a nearly $870 billion spending plan for programs such as trade, commodities, food stamps and conservation.
Friday, Aug 17, 2018, 12:00 pm · By Stephanie Woodard
The United States District Court for Utah has issued a powerfully worded order in favor of restoring Willie Grayeyes's right to vote in San Juan County, as well as his right to run for a county commission seat there. Calling county officials "double-tongued," "thimble-riggers," and more, the court held that they had stripped fundamental civil rights—voting and candidacy—from Grayeyes, a Navajo Nation enrolled member and a long-time resident, voter, local official, and cattle rancher in the county.
It had done so with illegal means, according to the order. These included backdated files, unsigned "reports," unidentified hearsay sources, racial bias, out and out lies, and multiple additional actions that flouted the law in an exceptionally flagrant fashion. This was consistent with decades of denying Natives meaningful access to the ballot box, said the Utah District Court.
Thursday, Aug 9, 2018, 4:00 pm · By Dani Burlison
It's late spring, and I'm hiking Sugarloaf Ridge State Park in Sonoma County with therapist, ecopsychologist, and California naturalist Mary Good. A mist is drifting down, and we have the park mostly to ourselves. In October 2017, 80 percent of Sugarloaf's 3,900 acres of oak woodlands were scorched by the firestorms in California's North Bay. But today, most of what stretches out before us is green and vibrant, brushed with the last signs of a wildflower superbloom that erupted from the ash earlier this spring.
A dozen miles west in Santa Rosa, contractors are rebuilding some of the more than 5,000 homes destroyed there. The last of 2.2 million tons of fire debris has been hauled away from the 383 square miles of charred land in the region. And therapists like Good continue seeing fire survivors pro bono, helping them navigate the aftermath of the disaster.
"It was an absolute trauma for everybody involved. The fire is over, but the grief may last a long time," Good says. "We live in a time where these natural disasters are going to be happening more and more. How do you develop resilience? What do you do to feel like you can be safe in the world again?"
By July, farmers' markets across the country are in full swing. But for many farmers' market managers, the mid-season momentum turned to confusion and scramble on July 9, after The Washington Post reported that a change in government contracts could leave 1,700 farmers' markets without the ability to accept SNAP dollars from low-income customers.
Nova Dia Group, an Austin-based tech provider, processes up to 40 percent of all farmers' market SNAP transactions nationwide. But two weeks ago, they announced they would discontinue the service on July 31 (this deadline has since been extended by another month). While Novo Dia has largely received the brunt of everyone's frustrations these last two weeks, it hardly seems their fault. Instead, the debacle exposes a tangle of federal, state, and private entities and a failure to coordinate government technology in a rapidly evolving landscape.
SNAP customers use Electronic Benefits Transfer (EBT) cards just like a credit card. When a customer pays for groceries with an EBT card, the transaction information is sent from the grocery store to the state processing agency, and funds are deducted from the SNAP customer's account. With the emergence of programs aimed at encouraging SNAP customers to spend their benefits at farmers' markets, a mobile solution for card processing had to be created. That's where Nova Dia's MobileMarket Plus app comes in—it's currently the only app that works on Apple systems.
Animal slaughtering and processing operations make up a large portion of the total jobs available in rural America, meaning these jobs are some of the best options for some Americans where steady, full-time work can be scarce.
Slaughterhouses employ a half-a-million workers in more than 7,000 facilities across the U.S., and 38 percent are classified by the Bureau of Labor Statistics as "butchers and other meat, poultry, and fish processing workers."
These are the people on the floor, taking live animals and turning them into the record amount of meat Americans are expected to consume in 2018. The USDA estimates more than 200 lbs. of read meat and poultry will be consumed per person this year.
While these jobs are available across the country, the largest employers operate facilities with thousands of employees in rural areas, what the BLS refers to as "nonmetropolitan areas."
The Trump administration plans to give American farmers and ranchers hurt by the current trade war US$12 billion in emergency relief to mitigate the impact of tariffs on their exports.
While this may lessen the blow of an already struggling agricultural economy in the short run, it is only a Band-Aid. As an agricultural economist, I know that no one really wins in a trade war. As someone who grew up on a cotton and alfalfa farm in rural Arizona, I know firsthand that producers want access to markets – not government handouts.
If the trade conflict with China continues much longer, it will likely leave lasting scars on the entire agricultural sector as well as the overall U.S. economy.
"Another glorious day, the air as delicious to the lungs as nectar to the tongue" – John Muir, My First Summer in the Sierra (1911)
Most Americans associate U.S. national parks with pristine environments that represent the very best of nature. In the 1916 law that established the National Park Service, Congress directed the new agency to "conserve the scenery and the natural and historic objects and the wild life therein and to provide for the enjoyment of the same in such manner and by such means as will leave them unimpaired for the enjoyment of future generations."
But over the past century it has become increasingly hard to protect the parks from impacts of human activities outside their boundaries. In 2015 the National Parks Conservation Association, a national advocacy group, released a blistering report giving many popular parks poor grades for unhealthy air, haze and impacts from climate change.
In a study just published in Science Advances, we analyzed levels of ozone, the most widely monitored pollutant in parks, and their impact on visits to 33 national parks from 1990 to 2014. The sites we studied included popular parks such as Acadia, the Grand Canyon, Great Smoky Mountains, Joshua Tree, Sequoia and Kings Canyon and Yosemite. We found that while cities once had more "bad air days" with unhealthy ozone levels than national parks, today parks and metro areas have virtually the same number of unhealthy ozone days per year on average. We also found that park visits fall on high ozone days – especially during summer and fall, when peak ozone levels typically occur.
Tuesday, Jul 24, 2018, 11:00 am · By Sacoby Wilson
As U.S. livestock farming becomes more industrial, it is changing rural life. Many people now live near Concentrated Animal Feeding Operations (CAFOs) – large facilities that can house thousands of animals in close quarters. Neighbors have to contend with noxious odors, toxic emissions and swarms of insects, and have had little success in obtaining relief – but this could be changing.
On April 26, Murphy Brown LLC, a division of Smithfield Foods, was required to pay $75,000 in compensatory damages and $50 million in punitive damages in a nuisance lawsuit filed by ten residents of Bladen County, North Carolina over impacts from a nearby hog farm. On June 29, another North Carolina jury awarded $25 million to a couple in Duplin County in a similar lawsuit against Smithfield Foods. Other cases are pending in North Carolina and Iowa.
Smithfield Foods is the largest hog processor and producer in the world, so these verdicts are major victories for people organizing against industrialized animal agriculture. Based on my experience studying environmental health at the community level, I see them as breakthroughs after decades of government failure to protect rural communities from negative impacts of CAFOs.