Tuesday, Mar 28, 2017, 12:00 am · By Leon Fink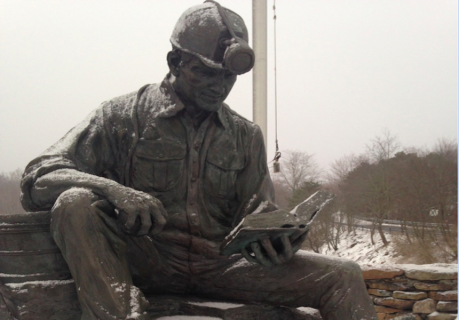 Last weekend, amidst much talk in the media of the proposed Trump budget, my wife and I were crossing Coal Country on a car trip from Chicago to Washington DC, and we happened to stop for the night in the town of Somerset, Penn. Quickly, we learned that the area contained not only the crash site of Flight 97 (the famous "third plane" on Sept. 11, 2001) but also the Quecreek Rescue site where in July 2002, nine miners, trapped for more than three days in a collapsed and flooded underground pit, were saved by a heroic intervention combining the expertise of the federal Mine Safety Health Administration, area machine shops that fashioned an emergency drill and a National Guard helicopter.
To mark these unrelated but closely-occurring events, local entrepreneurs have even established a "Tragedy and Triumph" bus tour across Somerset County. Whereas the National Park Service has erected an impressive memorial complex in honor of the Flight 97 victims, a simple but moving monument by Zanesville, Ohio sculptor Alan Cottrill—and funded by contributions from a variety of local citizens and businesses—commemorates the Quecreek rescue operation. The monument pictures a sitting miner, his pickaxe to the side, with a book in one hand and an apple in the other.
Friday, Mar 24, 2017, 6:00 pm · By Mark Willsey
Nearly all of Trump's electoral wins were in rural districts, many of which are made up of farming communities. This is where Trump thrived. I have seen it firsthand: I have lived in the city, worked in manufacturing and I'm now a farmer in a small farming town in Central Illinois.
For the progressive movement to make inroads in communities like mine, it needs to put forward a serious plan for how the U.S. government can stop subsidizing corporate farms and instead return the land to small family farmers who work the land. Farmers should not have to farm 20,000 acres of rented land just to make a living.
To move toward a future in which progressives are able to put forward such a plan, it's crucial for everyone in this country—including city dwellers—to gain a basic literacy about the agricultural shifts that have taken place in the United States and what it would take to move away from corporate agriculture on a mass scale.
Nine weeks after President Trump tapped Sonny Perdue to head the Department of Agriculture (USDA), the former Georgia governor is scheduled to appear before the Senate Agriculture, Nutrition and Forestry Committee today (Thursday, March 23) for his nomination hearing.
Perdue was Trump's second-to-last cabinet pick and is one of two yet to be confirmed. A former Democrat who became a Republican in 1998, Perdue has spent most of his professional life involved in different agribusiness sectors. Potential conflict-of-interest disclosures and other required paperwork reportedly delayed the confirmation process but have since been submitted and completed. A known quantity in the Big Ag realm, Perdue boasts broad support from large farm groups, like the Farm Bureau, and industry executives. The sustainable food movement is less excited.
In addition to clarifying his stance on a wide range of issues facing rural communities (including the dire need for a sane 2018 Farm Bill), Perdue will likely be asked to comment on America First: A Budget Blueprint to Make America Great Again—the new administration's cutting edge plan to drastically reduce federal spending in certain areas in order to buy fighter jets without raising taxes.
Tuesday, Mar 21, 2017, 8:00 am · By Lorraine Chow
For more than three months, an underwater pipeline has been spewing hundreds of thousands of cubic feet of processed natural gas per day in Alaska's Cook Inlet, possibly threatening critically endangered beluga whales, fish and other wildlife.
The 8-inch pipeline, owned and operated by Hilcorp Alaska, is leaking more than 210,000 cubic feet of gas per day. The gas is 99 percent methane and provides fuel for four platforms in Cook Inlet.
Friday, Mar 17, 2017, 2:22 pm · By The Conversation
The Conversation, an online resource that describes itself as "an independent source of news and views from the academic and research community," asked sociologists, economists, geographers and historians to describe the factors that contribute to the differences between life in rural and urban America. Contributor attributions are noted in italics at the end of their respective sections.
Wednesday, Mar 15, 2017, 5:00 am · By Christine Trudeau
Eighty miles south of the Oregon border, along the Trinity River in Northern California, sits the 12-square-mile Hoopa Valley Indian Reservation.
Of the nearly 3,000 people living in the Hoopa Valley, approximately three-fourths are Native American. And the local radio station KIDE-FM caters to them, offering listeners live broadcasts of the Hoopa tribe's general meetings; a local, award-winning, weekly show called "Health Matters"; and an array of national programming, including NPR newscasts and Native American public media shows.
Joseph R. Orozco, station manager of KIDE for the past 28 years, said the station, with a $200,000 annual budget, relies on funding from the Corporation for Public Broadcasting (CPB), which provides grants to tribal stations like his.
"Every year someone is threatening to reduce the funding or cut it out completely," says Orozco. "And this time it's really scary because they seem to be working on it."
Monday, Mar 13, 2017, 6:53 pm · By Joseph Bullington
Since the beginning of the Industrial Revolution, material progress and environmental destruction have gone hand in hand. To begin to understand the extent of the damage, drive to the end of a road in the mountains and walk until you come to a high point from which to look over the land. Then imagine the road receding, taking with it the billboards and cities it passes, erasing strip mines and strip malls, extinguishing streetlights and fracking flares, until it and all others vanish back into the distant ocean and the stars shine again bright and clear over wild (not to say uninhabited) country—as if history itself were rapidly rewound to a time before colonization. Look out again from your wilderness perch and, in the gap between the world in your mind and the world that is, catch a glimpse of how much has been lost.
Most of us live somewhere in those lost lands, those conquered and damaged places between the remaining scraps of wilderness. Trebbe Johnson has made it her work to help people come to terms with this life on a damaged planet. As she puts it: "How do we live with these places and find their beauty without going nuts?"
Friday, Mar 10, 2017, 5:51 pm · By Mark Twain
Animals talk to each other, of course. There can be no question about that; but I suppose there are very few people who can understand them. I never knew but one man who could. I knew he could, however, because he told me so himself. He was a middle-aged, simple-hearted miner who had lived in a lonely corner of California, among the woods and mountains, a good many years, and had studied the ways of his only neighbors, the beasts and the birds, until he believed he could accurately translate any remark which they made. This was Jim Baker. According to Jim Baker, some animals have only a limited education, and use only very simple words, and scarcely ever a comparison or a flowery figure; whereas, certain other animals have a large vocabulary, a fine command of language and a ready and fluent delivery; consequently these latter talk a great deal; they like it; they are conscious of their talent, and they enjoy "showing off." Baker said, that after long and careful observation, he had come to the conclusion that the bluejays were the best talkers he had found among birds and beasts.
Thursday, Mar 9, 2017, 12:40 pm · By Dan Flynn
For the fourth year in a row, highly pathogenic H7 avian flu has struck birds in the United States.
A Lincoln County, Tenn., poultry farm that supplies Tyson Foods took the brunt of avian flu's return, when 73,500 chickens had to be destroyed to prevent them from entering the food supply or spreading the virus. Another 30 farms within a 10-mile radius are under quarantine.
Wednesday, Mar 8, 2017, 1:45 am · By Tristan Ahtone
An emerging field of research suggests that much like Cajun English or African American Vernacular English—otherwise known as Ebonics—unique speech patterns also have developed among indigenous people in Canada and the United States, creating Native American English, or "the rez accent."
Here's what else researchers have discovered: The rez accent—short for "reservation accent"—occurs in indigenous communities regardless of whether a heritage language is spoken; and that through English, indigenous people are creating and maintaining their own ethnic identities.
In other words, the use of English could be just as important to indigenous identity as mother-tongue languages.