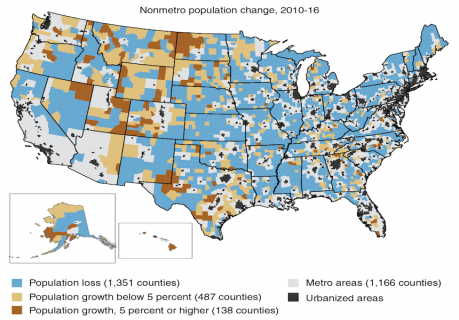 Rural America at a Glance, 2017 Edition—the U.S. Department of Agriculture's annual report on rural economic and population trends in the nation's "nonmetro" areas—didn't include too many surprises, but did find wide regional variation. It also confirmed (as we've reported) that rural America's overall population is in fact shrinking for the first time on record.
Key findings on the economic front:
Rural employment has not returned to its pre-recession level.
Job growth since 2011 remains well below the urban growth rate.
Median incomes remain below those of urban areas.
Rural poverty rates are higher—especially in the Mississippi Delta, Appalachia and the Rio Grande Valley.
Infrastructure investments, like expanding broadband internet access, could improve economic performance and contribute to quality of life through more robust delivery of education, healthcare, public safety and other services.
According to the report, rural counties with economies based on tourism and recreation maintained higher-than-average population growth rates during 2010-16. However, over that same five year period, 1,351 rural counties lost population—totaling close to 800,000 people. In addition to an aging population, factors behind this decline include:
Long-term outmigration of young adults
Fewer births
Increased mortality among working-age adults
Also, reclassification of fast-growing counties from rural to urban (nonmetro to metro) due to urbanization generally means the remaining rural counties have lower population growth potential.
You can find a link to the full report (and a webinar presentation of its findings) below, but first here's a closer look at the numbers.
Saturday, Dec 9, 2017, 12:00 pm · By Winona LaDuke
As the plagued Keystone Pipeline spilled 200,000 gallons of oil near the Sisseton Dakota reservation, on November 20, the Nebraska Public Service Commission issued a convoluted permit approval, allowing TransCanada to route the line through part of the state. In the meantime, the Dakota, Lakota and their allies stand strong.
That same day hundreds gathered for the Gathering to Protect the Sacred—a reaffirmation of the international agreement among sovereign indigenous nations to protect the environment from tar-sands projects. The Treaty to Protect the Sacred, first signed in 2013, was signed again. "Nothing has changed at all in our defense of land, air and water of the Oceti Sakowin," Faith Spotted Eagle told the crowd. "If anything, it has become more focused, stronger and more adamant after Standing Rock."
The assembly—sponsored by the Braveheart Society of Women, Wiconi Un Tipi, Ihanktonwan Treaty Committee and Dakota Rural Action—brought together 200 water protectors. Oyate Win Brushbreaker, a 97-year-old elder reminded those present, "Reaffirm the boundaries of that treaty. Keep out that black snake you have been talking about."
The Stone Barns Center for Food and Agriculture—a non-profit organization working to promote sustainable, community-based food and teach the next generation of farmers—kicked off the tenth Young Farmers Conference earlier today, Dec. 6, in Pocantico Hills, N.Y.
Through Friday, hundreds of new farmers will be joined by sustainable agriculture experts, scientists, chefs and speakers from across the country. This year, select sessions will be streamed live on Facebook and the Stone Barns Center's website. Administrators will also be taking questions from the online audience, so be sure to tune in.
Check out the streaming schedule below as well as the keynote from earlier this afternoon (featuring Ricardo Salvador and food journalist Mark Bittman):
Tuesday, Dec 5, 2017, 8:00 am · By Daniel Bigelow
Editor's Note: On Nov. 21, at the annual pardoning of turkeys on the White House lawn, President Trump joked that he'd looked into reversing the fates of the birds his predecessors had spared but had been told he wasn't allowed. Yesterday, he seriously unprotected nearly 2 million acres of public lands inside two national monuments in southern Utah—Grand Staircase Escalante (designated by President Clinton in 1996) and Bears Ears (designated by President Obama last year)—so that the areas could be opened up to oil, gas, mining, logging and other commercial development.
It's the largest such reversal of national monument status in the nation's history and Rural America In These Times will report more on this development later. The following report by Daniel Bigelow, an agricultural economist for the U.S. Department of Agriculture's Economic Research Service (ERS), is part of a larger study that looks at how our use of the land has changed over the years. It compiles 72 years worth of aggregated statistics to examine how everything from commodity prices, weather changes, population growth, technology, conservation policies and government programs have shaped our economics and, as a result, the modern American landscape:
Friday, Dec 1, 2017, 3:00 am · By John Ikerd
Does farm size matter to agricultural sustainability? My answer consistently has been, "Yes!" It's easier to manage a small farm sustainably because sustainability requires more management per acre farmed or dollar invested. That said, unsustainable large farms are not unsustainable because they are large, they are large because they are unsustainable. They are managed to achieve economic efficiency through "economies of scale." Like other industrial operations, most large farms compromise their ecological and social integrity in their quest for economic efficiency and thus are not sustainable. I have always acknowledged the possibility of managing a large farm sustainably, but most are not.
During a recent trip to Brazil, I had an opportunity to visit a large farm that I believe is at least potentially managed sustainably. The purpose of my trip was to make a presentation at the tenth Biennial Seminar of ASBRAM, an agribusiness association that supplies mineral supplements for Brazilian beef producers. I spoke about the challenges and opportunities for "sustainable beef production."
One of the highlights of the trip was an overnight visit to a 10,000-acre beef "farm," which would be called a ranch in the United States. As the farm was accurately described to me in advance: "Fazenda Novo Mundo is a beautiful place in Minas Gerais State where the family Penteado Cardoso have done very interesting work with Nelore cattle."
In a more reasonable world, the American people wouldn't need Sen. Bernie Sanders (I-Vt.) to travel around the country explaining all of the ways this GOP tax proposal is just another poorly-disguised, donor-funded, corporate charade in which half of Congress is attempting to sell us the same trickle-down deception we've already endured for decades—it would be obvious. We are, however, not there yet.
So, in a speech delivered earlier this month (and one of many in recent weeks) Sanders continued his ongoing effort to inform all Americans—"whether one is a progressive, a Democrat, a conservative, a Republican or something in between"—about some very twisted, rapidly-worsening financial realities.
These include:
We are living in a rigged economy.
The three wealthiest Americans—Jeff Bezos, Bill Gates and Warren Buffett—now own more wealth than the bottom half of the American people.
The top one-tenth of one percent now owns almost as much wealth as the bottom 90 percent.
40 million Americans are living in poverty.
For the first time in U.S. history, young people are facing a lower standard of living than their parents.
Simultaneously, we remain the only major country in the world today that doesn't guarantee health care to all of its citizens. (Twenty-eight million Americans currently have zero health insurance and that number might double next year.)
But his speech is also about more than the absurdity of our tax code and partisan dysfunction. It lays out how the same few entities—a handful of tremendously rich individuals, institutions and corporations—are using their consolidated power to manipulate not only in the United States, but around the world.
Tuesday, Nov 21, 2017, 4:30 pm · By John Ikerd
People in rural communities are beginning to join forces to defend their health and well-being against the inherent threats posed by concentrated animal feeding operations (CAFOs). I believe that the future leadership of rural America is emerging from among those who are taking the lead in protecting their communities against CAFOs, and I am just beginning to appreciate the importance of the new relationships that are being forged among rural people who share this common concern for the future of their communities.
Over the past year, I have met with local anti-CAFO group in Arkansas, Nebraska, Missouri, Iowa, South Dakota, and Ontario, Canada. Each group is different but they all of have one thing in common: they are all creating "communities of necessity." Most of these folks didn't form these new relationships because they wanted to. They got together with neighbors because they felt they had to. They knew they would have to work together if they were to have a chance to protect themselves, their families and their communities from the threats of CAFOs.
Rural America once had strong communities. It would have been very difficult for anyone who built a CAFO in a rural area in earlier times. It wasn't socially or morally acceptable for one person in the community to benefit at the expense of others. Rural people were also very skeptical of "outsiders," such as the corporations that are promoting CAFOs. They understood that more often than not, "outside investors" were intent on taking advantage of the "local yokels." The strong communities of earlier times were created out of necessity and over time became important keepers of rural social and cultural values.
Minnesota has taken significant steps to develop its renewable energy resources. Beginning more than 20 years ago, the state has promoted energy efficiency, wind, and solar power, to reduce greenhouse gas emissions while creating jobs and cleaning the environment. The state is committed, by law, to sharp reductions in greenhouse gas emissions.
The proposed Enbridge pipeline project would be a big step in the opposite direction. It is a litmus test of whether Minnesota is serious about climate change. Before explaining why, it is important to be clear on the urgency of the issue. A recent report published by the National Academy of Sciences said that there is a 1-in-20 chance that human-caused climate change will have an impact that is "beyond catastrophic" by the end of the century, threatening the very survival of our descendants.
Ignoring the risk of climate change caused by human greenhouse gas emissions is gambling with the lives of young Minnesotans and all future generations.
Thursday, Nov 16, 2017, 2:00 pm · By Jim Goodman
The mystique of the family farmer in this country goes all the way back to Thomas Jefferson's model for democracy. Jefferson centered his vision on the yeoman farmer, who, with family labor, worked a small farm and embodied the virtues of honest and hard work. It was an important idea to a new nation that was supposed to be built on independence and fairness—not aristocracy and privilege.
The idea of the yeoman farmer has evolved into the present-day notion of the family farm, a life few Americans understand but one that they seem to hold dear and want to preserve: The family farmer cares for the land, the animals and the local community because that is their heritage. It's no wonder that food packaging depicts that image of the family farm, with little red barns, cows and chickens in the grass and the farm family working together—it sells. This image has nothing to do with how the vast majority of food that fills supermarket shelves is produced, but that hasn't stopped politicians from invoking the family farm when selling the public on policies that have little to do with those of us who still do the work of family farming.
As Republicans push ahead with their tax reform plan, the small farmer is again invoked. This time it's about the estate tax. During a speech in North Dakota, President Trump declared, "We'll also protect small businesses and family farmers here in North Dakota and across the country by ending the death tax." He added: "Tremendous burden for the family farmer, tremendous burden. We are not going to allow the death tax or the inheritance tax or the whatever-you-want-to-call-it to crush the American Dream."
Tuesday, Nov 14, 2017, 2:00 pm · By Alana Toulin
When Donald Trump was elected president, American consumer protection groups, food safety advocates and commentators were "on high alert." Two months prior, his campaign had posted—and later deleted—an online fact sheet that highlighted a number of "regulations to be eliminated" under his proposed economic plan.
The document read in part:
The FDA Food Police, which [sic] dictate how the federal government expects farmers to produce fruits and vegetables and even dictates the nutritional content of dog food. The rules govern the soil farmers use, farm and food production hygiene, food packaging, food temperatures and even what animals may roam which fields and when. It also greatly increased inspections of food 'facilities,' and levies new taxes to pay for this inspection overkill.
Now, with Trump's first year in office characterized by tumult and scandal (including the FBI's ongoing Russia probe, his response to white supremacist violence in Charlottesville and his continuous goading of North Korea's Kim Jong Un, etc.) it is understandable that concerns about America's food supply have been sidelined. To paraphrase food writer Mark Bittman, how relevant are food issues when the need to defend basic democracy is far greater?
As it turns out, very—the two have been inextricably linked since the emergence of the modern food industry at the turn of the 20th century. Then, as now, lax regulatory legislation combined with rampant consumer fear has allowed corporate interests to redirect conversations about food safety and position themselves as the best solution to the problem.