Thursday, Dec 15, 2016, 3:00 pm · By Lauren Gurley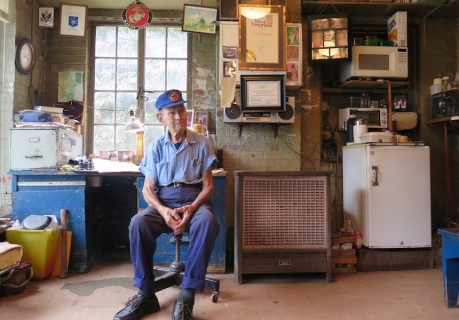 When the Economic Development Authority of McDowell County in West Virginia announced the opening of a privately-owned prison in 2006, hundreds of laid-off coal miners expected jobs would flood into this rural county, where only one in three people is employed. In the following months, those jobs did come but a significant portion went to commuters from more prosperous counties in West Virginia and neighboring Virginia. The reason? Many McDowell applicants tested positive for opioids in initial drug screenings and had been marked ineligible for hire.
In late September, I made the four-hour drive from Charlotte, N.C. to McDowell County, W.V., (pop. 19,835)—the 6th lowest income county in the United States and the poorest in West Virginia. Over the past year, I had written several articles about poverty in rural America, and knew full well the effect of deindustrialization on rural communities. Still, entering into McDowell County from the sleepy micropolitan towns of southwestern Virginia felt a bit like crossing a national border.
Thursday, Dec 15, 2016, 2:00 pm · By Adam Johnson
Daily Kos publisher and Vox Media co-founder Markos "Kos" Moulitsas, an influential voice in liberal politics, published a blog post (Daily Kos, 12/12/16) that captures just how terribly leading Democratic pundits are taking Hillary Clinton's unexpected defeat. In the wake of this loss, some of the more hardcore Clinton partisans have chosen, in lieu of self-examination and internal criticism, to simply lash out at the voters they failed to win over.
President-elect Trump promises to appoint a hard-right conservative to the U.S. Supreme Court, dashing Progressive's hopes for a liberal court in the foreseeable future. And he may well be appointing at least one other justice.
Progressives are panic-stricken. Conservatives are euphoric. But, regardless of where you fall on the political spectrum, one thing is certain: The repercussions of the Supreme Court overturning decisions such as Roe v. Wade and Obergefell v. Hodges will be palpable, affecting millions of lives.
How did one body of our government obtain so much power?
Saturday, Dec 10, 2016, 6:00 am · By Lorraine Chow
Missouri's largest peach grower is suing Monsanto over claims that dicamba drift caused widespread damage to the farm's peach trees. This is Monsanto's first lawsuit over the illegal spraying of the herbicide on its genetically modified (GMO) cotton and soy that's suspected of causing extensive damage to non-target crops across America's farm belt.
Thursday, Dec 8, 2016, 6:28 am · By John Collins
On Tuesday, following the Army Corps of Engineers (USACE) decision not to grant Energy Transfer Partners (ETP) and Sunoco Logistics the easement necessary to bury the Dakota Access Pipeline (DAPL) under the Lake Oahe reservoir, Standing Rock Sioux Tribal Chairman Dave Archambault II released a statement saying the time had come for water protectors to leave the protest camps when roads are safe and return home.
On Monday, the day after the USACE announcement, a blizzard moved through much of central North Dakota. While many had been anticipating the arrival of freezing weather for months, scores of people who had travelled to Standing Rock to support the tribe over the weekend were caught unprepared by the storm and sought shelter on the reservation at the Prairie Knights Casino and Resort. The general manager of the casino, Everett Iron Eyes Jr., told local reporters 600 to 700 people spent Monday night there—many happy to sleep in hallways if it meant staying warm.
Monday, Dec 5, 2016, 3:49 pm · By Aiden Kent
The U.S. Army Corps of Engineers (USACE) announced Sunday it will not grant an easement to allow continued construction of the proposed Dakota Access Pipeline along its current route.
Late Sunday afternoon, Standing Rock Sioux Tribal Chairman Dave Archambault II released this statement:
"Today, the U.S. Army Corps of Engineers announced that it will not be granting the easement to cross Lake Oahe for the proposed Dakota Access Pipeline. Instead, the Corps will be undertaking an environmental impact statement to look at possible alternative routes. We wholeheartedly support the decision of the administration and commend with the utmost gratitude the courage it took on the part of President Obama, the Army Corps, the Department of Justice and the Department of the Interior to take steps to correct the course of history and do the right thing."
Celebrations erupted in the Standing Rock encampments and on social media after the announcement was made. The decision came down at the same time that more than 2,000 veterans were arriving in North Dakota to join the resistance, growing the number of protestors and garnering this response from local law enforcement.
Friday, Dec 2, 2016, 6:00 am · By Brent Preston
Those of us in the good food movement have spent a lot of time and energy attacking genetically modified foods for the wrong reasons. For years, skeptics have claimed that GMOs caused a whole range of health problems, from autism, to gluten intolerance, to cancer. But two decades of studies have failed to produce any smoking guns. It's now time that we all accept the scientific consensus—GM foods are probably as safe to eat as non-GMO.
But that doesn't lessen my opposition to genetic modification one bit.
Three days after the Army Corps of Engineers told the Standing Rock Sioux Tribe that on December 5, public access to the land on which thousands of people are protesting the Dakota Access Pipeline (DAPL) would be closed, North Dakota Gov. Jack Dalrymple (R) ordered the "mandatory evacuation of all persons located in areas under the proprietary jurisdiction of the United States Army Corps of Engineers located in Morton County"—effective immediately.
Spokespeople for both the Corps and the governor, however, have since said that they do not plan to "forcibly remove" water protectors from the land. Meanwhile many in the Oceti Sakowin camp, the largest of the water protector encampments, say they plan on staying.
The U.S. Army Corps of Engineers has notified the Standing Rock Sioux that, effective December 5, public access to federally managed lands north of the Cannonball River in Morton County N.D., which includes the Oceti Sakowin camp—land on which thousands of people are currently camping in protest of the Dakota Access Pipeline—will be closed. This is one day after the anticipated arrival on December 4 of as many as 2,000 military service veterans who plan to stand in peaceful solidarity with the Sioux.
Wednesday, Nov 23, 2016, 7:00 pm · By Marie Burcham
As any organic farmer knows, balancing on-farm biodiversity with agricultural production can be a constant challenge. Luckily, a wildlife-friendly approach to farming can support animals that provide services to enhance, and even increase, food production.
Familiar "services" provided by wildlife include pollination and predation of crop pests. Bees, wasps, butterflies, beetles, bats and hummingbirds are well known for their benefits to agriculture as pollinators. However, there are some animals that are often overlooked, their roles as beneficial wildlife misunderstood by farmers and the public.