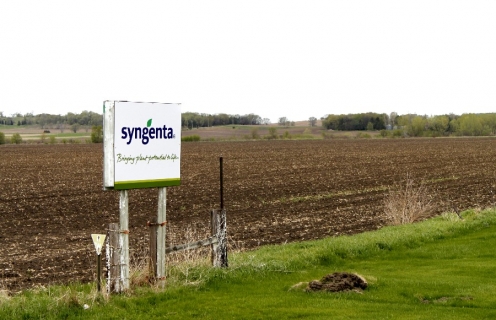 Editor's Note: This story was originally published by the Midwest Center for Investigative Reporting.
Amid COVID-19 restrictions, the U.S. Environmental Protection Agency has allowed Swiss agribusiness giant Syngenta to halt its water monitoring program of a pesticide linked to reproductive issues and cancer that is found in the drinking water of millions of Americans.
Since 2004, the agency has required Syngenta to monitor waterways for atrazine, a potent herbicide often sprayed on corn, because of its effects on human and ecological health.

But Syngenta asked for a reprieve this growing season in order to comply with travel restrictions imposed by Midwestern states, where the most pollution usually occurs.
On April 1, the EPA granted that request.
Saturday, May 2, 2020, 3:54 pm · By Melanie Bateman
Editor's Note: This article is republished from The Conversation under a Creative Commons license. Read the original article.
As the COVID-19 pandemic spreads around the world, vital N95 masks and other personal protective equipment have been hard to come by, even for those who need them most.
The World Health Organization estimates that the crisis has driven demand for this equipment, known as PPE, 100 times higher than normal. Even with dramatic increases in production, manufacturers have said they'll likely be unable to meet demand for the foreseeable future.
And the WHO has warned that the severe shortage is putting the lives of health care workers at risk.
But it's not just health care workers and other care providers who need PPE – especially those N95 masks, technically known as respirators. These devices are also vital to the safety of workers in a host of other industries, from building trades to agriculture.
Monday, Apr 27, 2020, 10:21 pm · By Joseph Bullington
Editor's Note: This article is published in collaboration with Montana Free Press.
Brent Weisgram was too swamped to do a phone interview.
As chief operations officer, he oversees food purchasing and distribution for the Montana Food Bank Network, headquartered in Missoula, and his troubles can be summed up in a few figures, which he sent in an email.
MFBN has shipped 1.6 million meals to Montana food pantries in the last month ― half a million more than during the same period last year. And as need has surged, so has the price of certain staples. A case of peanut butter, for example, currently costs about 45% more than usual.
The numbers illustrate how the COVID-19 pandemic, which has pushed tens of thousands of Montanans out of work and sent shudders through commercial and retail supply chains, has hit food banks from both sides.
Saturday, Apr 25, 2020, 12:36 pm · By Christine Vestal
Editor's Note: This article was originally published by Stateline, an initiative of The Pew Charitable Trusts.
It looks increasingly likely the South will endure more death and economic loss from COVID-19 than any other region in the country — and not just because Southern governors were slow to shut down businesses and order people to stay at home.
Southern poverty rates are high, social welfare programs spotty and health care infrastructure threadbare. In the past decade, 120 rural U.S. hospitals closed their doors; 75 of them were in the South.
And emerging data from some cities and states shows that black people — more than half of whom live in the South — are contracting and dying from the virus at a disproportionately high rate.
Monday, Apr 20, 2020, 7:47 am · By Tara Lohan
Editor's Note: This story was originally published by The Revelator, a publication of the Center for Biological Diversity.
It's been 10 years since flames engulfed the Deepwater Horizon drilling rig in the Gulf of Mexico, killing 11 workers and triggering the largest accidental oil spill in U.S. history. The resulting 168 million gallons of oil that spewed into the water for 87 days killed thousands of birds, turtles, dolphins, fish and other animals.
The messy slick washed up on 1,300 miles of beaches, coated wetlands with toxic chemicals, imperiled human health, crippled the region's tourism sector and shut down fisheries — costing nearly $1 billion in losses to the seafood industry.
In the years since, scientists have studied the far-reaching and longstanding ecological damages. And it's clear that problems persist.
A decade later, what have we learned? Are we any closer to preventing a similar — or worse — catastrophe? Here are some of the takeaways.
Authoritarian governments often prepare laws they wish to pass and have them "ready to go" when opportunity strikes. That's what Fionnuala Ni Aolain, a United Nations Special Rapporteur on Counterterrorism and Human Rights, recently told the New York Times.
"They draft laws in advance and wait 'for the opportunity of the crisis to be presented,'" Ni Aolain explained.
It's clear to us that greed-fueled bad actors are taking this pandemic as just such an opportunity. Corporate lobbies have quietly pushed through laws criminalizing fossil fuel protests. Congress approved an unprecedented and unnecessary handout to corporate America. Pipeline companies want to classify new pipelines as "essential," including TC Energy, which got the green light and began constructing the infamous Keystone XL pipeline. The federal government appears to be mulling a bailout for the fossil fuel industry. And, last but not least, the Trump administration ordered the Environmental Protection Agency to stop enforcing anti-pollution laws in some cases, removing what anemic oversight the EPA once held over corporate polluters, effectively suspending the agency while taking action to roll back some environmental protections permanently.
The EPA's response to the Covid-19 pandemic ― effectively ceasing enforcement of federal environmental laws ― will, regardless of the motivations for this unprecedented decision, negatively impact peoples' lives. This means that many communities, and the life-giving ecosystems they depend upon, are on their own.
Saturday, Apr 11, 2020, 4:24 pm · By Tamara J. Benjamin
Editor's Note: This article was originally by The Conversation on March 25 and is republished hereunder a Creative Commons license. Read the original article.
The familiar sight of weekend shoppers brushing shoulders at farmers markets across the U.S. is under threat from the coronavirus and fears of its spread.
In Seattle, farmers markets have been suspended altogether. In New York state – the epicenter of the U.S.'s fight against the virus – they remain open, but residents are being warned against gathering in groups and told to practice social distancing.
Such uncertainty is likely to hurt so-called "beginning farmers" – typically smaller-scale, start-up operations. As an expert in diversified farming systems, I can see vulnerable farmers closing down as a result of this crisis, and this could have a knock-on effect on the long-term food supply chain.
Friday, Apr 10, 2020, 10:13 am · By Ashoka Mukpo
Editor's Note: This article was originally published by Mongabay News and is republished here under a Creative Commons license.
The images are stark. Smogless skies over Los Angeles. A drop in air pollution over northern Italy that's so sharp it can be seen from space. Emissions from vehicles in New York City are down nearly 50%. For a battered planet, the international coronavirus pandemic has so far been — at least temporarily — an eerie reprieve.
Across the world, countries are virtually shutting down in hopes that severe restrictions on movement and commercial activity inside their borders will slow the spread of the disease. The economic impact of these measures has already led some economists to predict a crisis to follow that could rival the 2008 recession — or worse.
Commodity markets are already starting to feel the squeeze, as producers anticipate an economic downturn that could last for months or longer. And economists say it may only be the beginning.
Editor's Note: This story was originally published on The Midwest Center for Investigative Reporting.
This week, the U.S. Environmental Protection Agency announced that soybean farmers in 25 states are now able to spray a pesticide that the agency has determined is likely to cause cancer and drift hundreds of feet from where it is applied.
The move was widely praised by farmers, who view the weedkiller as a new tool in an ever-increasing battle with "super weeds" that have developed resistance to as many as six different types of weedkillers, including glyphosate, the most widely used pesticide in the U.S.
Tuesday, Mar 31, 2020, 12:14 pm · By Camille Baker
So many human failures have brought us to this point, in March 2020, when 803,650 people worldwide have tested positive for COVID-19, 39,033 people have died (though these figure will be old the moment this article publishes), and the rest of us are left wondering whether we are about to watch our loved ones die or end up on ventilators ourselves, drowning in our own lungs.
Some of the failures have been recent, public and obvious. President Donald Trump's failure to speedily invoke the Defense Production Act to increase the manufacture of essential medical supplies. Republicans' insistence on pushing forward with a stimulus bill that bails out corporations and, in some cases, does nothing for vulnerable people. Prison and jail officials' refusal to release incarcerated people in time to prevent a devastating spread of the illness in prisons. The Chinese government's suppression of information about the coronavirus in its early days, when its initial spread could have been stopped.
Other failures, less obvious, have been building for years. Take, for example, the fact that the battle against the coronavirus in many parts of the U.S. has partly been one of messaging. Officials have struggled to convince people to stay home to stem the virus' spread.