Monday, Jul 9, 2018, 11:00 am · By B.A. Morelli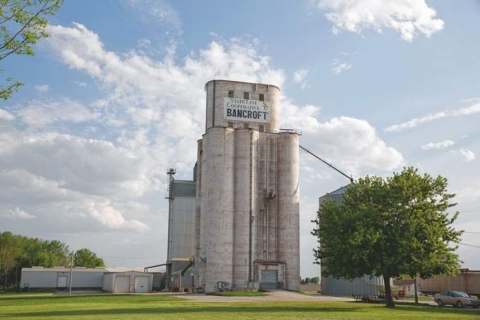 When Krista Looft first moved to the north-central Iowa town of Bancroft in 2012, she was a little concerned about starting a life here.
She moved with her husband Jaimes, whom she met in a Future Farmers of America scholarship program while each was attending different high schools. They hit it off on a trip to Washington, D.C.
They married young and lived in a tiny apartment in Emmetsburg while Krista studied to be an administrative professional and Jaimes a diesel mechanic at Iowa Lakes Community College. After graduating, Jaimes got a job at Deitering Brothers, one of two farm implement dealers in Bancroft.
Bancroft is a small, and getting smaller, farming community most recently pegged at around 700 people. It's one of the fastest shrinking of Iowa's 942 cities. Located about 20 miles south of the Minnesota border on Highway 169, it is the second largest city in Kossuth County after county seat Algona.
Bancroft has no traffic lights and is about an hour from an interstate. The last local school — the parochial grade school, St. John's — closed about five years ago. The high school closed in 1989.
Thursday, Jul 5, 2018, 5:30 pm · By Holly Ann Stovall
I live in a place called Forgottonia. Others call it McDonough County, Illinois. Four hours southwest of Chicago, 3 hours due north of St. Louis. An hour from the mighty Mississippi River. With 23 percent of the population living below the poverty line, we are one of the most impoverished counties in the state and no one seems to care outside of the 30,000 people who live here. Some who live here don't care either.
To raise awareness of our plight I travelled to the Springfield Capitol, and once to Chicago, every Monday for 40 days, as part of the Illinois Poor People's Campaign for Moral Revival. We are a movement that challenges systemic racism, poverty, the war economy, and ecological devastation. We took our inspiration, as the 50th anniversary of Dr. Martin Luther King's Poor People's Campaign approached, from Rev. William Barber of North Carolina and Rev. Liz Theoharris, Co-Director of the Kairos Center. They picked up the campaign where King left off.
We rally and risk arrest to pressure state legislators and the governor to attack poverty. Most of the activists in Springfield came from Chicago, but poverty and its intersecting factors plague rural towns, as well, so I, also, made the 75-mile drive.
Wednesday, Jun 27, 2018, 6:00 pm · By Debbie Weingarten
When Lorraine Lewandrowski drives from her Herkimer County dairy farm to her law office each day, she notices the changes happening across rural upstate New York. "When I grew up here, we had 30 or 40 farms in our neighborhood," she says. "We had a local hardware store, machinery dealers, two dentists, two doctors. We had a vibrant rural town. Now we don't have that."
Today, she says, roadsides are dotted with "for sale" signs. Farms sit vacant, their owners having relocated to urban areas in search of work. Once-pristine barns have become dilapidated after years of low prices left farmers without money for infrastructure upkeep. The closest city, Utica, is the sixth-most distressed city in the country, with about half of the adults unemployed and more than a quarter of the population living in poverty.
Depressed farm prices are impacting farmers across industries nationwide. Since 2013, farm income has fallen by more than 50 percent, and median farm income for 2018 is projected to be negative (-$1,316, to be exact). But dairy farmers are arguably being hit the hardest, as they face a fourth year of milk prices that are well below the cost of production. The resulting stress has become so pronounced that the Agri-Mark Dairy Cooperative, which manages milk sales for its member farms, sent farmers suicide hotline numbers along with their milk checks earlier this year.
Monday, Jun 25, 2018, 12:00 pm · By Stephanie Woodard
San Juan County, Utah's white Republican establishment isn't going down without a fight in this year's elections—or at least a whole lot of shenanigans. That's according to a new federal lawsuit filed by Willie Grayeyes, a Navajo candidate for one of the three seats on the county commission. San Juan county is challenging Grayeyes's residency, just as did during the 2012 election. Grayeyes passed muster then, and the county ended up certifying him as eligible to run for office.
This time though, the county is giving the challenge its best shot. According to the lawsuit by Grayeyes, a Navajo and Democrat, the county has nixed his right to run for the commission seat in District 2 with techniques including seemingly backdated documents, hearsay evidence ("It has been brought to my attention…"), and unnamed expert witnesses (individuals encountered "behind the car wash").
The collection of this information has been accompanied by driving adventures in the remote, rugged, sparsely populated portion of San Juan County that overlaps the Navajo reservation. Would-be investigators (a white candidate and later a sheriff's deputy) got lost and/or confused while looking for Grayeyes's house. Plus, they apparently didn't like the Navajo homes they did see, describing the dwellings as not up to their standards.
Monday, Jun 18, 2018, 2:00 am · By Daniel Cooper
Many economists expect President Donald Trump's tariffs on imported steel and aluminum to increase what American companies and consumers pay for those metals and the goods made from them. Dozens of companies have already said they will have to fire workers or even go out of business. And, as the retaliatory tariffs Canada, Japan, Mexico and other countries have announced underscore, the United States is heading for a trade war with the nation's closest allies.
But having spent the last eight years researching how to make the steel and aluminum industries more efficient, I believe it's possible for the United States to slash imports of these metals not by imposing duties but by boosting the reuse and recycling of old metal products.
Making far more of the nation's discarded steel and aluminum scrap as good as new would have many advantages aside from its diplomatic dividends, such as cutting pollution and energy consumption.
Wednesday, Jun 13, 2018, 12:30 pm · By Sally Gifford
Each month, USDA shares stories of women in agriculture who are leading the industry and helping other women succeed along the way. This month, we hear from Kelsey Ducheneaux, a member of the Lakota Sioux Nation. Alongside her work as a beef cattle rancher on the Cheyenne River Sioux Reservation in South Dakota, Ducheneaux is the youth programs coordinator and natural resource director of the Intertribal Agriculture Council, a national organization working to improve Indian Country.
According to your LinkedIn, you've had an impressive history of recruiting young people to agriculture. Why is this important to you?
Where I grew up, opportunities don't really come knocking because no one has ever built a door. We're in an incredibly rural part of South Dakota; while we're rich in both human and natural resources, we're suffering from the symptoms which centuries of poverty has inflicted and most often it's our youth that suffer the most. In my outreach and advocacy for careers in agriculture, I put my energy towards helping our young people realize that the wide-open spaces we call home are not just "the middle of nowhere." Instead, I want them to look around their home and to see resources, which have the potential to grow food, which can in turn feed their family. There's a whole lot of pride that comes with being responsible for something as beautiful as our landscapes. I've learned that with just a little effort, I can inspire young people to believe in themselves as much as they believe in agriculture.
What should the world know about your story?
My story looks the way it does as a result of many people offering me an opportunity that I felt comfortable and confident in pursuing. I could not be where I am today, had it not been for many generations of sacrifice, hard work, and support. I strive every day to carry out my story in a way that can help to put others in a place they are proud of, like I am fortunate enough to experience.
Tuesday, Jun 12, 2018, 4:28 pm · By Sasha Kramer
In April 2017, President Donald Trump signed an executive order directing Interior Secretary Ryan Zinke to produce the review, declaring that America's network of national monuments is the result of "an egregious abuse of power" and "a massive federal land grab."
Zinke's ensuing review proposes changes to 10 monuments: It recommends that the size of four be reduced, and that economic activity, such as commercial fishing, mining and logging, be reinstated in another six. Even before the final review was released Dec. 5, 2017, Trump began to take action on these recommendations, cutting Bear Ears National Monument by 85 percent and shrinking Grand Staircase-Escalante National Monument to half of its original size to pave the road for oil and gas exploration.
Zinke's recommendation also issues an equally dangerous attack on marine monuments in both the Pacific and Atlantic Oceans. He recommends shrinking the Pacific Remote Islands Marine Monument, a network of islands and atolls that forms the world's largest marine reserve at nearly 500,000 square nautical miles. Zinke also advocated that the commercial fishing ban in the monument's waters be revoked.
Thursday, Jun 7, 2018, 4:00 pm · By Stephanie Woodard
"Don't despair, if you feel political decisions nowadays are not being made on your behalf—or even against your wishes," says Clayton Apikan Brascoupé, a Mohawk farmer who has lived and worked for many years at Tesuque Pueblo, in New Mexico.
His solution? "Start by planting trees," he says. "They are a positive answer to climate change and much more. Trees build up soils organically and increase their water-holding capacity. They sequester excess climate-altering carbon dioxide. They attract beneficial insects that help other crops and produce food, medicine, building material and other useful items. Planting them can transform a community."
Brascoupé directs the Traditional Native American Farmers Association (TNAFA), headquartered in Santa Fe, New Mexico, which has engaged the Indigenous community through this very practice. Tiny TNAFA, comprised of its director and a few volunteers, specializes in projects that are accomplished easily with inexpensive locally sourced items, yet have enormous effects. "Our philosophy is keeping small and collaborating with people who are committed to doing this work," says Brascoupé. "They can then run with the ideas."
In May, TNAFA held a two-day tree-planting and -care workshop. The course attracted some 25 students from an Apache community, the Navajo Nation and other Pueblos, including Acoma, Zuni, Taos, Hopi and Ohkay Owingeh (formerly called San Juan Pueblo). Participants put in trees and mulched them with donated plant debris from a large commercial greenhouse operation and with easily obtained discarded cardboard and newspaper ("it's everywhere!" says Brascoupé). Water was diverted from sources, like runoff from buildings, that might have been ignored or lost otherwise.
Saturday, Jun 2, 2018, 12:00 pm · By Wenonah Hauter
[Editor's Note: The term "manure" is inaccurately used in the story below to describe the waste generated by Confined Animal Feeding Operations (CAFOs). For centuries, manure—an agriculturally essential fertilizer derived from animal excreta—has been used by people who value soil fertility and healthy plants, but industrial farms with thousands of confined animals are a new system outside of that scale. As the author makes clear, the volume of animal excreta generated by these operations has created a pollution crisis in rural communities across the nation (and in the Great Lakes). Why? Because it's not used as a fertilizer. CAFOs are not farms, after all. Animal excreta becomes manure in its use, or planned use, to support plant growth. Its mere existence doesn't get that honorable title. So when corporate agribusiness executives sit around a table and ask, "How the hell are we going to get rid of this stuff?" they are not talking about manure. They've got a waste disposal problem, which they dump on their neighbors.]
In 2008, Cabot Oil and Gas started fracking operations in Dimock, Penn. It was around that time the community started noticing their water was turning brown and making people and animals sick. One woman's water well exploded. Fracking had come to town.
It's a familiar story in other rural communities—from Pennsylvania to Montana and Texas—where fracking has contaminated drinking water resources and emitted toxic air pollution associated with higher rates of asthma, birth defects and cancer.
But the story is similar in other communities where fracking or other extreme fossil fuel extraction isn't happening. Air and drinking water that's been dangerously polluted from industrial operations affect communities across Iowa, including the state's largest city, Des Moines. Polluting facilities are operating in Central Oregon, North Carolina, Wisconsin and Maryland. None of those places are fracking, but they are host to another environmental hazard facing rural communities: factory farms.
Like the fossil fuel cartel, this highly consolidated industry prioritizes profits at the cost of our environment. Factory farms are an industrial model for producing animals for food where thousands of cows, pigs or birds are raised in confinement in a small area. While farms can and do apply manure as a fertilizer to cropland, factory farms produce more manure than nearby fields can absorb, leading to runoff into surface waters and contaminants leaching into groundwater. And storing concentrated quantities of manure releases toxins like ammonia and hydrogen sulfide into the air, threatening nearby communities—and even leading to worker deaths. The nearly half a million dairy cows on factory farms in Tulare County, Calif., produce five times as much waste as the New York City metropolitan area and carries chemical additives and pathogens like E. coli, many of which are antibiotic resistant.
(Editor's Note: The American Farmland Trust (AFT), a non-profit founded in 1980 to protect U.S. farmland and water supplies from encroaching development, has just released Farms Under Threat: The State of America's Farmland—the first in a series of reports that will track past, present and future threats to agricultural resources nationwide. This first report finds that, between 1992 and 2012, over 30 million acres of farmland—an area roughly equivalent to the landmass of New York State—were irreversibly lost to development. Furthermore, according to the organization's research, nearly 11 million acres of the converted farmland were among the "best land for intensive food and crop production." Below is AFT's introduction and a link to the full report.)
The United States is blessed with a remarkably productive agricultural landscape. Cropland, pastureland, rangeland, and woodland support a regionally diverse food and farming system capable of ensuring domestic food security. Agricultural land contributes to state and local economies, supplies lucrative export markets, and bolsters the nation's balance of trade. These exceptional natural resources sustain valuable wildlife habitat, provide flood control and fire suppression, scenic views, and resources for hunting and fishing. This land also acts as an enormous carbon sink, drawing down carbon from the atmosphere, which helps combat climate change. By 2050, the demands on agriculture to provide sufficient food, fiber, and energy are expected to be 50 to 70 percent higher than they are now. Given a limited land area in the United States and the need to feed and house an increasing number of people, it is more important than ever to protect the agricultural land and natural resources needed for long-term sustainability.
This call for action is documented and reinforced by the findings of Farms Under Threat: The State of America's Farmland by American Farmland Trust. The report's research shows that between 1992 and 2012, almost 31 million acres of agricultural land were irreversibly lost to development. That is nearly double the amount of conversion previously documented and is equivalent to losing most of Iowa or New York. As alarming, this loss included almost 11 million acres of the best land for intensive food and crop production. This is land where the soils, micro-climates, growing seasons and water availability combine to allow intensive production with the fewest environmental impacts. These precious and irreplaceable resources comprise less than 17 percent of the total land area in the continental United States. Their conversion was equivalent to losing most of California's Central Valley, an agricultural powerhouse.