Tuesday, Jan 31, 2017, 4:18 am · By Rob Wallace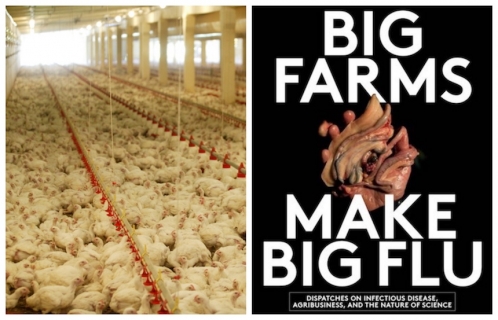 Multiple outbreaks of deadly H5 bird flu are decimating poultry across Europe, Asia and the Middle East. The epidemic, moving across Eurasia in waves, follows an eruption of H5N2 here in the United States in 2015. All the new strains—H5N2, H5N3, H5N5, H5N6, H5N8, and H5N9, together called H5Nx—are descendants of the H5N1 subtype that first emerged in China in 1997 and, since 2003, has killed 452 people.
Big Poultry and its collaborators in government are blaming wild waterfowl, which act as reservoirs for many influenza strains, for the new poultry outbreaks. For instance, research under the aegis of University of Minnesota Professor Carol Cardona, who holds the industry-funded Pomeroy Chair in Avian Health, claims that climate change is driving shifts in wild waterfowl ecology and therefore in the influenza to which industrial poultry here in Minnesota are now exposed.
Friday, Jan 27, 2017, 4:40 pm · By John Collins
In the United States, demand for organically produced fruit, vegetables, meat, milk and eggs continues to grow. According to the Department of Agriculture (USDA), organic products are now being sold in three out of four conventional grocery stores. In 2015, organic food sales reached $43.3 billion—a new record, but one that's expected to be surpassed (again) as soon as 2016 consumer data is tallied and released.
This steady increase in demand for minimally-processed "real food"—pesticide-free greens and meat from livestock who spent at least some of their lives outside eating plants—has not gone unnoticed by the nation's largest conventional food companies. In order to capitalize on the organic trend without massively restructuring their core enterprises, food and beverage corporations have responded by acquiring dozens of smaller organic brands to market alongside their staples. Naked Juice, Van's and Annie's Homegrown, for example, are owned by Pepsi, Tyson and General Mills respectively. Often lost in the ensuing marketing wars are the values that started the local, sustainable food movement in the first place—a widely perceived need for systemic change that includes, but also goes far beyond, the rejection of pesticides.
On Tuesday, President Trump signed five executive orders, two of which revive the Dakota Access (DAPL) and Keystone XL pipelines. The other three were drafted to fast track the environmental permitting processes required to complete the controversial projects while directing the Commerce Department to maximize the use of U.S. steel in their construction. A video of Trump briefly commenting as he signs the orders is embedded below.
Shortly following the announcement, the Standing Rock Sioux Tribe, who view DAPL as a threat to their water, sacred sites and tribal sovereignty, released the following statement:
The GMO labeling issue has quieted down some but there is still plenty to discuss. On January 19, the USDA proposed its latest definition of genetically modified food, for labeling purposes, and it includes loopholes for gene editing. However, it's not uncommon for reasonable people to imagine that GMO labeling is a sideshow to the real business of the food movement. After all, most GMO foods and GMO crops are visually indistinguishable from non-GMOs, and tiny non-GMO labels can look pretty irrelevant on the side of a soda bottle containing whole cupfuls of sugar.
Last week, Michael Pollan, Olivier de Schutter, Mark Bittman and Ricardo Salvador made that error, calling GMO labeling "parochial."
Thursday, Jan 19, 2017, 8:13 am · By John Collins
Filling the last remaining vacancy on his incoming administration's cabinet, President-elect Donald Trump has nominated former Georgia governor Sonny Perdue for secretary of agriculture. The announcement puts an end to weeks of mounting speculation over who (on Monday, January 23, presumably at around 9:00 a.m.) will be showing up to replace Tom Vilsack as the Department of Agriculture's new boss. (Vilsack resigned from the post one week early and is reportedly taking his talents to the U.S. Dairy Export Council.)
Once confirmed and sworn in, Perdue will have the unenviable task of navigating a third straight year of declining net farm incomes, pushback from farmers and ranchers on Obama-era environmental regulations, heavily-leveraged family farms struggling to compete, a massive global agribusiness industry hell bent on consolidation and, perhaps most importantly, the drafting of the 2018 farm bill—an omnibus law revisited by Congress every five years that governs myriad aspects of our food supply.
On the human side of the equation, millions of American grocery shoppers increasingly want to know what they're eating, where it comes from, whether or not it's been treated with chemicals and/or if it's been genetically engineered in a laboratory. The world's largest purveyors of insecticides, herbicides, patented seeds and heavily-processed food would much prefer these details remain a mystery and lobby accordingly. Caught in the middle, most farmers just want to make a decent, reliable living that doesn't involve jumping through unnecessary hoops for a hyperactive Uncle Sam. Depending on where a secretary of agriculture's sympathies lie, he (or she) can tip the scales one way or another on a number of important issues.
Here's what we know about Sonny Perdue:
Tuesday, Jan 17, 2017, 10:00 pm · By Thomas Linzey
Nations around the world have been meeting for more than two decades to solve the looming problem of climate change. During their most recent gathering—held last November in the Moroccan city of Marrakesh—they intended to iron out some of the glaring issues remaining from the much-lauded 2015 Paris Agreement.
In Paris, countries agreed on a goal to limit global warming to two degrees Celsius above pre-industrial levels. This is a threshold that scientists generally agree is the point of no return. Yet, shockingly, almost everyone agrees that the Paris accord—even if completely enforced—would fail to achieve that goal.
From 1999 to 2014, the Centers for Disease Control and Prevention (CDC) tracked the leading causes of death in nonmetropolitan and metropolitan areas in the United States. They compared the regional mortality data to determine how many deaths could likely have been prevented, assuming the death rates of states with the lowest rates occurred across all states.
The report finds not only that unintentional injury deaths are nearly 50 percent more likely in rural areas than they are in cities, but that distance to emergency medical care, the ongoing opiod crisis, obesity rates and other factors all leave rural Americans at higher risk of early death. Below is the CDC's full press release and links to their research.
Tuesday, Jan 10, 2017, 7:29 pm · By Dan Flynn
When the bitter cold began spreading over rural America last month, the parlor guessing game around many a wood stove was guessing who President-elect Donald J. Trump would name as secretary of agriculture. But the time for that game has passed.
The past three presidents all named their ag bosses by the end of the December before they took office. President Obama had not only named former Iowa Gov. Tom Vilsack as secretary of agriculture, but got him confirmed by the U.S. Senate in time to take office on January. 20, 2009. Trump is now just two weeks out from being sworn in as 45th president of the United States, and has not yet named anyone to lead the U.S. Department of Agriculture.
Tuesday, Jan 10, 2017, 12:27 pm · By Coral Beach
Four months wasn't long enough for some in the food industry to figure out how they want the FDA to define "healthy" for use on food labels, so the agency has extended the comment deadline on the topic for another three months.
The Food and Drug Administration's deadline for public comments on the topic is now April 26, which is a month longer than at least one extension request sought.
The Grocery Manufacturers Association asked that the January 26 deadline be extended to March 26, citing year-end activities and holiday scheduling as part of the reason it needed more than four months to develop and submit comments.
In November, Agrarian Trust held its second "Our Land" symposium in Santa Fe and Albuquerque, N.M. The Trust, a collaboration between the Schumacher Center for New Economics and Greenhorns, a grassroots network for young agrarians, is working to secure land access for the next generation of farmers. This is important. In the next 20 years, as today's farmers age and retire, American Farmland Trust estimates 400 million acres of U.S. farmland will change hands. "Hands" plural might be optimistic. Without intervention, the increasing value of farm real estate nationwide will continue to price-out new entrants to farming. Furthermore, as those acres hit the open market they are likely to go where the money is. These days, that usually means becoming disembodied terrestrial testing grounds for our always-expanding, always-consolidating multinational agribusiness corporations as they pursue new and cutting-edge petro-chemical applications (for us to eat).
Over several days, Our Land 2: Tracing the Acequia Commons featured speakers from many facets of the sustainable food movement—farmers, conservationists, water experts, people from frontline communities, artists, activists, professors and lawyers—who focused on what it will take to build a less diabolical food system in the United States.