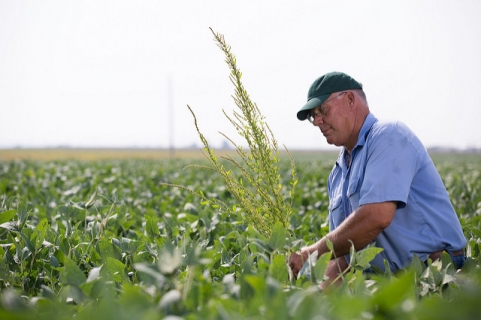 The Trump administration plans to give American farmers and ranchers hurt by the current trade war US$12 billion in emergency relief to mitigate the impact of tariffs on their exports.
While this may lessen the blow of an already struggling agricultural economy in the short run, it is only a Band-Aid. As an agricultural economist, I know that no one really wins in a trade war. As someone who grew up on a cotton and alfalfa farm in rural Arizona, I know firsthand that producers want access to markets – not government handouts.
If the trade conflict with China continues much longer, it will likely leave lasting scars on the entire agricultural sector as well as the overall U.S. economy.
"Another glorious day, the air as delicious to the lungs as nectar to the tongue" – John Muir, My First Summer in the Sierra (1911)
Most Americans associate U.S. national parks with pristine environments that represent the very best of nature. In the 1916 law that established the National Park Service, Congress directed the new agency to "conserve the scenery and the natural and historic objects and the wild life therein and to provide for the enjoyment of the same in such manner and by such means as will leave them unimpaired for the enjoyment of future generations."
But over the past century it has become increasingly hard to protect the parks from impacts of human activities outside their boundaries. In 2015 the National Parks Conservation Association, a national advocacy group, released a blistering report giving many popular parks poor grades for unhealthy air, haze and impacts from climate change.
In a study just published in Science Advances, we analyzed levels of ozone, the most widely monitored pollutant in parks, and their impact on visits to 33 national parks from 1990 to 2014. The sites we studied included popular parks such as Acadia, the Grand Canyon, Great Smoky Mountains, Joshua Tree, Sequoia and Kings Canyon and Yosemite. We found that while cities once had more "bad air days" with unhealthy ozone levels than national parks, today parks and metro areas have virtually the same number of unhealthy ozone days per year on average. We also found that park visits fall on high ozone days – especially during summer and fall, when peak ozone levels typically occur.
Tuesday, Jul 24, 2018, 11:00 am · By Sacoby Wilson
As U.S. livestock farming becomes more industrial, it is changing rural life. Many people now live near Concentrated Animal Feeding Operations (CAFOs) – large facilities that can house thousands of animals in close quarters. Neighbors have to contend with noxious odors, toxic emissions and swarms of insects, and have had little success in obtaining relief – but this could be changing.
On April 26, Murphy Brown LLC, a division of Smithfield Foods, was required to pay $75,000 in compensatory damages and $50 million in punitive damages in a nuisance lawsuit filed by ten residents of Bladen County, North Carolina over impacts from a nearby hog farm. On June 29, another North Carolina jury awarded $25 million to a couple in Duplin County in a similar lawsuit against Smithfield Foods. Other cases are pending in North Carolina and Iowa.
Smithfield Foods is the largest hog processor and producer in the world, so these verdicts are major victories for people organizing against industrialized animal agriculture. Based on my experience studying environmental health at the community level, I see them as breakthroughs after decades of government failure to protect rural communities from negative impacts of CAFOs.
Wednesday, Jul 18, 2018, 11:00 am · By Justin Perkins
NELIGH, NEB.—Ponca tribal activists Casey Camp-Horinek and Larry Wright Jr. sit beside Nebraska farmers Art and Helen Tanderup at a folding table on open farmland. Nearly 100 people, including landowners, candidates for the state Public Service Commission and members of surrounding tribes, have gathered here for the fifth annual planting of sacred Ponca corn.
The Tanderups pass a slip of paper across a table adorned with a painted buffalo robe. Camp-Horinek, councilwoman of the Ponca Tribe of Oklahoma, and Wright, tribal chairman of the Ponca Tribe of Nebraska, receive the paper. "This day," Camp-Horinek declares, "the course of the Black Snake has changed."
Wednesday, Jul 18, 2018, 11:00 am · By John Ikerd
"The Sustainable Iowa Land Trust or SILT was launched 2015 to help save and protect the best of the family farm – small, diverse, clean farms that feed Iowans." The SILT website proclaims, "We are dedicated to permanently protecting land to grow healthy food for generations to come." Farmland trusts, like SILT, are a means of making more farmland available for sustainable production of healthy foods.
Sustainable agricultural easements administered by SILT remove speculative pressures that keep costs of farmland too high to be paid for by sustainable farming. Farmland owned by SILT is made available to farmers through long term leases that allow farmers to benefit from appreciation in the farm business without the economic challenges of land purchase and ownership. SILT also works through private and public partnerships to facilitate land ownership transfers and land use planning to "permanently protect land to grow healthy food for future generations."
In its short three-year's lifespan, SILT has protected 5 farms with more than 400 total acres. This is an impressive start, but a start on what might seem an impossible mission. With the average age of U.S. farmers over 58-years old, something like 92 million acres or 10% of U.S. farmland has changed hands in the past five years. In the next 20 years, approximately 70% of U.S. farmland is likely to change hands. It's certainly going to be an uphill battle to make U.S. farmland accessible and affordable to farmers who are committed to the sustainable, regenerative farming systems needed protect the land and grow healthy food for generations to come.
Wednesday, Jul 11, 2018, 12:00 pm · By Leilani Clark
Last summer, young farmer Moses Kashem broke ground on a neglected 1/2-acre of land owned by St. Simon's Episcopal Church in Miami, Florida. A year later, the lot has been transformed into a diversified vegetable farm, providing crops such as lettuce, heirloom tomatoes, herbs, and eggplant to Whole Foods, several local restaurants, and a 30-member community supported agriculture (CSA) program.
Originally from Bangladesh, Kashem launched his farming career at Florida International University. When a lease on state-owned land didn't pan out, he turned his attention to an overgrown 4-acre piece of land owned by the church he had attended with his wife, Erin, since 2013. The 28-year-old asked the church's vestry if he might farm the land.
At first, some of the elders balked, but they eventually agreed to allow Kashem to sign a three-year lease, which he hopes to extend to 10 years. In exchange, he promised the church 15 percent of the farm's profits along with outreach through farm-to-table dinners and cooking classes. Some of the church members even helped him pay to fence off the land.
Monday, Jul 9, 2018, 11:00 am · By B.A. Morelli
When Krista Looft first moved to the north-central Iowa town of Bancroft in 2012, she was a little concerned about starting a life here.
She moved with her husband Jaimes, whom she met in a Future Farmers of America scholarship program while each was attending different high schools. They hit it off on a trip to Washington, D.C.
They married young and lived in a tiny apartment in Emmetsburg while Krista studied to be an administrative professional and Jaimes a diesel mechanic at Iowa Lakes Community College. After graduating, Jaimes got a job at Deitering Brothers, one of two farm implement dealers in Bancroft.
Bancroft is a small, and getting smaller, farming community most recently pegged at around 700 people. It's one of the fastest shrinking of Iowa's 942 cities. Located about 20 miles south of the Minnesota border on Highway 169, it is the second largest city in Kossuth County after county seat Algona.
Bancroft has no traffic lights and is about an hour from an interstate. The last local school — the parochial grade school, St. John's — closed about five years ago. The high school closed in 1989.
Thursday, Jul 5, 2018, 5:30 pm · By Holly Ann Stovall
I live in a place called Forgottonia. Others call it McDonough County, Illinois. Four hours southwest of Chicago, 3 hours due north of St. Louis. An hour from the mighty Mississippi River. With 23 percent of the population living below the poverty line, we are one of the most impoverished counties in the state and no one seems to care outside of the 30,000 people who live here. Some who live here don't care either.
To raise awareness of our plight I travelled to the Springfield Capitol, and once to Chicago, every Monday for 40 days, as part of the Illinois Poor People's Campaign for Moral Revival. We are a movement that challenges systemic racism, poverty, the war economy, and ecological devastation. We took our inspiration, as the 50th anniversary of Dr. Martin Luther King's Poor People's Campaign approached, from Rev. William Barber of North Carolina and Rev. Liz Theoharris, Co-Director of the Kairos Center. They picked up the campaign where King left off.
We rally and risk arrest to pressure state legislators and the governor to attack poverty. Most of the activists in Springfield came from Chicago, but poverty and its intersecting factors plague rural towns, as well, so I, also, made the 75-mile drive.
Wednesday, Jun 27, 2018, 6:00 pm · By Debbie Weingarten
When Lorraine Lewandrowski drives from her Herkimer County dairy farm to her law office each day, she notices the changes happening across rural upstate New York. "When I grew up here, we had 30 or 40 farms in our neighborhood," she says. "We had a local hardware store, machinery dealers, two dentists, two doctors. We had a vibrant rural town. Now we don't have that."
Today, she says, roadsides are dotted with "for sale" signs. Farms sit vacant, their owners having relocated to urban areas in search of work. Once-pristine barns have become dilapidated after years of low prices left farmers without money for infrastructure upkeep. The closest city, Utica, is the sixth-most distressed city in the country, with about half of the adults unemployed and more than a quarter of the population living in poverty.
Depressed farm prices are impacting farmers across industries nationwide. Since 2013, farm income has fallen by more than 50 percent, and median farm income for 2018 is projected to be negative (-$1,316, to be exact). But dairy farmers are arguably being hit the hardest, as they face a fourth year of milk prices that are well below the cost of production. The resulting stress has become so pronounced that the Agri-Mark Dairy Cooperative, which manages milk sales for its member farms, sent farmers suicide hotline numbers along with their milk checks earlier this year.
Monday, Jun 25, 2018, 12:00 pm · By Stephanie Woodard
San Juan County, Utah's white Republican establishment isn't going down without a fight in this year's elections—or at least a whole lot of shenanigans. That's according to a new federal lawsuit filed by Willie Grayeyes, a Navajo candidate for one of the three seats on the county commission. San Juan county is challenging Grayeyes's residency, just as did during the 2012 election. Grayeyes passed muster then, and the county ended up certifying him as eligible to run for office.
This time though, the county is giving the challenge its best shot. According to the lawsuit by Grayeyes, a Navajo and Democrat, the county has nixed his right to run for the commission seat in District 2 with techniques including seemingly backdated documents, hearsay evidence ("It has been brought to my attention…"), and unnamed expert witnesses (individuals encountered "behind the car wash").
The collection of this information has been accompanied by driving adventures in the remote, rugged, sparsely populated portion of San Juan County that overlaps the Navajo reservation. Would-be investigators (a white candidate and later a sheriff's deputy) got lost and/or confused while looking for Grayeyes's house. Plus, they apparently didn't like the Navajo homes they did see, describing the dwellings as not up to their standards.