Thursday, Jul 27, 2017, 2:00 pm · By Austin Frerick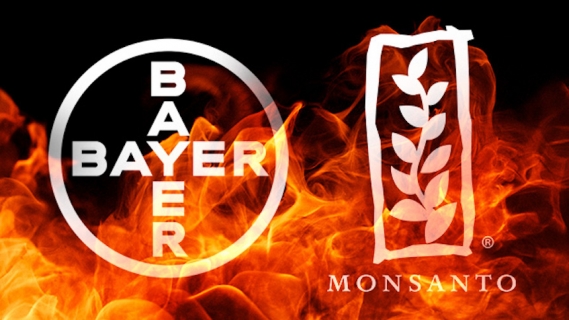 Iowa farmers face a crisis. Crop prices have fallen by more than 50 percent since 2013, with no end in sight. At the same time, farmers hold more debt and possess fewer capital reserves to fall back on. In fact, farmers' debt levels are almost as high as they were prior to the farm crisis of the mid-1980s.
Meanwhile, a wave of mergers among the world's agricultural giants is upending the markets for seeds, fertilizers, and pesticides. If approved, the proposed merger would result in just two companies—Monsanto-Bayer and Dow-DuPont—controlling about three-quarters of the U.S. corn seed market. The power that these corporations would hold in the seed market is unprecedented.
Wednesday, Jul 26, 2017, 5:00 pm · By Steven Conn
The other day, I got one of those thick envelopes from my insurance company stuffed with many pages of very small print. "Important information about your policy" said the envelope, and usually those go straight into the recycling bin.
But for whatever reason I opened this one and read it. Turned out to be pretty interesting. Mostly, it detailed all the things my homeowner's insurance will no longer cover. For example, my house is not covered by damage done by any of the animals that live in the Miami Valley. If, however, my living room is trashed by a rhino, then I'm good. Also, if my house blows up because I'm running a crystal-meth lab in the basement, that isn't covered either. Fair enough.
Then I read this: damage resulting from "earth movement" has been excluded from my policy and "earth movement includes movement resulting from natural resource extraction activities, excavation, or pressure by surface or subsurface earth or fill."
Translation: My insurance doesn't cover damage from fracking.
The British non-profit GMWatch recently revealed that agribusiness has in effect taken over Conabia, the National Advisory Committee on Agricultural Biotechnology of Argentina. Conabia is the GMO assessment body of Argentina. According to GMWatch, 26 of 34 its members were either agribusiness company employees or had major conflicts of interest.
Packing a regulatory agency with conflicted individuals is one way to ensure speedy GMO approvals and Conabia has certainly delivered that. A much more subtle, but ultimately more powerful, way is to bake approval into the structure of the GMO assessment process itself.
It is easier than you might think.
Thursday, Jul 20, 2017, 6:00 am · By Stephanie Woodard
Teachers and coaches in the Wolf Point, Mont., schools have called Native students "dirty Indians" and "rez kids," performed "war whoops," told a concerned Native parent "fuck your daughter," and informed the mother of a special-needs five-year-old that he has to change his behavior if he wants his non-Native classmates to stop biting, hitting and sexually touching him.
A Fort Peck Assiniboine and Sioux Nations' discrimination complaint claims all this and more is par for the course for tribal children in the Wolf Point School District. On June 28, the tribes submitted the complaint to the U.S. Departments of Justice and Education under Title VI of the Civil Rights Act of 1964. The act prohibits discrimination based on race, color or national origin in federally funded programs, including local school systems. Attorney Melina Healey, a fellow with the advocacy group Equal Justice Works, is representing the tribes, along with additional attorneys. The ACLU of Montana signed on in support of the complaint.
"We are at a do-or-die moment for our tribe's children," says Roxanne Gourneau, a Fort Peck tribal executive board member. "I don't want any more of our youngsters to end up in the cemetery or prison."
Tuesday, Jul 18, 2017, 5:00 pm · By Jessica Corbett
On July 17, about 30 Catholic nuns in Lancaster County, Penn., who had constructed an open-air chapel on the proposed path of a natural gas pipeline, went to court to fight efforts by the fossil fuel company trying to seize their land.
The sisters appeared at a U.S. District courthouse in Reading for an 11:00 a.m. hearing, following two prayer vigils earlier Monday morning.
About six months ago, they came up with the idea to build the chapel on their farmland as "a visible symbol of their commitment to the land," Mark Clatterbuck, of Lancaster Against Pipelines—which helped build the chapel—told the York Daily Record, a local paper.
"We have to pay reverence to the land God has given us," says Sister George Ann Biscan. "We honor God by protecting and preserving His creation."
Friday, Jul 14, 2017, 6:00 pm · By Linley Dixon
Ed Note: The following editorial by the senior scientist at the Cornucopia Institute, an organic industry watchdog, weighs in on the ongoing debate within the organic food industry as to whether hydroponically grown food—food production that does not require soil or, therefore, a commitment to responsible land stewardship—should be considered "organic" by the U.S. Department of Agriculture. In April, the National Organic Standards Board (the group ultimately responsible for making this decision) met in Denver, Colo., to discuss the issue. As explained below, some of the board's new appointees are siding with corporate interests instead of organic farmers.
With five new members of the National Organic Standards Board (NOSB), the debate over whether soil-less, hydroponic systems can be certified organic felt like starting over from scratch. Those of us who have followed the workings of the NOSB for years now are beginning to feel exasperated that something so basic as the legal requirement to foster soil fertility in organic systems is up for debate.
Organic cannot be defined solely by inputs. Rather, sequestering organic matter by supporting complex biological systems in the soil is a prerequisite of organic production. For those of us involved in organics for the last 30 years, our response is … "Duh!"
The bigger question: Why are NOSB members complicating this issue?
Tuesday, Jul 11, 2017, 3:30 pm · By Laura Orlando
The "land application" of sewage sludge has been promoted by the Environmental Protection Agency (EPA) since 1993 as the preferred method for the disposal of this by-product of municipal wastewater treatment. Millions of tons of hazardous sewage sludge have subsequently been spread on farmland and public parks in the United States. Sometimes it is bagged and sold as "organic" fertilizer and compost in garden supply stores. No matter how it is processed or how slick it is marketed as a fertilizer or soil amendment, putting sewage sludge on land is a health and environmental disaster.
Friday, Jul 7, 2017, 5:30 pm · By John Ikerd
The controversy surrounding health care provides a compelling case for finding common ground. The proposed Republican healthcare plan is even more flawed than the failing Democratic plan. We urgently need healthcare reform, but neither plan is based on economic reality, and neither has the consent of the American people.
Health care is a "market failure"—economic jargon that means "the market" is fundamentally incapable of providing essential health care services for everyone. Markets do many things well, in fact better than any alternative. However, there are some things markets simply cannot do. Markets can provide the discretionary things that make life better but cannot ensure equal access to the things that make life possible or livable. Among market failures are provision of the essentials of life: clean air, pure water, safe food and medical care. If we have an equal right to life, we must also be afforded the essentials of life, including basic health care.
Some may argue that we Americans don't agree that everyone has a right to health care—but we do. We don't let people die for lack of medical treatment, at least not in public. The federal "Emergency Medical Treatment and Labor Act" ensures that everyone can receive emergency medical treatment in hospitals, regardless of insurance status or ability to pay. We also have Medicaid for those deemed unable to pay medical bills or buy health insurance. Still, millions of Americans are left without adequate medical care while healthcare costs claim more than one-sixth of our total GDP and continue to rise. We don't openly accept essential health care as a "right" for everyone because we don't agree on the level of health care to be secured by government.
Preparations are underway to hand over to Western Shoshones 3,269 acres of Native sacred sites in Nevada. "We'll have prayers, dancing, drumming and food," says Joseph Holley, councilman and former chairman of the Battle Mountain Band of the Te-Moak Tribe of Western Shoshones, in Nevada. "There will be time for Paul to talk about what's been happening over the past eight years and how he is helping us protect this place."
Holley is referring to Paul Huet, the chief executive officer of Klondex Mines, a Canadian firm that in late 2016 purchased an existing gold-mining operation within a Western Shoshone cultural landscape called Tosawihi (pronounced DOS-a-wee). Acquired as part of the mining deal, the portion that Klondex will hand over to the Battle Mountain Band on August 18 is a spiritual hub within the ancient place. Though 83 percent of Nevada is owned by the federal government, the Klondex purchase and handover of this relatively unusual privately owned tract will allow it to remain in the hands of those who value it most. The Battle Mountain Band will hold and administer the lands on behalf of all Shoshones, according to Holley.
In 2010, Jane Kleeb founded Bold Nebraska, a political advocacy group working in the state to advance progressive causes and unite residents against projects like the Keystone XL pipeline.
In June 2016, with the help of Bernie Sanders supporters, Kleeb was elected chair of the Nebraska Democratic Party, defeating Chuck Hassebrook (a Hillary Clinton backer) by 42 votes out of 410 cast. Following her election, she threw down the gauntlet and declared: "The opposition party is now here." On the national stage, she serves on the board of Our Revolution, the organization that grew out of the Sanders campaign.
Kleeb, 43, lives on a farm outside Hastings, Nebraska, with her husband Scott, three daughters and their three-legged dog. She describes herself as a "mom with a minivan."
In the following interview Joel Bleifuss, In These Times editor & publisher, asks Kleeb what the climate change movement could be doing better, how the Democratic Party can best reach rural voters and whether she is an agent of the Lutheran Church.