Wednesday, Aug 16, 2017, 5:00 pm · By Steven Conn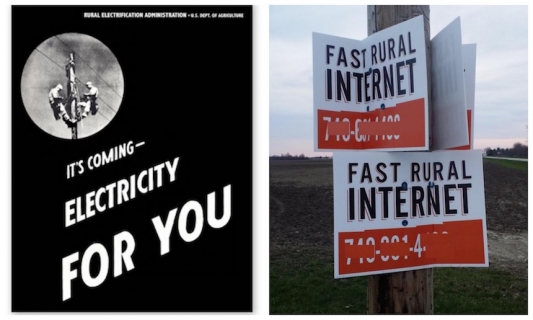 You don't have to drive too long on the country roads of Southwest Ohio before you see the signs. They are often nailed to a utility pole and they advertise "fast rural internet." There's a phone number you can call. The signs don't look particularly high-tech and I have no idea whether the service they offer is any good. But they surely signal a real problem: the internet age is leaving much of rural America behind.
According to one recent study, nearly 40 percent of rural U.S. residents lack access to high-speed internet. In the nation's urban and metropolitan areas that figure is closer to 5 percent. The consequences of that disparity are considerably higher than whether you can binge-watch something on Netflix.
Tuesday, Aug 15, 2017, 12:00 pm · By Amanda Abrams
In February, the first large-scale wind farm in the Southeast went online in northeast North Carolina. Created to power Amazon data centers, the 208-megawatt facility will inject almost a million dollars into the local economy annually. But the region is rural, decidedly poor and home to a sizable African American population. Will the area's low-income residents benefit from any of that new money, or will the facility wind up simply widening the existing gulf?
The Amazon wind project straddles two counties, Perquimans and Pasquotank, that sit on the Albemarle Sound, just inland from the Outer Banks. The region is flat and swampy, with long stretches of corn and soybean fields. The biggest municipality, Elizabeth City, has a charming but deserted downtown and a poverty rate of 30 percent, almost double the state average. The town, which is majority African American, hasn't fully recovered from the recession; jobs are at the local Coast Guard base or with the state, and there isn't much else.
Sunday, Aug 13, 2017, 12:00 pm · By Emeline Posner
Too busy to follow the news this week? Taking a break from Twitter? RAITT has you covered.
On the international front, President Trump and state media spokespeople for the Democratic People's Republic of North Korea (DPRK) spent much of last week trying to find the right words to convey their ability and readiness to annihilate a lot of innocent people. At a press conference on Friday, the "America first" president also surprised many when he stated that he wasn't ruling out a "military option" in Venezuela. That said, U.S. corporate earnings, fearlessly re-reported by Breitbart as a big win for the new administration, are the best they've been in 13 years. Wages for most Americans, unfortunately, remain stagnant. Also, yesterday, in Charlottesville, Va., one person died and 19 others were injured at a white nationalist rally when a man attacked counter-protestors with his car.
The following stories you may have missed, however, are about massive wildfires in Montana, another Monsanto cover up, poor excuses from an Illinois utility and a new rural reporting project in Texas.
Friday, Aug 11, 2017, 9:24 am · By Laura Orlando
Chemical compounds that incapacitate or kill, like phosgene, chlorine and sulfur mustard, were put into German artillery shells and delivered by howitzers on the frontlines in World War I. The diameter of the shells was 5.9 inches, prompting British soldiers to call them "five-nines." By the end of the war, both sides were lobbing them. Whether or not a five-nine loaded with a chemical weapon landed in your trench had nothing to do with luck or lifestyle. War created the conditions for the exposure to the chemicals.
By the end of World War II, chemical manufacturers like DuPont, Shell and Monsanto shifted their military production to the domestic "war on pests." At the Rocky Mountain Arsenal outside of Denver, the U.S. Army's Chemical Corps made chemical weapons alongside private chemical companies like Shell Oil Company, which leased Army facilities at RMA to make pesticides.
Today the U.S. chemical manufacturing industry is an $800 billion business that has registered over 80,000 chemicals for use in the United States, with 2,000 new ones introduced each year. You and I are repositories for these chemicals. Toss your cigarettes in the trash bin, but you're still breathing benzene from vehicle exhaust and industrial emissions. The Centers for Disease Control's Fourth National Report on Human Exposure to Environmental Chemicals, issued in 2009 with updated data in 2017, looked for 308 synthetic chemicals in the blood or urine of Americans. Most were widely detected.
In their seventh attempt to put an end to the environmental threats the oil and gas industry pose to their land, water and right to self-governance, a community rights group in Youngstown, Ohio, is attempting to amend their city's charter in order to ban corporate interference in their local elections.
With assistance from the Community Environmental Legal Defense Fund (CELDF)—a non-profit, public interest law firm that provides legal services to communities facing outside threats to their local environment, local agriculture, local economy and quality of life—the Youngstown Community Bill of Rights Committee has gathered and submitted the signatures required to get the initiative, explained below, on their November ballot.
Saturday, Aug 5, 2017, 12:00 pm · By Emeline Posner
As the movement for a local and ethical food system continues to gain traction, school food is slowly but surely becoming a focus in the fight for change.
School districts serve lunch to 30.4 million students a day through the USDA's National School Lunch Program (NSLP). The NSLP provides cash subsidies and USDA foods to enrolled schools, which in turn provide free and low-cost meals for qualifying students. In total, meals served through the NSLP amount to as many as 5 billion per year.
Due to the program's scale and the influence of Big Ag interests, the lion's share of food served through the NSLP has typically been sourced from large-scale producers, transported from afar and heavily processed. The resulting meals are often less than nutritious. In 2009, the ground beef the USDA bought from five major meatpackers and distributed through the program failed to meet the quality standards of most fast food restaurants.
But two initiatives, the farm-to-school movement and the Good Food Purchasing Policy (GFPP), a nonprofit-backed policy initiative, are challenging this lunchroom reality, and working to transform the food chain status quo.
Thursday, Aug 3, 2017, 12:00 pm · By John Ikerd
In 2011, Margaret Wheatley, a widely respected scholar and one of the leading thinkers in the United States on matters of institutional and cultural change, identified three major trends shaping U.S. society:
1) "A growing sense of impotence and dread about the state of the nation,"
2) "The realization that information doesn't change minds anymore."
3) "The clarity that the world changes through local communities taking action—that there is no power for change greater than a community taking its future into its own hands."
I agree with Wheatley. Her revelations are more relevant to rural America today than in 2011.
First, I think "a growing sense of impotence and dread" accurately describes the prevailing mood of people in rural America. Fred Kirschenmann, a distinguished scholar at the Leopold Center at Iowa State University, has observed that the "predominant attitude toward rural communities is that they have no future. In fact, this attitude seems to prevail even within rural communities."
He quoted from a 1991 survey conducted in several Midwestern rural communities indicating that people in most rural towns harbored one of two visions for their communities. "One vision sees their town's death as inevitable due to economic decline." The other vision is also of "a dying town" with only a fading hope that "they can keep the town alive by attracting industry." The widening rural-urban divide since the early 1990s seems to confirm a transition in rural attitudes from impotence and dread to desperation and anger.
Secondly, I agree that information no longer changes minds, certainly not concerning issues such as global climate change, species extinction or genetically modified organisms (GMOs). For example, for decades the proponents of industrial agriculture called for decisions based on "sound science." The early bits of research available on this controversial issue had come from the agricultural colleges—the academic allies of industrial agriculture. Now, a large and growing body of scientific information from other respected academic institutions provides compelling evidence of the negative ecological, social and economic impacts of industrial agriculture on rural America. The response of the "agricultural establishment," and even the agricultural academic community, has been denial or rejection.
I agree also with Wheatley that any hope for a positive future for rural America depends on local communities taking action—rural people taking their future in their own hands. In order for people in rural areas to shape their own destiny, they must be willing and able to work together for the common good of their communities. But first, they must come to a common understanding and acceptance of the ultimate source or root cause of rural economic, social, and ecological degradation and depletion.
Tuesday, Aug 1, 2017, 5:00 am · By Donald Scavia
Summer is the season for harmful algae blooms in many U.S. lakes and bays. They occur when water bodies become overloaded with nitrogen and phosphorus from farms, water treatment plants and other sources. Warm water and lots of nutrients promote rapid growth of algae that can be toxic and potentially fatal to aquatic life and people.
Eventually algae settle to the bottom and decay, depleting dissolved oxygen in the water, creating hypoxia—"dead zones" where oxygen levels are low enough to kill fish.
As a senior scientist at the National Oceanographic and Atmospheric Administration (NOAA) between 1975 and 2003, I developed annual hypoxia forecasts for the Chesapeake Bay and the Gulf of Mexico—two of our nation's water bodies most harmed by these blooms. At the University of Michigan, I helped develop harmful algae bloom forecasts for Lake Erie and continue to work with public and private organizations on these issues.
States around Lake Erie and in the Mississippi River basin, which drains to the Gulf of Mexico, have been trying to reduce nutrient pollution for years. They rely primarily on voluntary steps, such as offering grants to farmers to take steps to prevent fertilizer from washing off their fields.
In contrast, states around the Chesapeake have had more success with a federally enforced plan that can impose mandatory actions across the bay's 64,000-square-mile watershed. From my perspective, when we compare these two approaches it is clear that voluntary measures are not even making modest dents in nutrient pollution.
Thursday, Jul 27, 2017, 2:00 pm · By Austin Frerick
Iowa farmers face a crisis. Crop prices have fallen by more than 50 percent since 2013, with no end in sight. At the same time, farmers hold more debt and possess fewer capital reserves to fall back on. In fact, farmers' debt levels are almost as high as they were prior to the farm crisis of the mid-1980s.
Meanwhile, a wave of mergers among the world's agricultural giants is upending the markets for seeds, fertilizers, and pesticides. If approved, the proposed merger would result in just two companies—Monsanto-Bayer and Dow-DuPont—controlling about three-quarters of the U.S. corn seed market. The power that these corporations would hold in the seed market is unprecedented.
Wednesday, Jul 26, 2017, 5:00 pm · By Steven Conn
The other day, I got one of those thick envelopes from my insurance company stuffed with many pages of very small print. "Important information about your policy" said the envelope, and usually those go straight into the recycling bin.
But for whatever reason I opened this one and read it. Turned out to be pretty interesting. Mostly, it detailed all the things my homeowner's insurance will no longer cover. For example, my house is not covered by damage done by any of the animals that live in the Miami Valley. If, however, my living room is trashed by a rhino, then I'm good. Also, if my house blows up because I'm running a crystal-meth lab in the basement, that isn't covered either. Fair enough.
Then I read this: damage resulting from "earth movement" has been excluded from my policy and "earth movement includes movement resulting from natural resource extraction activities, excavation, or pressure by surface or subsurface earth or fill."
Translation: My insurance doesn't cover damage from fracking.