Thursday, May 3, 2018, 11:00 am · By Paul Deaton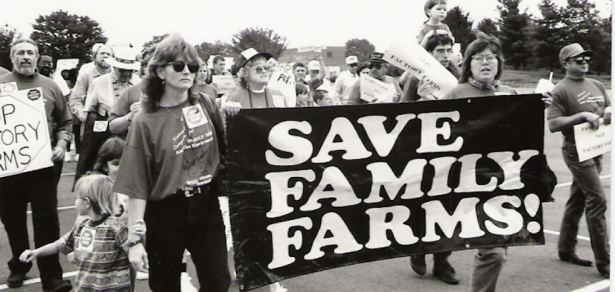 Things are bad when the coop sends the suicide hotline number with the milk payment.
Milk prices are currently about $15 per hundred pounds (cwt) while cost of production at family farms is more than $22 per hundredweight. Like so many segments of agriculture, consolidation is driving down costs and small farmers are going out of business.
The National Family Farm Coalition (NFFC) believes the federal government should do something about it and has written a letter to congress and the USDA.
"The nation's dairy farmers are again in dire straits, just like we were in the 1980s," Jim Goodman, Wisconsin dairy farmer and board president of National Family Farm Coalition said in a press release. "Proposed safety nets are totally inadequate and without real long-term market reform, dairy farmers will continue to lose their farms. Consumers who care where their milk comes from and policymakers claiming to care about rural America must support these steps to ensure farmers a fair price. Without immediate government action, the days of the small dairy farm are numbered."
Tuesday, May 1, 2018, 8:00 am · By Nico Gendron
From Kentucky to Ohio, generations of Appalachian people have made their homes amidst rugged and often unforgiving mountain terrain. They've fed their families mining the region's coal to heat homes across America. That was until the late 1990s, when coal production began to plummet with rising demand for natural gas.
Eastern Kentucky was particularly hard hit. Between 2000 and 2015, coal production in the region dropped by 80 percent. In 2009 there were 14,098 residents of eastern Kentucky employed by the mines, according to the Kentucky Department for Energy Development and Independence's coal report. By 2015 the number had dropped to 5,897.
Stripped of their economy and a way of life, eastern Kentuckians have been pushed to find alternative economies, particularly in tourism. They have created unique attractions spanning punk music, community theater, and ultramarathons to bring in outsiders, and their money.
Tuesday, Apr 24, 2018, 12:00 pm · By John Ikerd
We are confronted today with a multidimensional ecological, social, and economic crisis that is rooted in our growing sense of disconnectedness from each other and from the Earth. In his book, The Great Turning, David Korten referred to this crisis as "the great unraveling." I believe the great unraveling is rooted in "three great separations."
People in prehistoric civilizations understood the importance of relationships. They had intimate relationships with the Earth as well as with the other people with whom they shared the planet. They were hunter gatherers. Indigenous peoples relied on each other also for companionship as well as their survival. Many also considered the heavens and Earth as the embodiment of their concept of God. That being said, their relationships with nature and with each other were clearly relationships of physical or material necessity.
The agricultural revolution of some 10,000 to 12,000 years ago brought about a fundamental transformation of human life on Earth.
Saturday, Apr 21, 2018, 10:00 am · By Winona LaDuke
This spring, after gathering on the White Earth Indian Reservation in northwestern Minnesota and then in Colorado, tribal "hempsters" are working toward a renaissance of the plant that once clothed much of Europe and North America. Tribal hemp growers from the Meskwaki, Lakota, Menominee, Mandan, Hidatsa, Colville and other Native nations are planting the seeds of a new economy—responding with an innovative and holistic approach to the many challenges Native and non-Native communities face.
These new, young tribal leaders are taking a place at the table of the $700 million U.S. hemp industry—an industry that can literally transform much of the material, food and energy world. As hemp returns as a viable part of food, clothing, housing, medicine and fuel systems, tribal hemp leaders are keen to not only be a part of the industry, but to transform their communities.
In early April, at the NoCo Hemp Expo in Loveland, Colo., the near limitless potential of hemp was on display. An estimated crowd of 10,000 curious enthusiasts, among them Native people, crowded into the convention center to view hemp in forms you can fuel your car with, eat in chocolate or pesto sauce, slather on as shampoo, and wear. The trade show was not about "bongs" and tie-dye—rather, it featured the latest harvesting and processing equipment, innovations in hemp farming and up-to-date regulatory analysis.
The industry has certainly arrived in good time.
Last week, the chairman of the House Agriculture Committee made headlines by unveiling a truly terrible farm bill proposal, one that dramatically undercuts the nation's most successful nutrition assistance program and threatens to throw the entire farm bill process into chaos. Yesterday, after four-plus hours of rancorous debate, the committee advanced the chairman's deeply flawed bill on a party-line vote, 26–20. We expect the full House to take up the bill in the coming weeks.
Beyond this highly partisan bill's cynical slap at millions of low-income people and their communities, there's also very little for farmers to like. Deep cuts to incentive programs that help them protect water quality, conserve soil, and build resilience to floods and droughts are among the bill's many disappointing aspects, along with a failure to invest in connecting farmers with new local customers.
In stark contrast, a poll released today shows that farmers across the political spectrum are eager for precisely the kind of tools and incentives House Republicans have firmly turned their backs on. And soon they may be looking for political candidates who will give it to them.
Tuesday, Apr 17, 2018, 9:30 am · By Monte Mills
On April 18, the United States Supreme Court will hear oral arguments in Washington v. United States, which pits the state of Washington against the United States and 21 Indian tribes. The main question in the case is narrow—whether the state must quickly replace hundreds of culverts that allow the flow of water under roads but also block salmon migration. Yet the underlying issue is far broader.
At stake in the case is the Supreme Court's ongoing role as the nation's highest arbiter of justice. Despite immense changes, that role remains grounded in a 229-year-old Constitution premised on the supremacy of federal treaties and individual rights.
In previous cases, the Supreme Court upheld the tribes' rights to fish salmon, spelled out by various treaties entered in the 1850s. But, having insulated those rights from destruction previously, the court must now decide their meaning for the 21st century and beyond. That decision may say more about what justice means in our modern legal system than it does about tribes, salmon or culverts.
Friday, Apr 13, 2018, 12:00 pm · By Justin Perkins
Last August, on the first day of an eight state, two-installment RV tour to address poverty and prosperity in rural America for the upcoming farm bill, U.S. Department of Agriculture Secretary George "Sonny" Perdue visited the Wisconsin State Fair.
Activities that morning included carnival rides and a listening session with farmers, which Perdue hosted alongside Wisconsin Gov. Scott Walker. Afterward, Perdue, Walker and their families were in search of food. Walker quipped, "We'll probably find a few things on a stick."
Perdue then set out in a Class A Hurricane Thor Motor Coach (floorplans start with an MSRP value above $100,000) to meet with young farmers at a farm he called, "a feed the hunger" type farm—in reference to the Hunger Task Force Farm south of Milwaukee. Perdue also hosted Paul Ryan in the RV later that day. They sat around a thumbnail kitchen table beneath a blank, wall-mounted LED television, before hosting a speaking event.
Dubbed the "Back to Our Roots" tour, Perdue vowed that the "USDA will be intimately involved" with Congress in writing the next farm bill, and that the tour would put him out "on the front lines of American agriculture" and enable him to "know best what the current issues are."
His quest culminated in late January in Mifflingtown, Penn., where he presented the USDA's "2018 Farm Bill & Legislative Principles" to Pennsylvania Farm Bureau members at Reinford Farms. Perdue described the four-page document as the "roadmap" to the USDA's farm bill priorities.
The report comes as Congress has begun deliberations for the next farm bill—what could be one of the largest non-defense funding authorizations in our nation's history. The current bill expires on September 30, and the House Ag committee could take its first votes on a new bill any day now.
Tuesday, Apr 10, 2018, 6:00 am · By Elizabeth Zach
Two years ago, Consuelo Andrade was living in a village with her grandparents in Michoacán, Mexico, where she regularly saw neighbors and acquaintances returning from time spent working in the United States. Their clothes were classy; some drove cars. She was mesmerized. No one, however, spoke about the work up north, and what it took to earn and save to buy such impressive goods.
Manuel Andrade was one of the men who returned to Michoacán. He eventually asked Consuelo to marry him and return to Tulare County, Calif., where he has picked oranges since 1979. Like countless immigrants before her, she expected, if not fortune, then certainly a better, more prosperous life in California than the poverty she knew in Mexico.
What she found was not quite what she envisioned.
Consuelo wears bright blue sweat pants, an olive green sweater and a bandana tucked back with bobby pins. At age 39, she appears weary. But at the sight of visitors, her smile is immediate and she ushers them into her yard. Her home is like all the others here on Road 216 in Tonyville: crumbling paint, shaky floors and stairs, gravel and weeds, dead tree branches, laundry lines, and plastic sheeting over windows to cut down on the drafts. Like many families in the Central Valley, the Andrades rely on bottled water for household use, due to nitrate contamination in the water that comes out of the tap. But the rent is affordable at $400 per month.
The language, the pace of life—it was all so strange, so disorienting, recalls Consuelo about her arrival in 2016. Picking oranges day in and day out has gotten easier, she says, now that Manuel bought her a ladder. She can fill up to three boxes with the fruit from eight trees. Ordinarily, she and Manuel would each earn $88 per day at the California minimum wage of $11 per hour, but with increasing vision problems and associated doctor visits, he only works half-days, compounding their economic fragility.
Neither Manuel nor Consuelo have heard of John Steinbeck's The Grapes of Wrath, so they wouldn't know that the author set much of his tale right here in Tulare County. Next year, it will be 80 years since the book was published. Manuel has been here 40 of those 80 years, just like the countless second- and third-generation Latino farmworkers who make up a critical component of California's economic backbone. They work long, hard hours, uncomplaining as they feed the state and the nation. Yet their income does not keep pace with ever increasing expenses, despite the fact that the minimum wage law governs their monthly incomes.
Wednesday, Apr 4, 2018, 9:00 am · By Debbie Weingarten
Kendra Colburn spent a decade uninsured. During those years, she worked as a carpenter near her hometown in rural Vermont, earning just enough that she didn't qualify for low-income health care, but not enough to afford health insurance on her own. While uninsured, she suffered two major work injuries that landed her in the emergency room—once, a nail shot through three of her fingers, and another time, a piece of wood kicked back on the table saw and sliced her arm. When she was unable to pay the emergency room costs, her credit took a hit for years.
Today, Colburn works on her brother's farm and is covered by Medicaid. As a manual laborer, Colburn has developed nerve damage, which flares up in her hands and wrists with overuse. "I cut back my hours to deal with it. I can't afford to not be able to use my hands," she says. "That's how I make all of my money."
As a child who grew up in a farming community, Colburn says she observed that pain is just a part of being a farmer. "It's taken for granted that your body hurts every day, that your back always hurts." That's true for workers employed in some of the most dangerous jobs: Many manual laborers with high rates of injury and repetitive stress injuries are also more likely to be uninsured. In fact, a 2015 study found that 65 percent of commercial farmers identified health insurance costs as the most serious threat to their farms.
Tuesday, Apr 3, 2018, 6:00 am · By Ruben Navarrette
The farm workers were 35-year-old Santo Hilario Garcia and 33-year-old Marcelina Garcia Profecto. One fateful day last week, Garcia came out of his house before 7 a.m. and got behind the wheel of an SUV, with Profecto beside him. Immigration and Customs Enforcement agents spotted Garcia and concluded that he fit the description of a suspect they were after. So they trailed him and pulled him over. As the agents exited their vehicle, Garcia panicked and sped away. The SUV slid off the road, flipped over and crashed into a power pole. The couple died at the scene.
Two other details:
First, at home, the couple left behind six children who are now orphans. A half dozen kids will grow up without parents, maybe wind up in foster care.
And second, this dreadful story could have been avoided if the ICE agents were better at their jobs. You see, they made a mistake. They weren't after Garcia, only someone who looked like him.
That's understandable. In these dark days of fear and loathing, all Latino immigrants look alike.
You hear anti-immigrant pundits on television talking about how farmers want "open borders" so they can keep wages low and exploit immigrants while denying jobs to Americans. It's one of those colossally ignorant statements that comes from city folks who think that milk comes from the supermarket.