Tuesday, Apr 17, 2018, 9:30 am · By Monte Mills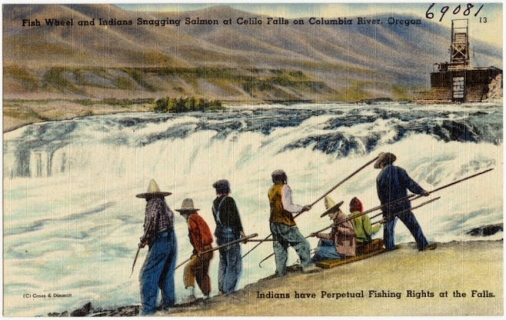 On April 18, the United States Supreme Court will hear oral arguments in Washington v. United States, which pits the state of Washington against the United States and 21 Indian tribes. The main question in the case is narrow—whether the state must quickly replace hundreds of culverts that allow the flow of water under roads but also block salmon migration. Yet the underlying issue is far broader.
At stake in the case is the Supreme Court's ongoing role as the nation's highest arbiter of justice. Despite immense changes, that role remains grounded in a 229-year-old Constitution premised on the supremacy of federal treaties and individual rights.
In previous cases, the Supreme Court upheld the tribes' rights to fish salmon, spelled out by various treaties entered in the 1850s. But, having insulated those rights from destruction previously, the court must now decide their meaning for the 21st century and beyond. That decision may say more about what justice means in our modern legal system than it does about tribes, salmon or culverts.
Friday, Apr 13, 2018, 12:00 pm · By Justin Perkins
Last August, on the first day of an eight state, two-installment RV tour to address poverty and prosperity in rural America for the upcoming farm bill, U.S. Department of Agriculture Secretary George "Sonny" Perdue visited the Wisconsin State Fair.
Activities that morning included carnival rides and a listening session with farmers, which Perdue hosted alongside Wisconsin Gov. Scott Walker. Afterward, Perdue, Walker and their families were in search of food. Walker quipped, "We'll probably find a few things on a stick."
Perdue then set out in a Class A Hurricane Thor Motor Coach (floorplans start with an MSRP value above $100,000) to meet with young farmers at a farm he called, "a feed the hunger" type farm—in reference to the Hunger Task Force Farm south of Milwaukee. Perdue also hosted Paul Ryan in the RV later that day. They sat around a thumbnail kitchen table beneath a blank, wall-mounted LED television, before hosting a speaking event.
Dubbed the "Back to Our Roots" tour, Perdue vowed that the "USDA will be intimately involved" with Congress in writing the next farm bill, and that the tour would put him out "on the front lines of American agriculture" and enable him to "know best what the current issues are."
His quest culminated in late January in Mifflingtown, Penn., where he presented the USDA's "2018 Farm Bill & Legislative Principles" to Pennsylvania Farm Bureau members at Reinford Farms. Perdue described the four-page document as the "roadmap" to the USDA's farm bill priorities.
The report comes as Congress has begun deliberations for the next farm bill—what could be one of the largest non-defense funding authorizations in our nation's history. The current bill expires on September 30, and the House Ag committee could take its first votes on a new bill any day now.
Tuesday, Apr 10, 2018, 6:00 am · By Elizabeth Zach
Two years ago, Consuelo Andrade was living in a village with her grandparents in Michoacán, Mexico, where she regularly saw neighbors and acquaintances returning from time spent working in the United States. Their clothes were classy; some drove cars. She was mesmerized. No one, however, spoke about the work up north, and what it took to earn and save to buy such impressive goods.
Manuel Andrade was one of the men who returned to Michoacán. He eventually asked Consuelo to marry him and return to Tulare County, Calif., where he has picked oranges since 1979. Like countless immigrants before her, she expected, if not fortune, then certainly a better, more prosperous life in California than the poverty she knew in Mexico.
What she found was not quite what she envisioned.
Consuelo wears bright blue sweat pants, an olive green sweater and a bandana tucked back with bobby pins. At age 39, she appears weary. But at the sight of visitors, her smile is immediate and she ushers them into her yard. Her home is like all the others here on Road 216 in Tonyville: crumbling paint, shaky floors and stairs, gravel and weeds, dead tree branches, laundry lines, and plastic sheeting over windows to cut down on the drafts. Like many families in the Central Valley, the Andrades rely on bottled water for household use, due to nitrate contamination in the water that comes out of the tap. But the rent is affordable at $400 per month.
The language, the pace of life—it was all so strange, so disorienting, recalls Consuelo about her arrival in 2016. Picking oranges day in and day out has gotten easier, she says, now that Manuel bought her a ladder. She can fill up to three boxes with the fruit from eight trees. Ordinarily, she and Manuel would each earn $88 per day at the California minimum wage of $11 per hour, but with increasing vision problems and associated doctor visits, he only works half-days, compounding their economic fragility.
Neither Manuel nor Consuelo have heard of John Steinbeck's The Grapes of Wrath, so they wouldn't know that the author set much of his tale right here in Tulare County. Next year, it will be 80 years since the book was published. Manuel has been here 40 of those 80 years, just like the countless second- and third-generation Latino farmworkers who make up a critical component of California's economic backbone. They work long, hard hours, uncomplaining as they feed the state and the nation. Yet their income does not keep pace with ever increasing expenses, despite the fact that the minimum wage law governs their monthly incomes.
Wednesday, Apr 4, 2018, 9:00 am · By Debbie Weingarten
Kendra Colburn spent a decade uninsured. During those years, she worked as a carpenter near her hometown in rural Vermont, earning just enough that she didn't qualify for low-income health care, but not enough to afford health insurance on her own. While uninsured, she suffered two major work injuries that landed her in the emergency room—once, a nail shot through three of her fingers, and another time, a piece of wood kicked back on the table saw and sliced her arm. When she was unable to pay the emergency room costs, her credit took a hit for years.
Today, Colburn works on her brother's farm and is covered by Medicaid. As a manual laborer, Colburn has developed nerve damage, which flares up in her hands and wrists with overuse. "I cut back my hours to deal with it. I can't afford to not be able to use my hands," she says. "That's how I make all of my money."
As a child who grew up in a farming community, Colburn says she observed that pain is just a part of being a farmer. "It's taken for granted that your body hurts every day, that your back always hurts." That's true for workers employed in some of the most dangerous jobs: Many manual laborers with high rates of injury and repetitive stress injuries are also more likely to be uninsured. In fact, a 2015 study found that 65 percent of commercial farmers identified health insurance costs as the most serious threat to their farms.
Tuesday, Apr 3, 2018, 6:00 am · By Ruben Navarrette
The farm workers were 35-year-old Santo Hilario Garcia and 33-year-old Marcelina Garcia Profecto. One fateful day last week, Garcia came out of his house before 7 a.m. and got behind the wheel of an SUV, with Profecto beside him. Immigration and Customs Enforcement agents spotted Garcia and concluded that he fit the description of a suspect they were after. So they trailed him and pulled him over. As the agents exited their vehicle, Garcia panicked and sped away. The SUV slid off the road, flipped over and crashed into a power pole. The couple died at the scene.
Two other details:
First, at home, the couple left behind six children who are now orphans. A half dozen kids will grow up without parents, maybe wind up in foster care.
And second, this dreadful story could have been avoided if the ICE agents were better at their jobs. You see, they made a mistake. They weren't after Garcia, only someone who looked like him.
That's understandable. In these dark days of fear and loathing, all Latino immigrants look alike.
You hear anti-immigrant pundits on television talking about how farmers want "open borders" so they can keep wages low and exploit immigrants while denying jobs to Americans. It's one of those colossally ignorant statements that comes from city folks who think that milk comes from the supermarket.
Friday, Mar 30, 2018, 9:00 am · By Gene Nichol
My colleagues and I, from the North Carolina Poverty Research Fund, spent much time last year in two very distinct communities—Goldsboro and Wilkes County. Our studies there indicated clearly that North Carolina's economic recovery has not been widely shared. They also revealed much about the state's yawning rural-urban divide. Finally, they highlighted a continuing polarization that marks the politics of North Carolina and the South.
Goldsboro lies about 60 miles southeast of Raleigh, in Wayne County. Its population, some 36,000, has actually dropped modestly since 1990. Although Seymour Johnson Air Force Base provides a sound and much-needed economic foundation, Goldsboro's poverty challenges are among the most daunting in North Carolina.
A 2015 national study found Goldsboro to be the fifth-poorest city in America. Stanford University's mobility studies concluded that 95 percent of the country's metropolitan areas had better economic mobility rates than Goldsboro. The Pew Research Center determined, in 2016, that the last decade brought the city a 26 percent drop in median income and huge losses in middle income employment. Both figures were among the very worst the country has experienced.
Patricia Roybal Caballero was a freshman lawmaker in New Mexico's House of Representatives when she walked into a popular Santa Fe restaurant in 2013 for a meeting with some of her colleagues. Roybal Caballero, a community and economic developer of Piro-Manso-Tiwa ancestry, was by then used to dealing with negative perceptions about her race, but what happened next astounded her.
"Before I had a chance to ask for a table, the hostess said, 'I am sorry, but we're not taking applications right now,'" Roybal Caballero told me recently.
For that kind of encounter to happen to a lawmaker in the state capital, in a city with so many people of color, was a reminder of the need for her to be a voice for marginalized people. Although there are 6.6 million Native Americans and Alaska Natives in the country, Roybal Caballero is one of only a few dozen Indigenous state lawmakers. That's a discrepancy worth considering as we head toward 2018 midterm elections.
Monday, Mar 26, 2018, 8:00 am · By Camille Fassett
Transparency advocate Gary Ruskin wanted to know how the powerful food and agrochemical industries influence public universities and their research.
His small public interest consumer health watchdog organization, U.S. Right to Know, started investigating the connections between the industries, their allies, and taxpayer-funded universities. Public records are a crucial tool Ruskin uses frequently to uncover the details of the university interactions with agrochemical companies.

"My hunch was that: in the interactions between universities and the agrochemical industry and its front groups, there would be industry secrets and there would be news, and there would be things that consumers and citizens should know. So, I filed the FOIAs, and then more FOIAs, and in the end I was right—more than I could have imagined," Ruskin told Freedom of the Press Foundation.
Wednesday, Mar 21, 2018, 8:00 am · By Dianna Hunter
Standing beside Marea outside the paddock where the horses lived, I watched them eat hungrily while she reached into her coat pocket and pulled out a bag of tobacco. Her hands shook with cold as she got out a rolling paper, folded it, filled it with loose brown leaves, and shaped a cigarette. Her wool coat sported mode-of-the-day patches, and the round, vintage vamps of her secondhand boots took her a step beyond the fashion-fringy work boots worn by the jeans jacket gang and many other young feminists around the Twin Cities. I couldn't help but notice how her pale skin stretched across the slender bones of her fingers, making her hands look delicate and vulnerable in the winter light. I felt like someone ought to help her warm them up. I had a powerful urge to be that someone, but I kept my mouth shut and my hands to myself.
Once the horses had finished their grain, they started a stylized ritual over the empty feed tubs. I'd seen them do it many times and had the impression that horses had been doing something like it for 50 million years or so, since their primordial ancestor Eohippus roamed the forest. Pretty soon, the big, half-bred workhorse Dick asserted his dominance by squealing, turning his butt, and flexing a meaty hind leg. The rest shook their heads and snorted disapproval, but no one challenged him.
"Grab the pans," Marea ordered with comic urgency, streaming smoke from her nostrils and looking exaggeratedly hassled for my entertainment.
Our life at Haidiya Farm felt highly entertaining at times, and like life at Cushing, Minn., it conjured an era before indoor plumbing and the electrical grid. Mostly I liked that about it and often thought I should have been born to the early 20th century instead of the frenzied, stressed-out, atomic second half of it. I've always sought quiet and solace in nature. Even as a little girl, I went alone to wild spaces: the woods along the river near my grandparents' home, a slough of grass and brush near our house, and the knobby prairie hills that rose around Minot, N.D., from the river valley. I slipped away to those hills as often as I could. In spring, I found wild crocus and cactus amid patches of snow, and I learned that if you settled into a little depression, protected from the wind, you could stay warmed by the sun and watch the clouds shifting shapes while time melted toward oblivion.
(Editor's note: An analysis of farm-level records from the USDA's Census of Agriculture and its Agricultural Resource Management Survey confirms that, since 1987, almost all cropland has shifted to larger farms. Meanwhile, consolidation in many livestock sectors—due in part to "the continued development of confinement feeding practices"—has resulted in operations that use less pasture and rangeland than they did in the past. The study also finds that "family farms"—officially defined as "a farm in which the person primarily responsible for day-to-day operating decisions also owns the majority of the farm business"—still dominate the industry. The following summary is drawn from a larger USDA report, available at the bottom of this post.)
In 1987, more than half (57 percent) of all U.S. cropland was operated by midsize farms that had between 100 and 999 acres of cropland, while 15 percent was operated by large farms with at least 2,000 acres. Over the next 25 years, cropland shifted away from midsize and toward larger operations. By 2012, farms with 100-999 acres held 36 percent of cropland, the same share as that held by large farms.
That shift occurred persistently over time, as the share held by large farms increased in each Census of Agriculture after 1987—in 1992, 1997, 2002, 2007, and 2012—while the share held by farms with 100-999 acres fell in each census. Note that the share of cropland held by the smallest farms (with less than 100 acres) changed little over time, at about 8 percent of all cropland.
Consolidation can occur through shifts in ownership, as operators of large farms purchase land from retiring operators of midsize farms. However, most cropland is rented, and farms frequently expand by renting more cropland, often from retired farmers and their relatives, but sometimes from absentee investors in farmland