Monday, Sep 1, 2014, 10:52 am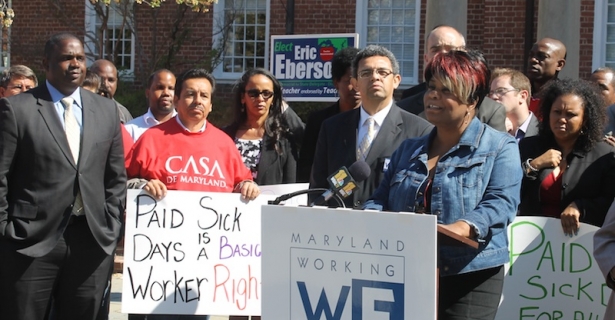 "We stand for independent political action."—UAW President Walter Reuther, 1946, calling for a new progressive-labor party
"The left-wing mouse that roared"—New York Times, 2013
, on the Working Families Party
The statistics you'll sometimes hear on Labor Day are true: dropping union density, stagnant wages, growing inequality, and the corporate stranglehold on democracy.

But they don't tell the whole story. There are also reasons for real optimism. This is a year that has seen low-wage workers step up with a new level of intensity, putting inequality front and center. The fast food workers' "$15 and a union" mantra has gone mainstream—and is bearing fruit in rising minimum wages across the nation.

From the New Deal to the Great Society, political action has been a powerful tool for working people. We'd like to offer a bright spot on the political front for a movement that is just as ambitious: the Working Families Party. (Full disclosure: We are members of WFP's national advisory board.)

A new political party? Well, sort of. Stick with us.
Wednesday, Aug 20, 2014, 5:52 pm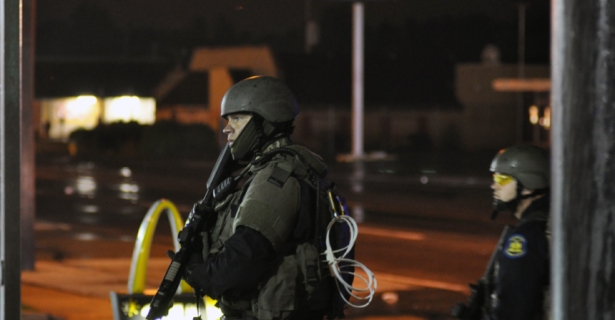 On Saturday, August 9, a Ferguson, Missouri police officer named Darren Wilson killed Michael Brown, an unarmed black teenager, two days before he was set to begin college. The police claim that Brown reached for the officer's gun after a verbal altercation, and then fled, at which point the officer engaged in lethal force against the unarmed boy. The police autopsy is not yet available to the general public, but an independent autopsy released on August 18 showed a pattern of bullet wounds that some activists view as support for Brown's hands being up in a surrender position. U.S. Attorney General Eric Holder then ordered a third autopsy as a part of a federal investigation.
After Ferguson residents assembled for a candlelight vigil on Sunday, a heavy police presence provoked rioting and destruction of property among some of the largely non-violent protesters. The protests continued nightly, as did police antagonism, reaching another apex on Wednesday the 13, when riot police illegally ordered peaceful protesters and media alike to turn off their cameras and disperse, before descending on them with tear gas and rubber bullets.
After several days without comment beyond a milquetoast letter offering "deepest condolences to [Brown's] family and his community" and promises of an investigation, President Obama finally spoke on Thursday.
Monday, Aug 18, 2014, 7:42 pm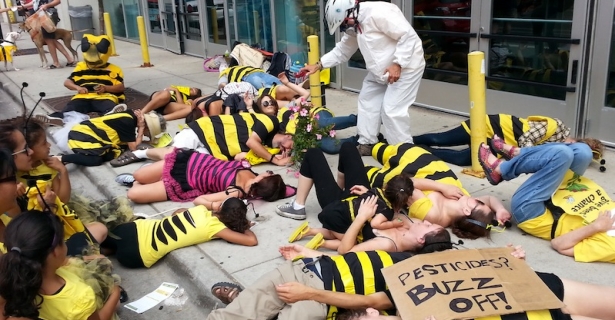 On Saturday, activists in cities from Dallas to Melbourne, Australia, "swarmed the globe" in an international rally to save the world's bees.
In an action timed to coincide with National Honey Bee Day in the United States, Bee Against Monsanto—a Tampa-based collective that campaigns to protect honey bees and other pollinators—called on organizers worldwide to hold "Swarm the Globe" rallies. Their goal: to raise awareness of the dangers of neonicotinoids, a family of insecticides that kill bees.
Neonicotinoids are the leading suspect in Colony Collapse Disorder, a phenomenon in which entire populations of worker bees disappear, leaving queens and larvae to die in their hives. On average, 30 percent of bee colonies in the United States have died each year since 2006, with similarly high death rates in many parts of Europe.
Friday, Aug 15, 2014, 3:22 pm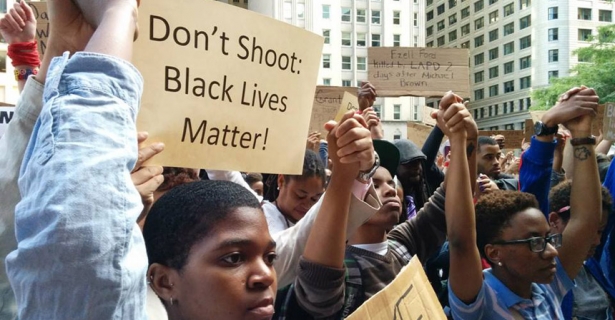 Less than a week after the fatal shooting of unarmed 18-year-old Michael Brown by Ferguson, Missouri police, supporters across the country took to the streets on Thursday night to hold a national moment of silence and protest against state-funded violence.
Organizers in New York, Chicago, Washington, Detroit, Baltimore and about 90 other cities brought together tens of thousands to demonstrate solidarity with the people of Ferguson and demand justice for citizens wrongly and extrajudicially killed. According to a 2012 study, a black person is killed by police, security forces or individual vigilantes every 28 hours.
In Chicago, hundreds gathered in Daley Plaza to participate in sing-alongs, shout chants and hear poetry by the Black Youth 100 project before the 6:20pm moment of silence.
Monday, Aug 4, 2014, 10:00 am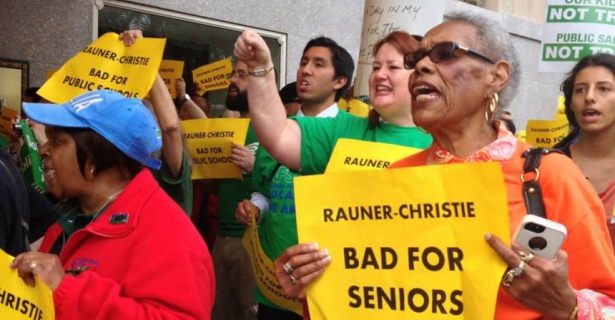 As head of the Republican Governors Association (RGA), New Jersey Gov. Chris Christie (R-N.J.) traveled to Chicago on Friday to meet Republican candidate Bruce Rauner for an exclusive fundraiser. The event, hosted at the Hilton Hotel, was a lucrative affair, with tickets starting at $500 for the general reception.
"This is amongst the most important governor's races in the country," said Christie, who promised another $2.5 million "down payment" in campaign donations before the trip was over. In the meantime, Rauner, whose net worth approaches $1 billion, has already broken Illinois records for personal campaign contributions, having invested $6.05 million thus far.
But as the two GOP politicians met with wealthy donors to procure funds, dozens of protesters gathered Friday evening outside the hotel to voice concerns over Christie and Rauner's "moderate GOP" platforms, which they claimed are out of step with mainstream Illinois voters.
"Both of these politicians pose as moderates, while backing extreme positions on both social and economic pocketbook issues," says William McNary, co-director of Citizen Action Illinois. "They may be moderate in Mississippi," he continued, " but they are not moderate here in Illinois."
Thursday, Jul 24, 2014, 4:21 pm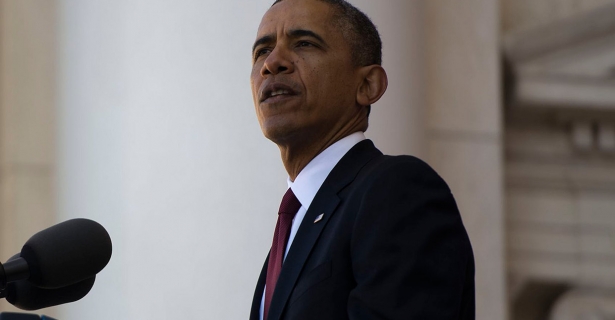 Immigration has been labeled America's most recent "crisis." As thousands of Central American children cross the border without papers, the Left has asserted that President Obama expels far too many undocumented immigrants and the Right has complained that he doesn't turn enough away. The accusations from both sides of the aisle have clouded public perceptions of the administration's policies, taking attention away from what's actually going on.
Monday, Jul 21, 2014, 3:59 pm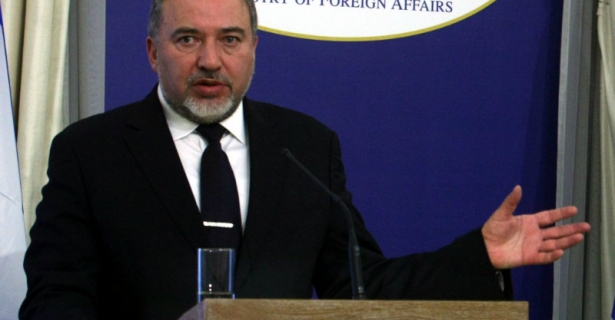 Just one month after three of its journalists were sentenced to seven-year prison terms in Egypt for their alleged support of the Muslim Brotherhood, Al Jazeera faces another threat to its reporting in the Middle East. This time, however, it's a democratic government, not a military dictatorship, that's doing the threatening: Israeli Foreign Minister Avigdor Lieberman has called for a ban on the Qatari media network's operations in Israel, Haaretz reports.
During a press conference on Monday, Lieberman called Al Jazeera a "central pillar of the propaganda apparatus of Hamas" and compared the network to Der Sturmer, a World War II-era Nazi-run German newspaper.
Al Jazeera has frustrated the Israeli government with its critical coverage of the ongoing conflict in Gaza, reporting on the heavy humanitarian toll of Israeli airstrikes and tank shells, including the destruction of a Palestinian hospital on Monday.
Thursday, Jul 10, 2014, 1:30 pm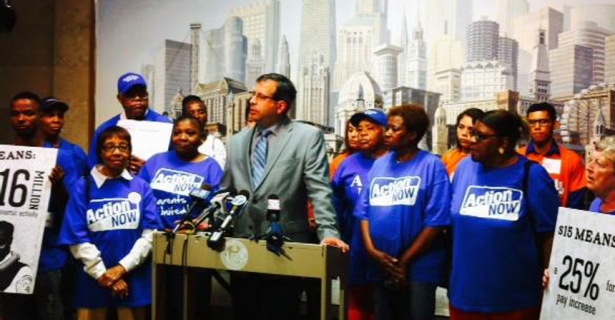 Irma Díaz, 36, has been working at McDonald's for 14 years. She's also a single mother of a 14-year-old son. If she's lucky, she gets to work 35 hours every two weeks.
She's never been paid above the minimum wage.
Díaz is just one of the estimated 400,000 Chicagoans who would benefit from the hike recently proposed by Chicago's Minimum Wage Working Group (MWWG). On Monday, July 7, the task force—hand-picked by Mayor Rahm Emanuel and composed of eight alderpersons, along with the leaders of the city's top commercial and labor organizations—recommended raising Chicago's minimum wage to $13 an hour by 2018, followed by future increases tied to the rate of inflation. Tipped employees, such as servers, would also see a one-dollar bump in their pay over the next two years.
The group also suggested that the Chicago City Council delay voting on the issue until lawmakers decide whether or not to raise the Illinois minimum wage, which should happen after the November elections.
Monday, Jul 7, 2014, 4:31 pm
Last year, Chicago Mayor Rahm Emanuel issued an apology for a spate of police torture during the 1970s and 80s, during which the Chicago Police Department arrested and tortured an estimated 118 African-American men and women in order to obtain confessions and intimidate community members. Emanuel called this period "a dark chapter of the history of the City of Chicago," but said it was one that the city has to "move on" from. But while some are asking for the books to be closed, human-rights advocates are pushing forward with a campaign to secure reparations for torture survivors and to free those still behind bars for crimes they didn't commit.
Friday, Jun 27, 2014, 1:30 pm
In Altgeld Gardens, the South Side public housing development where a young Barack Obama first cut his community organizing teeth, residents and local activists are voicing their concerns about the Chicago Housing Authority's (CHA) bidding process for development contracts in public housing projects.
Dozens of Altgeld Gardens residents and supporters gathered outside of CHA headquarters on June 24 to protest the consideration of the politically connected Walsh Group construction firm for a redevelopment contract in the project. If the CHA awards Walsh the deal, activists say, it will be effectively ignoring its obligations under Section 3 of the federal Housing and Urban Development Act, which requires public housing agencies "make their best efforts" to provide job training, employment and business opportunities for local low-income residents.
Based on Walsh's track record, activists say, those opportunities for locals would be scarce at best. In 2013, several residents of Altgeld Gardens filed suit against Walsh Group and the CHA, alleging that Walsh failed to provide them with priority employment under Section 3 while the company was performing construction work in Altgeld Gardens in 2009 and 2010. Additionally, according to the CHA directory of Section 3 employment opportunities, Walsh currently does not offer any jobs for Section 3 workers in the Chicago area. Locals fear this means that any new jobs created by the construction project would go to workers from outside the housing project.