Monday, Aug 18, 2014, 7:42 pm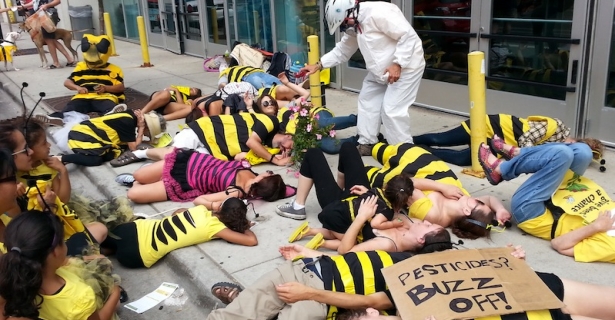 On Saturday, activists in cities from Dallas to Melbourne, Australia, "swarmed the globe" in an international rally to save the world's bees.
In an action timed to coincide with National Honey Bee Day in the United States, Bee Against Monsanto—a Tampa-based collective that campaigns to protect honey bees and other pollinators—called on organizers worldwide to hold "Swarm the Globe" rallies. Their goal: to raise awareness of the dangers of neonicotinoids, a family of insecticides that kill bees.
Neonicotinoids are the leading suspect in Colony Collapse Disorder, a phenomenon in which entire populations of worker bees disappear, leaving queens and larvae to die in their hives. On average, 30 percent of bee colonies in the United States have died each year since 2006, with similarly high death rates in many parts of Europe.
Friday, Aug 15, 2014, 3:22 pm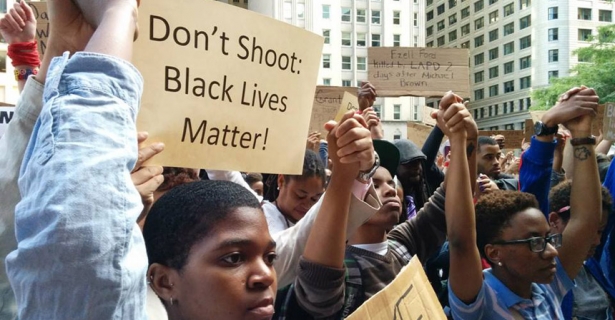 Less than a week after the fatal shooting of unarmed 18-year-old Michael Brown by Ferguson, Missouri police, supporters across the country took to the streets on Thursday night to hold a national moment of silence and protest against state-funded violence.
Organizers in New York, Chicago, Washington, Detroit, Baltimore and about 90 other cities brought together tens of thousands to demonstrate solidarity with the people of Ferguson and demand justice for citizens wrongly and extrajudicially killed. According to a 2012 study, a black person is killed by police, security forces or individual vigilantes every 28 hours.
In Chicago, hundreds gathered in Daley Plaza to participate in sing-alongs, shout chants and hear poetry by the Black Youth 100 project before the 6:20pm moment of silence.
Monday, Aug 4, 2014, 10:00 am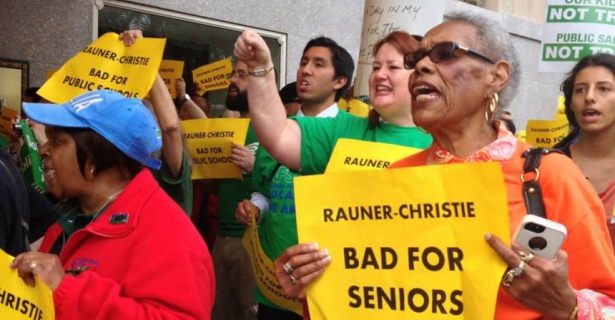 As head of the Republican Governors Association (RGA), New Jersey Gov. Chris Christie (R-N.J.) traveled to Chicago on Friday to meet Republican candidate Bruce Rauner for an exclusive fundraiser. The event, hosted at the Hilton Hotel, was a lucrative affair, with tickets starting at $500 for the general reception.
"This is amongst the most important governor's races in the country," said Christie, who promised another $2.5 million "down payment" in campaign donations before the trip was over. In the meantime, Rauner, whose net worth approaches $1 billion, has already broken Illinois records for personal campaign contributions, having invested $6.05 million thus far.
But as the two GOP politicians met with wealthy donors to procure funds, dozens of protesters gathered Friday evening outside the hotel to voice concerns over Christie and Rauner's "moderate GOP" platforms, which they claimed are out of step with mainstream Illinois voters.
"Both of these politicians pose as moderates, while backing extreme positions on both social and economic pocketbook issues," says William McNary, co-director of Citizen Action Illinois. "They may be moderate in Mississippi," he continued, " but they are not moderate here in Illinois."
Thursday, Jul 24, 2014, 4:21 pm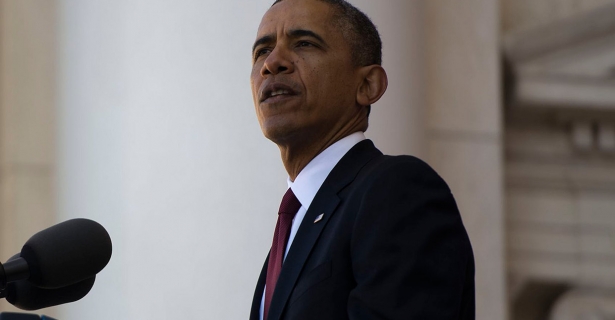 Immigration has been labeled America's most recent "crisis." As thousands of Central American children cross the border without papers, the Left has asserted that President Obama expels far too many undocumented immigrants and the Right has complained that he doesn't turn enough away. The accusations from both sides of the aisle have clouded public perceptions of the administration's policies, taking attention away from what's actually going on.
Monday, Jul 21, 2014, 3:59 pm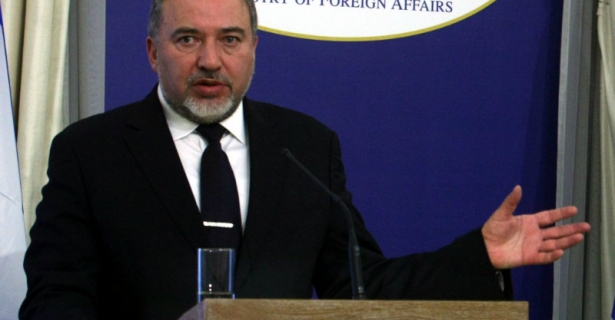 Just one month after three of its journalists were sentenced to seven-year prison terms in Egypt for their alleged support of the Muslim Brotherhood, Al Jazeera faces another threat to its reporting in the Middle East. This time, however, it's a democratic government, not a military dictatorship, that's doing the threatening: Israeli Foreign Minister Avigdor Lieberman has called for a ban on the Qatari media network's operations in Israel, Haaretz reports.
During a press conference on Monday, Lieberman called Al Jazeera a "central pillar of the propaganda apparatus of Hamas" and compared the network to Der Sturmer, a World War II-era Nazi-run German newspaper.
Al Jazeera has frustrated the Israeli government with its critical coverage of the ongoing conflict in Gaza, reporting on the heavy humanitarian toll of Israeli airstrikes and tank shells, including the destruction of a Palestinian hospital on Monday.
Thursday, Jul 10, 2014, 1:30 pm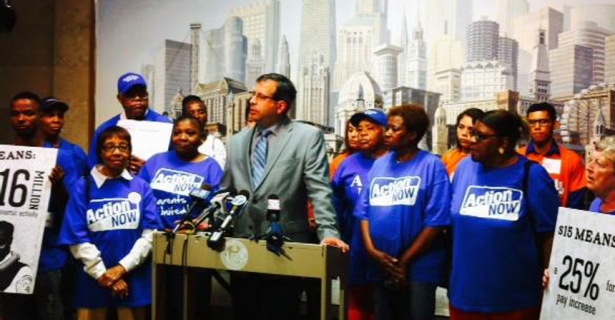 Irma Díaz, 36, has been working at McDonald's for 14 years. She's also a single mother of a 14-year-old son. If she's lucky, she gets to work 35 hours every two weeks.
She's never been paid above the minimum wage.
Díaz is just one of the estimated 400,000 Chicagoans who would benefit from the hike recently proposed by Chicago's Minimum Wage Working Group (MWWG). On Monday, July 7, the task force—hand-picked by Mayor Rahm Emanuel and composed of eight alderpersons, along with the leaders of the city's top commercial and labor organizations—recommended raising Chicago's minimum wage to $13 an hour by 2018, followed by future increases tied to the rate of inflation. Tipped employees, such as servers, would also see a one-dollar bump in their pay over the next two years.
The group also suggested that the Chicago City Council delay voting on the issue until lawmakers decide whether or not to raise the Illinois minimum wage, which should happen after the November elections.
Monday, Jul 7, 2014, 4:31 pm
Last year, Chicago Mayor Rahm Emanuel issued an apology for a spate of police torture during the 1970s and 80s, during which the Chicago Police Department arrested and tortured an estimated 118 African-American men and women in order to obtain confessions and intimidate community members. Emanuel called this period "a dark chapter of the history of the City of Chicago," but said it was one that the city has to "move on" from. But while some are asking for the books to be closed, human-rights advocates are pushing forward with a campaign to secure reparations for torture survivors and to free those still behind bars for crimes they didn't commit.
Friday, Jun 27, 2014, 1:30 pm
In Altgeld Gardens, the South Side public housing development where a young Barack Obama first cut his community organizing teeth, residents and local activists are voicing their concerns about the Chicago Housing Authority's (CHA) bidding process for development contracts in public housing projects.
Dozens of Altgeld Gardens residents and supporters gathered outside of CHA headquarters on June 24 to protest the consideration of the politically connected Walsh Group construction firm for a redevelopment contract in the project. If the CHA awards Walsh the deal, activists say, it will be effectively ignoring its obligations under Section 3 of the federal Housing and Urban Development Act, which requires public housing agencies "make their best efforts" to provide job training, employment and business opportunities for local low-income residents.
Based on Walsh's track record, activists say, those opportunities for locals would be scarce at best. In 2013, several residents of Altgeld Gardens filed suit against Walsh Group and the CHA, alleging that Walsh failed to provide them with priority employment under Section 3 while the company was performing construction work in Altgeld Gardens in 2009 and 2010. Additionally, according to the CHA directory of Section 3 employment opportunities, Walsh currently does not offer any jobs for Section 3 workers in the Chicago area. Locals fear this means that any new jobs created by the construction project would go to workers from outside the housing project.
Tuesday, Jun 17, 2014, 9:00 am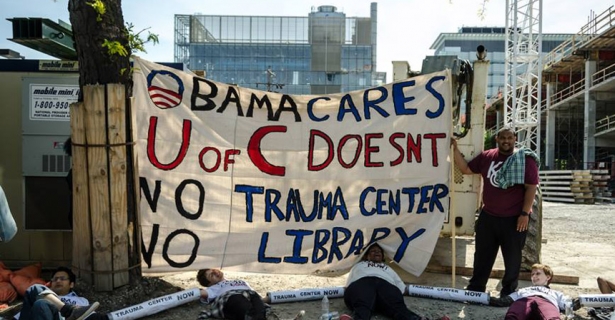 The University of Chicago (U of C) is vying to become the site of a new Obama Presidential Library and Museum, a project that would cost an estimated $500 million. Touting the added tourism draw of locating the project in the first family's home city, the University says its proposed project would represent "the first truly urban presidential library" on Chicago's South Side.
But not everyone is happy with the idea of installing a tourist attraction in an area hard-hit by poverty and violence. The Trauma Center Coalition, a grouping of South Side community organizations, has been criticizing the University for more than four years over its closure of the area's only adult trauma center—a medical facility providing specialized care to victims of gunshot wounds, stabbings, car crashes and other similar incidents.
As the University seeks to polish its image in order to attract the coveted presidential library, activists are hoping to bring pressure to bear over its role in the community. The Trauma Care Coalition maintains that by refusing to provide trauma care, the University is displaying a disregard for the health needs of the Hyde Park community and the South Side as a whole.
"The bid for the library is offensive to Black people," says Veronica Morris-Moore, a 20-year-old community organizer from Chicago's Woodlawn neighborhood. "[The University] doesn't want to provide trauma care for the surrounding African-American community, but at the same time it wants to honor the first black president. It seems as though the University only acts for our community when it is in their best interest."
Monday, Jun 2, 2014, 2:10 am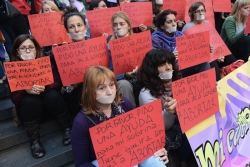 After the 2014 European parliamentary elections, the two main parties in Spain—the ruling right-wing People's Party (PP) and the left-wing Socialist Workers Party (PSOE)—lost 17 seats in the European Parliament. The results are a historic reality check for the country, as the two major parties received just over a combined 49 percent of all votes, the first time the two parties have garnered less than half of all votes in an EU election.
Still, the PP won the elections with 26 percent of the votes. And as the results show, much has changed since the PP won a historic absolute majority in the 2011 Spanish parliamentary elections. Support for the two-party system has waned among Spaniards, who have instead opted to support smaller independent parties in the EU elections.
The results have caught the ruling party by surprise, but for opponents of PP's increasingly conservative policies, the elections could mean a major tide change in Spanish politics and change the fate of some of the ruling parties more draconian plans. Among the most conservative—and most roundly opposed—policies is a controversial draft abortion bill, first introduced in the Spanish parliament in December 2013.
The draft abortion bill has been highly criticised by Spanish citizens and health experts alike. If approved, it would become one of the most restrictive abortion laws in all of Europe.
In fact, according to a recent report from the Association of Accredited Clinics for the Interruption of Pregnancies (ACAI) in Spain, up to 95 percent of the legal abortions currently performed in the country would be illegal under the bill. The March study—which includes data from more than 6,000 women interviewees who have had abortions in an ACAI clinic over a four-month period, starting in October 2013—shows that if they had to make the decision to terminate a pregnancy under the proposed law, 62 percent of them would still have an abortion. Nearly 32 percent said they would travel abroad to obtain an abortion, while 30 percent reported they would turn to an illegal clinic for the procedure.
Under the current law, women are able to terminate their pregnancies without restrictions during the first 14 weeks. The proposed law would make abortions illegal in all situations, with the exception of rape or when there is a serious mental or physical health risk to the mother. Additionally, the determination of whether a woman qualifies for a legal abortion would have to come from two different doctors; they cannot be employed by the facility that will perform the abortion. The added restrictions will only make the process of obtaining an abortion longer and stricter.
The current Spanish abortion law permits 16 and 17-year-olds to end their pregnancies without informing their parents or guardians if it will put the young woman in an unsafe situation or significant conflict at home. The draft bill would make abortions impossible without parental consent for 16-plus minors, an especially egregious move as the Spanish Healthcare Law affords them other rights, including the right to refuse therapy, or opt for surgery; in the social realm, they are able to get married without parental approval. "It's a big contradiction that these minors that have all the rights in decisions concerning health matters, couldn't decide about the termination of pregnancy, which is a very important issue for their lives," says Alberto Stolzenburg, an ACAI international representative.
Minister of Justice Alberto Ruiz-Gallardón, one of the architects of the proposed legislation, announced it just before Christmas of last year. The public argued that this was a strategic move, since most Spanish citizens would be out on holidays and wouldn't be paying much attention to the news. Yet, the reaction was far from quiet. And the outcry didn't just come from women—like those in the ACAI study—who have already had abortions.
Instead, opposition to the bill has come from all sectors of Spanish society.