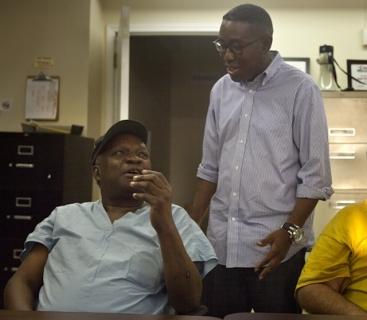 The Rosemoor Tenants Union was born only months ago in a windowless room near Teamster City. But the association, created to represent long-time tenants of the Rosemoor Hotel, a single-room-occupancy building in the West Loop, already has a victory under its belt.
On Oct. 3, a Cook County judge found in favor of the tenants, who had argued the building's new management company, Rosemoor Suites, LLC, has been retaliating against them. The union accused Rosemoor Suites of raising rents and distributing 30-day notices after the tenants organized to stop illegal construction in the building. The Chicago Reporter wrote about the creation of the union, and its beef with management, a few weeks ago.
Not only did the Rosemoor Tenants Union win the injunction, securing a short-term reprieve from evictions and a freeze on any rent hikes, it also beat back an appeal on Oct. 10 by the management company. A key part of the court's findings in the case centered on the vulnerability of Rosemoor's population, who are majority low-income, some elderly, others disabled.
As the nights get longer and the days get colder, stable housing for Chicago's low-income population gets ever more important. The union's win not only helps the residents. It also sets a precedent. The Lawyers Committee for Better Housing, a housing rights advocacy group representing tenants, said it was the first time they had tried to organize SRO tenants into a legally protected association before taking on developers.
These kinds of cases are especially vital as developers continue to buy SRO buildings and turn them into higher priced hotels or luxury apartments, housing advocates say. On the North Side alone, 14 buildings that formerly provided housing to low-income people were sold since 2011, leading to a loss of around 2,205 affordable units, according to ONE Northside, a community organizing group based in Uptown.
When we first wrote about the union, we spoke with Kerry Carter, a union steward and technician at the nearby University of Illinois Hospital & Health Sciences System. He was determined to keep fighting—even though he was one of only a few tenants who had the means to find other housing.
Now, he's doubly determined. Carter is a soft-spoken man, but his voice rises as he talks about winning the injunction. "I was really shocked," he said. "It means that people are listening to the small people."
Carter has looked at some other apartments, but doesn't plan to leave until the "bitter end."
"I am willing to fight all the way through," he said.
This story is published through a content-sharing partnership with The Chicago Reporter.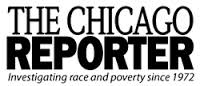 Friday, Oct 11, 2013, 5:45 pm · By Sarah Jaffe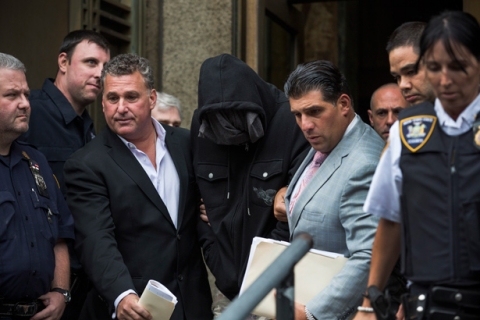 It's hardly a secret that the New York City Police Department (NYPD) has undercover officers in all manner of places. The department's spying on Muslim communities has drawn particular attention, but the NYPD also has a track record of infiltrating activist communities. Following a high-profile incident involving an altercation between a motorcycle rally and an SUV driver last month, we've now learned that that infiltration extended to Occupy Sandy, the disaster relief offshoot of Occupy Wall Street.
After the city (or certain parts of it, anyway) was shocked by the altercation that left one motorcyclist in the hospital and ended with the vehicle's driver being beaten by several of the bikers, rhetoric about "criminal biker gangs" became heated. Republican mayoral candidate Joe Lhota told the New York Post that recently-passed city laws to curb stop-and-frisk "have had a chilling effect among the NYPD" and are leading to a rise in violent crime.
There's just one little problem: At least one of the bikers who was part of the assault was a cop himself.
Wednesday, Sep 18, 2013, 3:14 pm · By Sarah Jaffe
If you're going to have a raucous, costumed march in New York City, Midtown makes for a great setting. Nurses and HIV activists in Robin Hood hats took the streets yesterday, blocking traffic as they called for a financial transaction tax to fully fund healthcare and other public services. Chants of "People, not profits! Medicare for all!" filled rush-hour streets as business-suited professionals dodged through the crowds.
The second anniversary of Occupy Wall Street was quieter than the first, but did feature a day of actions, many of them spotlighting Occupy's labor connections. From support for fast food workers and the ongoing labor struggle at Brooklyn's Golden Farm grocery to solidarity with striking teachers in Mexico and a "save our post offices" talk, workers' rights were front and center, along with other issues like stop and frisk, housing, alternative banking and getting money out of politics. Syria and the Trans-Pacific Partnership trade deal also got their due.
But the biggest event of the day was a rally and march hosted by unions, community groups, and healthcare advocates, starting outside the United Nations at Dag Hammarskjold Plaza at 5 PM. Inside, the UN General Assembly discussed the Millennium Development Goals—ambitious goals set for fighting poverty, halting HIV/AIDS, creating gender equality, achieving universal primary education, reducing child mortality and improving maternal health, and environmental sustainability. Those goals, the protesters noted, have mostly not been met.
National Nurses United (NNU), unlike the original Zuccotti Park occupation, have had a demand for a while: a financial transaction tax, which they call the "Robin Hood Tax," a 0.5 percent tax on the sale of stocks, bonds, derivatives, and other financial products. The tax is designed specifically to hit high-frequency trading, which is estimated to be some 70 percent of the market. People who invest long-term, in other words, would not be hit by the tax—speculators would. The nurses estimate that it could raise $350 billion a year in the United States.
Jean Ross, co-president of NNU and a Minnesota nurse, told In These Times, "In this country we have been lagging. Other countries are far ahead of us, so shame on them for not doing it." The Robin Hood tax, she explained, is a way to fight the austerity imposed after the financial crisis by taxing those responsible. In Minnesota and around the country, she noted, people understand the tax as a sales tax on Wall Street. "We've heard all the criticisms," she said. "They say, 'What do nurses know about economics?' Well, I know a lot."
Friday, Sep 13, 2013, 11:22 am · By Stephen Franklin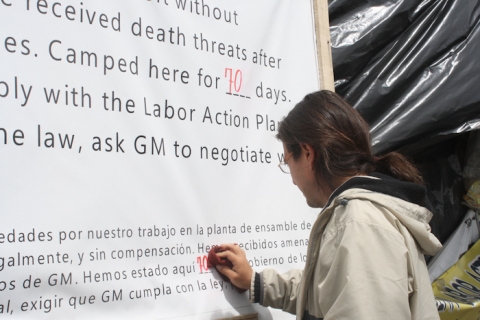 Bogota, COLOMBIA—As Jorge Parra rose to mark down on a sign on the outside of his tent another day of his two-year-long vigil, his mangled body fought back.
Parra's back is stiff as a metal plank; his left foot nearly paralyzed. He blames the crippling injuries to his arms and spine from the day-to-day scars of working conditions in the General Motors plant in Bogota, where he worked for seven years until he was fired in 2011.
Parra wasn't the only injured worker let go. In May 2011, he and 67 other ex-GM workers formed a group called the Association of Injured Workers and Ex-Workers of General Motors Colombia (ASOTRECOL). They charged that GM had fired workers injured on the job so it would not have to assume the costs of their healthcare. In August, the workers launched a tent encampment outside the U.S. embassy in Bogota, pledging to remain there until they received a just settlement from GM.
Thursday, Aug 22, 2013, 9:43 am · By Jeff Schuhrke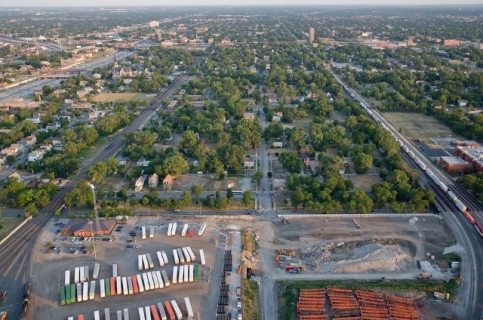 Residents of Chicago's predominantly African-American community of Englewood are fighting Mayor Rahm Emanuel and Norfolk Southern (NS)—a major railroad corporation that posted $1.7 billion in profits last year—over a proposed freight yard expansion in their neighborhood that they argue will significantly increase diesel pollution, which is linked to asthma attacks, cancer and heart disease. Community activists say NS and the city have largely ignored their concerns.
Englewood residents first learned in late 2011 of the Emanuel-backed plan to expand NS's existing 140-acre intermodal terminal at 47th Street—where trains and trucks swap freight containers—by an additional 84 acres. At the time, NS had been quietly buying up private properties in the area for about three years and had started bulldozing them. Only after the Resident Association of Greater Englewood (RAGE) exposed this apparent land grab and it became public knowledge that the company was in talks with the city to purchase 105 city-owned lots for the expansion was a public meeting finally convened with representatives of the railroad.
Thursday, Aug 15, 2013, 5:18 pm · By Melissa Gira Grant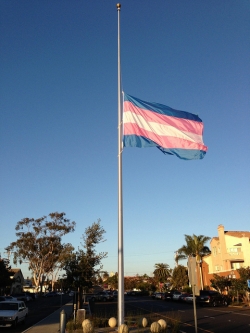 "We always seemed to really click together, personality-wise," Aamina Morrison says of Diamond Williams, whom she first met in a Philadelphia LGBT youth group 12 years ago. "Like the issues of oppression we shared or things that came up in her own transition. She didn't realize those little things she did for me right there helped me see the possibility for who I am today."
Williams was brutally murdered last month, her body dismembered and thrown in a field. A 43-year-old Philadelphia man named Charles Sargent, who has previously been charged with rape and aggravated assault, confessed to the crime and led the police to Williams's remains. He will be tried for murder.
Morrison is now co-director of the peer-led Trans-Health Information Project, which, along with other LGBTQ and social justice groups in Philadelphia, is demanding justice for Williams. They believe Williams was targeted because she was transgender and working in the sex trade. Bringing Sargent to trial isn't enough, they say; they want changes to how police and the media respond to violence against members of the transgender community.
Morrison has her own reason to believe that if Philadelphia police treated transgender victims of violence better, the friend she remembers from her youth group would still be alive. She says that when she saw Sargent's photograph in the press after his confession, "it immediately took me back to an incident I had with him."
Friday, Aug 9, 2013, 2:53 pm · By Rebecca Burns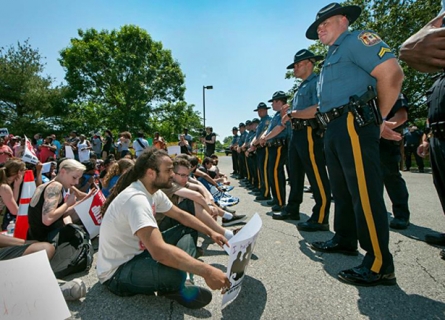 The American Legislative Exchange Council (ALEC) could hardly hope to hold its 40th annual conference in Chicago, a city on the brink of the largest mass school closings in U.S. history, without drawing fire for its role in pushing the privatization of K – 12 schools. Throngs of protesters from the Chicago Teachers Union and a host of other labor, community and environmental groups gathered Thursday to wish the pro-corporate bill mill a very unmerry birthday. Among them were student activists seeking to highlight a lesser-known facet of ALEC's agenda: its deepening attack on higher education.
At least 139 bills or state budget measures reflecting ALEC's education agenda have been introduced during the first six months of 2013, according to an analysis by the Center for Media and Democracy. Among the model bills propagated by ALEC are the "Resolution in Support of Private-Sector Colleges and Universities," which opposes regulation of for-profit colleges under the guise of ensuring "equal access to all sectors of higher education," and the "College Opportunity Fund Act," which subsidizes private colleges by providing vouchers to for-profit and religious institutions.
Tuesday, Aug 6, 2013, 3:14 pm · By George Lavender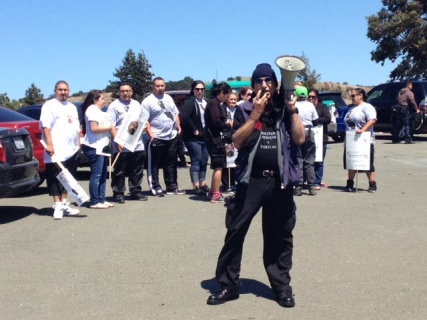 Family members of hunger striking prisoners joined a demonstration outside San Quentin State Prison on Saturday. In the third hunger strike since 2011, hundreds of prisoners have been on strike for 31 days to protest long-term solitary confinement. Medical officials say several prisoners have been seen by staff in recent days with health issues, including dehydration, arising from the strike.
"My son is behind those walls back there, but I feel real good that he knows I'm out here," said Juanita Topete, pointing to the prison. She added that she felt proud to be taking part in a protest "representing all the prisoners, and all the families, who are going through the torturous ordeal of not being able to hug their sons, of seeing their sons deteriorate in solitary confinement."
Demonstrators held tightly onto banners that read "Stop the Torture" and "Support the Hunger Strikers" as they were blown about by a strong wind.
Tiffanie Palacios, also at the rally, said her "primo," Antonio "Chuco" Guillen, was one of four prisoners who originally put out the call to strike in 2011. Palacios came to San Quentin on Saturday along with Guillen's wife, sister and kids "to support the rest of the hunger strikers, fighting for what they deserve: not to be treated like dirt."
Prisoners in solitary confinement are not allowed to use the phone but, "they have a voice out here, and that's us," says Palacios.
Thursday, Aug 1, 2013, 5:31 pm · By Kristin Rawls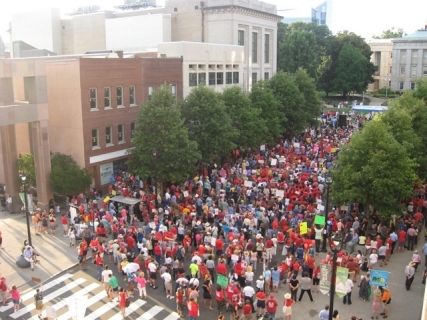 On July 29, North Carolinians kicked off Raleigh's last "Moral Monday" protest of 2013 before going on tour to organize other regions of the state. Raleigh police estimate more than 2,500 protesters showed up that day, while organizers estimate 10,000. Whatever the case, it was far more difficult to navigate traffic or find parking than on previous Moral Mondays, which had already topped 3,000 attendees. A traffic jam on Jones Street kept drivers stalled for upwards of 30 minutes and three blocks just before the rally got underway.
Despite NPR (incorrectly) reporting that the movement had ended, organizers stressed the fight was far from over. Participants were promised that protests would resume in Raleigh as soon as the next legislative session starts. Until then, Moral Monday will be on tour, beginning with Mountain Moral Monday next week in Asheville. In the meantime, participants will help organize their own districts—and follow through on promises made by those arrested to help register at least 50 new voters each.
Thursday, Aug 1, 2013, 3:00 pm · By George Lavender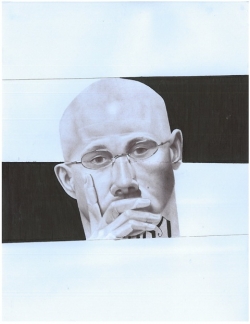 Billy Sell died last Monday inside Corcoran State Prison, in California's Central Valley. Supporters of prisoners on hunger strike in California have called for an independent investigation into his death in one of the state's controversial isolation units. Hundreds of prisoners have now been refusing food for more than three weeks to demand an end to long-term solitary confinement.
This Monday, Sell's death was preliminarily ruled a suicide from strangulation. A spokesperson for the Department of Corrections and Rehabilitation denied that the death was connected to the ongoing hunger strike. Jeffrey Callison says it was "not appropriate to speculate" on the reasons Sell may have committed suicide. According to Callison, Sell had participated in the mass hunger strike, but had ended his strike the day before he died.
Ron Ahnen, a member of an eight-person mediation team that has been advocating for the hunger strikers, says that other prisoners have told him that Sells "was a strong individual" and "they were very shocked to hear that he may have committed suicide; that it was really uncharacteristic of him." Fellow prisoners also said that Sell sought medical help for several days before he died. Ahnen calls those reports "worrisome" because, after three weeks on hunger strike, the "health situation of many of the prisoners is going to be very delicate."