Uprising
Thursday, May 2, 2013 • 11:25 am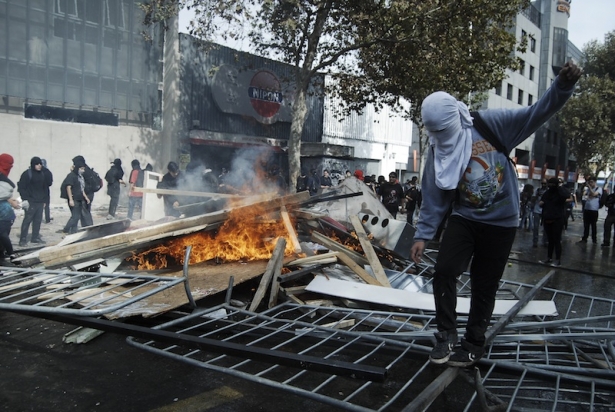 May Day brings activists into the street throughout Latin America. Labor has long dominated the social movement scene. As neoliberal reforms have privatized services and weakened labor unions, other movements have stepped up. Over the past two year, the students of Santiago de Chile have reinvigorated resistance to neoliberal reforms. This year, labor groups and students joined together as a crowd of more than 150,000 thousands filled the streets of Santiago to celebrate International Labor Day. (Captions and translation by Jackson Foote).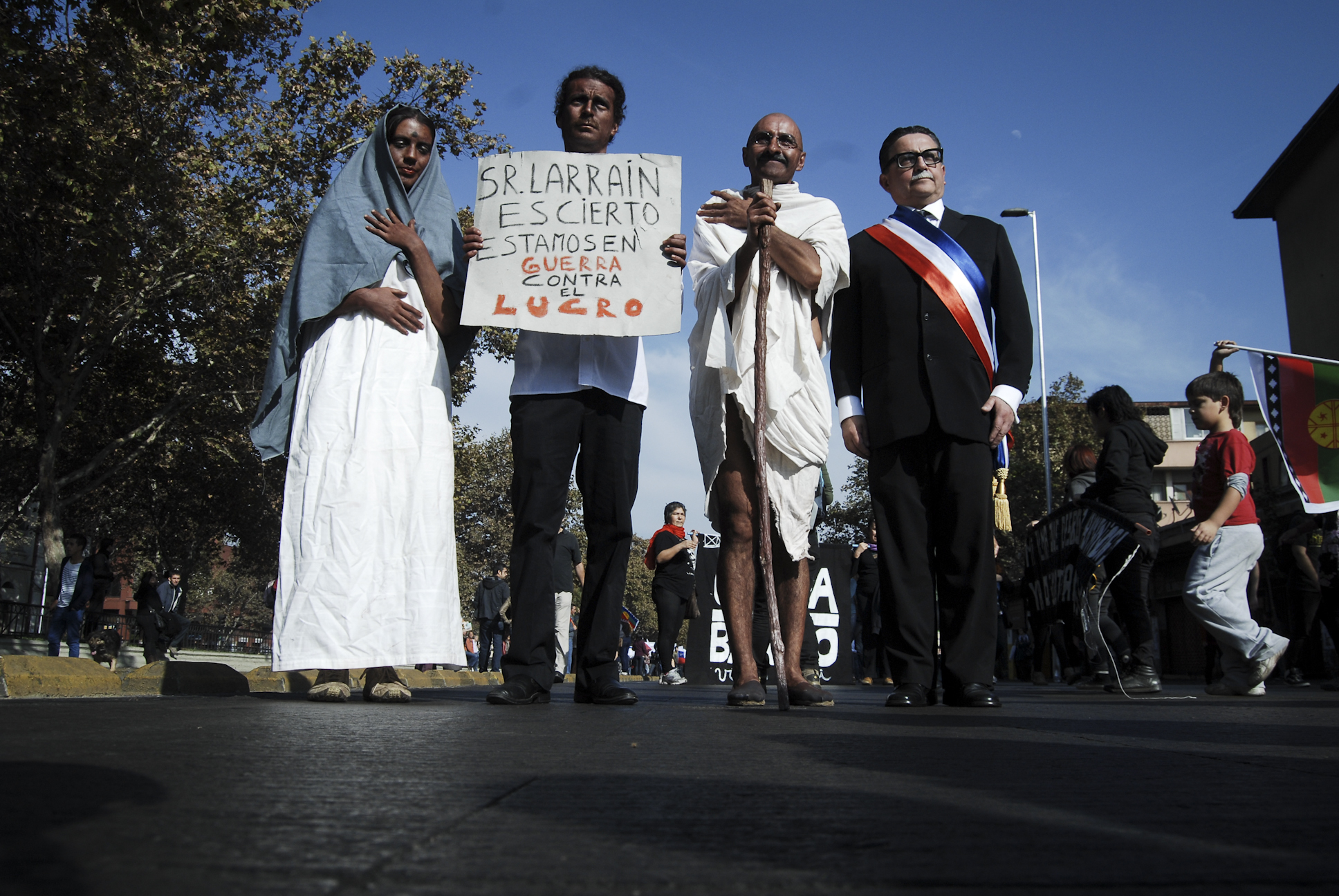 Protesters embody Indian social justice icon Mahatma Ghandi and Chilean socialist president Salvador Allende.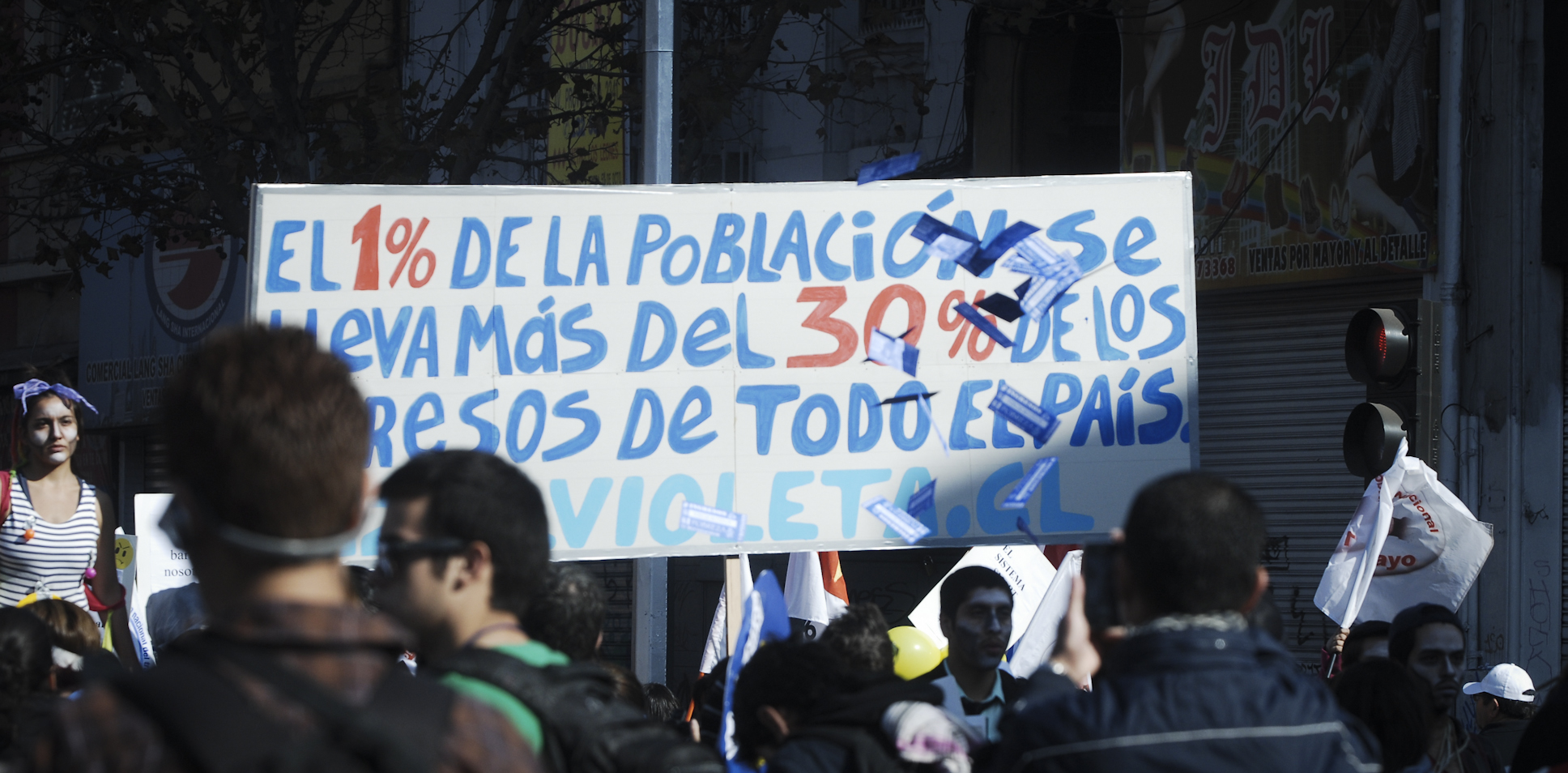 "1% of the population gains 30% of the of the country's resources."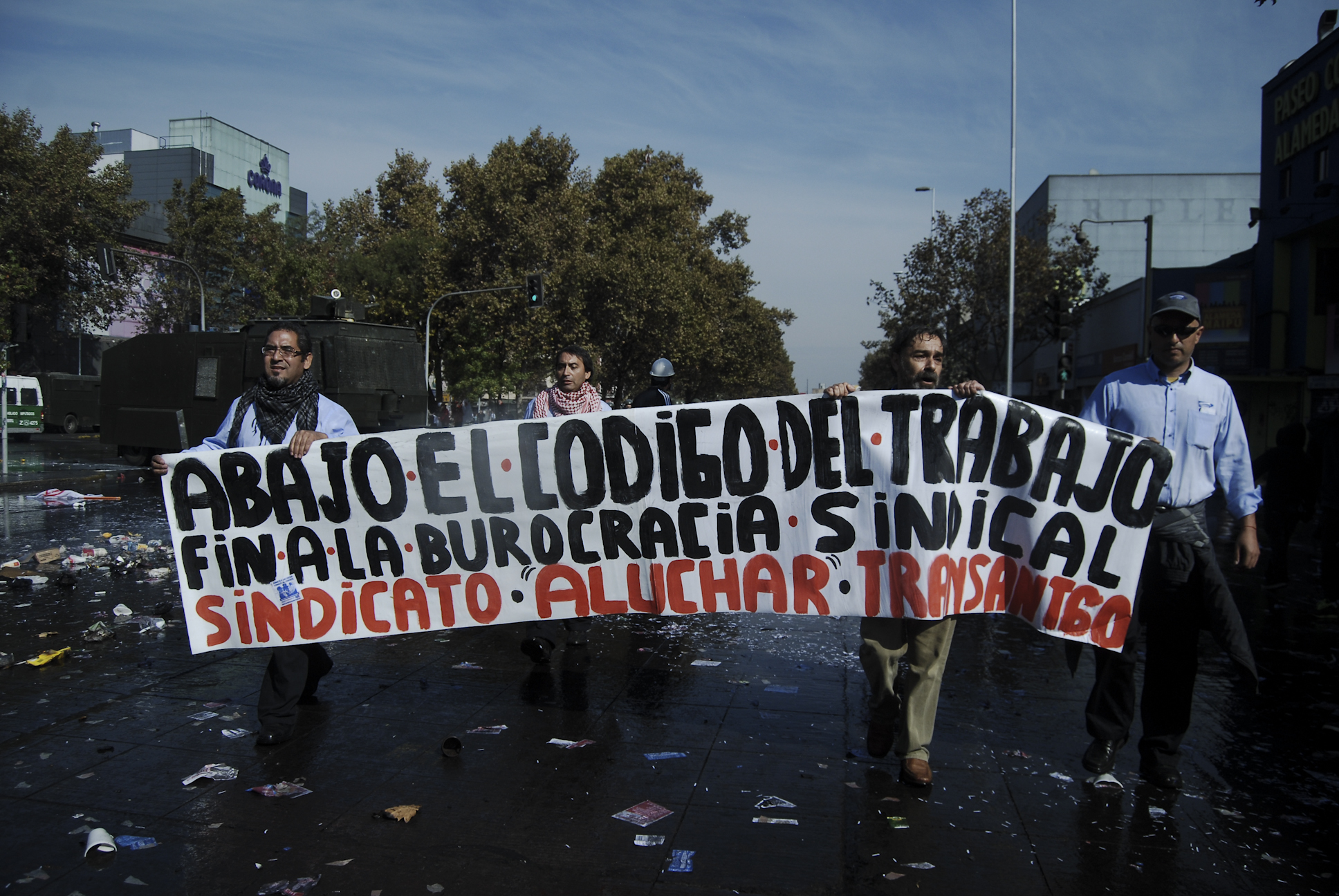 ALUCHAR, the Santiago transport union, marches with a sign reading, "Down with the work code. End union bureaucracy"
MORE »
0 comments ·
Tuesday, Apr 30, 2013 • 2:49 pm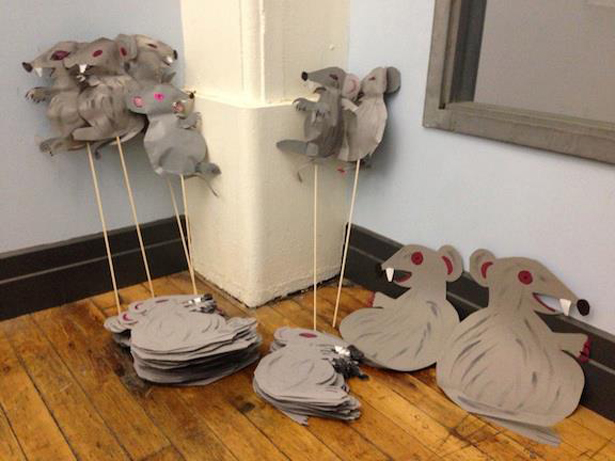 The buildup to May Day in New York has been quieter this year. Last year's "general strike" rhetoric is gone, and there are fewer heated tactical arguments among activists spilling onto social media. This year's graffiti is subtler too, but you still find it: "May Day 2013" scrawled in bar bathrooms and on mailboxes and abandoned buildings. Posters in English and Spanish still dot the city. And like last year—when Occupy, community, labor and immigrant groups took the streets by the thousands—a slate of activities is planned for the international worker's holiday.
"There's a lot of things fomenting," says Shawn Carrié, an Occupy Wall Street organizer. He expects a big turnout for the day's actions, pulled together by the traditional May 1 coalition of labor and immigrant rights groups, plus Occupy affinity groups, and students.
MORE »
2 comments ·
Friday, Apr 26, 2013 • 2:18 pm
Each Friday here at Uprising, we present a round-up of the demonstrations, debates and other manners of rabble-rousing that went under-reported during the week.
Occupy Earth Day: On Earth Day this year, 75 protesters staged an occupation of the Department of Environmental Protection (DEP)'s offices in Pennsylvania to protest what they called its "failure" to protect the Allegheney River from the fossil fuel industriy. Meanwhile, a coalition of more than 60 environmental groups staged similar actions throughout the state as part of an 'Earth Day protest against fracking'. The coalition demands an end to Marcellus shale gas extraction, comprehensive reports on levels of water contamination, and an expansion of state-wide renewable energy programs.

Mexican Teachers Take Over Highways to Protest Education Reforms: On April 22, thousands of teachers in Mexico's southern state of Guerrero went on strike to protest new education measures put into place by Mexican president Enrique Pena Nieto. Last week, teachers armed with Molotov cocktails and metal bars blocked key highways in a series of demonstrations that have gained in intensity since Nieto's bill was signed into law in February. As 42,000 children are left without classes, and parents, along with community members, may begin to hold their own classes in local parks.

BDS Movement Expands Its Reach: This week, Members of the Association for Asian American Studies voted to boycott Israeli academic institutions, becoming the first American scholarly institution to join the global Boycott, Divestment and Sanctions (BDS) campaign. Their resolution states that the boycott is "in protest of the illegal occupation of Palestine", in which Israeli academic institutions are "deeply complicit".
MORE »
1 comments ·
Wednesday, Apr 24, 2013 • 5:55 pm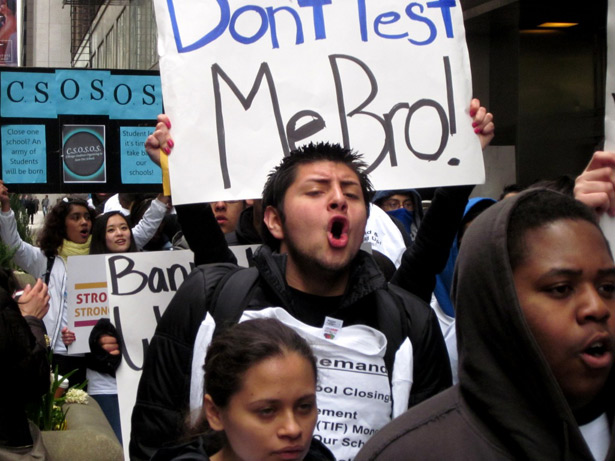 Wednesday morning, when most public-school 11th graders in Chicago were preparing to take the state-mandated Prairie State Achievement Exam (PSAE), nearly 100 students left high schools across the city in protest. Boycotting students met up with parents and allies downtown to rally in front of the Chicago Public Schools headquarters in defiance of what they call Mayor Rahm Emanuel's "misguided agenda."
"We are over-tested, under-resourced, and fed up," Brian Stirgus, a senior at Paul Robeson High School, told the crowd. The students object to both the prevalence of high-stakes standardized testing and the scheduled closure of 54 Chicago grammar schools, which the students see as part of the same threat to their education and their communities.
MORE »
9 comments ·
Tuesday, Apr 23, 2013 • 4:58 pm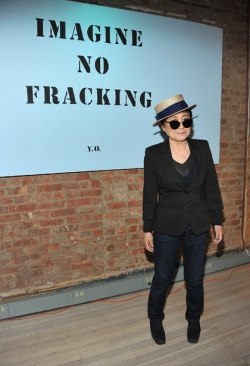 This article is reprinted with permission from AlterNet.
Artist Yoko Ono has an impassioned message for America: We don't have to poison our water supply to make money.
On Friday evening at Manhattan's ABC Carpet & Home, environmentally minded New Yorkers, including a sprinkling of celebs like Susan Sarandon, gathered to celebrate the opening of "Imagine No Fracking," a striking window installation designed by Ono, who recently caused a stir by tweeting a photograph of John Lennon's bloody glasses to protest gun violence.
Riffing on Lennon's unforgettable song "Imagine," Ono sends out a call for unity in the fight for clean drinking water and alternative approaches to natural gas extraction. The project involves several 6-foot-high posters showing an antifracking message in stencil lettering, signed Y.O. In addition to "Imagine No Fracking," posters show a variety of slogans, including "Don't Frack New York," "Fracking Kills," and the straightforward -- if not exactly catchy -- "Pretty Soon There Will Be No More Water To Drink."
MORE »
1 comments ·
Friday, Apr 19, 2013 • 11:11 am
Togo Teachers On Strike: On April 15, thousands of students demonstrated in the West African nation of Togo to demand better working conditions for their teachers, who have been on strike for a week. One student was killed and another wounded when security forces fired into the crowd. Public and private schools were closed in the capital city of Dapoang following the protests.

Miners Cheer Maggie's Death: As Margaret Thatcher's coffin passed through London Wednesday, hundreds of protesters in the audience turned their backs to her, shouted insults such as 'what a waste of money' or 'Tory scum', or otherwise demonstrated against the former Prime Minister and her neoliberal regime. Several communities that once bore the weight of a government crackdown on striking miners held celebrations, while other progressive communities used the day to reaffirm their commitment to social justice.

Anti-Nuke Protesters Arrested During Blockade: Nearly 50 people were arrested outside of the Faslane naval base in Argyll, Scotland on Monday as they demanded that the Trident nuclear weapons stored in the base be dismantled, and that government funding for the weapons be used instead to promote national welfare, education and health. Members of the Scrap Trident coalition, joined by more than 100 supporters from student, trade union and environmental movements, chained their arms inside sections of drain pipe tubing and blockaded the entrance to the naval base. As tensions heighten in the North Korean peninsula, protesters accuse the UK government of playing up the hype to affirm the need for nuclear weapons.
MORE »
2 comments ·
Thursday, Apr 18, 2013 • 4:01 pm
Last week, Chile's student and labor movements united for one of the country's largest mobilizations ince the dictatorship of Augusto Pinochet ended in 1990. On April 11, more than 200,000 students, teachers and workers from across the country joined together to demonstrate for free, quality education. In Santiago, 150,000 marched, amounting to the largest mobilization since the student movement began two years ago. All photos are from AFI-Santiago, shooting in the nation's capital. (Captions and translation by Jackson Foote).
MORE »
0 comments ·
Wednesday, Apr 17, 2013 • 3:07 pm
The Supreme Court today struck a serious blow to corporate accountability for human rights abuses. The nine justices ruled unanimously that federal courts could not hear a case against oil giant Royal Dutch Petroleum for its alleged complicity in repression and violence in an oil-rich region of Nigeria.
Kiobel v Royal Dutch Petroleum, a class action suit against Shell Oil's parent company, was filed by nine Nigerians who were members or relatives of the Movement for the Survival of the Ogoni People, a group opposing foreign oil exploration in the Niger Delta that became the subject of a deadly government crackdown during the 1990s. The Nigerian plaintiffs brought the suit under the Alien Tort Act (ATA), a law dating back to 1789 that enables U.S. federal courts to hear alleged violations of international law from non-U.S. Citizens. But the Supreme Court ruled that the ATA does not apply to abuses committed outside of the U.S., quashing what is often one of the only avenues for legal remedy in "resource cursed" countries where local governments and security forces act in the interests of foreign mining and oil corporations.
Watchers of the case have noted an obvious irony: The Court has bestowed corporations with all of the perks of personhood (think Citizens United), but none of the pesky responsibilities. In this case, we're not just talking jury duty or speeding tickets—the plaintiffs allege that Shell and its subsidiaries aided and abetted torture, arbitrary detention and extrajudicial executions in pursuit of a stable oil supply.
MORE »
7 comments ·
Tuesday, Apr 16, 2013 • 4:35 pm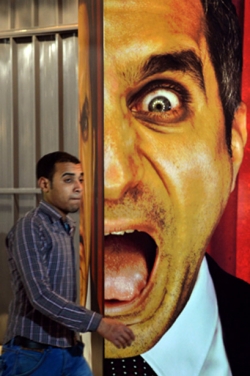 This article is reprinted with permission from Jacobin.
Two weeks ago Egypt's public prosecutor ordered the arrest of comedian Bassem Youssef, host of the TV show Al-Bernameg, for "insulting Islam" and Egypt's President Mohammad Morsi. Youssef's name is rarely mentioned without reference to his admitted role model, the American comedian Jon Stewart, who recently defended Youssef on The Daily Show.
Since Youssef's arrest, nearly every story about the incident labels the heart-surgeon-turned-TV-star as "Egypt's Jon Stewart." But Youssef — who continues to risk his freedom and career to ridicule Egypt's political elite — has little in common with Stewart, a man who's built a comedy empire on an unwarranted reputation for prophetic humor and moral integrity. And even while Youssef himself cites Stewart as an influence, the Egyptian humorist far outshines his American counterpart in his willingness to challenge political and social taboos.
MORE »
5 comments ·
Friday, Apr 12, 2013 • 9:42 am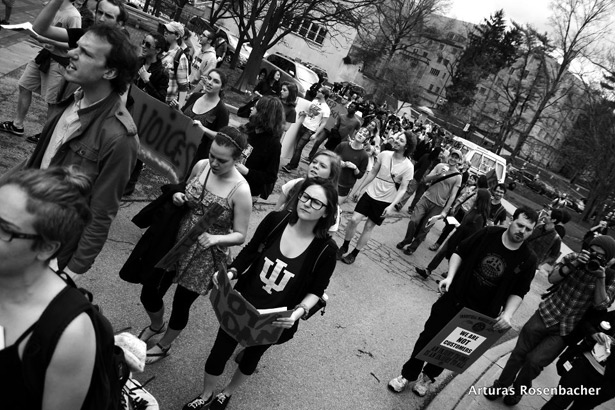 Indiana University, home of downtrodden basketball fans, is currently playing host to a prouder legacy. Yesterday, students and some faculty and staff commenced a two-day strike that organizers hope could help reinvigorate a movement to defend higher education.
A portion of students and faculty at the system's Bloomington campus are walking out of classes and off the job in protest of tuition hikes and privatization. Campus police were on hand during a series of protests yesterday, but no arrests occurred until last night, when police evicted strikers from a building on campus where they had amassed for a general assembly. One individual was arrested as the group dispersed. The group IU on Strike alleges that the arrest occurred as the participant was trying to leave the area, and has denounced police conduct, declaring "IUPD created a chaotic situation where there was none, bullying participants as they gathered their belongings." But organizers have nevertheless proclaimed the first day of the strike a success, and are now gearing up for Day 2. (The IU Police Department told In These Times that the individual was arrested for vandalism, but declined to comment further on the incident).
MORE »
6 comments ·