Tuesday, Jul 30, 2013, 11:29 am · By Cole Stangler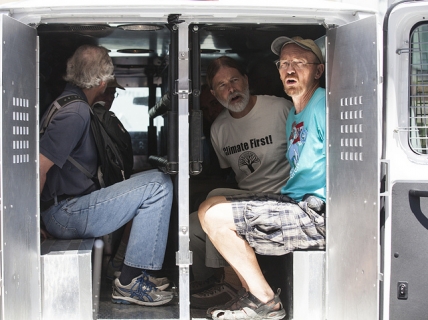 Bill McKibben's 350.org helped orchestrate one of the largest civil disobediences in U.S. climate-activism history in August of 2011. More than 1,200 protesters were arrested in Washington D.C. to protest the planned construction of the Keystone XL pipeline. At the time, construction of the pipeline was deemed all but certain, with top energy insiders predicting it to be built by the end of 2011.
Two years later, and thanks to many protests more—including the largest climate justice rally in U.S. history this February—President Obama is still wavering on the construction question. With the pipeline's northern segment waiting final approval from the State Department, 350.org and its allies gathered in Washington once more this weekend to ramp up their pressure on the administration.
Wednesday, Jul 24, 2013, 4:55 pm · By Cole Stangler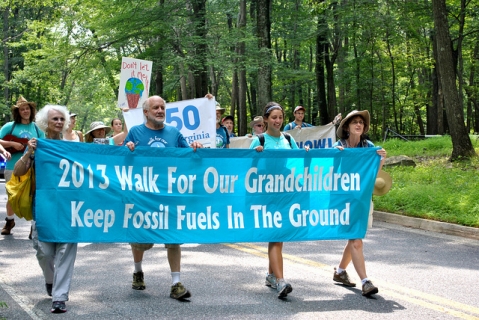 Four months ago, Steve Norris, 70, was lying awake in his bed in Asheville, N.C.
"I was thinking, oh my god, what kind of planet are my great-grandchildren going to have when they're 70," says Norris, who has four children, six grandchildren, and three great-grandchildren. "It does scare me, you know, that the kind of civilization we have, we won't be able to sustain that because of sea level rises, climate changes, droughts and so on. There's a whole range of possible consequences that could come out of climate change."
So Norris reached out to some older activists in the Asheville area with the general idea of organizing a march on Washington. Eventually the group decided to get younger people involved too, earned the support of established environmental groups like the Chesapeake Climate Action Network and 350.org, and the Walk for Our Grandchildren was born.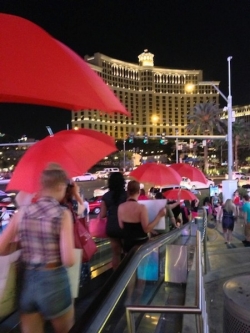 If you passed by the Turkish or Swedish consulates in New York on Friday, you may have seen a knot of sex workers and their supporters holding red umbrellas—both as a symbol of sex workers' rights and a shield against the sun on what was the hottest day of the year. The protestors, about a dozen at their peak, kept a spirited vigil over several hours, chanting, passing out fliers, and fielding questions from midtown Manhattan's business attire class. One man on the Park Avenue sidewalk in front of the Swedish consulate asked nervously, "Are you all… professionals?" Some protestors turned their heads and smiled.
The New York action accompanied rallies in 36 cities and on four continents for an international day of action demanding an end to the stigma and violence against sex workers' communities. Two recent murders sparked the protests: of Dora Özer, a sex worker and trans woman from Kuşadası in Turkey who was stabbed by a man posing as a client on July 9, and of Petite Jasmine, a sex worker and mother of two children stabbed by her ex-husband in Sweden on July 11. Calls for justice for Dora and Jasmine, prompted by the International Committee on the Rights of Sex Workers in Europe (ICRSE), spread quickly through social media in the week leading up to Friday's actions.
Sunday, Jul 21, 2013, 2:58 pm · By Lewis Kendall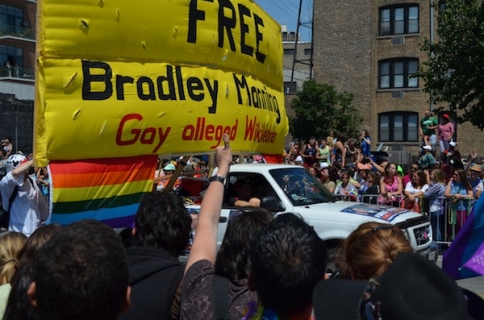 The judge in the Bradley Manning trial has found the Army Private guilty on 20 counts, however acquitted him of the most serious "aiding the enemy" offense.
The sentencing trial, which allows for both sides to present new evidence, will begin Wednesday morning.
Between 2009 and 2010, Manning used his clearance as an intelligence analyst to download thousands of documents from U.S. intelligence databases and transmit them to Wikileaks.
The prosecution claims that the sharing of these classified files—among them the infamous "Collateral Murder" video that shows a U.S Apache helicopter killing unarmed Iraqi civilians—compromised national security.
The Freedom of the Press Foundation is providing transcripts of the proceedings.
Read on for the latest updates.
Friday, Jul 19, 2013, 4:16 pm · By George Lavender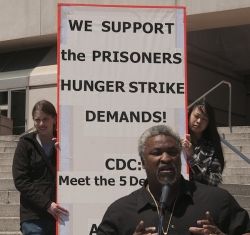 "If CDCR [California Department of Corrections and Rehabilitation] officials do not sign off on our five core demands I will end up in a hospital on a feeding tube or dead," writes Paul Redd, on the back of a postcard with a photograph of Golden Gate Bridge at sunset. Redd, an inmate at Pelican Bay State Prison, is of 1,457 prisoners in 15 California prisons who are on hunger strike to demand an end to long-term solitary confinement, which they call "torture."
Hunger strikers and their supporters have accused the CDCR of "retaliating" against the protest. On July 11, four days into the strike, 14 prisoners in Pelican Bay, including Redd, were moved to Administrative Segregation Units, an even more extreme form of segregation used to punish those who have broken prison rules. In a written statement, prisoners in Pelican Bay said they were being "subjected to more torturous conditions than in the SHU [Security Housing Unit]." Prisoners called the transfer a "diabolical act" and an attempt to "break our resolve and hasten our deaths."
Friday, Jul 12, 2013, 1:53 pm · By Sarah Jaffe
Back in 2004, pundits went wild when exit pollsters found that 22 percent of voters had made their selection based on "moral values," more than any of the options they offered. The pollsters back then almost universally interpreted "moral values" to mean "abortion and gay rights"—a frame backed up by Thomas Frank's popular book of the period, What's the Matter with Kansas, which called for a return to economic populism in order to fight the tide of voters supposedly turning to Republicans because they hated abortion and queer people.
Fast forward to 2013, and we see the term "moral" being reclaimed on the Left. In North Carolina, a movement sprung up from the civil rights infrastructure and steeped in the language of the church is standing up for abortion rights and economic justice, as well as fighting the dismantling of civil rights protections.
Here in New York, a decidedly smaller and quieter attempt to bear moral witness is taking aim squarely at one of the villains of the economic crisis: Goldman Sachs. Last month, Max Zahn, a former community organizer and founder of the website Buddha on Strike, began meditating outside of the megabank's West Side building several times a week, wearing signs calling on Goldman employees to show compassion for the people affected by their practices.
Friday, Jul 12, 2013, 11:42 am · By George Lavender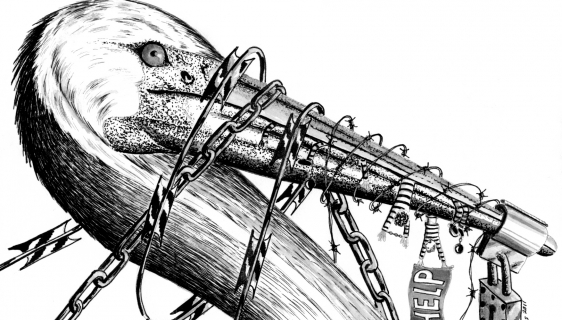 "If my sacrifice would change the conditions so that generations of prisoners behind me don't have to suffer the 20-plus years that I've done, I can live with that," says Sitawa Nantambu Jamaa, a prisoner in the Security Housing Unit (SHU) of California's Pelican Bay State Prison. Jamaa was one of four Pelican Bay prisoners who put out a call in February for the third statewide hunger strike in two years to demand an end to long-term solitary confinement. On Thursday, the fourth day of the strike, corrections officials confirmed that almost 12,500 prisoners in 24 state prisons and four out-of-state facilities had missed nine consecutive meals (the threshold at which California's Department of Corrections and Rehabilitation officially recognizes a strike).
The first two hunger strikes against solitary confinement, in 2011, resulted in minor changes in policy: Prisoners were provided with beanie hats, and promised pull-up bars in their exercise cages. They were also permitted to send a photo to their families once a year. (Before the policy change, the most recent photo Jamaa's sister had of him was from 1988.) But prisoners say the Corrections Department has yet to seriously address their main demand: an end to the use of solitary confinement.
"They have made a decision that the change is so necessary that they have to make a sacrifice, and the only weapon that they have is to inflict pain on themselves," says Jamaa's younger sister, Marie Levin. "Because they don't have any other recourse. There's nothing else that they can use."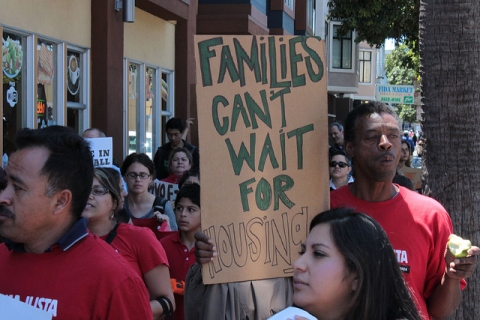 The Right to the City alliance filed an unprecedented lawsuit against the Federal Housing Finance Agency (FHFA) and its acting director, Ed DeMarco, on Tuesday, for illegally withholding at least $382 million from the National Housing Trust Fund, an affordable housing federal fund established in 2008.
Right to the City is a national alliance of 50 grassroots organizations in 17 cities. Its major campaign, the Homes for All campaign, unites renters, public housing occupants, homeless families and underwater homeowners to fight for affordable housing.
Wednesday, Jul 3, 2013, 7:00 pm · By Kristin Rawls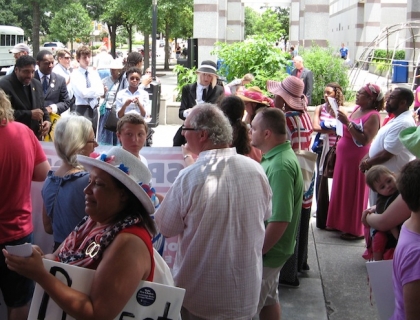 Just ahead of the July 4 holiday, the far-right North Carolina Senate cleared sweeping anti-abortion measures. The measures were added late last night, without alerting the public, to the anti-Sharia House Bill 695–dubbed the Family, Faith and Freedom Protection Act—which prohibited 'foreign laws' from being implemented in North Carolina. The bill passed today by a vote of 27 to 12 along party lines, as hundreds of assembled protestors shouted, "Shame! Shame!"
Modeled after the Texas anti-abortion legislation that Wendy Davis famously filibustered last week, the bill will force all but one of North Carolina's 36 abortion clinics to close. Though unlike the Texas law, there is no 20-week limit, the litany of restrictions included in the bill will effectively end access to abortion in North Carolina by imposing requirements so severe that most healthcare providers will be prevented from performing abortions.
No Democrats were able to filibuster the bill because, like most states, North Carolina has no legal filibuster. Even if it did, it's not clear that it would have turned back this bill, since the current legislative session has been extended (at taxpayers' expense) through the end of July.
Wednesday, Jul 3, 2013, 6:44 pm · By Griffin Bur
Against the backdrop of growing concerns about domestic spying, new information has emerged about law enforcement agencies' surveillance of antiwar activists in Washington State. Following the revelation that the activists, who are plaintiffs in a federal lawsuit brought by attorneys with the National Lawyers Guild, were listed in a national domestic terrorism database as the result of a spying campaign by the U.S. army, the director of a Washington State "fusion center" was named as an additional defendant in the lawsuit last week.
Larry Hildes is the lead attorney for six plaintiffs in the lawsuit, which seeks to sue the military for spying on activist groups dating back to 2006. The six plaintiffs were members of the Olympia-based Port Militarization Resistance (PMR) group. Though the lawsuit was first filed in 2009, there are are several key pieces of new information that have prompted an amended complaint, Hildes tells In These Times.