Uprising
Wednesday Apr 25, 2012 11:06 am
Destroying Art to Promote Culture in Italy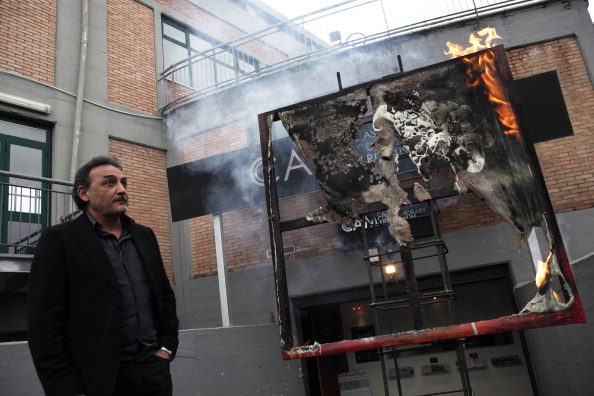 Emperor Nero was busy playing his lyre while Rome burned. Prime Minister Mario Monti, who doesn't play an instrument, has no excuse.
That's more than metaphorical. Antonio Manfredi, director of the Casoria Contemporary Art Museum in Naples, is setting fire to three pieces of art a week to protest the Italian leader's new budget. Despite appeals from the center-left Democratic Party, no funds were included to help heavily indebted museums like Manfredi's. So last Tuesday, he torched a work from French artist Séverine Bourguignon. Bourguignon, watching the spectacle through a Skype link, told the Guardian, "I feel as if I am in mourning," but hoped the gesture would help people hear "about what is happening in Italy and to culture everywhere."
Manfredi says that government apathy would have a much more devastating effect than his singular protest. But he runs a privately sponsored museum that has never before received government funding. The director claims that his few former corporate donors have been intimated by Naples' powerful mafia, a target of several recent exhibitions.
With the mob subplot to boot, this sounds like a sensationalist story, but it actually touches on threads common to the entire European experience during the "age of austerity."
For one, the Casoria brings to light debates over the role of the public sphere, as opposed to private charity or the free market, in supporting the arts. There may not have been a need for a private art museum of this type had Italian society not fallen to the past decade's relentless drive towards neoliberalization. A model that depends on NGOs to custodian culture will necessarily be held hostage to the whims, prejudices and fears of philanthropists. With a half dozen public museums facing closure across Italy, as well, it's not clear how art, beyond what the market can sell, is to survive.
With more spheres being commodified, it's easy to forget how different the Italian scene was a few decades ago. In the 1970s, the Italian Communist Party peaked at almost 2 million members and received 34.4 percent of the vote. A "hot autumn" of strikes in the north of the country was one of the largest waves of industrial action in history. Beyond the workplace, the Left dominated much of postwar Italian culture.
By comparison, the country today is unrecognizable.
The connection between a declining left and failing social institutions can't be avoided. Neither can what this narrative tells us about the European Union. When I spoke to a Naples journalist covering the protest, he wondered whether Manfredi could have sold the art he incinerated.
Perhaps. That would have been a solution for his small outpost of culture, though it wouldn't have brought attention to a larger issue. The dream of Europe projected by the European Union is a farce. For all the hyperbole from elites about the menace that mass immigration and Islam poses for the continent, the real threat to Europe is the European ruling class itself. Its members are administrating a society that can't provide crumbs for its culture or services for its workers, but has plenty left for its bankers and bosses.
Faced with such a situation, symbolic protest isn't a bad first step.
4 comments ·