Uprising
Friday May 11, 2012 1:16 pm
Is the Revolution Really Going Global?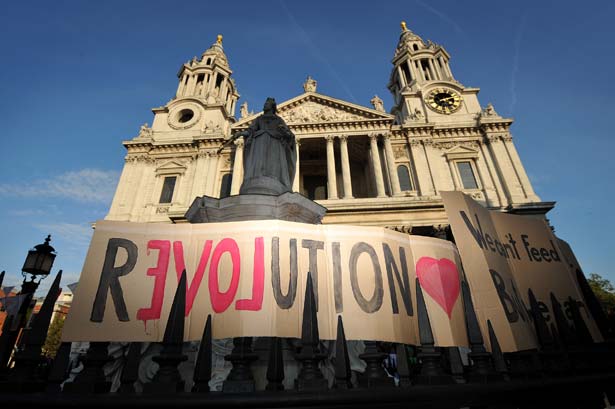 On May 12, demonstrations will be held in cities across Europe and the Americas—from Rio de Janeiro to New York to Madrid—in a declared day of "global revolution."
The obvious question is: Can one just declare such a thing? In many ways, Occupy and its sister anti-austerity movements have thrived by doing just that: announcing the impossible and then showing up to see if it happens. Last October, demonstrations took place in over 1000 cities in 82 countries on a similar "global day of action." This time, the day corresponds to the one-year anniversary of Spain's 15M movement of "indignados" and is also being used by Occupy Wall Street to link the city budget to conditions of austerity around the world. But the calls for a "general strike" that largely failed to materialize may have delineated the limits of this strategy.
What might such coordinated actions this month accomplish, then, beyond forging symbolic links between movements? Certainly, protesters in different corners of the world have expressed solidarity for each others' movements—a now well-known sign coming out of Tahrir Square last February read, "Egypt Supports Wisconsin"—and in some cases actually sent emissaries to help share skills and experiences. But is it too hasty to call this a "global movement?"
This was the subject of a recent discussion between four leading social movement scholars on the Society Pages blog. Francessca Polletta, professor of sociology at University of California Irvine, noted that while "activists communicate with each other; they learn from each other; they are emboldened by one another," they don't necessarily yet share common goals—and are still largely targeting national actors. Of course, there's another reason to throw around a term like "global uprising:" It's powerful rhetoric. As James Jasper of the City University of New York argued:
Perhaps the greatest failing of intellectuals is to believe that they are living through a world historical moment, the culmination of this or that Hegelian trend. Some of these protests inspired others, and many were opposed to neoliberalization, but most had distinct roots, especially the Arab Spring and the Chinese protests. I suspect that a global civic culture … is the dream of a few globe-trotting intellectuals.
But it's hard to be too cynical about the idea that 2011 ushered in something profoundly different. Though the massacres of demonstrators in Egypt, Syria and Bahrain are hardly comparable to arrests of Occupiers, anyone who has spent the late hours of previous "global days" glued to Twitter or livestreams has watched activists in these disparate location frantically trade news and support. When demonstrators from Egypt to Oakland have faced harsh repression, solidarity demonstrations have sprung up in all kinds of unlikely locations the very next day.
These emerging ties do not really amount yet to a "global revolution." But whether defined strictly as a crisis of capitalism or as the rise of new forms of horizontalism and direct democracy, the argument goes that we are now in a moment akin to the revolutions of 1848 or the anti-colonial struggles of the 1960s. While there is broad disagreement on how to resolve the crisis that has brought us to this point, the ability to transmit ideas horizontally across continents—and the possibility of a call for a "global day of action" to spread and be adopted so widely—is indeed something new. As Marina Sitrin notes:
These global movements are connected in ways not possible in the past with the use of immediate technology, such as the internet, twitter and facebook. These new technological forms have helped for something that in Latin America is often referred to as "contagion", a spreading of an idea in a horizontal way, more like a virus than a political program.
Since Malcolm Gladwell insisted in response to a new frenzy of enthusiasm for social media activism that "the revolution will not be tweeted," the emergence of Occupy and the Arab Spring has led to many glib ripostes that the revolution is, in fact, now being tweeted—or, at least, that tweeting is changing the way that revolution happens.
The skepticism of Gladwell and others was certainly not unwelcome when foreign policy elites began calling for Twitter to be awarded the Nobel Peace Prize for its supposedly critical role in Iran's 2009 election protests. The idea that the "social media revolution" is, in itself, the revolution underway is challenged by the acual experiences of Egypt and other Arab Spring uprisings. Though Facebook pages and viral videos helped get the first demonstrators out to the square, it was when the Mubarak regime shut down communications that people stopped watching from home and took to the streets en masse.
But Gladwell's chief assertion—that online activism doesn't encompass the kind of "strong" (meaning dense and overlapping) ties needed to inspire activists to take significant risks —is contradicted by social psychological research suggesting that powerful collective identities are quite frequently formed among people who have never seen each other. As Polletta notes:
When it comes to some identities, such as nationality, people are more likely to feel a common bond with people they can't see. Why? Because the less anonymous the people with whom you are interacting, the more likely you are to be distracted by other things about them, things that make them not like you. So a collective identify forged online may be mobilizing precisely insofar is it is virtual, and therefore partial and even ambiguous.
As Jeremy Brecher and Brendan Smith point out, Gladwell also assumed that hierarchies are what create strong ties, and that movements require both. But many interpret social movements as powerful precisely because they are organized as a network that facilitates the exchange of new ideas and strategies. Though the "leaderlessness" of Occupy has been one of its most remarked-upon features, this kind of decentralized organization is not all that new (Brecher and Smith take Gladwell to task for his assertion that the civil rights movement was successful because it was highly hierarchical)--but it is aided significantly by communication infrastructure that mirrors in the digital world what organizers have long been doing in the real world. Though it's hard to say what might result from phenomena like the "global day of action," the emergence of a large, decentralized web of demonstrators—dispossessed from economic power but highly-networked through powerful, shared narratives—seems to represent a genuine shift in the possibilities for protest.
If the ability to forge collective identities and share ideas is one of the most significant drivers of the uprisings of 2011, however, there's a flip side to this: a globalization of repression that appears to be matching or exceeding the globalization of protest. Just as demonstrators observe and adopt each others' strategies, so too do authorities. Thus, as Polletta noted, countries like China and Zimbabwe have seen intensifying crackdowns and preemptive arrests of activists—in the latter case, for watching video footage of the Arab revolutions. The 2011 report from civil liberties monitoring group Freedom House found that respect for civil and political rights worldwide declined from the previous year, with the situation in 25 countries deteriorating significantly.
This is not limited to countries with already-low levels of political freedom: Spain's interior minister last month introduced legislation that would criminalize use of online networking sites to organize demonstrations that "seriously disturb the public peace." Spanish bloggers could face the same penalties carried by involvement in a criminal organization, according to London's Daily Telegraph.
So what will determine whether the uprisings that began last year will survive this kind of repression and continue going global? Mohammed Bamyeh, author of Anarchy as Order: The History and Future of Civic Humanity, notes:
... There are reasons for optimism. In the final analysis, what provides a movement with a world historical importance is its world historical creativity. This is what makes it referenced by later generations as an influence to be reckoned with, or as a legend even when it has failed.
1 comments ·