Uprising
Tuesday May 15, 2012 1:25 pm
As Chicago Prepares for NATO, Four Ways That Demonstrators Can Win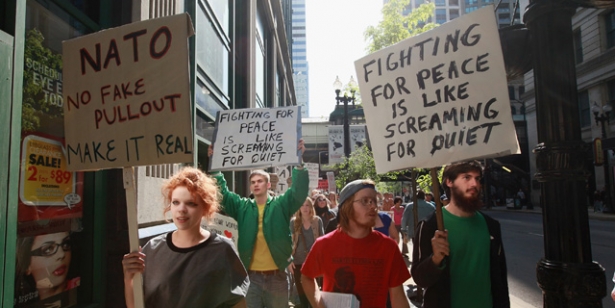 Ahead of this weekend's NATO summit, police are deploying a massive presence in downtown Chicago. A no-fly zone will be enforced in the city, and a "red zone" patrolled by federal agents has already been established. Meanwhile, the results of the NATO summit itself are in many ways a foregone conclusion—the U.S. will be seeking support for a Strategic Partnership Agreement with Afghanistan that has already been negotiated and already paves the way for an ongoing U.S. military presence in the country and continued use of drone strikes in Pakistan beyond 2014.
So what are demonstrators in for this weekend—and what would a victory against the international body even look like?
Mass demonstrations at summits are maligned as a style of politics that fails to bolster local organizing efforts, touts highly symbolic victories and often turns into a predictable contest between police and protesters. And all of these things are sometimes true—but there's also much more going on than the broken windows that inevitably become the focus of attention. Here are some of the major actions and measures of "success" to watch for as demonstrators gear up for NATO.
1. Last-minute Legal Battles
From the perspective of organizers holding permitted demonstrations this weekend, the public outcry against the City of Chicago's efforts to restrict these demonstrations already constitutes a victory. On Friday, National Nurses United (NNU) won a dramatic reversal to the city's announcement that it was pulling the permit for the union's rally. Last Tuesday, city officials sent a letter to the event's organizers informing them that their event, approved months earlier, would need to be relocated due to the addition of a performance by guitarist Tom Morello and an expected increase in attendees. The nurses insisted that this was an attempt to move them to a location where their message would receive less attention, and the next day filed a federal lawsuit. They were eventually granted permission to hold a shortened rally with 30 minutes of performances.
The NNU rally at Daley Plaza on Friday, May 18 will demand a "Robin Hood" tax on Wall Street.
This eleventh-hour episode followed a much longer series of legal struggles between the city and the Coalition Against NATO/G8, which was initially told that it would not be granted a permit and then denied a request to move its permitted march by one day to coincide with the NATO summit after the G8 was moved. "The city set out to from the beginning stop the protests, and if they couldn't stop them, to keep as many people away from them as possible," Joe Iosbaker, an organizer with the Coalition Against NATO/G8, told In These Times. "And we have won in the court of public opinion … We're going to have 10,000 people in the streets, and there's nothing the city can do about it."
2. A Resurgent Anti-War Movement
In many ways, the anti-war movement is at its weakest point in several decades. Multiple studies have documented the effect that Obama's election had on co-opting large parts of the movement and stifling continued opposition. But with public support for the war in Afghanistan at an all-time low, and the NATO summit coming to the U.S. for the first time since the start of the War on Terror, organizers say that the coalitions that have been built in advance of the summit are the starting point of broader opposition to the continued expansion of U.S. military campaigns.
Part of this task, according to CANG8 organizer Andy Thayer, is to rebuild a movement that will oppose war regardless of which party is in office. "No matter who's in the White House next January, we're going to have a pro-war president," said Andy Thayer during a "Peoples' Summit" held at Occupy Chicago's headquarters this past weekend. "And we need to be prepared to make that person pay the highest possible price for their wars. Permitted demonstrations … and getting our message out are links in the chain to more effective actions."
During the main march and rally held on Sunday, May 20, Iraq Veterans Against the War is planning to attempt to return the special "Global War on Terrorism service medals" awarded to them. If no NATO official will meet with them to accept the medals, they say that they will throw them over the security fence surrounding the summit site, a move reminiscent of when Vietnam veterans threw their medals on the steps of the Capitol in 1971.
3. Concrete Connections Between Local Austerity and Global Militarism
Occupy Chicago has not sought permits for a week of actions— focused on such issues as education, immigration, the housing crisis and the environment—it is undertaking in advance of this weekend's summit. But in many ways, the debate about permitted vs. unpermitted protests is the least interesting aspect of Occupy's contribution to the way that activists will protest NATO this year.
In lieu of concrete demands, the Occupy movement has insisted on unrestricted free speech and the right to public space as a way to highlight the corruption of the political system. But it has also popularized a mode of action—occupying—that is adaptable to concrete local struggles. In Chicago, this has led to a series of actions in which students, workers and most recently mental health patients and advocates have occupied their own facilities with support from Occupy Chicago.
These community-led, Occupy-supported actions have provided a model for how out-of-town demonstrators can contribute to local organizing while they also join the mass demonstrations planned. The Mental Health Movement, which has been leading the struggle to reopen 6 out of the 12 mental health clinics recently closed by the city, has issued a call for visiting protesters to join ongoing occupations at two of the closed clinics. On May 19th, the Mental Health Movement will stage a "Healthcare Not Warfare" demonstration during which demonstrators will march to Mayor Rahm Emanuel's house in hospital gowns.
According to Rachael Perrotta, a member of Occupy Chicago's press committee, about 100 out-of-town demonstrators have already arrived in Chicago, and many of them are staying at the mental health clinic occupations this week.
"With our NATO protests, we're showing how all of the disparate issues in Chicago that we've been participating in are related to this idea of getting money out of politics and our tax dollars out of NATO and war … We seek to be the glue that brings together groups focused on mental health, education, the housing crisis and other issues this week," said Perrotta.
4. More Than Just Protests
In addition to the actions held throughout the week, a "Counter Summit for Peace and Economic Justice" being held next weekend will focus on building alternatives to NATO and militarism as organizing principles of international relations. Such counter-summits are a regular feature of demonstrations against NATO summits in Europe, and will feature discussions of nuclear weapons removal, building opposition to an attack on Iran and feminist critiques of NATO.
Organizers hope to use the opportunity to connect the peace work being done in NATO-member countries with movements opposed to militarism and economic subjugation in countries with U.S. and NATO bases. "There is already a worldwide community opposed to U.S. militarism," said Veterans for Peace president Leah Bolger during a workshop last weekend on efforts to close these bases. "We [in the U.S.] are the ones behind the curve."
2 comments ·