Friday, Jul 20, 2018, 4:07 pm · By Saqib Bhatti and Molly Gott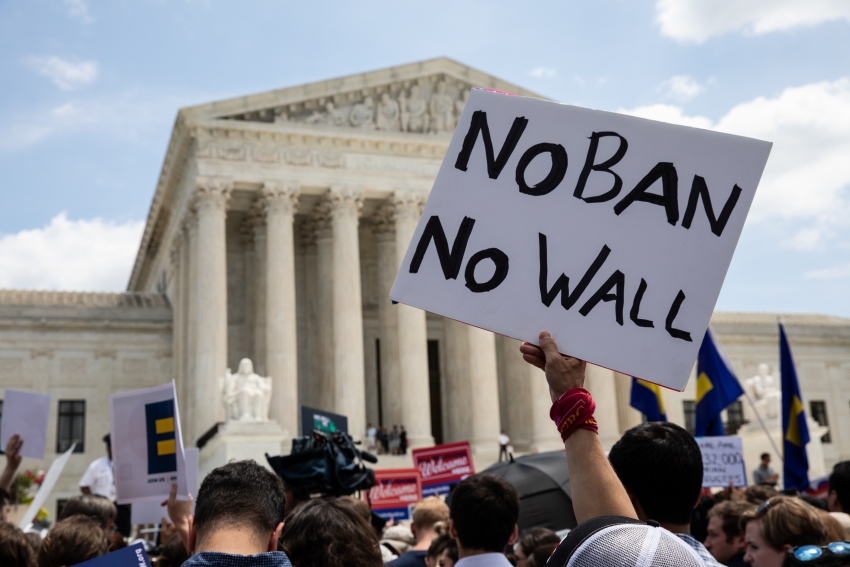 Last month, the U.S. Supreme Court officially gave its seal of approval to discrimination against Muslims by upholding President Trump's Muslim ban. With all three branches of the federal government now apparently united in their anti-Muslim animus, it is clearer than ever that we cannot wait for our public officials to see the folly of their ways and right this wrong.
Tuesday, Jul 17, 2018, 3:45 pm · By Brooke Anderson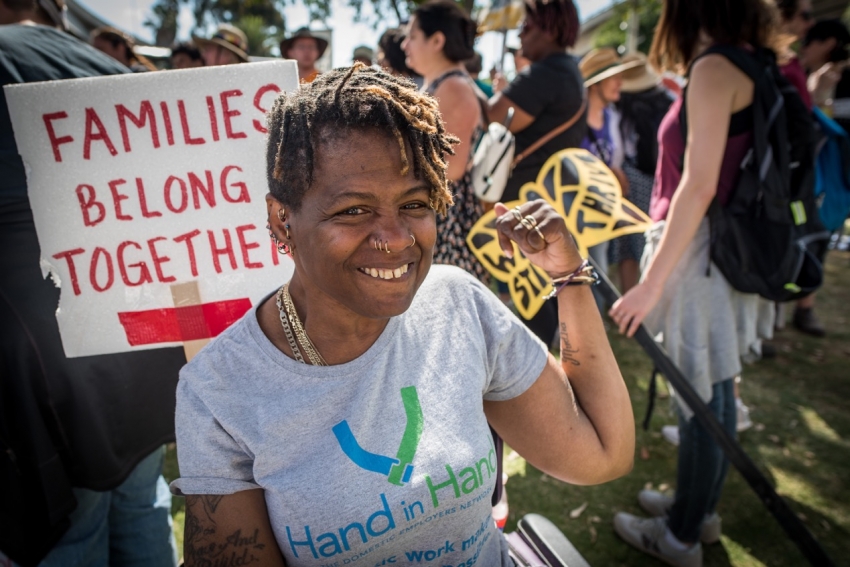 "If you haven't used the bathroom yet, now is a really good time to go," shouts Stacy Kono as 50 people board an early morning bus to San Diego on Sunday, July 1st at a West Oakland (California) parking lot. "It's a long drive."
Monday, Jul 16, 2018, 11:50 am · By Sarah Lazare and Michael Arria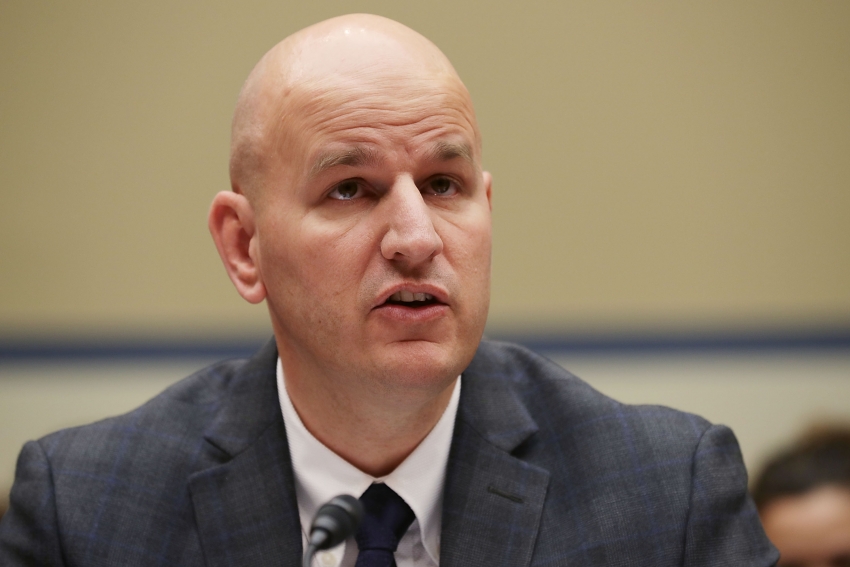 On June 21, Richard Trumka, president of the American Federation of Labor and Congress of Industrial Organizations (AFL-CIO), released a statement condemning the Trump administration's immigration "enforcement overreach," including the forcible separation of children from their parents.
Friday, Jul 13, 2018, 2:12 pm · By Ethan Miller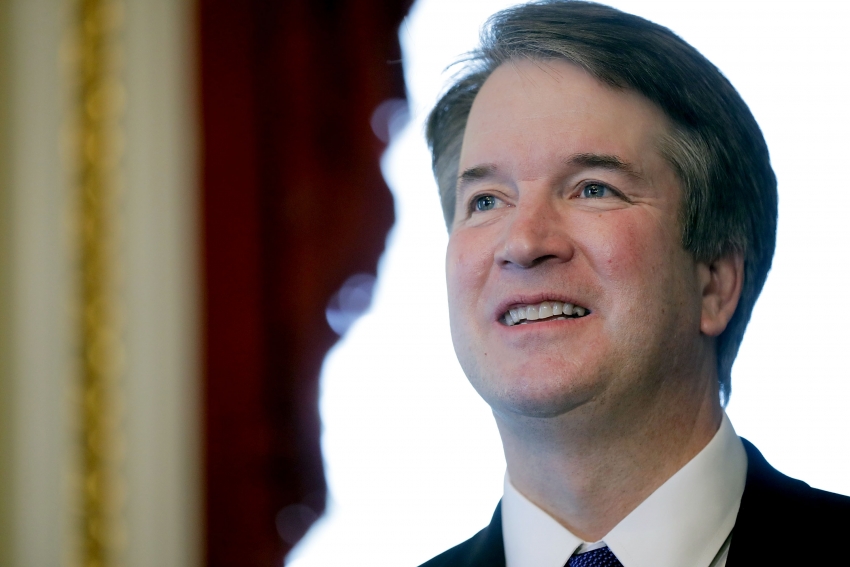 People working at a meat distribution warehouse in Brooklyn were tired of working for unsustainable compensation without health insurance, paid holidays or overtime pay, so they decided to come together to improve their jobs. Their company immediately threatened and fired individuals for their support of a union, but they persisted in wanting to achieve a better workplace. In 2005 they voted to join together to form a union, yet their bosses refused to negotiate with them. After the workers took the company to court, it claimed it had no obligation to honor its employees' union because some of the people it hired were undocumented immigrants.
Friday, Jul 13, 2018, 11:07 am · By Rachel Johnson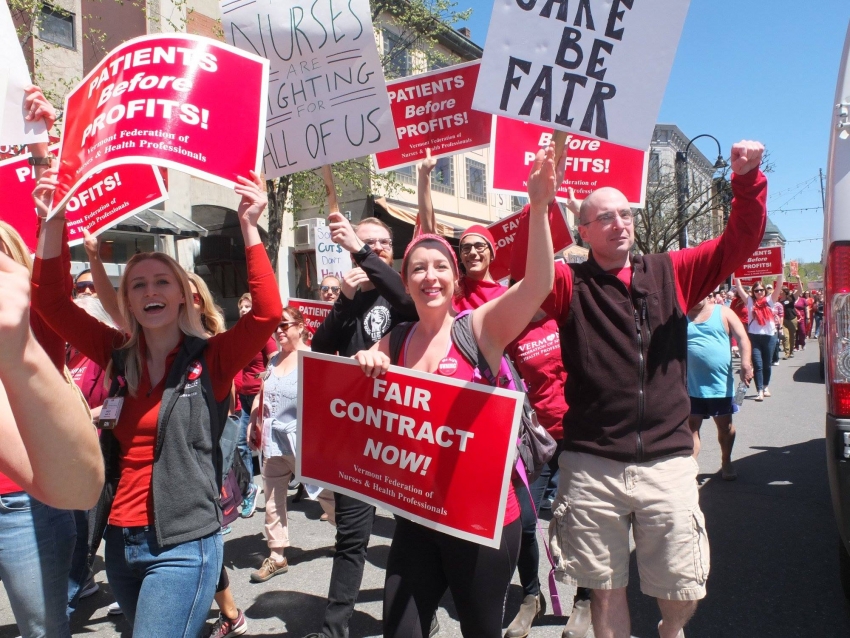 Ranked 47th for pay in the nation. High turnover, stagnant wages, and chronic staffing shortages—sound familiar?
You'd be forgiven for thinking these figures refer to the working conditions of West Virginia teachers, or those in any of the red states that erupted in strikes during this spring's teacher rebellion. But, in fact, these figures describe the daily realities confronting nurses in none other than the widely-hailed progressive state of Vermont.
Thursday, Jul 12, 2018, 3:34 pm · By David Dayen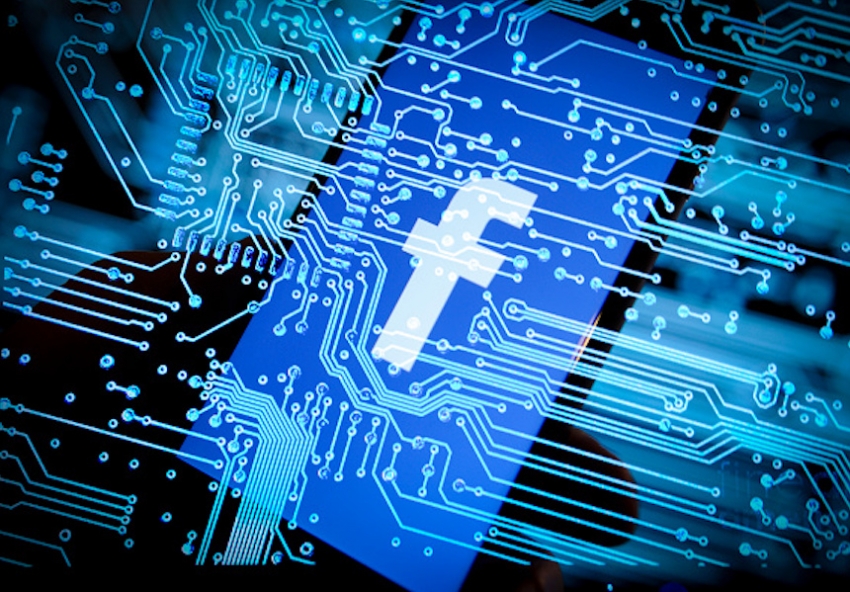 If you ask Donald Trump's economic team, there's a method to his madness of triggering painful trade wars. He's imposing tariffs to force countries to the negotiating table, in order to set America's terms of trade with the rest of the world. The first salvo is the NAFTA negotiations with Canada and Mexico, which have gone through eight rounds since last year and could restart as soon as August.
Trump isn't personally running the show. The head negotiator, U.S. trade representative Robert Lighthizer, is a trade remedy lawyer with a core interest in manufacturing, and he has taken some positions that align with long-sought progressive priorities, like limiting incentives for corporate outsourcing.
But with these promising developments also come dispiriting ones, including the kind of corporate backroom dealing that has soured progressives on trade agreements for decades. Despite vowing to put America first, the Trump administration is facilitating policies that use trade to override U.S. law.
According to five sources close to the talks, the U.S. is near to signing off on a digital trade chapter that would give Internet service providers like Comcast and platforms like Facebook broad immunity from liability if their users post illegal or pirated content.
This framework, largely similar to Section 230 of the 1996 Communications Decency Act, would be included in a multilateral trade deal for the first time, as a prelude to making it a global standard—a major coup for the tech industry.
Thursday, Jul 12, 2018, 2:02 pm · By Juan Cruz Ferre
It's 6:00 a.m. in a gelid winter morning. A crowd of sturdy bodies, mostly construction workers, packs a corner in Midtown Manhattan. The chants of, "Open shop, broken shop!" can be heard blocks away amidst the cacophony of New York City traffic.
Thursday, Jul 12, 2018, 9:48 am · By Lisa Graves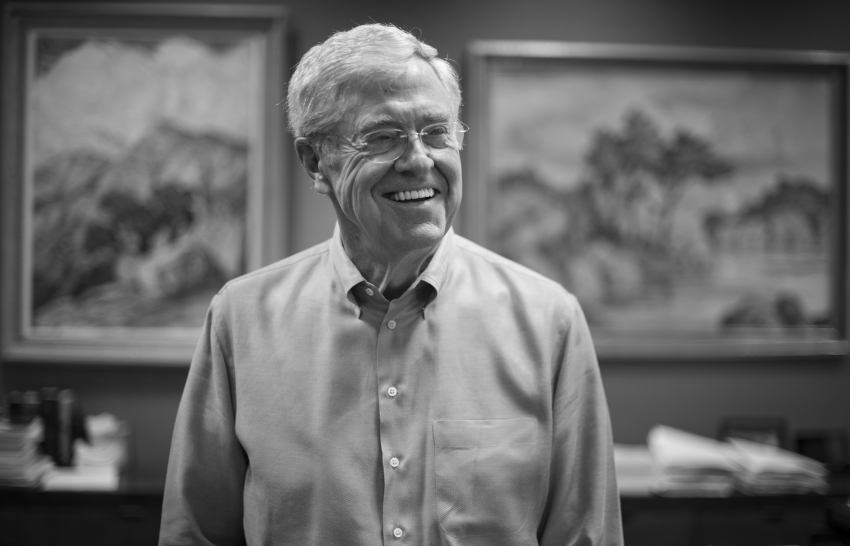 With last month's monumental Janus decision by the Supreme Court, the Koch family won a major victory in their multi-generational attack on unions.
The ruling spreads to the entire public sector one of the laws the Koch fortune first helped push through in Kansas 60 years ago: "right-to-work." And in doing so it enshrines the union-busting agenda their fossil fuel money has helped advance for decades.
Wednesday, Jul 11, 2018, 4:40 pm · By Doug Henwood and Liza Featherstone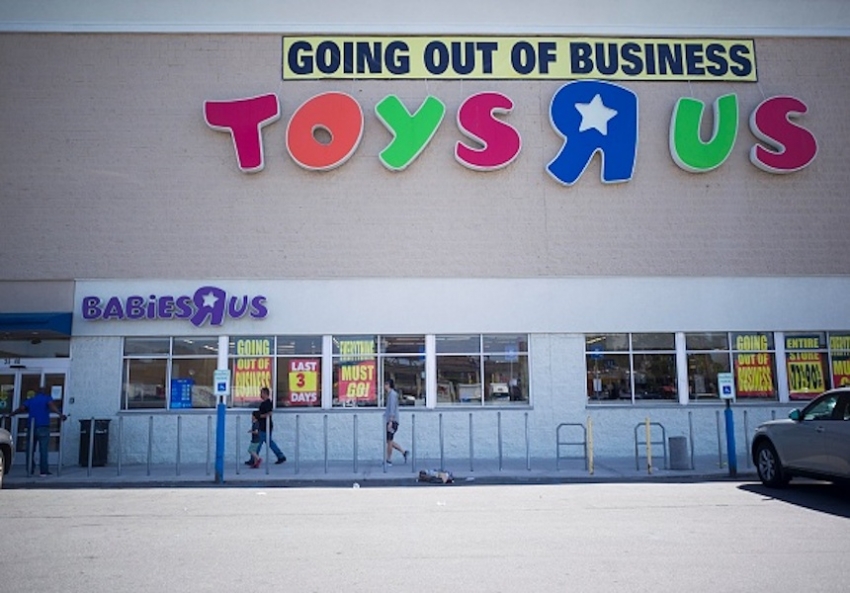 At the beginning of this year, in an In These Times cover story, we reported on what union activist Stephen Lerner has called "labor's assisted suicide": investment by public employees' pension funds in private equity (PE) and hedge funds, which make many of their profits through job-destroying, union-busting "efficiencies." We're happy to note that in the wake of the recent bloodletting at Toys 'R' Us, according to the Financial Times, some state pension systems are now rethinking this reckless and anti-solidaristic practice.
Volatile investment strategies have not only contributed to the current instability in public pensions, they've also funded the evil work of PE. The business model typically works like this: Buy a company, load it up with debt to pay yourself dividends and fees, then squeeze labor with pay cuts, layoffs and work speed-up in order to cover the interest and principal payments. Investors get rich and workers get nothing.
Toys 'R' Us was taken private by PE giants KKR, Bain Capital and Vornado Realty Trust and then driven into bankruptcy, closing forever on June 29. The toy chain's 30,000 workers lost their jobs. The three PE firms extracted over $470 million in fees and interest payments out of the company before rendering it a corpse. Employees were far less lucky. Many low-level workers have protested their lack of severance pay, particularly appalling given the generous bonuses paid out to executives.
The Minnesota State Board of Investment decided in late June to stop investing in KKR while it reviews the PE firm's role in the iconic toy retailer's collapse. The Washington State Investment Board severely questioned KKR officials over the company's treatment of Toys 'R' Us workers. The fund decided to continue one of their planned investments in the company, but referred another back to its board for further review.
Some of the store's employees gave testimony last month to CALPERS, California's public pension fund, the largest in the United States (though also last month, CALPERS discussed expanding its investment in the sector since the returns are so high). Pressure from the funds—and particularly the decisive action by Minnesota—along with confrontational protests from the workers and a group called Rise Up Retail, may already be leading to more generous treatment of the Toys 'R' Us workers; KKR announced last week that it would "help" its laid-off employees.
Public pension funds provide nearly a fifth of all assets controlled by PE, so if they were to divest, a deeply anti-labor and parasitical sector would be substantially weaker. It's good to see labor questioning this relationship. Whether or not our article helped inspire this outburst of solidarity and good sense, it's a much needed victory for workers.
Wednesday, Jul 11, 2018, 12:00 pm · By Julianne Tveten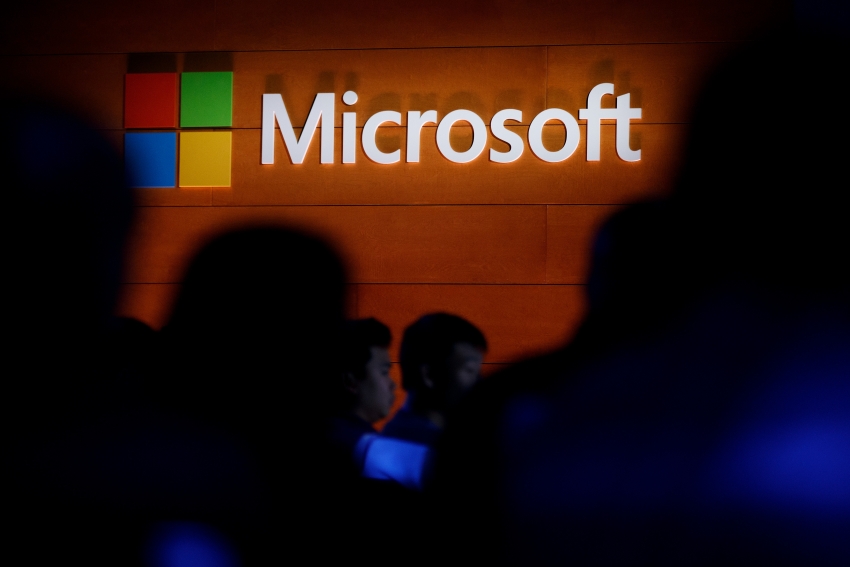 For autistic people, employment prospects are grim. Using data collected in 2014 and 2015, a Drexel University study found that only 14 percent of autistic adults in the United States hold paying jobs. In 2016, the university reported that while 60 percent of autistic adults who complete vocational training secure jobs, the majority earn poverty-level wages. The issue isn't limited to the United States: Gainful employment rates for autistic people remain comparatively low in a number of other nations, including the United Kingdom and Australia.