Wednesday, Jul 24, 2019, 11:02 am · By Rachel M. Cohen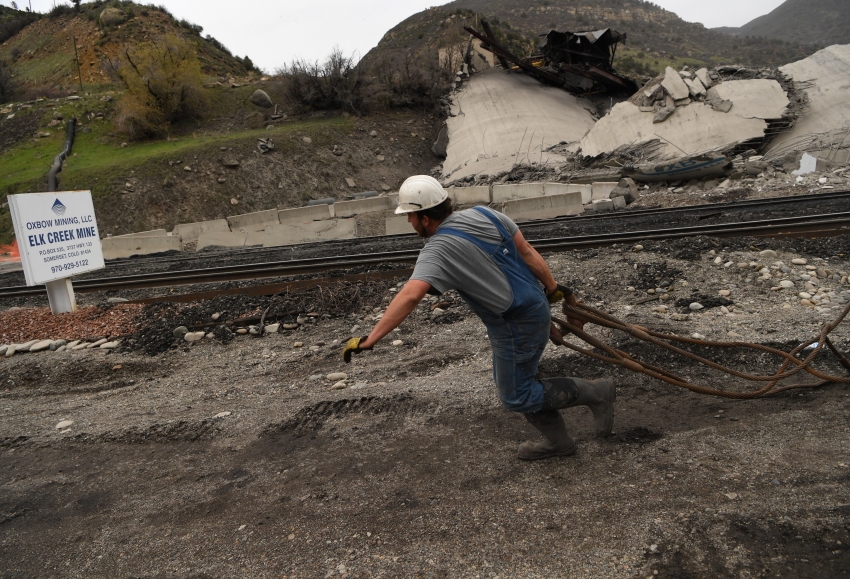 This past May, Colorado's Democratic governor Jared Polis signed a series of new environmental bills into law, with the enthusiastic backing of the state's labor movement. Legislation ranged from expanding community solar gardens to establishing a "Just Transition" office for coal-dependent communities.
Saturday, Jul 20, 2019, 11:00 am · By Jessica Stites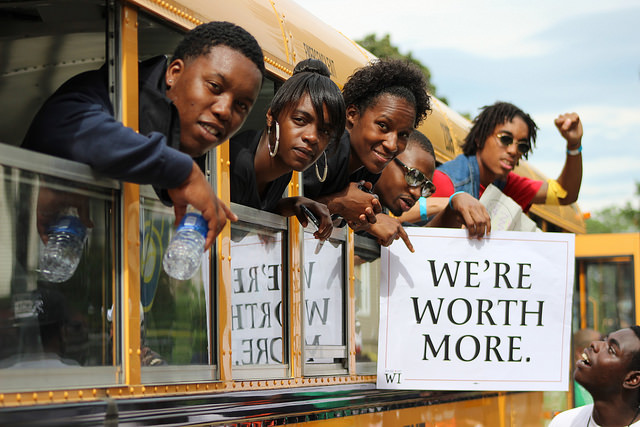 This month marks the tenth anniversary of Working In These Times. When I became its editor, in 2012, the site had just turned three.
Founded in July 2009 as a daily labor "blog," WITT had already become much more, providing full-length, original reporting on each and every major labor story of the day.
We had a void to fill. With the exception of Steven Greenhouse at the New York Times, major newspapers lacked a single reporter dedicated to labor (and most still do). When they deigned to cover labor at all, mainstream outlets published management-slanted pieces in their business sections.
Working In These Times boasted a fleet of top-notch reporters: some casualties of downsized U.S. newsrooms whom we'd lucked out to inherit, some young journalists just cutting their teeth, and David Moberg, a veteran In These Times reporter who had been pounding the picket lines since the magazine's founding in 1976.
Those reporters—David, Stephen Franklin, Kari Lydersen, Michelle Chen, Sarah Jaffe, Josh Eidelson and many more—taught me the principles of labor reporting: Cheerlead the labor movement and the power of unions, while keeping a critical distance so as to inform labor strategy. Talk to the rank and file. Make sure workers understand the risks they're taking when speaking out about workplace conditions. Don't twist their arms to "get the story."
And the golden rule: Report from the workers' perspective, not the bosses'.
Reading through the more than 4,500 articles we've posted in 10 years of Working In These Times, what I noticed most is the variety of workers you meet. Coal miners, transit workers, teachers and domestic workers: the working people who rarely get a forum to tell their stories.
What struck me, too, was how dogged labor's fights are—and how long they've lasted. Hotel workers spoke out about sexual harassment years before the #MeToo movement erupted. The Chicago teachers walkout in 2012 helped lay the groundwork for the teachers strike wave that took the country by storm in 2018. Fight for $15 protesters demonstrated for years before $15 minimum wage ordinances were won in cities across the country (and the position became de rigueur for Democrats seeking office). Domestic workers came together in New York nine years before the first national Domestic Workers Bill of Rights was introduced, just last week.
In the stories below, which chronicle the iconic labor battles of the last 10 years, you'll meet the workers who formed the backbone of those fights and many more.
Friday, Jul 19, 2019, 4:21 pm · By Rebecca Burns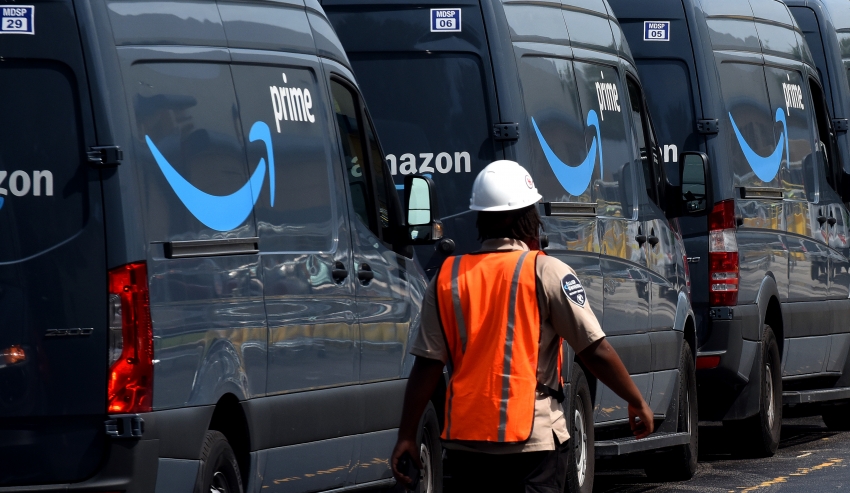 Thousands of Amazon workers struck on "Prime Day" this week in what was perhaps the largest multinational action to date against the online behemoth. European Amazon employees have been waging coordinated strikes against the company since 2013, but this time they were joined by U.S. counterparts at a Shakopee, Minnesota fulfillment center, where workers staged a first-of-its-kind six-hour work stoppage. To date, Amazon has successfully fended off all attempts at unionization in the United States since the company's founding in 1994.
Thursday, Jul 18, 2019, 2:38 pm · By Heather Gies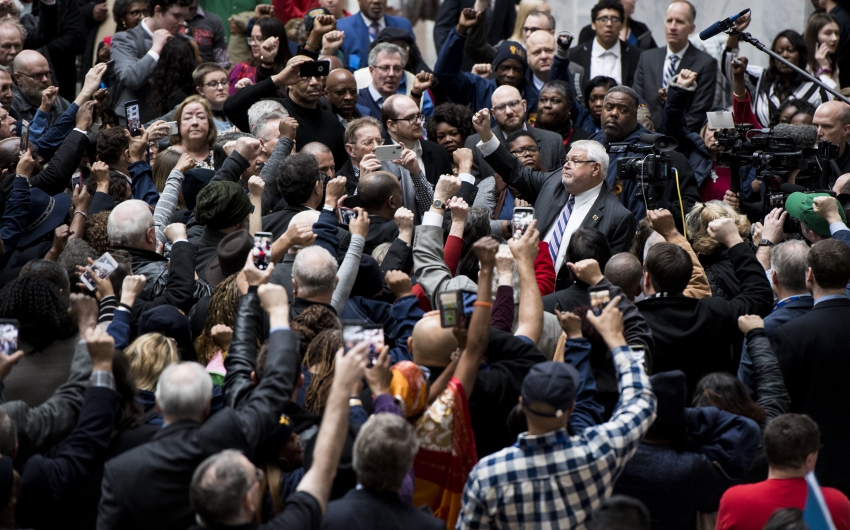 The Trump administration has proposed a change in rules governing union membership for federal government workers that could embolden federal agencies to discourage staff from joining or remaining in their union.
Monday, Jul 15, 2019, 4:07 pm · By Sarah Lahm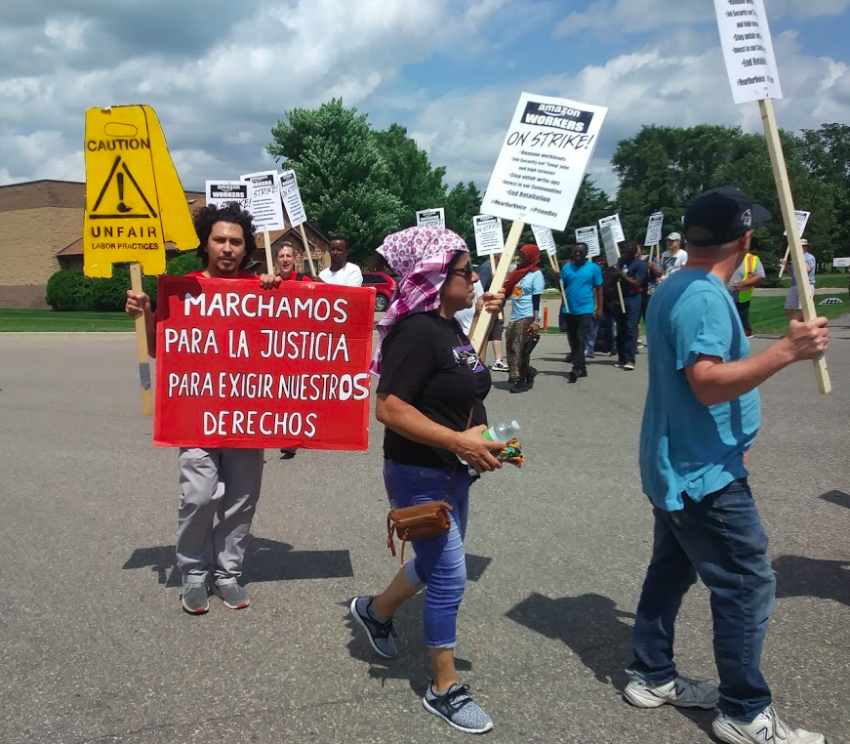 On Monday afternoon, in the blistering heat of a 95-degree day, approximately 50 Amazon workers and community supporters rallied outside of a suburban Minnesota Amazon warehouse chanting, "We work, We sweat, Amazon workers need a rest!" That chant was followed by, "Hey Jeff Bezos! Our backs are tired and our funds are low!"
Thursday, Jul 11, 2019, 5:35 pm · By Sarah Lazare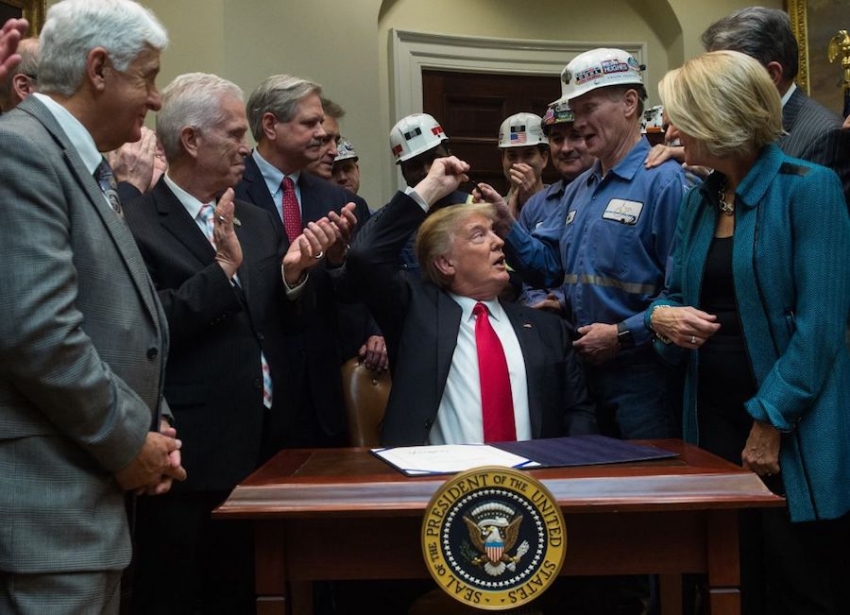 Anna Attie, Eleanor Colbert and Daniel Fernandez contributed research to this report.
To stave off the worst effects of the climate crisis, at least 80 percent of coal reserves must stay in the ground, according to a conservative estimate in the journal Nature. This means that coal miners would see their already declining industry all but disappear. The Green New Deal, the resolution put forward by Rep. Alexandria Ocasio-Cortez (D-N.Y.) and Sen. Ed Markey (D-Mass.) for an economy-wide mobilization to address the climate crisis, calls for a "just transition" that guarantees good new jobs for coal miners. Some insist that the "just transition" start now, which is why they are supporting the American Miners Act.
Introduced in the Senate on January 3, the Act protects the pensions of more than 100,000 coal miners whose retirement fund was depleted by the 2008 crash. It also rescues the healthcare benefits of miners whose companies went bankrupt last year.
But you wouldn't know about this bill, or its sister legislation in the House, from reading the New York Times, the Washington Post or Politico, three influential outlets within the Beltway. None have reported on—or mentioned—the legislation since it was introduced in early January, even though it has the support of the United Mine Workers of America (UMWA) and high-profile cosponsors like Sen. Bernie Sanders (I-Vt.), Sen. Elizabeth Warren (D-Mass.) and Ocasio-Cortez.
Yet these outlets have given considerable space to coal miners and unions to advance other narratives. In a four-month period this spring and summer (February 25 to June 25), the New York Times, Washington Post and Politico have published 34 articles and opinion pieces that touch on coal miners or their unions. Collectively, they paint coal miners primarily as a source of votes, and assume that the sole political motivation of that bloc is opposing environmental policies that would close mines.
Wednesday, Jul 10, 2019, 1:55 pm · By Carrie Weisman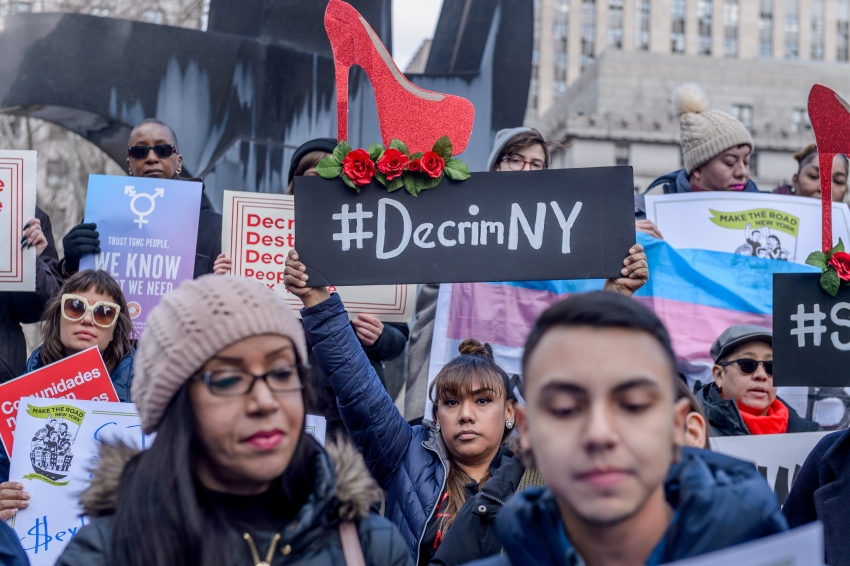 Individuals who are HIV-positive are not permitted to participate in the adult entertainment industry. That standard is enforced through the Performer Availability Screening Services, otherwise known as PASS. Anyone who tests positive for HIV is permanently banned from the system.
Monday, Jul 1, 2019, 5:27 pm · By Maximillian Alvarez and William Lopez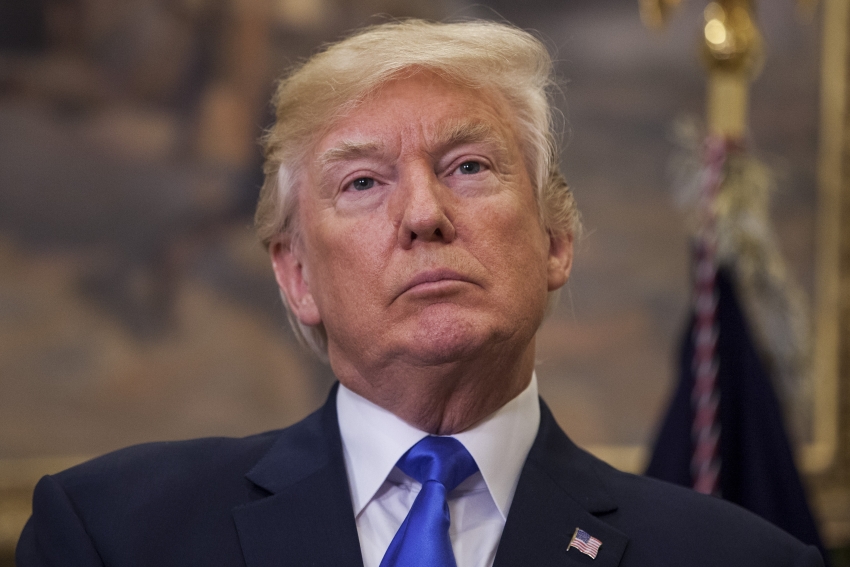 When the President announced in an ominous tweet two weeks ago that mass immigration raids targeting "millions of illegal aliens" around the country were imminent, those who would suffer the worst did not have the luxury of wondering whether or not he was bluffing. Days later, the worst fears of many were seemingly confirmed as news came in that ICE agents were mobilizing to carry out what they and the DHS chillingly referred to as the "family op," which was expected to include predawn raids and arrests of up to 2,000 families beginning on June 23. Communities around the country were bracing for impact. And as news broke one day before raids were set to commence that President Trump had abruptly called for a two-week postponement, undocumented individuals, families and communities were once again left with frayed nerves and an unshakeable fear that the nightmare was far from over.
Thursday, Jun 27, 2019, 6:02 pm · By Saurav Sarkar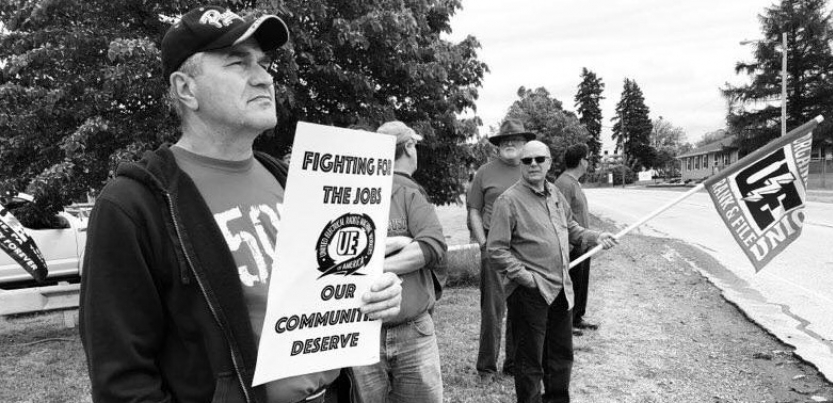 This article first appeared in Labor Notes.
Three months after the largest manufacturing strike of the Trump presidency so far, locomotive plant workers in Erie, Pennsylvania, have a deal. Electrical Workers (UE) Locals 506 and 618 ratified a four-year contract on June 12.
In a qualified victory, the 1,700 members conceded a two-tier wage structure with a 10-year progression for new hires to reach parity with current workers, but beat back the company's demands for a harsher version of two-tier and numerous other concessions.
"We've managed to preserve a lot of what we had," said UE Local 506 President Scott Slawson. He added, however, "There were some gives on the union side for sure—there's no two ways about it."
Monday, Jun 24, 2019, 6:45 am · By Ryan Smith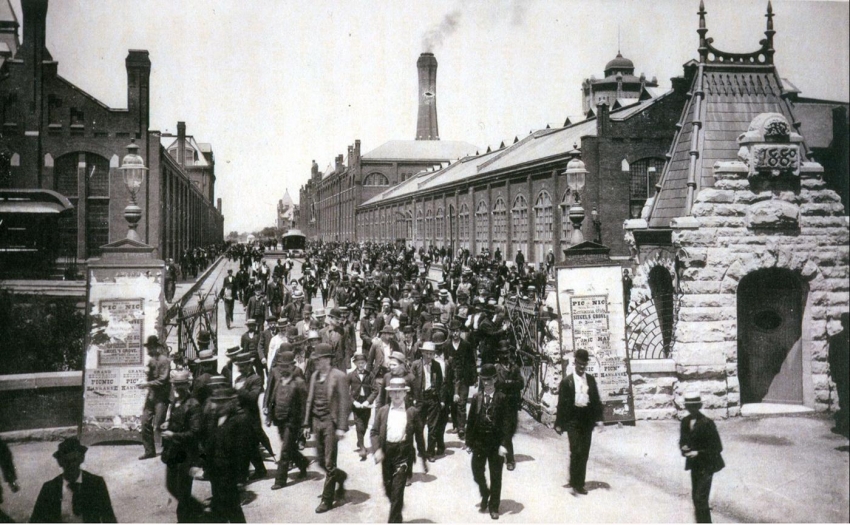 Roaming the sleepy streets of Pullman on Chicago's Southeast Side, it's difficult to imagine a time when it was the chaotic center of worker struggle in the United States.
Many of the handsome red brick homes in the center of Pullman—once a bustling company town and now a Chicago neighborhood—are occupied and well-maintained, but the shuttered luxury hotel hasn't hosted a guest in decades, the skeletal factory buildings are locked behind a chain-link fence, and the hands of the derelict clocktower that helped govern the working lives of thousands of men and women remain frozen in time.