Friday, May 15, 2015, 12:05 pm · By Kari Lydersen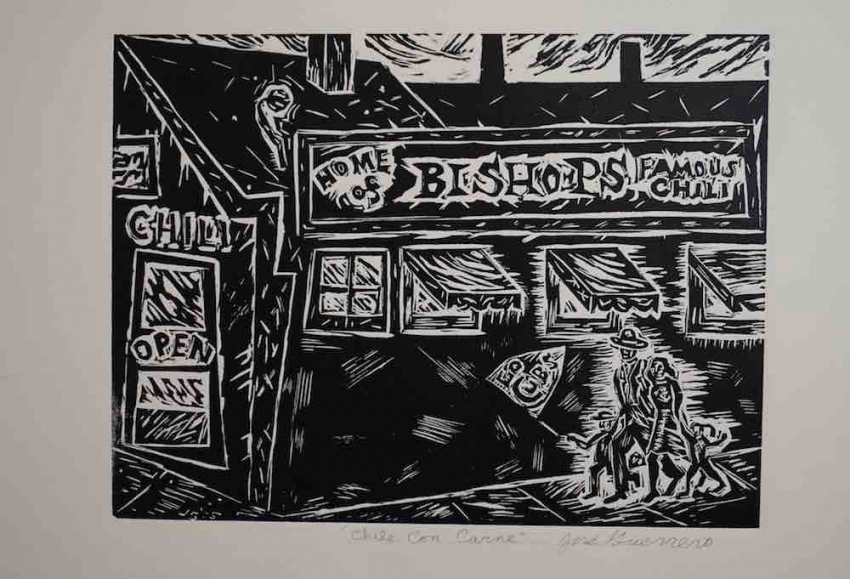 Enter Prospectus Gallery in Chicago's Pilsen neighborhood—a longtime bastion of immigrant rights and community activism—and you enter the world as seen by Jose Guerrero.
It is a world full of injustice and violence, a gritty and reeling place where people nonetheless rise up in resistance, solidarity and joy; where even death itself is vanquished by the grinning skeletal calaveras who continue celebrating life on the other side.
For four decades Guerrero has been a well-known and well-loved artist here, a prolific print-maker who also painted murals, taught print-making to adults and kids and led thousands of visitors and college students from around the country on tours of the murals, with the outfit Pilsen Mural Tours that he started in 1985.
The retrospective, organized by Prospectus director Israel Hernandez, shows Guerrero's world view, his deep roots in the neighborhood and the way he places local struggles for justice, survival and dignity in a larger context sweeping across the globe and across time. Guerrero's work celebrates regular people—workers, women, immigrants—oppressed by the evils of capitalism, racism and greed but tirelessly fighting back, defiant and oftentimes victorious in their vision of a better world.
Friday, May 15, 2015, 11:31 am · By Michael Arria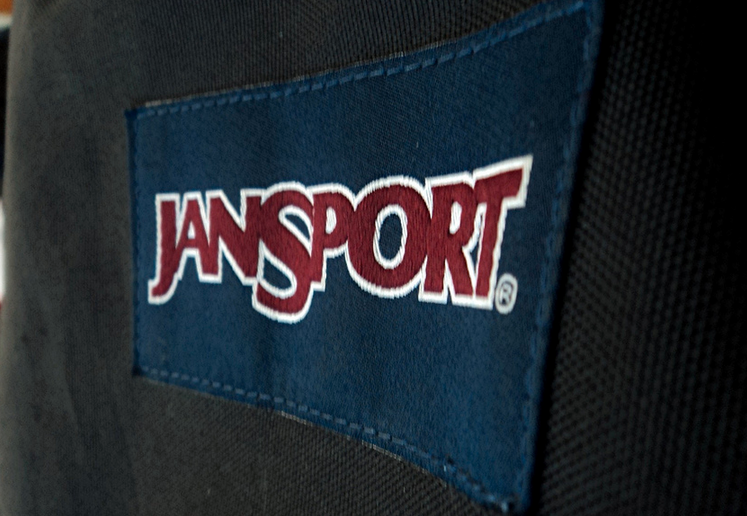 This past April marked the anniversary of the Rana Plaza factory collapse, a tragedy that called attention to the horrible labor conditions many Bangladeshi workers labor under. That disaster also led to new regulations, most notably the Accord on Fire and Building Safety in Bangladesh, a five-year legally binding agreement between brands, retailers and trade unions to build a safe garment industry throughout the region through an independent inspection program which identifies safety hazards. The Accord's investigations are conducted in conjunction with union members and workers to ensure full transparency. Additionally, democratically elected safety commissions act on all health-related issues that are discovered within the factories.
Many U.S. companies like American Eagle and Fruit of the Loom have signed the safety accord, but some notable brands have refused. One of the corporations that won't sign is a company that many Americans are unfamiliar with: VF Corporation, a Greensboro, North Carolina-based clothing business that owns over 30 brands. One them is currently the target of campus activism throughout the country: the collegiate apparel and backpack brand JanSport.
Friday, May 15, 2015, 11:00 am · By Mario Vasquez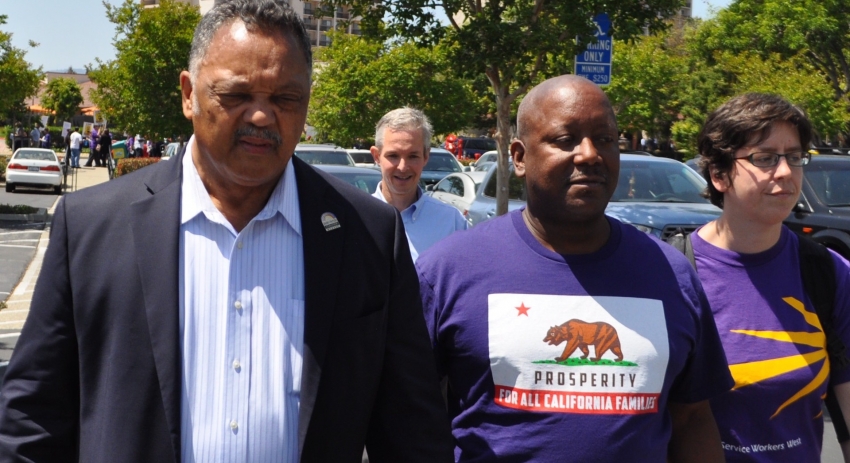 On May 5, Silicon Valley security officers rallied outside the office of Broadcom, a wireless-component maker (which produces the WiFi chips in Apple iPhones), in hope of drumming up support for an organizing campaign at the company's security subcontractor, Universal Protection Service (UPS). They were joined by a high-profile supporter: Rev. Jesse Jackson.
"We must confront income inequality in Silicon Valley," says Jackson, who has launched a campaign to diversify the tech industry. He calls the valley "an oasis for some, a desert for others."
Thursday, May 14, 2015, 5:56 pm · By David Moberg
On the evening of May 9, 1970, a small plane crashed in northern Michigan near the Black Lake conference center of the United Auto Workers, killing all six people on board, including UAW president Walter Reuther. The headline of his New York Times obituary read, "Union Pioneer with Broad Influence Far Beyond the Field of Labor," and Businessweek headlined its assessment that "Reuther's Death Creates a Vacuum."
The remarkable and engaging documentary film, Brothers on the Line, completed in 2012 but only recently made widely available, tells a compelling story of Reuther's influence on both the nation's labor-liberal-left circles and the daily lives of average working men and women.
Wednesday, May 13, 2015, 3:05 pm · By Wendy Thompson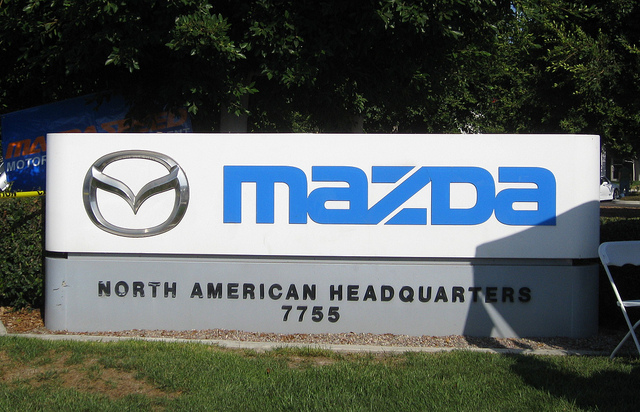 This post first appeared at Labor Notes.
At the new Mazda assembly plant in Salamanca, Mexico, 20 workers were fired in March for supporting a co-worker who was being sexually harassed by their supervisor.
According to workers, the accused supervisor would use the cultural practice of a kiss on the cheek as an excuse to get sexual. He would stalk women at work and force himself on them physically.
While traditionally most Mexican auto industry workers have been men, in the state of Guanajuato, where the Salamanca factory is located, women make up about half the auto workforce. They tend to be single—as in the maquiladoras, the Mexican textile factories which prefer women because bosses feel they are more vulnerable and can be paid less.
Tuesday, May 12, 2015, 12:35 pm · By Kevin Solari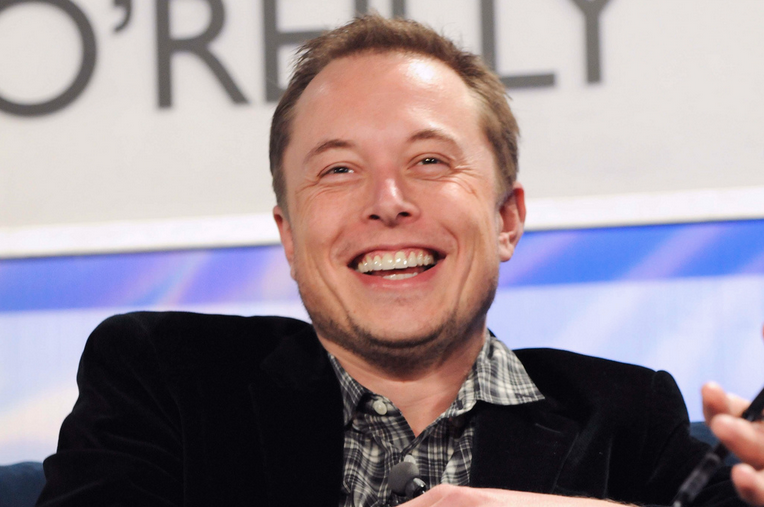 Few tech entrepreneurs better exemplify the new Gilded Age better than Elon Musk. He made his fortune as co-founder of PayPal during the first Tech Boom of the late '90s. His Tesla company has brought the electric car back into vogue, after a 100-year hiatus, and he has lately been working with Space X with the intent of colonizing Mars. He is even said to be the inspiration behind Robert Downey Jr.'s Tony Stark. Such a character, unsurprisingly, has become known for being somewhat demanding of his employees.
So when a worker missed a Tesla function for the birth of their child, Musk was about as understanding as you would expect. According to a new book, he said, "That is no excuse. I am extremely disappointed. You need to figure out where your priorities are. We're changing the world and changing history, and you either commit or you don't."
Tuesday, May 12, 2015, 11:14 am · By Andrew Elrod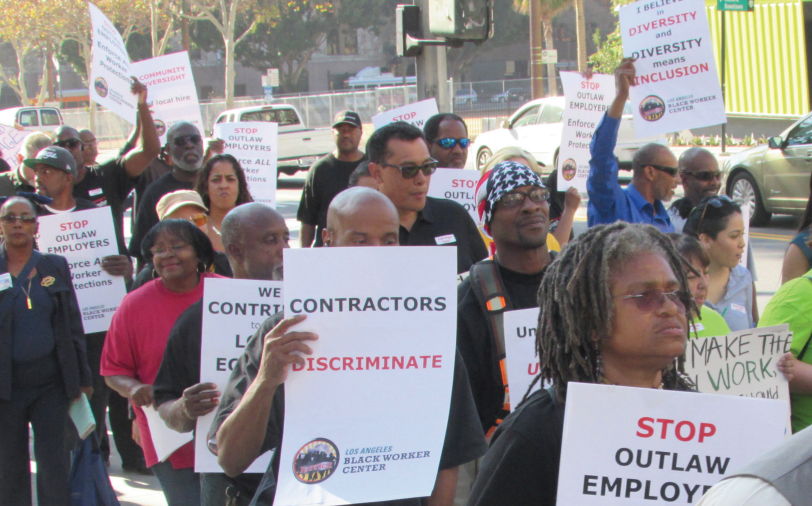 In 1956, as Martin Luther King Jr. and Bayard Rustin struggled to sustain the historic boycott of segregated public transit in Montgomery, Alabama, Rustin turned to the union leader A. Phillip Randolph for advice. The carpool for black workers was faltering. "Go up to Birmingham," Randolph told them, "where the steel workers are making enough to afford two cars. Ask them to donate their second car." According to historian Judith Stein, King reported the steel workers saved the boycott.
At their height, American labor unions proved an invaluable resource to the civil rights movement—through both financial security, which helped enable private activism, and the institutional funding of organizations like SNCC and events like the 1964 March on Washington. Today, despite years of decline, the labor movement continues to provide economic stability in many black communities. Of all demographic groups, black workers have the highest union membership rates.
These historic ties have led some to see black workers as a cornerstone to any effort to rebuild a movement in deep decline. And drawing from the national momentum of organizing around police reform, many black labor leaders today are leading the charge. On Friday, May 1, black labor and community leaders met at Columbia University for the third-annual State of Black Workers in America Conference, where they made this case to an audience of philanthropy staffers and activists.
Tuesday, May 12, 2015, 10:32 am · By Leo Gerard, United Steelworkers President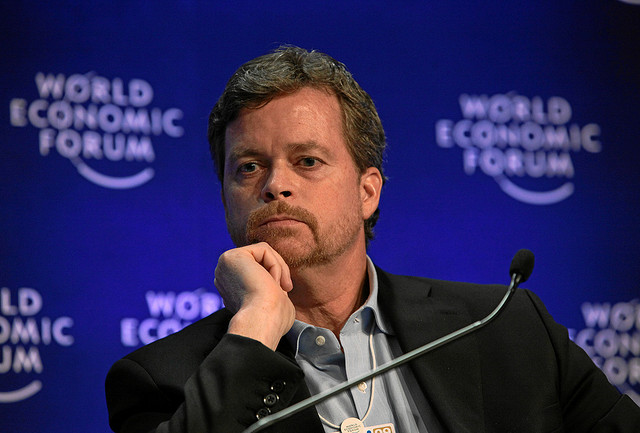 America is in an abusive relationship with trade-obsessed politicians and corporations.
Despite their long history of battering the U.S. middle class with bad trade deal after bad trade deal, these lawmakers and CEOs contend workers should believe that their new proposal, the Trans-Pacific Partnership (TPP), will be different. President Obama and the CEO of Nike, a company that doesn't manufacture one shoe in the United States, got together in Oregon on Friday to urge Americans to fall once again for a trade deal.
The trade fanatics say everything will be different under the TPP—even though it is based on deals like the North American Free Trade Agreement (NAFTA) that lured American factories across the border, destroyed good-paying jobs and devastated communities. They plead: "Just come back for one more deal and see how great it will be this time!" And, like all batterers, they say: "Sorry about the terrible past; trust me about the future."
This is trade abuse.
Monday, May 11, 2015, 3:30 pm · By Leah Fried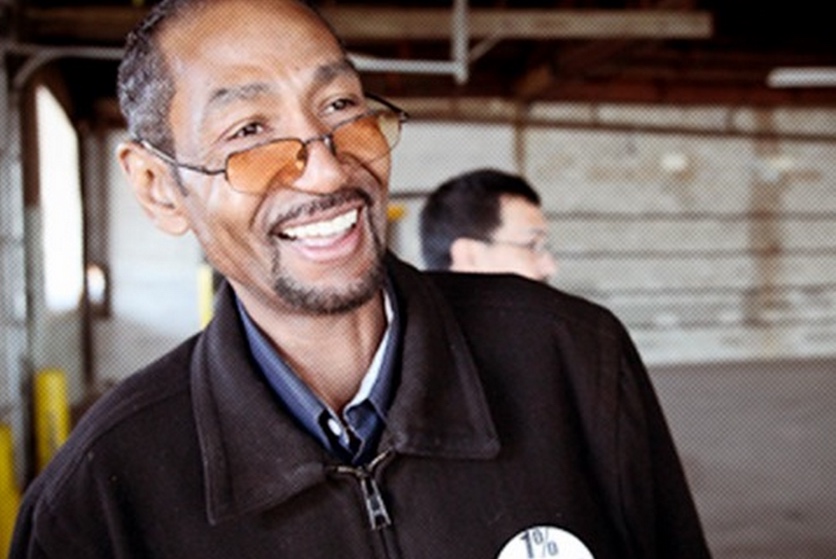 Melvin "Ricky" Maurice Maclin, Vice President of United Electrical Workers Local 1110, leader of the historic six-day factory occupation of Republic Windows and Doors in December 2008 and founding member of New Era Windows Cooperative, died on May 5, after being diagnosed with stage four pancreatic cancer in early April. He was 61 years old and died surrounded by family in his Chicago home. The steady stream of visitors was a testament to the impact he had on so many lives and our movement for justice.
"This is a huge loss for me and for our movement," said his good friend, Local 1110 President Armando Robles, who was also a leader in the Republic occupation. "He leaves a huge hole in our lives. He was a great friend and a brother in struggle."
Monday, May 11, 2015, 12:21 pm · By Mark Brenner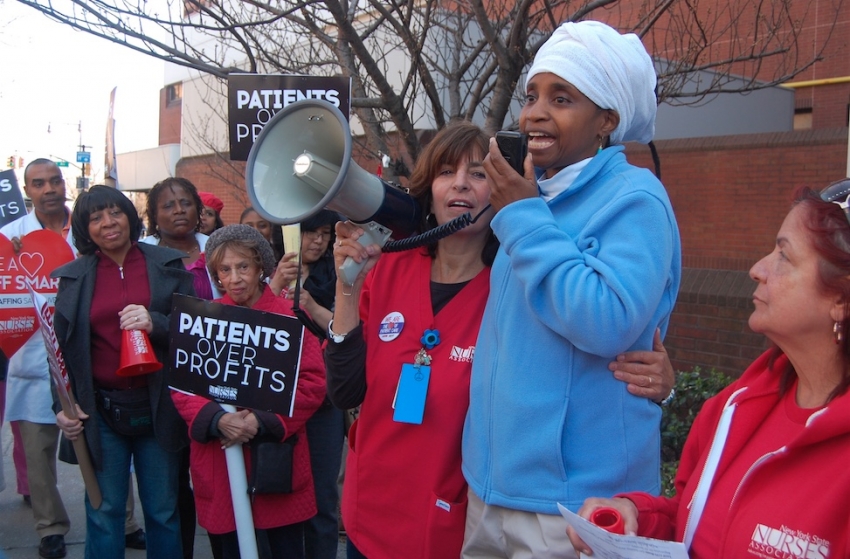 This post first appeared at Labor Notes.
Thousands of nurses at 12 hospitals poured into the streets of New York City April 16 to protest staffing shortages they say put patients at risk.
"We used to see 250 patients a day in our E.R.," said Nancy Hagans, a nurse at Maimonides Medical Center. "But then two hospitals in Brooklyn closed and now we're seeing 400 a day, with the same number of nurses. How can we be the advocates we took an oath to be?"
The informational pickets were the latest salvo in negotiations with the city's largest private hospitals. Next the New York State Nurses Association entered a month of intense federal mediation with three hospital systems.
Voting for strike authorization could begin as soon as mid-May.