Friday, Jul 11, 2014, 4:30 pm · By Bruce Vail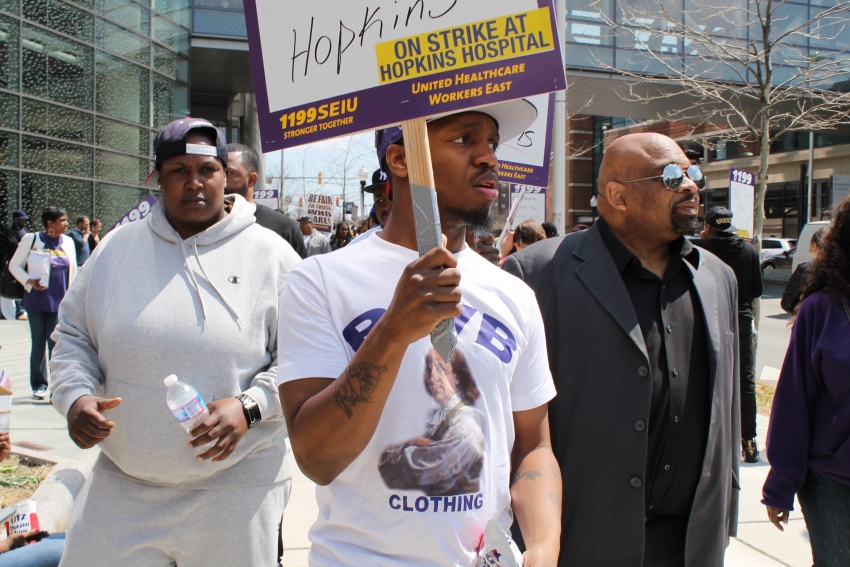 BALTIMORE—A bruising four-month fight between healthcare workers' union 1199SEIU United Healthcare Workers East and Johns Hopkins Hospital is coming to an end: Members voted on Thursday and Friday to ratify a new agreement covering about 2,000 medical center employees.
The battle has been unusually intense compared with negotiations in the past, featuring a three-day strike in April and a voracious media campaign shaming the wealthy hospital for abandoning its lowest-paid workers. And though the new contract falls short of initial demands that would have more widely boosted wages among staff, local 1199SEIU leaders still view its ratification as a welcome victory after months of struggle.
"It was a tough negotiation. They are hard bargainers," John Reid, Executive Vice President for 1199SEIU's Maryland/District of Columbia region, tells In These Times about Hopkins representatives. "They act as if they have no respect for their own workforce."
The contract, says 1199SEIU spokesperson Jim McNeill, calls for across-the-board wage increases of 2 percent a year in each of the first three years, followed by a 2.75 percent increase in 2017. In addition, it calls for a one-half percent salary bonus in the first year.
All in all, the union estimates, the employees whose salaries fall at the lower end of the scale could see a pay bump of an additional $4.30 per hour over the life of the four-and-a-half year contract.
Currently, the maintenance, food service and miscellaneous technical staff covered by the 1199SEIU agreement make an hourly minimum wage of $10.71. (The best-paid union members earn as much as $27.88 an hour.) By 2018, the new contract will have increased that to $13. Though that's progress for Hopkins employees, many of whom have to rely on food stamps or other public assistance programs to get by, it's not quite the $15-an-hour goal for which the union originally aimed.
Reid says this change stems from Johns Hopkins' apparent unwillingness to acknowledge that its pay just isn't high enough to support many staff members.
"We've moved forward, but it's still just outrageous that a wealthy institution like Hopkins doesn't understand that Baltimore workers need a living wage," he continues. In Reid's opinion, that living wage would amount to at least $15 an hour.
In order to garner support from other workers and the Baltimore public during its campaign, the union contrasted the modest incomes of maintenance and food-service staff at the hospital with the lavish compensation arrangements for the facility's senior administrators. For example, according to an 1199SEIU analysis of public documents, Hopkins President Ronald Peterson was the highest-paid hospital executive in the state in 2012. And Internal Revenue Service Records show that the next year, he received a $1.2 million salary—plus a bonus of $455,714 and a one-time $11.9 million pension benefit based on his 40 years of service with the hospital.
Though Hopkins has been publicly mum about the issue thus far, the high pay for its executives is one indication of the elevated status enjoyed by the hospital and its related organizations in the Baltimore area. According to Hopkins spokesperson Kim Hoppe, the hospital's parent organization Johns Hopkins Health Systems (JHHS) alone employs 20,000 workers at the sprawling East Baltimore medical complex; that number does not include the many others employed by Johns Hopkins University (JHU) elsewhere in the city. Taken together, JHHS and JHU are the largest employers in the entire state of Maryland.
Hopkins exerts such powerful regional weight that even nominally pro-labor elected officials such as Gov. Martin O'Malley (D) and Mayor Stephanie Rawlings-Blake (D) appeared fearful of backing the union in its wage fight. Neither publicly endorsed the union's contract campaign, and Rawlings-Blake even turned down an invitation to speak at a public 1199SEIU rally at the city's Inner Harbor in early May.
O'Malley did ask the two sides to return to the bargaining table in late June, when a second strike at the hospital appeared imminent, but the union did not seek that intervention, Reid says.
And Hopkins' wide-ranging influence will mean that its now-ratified contract with 1199SEIU will have an impact beyond the facility's campus. The union has collective bargaining agreements with Sinai Hospital and Greater Baltimore Medical Center, two other hospitals in the Baltimore metro area. Those contracts, Reid notes, have historically followed the pattern set by Hopkins.
"I think that Hopkins sets the standard in Baltimore. The other hospitals, even the non-union hospitals, will keep pace with Hopkins," he says.
Wednesday, Jul 9, 2014, 7:13 pm · By George Joseph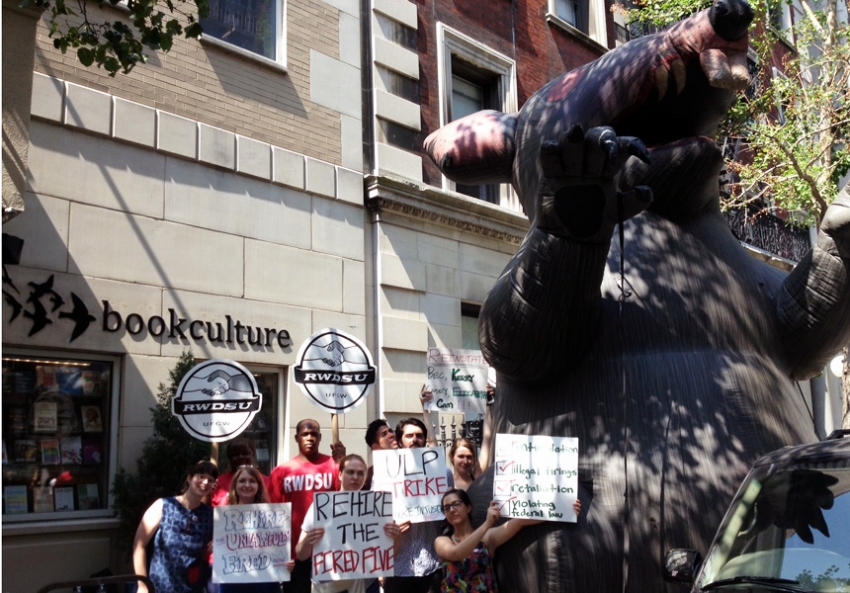 A few blocks away from Columbia University, independent bookstore chain Book Culture's two Morningside Heights locations are often packed with young patrons poring over Feuerbach critical readers or Camus postcards. So many of the company's progressive customers were dismayed when, on June 27, they received a mass email from Book Culture owner Chris Doeblin informing them that several store managers had been fired for voting to unionize, along with one other worker accused of a separate infraction.
"It became clear that several of the store's supervisors were not willing to continue to perform the role of supervisors within the new environment of having the unionized workforce," Doeblin wrote. "We respect them for their candor, but they could not continue as employees when they were unwilling to perform their job's most essential functions."
In response to the five firings, the Retail, Wholesale, and Department Store Union, the workers' prospective union, filed an Unfair Labor Practice complaint with the National Labor Relations Board. RWDSU members also picketed outside both stores every day for a week, blowing up inflatable rats and encouraging onlookers to boycott the establishments. On July 2, nearly every worker walked out on a one-day strike.
The next day, Book Culture hired back all four fired supervisory workers and negotiated a compensation package for the fifth, officially retracting its claim that she had been eavesdropping on management conversations.
Wednesday, Jul 9, 2014, 5:21 pm · By William A. Hudson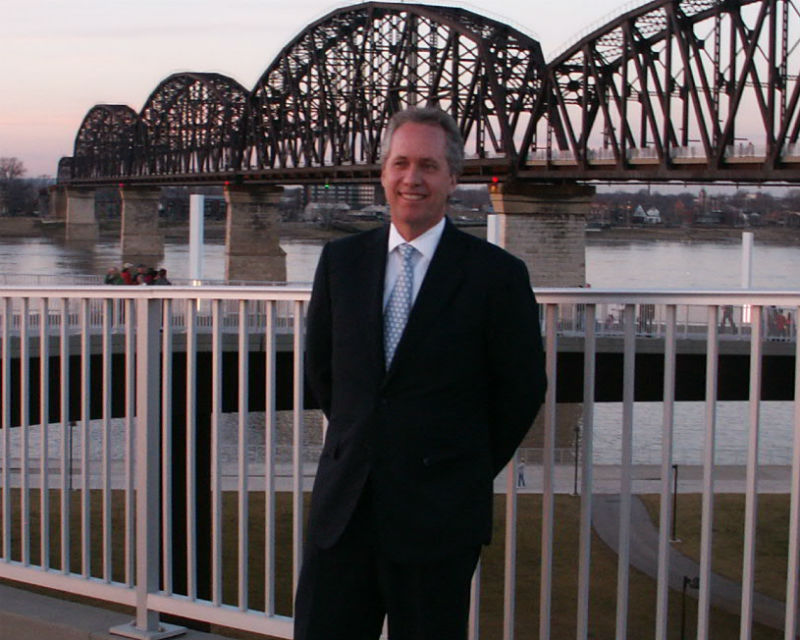 Angelina Justice has been working as a youth services librarian assistant at the Free Public Library (LFPL) in Louisville, Kentucky since 2004. Though she says she loves helping the children who visit the library, she and other unionized city workers have faced a series of cutbacks and declining work conditions since Mayor Greg Fischer took office in 2011.
Like her co-workers at LFPL, Justice is a member of AFSCME Local 3425—and she says the Fischer administration's current contract with the union makes it almost impossible for her and her family to survive.
"If my household didn't have a second income, we wouldn't make it as a family of five," she tells In These Times.
Tuesday, Jul 8, 2014, 5:25 pm · By Moshe Marvit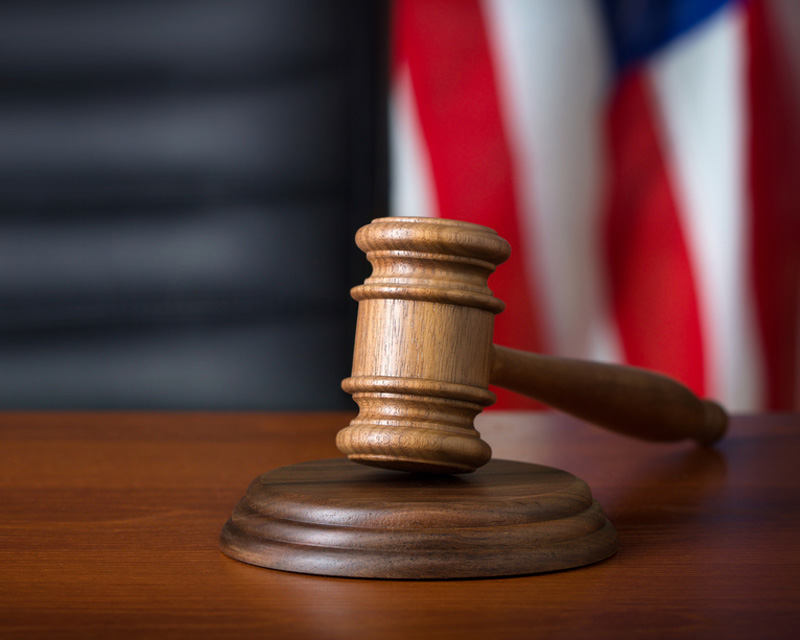 On July 1, the day after the Supreme Court issued its controversial decisions in Harris v. Quinn and Burwell v. Hobby Lobby, it issued a round of "miscellaneous orders" to wrap up loose ends before the Court went into recess. In the first of a long list was a GVR (grant, vacate, remand) order voiding the 6th Circuit's decision in another case that had been appealed to the Court, and sending it back to the lower court "for further consideration in light of Harris v. Quinn." In Harris, the Supreme Court held that the First Amendment did not permit a fair share or agency fee provision requiring objecting home healthcare workers to pay a fee to the union for collective bargaining and contract administration.
The case at issue is Schlaud v. Snyder, out of Michigan, and in many ways it looks like Harris. Just as in Harris, the plaintiffs—also represented by the right-wing National Right to Work Legal Defense Foundation (NRTW)—are a few homecare providers suing the union, the governor, and the state Department of Human Services for the return of union dues on First Amendment grounds.
Up to a point, the case was strikingly similar to Harris v. Quinn. In the fall of 2006, there were more than 40,000 homecare workers in Michigan eligible for the bargaining unit, and 22,180 signed authorization cards in favor of union representation. This triggered a secret-ballot election, in which 5,921 of 6,396 participating workers voted in favor of the union—92.5 percent of the ballots cast. The union then negotiated a collective bargaining agreement with management, which included a standard "agency fee provision": All workers covered by the agreement—even those who didn't vote for the union—would have to pay a fee of approximately 1 percent to offset collective bargaining and contract administration costs. The rationale for such provisions is that the union must represent all workers covered by the collective bargaining agreement, and all workers—whether they object to the union or not—benefit from this representation.
Tuesday, Jul 8, 2014, 3:30 pm · By Jenny Brown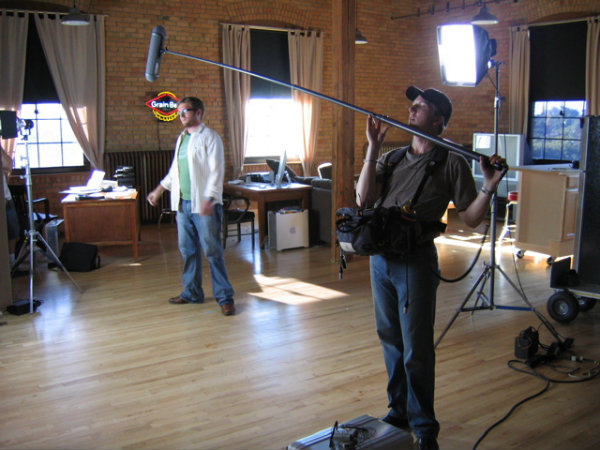 Tricky bosses, faked timecards, excruciating hours, dangerous scrapes … It sounds like fodder for a reality TV show, perhaps "America's Next Worst Job."
But workers say these are the conditions in reality TV itself, known more formally as the nonfiction television industry.
"We are told to be loyal, that this is normal," said Lauren Veloski of the long unpaid hours she worked for several production companies. "You should anticipate that your workday will be 12 hours long," one employer informed her.
Tuesday, Jul 8, 2014, 3:05 pm · By Sarah Jaffe
In April, New York University found itself the subject of uncomfortable scrutiny when Michael Powell reported in the New York Times that Daniel E. Straus, owner of the HealthBridge and CareOne nursing home companies in New Jersey and Connecticut and a board member at NYU law school, had subpoenaed the emails, text messages and personal writings of two NYU law students, Luke Herrine and Leo Gertner. The two were part of a growing movement of NYU undergraduates and law students calling attention to working conditions at Straus's facilities, and they had been helping to circulate a petition to the law school dean asking for a meeting to discuss Straus's presence on the board.
The next day, with somewhat less fanfare, a one-line memo was sent to NYU law students by their dean, informing them that Straus would no longer be on the school's board. The Straus Institute for the Advanced Study of Law and Justice, which Straus has funded since 2009, will close at the end of the year. (Although the timeline of the closure decision is unclear, Herrine, one of the subpoenaed students, believes it was due to the controversy.)
The subpoena brouhaha was only the latest chapter in an expansive battle with Straus's companies on one side and 1199 SEIU Healthcare Workers East, 1199 SEIU New England, and the Student Labor Action Movement (SLAM) at NYU on the other—while NYU, claiming neutrality, remained in the middle. It's a multi-year, multi-state struggle that began with low-wage care workers being locked out in 2011 and hasn't ended with Straus losing his seat on the law school's board. A close examination of the story yields important lessons about the possibilities and limitations of student-labor coalitions, the latest anti-union strategies of corporations, and the current state of labor struggles.
Monday, Jul 7, 2014, 8:00 am · By Matthew Blake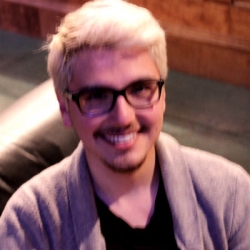 For three years in the early 1970s, journalist Studs Terkel gathered stories from a variety of American workers. He then compiled them into Working, an oral-history collection that went on to become a classic. Four decades after its publication, Working is more relevant than ever. Terkel, who regularly contributed to In These Times, once wrote, "I know the good fight—the fight for democracy, for civil rights, for the rights of workers has a future, for these values will live on in the pages of In These Times." In honor of that sentiment and of Working's 40th anniversary, ITT writers have invited a broad range of American workers to describe what they do, in their own words. More "Working at 40" stories can be found here.
When Terkel interviewed Terry Mason in 1964, her occupation was referred to as a "stewardess." She described the five weeks of "stew school" she had to attend, where she and her co-workers learned the techniques for applying makeup, smiling under any circumstance and allowing men to light their cigarettes. She thought of her job as a stepping-stone out of her small Nebraska town, though she admitted that it wasn't as glamorous as she'd fantasized it might be.
Like Mason, Moy Medina is 26 and uses the phrase "stepping-stone" to describe his career choice. However, he tells In These Times that he's worried he'll never leave his current job. This interview has been edited and abridged.
Wednesday, Jul 2, 2014, 7:40 pm · By Rebecca Burns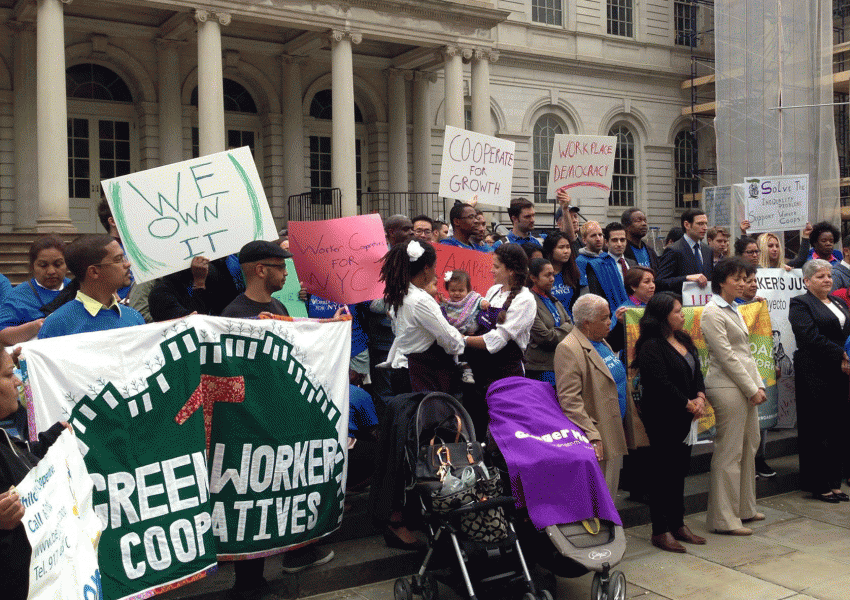 In a victory for new economy advocates, the New York City Council passed a budget last week that will create a $1.2 million fund for the growth of worker-owned cooperative businesses. The investment is the largest a municipal government in the U.S. has ever made in the sector, breaking new ground for the cooperative development movement.
Melissa Hoover, executive director of the U.S. Federation of Worker Cooperatives and the Democracy at Work Institute, hails the New York City Council's move as "historic." "We have seen bits and pieces here and there, but New York City is the first place to make an investment at that level," she says.
Tuesday, Jul 1, 2014, 5:50 pm · By Moshe Marvit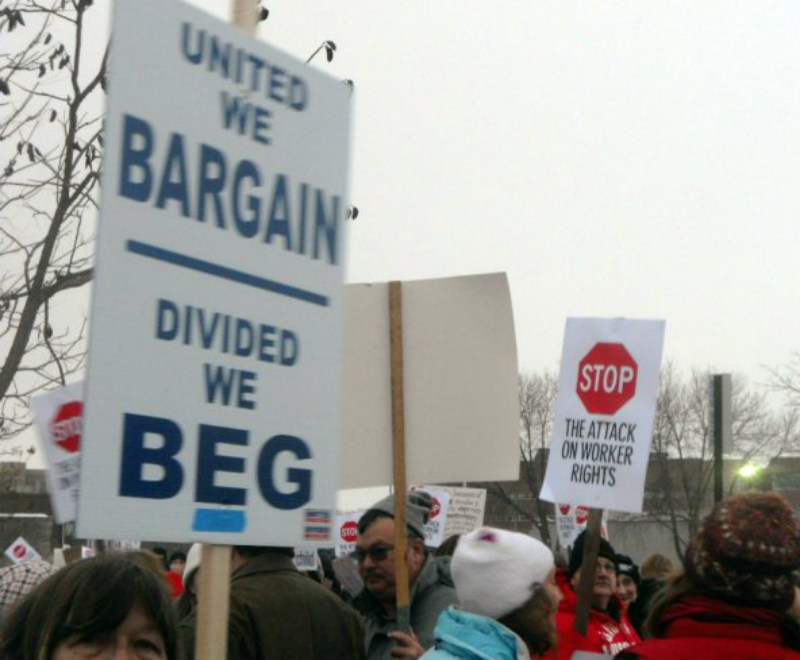 The Supreme Court issued its long-awaited opinion in Harris v. Quinn yesterday, a case that threatened to be the worst decision for unions in decades. When the class-action suit was first brought in 2010, at issue was whether unionized home healthcare workers who are covered by collective bargaining agreements, could be subject to a fair share provision that requires non-union members to pay for the benefits they receive from the union. This remained the issue when it arrived at the Seventh Circuit Court of Appeals in 2011. However, once the case arrived at the Supreme Court in 2013, the National Right to Work Legal Defense Foundation raised the stakes and argued that anything short of a right-to-work model—under which any employee covered by a collective bargaining agreement could forego paying any dues—for all public employees violated the First Amendment. In the Court's decision, a five-Justice majority held that fair share provisions for home healthcare workers were unconstitutional, and indicated repeatedly that the 1977 case that allows such provisions for all public sector employees is on shaky ground.
Monday, Jun 30, 2014, 5:41 pm · By Sarah Jaffe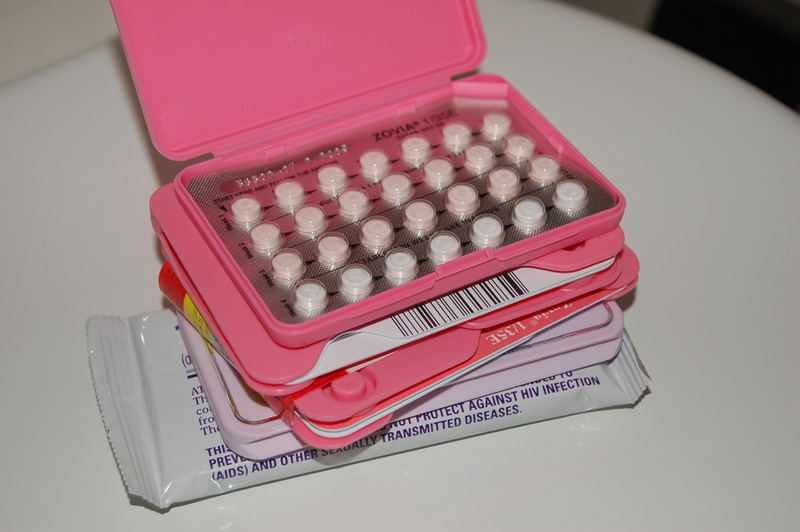 Retail sales and home healthcare work are two of the three fastest-growing jobs in this country. That's an important consideration when looking at the decisions the Supreme Court handed down today in Harris v. Quinn and Burwell, Secretary of Health and Human Services v. Hobby Lobby Stores: If you are not affected by these rulings yet, you well could be in the future.
Both 5 – 4 decisions were written by Justice Samuel Alito, a conservative Catholic from New Jersey appointed by George W. Bush, and both rested on narrowly tailored legal arguments that just happen to cut wide enough to impact groups of workers who are almost exclusively female. Harris creates the special designation of "partial public employees" for publicly-funded home healthcare aides who work both for the client and for the state—who are 90 percent female, most of them poor, immigrants, and of color. Hobby Lobby, meanwhile, in deciding whether an employer with religious beliefs can be required to provide health insurance that covers contraception, singles out women by targeting its arguments towards workers who use birth control—but not any other form of healthcare.
As Sheila Bapat, author of Part of the Family? Nannies, Housekeepers, Caregivers and the Battle for Domestic Workers' Rights, tweeted, "These decisions speak squarely to the value of women's labor."