Thursday, Apr 10, 2014, 3:16 pm · By Melinda Tuhus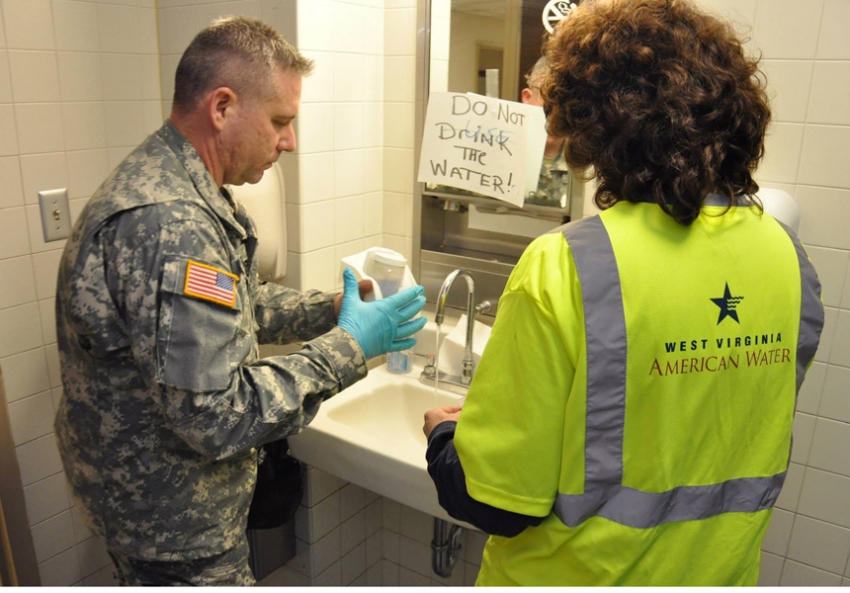 Joe Stanley, a former miner in West Virginia, is no stranger to MCHM (4-Methylcyclohexane Methanol), the licorice-scented chemical that leaked into the water supply of up to 300,000 West Virginians on January 9. Once it was eventually reported, residents in a nine-county region were warned not to use the water for any purpose. Even though the West Virginia American Water Company told the general public a few days later that the pipes had been flushed and the water was safe, many in the area still refuse to drink it today.
To some living around Charleston, the revelation that their water had been contaminated came as a shock. But as far as many activists are concerned, the spill was an inevitable result of West Virginia's notoriously lax environmental laws. For example, West Virginia had no regulations covering inspection of aboveground storage tanks until this year, when a bill to address this oversight—and other aspects of the leak's aftermath—made its way to the legislature.
On March 8, in the last week of the legislative session, supporters of the bill rallied at the state capitol in hopes of preventing another such disaster. Stanley, who spent the last 17 years of his career surrounded by toxic waste leavings in a coal preparation plant, was one of them. He hoped that his experience with MCHM, and with the industry in general, would lend extra credence to his advocacy at Charleston.
Thursday, Apr 10, 2014, 3:16 pm · By Bruce Vail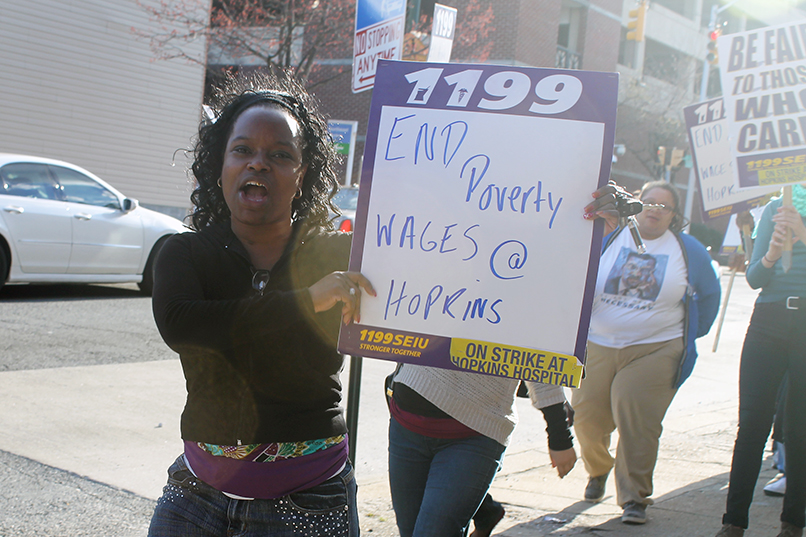 Some 2,000 union workers went out on strike Wednesday at Johns Hopkins Hospital in a protest aimed primarily at exposing low wages at Baltimore's second biggest employer and one of the nation's most prestigious hospitals.
Members of
1199SEIU United Health Workers East
hit the picket lines at 6:00 a.m. April 9 for a three-day strike provoked by a stalemate in negotiations for a new contract to cover the union workers. The previous contract expired March 31, and renewal talks earlier this week stalled on the key issue of raising wages, according to 1199SEIU spokesperson Jim McNeill.
Hospital executives had received a ten-day warning of the strike, says 1199SEIU Vice President Vanessa Johnson, so there was ample time to ensure that patient care would not be adversely affected. Union members are primarily in maintenance and food service, with some technical workers such as surgical techs. Operations at the enormous Hopkins medical complex are
reported to be near-normal
with non-union nurses, administrators and temporaries filling in for the unionized strikers. Hopkins spokesperson Kim Hoppe would not respond to repeated inquiries for additional information from Working In These Times.
Monday, Apr 7, 2014, 5:38 pm · By Bruce Vail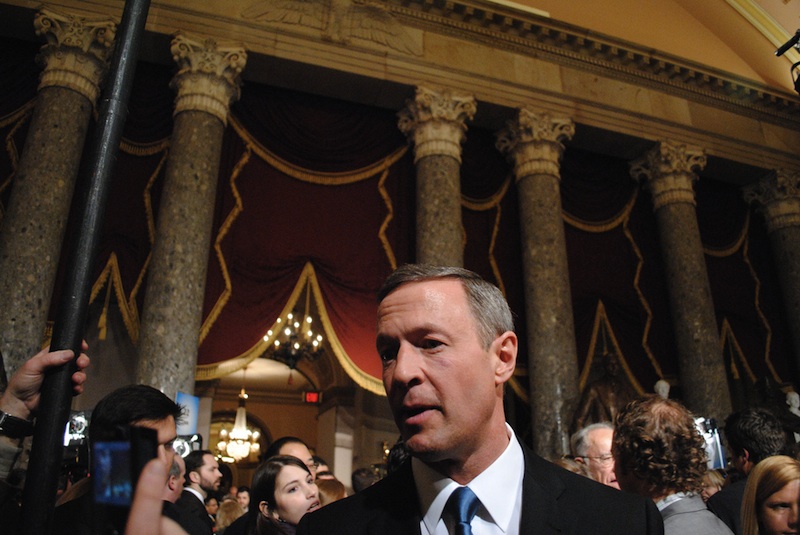 Maryland is on the verge of becoming the second state, after Connecticut, to heed President Barack Obama's call for a new national minimum wage of $10.10 an hour.
Lawmakers moved in a special weekend session to pass a measure hiking the state's minimum to $10.10 an hour, up sharply from the current minimum of $7.25. The Maryland Senate passed the bill on April 5, and the House of Delegates gave its approval around midday on April 7, just hours before the year's legislative session ended.
Gov. Martin O'Malley (D) is expected to sign the bill into law promptly. In January, he called the wage hike his top legislative priority for the year.
The victory for low-wage workers, however, has left some progressive groups frustrated and a little angry. The reason? They say the most potent attempts to kill, dilute or delay the bill came from Democratic Party legislators who publicly proclaim their support for the working poor, yet worked behind the scenes to undermine the new minimum wage law. Democrats enjoy large majorities in both houses of the legislature.
Thursday, Apr 3, 2014, 10:55 pm · By Alexandra Bradbury and Jane Slaughter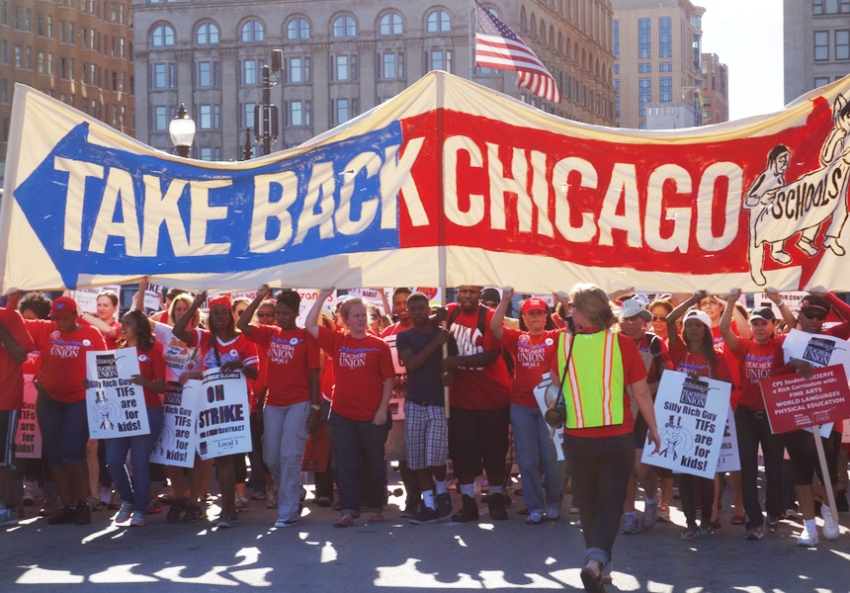 We troublemakers keep hoping for the spark that will set a wildfire of workers in motion. The worse our situation gets—economically, politically, ecologically—the more we yearn for a vast movement to erupt and transform the landscape.
It's not impossible. Look at 1937, when workplace occupations spread everywhere, from auto factories to Woolworth's. The 1930s wave of militancy forced Congress to aid union organizing with new laws and to enact Social Security and unemployment insurance. Industrial unions formed during that upsurge continue to this day.
So why not here and now?
Thursday, Apr 3, 2014, 9:44 pm · By Jake Blumgart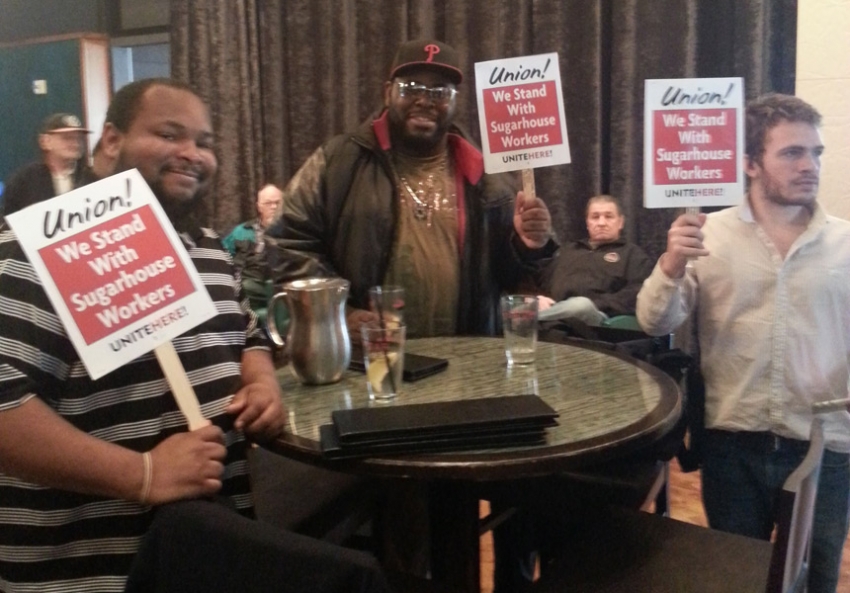 Philadelphia's SugarHouse Casino opened almost four years ago. Unite Here Local 54's campaign to unionize workers there is almost as old. And at the end of the month, after a history of reported union-busting activity that includes alleged retaliatory firings, SugarHouse will face its first National Labor Relations Board hearing. According to the complaint filed with the NLRB, a manager stopped a few workers from handing out union literature, crumpled it up and threw it away, also known as "interfering with, restraining and coercing employees in the exercise of rights."
On April 2, in response to the increasingly tense work environment, union members, staffers and a variety of concerned Philadelphians came together to organize a "sip-in" at SugarHouse.
SugarHouse workers cite a wide variety of reasons for wanting to unionize, including low wages (they estimate $11 or $12 to be the hourly median), expensive healthcare, and what they call "rampant bullying and favoritism" by managers. And then there is the exceedingly strict attendance policy. In addition to a few call-out days, workers say they're each alloted six "points" for their tenure at the casino. According to employees, missing work or arriving late, for any reason, results in a yearlong one-point deduction for each infraction. No more points means no more job.
Thursday, Apr 3, 2014, 4:45 pm · By Kari Lydersen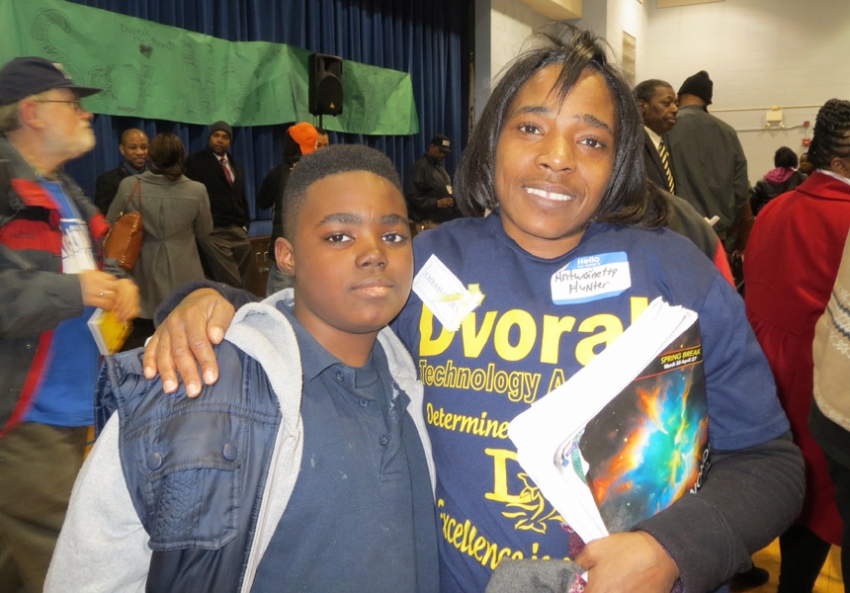 At 2:50 pm on March 21, as Carrene Beverly-Bass remembers it precisely, her world changed.
That's when she was told by administrators that Dvorak Technology Academy on Chicago's West Side, where she has taught for 21 years, was targeted to become a "turnaround school." This would mean all of Dvorak's teachers and staff would lose their jobs next fall, when the elementary school would be taken over by a private nonprofit organization: the Academy for Urban School Leadership (AUSL), which already runs 29 Chicago public schools attended by 17,000 students.
Along with North Lawndale's Dvorak, the Chicago Board of Education is planning to designate two other elementary schools as "turnarounds": McNair Elementary on the West Side and Gresham Elementary on the South Side are also on the chopping block. In some cases, some employees are retained during turnarounds, but the district has already announced that the plan this time is to remove all staff from the three elementary schools.
"They ambushed us," Bass says, tears trickling down her face. "It was the most dehumanizing experience I've ever had in my life."
Thursday, Apr 3, 2014, 12:01 pm · By Rebecca Burns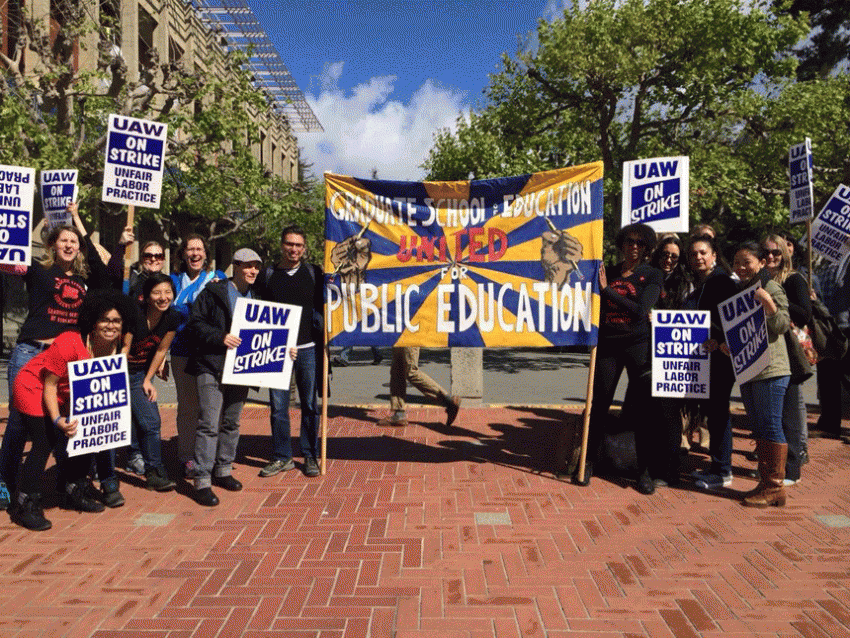 A system-wide strike by graduate assistants at the University of California commenced yesterday with what their union calls an ugly irony. The work stoppage, staged in protest of past alleged attempts by UC to intimidate graduate workers for labor organizing, was quickly met with what workers say was a further attempt at intimidation: The arrest of 20 students at UC Santa Cruz who were picketing early Wednesday morning.
As Working In These Times has reported previously, graduate assistants are one of several groups of workers who have been locked in intensifying labor battles with the UC system, which has been hit hard by nearly $1 billion in budget cuts during the past five years. In November, graduate student workers struck in solidarity with campus service workers, a rare labor action that is prohibited by most union contracts and that was enabled only by the expiration of the UAW's contract earlier that month. The union says that since then, the university system has engaged in a "pattern of intimidation" against members who participate in labor actions on UC campuses, threatening that striking could result in loss of jobs and even, for foreign students, loss of visas.
The United Auto Workers (UAW) Local 2865, which represents 12,000 UC academic student employees, announced last month that it would stage a two-day strike on April 2 and 3 over allegations of unfair labor practices (ULP) by the university. After graduate assistants at UCSC and two other campuses walked off the job yesterday morning, five strikers and 15 undergraduate supporters were arrested as they picketed at the UCSC campus' west entrance, according to the union. A union spokesperson said that two additional arrests of undergraduates had occurred today, in a situation that was still developing as Working In These Times went to press.
Tuesday, Apr 1, 2014, 11:05 pm · By Mike Elk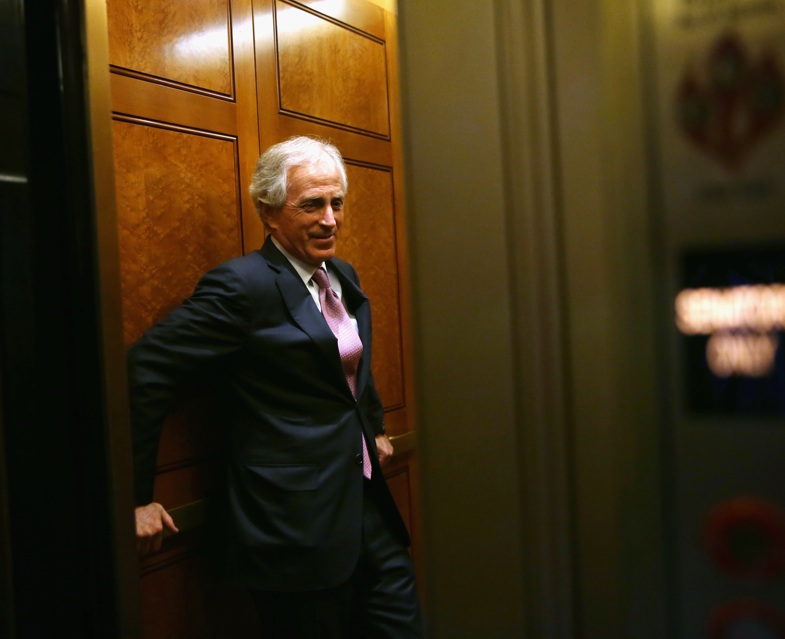 Leaked documents obtained by Nashville TV station NewsChannel 5 WVTF reveal communications between the employees of two Tennessee Republicans—Sen. Bob Corker and Gov. Bill Haslam—and a network of prominent anti-union professionals during the United Auto Workers' union drive at a Volkswagen plant in Chattanooga earlier this year.
Sen. Corker and Gov. Haslam have been blamed by the union for contributing to the drive's defeat by making public statements against the UAW. Prior to the election, Corker claimed that the plant would add an additional SUV assembly line if workers voted against the union, while Haslam implied that businesses had told him that they might not relocate to Tennessee if workers at Volkswagen voted to join the UAW.
There was no direct evidence, however, that these politicians were coordinating with the various anti-union forces that had gathered in Chattanooga to oppose the drive, although In These Times reported in November 2013 that Washington, D.C.-based anti-union campaigner Matt Patterson had bragged about developing anti-UAW messaging with "politician [sic] and businessmen" in Tennessee. The documents by NewsChannel 5 provide the first direct proof of such coordination. In addition, In These Times magazine has obtained documents and conducted interviews with a top anti-union consultant that shed new light on the origins of the anti-union videos referenced in the communications.
Friday, Mar 28, 2014, 5:53 pm · By Bruce Vail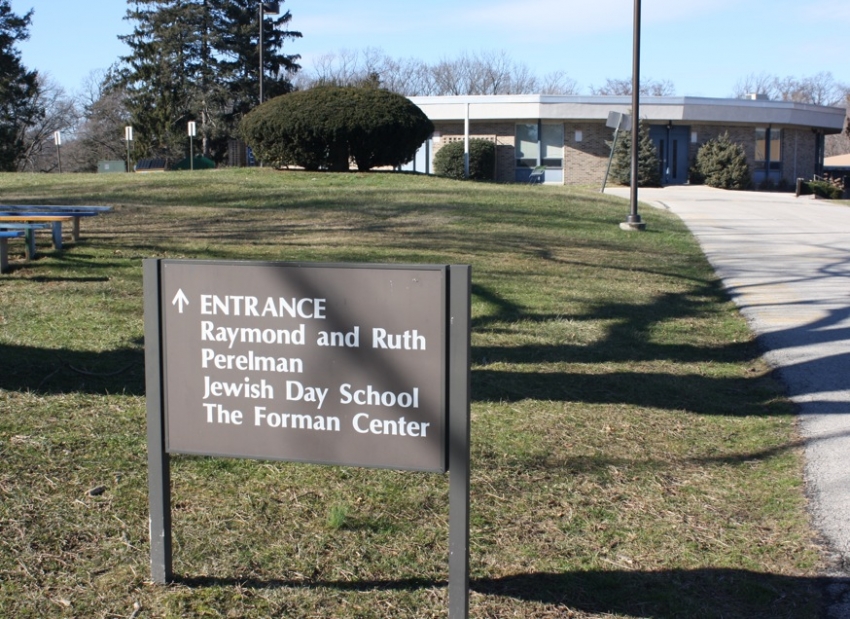 A small group of teachers in Philadelphia are finding their union rights under attack on questionable religious grounds, much the same way that women across America found their right to healthcare assaulted this week in the Supreme Court's Hobby Lobby case.
Some 55 teachers at the Perelman Jewish Day School, which has two K-5 campuses in the Philadelphia suburbs with some 300 total students, were stunned March 24 to be notified that the school's board had decided to cease recognizing their union. The teachers were told that the current union contract will be allowed to expire and they will be required to negotiate individual one-year contracts with school administrators. Normally, revoking union recognition would be considered a blatant violation of collective bargaining law. But board vice president Aaron Freiwald says the action is justified by a Supreme Court decision. The case he's likely referring to is the obscure 1979 NLRB v. Catholic Bishops of Chicago, in which the Supreme Court found that religious schools are exempt from certain provisions of the National Labor Relations Act.
The teachers, some of whom are observant Jews themselves, are not going to meekly allow their union to be dissolved, says Barbara Goodman, the communications director for the AFT Pennsylvania, the state chapter of the American Federation of Teachers and the union with which the Perelman Jewish Day School Faculty Association Local 3578 is affiliated.
Thursday, Mar 27, 2014, 2:15 pm · By Amien Essif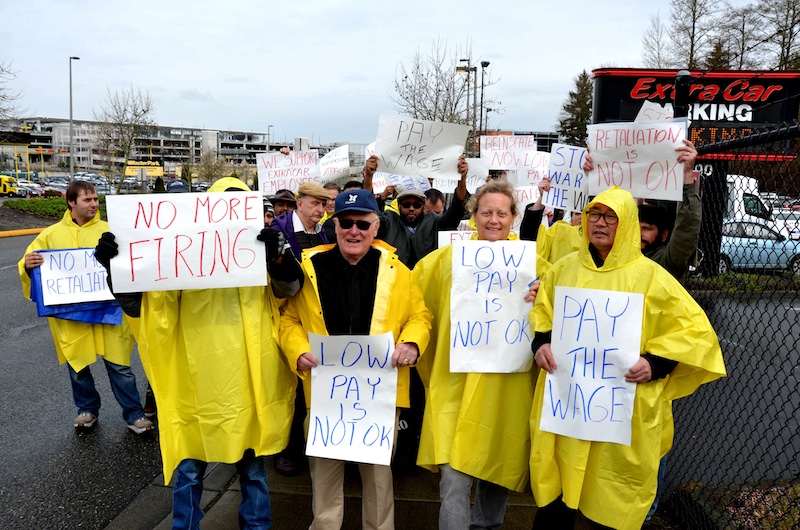 Early this year, the city of SeaTac, Washington inaugurated the highest minimum wage in the country: $15 an hour. The law already suffered a setback when a judge ruled that airport employees—who make up the majority of the city's workforce—would not be eligible for the higher wage. Yet among the SeaTac workers who do qualify for a raise, a number have had to take the enforcement of the new standards into their own hands.
On Wednesday morning, four recently-terminated employees of Extra Car Airport Parking, a parking service that serves the Seattle-Tacoma Airport in SeaTac, rallied in front of their former workplace. The workers were joined by a group of about 30 supporters, drawing attention to the company's alleged wrongdoings, which include shirking the new $15 wage floor and engaging in retaliatory firings against workers who have voiced complaints.
According to the press release for a class-action lawsuit also announced Wednesday, an estimated 40 current and former Extra Car workers earn or earned between $10 and $11 an hour—or at least $4 less than required by law. Attorney Martin Garfinkel—who represents fired Extra Car worker Lou Lehman and may soon be representing other former and current Extra Car employees who have been invited to join the suit—said in a Wednesday press release that "the SeaTac living wage ordinance is in full force and effect outside the boundaries of the Airport, and must be followed....There is no excuse for Extra Car's unlawful conduct."