Thursday, Apr 13, 2017, 12:31 pm · By Kate Aronoff
Amid threats from management, the recently-merged editorial staffs of Gothamist and DNAinfo have chosen to unionize with the Writers Guild of America East.
The two news sites became one recently when Gothamist was acquired by billionaire conservative donor Joe Ricketts. After opposing Donald Trump in the primaries, Ricketts, the founder and former CEO of online brokerage giant TD Ameritrade, pledged at least $1 million to his campaign against Hillary Clinton. Ricketts and his wife, Marlene, initially supported Scott Walker in the Republican primary, donating $5 million to his Unintimidated PAC. He also owns the Chicago Cubs and founded DNAinfo in 2009. His son, Pete Ricketts, is the Republican governor of Nebraska.
With the merger, Gothamist will now become the "official blog" for DNAinfo in New York, with Chicagoist folding into DNAinfo's Chicago site, also known for its hyper-local, neighborhood-by-neighborhood reporting. There have been layoffs recently, and the websites are now estimated to have around 25 editorial employees, the overwhelming majority of whom opted to join the union, according to a DNAinfo employee who spoke on the condition of anonymity, wanting to avoid any potential retaliation from management.
Tuesday, Apr 11, 2017, 5:32 pm · By Elizabeth Grossman
The "wellbeing of America and the American worker is my North Star," President Donald Trump trumpeted at a recent White House event.
But the Trump administration's policies are already adversely affecting workers' health by undermining occupational illness prevention—including for cancers, musculoskeletal disorders and respiratory diseases that afflict hundreds of thousands of U.S. workers.
"It couldn't get much worse in terms of the federal government's role in preventing the number of occupational illnesses and diseases," said Charlotte Brody, vice president of health initiatives at BlueGreen Alliance, an alliance of labor unions and environmental organizations.
Or, as Sidney Shapiro, a professor at Wake Forest's law school, put it, "We weren't doing this terribly well under a reasonably friendly administration so all bets are it's now going to fall completely apart."
Tuesday, Apr 11, 2017, 11:11 am · By Sarah Jaffe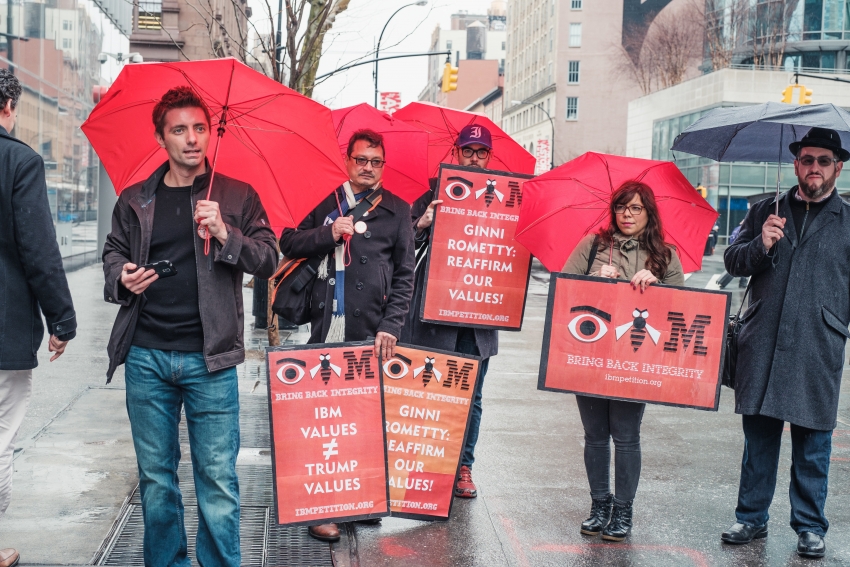 Welcome to Interviews for Resistance. Since election night 2016, the streets of the United States have rung with resistance. People all over the country have woken up with the conviction that they must do something to fight inequality in all its forms. But many are wondering what it is they can do. In this series, we'll be talking with experienced organizers, troublemakers and thinkers who have been doing the hard work of fighting for a long time. They'll be sharing their insights on what works, what doesn't, what's changed and what is still the same.
The tech industry likes to maintain a progressive reputation even when its policies increase inequality across the country. Yet after Donald Trump's election, tech executives lined up to express a willingness to work with Trump's administration. For tech employees, this disconnect between the values that the companies preach in public and the values expressed by Trump has led them to begin organizing in their workplaces, demanding that their employers not collaborate with the president and using this moment as an opportunity to push companies to live up to the values of diversity and inclusion. I spoke with workers at IBM who have begun such a campaign.
Friday, Apr 7, 2017, 5:48 pm · By Bruce Vail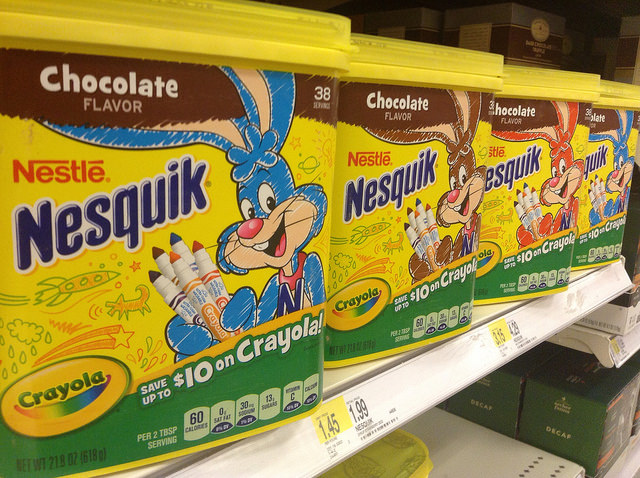 Your Nesquik may now be shipped by union workers, thanks to a powder-thin union election at a distribution center just south of Atlanta.
Workers at Nestlé's facility in McDonough, Georgia, voted 49-46 Wednesday in favor of representation by the Retail, Wholesale and Department Store Union (RWDSU), said labor organizer Greg Scandrett. The campaign was tough, so the victory is sweet.
"They [Nestlé] fought this from Day 1. They brought in people from HR from all around the country," Scandrett said.
He expects negotiations around a first contract will be difficult.
Friday, Apr 7, 2017, 3:23 pm · By Dan DiMaggio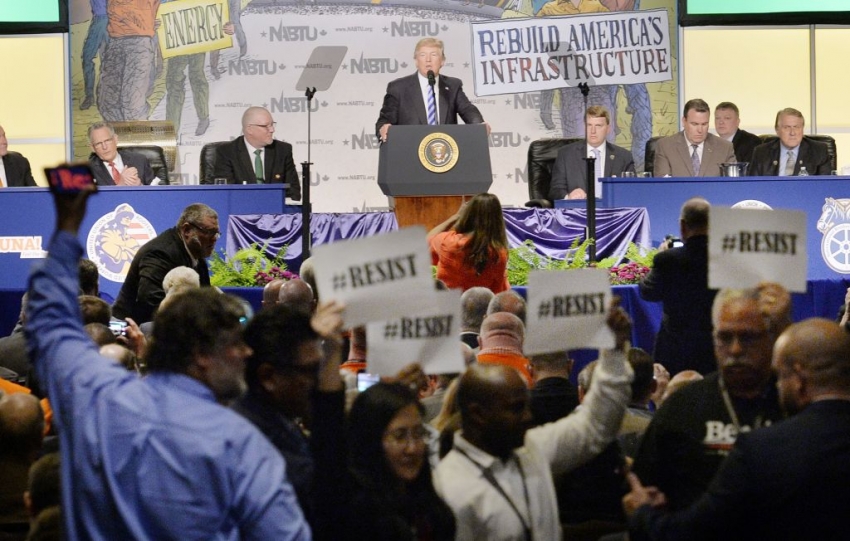 This article was first posted by Labor Notes.
When they heard President Donald Trump would address the Building Trades national legislative conference, activists from Electrical Workers (IBEW) Local 569 knew they had to do something.
"We couldn't let him come and speak to us and just sit there," said William Stedham, a "workaday Joe" and executive board member of the San Diego-based local. "If we hadn't, everyone would think that the Building Trades was on board with him 100 percent, and we're not."
Thursday, Apr 6, 2017, 2:04 pm · By Moshe Z. Marvit
An appeals court ruled in support of LGBT rights this week, reversing decades of interpretation that largely allowed companies to discriminate against workers on the basis of sexual orientation.
In their groundbreaking decision, nine of 12 judges in an en banc panel of the Seventh Circuit Court of Appeals said that gay and lesbian workers are protected under Title VII. The Hively v. Ivy Tech Community College decision marks a major break from an interpretation that excluded sexual orientation, except in instances where one could make an argument of gender nonconformity. That meant that, previously, in order for workers to prove discrimination under Title VII, they had to allege that they were being discriminated against because they were not acting according to the stereotype associated with their gender.
Wednesday, Apr 5, 2017, 12:49 pm · By Kali Holloway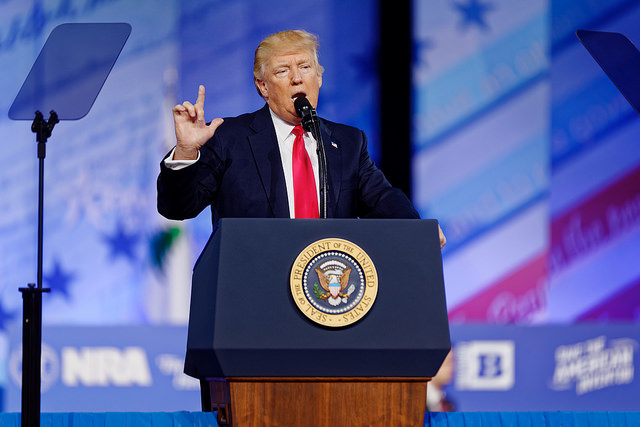 This article was first posted by AlterNet.
Again and again on the campaign trail, Donald Trump made promises he couldn't keep, playing on the ignorance of his base and revealing his own glaring misunderstanding of policy. The GOP candidate repeatedly vowed to strongarm companies into keeping jobs at home instead of sending them to Mexico, renegotiate NAFTA and impose stiff import taxes on foreign goods. It was a message that appealed widely to Trump supporters, blending the illusion of economic hope with the rubric of "America First" nationalism.
Tuesday, Apr 4, 2017, 10:08 pm · By Maha Ahmed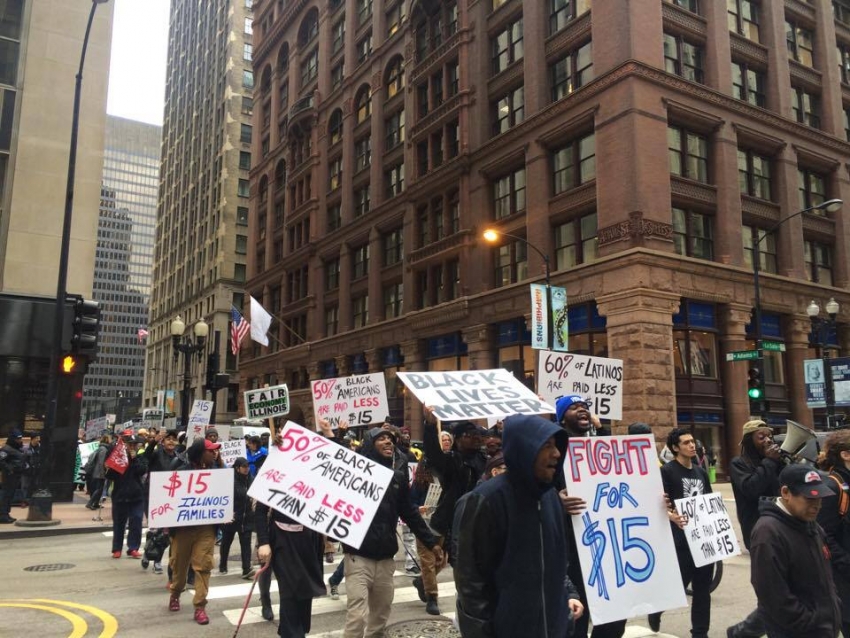 "Today, we are still fighting for King's dream," Parrish Thomas, a father and fast-food worker, told a crowd at Chicago's Federal Plaza.
He and dozens of others gathered Tuesday on the 49th anniversary of the assassination of Martin Luther King, Jr. as part of a nationwide day of action to fight for King's vision of racial and economic justice. The protests, which took place in some two dozen cities, were put together by the Movement for Black Lives and the Fight for $15 campaign—two of the nation's most powerful political movements—and mark the groups' first national joint action.
Tuesday, Apr 4, 2017, 12:07 pm · By Rachel Miller and Robert Ramaswamy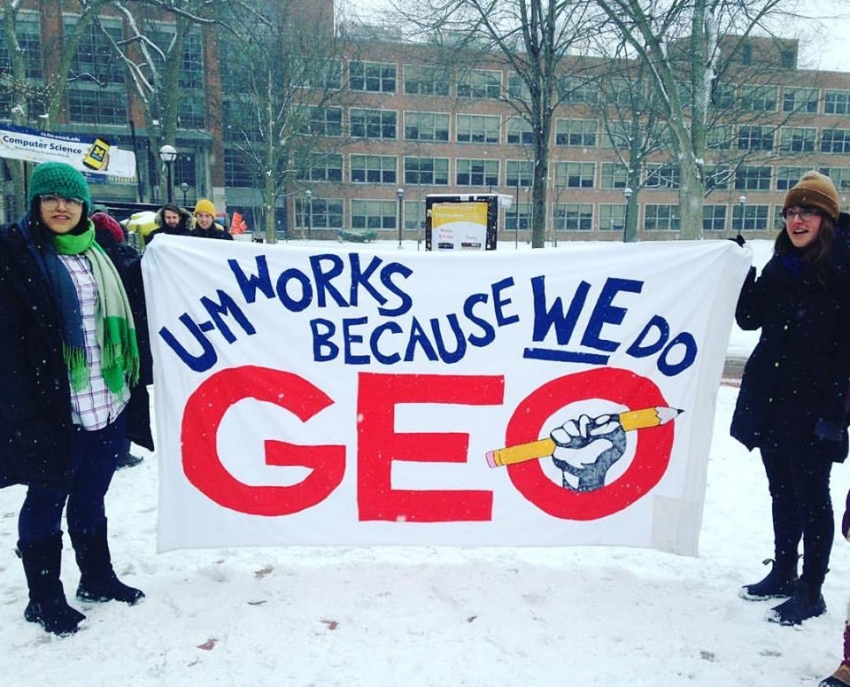 Several weeks ago, as a March blizzard descended on Ann Arbor, we were two of some 150 graduate student workers at the University of Michigan who rallied together to walk their bargaining team to its fifth month of contract campaign negotiations. Their spirits lifted by chants and signs, the volunteer negotiators continued to argue a platform generated by the members of the Graduate Employees' Organization (GEO), Local 3550 of the American Federation of Teachers, which is the union that represents graduate student instructors and staff assistants at the University of Michigan (UM). GEO is one of the nation's oldest graduate student unions, but in this year's contract negotiations, we are asking for something new: dedicated positions and fair compensation for "diversity workers" that will bring structural change to the university.
Thursday, Mar 30, 2017, 12:51 pm · By Cynthia Phinney, Peter Kellman and Julius Getman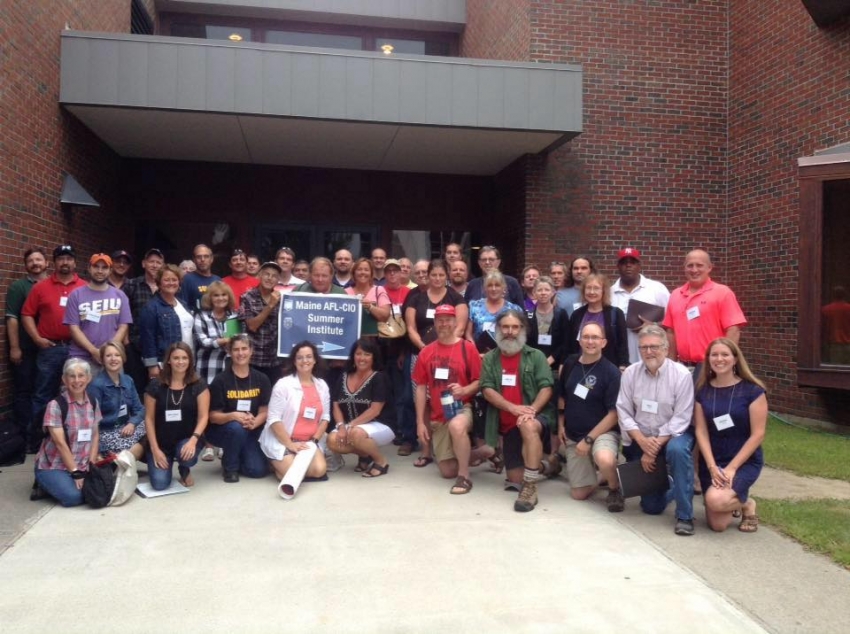 Progressives are finally energized. Millions of young people became politically active through the presidential campaign of Bernie Sanders and several million more joined the women-led solidarity marches of the inaugural weekend. Many of the recently activated are seeking to channel their enthusiasm into effective political resistance. These are heartening developments. But it is far too early to declare victory over those who seek to make America great by returning it to a less tolerant, less progressive past.
A dismayingly large share of the white working class, including union members that once supported liberal candidates and causes, remains supportive of President Donald Trump and his agenda. Only when liberals recognize the importance of labor, and when a progressive labor movement returns to its historic roots, will the battle against right-wing demagogues and zealots be won.
What we are calling for is an active alliance between progressives and organized labor. For progressives and intellectuals, organized labor has much to offer: a rich history, seasoned leaders and, most significantly, an immediate connection to workers. For organized labor, the potential of such an alliance is equally significant. It can renew the commitment to social and political change, reminding workers and their leaders that unions are far more than just vehicles for economic gain.