Friday, May 6, 2016, 3:42 pm · By Sarah Lahm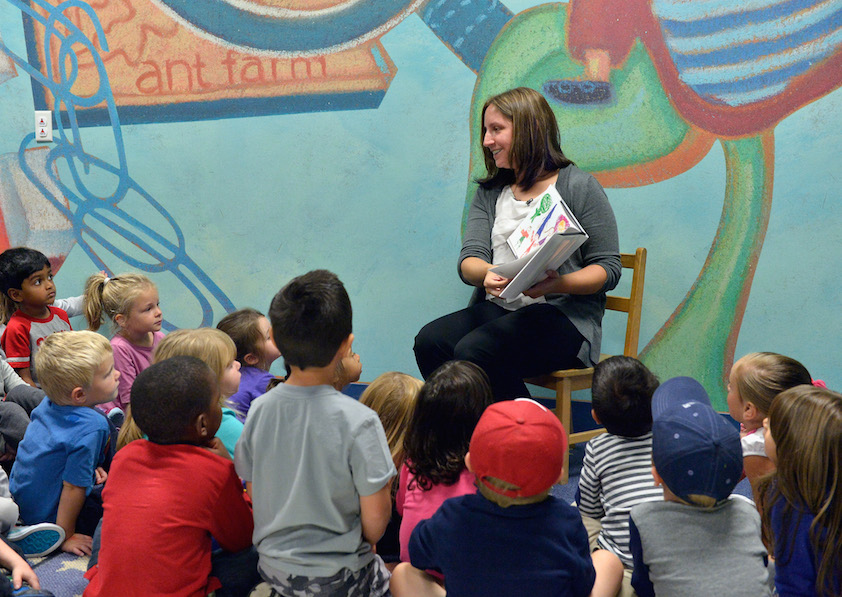 Depending on who you listen to, Minnesota's public school teachers are either too hard to get rid of or too hard to find, hire and keep around. Thanks to two recent developments—first, a state report on teacher supply and demand, and second, a very public lawsuit aimed at challenging the state's teacher tenure laws—this is the contradictory place Minnesota now finds itself in.
In early March, the Minnesota Department of Education put out a mandated, biennial report documenting teacher supply and demand in the state. The report shows that Minnesota is facing an alarming teacher shortage, especially in notoriously "hard to fill" positions like special education and bilingual instruction. Ninety-six percent of Minnesota's teachers are also white, according to the report, yet one-third of the state's student population are kids of color, due to a stated inability to find and retain teachers that look like their students. (Districts around the United States are facing similar situations, according to a 2015 report by New York Times education reporter Motoko Rich.)
School districts in rural Minnesota are also struggling mightily to attract teachers, leading a grassroots advocacy group, called MREA, to make this online declaration: "Minnesota can no longer turn a blind eye to the severe teacher shortages and long-term teacher supply issues in the state. A lack of teachers is affecting academic opportunities and achievement in our schools." MREA has worked alongside groups such as the statewide teachers union, Education Minnesota, to make expanding Minnesota's teaching pool a high priority for the state's 2016 legislative session.
Thursday, May 5, 2016, 5:10 pm · By Ari Paul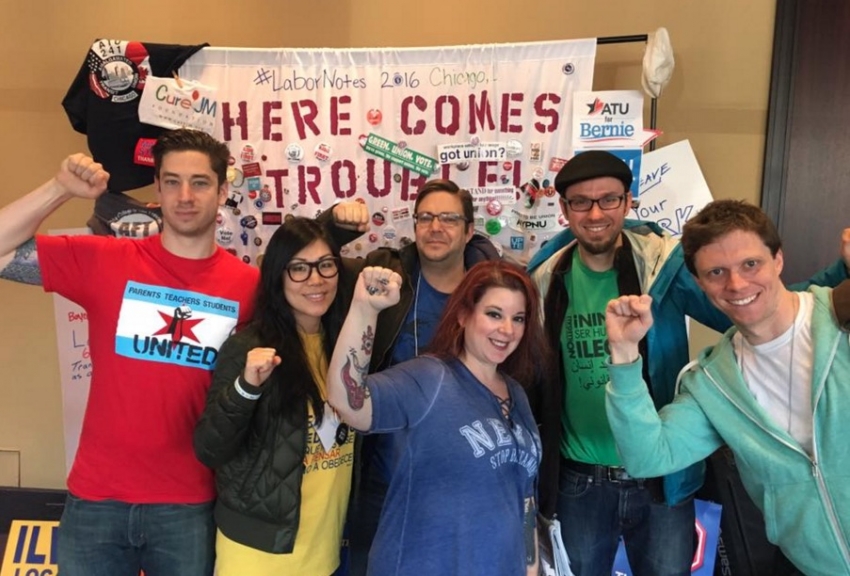 Manhattan special education teacher Jia Lee just couldn't take it anymore.
New York state Common Core testing standards, implemented in January of 2011 under the first Andrew Cuomo administration, not only tied teachers' careers to student scores, but forced those teachers to focus solely on taking exams and diverted all educational energy toward rote memorization.
"They're little human beings, not test scores," she says.
Lee was frustrated. But she says her union, the United Federation of Teachers (Local 2, the largest affiliate of the American Federation of Teachers) had agreed on implementing new testing requirements in order to negotiate with the state on how that regime would go forward.
When Lee announced that she and her colleagues would protest by not administering the required test in 2014, having pulled her own son out of testing as a parent activist the year before, the union regarded it as an unsanctioned action and gave her no support, she says. Lee claims they decided not to impose the test on their students, and no disciplinary charges from the school administration ever came down, either.
Her claims do, however, fly in the face of the UFT's official stance on testing. UFT president Michael Mulgrew said as early as 2011 that testing requirements harmed students and teachers alike. "The relentless march onward of the testing obsession represents the complete triumph of ideology over evidence," he stated.
Nevertheless, Lee was unimpressed with the union's stance, and as a result of her activism, was invited to testify before the U.S. Senate Committee on Health, Education, Labor and Pensions on the subject of testing, which she said shifted all resources in education away from social studies toward rote memorization, and that arts and musical education rested on outside funding from parents. Now a public face in the nationwide movement of teachers and parents resisting rigorous testing in schools, she is vying to become the president of one America's most important teachers unions.
This month, she'll face off against two-and-a-half term incumbent Michael Mulgrew as the lead candidate for the Movement of Rank-and-File Educators, the local branch of the United Caucuses of Rank-and-File Educators that has affiliates throughout the country who are inspired by the reformers who took control of the Chicago Teachers Union and successfully led the 2012 strike.
Tuesday, May 3, 2016, 4:07 pm · By Corey Robin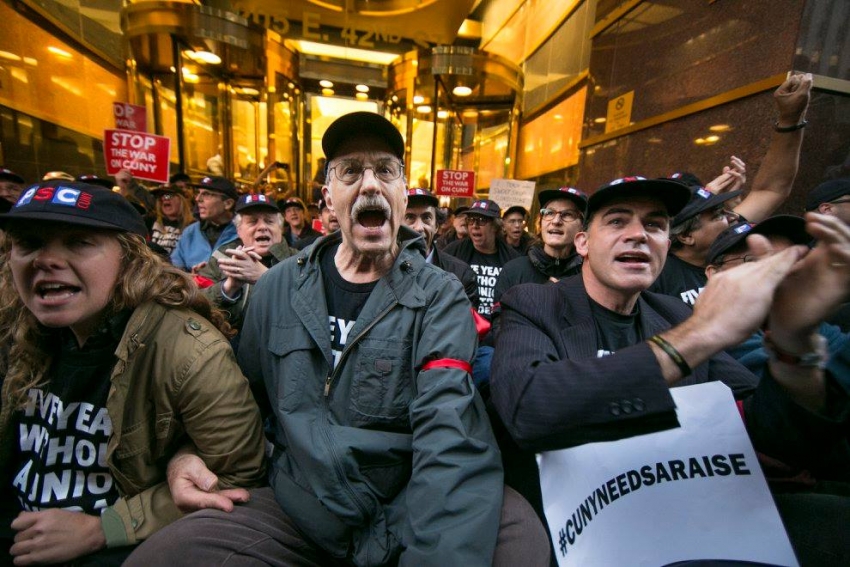 This semester, I'm teaching our department capstone seminar, on the classics of political economy, in which students are expected to write a lengthy piece of original research.
It's an intense process for the students. We start with a one- to two-page précis. The students then write a detailed outline of the paper. Then they submit a rough draft (I just got the rough drafts yesterday and have begun reading them today). And then the final draft, which is due in a few weeks.
My goal is twofold: first, to get the students to really dig into a topic (I've written about that here); second, to teach the students that old truism that all writing is just rewriting. I think the fancy ed folks like to call that "iterative writing" (google that phrase and you get 16.2 million results). But to me, it's just writing. Anyone who tells you otherwise is selling you snake oil.
This kind of teaching, that kind of intensive feedback, of going over sentence after sentence, is a lot of work. It can be grueling and challenging for the student.
Tuesday, May 3, 2016, 3:42 pm · By Mario Vasquez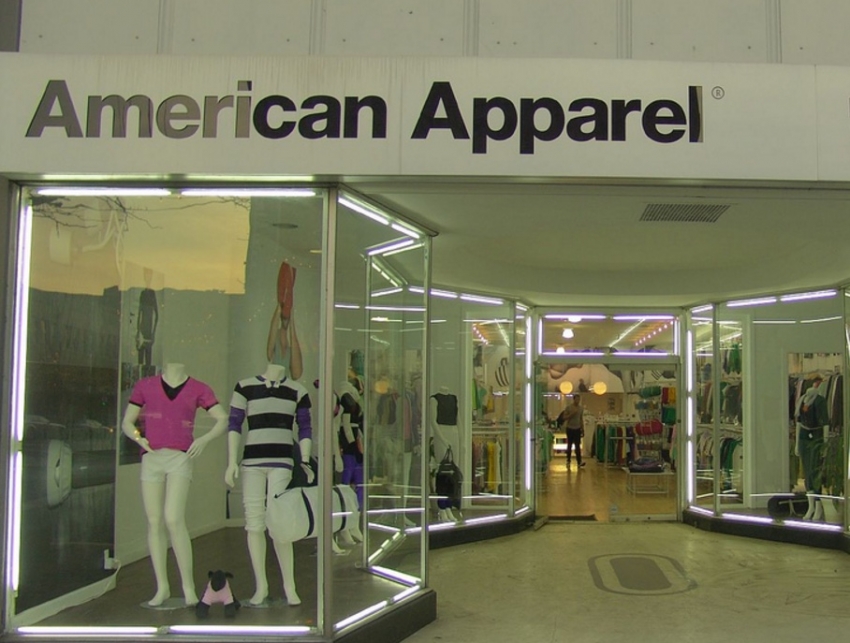 The General Brotherhood of American Apparel Workers (GBWAA), a union for garment workers at American Apparel's southern California manufacturing facilities—one of which, its downtown Los Angeles location, is the largest garment-making factory in the country—has called for a boycott of the brand's merchandise, pointing to mass layoffs and reduced compensation and benefits that have intensified since new management in January 2015 began a process of post-bankruptcy restructuring throughout the corporation.
Monday, May 2, 2016, 6:41 pm · By Max Zahn
The ubiquity of Drake's "Hotline Bling" has endured for months, but the song still shocks when played at 6 AM by a full marching band. That precise spectacle swiveled groggy heads in midtown Manhattan recently, when fast food workers rallying outside McDonald's enjoyed a brassy rendition of Drake's hit. Many workers danced, while others exuberantly sang the anthem's pining chorus, "you used to call me on my cell phone."
A nitpick political consultant, however, might've labeled Drake's woeful lament as "off-message." Unlike the character Drake is rapping as in "Hotline Bling", the Fight for $15 has never felt a warmer embrace.
Just two weeks before the single-day strike, New York Gov. Andrew Cuomo struck a deal with the legislature's Republicans that put the state on a path to a $15 per hour minimum wage. The momentous victory, replicated shortly thereafter in California, enshrined into law one of the movement's principal demands.
"I'm proud to say we won $15 for workers, neighbors, and friends," said Rebecca Cornick, an employee at a Wendy's in Brooklyn since 2006. "No one should have to work in poverty."
Yet the movement's goals, even in New York, remain unfinished.
"Since the campaign began, the workers have always had two demands," said Fight for $15 organizing director Kendall Fells. "It's $15 and a union, not $15 or a union."
The prospect of the campaign's flagship city and state turning their attention to the unionizing effort raises a crucial question: Can the Fight for $15 translate the popularity of its minimum wage platform into an equally successful union push?
Monday, May 2, 2016, 12:05 pm · By Dan DiMaggio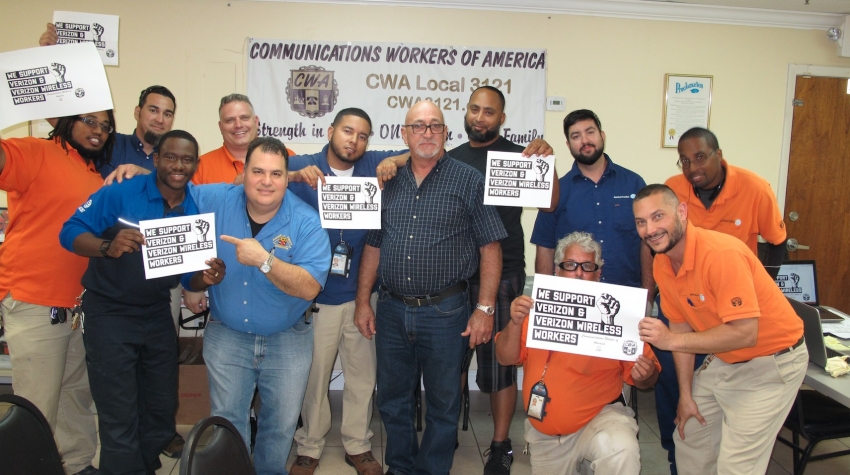 This post first appeared at Labor Notes.
As the strike by 39,000 Verizon and Verizon Wireless workers continues into its fourth week, efforts are underway to broaden picketing at Verizon Wireless stores across the country. Workers at seven Wireless stores in Brooklyn, New York, and Everett, Massachusetts, are on strike, along with wireline workers from Massachusetts to Virginia.
The Communication Workers are working with Jobs with Justice to get local unions and community groups across the country to "Adopt-a-Store"—meaning they would agree to picket and leaflet outside Verizon Wireless corporate stores at least twice a week for two to three hours.
But a few CWA locals didn't wait for a lead from their District or the national to get going.
"We still believe in the old adage that an injury to one is an injury to all," said Dave Ratcliff, secretary-treasurer of Local 6012 in Tulsa, Oklahoma, which picketed a Verizon Wireless store on the afternoon of Saturday, April 23. "We saw our union brothers and sisters in the Northeast struggling and we wanted to let them and Verizon know that they're not alone."
Thursday, Apr 28, 2016, 12:46 pm · By Chris Brooks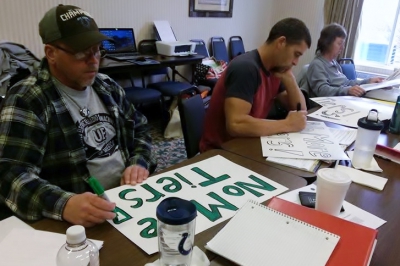 This post first appeared at Labor Notes.
Factory workers who make heavy-truck suspensions in Kendallville, Indiana, approved a contract in March that will phase out their two-tier wage and pension system, bringing everyone within 40 cents of the top tier by 2020 and eliminating the bottom tier by 2026.
How'd they do it? With a vigorous contract campaign that showed the company, Hendrickson International, that the union's 130 members were ready to strike. That's also how they've maintained 99 percent union membership, despite Indiana's "right-to-work" law.
Wednesday, Apr 27, 2016, 8:54 pm · By Bruce Vail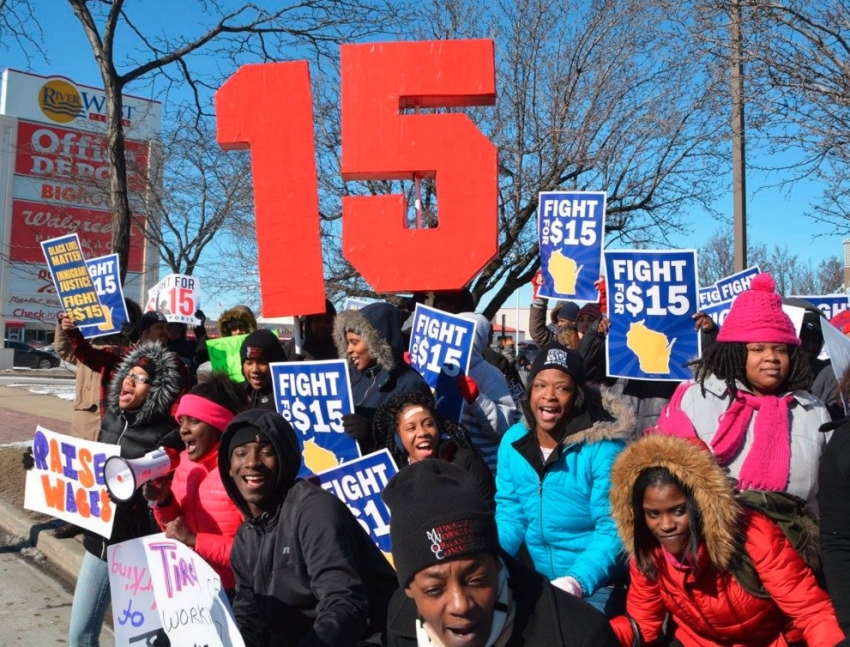 BALTIMORE—Although it was nowhere on the ballot, the Fight for 15 was a winner in the municipal elections here Tuesday.
In a Democratic Party primary election that selected candidates for both a new mayor and a new majority of the city council, supporters of a city-wide minimum wage law of $15 an hour appear to have won enough offices to see it enacted. The push is underway now to get it passed this year, and almost certainly will be passed by early next year, at the latest, activists say.
Because of a large Democratic majority in the city, the spring party primary is considered tantamount to final victory in the November general election. Only an unprecedented political upheaval could prevent the candidates selected this week from taking office in January 2017.
Fight for 15 supporters are mobilizing behind a bill introduced earlier this month by City Councilwoman Mary Pat Clarke (D). Clarke's bill would raise the minimum wage to $15 an hour by 2020, and also eliminate the subminimum "tipped wage."
Worker activists are pleased that the new Democratic candidate for mayor, Catherine Pugh, is committed to signing a $15 bill, says Charly Carter, executive director of the political party Maryland Working Families. The new city council will include a strong majority who have already committed to supporting the higher minimum wage, so the path to final passage seems clear, she says.
Majority support in the 15-member city council was evident even before the election this week, Carter explains. "We had somewhere between nine and 12 votes before the primary. But our goal had to be at least 12," to override an anticipated veto by current Mayor Stephanie Rawlings-Blake, she says. Although Rawlings-Blake had never explicitly threatened a veto, some City Hall insiders are interpreting her lukewarm public comments about the higher minimum wage as a veiled veto threat.
With this political arithmetic, Working Families made support for $15 one of its minimum requirements for an endorsement in city council races, as did a number of labor unions active in local politics. Special importance was attached to the council races because an unusually large number of members had announced their retirements, meaning that a working majority on the council would be reformulated in the election process. Therefore it was a priority for Working Families to add support for the Fight for 15, Carter says.
Riccara Jones, a political organizer for the Service Employees International Union (SEIU), did candidate interviews on behalf of her union and reports that most candidates were quick to commit to $15. "Support for Fight for 15 is out there in the community, and the politicians who are listening to the community are lining up," Jones says. Maryland units of SEIU locals 1199 and 32BJ endorsed seven candidates for council, and six of those were successful on election day.
"I'm optimistic we have the votes" to pass the minimum wage law, Jones adds. The union will push to pass it this year, despite reservations about Mayor Rawlings-Blake. "She'll be gone at the end of the year, so I don't see any reason why she would want to fight over this. Even if she wins a veto fight, then it gets passed under Mayor Pugh. … Our goal is to do it now. Baltimore can't wait another year," she says.
Jones' comment partially reflects a feeling among some political activists that an opportunity for change in the wake of the Baltimore race riot one year ago is slipping away. Working Families' Carter, for example, says that there have been a lot of press conferences and statements from public officials, but there is no sense in the streets that anything has changed. The voluntary retirement of Rawlings-Blake and the turnover at the city council seems to be an admission of defeat by Baltimore's current political leadership, but that has yet to replaced by a renewed sense of purpose.
"A year after the uprising, nothing has been done. The terrible conditions in these neighborhoods have not changed at all," she says.
Operating independently of Working Families, UNITE HERE Local 7 has been active in this election but on a different scale, says President Roxie Herbekian. "We are more oriented to the community level. We saw that two council districts had a high percentage of our members, and that the incumbent councilmen in those two districts are what I would call 'do nothing' politicians. So we supported challenger candidates and worked hard to get them elected. Of course, we wouldn't support anyone who would oppose the $15."
UNITE HERE was rewarded with success on Election Day, and both challengers supported by the union won. "But really, we are not about making friends with one candidate or another. We are mobilizing on a community level around our broad goals," of improved lives for workers, she says.
A higher minimum wage fits in with those broader goals and will have a real impact in the lower-income neighborhoods of Baltimore, Herbekian predicts. UNITE HERE, along with other unions and local activists, will be pushing the city's elected officials to move as quickly as possible, she says.
Tuesday, Apr 26, 2016, 3:05 pm · By Jason Kozlowski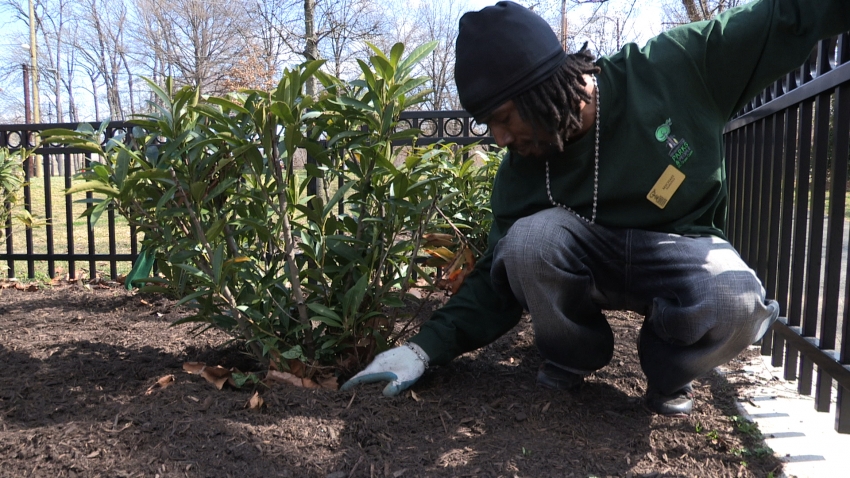 A film occasionally blindsides every self-professed cinephile with the depth and complexity with which it treats its subjects and themes. For me, this transpired when I saw a trailer for Brandon and Lance Kramer's film City of Trees at the 2014 Global Labor Film Festival Organizers Conference in Washington, D.C..
A nuanced view into an urban green jobs program in our capitol, the trailer impressed me with its richness and underlying humanity enough to watch the full-length film. City of Trees is a subtly powerful, insightful, and at times poignant social and environmental documentary, blending social and environmental themes.
Monday, Apr 25, 2016, 6:53 pm · By Bruce Vail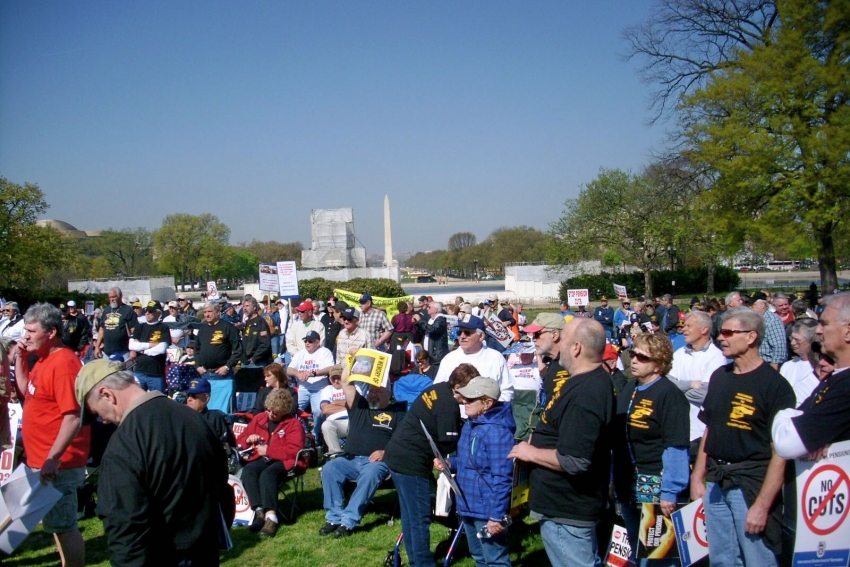 With a key deadline looming early next month, pension activists in the Teamsters union are turning up the heat to head off government action that will slash the incomes of hundreds of thousands of union retirees who receive benefits from the Central States Pension Fund, and set a dangerous precedent for millions more.