Thursday, May 26, 2016, 4:28 pm · By Elizabeth Grossman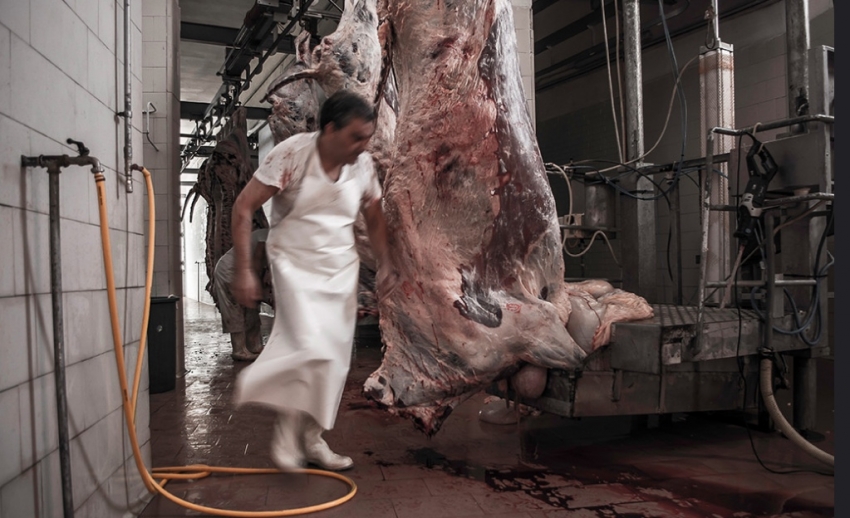 The meat and poultry industry remains exceptionally dangerous, despite a decline in reported injuries and illnesses over the past 10 years, according to a new Government Accountability Office (GAO) report. Further, says the report, the injury and illness rates reflected in Department of Labor numbers are significantly underreported. As a result, these figures do not fully represent what is actually happening within this industry that employs about 526,000—including many recent immigrants and noncitizens. The report also found evidence of workers being denied proper medical treatment on the job and that they often fail to report injuries for fear it will cost them their jobs.
Wednesday, May 25, 2016, 6:53 pm · By David Bacon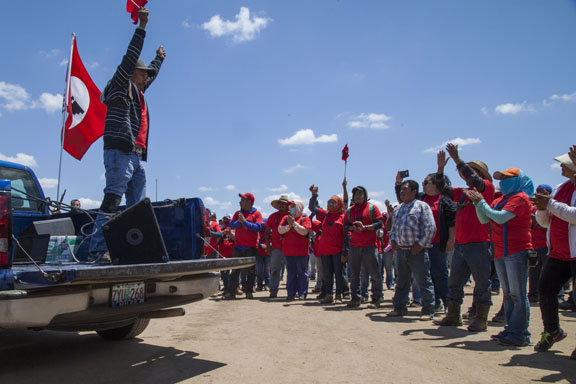 Sometimes they call themselves chapulines.
It's a Oaxacan inside joke. Chapulines are small insects, like grasshoppers. When they're toasted with lime and garlic, they're a delicacy that's as much a part of Oaxacan indigenous culture as mezcal or big tlayuda tortillas.
One worker standing in line in the edge of a San Joaquin Valley blueberry field laughed at the name. "We're very humble, like chapulines, and there are a lot of us, like we're all piled up together on a plate." Another reason he liked the similarity was the color: a plate of chapulines is reddish brown. Pointing down the line of workers, he gestured: "Look at all the t-shirts."
Hundreds of workers had lined up in two long rows in the pre-dawn darkness, ready to vote in a union election last Saturday morning. So many were wearing red t-shirts emblazoned with the black eagle of the United Farm Workers that the few people without them stood out conspicuously.
As the sun came up, the lines slowly moved toward the ballot boxes, and workers began to vote.
By 11:00 a.m., it was over. Blueberry pickers in their red t-shirts poured out of the rows of bushes, and then gathered in a semicircle to watch an agent of the Agricultural Labor Relations Board make the count.
As he announced it, 347 to 68 in favor of the union, the cheering started. The chapulines had won.
Wednesday, May 25, 2016, 4:52 pm · By Bruce Vail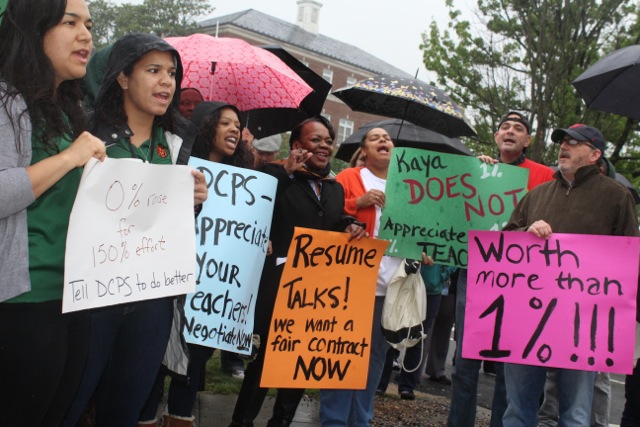 It's been five years since self-styled education reformer Michelle Rhee left her job as head of the District of Columbia Public Schools under a cloud of bitterness and controversy, but she is still throwing shade over the Washington city school system.
Rhee's open hostility to unions was a hallmark of her tenure in D.C. and of her subsequent career as an executive of the education reform group StudentsFirst. That hostility continues to darken relations between city officials and the teachers union, labor advocates say.
Monday, May 23, 2016, 4:52 pm · By Jeremy Brecher and Todd Vachon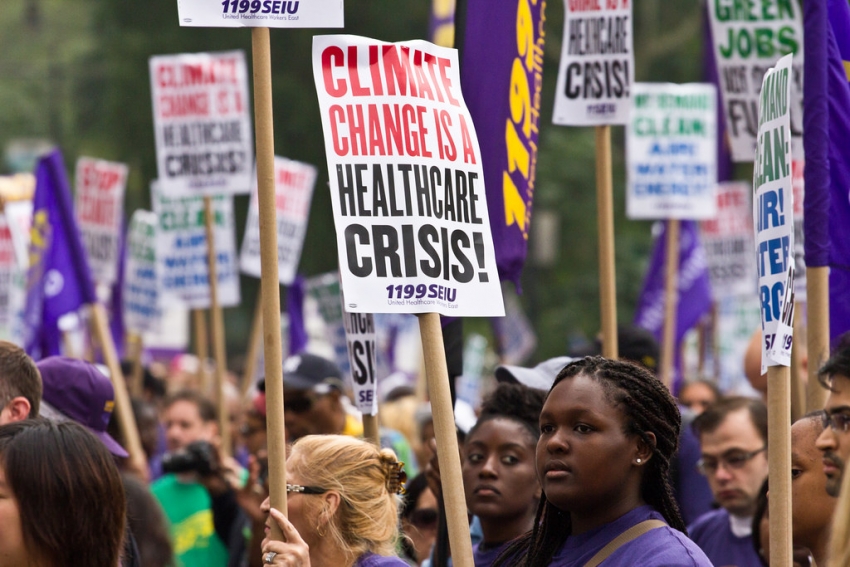 Union workers attacking environmentalists—it has become a trope of our time. But what do union members actually think about the environment?
In a study soon to be published in Labor Studies Journal, we report our findings on workers attitudes and behaviors regarding a variety of environmental issues. In particular, we examine the attitudes and behaviors of unionized workers to see how they may differ from the non-union respondents. The results might surprise those whose images of worker attitudes come only from the mainstream media.
Looking at data from national surveys, we find that union members are on average more likely than the general population to display pro-environmental attitudes and behaviors.
Monday, May 23, 2016, 4:40 pm · By Elizabeth Mahony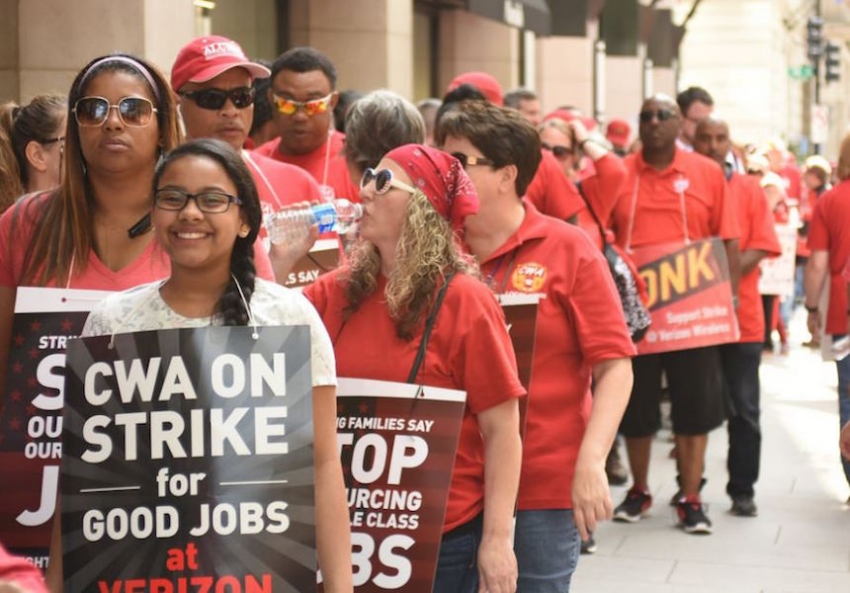 This piece first appeared at Jacobin.
On Tuesday, news broke that Verizon would return to the bargaining table with the Communications Workers of America (CWA) and the International Brotherhood of Electrical Workers (IBEW). The renewed negotiations could bring to a close the largest US strike in five years, which has seen nearly forty thousand workers—mostly landline technicians but also some call-center and retail employees—walk out for more than a month.
At stake are the potential outsourcing of call-center jobs to the Philippines and Mexico, the implementation of forced overtime, the assignment of employees to other cities for months at a time, and the increased use of non-union contractors.
But beyond specific contract issues, the strike is drawing out the distinct paths forward for a labor movement that faces a strategic fork in the road.
Monday, May 23, 2016, 10:21 am · By Ethan Miller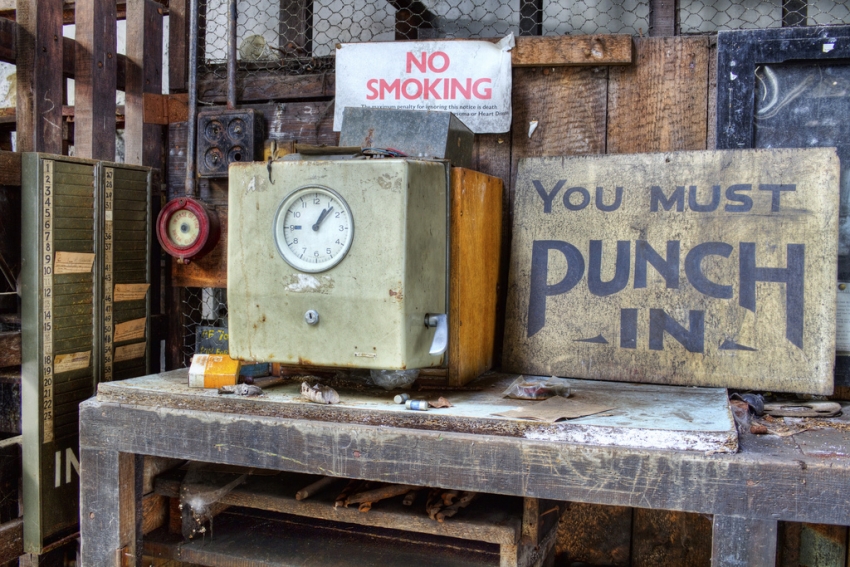 Last week, Vice President Joe Biden and Secretary of Labor Tom Perez revealed the final version of the Obama administration's updated overtime rules to great fanfare. The new regulations are an update to outdated rules that specify which salaried employees are (or are not) legally entitled for time-and-a-half overtime pay when they work more than 40 hours per week.
The Labor Department, unions and advocacy groups have been focused on how the rule update will impact those who work in the private sector, mainly fast food or retail store managers who are salaried but are often expected to work 60 or 70 hours a week without any more pay. But in the week since the rule was released, many of my friends and acquaintances who work for progressive nonprofits have been asking what this change will mean for them.
Many of these friends have worked at justice-oriented, progressive nonprofits which depend on the work of canvassers, organizers and campaigners who are told that their good work more than makes up for the low pay they receive. These organizations exploit the passion and drive of their staff to stretch their budgets past a reasonable level, regularly requiring staff to work overtime without any extra compensation. Sometimes, these organizations oppose staff efforts to unionize or otherwise improve working conditions, despite professed commitments to economic justice and workers' rights.
One such outfit, the U.S. Public Interest Research Group (PIRG for short) has even gone so far as to oppose the new overtime rule, calling it "unrealistic" for "non-profit, cause-oriented organizations" and promising to "pursue all available options to prevent this rule from diminishing our ability to advocate for the public interest." From their point of view, yes, the requirement to pay their staff extra for overtime would pose a problem. It will no longer be possible for them to pay $26,000 a year to employees working 10-12 hour days.
But the real problem started much earlier.
Friday, May 20, 2016, 9:17 am · By Alex Gourevitch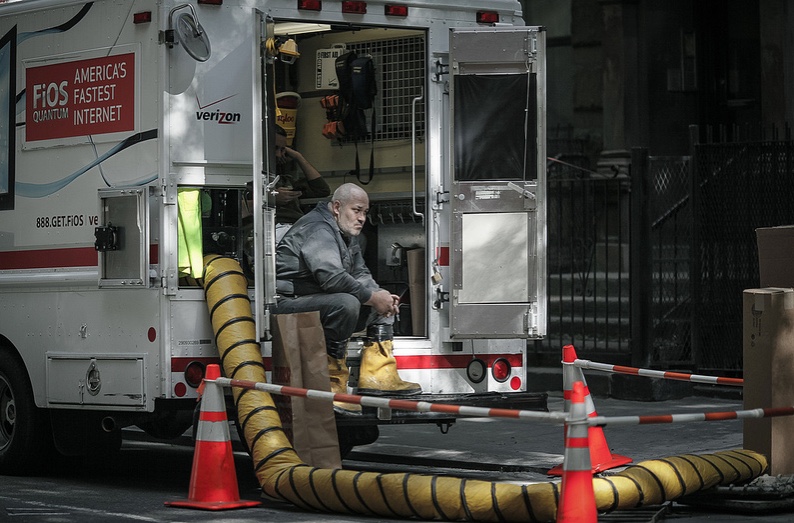 This piece first appeared at Jacobin.
Bruce* has worked construction for Verizon for nearly thirty years and he is on strike. Walking a picket outside a Verizon Wireless store, he explains why: "I love this job. It's outdoors, you get dirty, you get to do things. You see that island over there, I can tell you where each of the manholes are. I've been in every one of these buildings here," he says, pointing to a café, then some office buildings, a travel agency, and a few restaurants. "I don't like not working, just standing around here. But we gotta do this. I mean, I love this job but I don't want it for my children."
Only a few Verizon workers are picketing this Massachusetts location, standing calmly in the signature red shirts of the Communications Workers of America (CWA) holding placards emblazoned "On Strike!"
Wednesday, May 18, 2016, 10:00 am · By Michelle Chen
If the gig economy is so hot, why is a good gig still so hard to come by? The sharing economy's new breed of on-demand jobs—a charismatic blend of the consumer economy and libertarian corporate culture, festooned with digital bells and whistles and sophisticated data tracking—attracts equal parts fascination and revulsion as the "future of work."
Labor has become an uneasy bedfellow of the sharopoly of late. Last month, SEIU drew outrage from other unions and community groups who learned through an apparent leak that the union was negotiating a "partnership" with the quasi-hotelier Airbnb. According to reporting in The Washington Post, under the terms of the deal Airbnb would have encouraged its hosts to contract housekeeping services through a union-affiliated worker cooperative. The problem was not that SEIU was linking housekeepers to good union jobs (providing a $15 hourly wage to boot) but that the union would be implicated in a business model that many see as fueling the gentrification of working-class communities. After fierce criticism from the hotel union Unite Here and tenants' organizations in San Francisco and New York, where Airbnb has a heavy presence, SEIU reportedly backed down a few days after news broke of the tentative agreement.
Tuesday, May 17, 2016, 2:25 pm · By Elizabeth Grossman
More than 3 million U.S. workers suffer a workplace injury or illness every year, according to the Bureau of Labor Statistics—numbers that are thought to be significantly underreported. But astonishingly, little or no information about at which workplaces these occur is made available to the Occupational Safety and Health Administration (OSHA), the agency responsible for enforcing U.S. workplace safety. Neither is this information made public.
But under a new rule OSHA has just announced, employers in "high-hazard" industries will have to send this information directly to OSHA for posting on the agencies website. The rule also includes provisions to protect workers who report job-related injuries and illnesses from employer retaliation.
Monday, May 16, 2016, 5:50 pm · By Michael Arria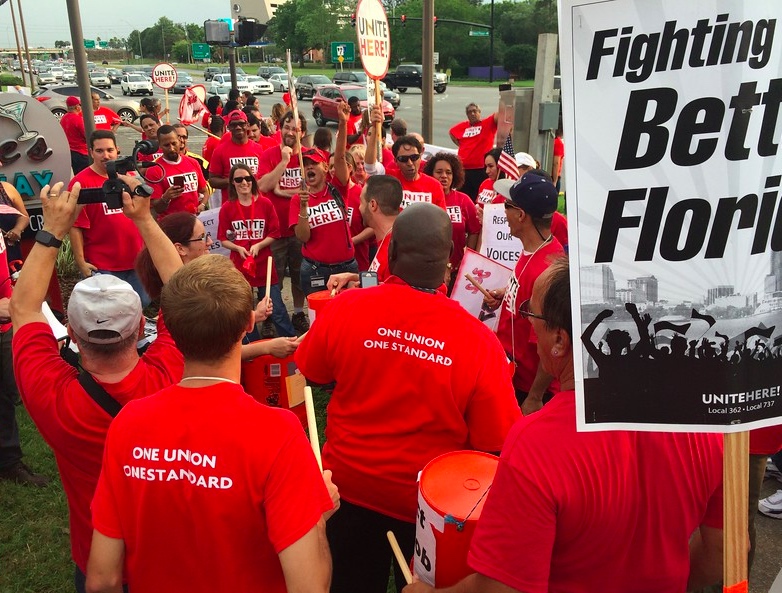 The cafeteria workers at "The Most Magical Place on Earth" are trying to organize a union. About three-quarters of the cafeteria workers at Walt Disney World in Orlando, Florida, have signed cards indicating that they want the union UNITE HERE to represent them.