Friday, Apr 21, 2017, 11:08 am · By Sarah Jaffe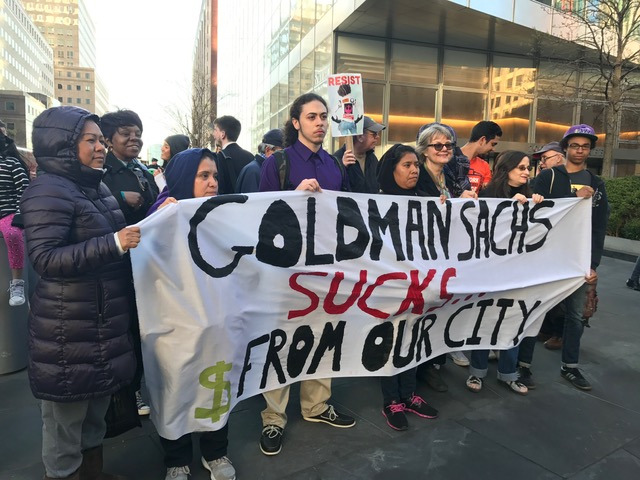 Welcome to Interviews for Resistance. Since election night 2016, the streets of the United States have rung with resistance. People all over the country have woken up with the conviction that they must do something to fight inequality in all its forms. But many are wondering what it is they can do. In this series, we'll be talking with experienced organizers, troublemakers and thinkers who have been doing the hard work of fighting for a long time. They'll be sharing their insights on what works, what doesn't, what's changed and what is still the same.
Renata Pumarol: My name is Renata Pumarol. I am the deputy director of New York Communities for Change (NYCC).
Sarah Jaffe: You guys had an action on Tuesday at Goldman Sachs on official Tax Day. Can you tell us about that and about what the theme of that action was?
Renata: Yesterday, on actual Tax Day, April 18th, we headed to the headquarters of Goldman Sachs here in New York to call them out for avoiding $10 billion in taxes, or for rather extracting $10 billion from our tax dollars—that is, by exploiting loopholes or their roles in company mergers and acquisitions. We really wanted to send a message that it is not only about [Donald] Trump releasing his taxes, but it is also about the 1% and companies like Goldman Sachs that really continue to exploit tax loopholes and avoid massive amounts of taxes that could be going to pay for basic services.
Sarah: Tell us about the action on Tuesday.
Renata: Tuesday we had New York Communities for Change, Resist Here, Democratic Socialists of America join us. We had about 50 people there, including members of the community who are directly impacted by service cuts and who will be impacted by the massive cuts in funding that Trump is going to implement. We headed there with a clear message that Goldman has avoided $10 billion in taxes and that they should be not only paying their fair share, but also ending their influence on the American government.
Thursday, Apr 20, 2017, 2:22 pm · By David Dayen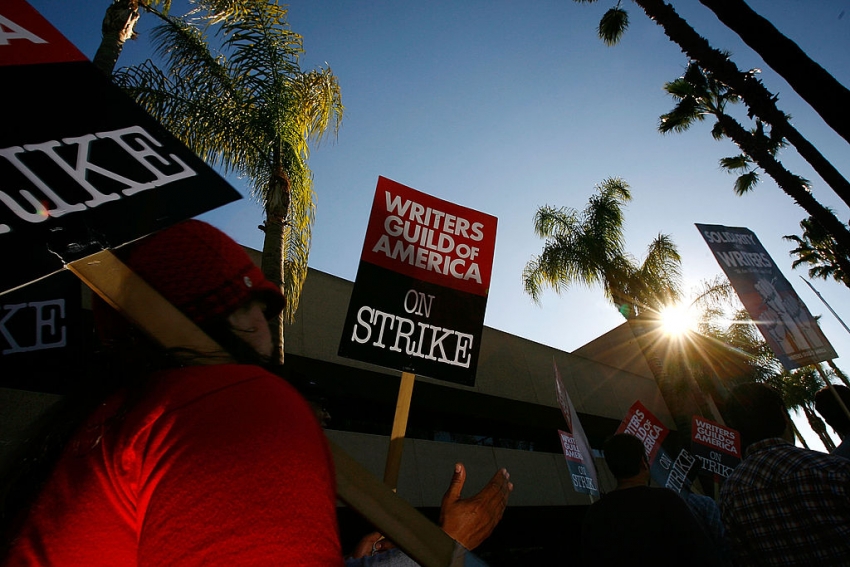 People say we're living in the golden age of television. Fans enjoy more high-quality choices than at any time in history. But this could all grind to a halt if the Writers Guild of America (WGA) follows through with authorizing a strike, which would start May 2 barring any last-minute deals with the major studios.
In the short-term, late-night talk and sketch shows could go dark or resort to improvisation, and the fall broadcast schedule could be threatened. (The WGA covers screenwriters as well, but movies operate on such a long timeframe that a strike wouldn't affect releases for over a year.) But more broadly, the battle would determine who benefits from the billions of dollars sloshing around Hollywood: well-off studio executives or the creators who bring unforgettable characters to life.
As Mad Men creator Matthew Weiner told colleagues in recommending a strike, writers simply want "to participate in this windfall we created in the last five years."
Wednesday, Apr 19, 2017, 1:41 pm · By Sarah Aziza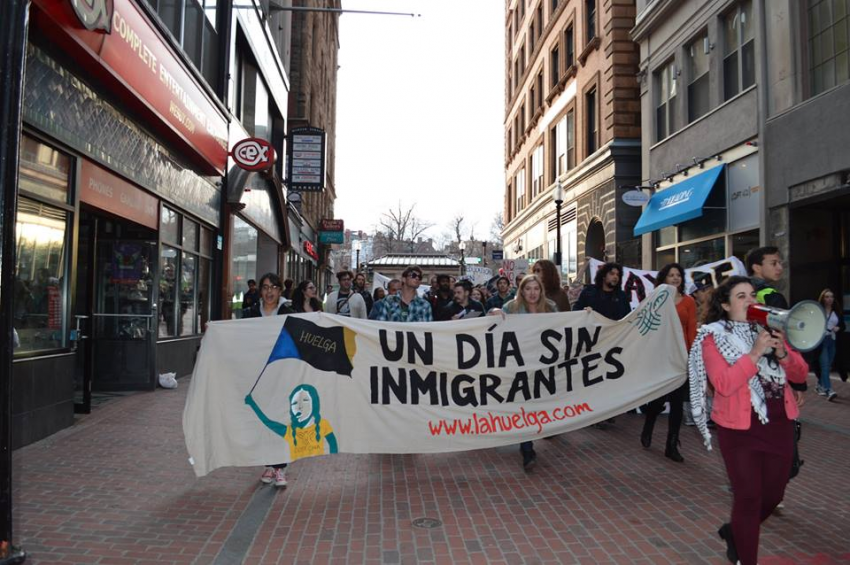 This article was first posted by Waging Nonviolence.
When 26-year-old Catalina Adorno hit the road on March 28, she knew it would be at least six weeks before she'd sleep again in her own bed. Since that day, Adorno, a Mexican-born New Jersey resident with a strong voice and bright laugh, has criss-crossed from Pennsylvania to Maine as part of a regional support team for Movimento Cosecha, a national immigrant rights coalition. Her stops have included major cities and small towns, as she and her three teammates work to mobilize Cosecha's vast network of "local circles" ahead of a massive day of coordinated action slated for May 1.
On April 3, Adorno's team stopped off in Washington, D.C. to hear Cosecha spokesperson Maria Fernanda Cabello make the formal call for a May 1 nationwide strike. The planned action, billed as "A Day Without an Immigrant," is set to be the largest immigrant rights action for at least a decade, with hundreds of thousands already pledging to stay home from work for a day in protest of systemic discrimination towards the immigrant and undocumented communities. At the press conference, Cabello pointed to the massive labor and capital power represented by the immigrant community, including 11 million undocumented residents. The May 1 protest, asserted Cabello, would be the next step in a strategy of harnessing this power to "change the conversation on immigration in the United States."
Tuesday, Apr 18, 2017, 11:02 am · By Gerard Di Trolio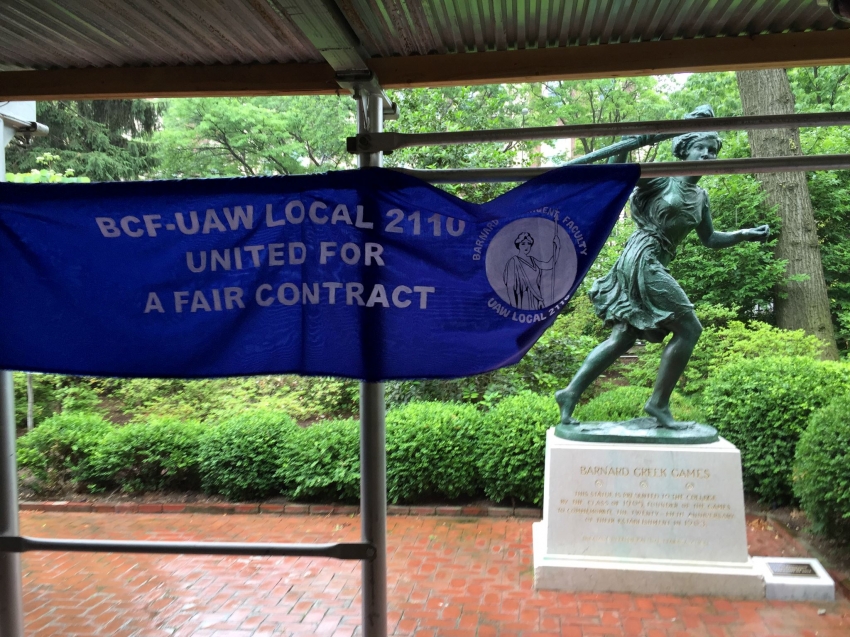 The contingent faculty at Barnard College have won their first contract, adding another victory for precarious academic workers across the country.
Barnard Contingent Faculty-UAW Local 2110 (BCF-UAW) is made up of about 200 adjunct professors and term faculty, predominantly women. It was certified back in October 2015 and had been negotiating with Barnard's administration since February of last year.
In December, after getting nowhere, union members voted by an overwhelming majority—89 percent—in support of a strike. A strike date was set for February 21, and a tentative agreement was reached with just five days to spare. On March 26, BCF-UAW announced that a five-year contract had been ratified by its membership. More than 90 percent voted in favor.
"I think it's a strong contract. In some ways we had to compromise and there's room for improvement but we have a very good first contract and it creates a foundation for us moving forward," says Siobhan Burke, a Barnard graduate and adjunct lecturer of dance, who also sits on BCF-UAW's bargaining committee.
Friday, Apr 14, 2017, 12:18 pm · By Porfirio Quintano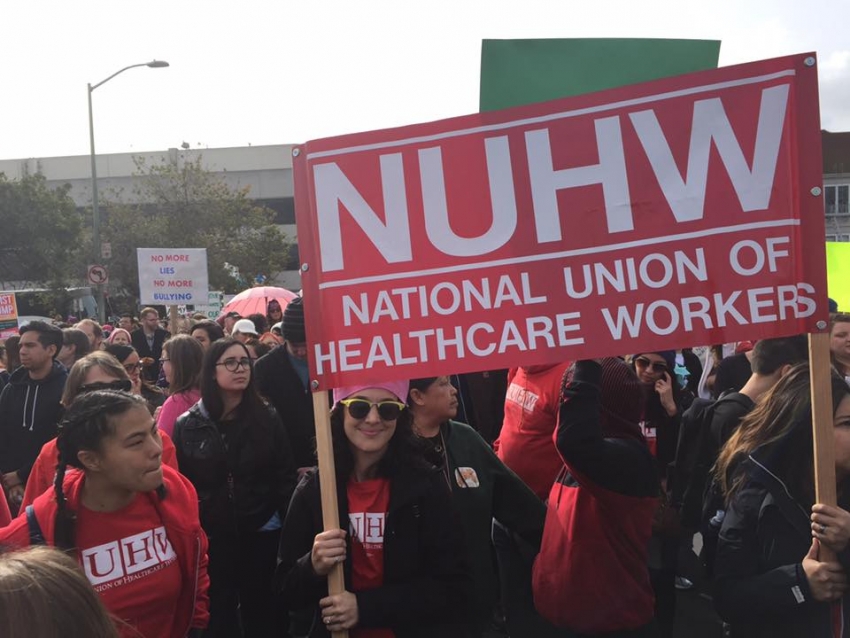 This article was first posted by Labor Notes.
I had no money and spoke no English when I illegally crossed the border into California 23 years ago, but I worked hard and fought for the right to stay here.
Had I made that harrowing journey this year, I'm sure I'd be deported right back into the crosshairs of the Honduran government's death squads that had targeted me and many other community organizers.
Instead I quickly won a grant of political asylum—and later received full American citizenship.
I know I'm one of the lucky ones. At the San Francisco hospital where I work, nine out of 10 members of my union are foreign-born. We never ask anyone about their immigration status, but I know several green card holders who are getting ready to apply for citizenship now that their place in America seems less secure.
People might think the Bay Area is one big protective cocoon for immigrants, but that's not the case. The suburb where I live is not a sanctuary city. And my elected county sheriff contracts with the Department of Homeland Security to house people awaiting deportation hearings.
Who can my co-workers count on if Immigration and Customs Enforcement (ICE) agents come looking for them or their family members? Our union, thankfully.
Thursday, Apr 13, 2017, 1:25 pm · By Bruce Vail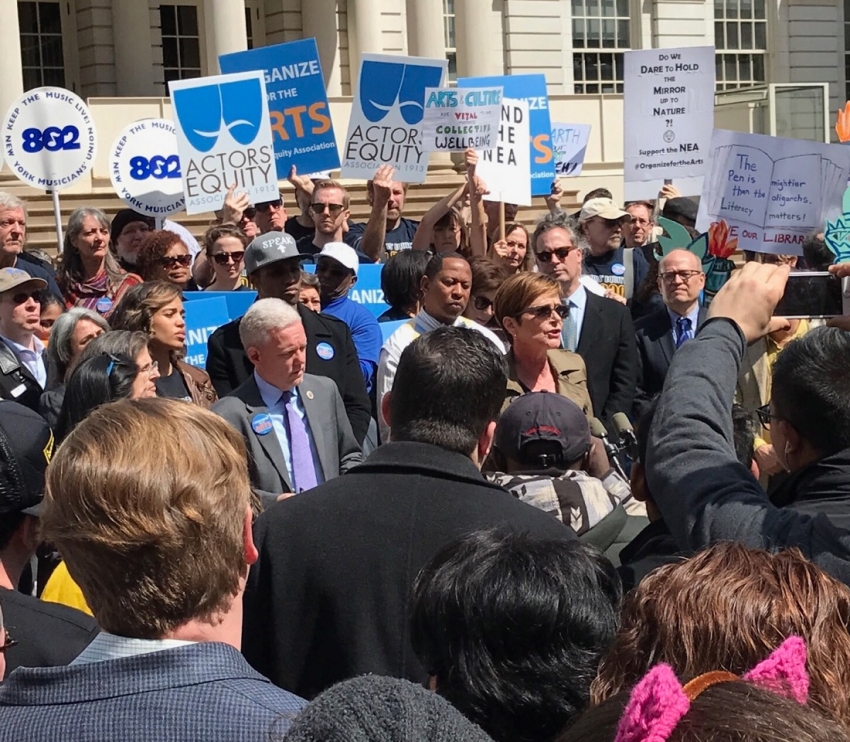 If President Donald Trump is serious about creating jobs in the nation's heartland then he needs to rethink his own proposal to eliminate federal funding for the National Endowment for the Arts (NEA), the agency that helps fund the not-for-profit groups behind thousands of the theater and music productions seen every year in middle America.
That's the analysis of leaders of the labor unions Actors' Equity and American Federation of Musicians, two organizations that could see employment among their members crippled if the cuts in Trump's so-called "skinny budget" are enacted into law. The current NEA annual budget of $148 million is small but important, they say.
Thursday, Apr 13, 2017, 12:31 pm · By Kate Aronoff
Amid threats from management, the recently-merged editorial staffs of Gothamist and DNAinfo have chosen to unionize with the Writers Guild of America East.
The two news sites became one recently when Gothamist was acquired by billionaire conservative donor Joe Ricketts. After opposing Donald Trump in the primaries, Ricketts, the founder and former CEO of online brokerage giant TD Ameritrade, pledged at least $1 million to his campaign against Hillary Clinton. Ricketts and his wife, Marlene, initially supported Scott Walker in the Republican primary, donating $5 million to his Unintimidated PAC. He also owns the Chicago Cubs and founded DNAinfo in 2009. His son, Pete Ricketts, is the Republican governor of Nebraska.
With the merger, Gothamist will now become the "official blog" for DNAinfo in New York, with Chicagoist folding into DNAinfo's Chicago site, also known for its hyper-local, neighborhood-by-neighborhood reporting. There have been layoffs recently, and the websites are now estimated to have around 25 editorial employees, the overwhelming majority of whom opted to join the union, according to a DNAinfo employee who spoke on the condition of anonymity, wanting to avoid any potential retaliation from management.
Tuesday, Apr 11, 2017, 5:32 pm · By Elizabeth Grossman
The "wellbeing of America and the American worker is my North Star," President Donald Trump trumpeted at a recent White House event.
But the Trump administration's policies are already adversely affecting workers' health by undermining occupational illness prevention—including for cancers, musculoskeletal disorders and respiratory diseases that afflict hundreds of thousands of U.S. workers.
"It couldn't get much worse in terms of the federal government's role in preventing the number of occupational illnesses and diseases," said Charlotte Brody, vice president of health initiatives at BlueGreen Alliance, an alliance of labor unions and environmental organizations.
Or, as Sidney Shapiro, a professor at Wake Forest's law school, put it, "We weren't doing this terribly well under a reasonably friendly administration so all bets are it's now going to fall completely apart."
Tuesday, Apr 11, 2017, 11:11 am · By Sarah Jaffe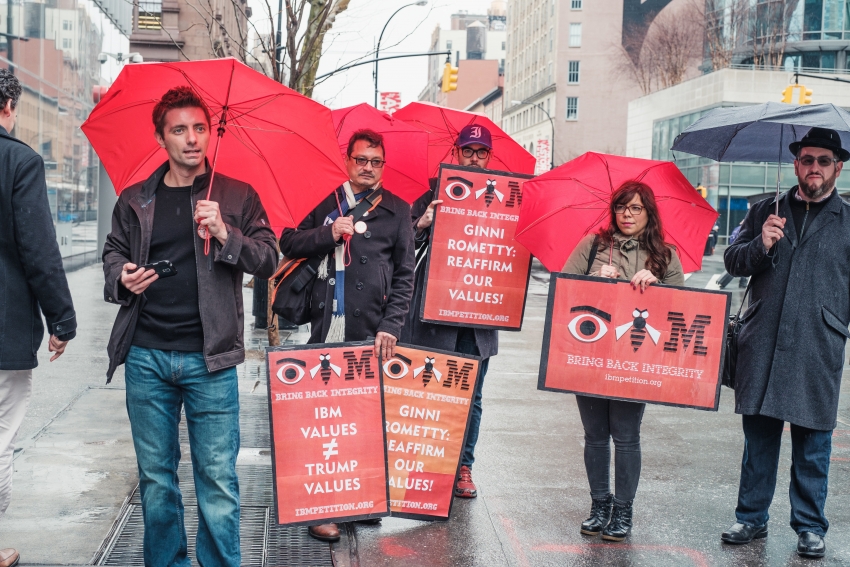 Welcome to Interviews for Resistance. Since election night 2016, the streets of the United States have rung with resistance. People all over the country have woken up with the conviction that they must do something to fight inequality in all its forms. But many are wondering what it is they can do. In this series, we'll be talking with experienced organizers, troublemakers and thinkers who have been doing the hard work of fighting for a long time. They'll be sharing their insights on what works, what doesn't, what's changed and what is still the same.
The tech industry likes to maintain a progressive reputation even when its policies increase inequality across the country. Yet after Donald Trump's election, tech executives lined up to express a willingness to work with Trump's administration. For tech employees, this disconnect between the values that the companies preach in public and the values expressed by Trump has led them to begin organizing in their workplaces, demanding that their employers not collaborate with the president and using this moment as an opportunity to push companies to live up to the values of diversity and inclusion. I spoke with workers at IBM who have begun such a campaign.
Friday, Apr 7, 2017, 5:48 pm · By Bruce Vail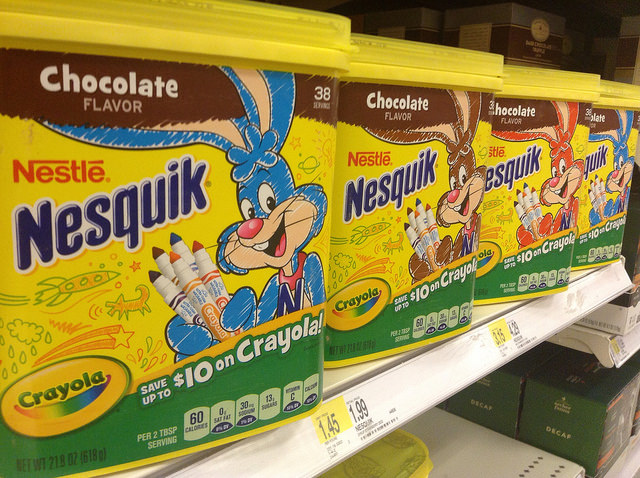 Your Nesquik may now be shipped by union workers, thanks to a powder-thin union election at a distribution center just south of Atlanta.
Workers at Nestlé's facility in McDonough, Georgia, voted 49-46 Wednesday in favor of representation by the Retail, Wholesale and Department Store Union (RWDSU), said labor organizer Greg Scandrett. The campaign was tough, so the victory is sweet.
"They [Nestlé] fought this from Day 1. They brought in people from HR from all around the country," Scandrett said.
He expects negotiations around a first contract will be difficult.