Tuesday, Sep 30, 2014, 3:44 pm · By Kevin Solari
The number of union members in New Orleans's tourism industry is set to double. The hospitality and gaming union Unite Here and Teamsters Local 270 are in contract negotiations with Harrah's Hotel and Casino after winning a card check election among 900 hotel and food workers.
Monday, Sep 29, 2014, 6:17 pm · By Micah Uetricht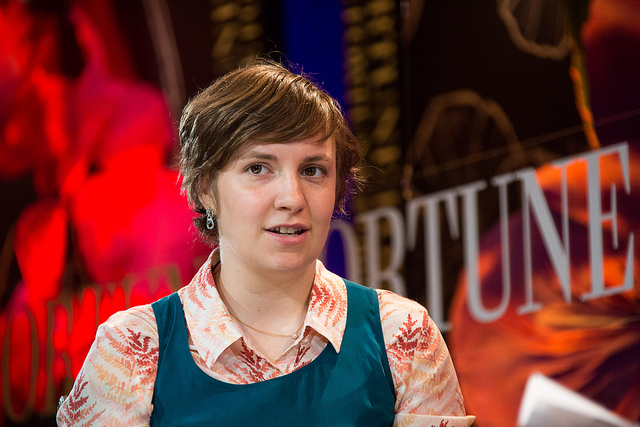 Lena Dunham is the creator of GIRLS, and her character on the show, Hannah, considers herself the voice of a generation—a generation which, its spokesperson surely already knows, is underemployed, overeducated, crushed with debt, and generally in need of some work. Work that pays, in particular.
So it was a bit strange that a recent New York Times piece revealed that Dunham was about to hire several performers to work for her, and she wasn't going to pay them.
Friday, Sep 26, 2014, 10:58 am · By Avi Asher-Schapiro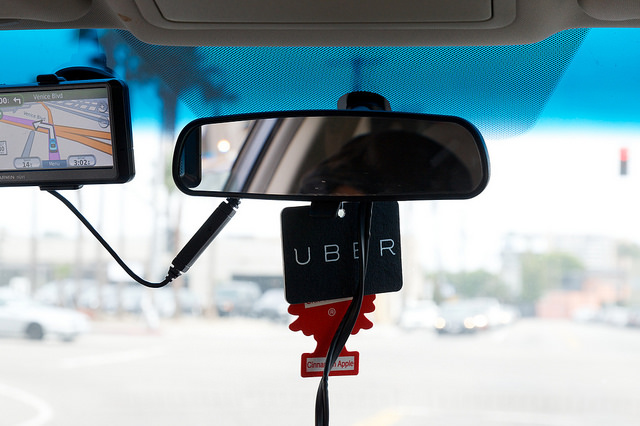 First published at Jacobin.
Kazi drives a Toyota Prius for Uber in Los Angeles. He hates it.
He barely makes minimum wage, and his back hurts after long shifts. But every time a passenger asks what it's like working for Uber, he lies: "It's like owning my own business; I love it."
Kazi lies because his job depends on it. After passengers finish a ride, Uber asks them to rate their driver on a scale from one to five stars. Drivers with an average below 4.7 can be deactivated — tech-speak for fired.
Thursday, Sep 25, 2014, 9:02 am · By Kate Jenkins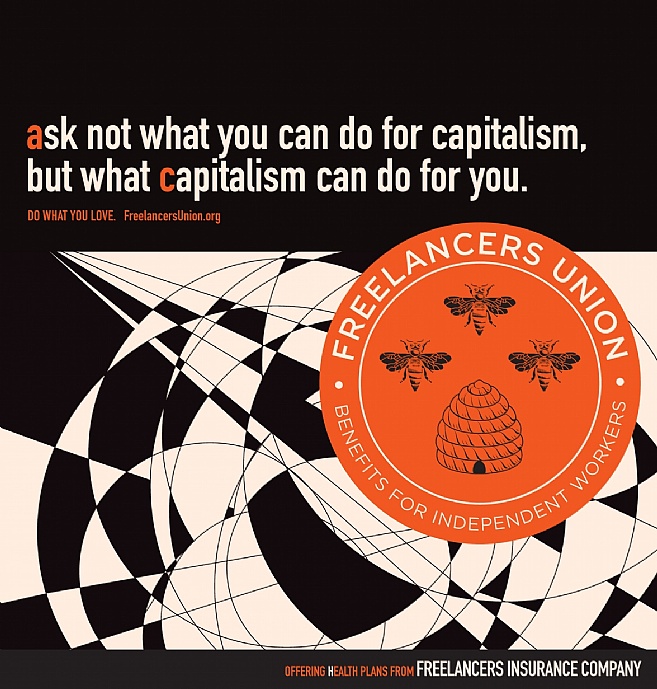 Early this month, the Freelancers Union released the results of an Edelman study which found that an astounding 34 percent of the U.S. workforce is now comprised of "freelancers."
In considering the results of the co-commissioned study, the Freelancers Union was in an oddly celebratory mood:
But this is more than an economic change. It's a cultural and social shift on par with the Industrial Revolution. Just as the move from an agrarian to an industrial society had dramatic effects on social structures around civil rights, workforce participation, and even democracy itself, so too will this shift to a more independent workforce have major impacts on how Americans conceive of and organize their lives, their communities, and their economic power.
This and countless other studies make it hard to contest the notion that the "end of jobs" is indeed nigh, and few would argue with the Freelancers Union's assertion that this major labor shift will have a massive social impact. But whether we should happily embrace this shift is still up for debate.
Wednesday, Sep 24, 2014, 10:43 am · By David Moberg
With their day-long strike a week ago and ratification of a new union contract on Sunday, workers at a Hammond, Indiana, auto parts plant may have dealt a blow to a divisive concession that has proven a scourge to many unions in recent years—"two-tier" wage systems.
Under these two-tier systems, new workers start at hourly rates far below longtime workers and have scheduled pay progressions that will never match the veterans' pay (nor usually their benefits, especially pensions). For example, under the old contract at the Hammond plant, Lear paid new workers as little as $11 an hour, rising to a maximum of $16 an hour, while veterans made $19.97 an hour doing the same work.
Thursday, Sep 18, 2014, 12:22 pm · By Bruce Vail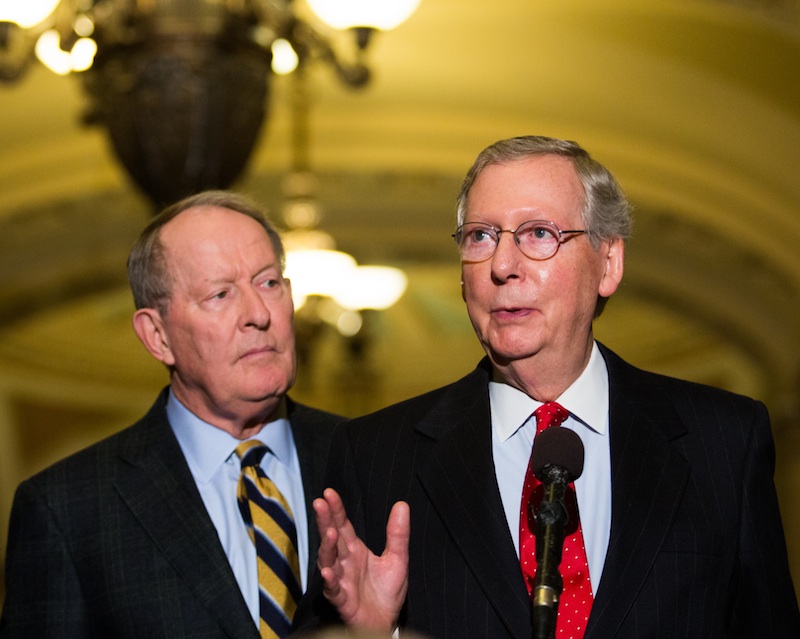 This week, Republican Senators introduced a bill they call the "The National Labor Relations Board Reform Act." Its chances of passage are very slim, but that's beside the point: The GOP wants to emphasize its displeasure with President Barack Obama's appointments of labor-friendly board members who thwart businesses' attempts to keep unions out of their workplaces.
The key feature of the bill would neuter the board (already too weak by many standards) by mandating that it be made up of three Republicans and three Democrats—a prescription apparently designed to ensure permanent partisan gridlock. It would also restrict the authority of the board's chief prosecutor and cut the operating budget of the agency if cases weren't decided in a timely manner. Larry Cohen, President of the Communications Workers of America (CWA), remarks that the bill would mean "the NLRB just can't do anything any more—and that's exactly what they [Republicans] want."
Thursday, Sep 18, 2014, 11:14 am · By David Moberg
Twenty-two years ago, Janet Elston and a few other passenger service agents at American Airlines decided that they needed a union. This week, they finally got it, winning an overwhelming vote to join the Communications Workers of America from 14,500 agents working for American and its new merger partner, US Airways.
"It's going to be a high-five day at the airport," she says.
With that vote, the labor movement also scored one of its largest victories in decades among a workforce primarily located in the South and Southwest, where resistance to unions by employers and reticence to join by many employees has been high. Roughly three-fourths of the merged company's ethnically diverse, primarily female service agents live in Texas, Florida, North Carolina or Arizona.
The victory, Communications Workers of America (CWA) president Larry Cohen says, primarily results from the "relentless" effort by the workers at the airline. "The lesson here is, 'Never stop,'" he says.
Monday, Sep 15, 2014, 5:10 pm · By Kari Lydersen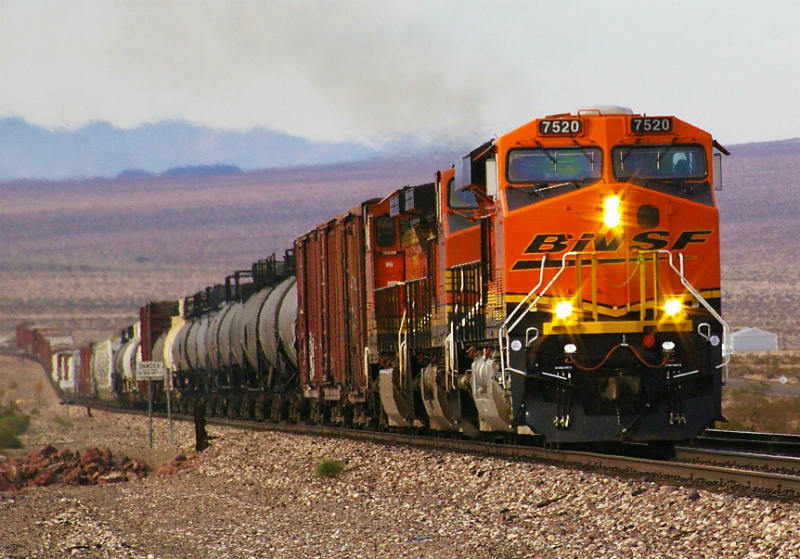 Railroad workers scored a victory last week in a years-long battle over the introduction of single-person crews on freight trains, a move that railroad workers say is a recipe for disaster. On September 10, a unit of the International Association of Sheet Metal, Air and Rail Transportation Workers (SMART) union announced that members had voted down a proposed contract which would have allowed the railroad company BNSF to run more than half its trains with just one worker on board.
BNSF and other railroad companies assert that automation and modern controls on tracks mean freight trains can be safely and efficiently operated by only one engineer, a change that would essentially eliminate the position of the conductor.
Railroad workers, however, say that having only one person on trains that are often more than a mile long is a safety risk for workers and communities alike, especially as more and more trains are involved in carrying explosive crude oil cross-country. The introduction of single-person crews would further a longstanding push by industry to reduce the number of workers needed to operate trains; currently most freight trains have a conductor and an engineer, but in decades past crews of three to five people were common. An industry shift to single-person crews would likely mean significant job losses, and significant savings for railroads on labor costs.
Friday, Sep 12, 2014, 1:08 pm · By Bruce Vail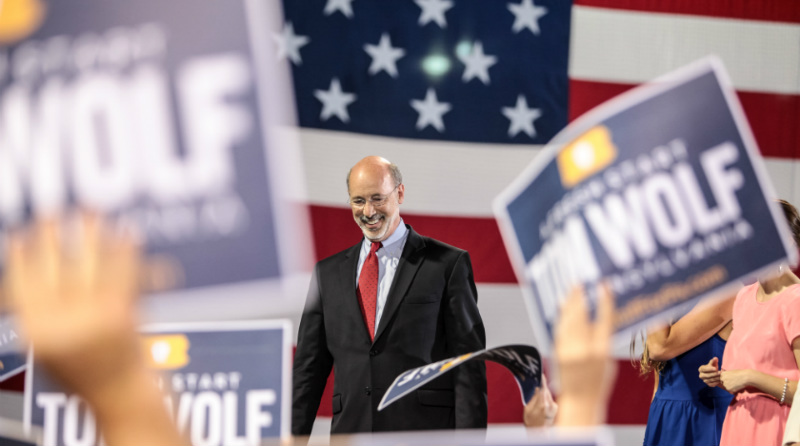 Just in time for Labor Day, a new election poll last week brought good news for Pennsylvania unions. The latest data from the Pittsburgh-based Robert Morris University Polling Institute shows Tom Wolf, a pro-labor Democrat running for governor of Pennsylvania this November, trouncing the conservative Republican incumbent by more than 30 points. If the poll proves predictive come Election Day, Wolf's win would be a historic one, defying the trend of near-automatic reelection of incumbent governors, and ushering in a huge victory for the state's unions.
The poll, released September 2, shows Democratic candidate Tom Wolf leading Republican Gov. Thomas W. Corbett by 55.8 to 24.7 percent. Though Pennsylvania labor leaders caution that the enormous lead indicated by this poll is an outlier, other polls have also indicated that Wolf has a powerful lead over the unpopular Corbett. So powerful, in fact, that National Journal Political Editor Josh Kraushaar titled a recent commentary on Corbett, "Dead Man Walking."
Wednesday, Sep 10, 2014, 1:56 pm · By Bruce Vail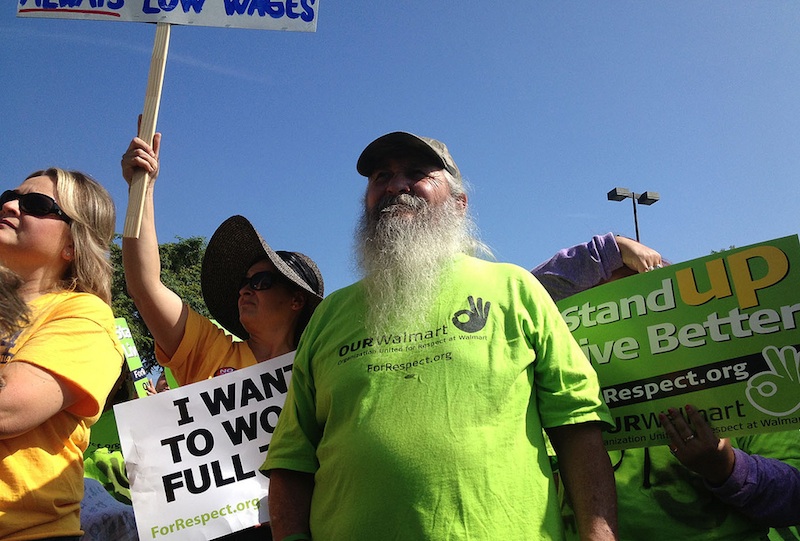 In 1964, the Freedom Summer campaign for voting rights in Mississippi appealed to college students to confront one of the great social justice issues of the age. Fifty years later, labor activists challenging the corporate power of Walmart called on the same spirit to lead a small group of students off campuses and into the fight for economic justice on behalf of the giant company's low-paid workers. Organizers of the effort, dubbed the "Summer for Respect" hope the program will help inspire a new generation of student labor activism and deepen the links between labor unions and academia.
Adam Reich, the Columbia University professor who led this summer's student-labor initiative, says the Summer for Respect differed from the historic 1964 effort in a number of ways. The program took 20 undergraduate students from several different colleges and inserted them into active OUR Walmart campaigns in different parts of the country. Student participated in daily organizing efforts, but one of the program's primary goals was to combine students' campaign work with the academic goal of documenting the lives of the Walmart workers, and spreading that information to a wider audience. The students compiled an oral history archive and related materials for use by other workers, activists, students, and historians, explains Reich.