Wednesday, Nov 26, 2014, 11:00 am · By Amien Essif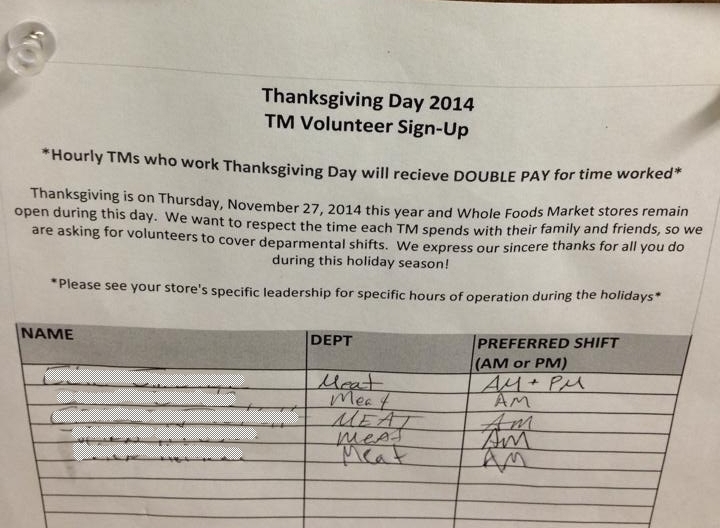 One year after workers staged a "Strikesgiving" protest at a Whole Foods Market in Chicago, the company's stores in the Midwest have quietly implemented a new policy for scheduling and compensating workers on Thanksgiving Day—and workers are calling it a victory.
In These Times obtained a photo of a sign-up sheet posted in the break room at one of the city's Whole Foods locations which shows that "team members" (the company's term for employees) can choose whether or not they will work on Thanksgiving Day. Hourly workers who do choose to work will be paid double their regular wage.
Last year, things were different, workers say. The holiday was considered a "black-out day," meaning management scheduled more workers than usual, and workers had to request time off far in advance. In addition, those who came in on Thanksgiving were only compensated with time-and-a-half pay rather than double pay.
Frustrated that their store would remain open on the national holiday, about seven workers at the Whole Foods on Halsted Street in Chicago protested by walking off the job or neglecting to come in to work the day before Thanksgiving last year, demanding paid time off for all workers. The strikers—members of the Workers Organizing Committee of Chicago, which launched a Fight for 15 campaign at Whole Foods in the spring of 2013—also called for $15 an hour and the right to form a union without retaliation.
The November 27 strike was followed by a rally that brought out over a hundred supporters (many of them co-workers who were not striking) and made national news. In response, management said that they would allow workers to stay home on Thanksgiving Day if they so chose, even if they had not already requested time off.
Now, a year later, the new leniency toward working on the food-filled holiday seems to have been put on the books.
Whole Foods Midwest declined to comment, but managers at stores in Michigan, Wisconsin, and Missouri confirmed with In These Times that the policy has changed and that workers will be paid twice their hourly rate to come in on Thanksgiving rather than 50 percent more as was the case last year.
Some managers maintained that working on Thanksgiving was always voluntary, but a manager at a store in St. Louis said that the sign up sheets were new this year. "More people than we need want to work that day," she says, citing the pay increase as the incentive.
The sign up sheet at the store in Chicago declares that Whole Foods "want[s] to respect the time each [employee] spends with their family and friends." But Jose Rodriguez, an employee who helped organize last year's "Strikesgiving," chalks it up to the company wanting to impress their "more liberal" customer base. "Whole Foods wanted to recover their image and make it look like 'We're progressive, as well,' " he says.
The natural and organic grocery chain has had difficulty in its relations with its liberal customers in the past after CEO John Mackey compared unions to herpes and claimed that Obama's Affordable Care Act bordered on "fascism."
Rodriguez and some of his co-workers aren't satisfied with the new policy and are still hoping to see the company close on Thanksgiving and provide their workers with paid time off. He isn't discouraged by the argument that customers need a place to buy groceries on a holiday that traditionally revolves around a large meal.
"It's not like Thanksgiving is ever in December or July," he jokes. "It's about preparation."
Whole Foods, in his opinion, should advertise that "we're going to be closed Thanksgiving so you should do all your shopping before because we're going to take care of our workers."
Tuesday, Nov 25, 2014, 11:40 am · By Samantha Winslow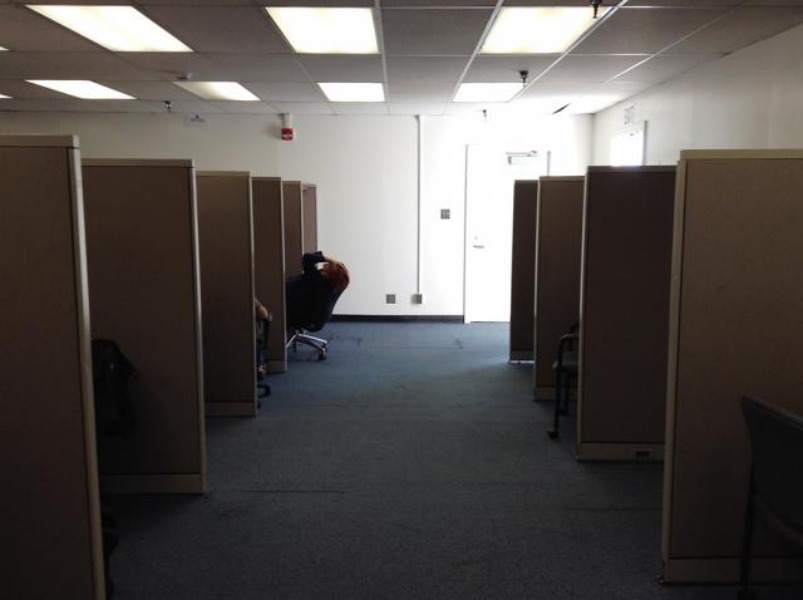 Imagine being removed from your workplace for misconduct—without being told what you did wrong. Imagine waiting years to find out whether you can return.
Hundreds of Los Angeles teachers have been put on leave and in limbo. It's been called "teacher jail," and it's not far off from the "rubber rooms" New York City tabloids have made famous. In both places, the tactic is used to scapegoat teachers and unions.
L.A. teachers and their new union leaders are publicly campaigning to end teacher jail. They hope to resolve the cases, so teachers cleared of wrongdoing can return to the classroom, and they're demanding to negotiate stronger due process.
Presumed Guilty
Two years ago Mike Fuoroli was removed from his classroom and told he wasn't allowed back.
It took a year to find out what he was accused of: sexual misconduct. He claims he never even worked or interacted with the student who made the allegation. Though the police investigated, he was never questioned, and no charges were brought against him.
Fuoroli is still on paid leave. He fears he may never return to his job.
No one from the teachers union, United Teachers Los Angeles (UTLA), disputes that allegations from students should be taken seriously, nor that actual misconduct should be cause for dismissal.
But they do say teachers deserve due process. And they claim the district is skirting its own procedures, plus the union contract, by removing teachers from work on "immorality" or "misconduct" issues rather than things the union can grieve, such as insubordination.
Arlene Schery was removed in even murkier circumstances. She alleges she was sent to teacher jail for threatening to file a grievance against her principal, after complaining that her classroom was overcrowded and lacked air conditioning.
She later found out the official accusations against her, including that she hadn't followed procedure for handling students' cell phones. They allege she took one and kept it overnight.
There were a few other allegations too, but none merited "housing" a teacher—which is only supposed to happen in cases of alleged sexual misconduct, workplace violence, or criminal acts.
Age Discrimination?
In the offices where housed teachers are instructed to report, Schery and Fuoroli met others who also dispute the charges against them.
Schery said it's not only active allegations that get a teacher housed. "What they will do is take all the information they have from anything prior and make it fit into the complaint," she said.
She and Fuoroli accuse the district of age discrimination, since their research found an overwhelming majority of housed teachers are over 40.
Although the teachers are on paid leave, the process is demoralizing. The waiting, the uncertainty, the damage to one's reputation—it all takes a toll.
"It's really quite painful," said Colleen Schwab, UTLA secondary vice president, who's working with the housed teachers. "They are scared, they don't know why they're there. Ninety-nine percent of them want to get back to their classrooms."
Why would a school district that claims to be out of money let hundreds of teachers collect paychecks outside the classroom for years? It seems incredibly inefficient.
But Fuoroli and Schery suspect the district hopes to save money when these older teachers, who tend to be higher on the pay scale and accruing pensions, just give up and quit.
Unfortunately, when it comes to teachers' due process, the climate in L.A. is toxic.
When news broke in 2012 of chronic and disturbing sexual misconduct by a teacher at Miramonte High, the district's response was to go nuclear.
Every employee in the school was removed, even if they knew nothing of the guilty teacher's crimes. It later came out that district administrators had long known of complaints and red flags about this teacher—now in prison—but done nothing.
Cleaning House
While "teacher jail" has existed in L.A. for years, its use increased after the Miramonte scandal. Teachers allege Superintendent John Deasy began combing through teachers' files, looking for examples of misconduct—a way to patch up the district's image by appearing to clean house.
Housing teachers was a signature policy for Deasy, who resigned this fall. When teachers requested information, his response was that we can't say because we need to protect students. He insisted the district would take as long as necessary to conduct its investigations.
"Obviously UTLA doesn't want anyone who shouldn't be around children in classrooms," says Schwab. But the solution, she says, is to move cases forward in a timely manner: "a fair and immediate review of teachers," so both sides can "accurately go over the evidence."
Meanwhile the very idea of teacher job security is under national attack. After a California judge ruled this year in Vergara v. California that the state's teacher dismissal law allowed bad teachers to harm students' education, national anti-union groups are filing lawsuits to overturn teachers' due process protections elsewhere, including in New York.
Due process for K-12 teachers, sometimes referred to as tenure, is often laid out by state law and school district policies, then enforced by unions. After teachers make it through a probationary period that varies by region, often two to three years, they generally cannot be dismissed without evidence of misconduct or poor performance.
Former broadcaster Campbell Brown has launched a media campaign against teacher tenure. Her main talking point: the New York City teachers union protects sex offenders. She even alleges that arbitrators who hear cases are in on it.
Other cities too have pools of teachers still working for the district, but not assigned to classrooms. They're in a gray area—their union contract protects them enough so they can't be fired or laid off completely, but not enough to get their cases resolved.
New York has hundreds. Some were removed from the classroom for allegations of misconduct. Many others simply weren't hired after their schools closed. They remain on paid leave, reporting to substitute positions or to an office where they wait to be reassigned.
New Plan of Action
In L.A., Fuoroli and Schery began to work with fellow housed teachers, trying to get their cases cleared so they could teach again. They organized rallies and meetings, but until this year, got little institutional support from UTLA.
Many of the dismissed teachers, eager for new leaders to take a more aggressive stance, supported the Union Power slate, elected in April. Now Fuoroli is vice chair of a Housed Teacher Committee.
The union is demanding to bargain over the teacher removals. Treasurer Arlene Inouye said the new leaders want to resolve individual cases, but also change the district's practices.
"The plan is very strategic," she said, "to get the school board to follow their own policy. They are violating their own timeline and their own due process."
On paper, district policy lays out 120 calendar days to complete an investigation if law enforcement is involved, and 30 days if it isn't. District officials decide what action to take, then present dismissals to the school board. Inouye said the board is "just rubberstamping" these.
UTLA leaders want to strengthen the contract language to give teachers the right to have evidence presented against them within 20-30 days. If a teacher disputes the charges, they want to be able to take cases to arbitration.
And teachers are appealing to school board members on a case-by-case basis. The goal is not only to clear wrongly accused individuals, but also to persuade the board to be more cautious overall in its reviews of teachers the district wants dismissed.
An Organizing Approach
The new UTLA leaders are talking to as many "jailed teachers" as possible, finding out their stories and coming up with strategies to defend those who are unfairly targeted.
Sometimes this means telling the media. Union activists have highlighted egregious examples that won public sympathy.
Iris Stevenson, choir director from Crenshaw High, was removed from her position and spent eight months in limbo. The district kept its reasons secret, saying only that it was "protecting the kids." Ultimately management alleged that Stevenson had taken kids on an unauthorized trip, a charge she disputed.
Stevenson is a legendary teacher and choir leader—the one who inspired the film "Sister Act 2," in fact. She has traveled the globe with her choir students. They even performed at the White House.
Then there was Greg Schiller, a high school science teacher suspended for helping students make projectile-launching devices for a science fair. (One apparently launched marshmallows.) After five days' suspension he too was told to report to "teacher jail." It turned out the allegation was that he was encouraging students to make weapons.
Parents, teachers, and students rallied and petitioned against both removals. Schiller was reinstated in April, after two months in teacher jail. Stevenson was reinstated in June.
New District Leader
Thanks to UTLA activism, since July, housed teachers are no longer forced to report to offices to wait out their days. They can be at home.
But that small victory added organizing challenges too. Without a worksite, it's harder to contact teachers or work with them on their cases.
Schery and Fuoroli have already received notices of dismissal, and are waiting for the board to decide their fates. Unless the board reverses the district's recommendations, they will go on unpaid status and have their benefits canceled.
Teachers and UTLA officers managed to discredit former Superintendent Deasy over two major failures: the district's billion-dollar iPad deal with Apple, which has since been canceled, and its disastrous rollout of an online scheduling system that left hundreds of kids without classes when school started.
The strong association between the ex-superintendent and the practice of housing teachers may give the union leverage with his replacement, Ramon Cortines. "It's a breath of fresh air," Schwab said. "The negativity has been removed."
This article first appeared in Labor Notes.
Tuesday, Nov 25, 2014, 11:00 am · By Ari Paul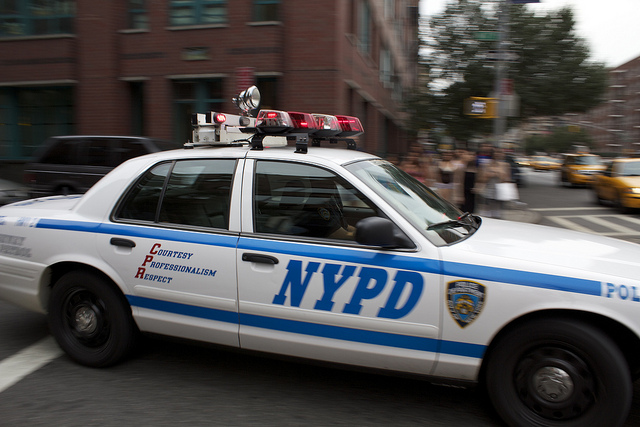 While the nation was waiting to hear whether a grand jury would indict the Ferguson police officer who killed Michael Brown, New Yorkers learned of yet another police killing. On Thursday, an unarmed 28-year-old African-American man named Akai Gurley was shot in a stairwell of his Brooklyn public housing complex. Both the police commissioner and the mayor extended condolences to the family and called the incident a travesty.
Local police union president Patrick Lynch expressed a few words of regret, too. But rather than focusing on remorse for Gurley, Lynch decried "those who make their careers criticizing police" and said that stairwells like the one Gurley was killed in are "fertile ground for violent crime."
Progressive Democrats have heralded the ascendance of New York City Mayor Bill de Blasio as a sign of a new era in liberal urban policy, especially with the help of unions. But one union is blocking key progressive reforms in the city's troubled criminal justice system: the Patrolmen's Benevolent Association (PBA), representing more than 30,000 officers at the New York Police Department.
When de Blasio hired former Mayor Rudy Giuliani's top cop Bill Bratton to run the department, it assuaged fears among the police rank-and-file that the new mayor's perceived mushy liberalism would increase crime by ending the city's controversial stop-and-frisk tactic. But the alliance was brief. PBA President Patrick Lynch has taken de Blasio to task on more mundane matters like disability benefits, but also decried the move to give a summons of marijuana possession instead of making an arrest as "surrender."
Nothing has ruffled Lynch's feathers like the death of black Staten Island man Eric Garner, who was killed by a cop using a chokehold to subdue him during an investigation of claims that Garner may have been selling individual cigarettes, or "loosies." The death has been widely seen as the consequence of over-zealous "quality of life" policing of non-white communities. The United Federation of Teachers (UFT), the city's main teachers union, marched in solidarity with Rev. Al Sharpton over the incident—infuriating Lynch and PBA supporters.
City Council is now moving to outlaw the kind of maneuver that killed Garner. The PBA lashed back, calling such a safeguard a "negative anti-police message" and the product of an "out of control City Council."
The growing campaign of criminal justice activists against Bratton's brief stewardship of the department is beginning to shift its focus not just on the commissioner but on the union as well.
"When incidents like the Garner case happen, as black law enforcement, either we know the victim, the victim's family or we are the victim," says Blacks in Law Enforcement representative Damon Jones, asking rhetorically of Lynch, "Are you playing to the base of the NYPD, which is usually a white, male base? Or are you not recognizing that this could have been any of the black or Latino members who pay dues?"
Jones claims that in the state since 1970, there have been 26 incidents of off-duty or plain-clothes black police officers accidentally shot by their white colleagues. "It's never been in the reverse," of off-duty plain-clothes white officers being shot by black colleagues, he says. "In the most recent cases, the union still blamed the victim."
And while Jones recognizes the importance of unions in bargaining and giving due process to members, he argues that the PBA's Lynch has acted more like an extension of NYPD management than a part of the labor movement. "Lynch is saying what [Commissioner] Bratton won't say, because he works for de Blasio and wants to be politically correct," Jones says.
The PBA's decision to sidewith Bratton represents a curious evolution, since the cop unions originally bristled at Bratton's ascendance to NYPD commissioner 20 years ago, according to Brooklyn College sociologist and policing scholar Alex Vitale. Cops, he said, wanted to arrest big criminals, not round up homeless people in the parks and cuff fare evaders. They saw it as busy work.
"The unions were in the leadership of saying, 'This is not real policing,'" Vitale says.
Bratton threw a bone to the cops while under Giuliani, fulfilling the police unions' desire to turn in powder blue shirts worn by patrolmen for navy blue. "They thought it was too effeminate," Vitale says. In addition, just before Giuliani took office, the police force switched from revolvers to semi-automatic handguns, a longstanding officer demand.
These shifts helped cause a massive mindset change. "Now the union has been not only convinced that they are responsible for the crime drop, but that they achieved it through moralistic policing," Vitale says. "They believe, as a result, that the only thing that keeps the city from devolving into Sodom and Gomorra is the constant moral reminders of the police through ticketing and arrests. [Officers are] skeptic[al] of New Yorkers being able to behave themselves, especially the poor and non-white."
The PBA's intransigence has stifled other public sector unions from wading into criminal justice reform. While private sector unions like SEIU 32BJ have lent their voices to police critics, the UFT, as a public sector union, took a gamble making a statement by joining up with Sharpton.
"They share the same health care plans and negotiating patterns," Vitale says of public sector unions and their bonds with groups like the PBA. "So solidarity means something fairly concrete because they have to work together on these things."
The PBA and its sister police unions are perhaps the only collective bargaining units the city's right wing can embrace. The Rupert Murdoch-owned New York Post recently gave Lynch op-ed space to blast critics in a segment the tabloid called the "War on Cops," yet no similar space has been given the city's teachers' union, which has endured significant negative press recently. E.J. McMahon of the conservative Manhattan Institute, usually eager to preach to a reporter about the horrors of public sector unions, did not return requests to talk about the power of police unions. The PBA's press office also did not respond to requests for comment.
There is a tendency among progressives in the labor movement to hold back criticism of police violence because "cops are in a union, too." But this is a union that has taken solidarity and given none back. Lynch's defense of other unions under attack has been perfunctory at best. And as Jones points out, he has never attempted to act as a representative of the police by reaching out to black and Latino neighborhoods to build bridges with those communities.
And when it comes to issues like marijuana arrests and brutality against people of color, the union has continued to act as an implacable opponent of desperately needed progressive reform in New York City.
Friday, Nov 21, 2014, 2:00 pm · By Samantha Winslow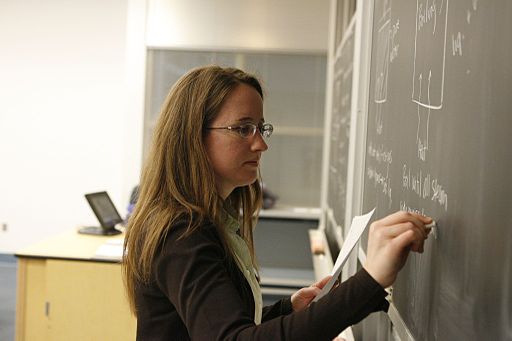 In my five years organizing with non-union health care workers who wanted to join the union, job security was always one of their top issues.
Firings were arbitrary, they said. Evaluations were based on favoritism. Experienced employees were fired just because they were more expensive.
So it always surprises me to hear regular people repeat the smears against teachers' job security. They're parroting the message of those trying to weaken one of the largest remaining sectors of unionized workers in this country.
When it comes to teachers' right to job security, you have to look at why management wants to get rid of it—if you want to tell fact from fiction. A few common myths:
Wednesday, Nov 19, 2014, 2:30 pm · By Rachel Luban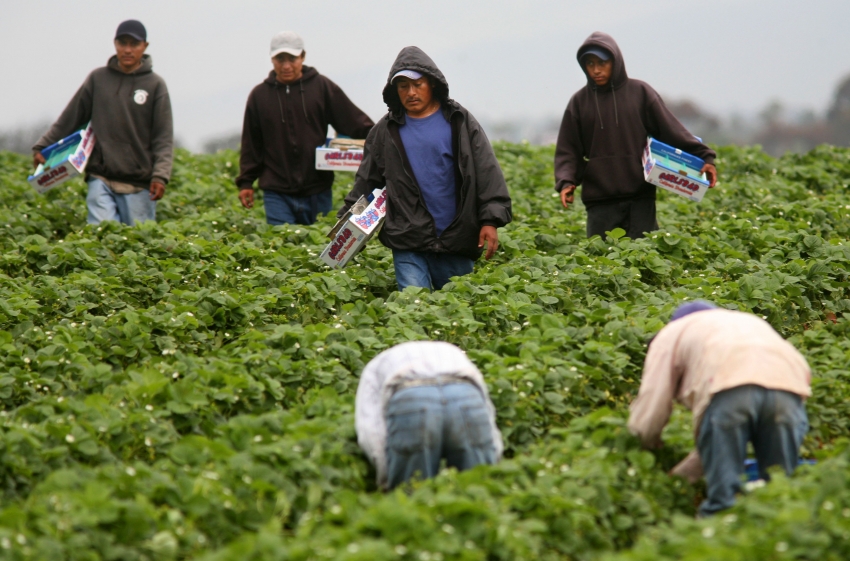 The plight of migrant workers in the United Arab Emirates has made news for the second time this year.
First there was the New York Times story on the inhumane treatment and near–indentured servitude of construction workers at New York University's campus in Abu Dhabi. Then last month, Human Rights Watch published a report on the horrifying abuses migrant domestic workers suffer in the U.A.E..
A slew of articles in recent weeks relayed the report's findings: women's being raped and physically abused by their employers, forced to work long hours with no breaks or overtime pay, denied access to food and medical care, and underpaid or even not paid at all. Some of the abuses "amounted to forced labor or trafficking."
The chief culprit for the abuses is what's known as the "kafala system." The HRW report describes the system as follows:
In the U.A.E., as elsewhere in the region, the kafala system ties migrant workers to individual employers who act as their visa sponsors, and restricts migrant workers' abilities to change employers. The system gives employers great power over employees because it entitles them to revoke sponsorship at will. This automatically removes the right of a worker to remain in the U.A.E. and triggers repatriation procedures.
The kafala system and domestic workers' exclusion from protections under labor law work in tandem to make these women extremely vulnerable to abuse.
But the similar plight of migrant workers under United States guestworker programs has not garnered such attention. None of these articles mention that the US has its own version of the kafala system.
Tuesday, Nov 18, 2014, 6:04 pm · By Dan Clawson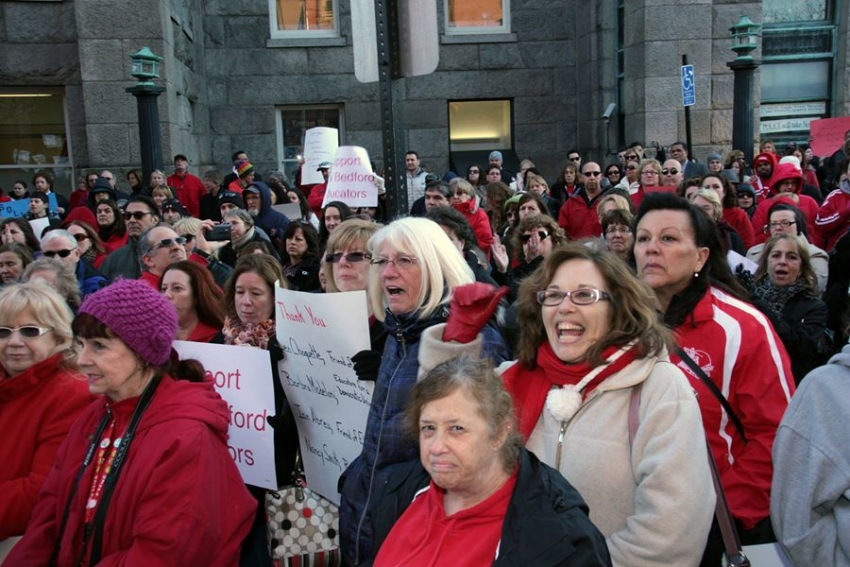 First published at Jacobin.
To the casual observer, Massachusetts may seem like an unlikely place to open up a new front in the assault on teachers. The state has the highest test scores in the nation, and just this year the National Education Association named its chief executive "America's Greatest Education Governor."
But on October 20, the Massachusetts Department of Elementary and Secondary Education (DESE) unveiled a draconian proposal that would tie teacher performance, narrowly defined, to teacher licensing. Thousands of educators knew an unmitigated attack when they saw one, and responded accordingly.
Late last week, after a massive backlash organized by the Massachusetts Teachers Association — under the leadership of Barbara Madeloni, the recently elected president of the 113,000 member union — the proposal was withdrawn. The victory should serve as a reminder that a mobilized rank-and-file and implacable leadership can defeat attacks on public school educators. Backroom deals don't get the goods. And because the proposal will likely appear in other states, teachers around the country should take note.
Tuesday, Nov 18, 2014, 5:54 pm · By Will Craft
After a harsh anti-union campaign and a failed union vote, some workers at the Volkswagen factory in Chattanooga, Tennessee will finally be allowed to be represented by a union—more than one, if they so choose.
Volkswagen recently introduced a new policy that allows allows a variety of unions different tiers of representational rights based on the percentage of the workforce that sign up to become members of the union, the New York Times reported last week. The unions will have different representational responsibilities based on how many employees are members of the union. And, as the Detroit Free Press reports, because the company policies now allow for workers to be represented by multiple unions, the United Auto Workers (UAW) are not the only union vying to represent Chattanooga Volkswagen workers: another organization called the American Council of Employees is also hoping to sign up workers.
Tuesday, Nov 18, 2014, 3:21 pm · By Bruce Vail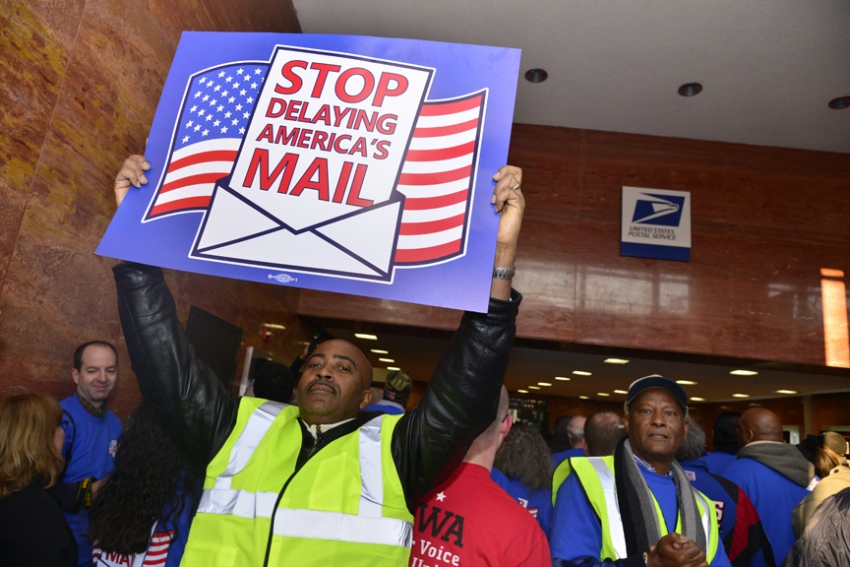 Union workers at the U.S. Postal Service staged one of their largest national demonstrations to date November 14, protesting fresh job cuts and continuing efforts to privatize some post office operations.
With rallies at more than 150 locations nationwide, the American Postal Workers Union (APWU) called for a cancellation of plans to close 82 mail processing centers early next year and the reversal of broader privatization efforts that eliminate good union jobs.
The flash point of the demonstrations was in Washington, D.C., where some 250 union members and supporters led by APWU President Mark Dimondstein sought to enter the public meeting of the USPS Board of Governors. The demonstrators were denied entrance, but they kept up a loud demonstration at the entrance to the USPS headquarters to make their anger known to the Board members inside, according to union spokesperson Sally Davidow. Protesting in solidarity with APWU were representatives of several other unions, and Sen. Jon Tester (D-Montana) and Rep. Eleanor Holmes Norton (D-D.C.) gave supporting speeches.
Tuesday, Nov 18, 2014, 1:12 pm · By Adeshina Emmanuel, The Chicago Reporter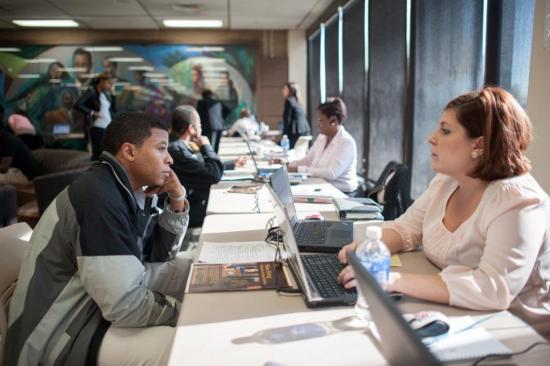 With 25 percent of its African-American residents jobless, Chicago has the highest black unemployment rate among the nation's five most populous cities. Chicago's rate is higher than Philadelphia's 19 percent, Los Angeles' 18 percent, Houston's 15 percent and New York City's 14 percent, based on 2013 U.S. Census figures.
Why?
Tuesday, Nov 18, 2014, 1:03 pm · By David Moberg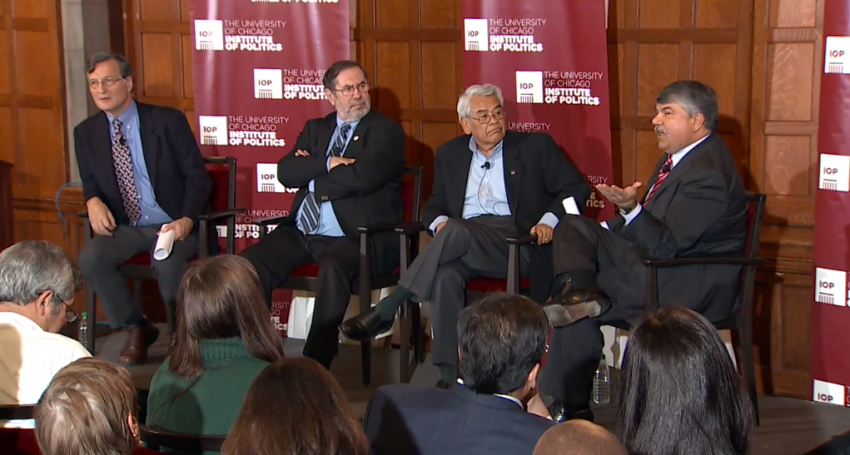 Three labor leaders walked into a bar.
Okay, it wasn't a bar. It was a slightly stuffy faculty club at the University of Chicago.
Three union leaders were invited to the university's Quadrangle Club by David Axelrod, a former top campaign and White House advisor to President Barack Obama. Aiming to expand students' political education by exposing them to seasoned practitioners, Axelrod founded the Institute of Politics at the University of Chicago after he left Washington.
On Thursday night, current IOP fellow Eliseo Medina, a former United Farmworkers Union organizer and former vice-president of the Service Employees International Union (SEIU), joined AFL-CIO president Richard Trumka and Steelworkers Union president Leo Gerard to answer questions posed by New York Times labor reporter Steven Greenhouse, in an event titled "Whither the Movement?" Given the recent Democratic electoral losses and labor's lack of traction on most of its major tasks, the outlook from the Quad Club convivium was surprisingly upbeat (an assessment Trumka also gave the day after the midterms).