Thursday, Sep 18, 2014, 12:22 pm · By Bruce Vail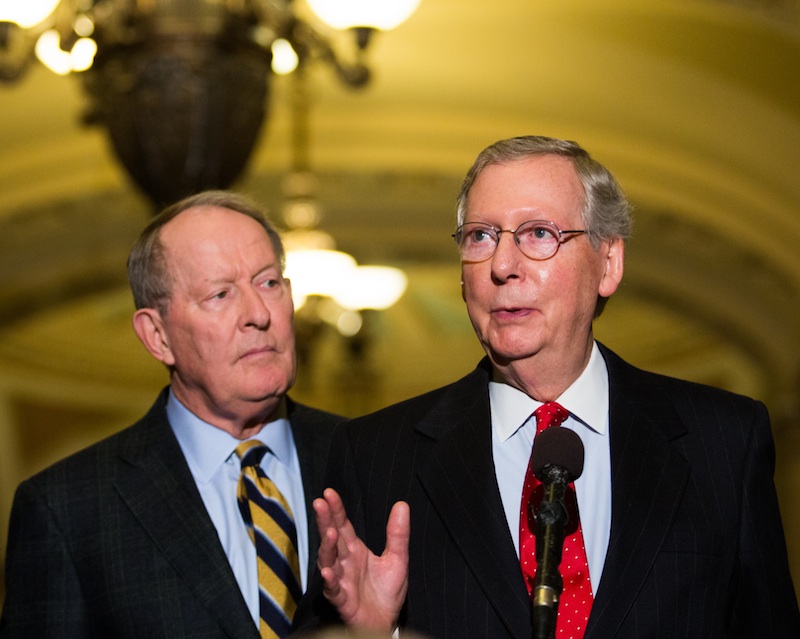 This week, Republican Senators introduced a bill they call the "The National Labor Relations Board Reform Act." Its chances of passage are very slim, but that's beside the point: The GOP wants to emphasize its displeasure with President Barack Obama's appointments of labor-friendly board members who thwart businesses' attempts to keep unions out of their workplaces.
The key feature of the bill would neuter the board (already too weak by many standards) by mandating that it be made up of three Republicans and three Democrats—a prescription apparently designed to ensure permanent partisan gridlock. It would also restrict the authority of the board's chief prosecutor and cut the operating budget of the agency if cases weren't decided in a timely manner. Larry Cohen, President of the Communications Workers of America (CWA), remarks that the bill would mean "the NLRB just can't do anything any more—and that's exactly what they [Republicans] want."
Thursday, Sep 18, 2014, 11:14 am · By David Moberg
Twenty-two years ago, Janet Elston and a few other passenger service agents at American Airlines decided that they needed a union. This week, they finally got it, winning an overwhelming vote to join the Communications Workers of America from 14,500 agents working for American and its new merger partner, US Airways.
"It's going to be a high-five day at the airport," she says.
With that vote, the labor movement also scored one of its largest victories in decades among a workforce primarily located in the South and Southwest, where resistance to unions by employers and reticence to join by many employees has been high. Roughly three-fourths of the merged company's ethnically diverse, primarily female service agents live in Texas, Florida, North Carolina or Arizona.
The victory, Communications Workers of America (CWA) president Larry Cohen says, primarily results from the "relentless" effort by the workers at the airline. "The lesson here is, 'Never stop,'" he says.
Monday, Sep 15, 2014, 5:10 pm · By Kari Lydersen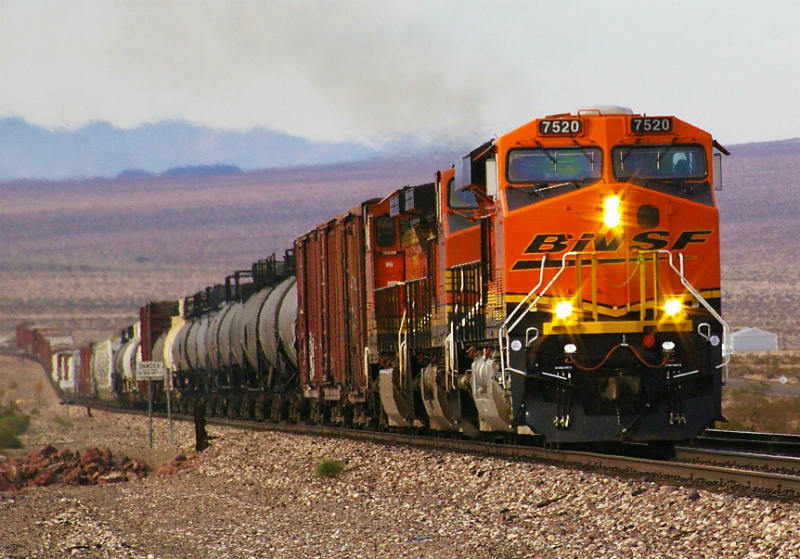 Railroad workers scored a victory last week in a years-long battle over the introduction of single-person crews on freight trains, a move that railroad workers say is a recipe for disaster. On September 10, a unit of the International Association of Sheet Metal, Air and Rail Transportation Workers (SMART) union announced that members had voted down a proposed contract which would have allowed the railroad company BNSF to run more than half its trains with just one worker on board.
BNSF and other railroad companies assert that automation and modern controls on tracks mean freight trains can be safely and efficiently operated by only one engineer, a change that would essentially eliminate the position of the conductor.
Railroad workers, however, say that having only one person on trains that are often more than a mile long is a safety risk for workers and communities alike, especially as more and more trains are involved in carrying explosive crude oil cross-country. The introduction of single-person crews would further a longstanding push by industry to reduce the number of workers needed to operate trains; currently most freight trains have a conductor and an engineer, but in decades past crews of three to five people were common. An industry shift to single-person crews would likely mean significant job losses, and significant savings for railroads on labor costs.
Friday, Sep 12, 2014, 1:08 pm · By Bruce Vail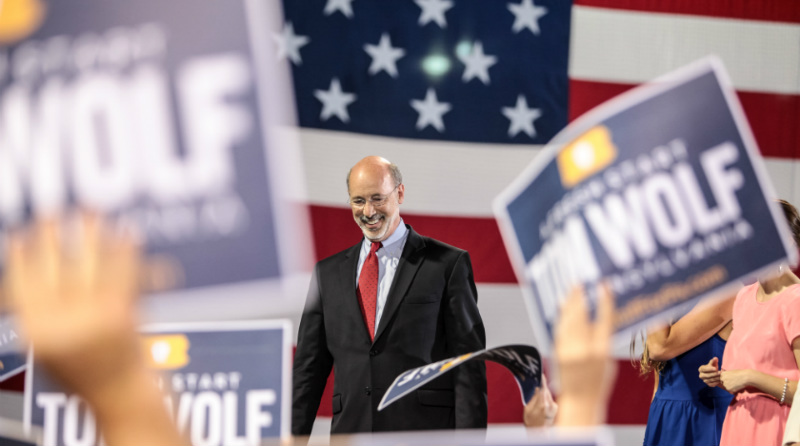 Just in time for Labor Day, a new election poll last week brought good news for Pennsylvania unions. The latest data from the Pittsburgh-based Robert Morris University Polling Institute shows Tom Wolf, a pro-labor Democrat running for governor of Pennsylvania this November, trouncing the conservative Republican incumbent by more than 30 points. If the poll proves predictive come Election Day, Wolf's win would be a historic one, defying the trend of near-automatic reelection of incumbent governors, and ushering in a huge victory for the state's unions.
The poll, released September 2, shows Democratic candidate Tom Wolf leading Republican Gov. Thomas W. Corbett by 55.8 to 24.7 percent. Though Pennsylvania labor leaders caution that the enormous lead indicated by this poll is an outlier, other polls have also indicated that Wolf has a powerful lead over the unpopular Corbett. So powerful, in fact, that National Journal Political Editor Josh Kraushaar titled a recent commentary on Corbett, "Dead Man Walking."
Wednesday, Sep 10, 2014, 1:56 pm · By Bruce Vail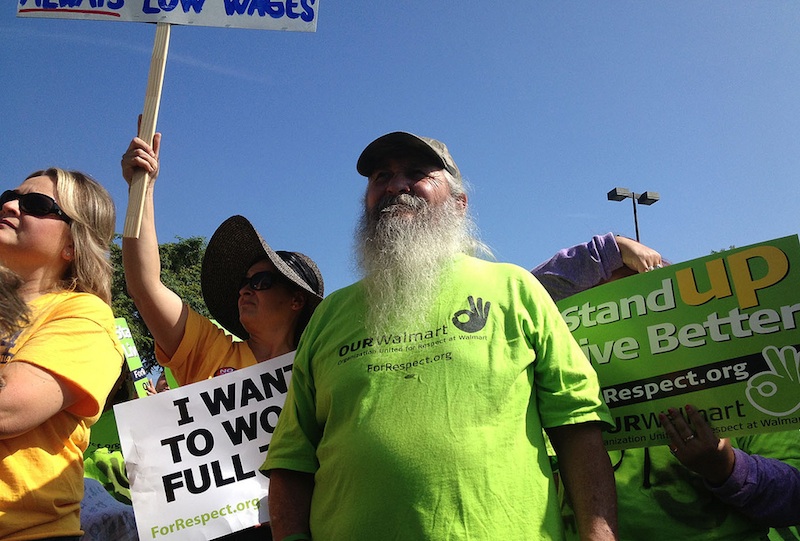 In 1964, the Freedom Summer campaign for voting rights in Mississippi appealed to college students to confront one of the great social justice issues of the age. Fifty years later, labor activists challenging the corporate power of Walmart called on the same spirit to lead a small group of students off campuses and into the fight for economic justice on behalf of the giant company's low-paid workers. Organizers of the effort, dubbed the "Summer for Respect" hope the program will help inspire a new generation of student labor activism and deepen the links between labor unions and academia.
Adam Reich, the Columbia University professor who led this summer's student-labor initiative, says the Summer for Respect differed from the historic 1964 effort in a number of ways. The program took 20 undergraduate students from several different colleges and inserted them into active OUR Walmart campaigns in different parts of the country. Student participated in daily organizing efforts, but one of the program's primary goals was to combine students' campaign work with the academic goal of documenting the lives of the Walmart workers, and spreading that information to a wider audience. The students compiled an oral history archive and related materials for use by other workers, activists, students, and historians, explains Reich.
Monday, Sep 8, 2014, 6:00 am · By Steve Early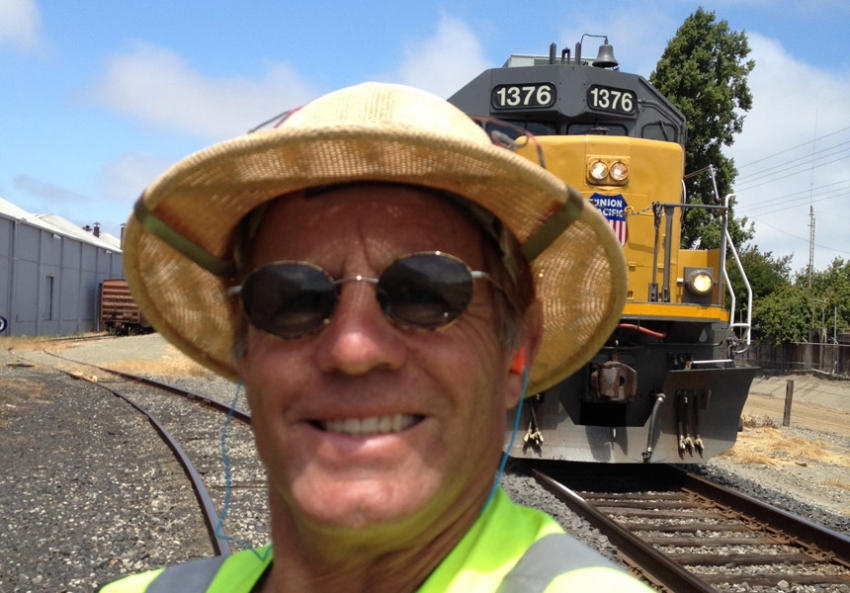 For three years in the early 1970s, journalist Studs Terkel gathered stories from a variety of American workers. He then compiled them into Working, an oral-history collection that went on to become a classic. Four decades after its publication, Working is more relevant than ever. Terkel, who regularly contributed to In These Times, once wrote, "I know the good fight—the fight for democracy, for civil rights, for the rights of workers has a future, for these values will live on in the pages of In These Times." In honor of that sentiment and of Working's 40th anniversary, ITT writers have invited a broad range of American workers to describe what they do, in their own words. More "Working at 40" stories can be found here.
In Working, Terkel interviewed Bill Norworth, a railroad worker for fifty-three years who had recently retired as a locomotive engineer on the Chicago Northwestern Railroad. In 1970, he was still serving as president of his local of the Brotherhood of Railroad Engineers (which is now part of the Teamsters) in Working, Norworth described some of the changes in technology—including the transition from steam to diesel power—that affected working conditions, job skills and staffing levels during his career working on passenger and freight trains. Reflecting on the higher status of railroaders in the heyday of the industry, Norworth told Terkel: "They were the aristocrats at one time, but that time's gone now…. The engineer was respected then, and now there's no respect for him. He's just a dummy…." As for deterioration of U.S. passenger train service, already evident four decades ago, he observed that, "If they had good trains again, people would ride. But they discourage you…"
Forty-two years later, Brian Lewis talked to In These Times about his job as a Union Pacific Railroad conductor, which he has just retired from after 36 years in the industry. He was long active in the United Transportation Union and also belongs to a cross-union reform group called Railroad Workers United (RWU). RWU has been fighting industry attempts to introduce single-employee train crews, which it believes are unsafe. RWU has also tried to warn regulators and the public about the dangers of longer and heavier trains, particularly those hauling hazardous materials like Bakken crude oil from North Dakota. Lewis talked to In These Times about how rail carriers have changed in the decades since Norworth's long tour of duty and the challenges facing railroad workers today.
It was a childhood dream to become a railroad worker. Ever since I was a kid, I always loved trains. After graduating from UC-Berkeley and trying my hand at journalism for a few years in the early 1970s, I ended up at the Environmental Protection Agency (EPA) in San Francisco. I felt stuck in the office, doing intake on air quality complaints and setting up investigative interviews. Then, one day I saw a job advertisement—the Western Pacific Railroad was hiring "switchmen/brakemen" for its freight hauling operations between Salt Lake City and the Bay Area. I got my training and orientation in Portola, CA., a small railroad town north of Lake Tahoe, in the Sierras. The union was very involved in the whole process—job training, testing and helping to decide who made the grade and was ready to go. Half of my training class consisted of sons or daughters of existing railroaders.
Friday, Sep 5, 2014, 5:20 pm · By Rose Arrieta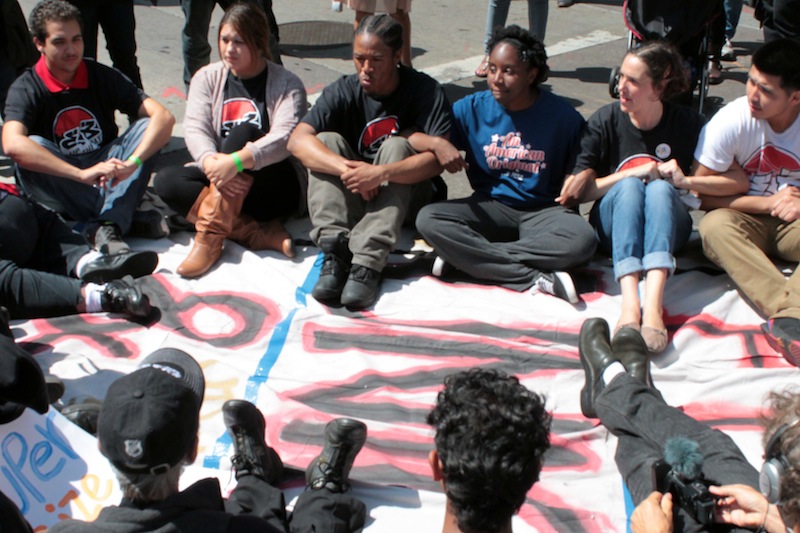 In Oakland, California, on Thursday, 150 workers and supporters took on the billion-dollar fast-food industry, urging companies like Burger King, McDonalds, Taco Bell, Jack-in-The-Box and others to pay their workers fairly instead of doling out poverty level wages. Fourteen people were arrested in downtown Oakland as they participated in peaceful civil disobedience. They were later issued citations and released.
"When I was younger, the thought of having money in my pocket [by working at Taco Bell] was big, but as you start to pay bills, you realize how little it is. That's one of the first things I got used to when I got my job: being broke," Alvaro Sandoval, a fast-food worker at Taco Bell in Oakland, told Working In These Times.
Thursday, Sep 4, 2014, 3:45 pm · By Amien Essif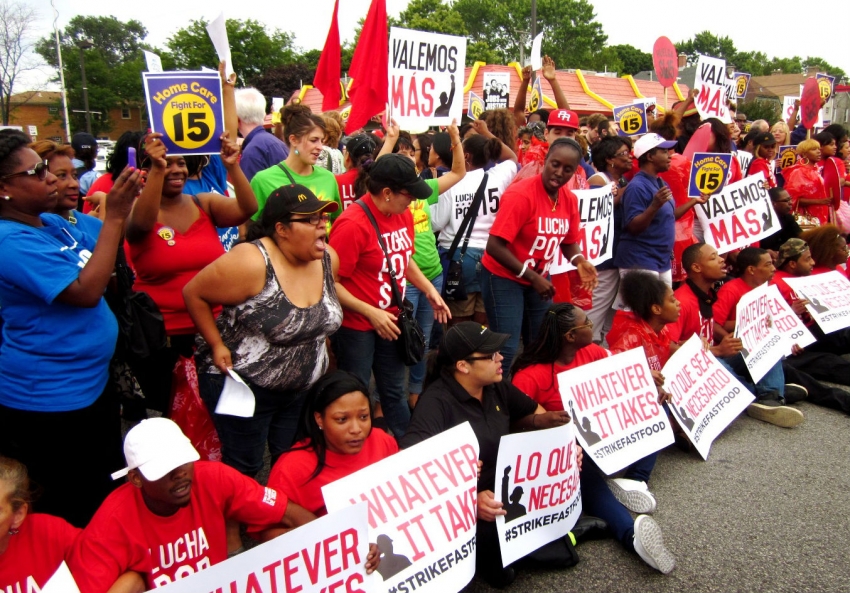 "Paddy wagon's on its way," announced a Chicago Police tactical officer over his radio early this morning. Shortly thereafter, a crowd of about 300 demonstrators—including over 100 striking fast food workers—began chanting "Take the street!" and proceeded to do just that. Marching between a McDonald's on one side of the road and a Burger King on the other, the crowd blocked 87th street traffic on Chicago's south side for about 20 minutes.
The action was the latest escalation in the fast-food workers' campaign for a $15 minimum hourly wage and the right to form a union without retaliation. Two dozen workers proceeded to link arms and sit down in the road in an act of civil disobedience, prompting the police to take them away in handcuffs.
As Tyree Johnson awaited arrest by advancing police officers, he explained to Working In These Times why he was willing to go to jail."I'm still living at the poverty level," said Johnson, who has been employed by McDonald's since 1992. "After 22 years, they refuse to pay me a decent living wage." Johnson and his compatriates were taken to patrol cars, and 19 were cited and released this morning.
Later in the day, another two dozen protesters were arrested in a separate action on Chicago's West Side. By midday, arrests had taken place in cities including New York, Boston, Detroit and Las Vegas, with more actions planned later in the day in what organizers are calling the biggest fast-food workers' strike yet in the national push for "15 and a union," which began in November 2012.
Wednesday, Sep 3, 2014, 3:51 pm · By Jake Blumgart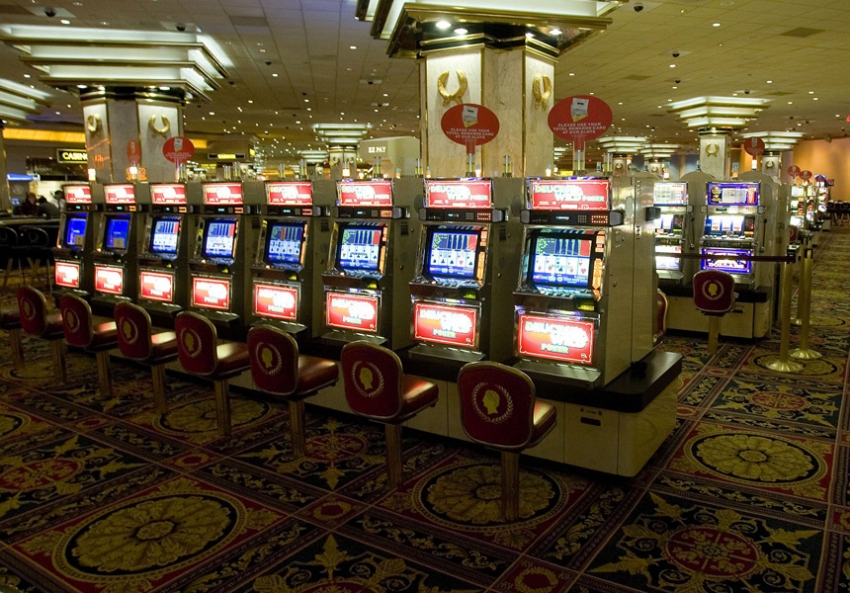 Saturday evening at Atlantic City's Showboat casino seemed almost like any other night. The gambling floor teemed with people jabbing at slot machines and drinking enthusiastically. Other patrons strolled around, gazing at the sheer immensity of the place.
But at the bar on the east side of the bustling casino floor, normality broke down. A small crowd of casino employees huddled together, dabbing at their eyes with cocktail napkins. Bartenders alternated between serving drinks and hugging co-workers goodbye. Their workplace had become the latest victim of Atlantic City's declining casino industry, and Showboat was scheduled to shut its doors the next day. Employees had hoped rumors that a last-minute buyer could be found were true, but by Saturday, the casino's fate was undeniable. The casino closed as scheduled on Sunday afternoon, destroying more than 2,000 jobs—more than half of them full-time and most of them members of UNITE Here Local 54, the city's principal casino and hotel workers union.
"I really don't know what will happen here," says Ruthann Joyce, who has worked with her husband as a bartender at Showboat since it opened in 1987. The couple has raised their family on the union jobs they held at the casino, which provide decent pay as well as strong healthcare and retirement benefits. "Think of all the people still raising their kids. Ours are all grown, thank God. [New Jersey] Governor Christie says what's happening in Atlantic City is not a disaster. I guess his definition of disaster and my definition are different," says Joyce.
Following Showboat, Revel, Atlantic City's newest casino, closed on Tuesday, and the long-struggling Trump Plaza will be shuttered later this month. That's a total of nearly 6,000 jobs lost in a one-month period, in addition to the 1,600 casino employees who were laid off when the Atlantic Club closed earlier this year. The pain may not end there: More casinos could soon follow suit.
Wednesday, Sep 3, 2014, 1:05 pm · By Julia Wong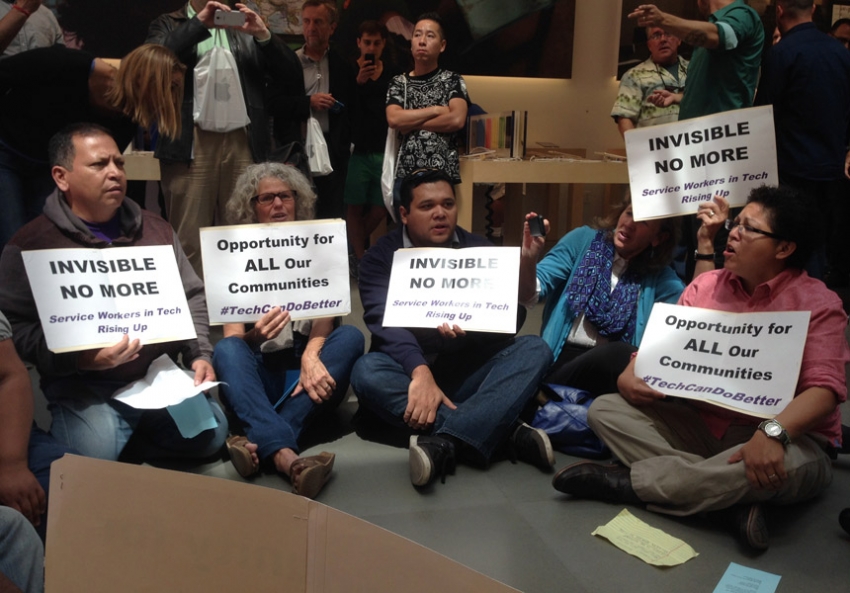 Twelve union activists staged a sit-in at an Apple Store in San Francisco last week to protest the tech giant's use of a non-union subcontractor, Security Industry Specialists (SIS). The Thursday action came on the same day that Apple was drumming up buzz for a new product launch in early September. But the protesters, who carried signs reading "Invisible No More," were intent on redirecting public attention to the rarely acknowledged men and women who provide security at Apple's Northern California headquarters and retail stores.
"We are invisible and that really needs to stop," says Kayla Gordon, who attended the protest but did not take part in the sit-in. Gordon, who worked as an officer for SIS until her hours were cut in 2012, says about the industry, "You don't have a voice. It's a hierarchy, and you don't even know who's controlling the show."
As a security guard, she continues, "All you know is, 'Be quiet, shut up, you don't have a voice or you can't work here anymore.'"