Wednesday, Jun 14, 2017, 1:03 pm · By Neil Martin and Isaias Cifuentes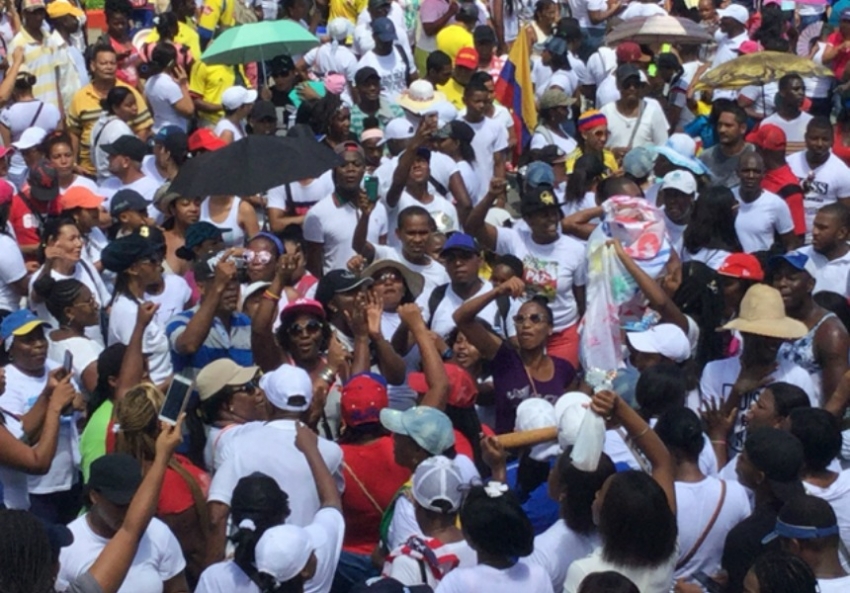 Little-noticed by the English-language media, the Colombian city of Buenaventura was brought to a standstill by a weeks-long civic strike, in which Afro-Colombian communities won major commitments from the Colombian government. Waged from May 16 through June 6, the mass protest was organized by people demanding that the government declare a state of social and economic emergency and provide basic quality-of-life improvements for a population that has been targeted by systematic human rights violations for decades. Buenaventura's ports generate $1.8 billion in yearly revenue, but most of it its 400,000 residents—90 percent of whom are Afro-Colombian—live in poverty.
The mass protest was organized by religious figures, social justice groups, unions, students, community councils and Indigenous people. The first several days of the strike resembled a city-wide block party, with dancing and music concentrated around dozens of peaceful roadblocks. Representatives of the departmental and national governments began to negotiate with the Strike Committee.
But, in the midst of talks, riot police swept through the city in an attempt to restore the flow of vehicular traffic, shooting tear gas into high-density residential neighborhoods. This crackdown provoked a night of havoc, during which several of Buenaventura's commercial establishments had their windows smashed and goods taken. When protests resumed, they were marked by ongoing confrontations between the police and protesters until June 6, when an agreement was reached between the government and the Strike Committee.
Tuesday, Jun 13, 2017, 7:12 pm · By Jeff Schuhrke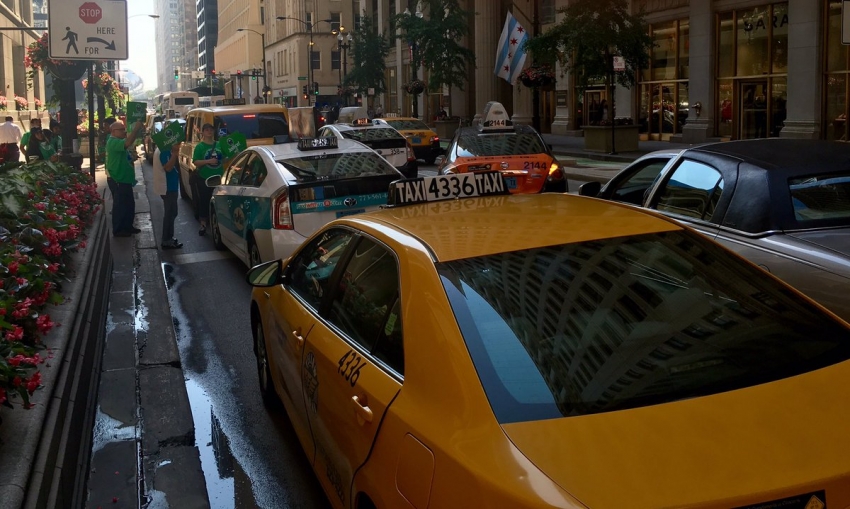 Ghana-born John Aikins has been a cab driver in Chicago for two decades. About 15 years ago, he decided to go into business for himself by taking out a loan with his wife to purchase a medallion—a city-issued license to operate a taxi—for $70,000. Paying it off within a few years thanks to a steady stream of passengers, they took out loan for a second medallion five years ago, using the first as collateral.
Watching his medallions appreciate in value over the years, Aikins planned to eventually sell or lease them to other drivers, a common practice in the industry. "I hoped it would be my retirement investment, and I had planned to retire this year," Aikins told In These Times.
But with the introduction of Uber and other rideshare companies to the city—which can operate without the expensive, city-issued medallions—Aikins has seen his clientele plummet over the past three years, making it increasingly hard to keep up with his medallion loan payments.
Tuesday, Jun 13, 2017, 3:07 pm · By Bruce Vail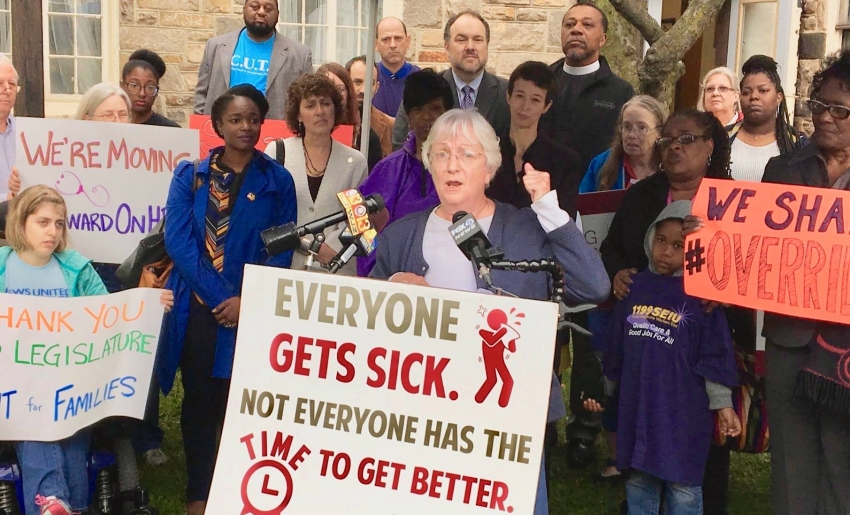 BALTIMORE—Maryland Gov. Larry Hogan ignited the anger of labor unions, workers' rights advocates and religious groups when he vetoed high-profile legislation last month that was meant to guarantee the right of private sector employees to paid sick leave. That anger is now coalescing behind plans to override his veto and remove Hogan from office in 2018.
The sick leave issue is assuming center stage in the broader struggle statewide to repel attacks on the working class by President Donald Trump and other pro-business conservatives, says Jaimie Contreras, vice president at Local 32BJ of the Service Employees International Union (SEIU 32BJ). The union and allied groups are planning a joint campaign in Maryland to force a legislative override in early 2018, Contreras says, which will then segue into a broader electoral campaign to elect pro-labor Democrats at all levels of government across the mid-Atlantic region.
Monday, Jun 12, 2017, 7:05 pm · By Douglas Williams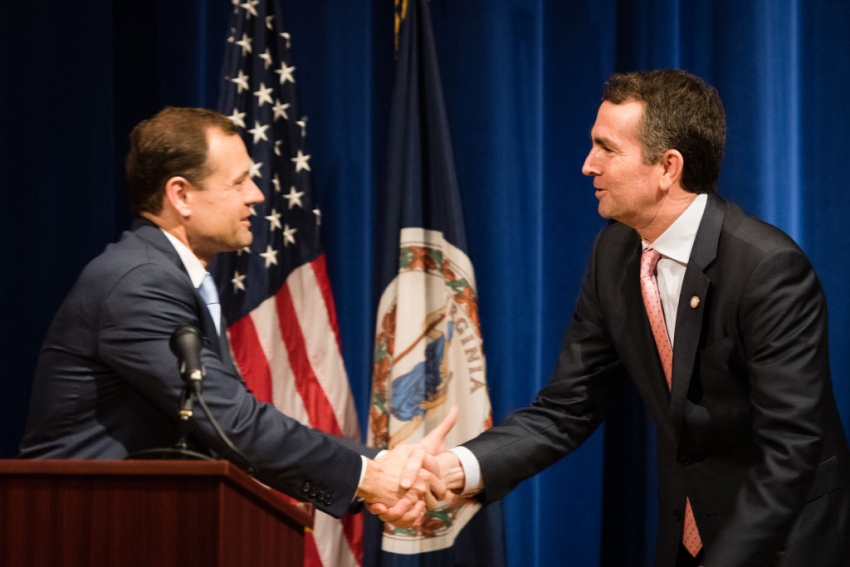 Last year, I wrote about the open shop referendum in Virginia, calling it the most important election for the labor movement in 2016. While Virginia has been a "right-to-work" state since 1947, supporters of the referendum argued that a constitutional amendment was necessary to prevent Democratic Attorney General Mark Herring or future Democratic legislative majorities from overturning the statute.
In a year where the election of an anti-labor president coincided with votes in Alabama and South Dakota that affirmed the open shop, Virginia gave labor its brightest victory: Almost 54 percent of voters across the Commonwealth rejected the constitutional amendment. And the "no" vote was spread out across the Commonwealth, with places as disparate politically as urban Arlington and rural Accomack voting against the measure, which was bitterly opposed by Virginia's labor movement.
Much like the open shop referendum last year, this year's gubernatorial election in Virginia is significant for labor. It's a chance to contest the open shop in a region that has long seemed closed to any pro-labor advances on the issue. The primary vote is set for Tuesday and the labor movement would do well to make its presence felt.
Monday, Jun 12, 2017, 4:35 pm · By Jeff Schuhrke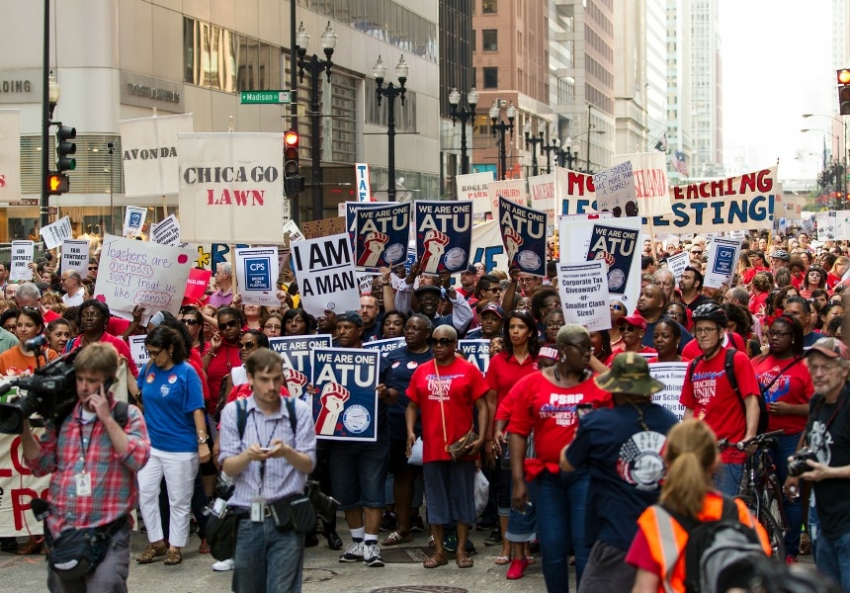 Unionized teachers at Chicago's charter schools are one step closer to unifying with their counterparts in the city's public school district, a historic move that would strengthen opposition to austerity and neoliberal education reform.
Last week, members of the Chicago Alliance of Charter Teachers and Staff (ChiACTS)—the American Federation of Teachers local representing about 1,000 educators at 32 charter schools—voted to merge their local with the nearly 30,000-member Chicago Teachers Union (CTU).
Friday, Jun 9, 2017, 11:03 am · By Bruce Vail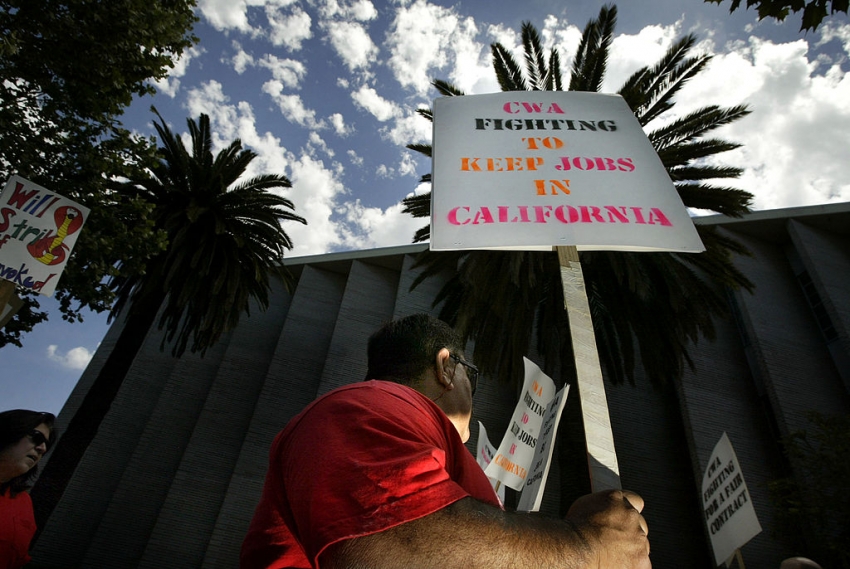 A recent three-day strike against telecommunications operator AT&T attracted nationwide attention, even though the modern incarnation of the company is a far cry from the gigantic "Ma Bell" monopoly of old. The strike took nearly 40,000 workers off the job. The Communications Workers of America (CWA) union was sending a message to management: Stop stalling, start negotiating.
The immediate cause of the strike was the slowness of the company to reach new contracts with the union for improved wages and benefits for some workers, including those in AT&T's wireless communications network. But underlying the dispute is a long-term strategy by the company to degrade the quality of its U.S. jobs as it shifts much of its business to lower-paid workers overseas, the union says.
Thursday, Jun 8, 2017, 11:51 am · By Jeff Schuhrke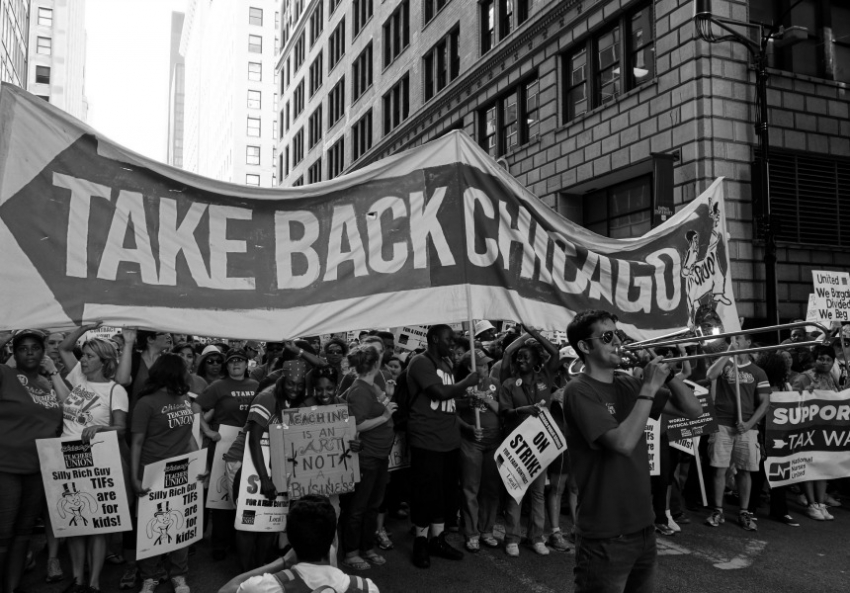 In a move sure to worry neoliberal education reformers, unionized charter school teachers in Chicago are voting this week on whether to formally join forces with the most militant teachers' union in the country.

The proposed merger—which would be a potential first in the country—would see the more than 1,000 member Chicago Alliance of Charter Teachers and Staff (ChiACTS), Local 4343 of the American Federation of Teachers (AFT), amalgamate into a single union local with the nearly 30,000-member Chicago Teachers Union (CTU), AFT Local 1.

ChiACTS president Chris Baehrend said the potential merger "helps all Chicago teachers fight together on the same issues."
Thursday, Jun 8, 2017, 10:59 am · By Michael Fox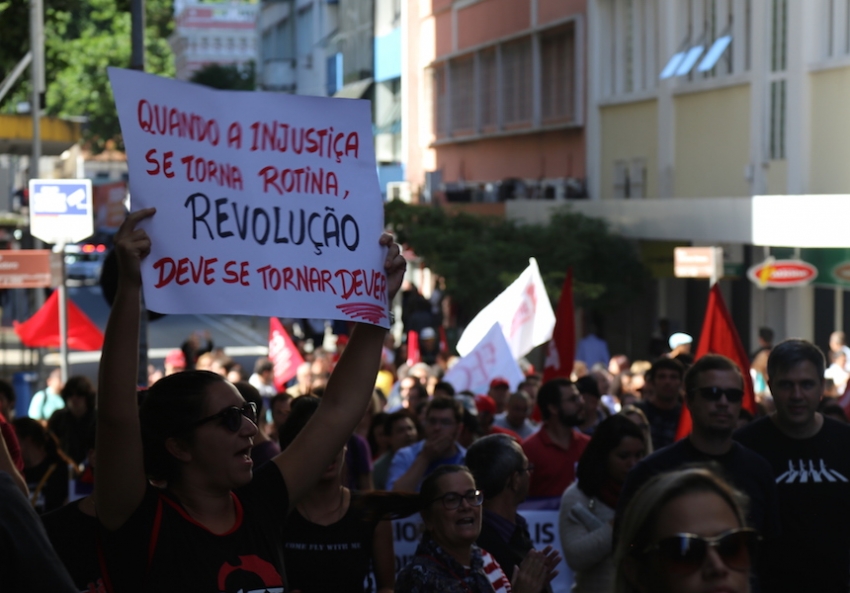 On May 24, tens of thousands of people descended on Brazil's capital, Brasília, to protest the government of President Michel Temer and its proposed reforms that could gut workers' rights and pensions.
Hundreds of buses arrived from around the country, filled with members of unions and social movements, such as the grassroots Landless Workers' Movement, or MST, and the Popular Brasil Front.
Police and even the military — after Temer issued a controversial decree calling out the Armed Forces to protect the city — responded with brutal force, firing tear gas, rubber bullets and stun grenades, while Senators debated inside.
Tuesday, Jun 6, 2017, 7:55 pm · By Shaun Richman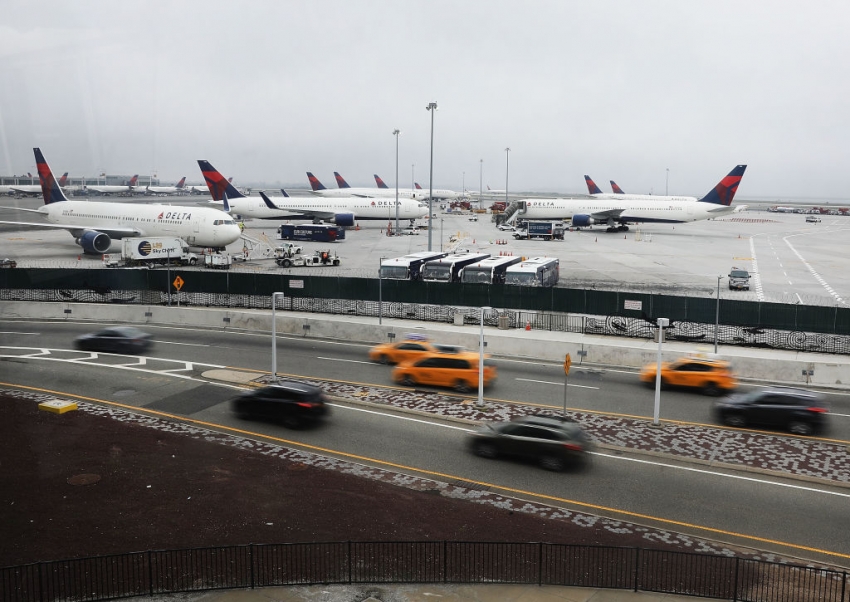 Promising "cheaper, faster and safer travel," the Trump administration announced a plan this week to privatize the nation's air traffic control system.
The announcement Monday marked the first day of the administration's "infrastructure week," a series of publicity events around one of the only areas of the president's agenda that has intrigued some union leaders and Democratic legislators.
What they had hoped for was an increase in public spending to create good jobs and repair our nation's transportation systems. What Trump wants is to give public assets away to corporate interests, while reducing pay and benefit standards for workers.
Tuesday, Jun 6, 2017, 11:12 am · By Sarah Jaffe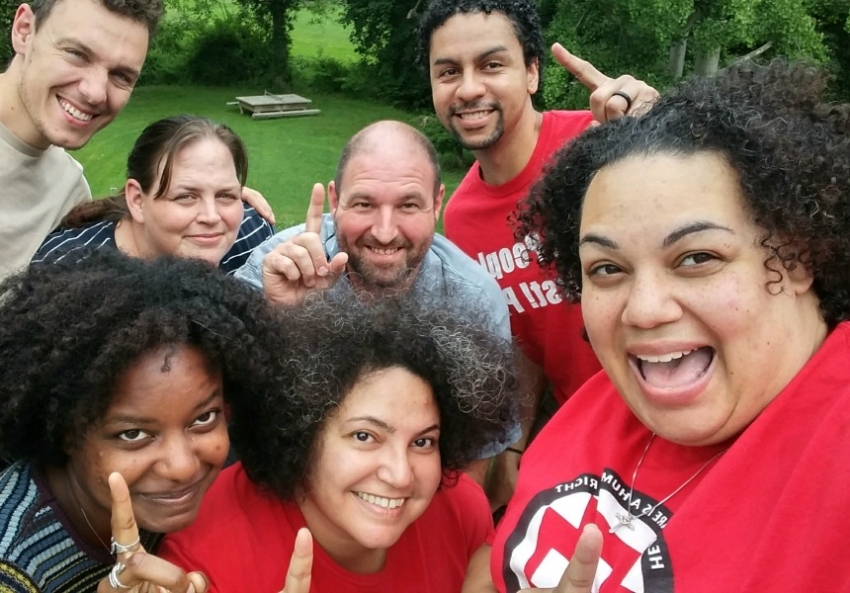 Since election night 2016, the streets of the United States have rung with resistance. People all over the country have woken up with the conviction that they must do something to fight inequality in all its forms. But many are wondering what it is they can do. In this series, we'll be talking with experienced organizers, troublemakers, and thinkers who have been doing the hard work of fighting for a long time. They'll be sharing their insights on what works, what doesn't, and what has changed, and what is still the same.
Nijmie Dzurinko: My name is Nijmie Dzurinko, a lifelong Pennsylvanian and a black and indigenous woman who grew up in Monessen in Westmoreland County. I have lived in Philadelphia for over twenty years.