Tuesday, Apr 28, 2015, 2:49 pm · By Leo Gerard, United Steelworkers President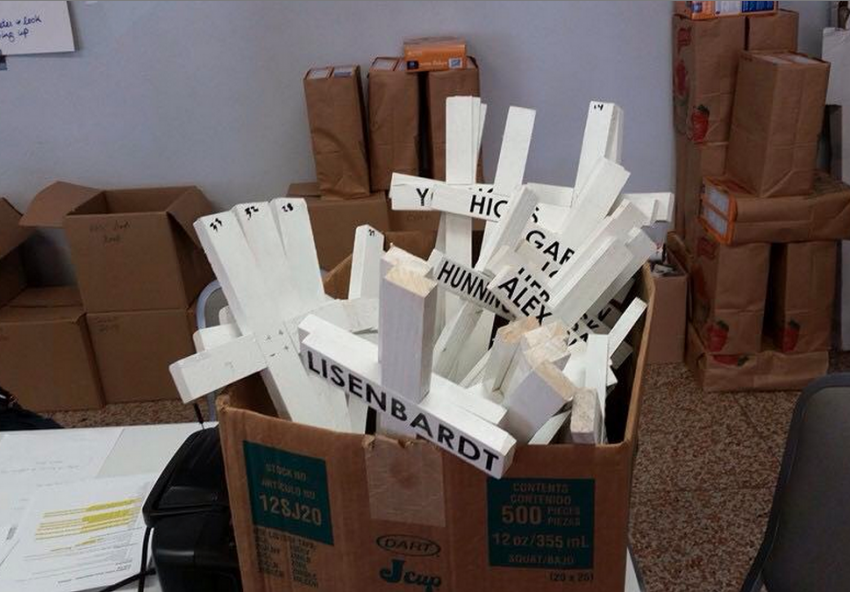 To give voice to 35 workers killed on the job over the past 35 years at a massive refinery in Texas City, hundreds of surviving family members, co-workers and friends gathered there last month to erect white crosses marked with their names.
They conducted the ceremony on the 10th anniversary of an explosion that killed 15 workers and injured more than 170, including townspeople.
Marathon Petroleum Corp., which bought the refinery from BP two years ago, did its best to shut the mourners up. Marathon uprooted the crosses and tossed them in a box like trash within hours of the commemoration.
Monday, Apr 27, 2015, 3:33 pm · By Leo Gerard, United Steelworkers President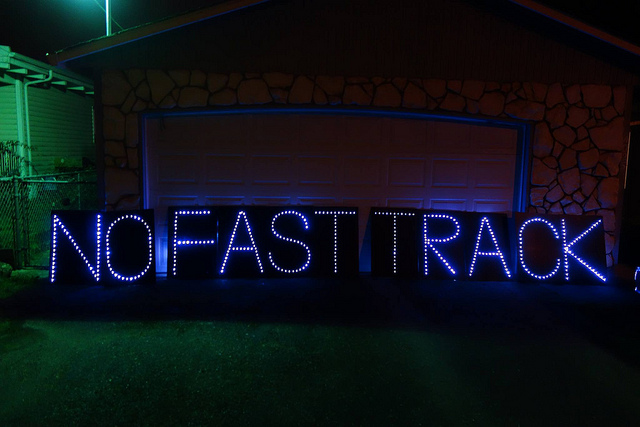 Free traders in Congress formally proposed last week that lawmakers relax, put their feet up and neglect the rigor of legislative review for the Trans-Pacific Partnership (TPP) trade scheme.
The TPP is a secret deal among 12 Pacific Rim nations that was covertly negotiated by unelected officials and corporate bosses. It's so clandestine that lawmakers elected to represent the American people were refused access to the deliberations. It would expand secret trade tribunals that corporations use to sue governments over democratically established laws and win compensation from taxpayers.
The Congressional free traders want to Fast Track authorization of the TPP. Fast Track enables Congress to abdicate its constitutionally mandated duty to regulate international trade. Instead of scrutinizing, amending and improving proposed trade deals, lawmakers use Fast Track to gloss over the specifics and simply vote yea or nay on the entire package as presented. With elected officials excluded from the talks, details of the treaty deliberately shrouded in secrecy and free traders demanding lawmakers ignore the deal's effects on constituents, this process condemns democracy.
As usual, the free traders say, don't worry, the TPP is gonna be great, just great! Trust us, they say.
Friday, Apr 24, 2015, 1:52 pm · By Miriam Shestack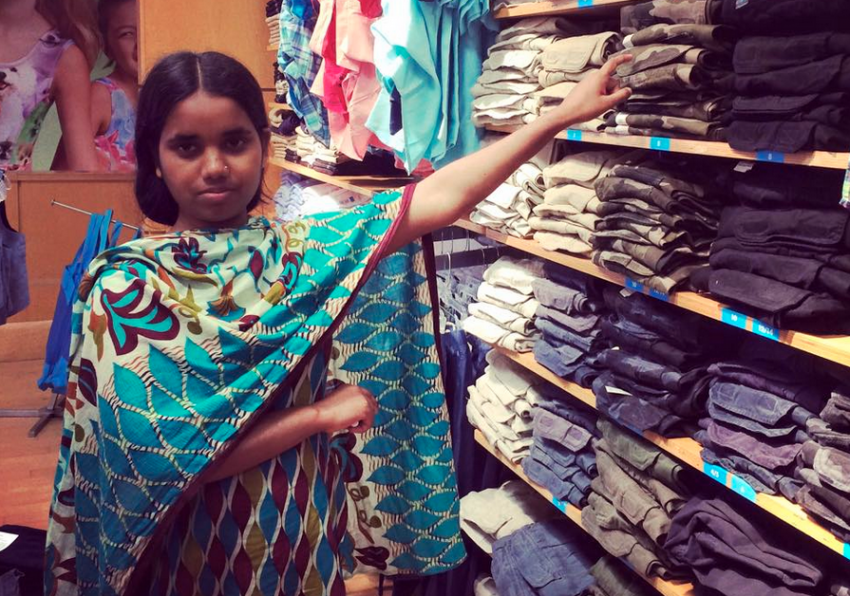 On February 24 Mahinur Begum visited a Children's Place store in Miami where she discovered a shelf full of the pants she used to sew at the Rana Plaza factory in Dhaka, Bangladesh—before the factory where she worked collapsed, burying her in debris and killing hundreds of workers around her.
Mahinur was 16 at the time of the factory collapse, and lost a toe when machinery fell on her. She says she continues to suffer emotional trauma from the event. Workers like Begum, along with students and activists across the U.S., are demanding that brands that sourced from Rana Plaza pay fair compensation to workers that suffered from the factory's collapse and their families. And today, on the two-year anniversary of the factory's collapse, those activists announced a major victory as The Children's Place agreed to pay $2 million into that fund after a months-long battle with workers and advocates.
Friday, Apr 24, 2015, 11:50 am · By Robert Reich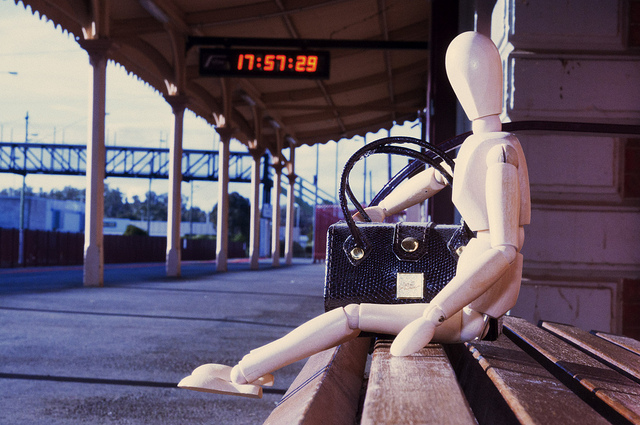 This post originally appeared on Robert Reich's blog.
These days it's not unusual for someone on the way to work to receive a text message from her employer saying she's not needed right then.
Although she's already found someone to pick up her kid from school and arranged for childcare, the work is no longer available and she won't be paid for it.
Just-in-time scheduling like this is the latest new thing, designed to make retail outlets, restaurants, hotels and other customer-driven businesses more nimble and keep costs to a minimum. Software can now predict up-to-the-minute staffing needs on the basis of information such as traffic patterns, weather and sales merely hours or possibly minutes before.
This way, employers don't need to pay anyone to be at work unless they're really needed. Companies can avoid paying wages to workers who'd otherwise just sit around.
Thursday, Apr 23, 2015, 11:44 am · By Bruce Vail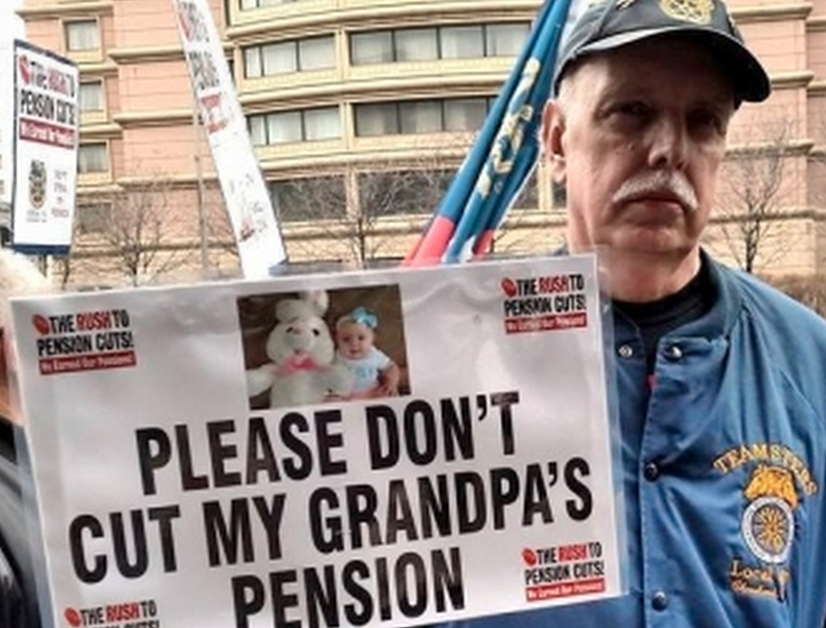 The likelihood that hundreds of thousands of union members nationwide won't be receiving the full pension benefits promised to them is becoming clearer as federal regulatory agencies in Washington, D.C., move to implement new pension legislation quietly approved in the final weeks of 2014.
Wednesday, Apr 22, 2015, 1:39 pm · By Steve Early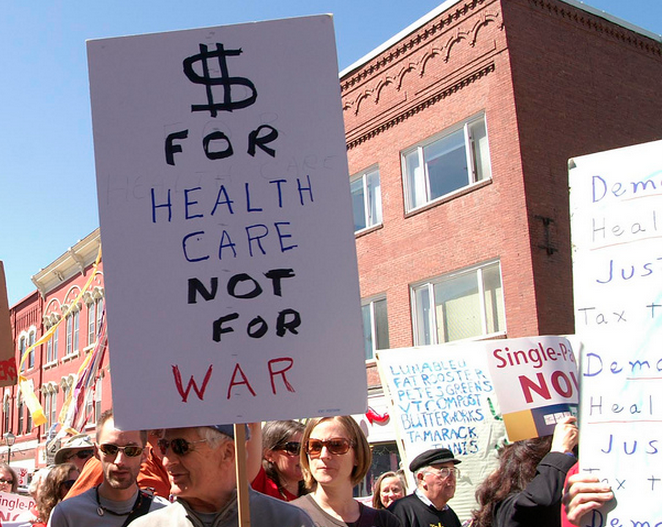 Liz Nikazmerad is a rarity in American labor: a local union president under the age of 30, displaying both youth and militancy. For the last two year years, she has led the 180-member Local 203 of the United Electrical Workers (UE), while working in the produce department of City Market in Burlington, Vermont. Thanks to their contract bargaining, full-time and part-time employees of this bustling community-owned food cooperative currently enjoy good medical benefits.
But that wasn't always the case in Nikazmerad's past non-union jobs, nor is it any assurance that UE members won't be forced to pay more for their health care in the future. To curb medical cost inflation and related cost-shifting to workers, the UE has long advocated that private insurance plans be replaced with publicly funded universal coverage.
Four years ago, a newly elected Vermont governor, Peter Shumlin, took a promising first step in that direction at the state level. His Democrat-dominated legislature passed Act 48, which laid the groundwork for creating a comprehensive public insurance plan called Green Mountain Care (GMC).
Not all activists deemed GMC to be truly "single-payer," because of potential legal or political obstacles to the inclusion of Vermonters currently covered through Medicare, the Veterans' Administration, and even some "self-insured" plans offered by local employers. However, Act 48's blueprint for getting everyone else into a more rational, cost-effective healthcare system, financed by taxes, was generally hailed as a great breakthrough.
Unfortunately, the Affordable Care Act (ACA) first required Vermont to operate a private insurance exchange until 2017, when a federal waiver permitting further experimentation might be granted. Despite this delay, Shumlin was still reassuring Vermonters, as recently as last fall, that a brighter health care future lay just a few years ahead.
By January 8, when the governor began his third term, that promise had dimmed so much that Liz Nikazmerad and several hundred others weren't there to applaud his inauguration in Montpelier. Instead, frustrated advocates of health care reform staged a sit-in at the state capitol, chanting and singing, unfurling banners and refused to leave in protest against the governor's abrupt abandonment of universal health care six weeks after his re-election.
"People had fought for this a long time," Nikazmerad says. "It was a huge win and to have the rug yanked out like that was very upsetting. People were very emotional about it."
Monday, Apr 20, 2015, 5:48 pm · By Alex Lubben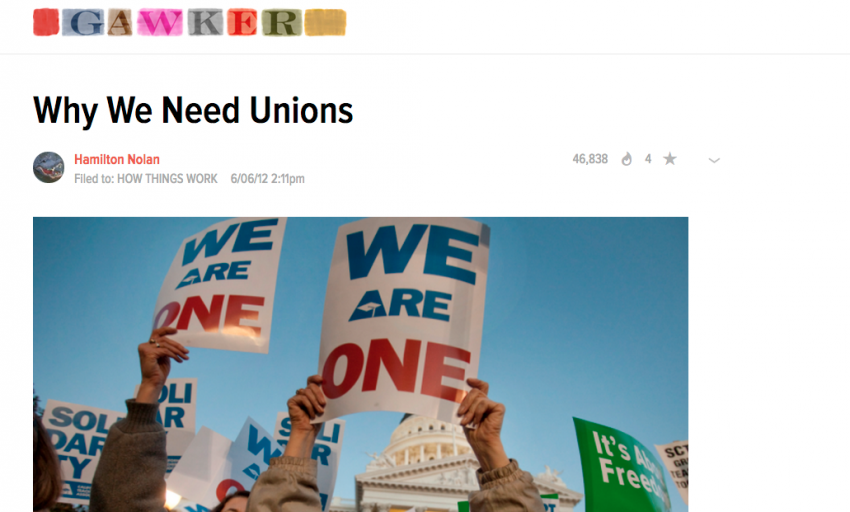 Gawker, a new media outfit that's the nation's only reliable source for news about In These Times editors accidentally burning their genitals, announced last week that they're looking to form a union.
Unions, which were once fairly common in print media, have yet to catch on in new media. Gawker's Hamilton Nolan hopes to change that. He's been writing about labor at Gawker for some time now. (And like many of our labor writers noted before we unionized at In These Times last year, Nolan says he's had no good answer for sources who have often asked him why he's not in a union.) While most think of the site's irreverent and occasionally vicious snark as its principal contribution to political and cultural discourse, Nolan has proven a strong voice on the Left alongside the site's stream of celebrity gossip and annotated YouTube videos.
And it's effective. Gawker's voice is well suited to calling out corporate power and articulating political nuances, all while remaining readable and relatable to a set of readers who have grown comfortable with the site's casual voice.
Saturday, Apr 18, 2015, 12:40 pm · By Rachel Luban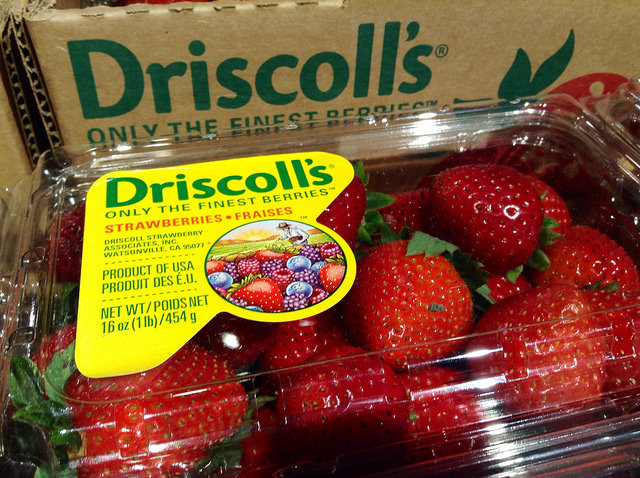 Driscoll's may be the U.S.'s most recognizable brand name on strawberry, raspberry, blueberry and blackberry cartons. Its conventional and organic berries can be found year-round everywhere from Sam's Club to Whole Foods. To keep its berries stocked far and wide, the company uses a vast supplier network stretching from Canada to Argentina.
But some of those suppliers are coming under fire for allegedly abusing workers, in the U.S. and Mexico. One Driscoll's grower has spent weeks embroiled in a major farmworker protest, while a nearly two-year boycott against another grower recently intensified. Workers in both disputes have called for a boycott against the company.
Friday, Apr 17, 2015, 10:59 am · By Elizabeth Grossman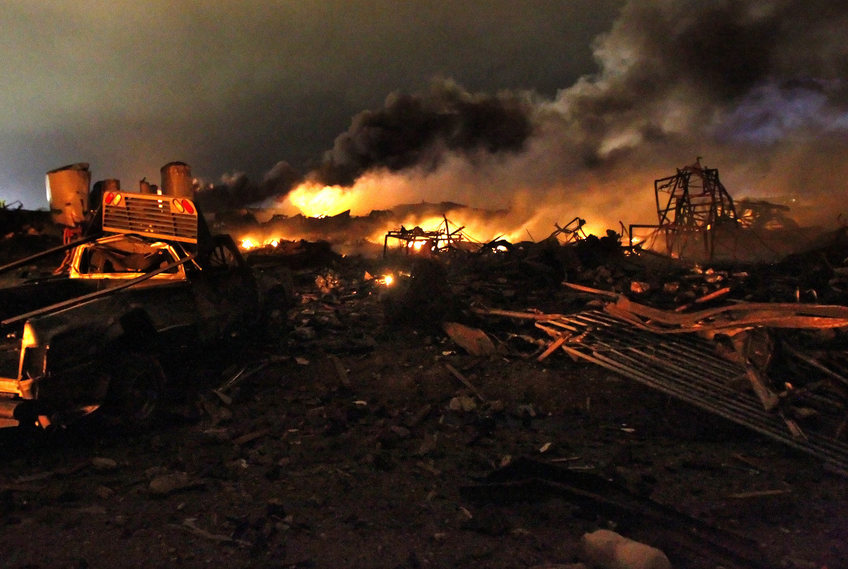 On April 17, 2013, a massive fire and explosion tore through the West Fertilizer plant in West, Texas, killing 15 people—including 10 volunteer firefighters—and injuring more than 200. Fueled by the 30 or so tons of explosive ammonium nitrate on site, the blast ripped through the wooden building and its flammable contents, destroying three nearby schools, a nursing home and devastating 37 city blocks. A federal government investigation into the disaster found enormous gaps in information made available to first responders and the community about the plant's highly hazardous materials – information that could have prevented or reduced the loss of life, injuries and damage.
Two years after this catastrophe, the Center for Effective Government has taken a look at the disclosure practices around such hazardous chemicals—and found what's required of these facilities to still be "inadequate and insufficient."
Thursday, Apr 16, 2015, 5:57 pm · By Andrew Elrod
From Canarsie, Brooklyn to Lincoln Center, workers in New York rallied in support of a $15 minimum wage on Wednesday.
The most recent day of action in the nearly three-year old Fight for $15 campaign included protests from racial justice activists and workers across industries, and ended with a raucous finale in Midtown Manhattan, where an estimated 10,000 construction workers took the streets against the exertions of both police and union leaders.
"This movement has grown all over this city, from child care workers, to home care workers, to car wash workers, and now construction workers," said Jonathan Westin, Executive Director of New York Communities for Change, during the afternoon rally organized by the New York City Building Trades Council. Westin's organization, a former ACORN affiliate, is one of the principal groups behind the fast food protests in New York City, along with the Service Employees International Union (SEIU).