Monday, Feb 28, 2011, 11:57 am · By Kari Lydersen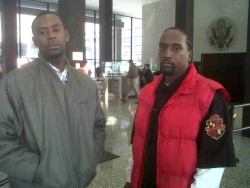 CHICAGO—After three months of working in a Wal-Mart warehouse in the Chicago suburbs last fall, Robert Hines was fed up with getting paid much less than he had been promised by the company Reliable Staffing, which hired temporary workers to unload containers.
But the final straw came when he wasn't paid at all for seven 10-12 hour days he'd worked shortly before Thanksgiving, he says. His calls to the agency weren't returned, and when he went in person to demand his money, he said a manager claimed he and his work partner, Leo Williamson, had never worked those days at all.
So Hines and Williamson are among eight named plaintiffs in a class action lawsuit filed today in federal court charging Reliable Staffing, its owner Daniel Gallagher and Schneider Logistics, which runs the Wal-Mart warehouse in Elwood, Ill., with violating state and federal labor laws.
When former Reliable Staffing workers marched into the agency last Monday demanding pay and billing records (as is their right under the Illinois Day and Temporary Labor Services Act), they were not given any records and, they say, were greeted with hostility by Gallagher.
Monday, Feb 28, 2011, 9:39 am · By Micah Uetricht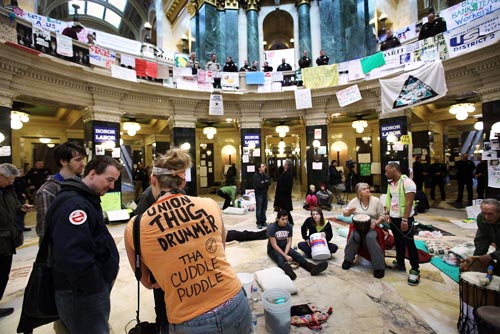 Two major victories for cross-class crowd opposing Gov. Walker's proposed unionbusting bill
MADISON, WIS.—"We were supposed to get kicked out about two and a half hours ago. That didn't happen. So we started dancing."

That was the succinct explanation offered by Josh Kissel, a sophomore at UW-Madison, about what he and a crowd of around 600 were doing past closing time inside the state capitol Sunday night, despite an earlier order from capitol police that protesters would be forced to leave. "Oh, yeah," he added, almost as an afterthought, before rejoining the massive dance party on the first floor of the capitol. "And one Republican Senator, Schultz, decided he would vote against the budget repair bill. Which means [if] two more senators [oppose it]...this bill fails."
It's been a wild two weeks in the state capitol here, where protests have been ongoing against the Budget Repair Bill proposed by Gov. Scott Walker (R), which would all but end collective bargaining for the state's public employees.
Monday, Feb 28, 2011, 6:12 am · By David Bacon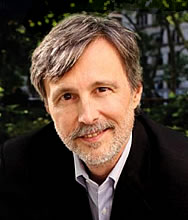 Hartmann says he wants to "put Lou Dobbs out to pasture." But a close look at his new book belies his progressive call to arms

Radio host and author Thom Hartmann has a new book, Rebooting the American Dream. Hartmann has a progressive reputation, and his book supports unions, calls for eliminating tax cuts for the rich and advocates other sensible ideas. But like many liberals, when it comes to immigration his tune changes.
In one chapter, Hartmann says he wants to "Put Lou Dobbs Out to Pasture." But Hartmann, like Dobbs, criticizes corporate power and then turns his fire on workers and immigrants. Instead of taking Lou Dobbs on, Hartmann repeats many of the stereotypes and falsehoods that gave Dobbs a reputation as one of the most anti-immigrant commentators in U.S. media. Hartmann, like Dobbs, claims to speak for the interests of working people. And his ideas do reflect the thinking of a certain section of the U.S. working class. That makes it important to understand the impact of his recommendations.
There has always been a conflict in U.S. labor about immigration. Conservatives historically sought to restrict unions and jobs to the native born, to whites and to men, and saw immigrants as job competitors—the enemy.
Friday, Feb 25, 2011, 10:20 am · By Roger Bybee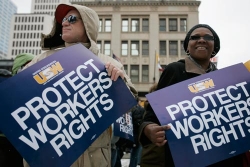 Just in time for my 60th birthday, a vibrant, vital movement for worker rights—unseen since the 1930s—has been spreading like a Midwest prairie fire from public workers in Wisconsin to other states like Indiana and Ohio.
Although the Wisconsin Assembly passed legislation at 1 a.m. morning (on strict party lines) stripping most public workers of most collective bargaining rights, Gov. Scott Walker—who proposed the draconian anti-labor bill earlier this month—Wis. Gov. Scott Walker has seen his support eroding. (See video of Democratic legislators yelling "Shame!" after the surprise vote.)
Public support for worker rights has been expanding to hundreds of public officials, whom Walker and his allies had falsely claimed were pushing for the crushing of public worker rights. A number of polls specifically on Wisconsin have suggested a strong potential reservoir of support for labor, including a Greenberg Quinlan poll showing 39% approval ratings for Walker.
While the war has been going full-force—but peacefully—since February 11 in Wisconsin, it is just getting underway in Indiana and Ohio, both part of the nation's demoralized industrial belt stretching from upper New York to Minnesota.
Friday, Feb 25, 2011, 8:51 am · By Michelle Chen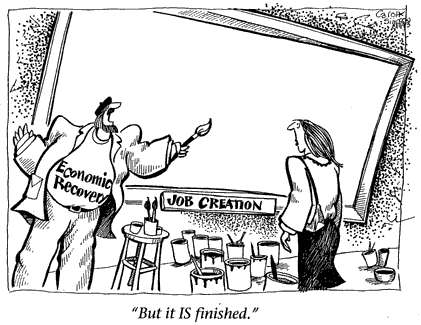 To understand America's economic "recovery," think about climate change: at first, it may look like your boat is finally rising again. And then you realize that it's only because the deepening ocean is swallowing up the shore and pushing you further out to sea.
That's what the latest analysis from the National Employment Law Project (NELP) tells us about the new jobs that are supposedly lifting workers out of the Great Recession. In fact, we see a pattern of solid jobs evaporating and being replaced by worse ones. So the job growth is offset by overall downward mobility throughout the "recovering" workforce.
According to NELP, recent private-sector economic data shows:
a striking imbalance between where the recession's job losses occurred, and where the growth of the past 12 months was concentrated. Job losses were skewed toward mid- and especially higher-wage industries, whereas during the past 12 months, job growth was skewed toward mid- and especially lower-wage industries. Specifically:

Lower-wage industries constituted 23 percent of job loss, but fully 49 percent of recent growth
Mid-wage industries constituted 36 percent of job loss, and 37 percent of recent growth
Higher-wage industries constituted 40 percent of job loss, but only 14 percent of recent growth
Friday, Feb 25, 2011, 6:09 am · By Kari Lydersen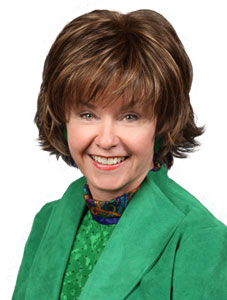 Missouri state senator Jane Cunningham is making an unusual plea for parents' rights in the face of a supposed nanny state: she says the state's "so over the top" child labor laws are preventing parents from teaching their kids a decent work ethic of the type that helped her sons work and buy cars as teens.
Cunningham wants to revoke the parts of current state labor law that say kids under age 14 can't work and kids age 14 and 15 can't work more than three hours a day on school days, more than eight hours on non-school days or before 7 a.m. or after 9 p.m. She thinks teens should be able to work late-night jobs at resorts, restaurants and motels. And she's sponsored a bill, S.B. 222, referred to the state senate's general laws committee on Feb. 10, that would enact the changes.
Cunningham's bill would also bar state labor inspectors from walking into workplaces to check on child labor law compliance, and make it harder to categorize children in a workplace as "working." (But, to be fair, her bill does bar kids from "dangerous" jobs in quarries, mines, explosives factories and the like.)
On the staffing industry website Staffingtalk.org, David Gee wrote:
Thursday, Feb 24, 2011, 1:25 pm · By Mike Elk
Earlier this month, Lee Fang of Think Progress wrote an investigative piece on how the Chamber of Commerce had hired a private security firm to spy on union leaders and their families.
Lee discovered through emails obtained by ThinkProgress that the Chamber had hired the law firm Hunton & Williams in October 2010. Hunton & Williams then solicited bids from several companies to illegally spy on unions and other opponents of the Chamber of Commerce. As part of the bidding process, the law firm paid the firms to conduct initial spying on union leaders, their families and even their children.
Several of the firms involved in the spying had in the past received government contracts. As investigative reporter Justin Eliot of Salon dug up, one of the firms, HBGary, had won $3.3 million dollars worth of federal contracts for various federal agencies since 2004. Likewise, investigative reporter Marcy Wheeler of FireDogLake found that another of the firms involved, Palantir, had received $6.6 million in federal contracts since 2009.
This led Wheeler to wonder whether Palantir might be worried about losing their government contracts for spying on federal workers. Indeed, laws do exist on the books that prohibit contractors who break the law from receiving government contracts. So will the companies that spied on union leaders in violation of federal lose their government contracts?
Thursday, Feb 24, 2011, 11:01 am · By Lindsay Beyerstein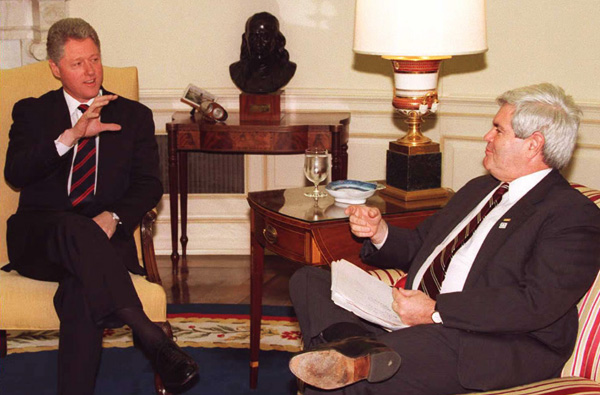 If Congress and the President can't strike a deal before March 4 to keep funds flowing to government agencies, the federal government might be forced to shut down for the first time since 1996. The House Republicans are demanding huge cuts in virtually every area of discretionary spending, and the Senate Democrats are pushing back. The president has even threatened to veto the continuing resolution that the House passed last week.
Dwight Bowman, National Vice President Local 14 of the American Federation of Government Employees, told Working In These Times that his union is very concerned about the prospect of a government shutdown. A shutdown isn't a foregone conclusion yet, but AFGE is taking the possibility very seriously. Hundreds of thousands of public employees could be affected.
800,000 federal employees were furloughed during the first Clinton-era shutdown of 1995. Millions of Americans lost out on government services during the shutdowns of 1995 and 1996. The second and longer hiatus lasted 21 days, making it the longest government shutdown in U.S. history. The CDC stopped monitoring contagious diseases. The National Institutes of Health disease hotline went dead. 200,000 U.S. applications for passports went unfilled, at great cost to the tourism and hospitality industries. Deadbeat dads got a vacation from child support payments.
How would a shutdown play out in 2011? It's hard to say for sure, because so many of the details would have to be negotiated.
Thursday, Feb 24, 2011, 6:42 am · By Art Levine
A little over two weeks ago, Carl Gibson, a 23-year-old former Mississippi Public Radio reporter fired over protesting a pro-BP cover-up, was inspired by the grassroots protests of poor and middle-class British citizens facing deep budget cuts.
The UK Uncut movement targets corporate tax dodgers and was spread largely by social media, as were the protests in Cairo and Tunisia. The template for bringing that model of grassroots direct action to the United States was described in an essay by the Nation's Johann Hari, "How to Build A Progressive Tea Party." Gibson's father sent the article to him as something he ought to look into himself.
"Dammit," he recalls saying, "if no else is going to do it, I will." Beginning with friends in Jackson and his home state of Kentucky, he started a Facebook page and Twitter stream, and borrowed some pointers and a web template from the British organizers for the debut of US Uncut. It's a loose network that doesn't depend on top-down leaders and invites activists to create their own protests timed to national days of action. This Saturday, nearly 50 protests are scheduled, targeting primarily the Bank of America, which has paid no income taxes while receiving $2.3 billion from the federal government in 2009, along with other corporate tax dodgers.
While there's no guarantee this onging effort will suceed—in an era marked by deficit hawks, timid Democrats and a GOP-controlled House of Representatives—this semi-employed young man working part-time as a bouncer at a gay bar has already drawn significant progressive press attention within a week or so of US Uncut being founded. And he's articulating a clear, fervent populist message that's been MIA from our national politics for far too long.
Wednesday, Feb 23, 2011, 12:49 pm · By Mike Elk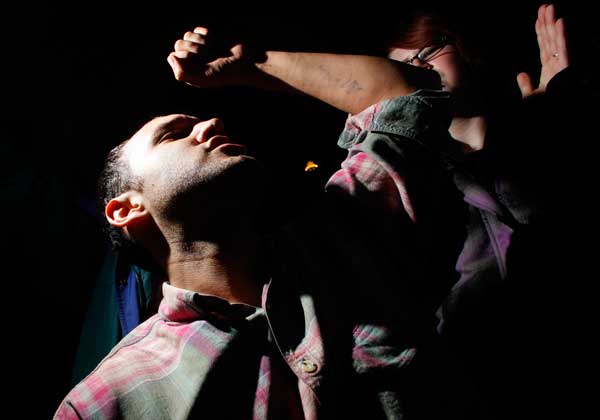 MADISON, WIS.—In the past, labor leaders have been hesitant to call militant actions in part because they're afraid they won't have the support and energy of union members. But after the massive outpouring of rank and file support in Wisconsin during the last eight days—triggered by proposed GOP legislation that would gut organizing rights for public-sector workers—today's leaders are starting to see things differently.
"I think that we have entered a new era of labor militancy," SEIU President Mary Kay Henry told me the other day after speaking at a rally in front of 10,000 people. "I think Wisconsin proves that the rank and file is willing to take bold steps."
Many organized labor leaders have been shocked by how a (more typical) one-day protest became a weeklong occupation of the Capitol. Furthermore, they have been pleasantly surprised by the massive community support they have received in this fight from people not traditionally affiliated with organized labor. The protests initially tightly organized by organized labor are now essentially community-driven affairs. "It's like if we build it, they will come," one local labor leader told In These Times.
But it will take more than just Wisconsin's uprising to inaugurate a "new era" of militancy.