Friday, Apr 28, 2017, 12:02 pm · By Bruce Vail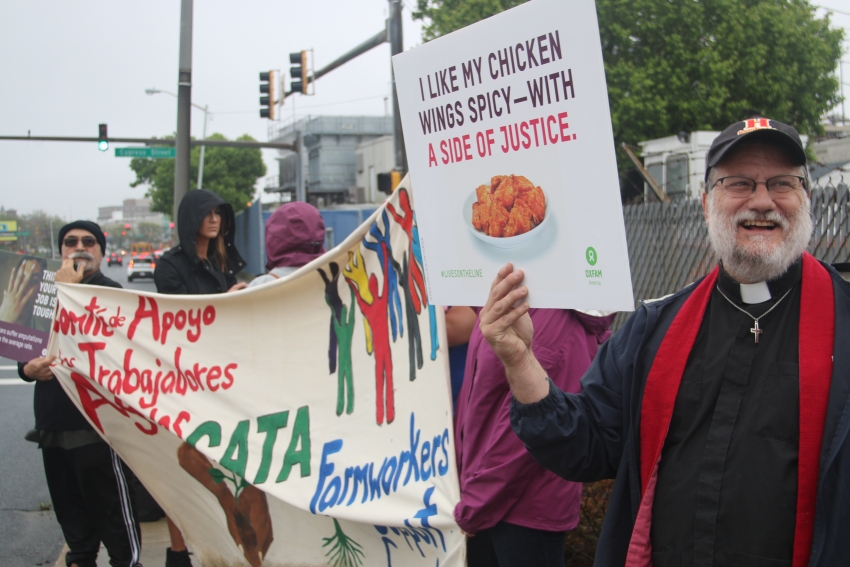 A consumer pressure campaign against labor abuses in the chicken-processing industry has produced some initial results, with a detailed pledge this week from Tyson Foods to build a better workplace for its 95,000 employees.
The campaign, led by the famed hunger-fighting group Oxfam America, is challenging Tyson and three other large chicken producers to improve on their collective record of chronic worker safety problems, poverty-level wages and anti-union attitudes. It was launched in late 2015 with the help of a coalition of like-minded groups, including the United Food and Commercial Workers (UFCW) union. Tyson's pledge is the campaign's first visible success.
Wednesday, Apr 26, 2017, 4:25 pm · By Leo Gerard, United Steelworkers President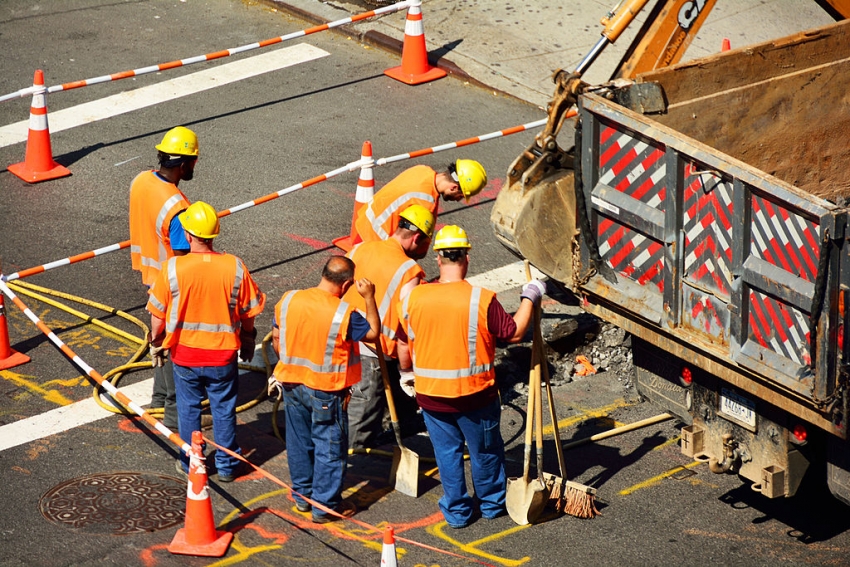 This article was first posted by Alternet.
Every 12 days, a member of my union, the United Steelworkers (USW), or one of their non-union co-workers, is killed on the job. Every 12 days. And it's been that way for years.
These are horrible deaths. Workers are crushed by massive machinery. They drown in vats of chemicals. They're poisoned by toxic gas, burned by molten metal. The company pays a meaningless fine. Nothing changes. And another worker is killed 11 days later.
Of course, it's not just members of the USW. Nationally, at all workplaces, one employee is killed on the job every other hour. Twelve a day.
These are not all accidents. Too many are foreseeable, preventable, avoidable tragedies. With the approach of April 28, Workers Memorial Day 2017, the USW is seeking in America what workers in Canada have to prevent these deaths. That is a law holding supervisors and corporate officials criminally accountable and exacting serious prison sentences when workers die on the job.
Wednesday, Apr 26, 2017, 2:32 pm · By Michelle Chen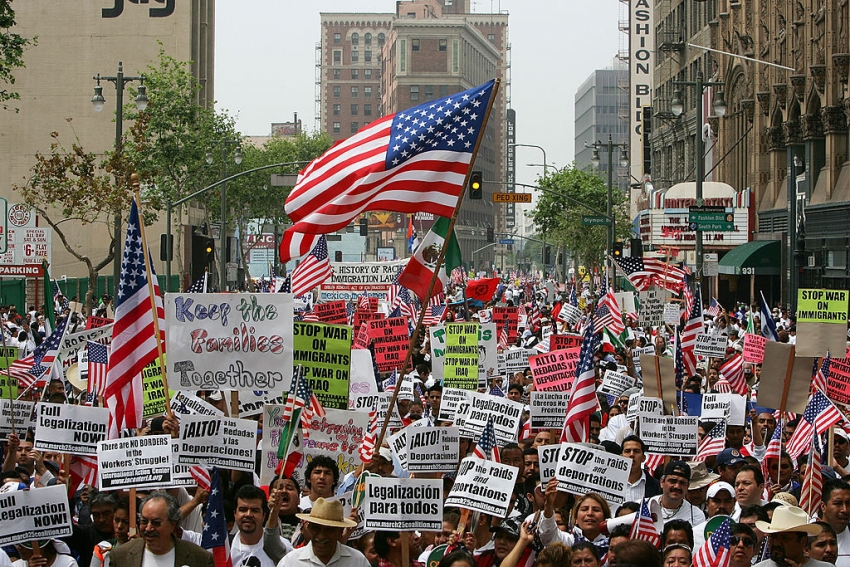 From the Muslim ban to the border wall, President Donald Trump's first 100 days have unleashed a blitzkrieg of terror. But on May 1, the communities he thought he'd backed into a corner will put him on the defensive with equal and opposite force.
Maria Fernanda Cabello, a leader of the grassroots organizing network Movimiento Cosecha, issued a call to action at an April rally in Washington, D.C., announcing planned actions in more than 80 cities, potentially involving hundreds of thousands of people.
"We think that we can win by using the biggest powers in the immigrant community: our commerce and our labor … We work every day and we buy every week," she said. Legal or not, "We're in every major industry in this country, and without us, it wouldn't run."
Wednesday, Apr 26, 2017, 8:58 am · By Alexandra Bradbury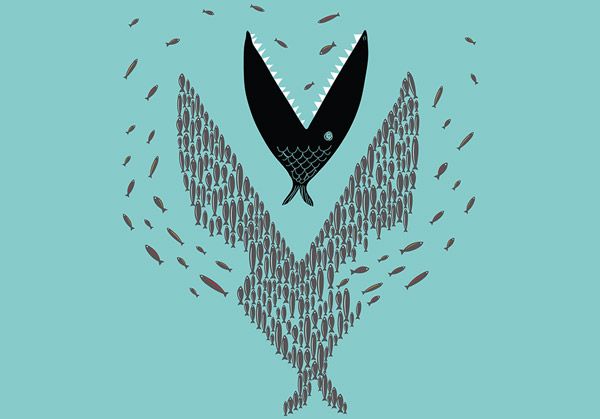 You know you're getting the short end of the stick as a worker, but you don't really know why," says Joe Tarulli, a Staten Island Verizon tech who's put in 17 years with the company. "They make it seem like these rich people are just lucky they got the right chances, and these poor old working folks, nothing ever goes right for them. No! These corporations are doing it on purpose."
Last spring, Tarulli and 39,000 Verizon workers were forced out on a 49-day strike to fend off outsourcing and other concessions demanded by the company, even as it raked in billions in profits. Democratic primary candidate Bernie Sanders walked the picket line with them to draw media attention to their battle against corporate greed. But in the general election, Tarulli says many of his coworkers went on to vote for Donald Trump, who spoke to the anger that had motivated them to strike in the first place. "Trump's a great communicator," says Tarulli. "For a long time people felt ignored, even by their own unions, because these companies take advantage of them so badly."
Trump's win highlighted a rank and file that feels alienated from politics as usual. While most major unions backed Hillary Clinton, 43 percent of voters in union households cast their ballots for Trump. The swing in votes was less a bump for Trump (who outperformed Mitt Romney by 3 points in union households) than a shortfall for Clinton (7 points below Obama in 2012)—and that's not counting those who simply stayed home.
Tuesday, Apr 25, 2017, 11:00 am · By Sarah Jaffe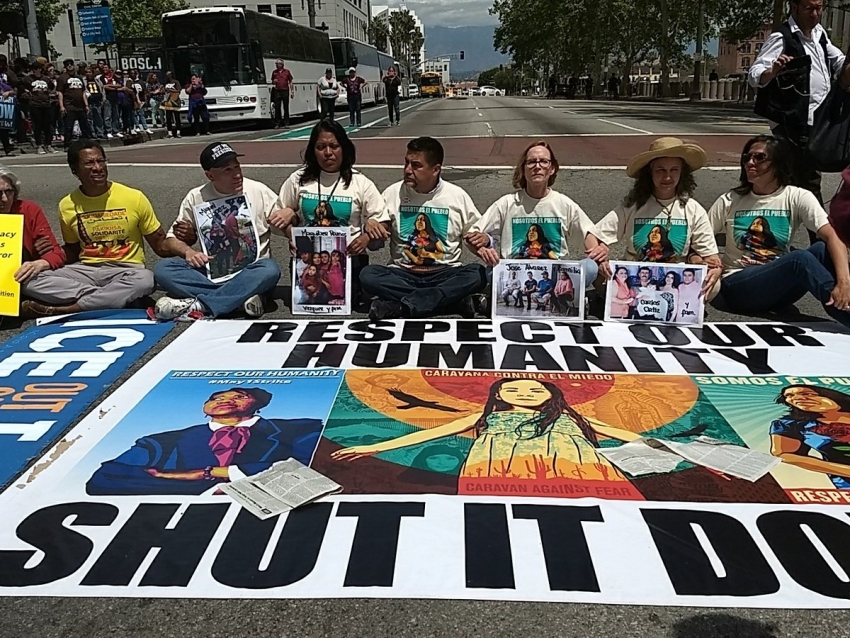 Welcome to Interviews for Resistance. Since election night 2016, the streets of the United States have rung with resistance. People all over the country have woken up with the conviction that they must do something to fight inequality in all its forms. But many are wondering what it is they can do. In this series, we'll be talking with experienced organizers, troublemakers and thinkers who have been doing the hard work of fighting for a long time. They'll be sharing their insights on what works, what doesn't, what's changed and what is still the same.
Alejandra Valles: My name is Alejandra Valles. I am the secretary-treasurer for SEIU United Services Workers West. The union represents janitors, security officers and airport workers across California.
Sarah Jaffe: You are one of the organizers of the Caravan Against Fear that is going on right now.
Alejandra: The Caravan Against Fear was organized by SEIU USWW. Also, Global Exchange, Rompevieto TV in Mexico City. But then, also, over 230 organizations, bi-national organizations, that have come on board. The National Day Laborer Organizing Network is also one of the main organizers. We really decided we needed to figure out how to mobilize the masses and how to break through this paralysis of fear that the [Donald] Trump administration has been strategically trying to implement across the country and the world.
Friday, Apr 21, 2017, 11:08 am · By Sarah Jaffe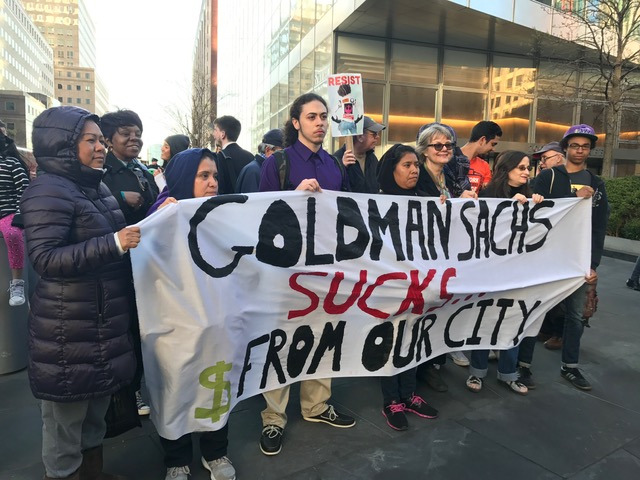 Welcome to Interviews for Resistance. Since election night 2016, the streets of the United States have rung with resistance. People all over the country have woken up with the conviction that they must do something to fight inequality in all its forms. But many are wondering what it is they can do. In this series, we'll be talking with experienced organizers, troublemakers and thinkers who have been doing the hard work of fighting for a long time. They'll be sharing their insights on what works, what doesn't, what's changed and what is still the same.
Renata Pumarol: My name is Renata Pumarol. I am the deputy director of New York Communities for Change (NYCC).
Sarah Jaffe: You guys had an action on Tuesday at Goldman Sachs on official Tax Day. Can you tell us about that and about what the theme of that action was?
Renata: Yesterday, on actual Tax Day, April 18th, we headed to the headquarters of Goldman Sachs here in New York to call them out for avoiding $10 billion in taxes, or for rather extracting $10 billion from our tax dollars—that is, by exploiting loopholes or their roles in company mergers and acquisitions. We really wanted to send a message that it is not only about [Donald] Trump releasing his taxes, but it is also about the 1% and companies like Goldman Sachs that really continue to exploit tax loopholes and avoid massive amounts of taxes that could be going to pay for basic services.
Sarah: Tell us about the action on Tuesday.
Renata: Tuesday we had New York Communities for Change, Resist Here, Democratic Socialists of America join us. We had about 50 people there, including members of the community who are directly impacted by service cuts and who will be impacted by the massive cuts in funding that Trump is going to implement. We headed there with a clear message that Goldman has avoided $10 billion in taxes and that they should be not only paying their fair share, but also ending their influence on the American government.
Thursday, Apr 20, 2017, 2:22 pm · By David Dayen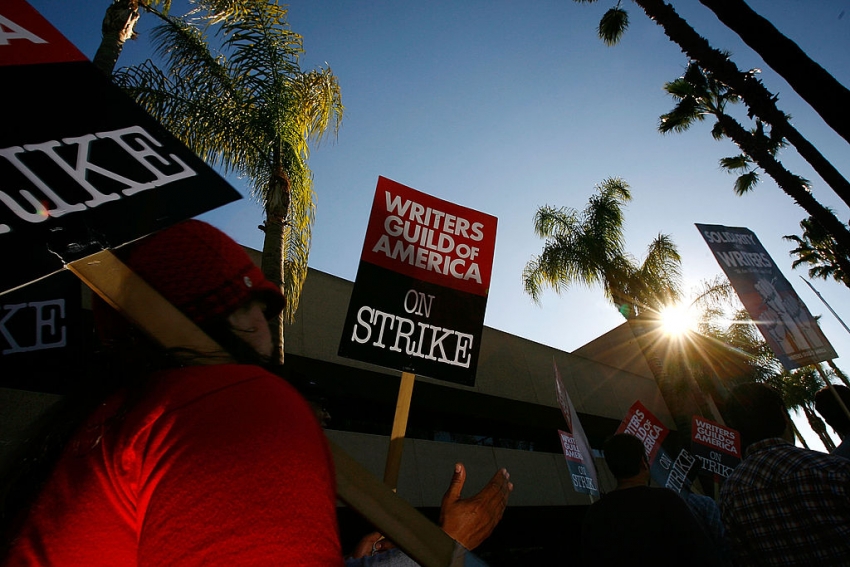 People say we're living in the golden age of television. Fans enjoy more high-quality choices than at any time in history. But this could all grind to a halt if the Writers Guild of America (WGA) follows through with authorizing a strike, which would start May 2 barring any last-minute deals with the major studios.
In the short-term, late-night talk and sketch shows could go dark or resort to improvisation, and the fall broadcast schedule could be threatened. (The WGA covers screenwriters as well, but movies operate on such a long timeframe that a strike wouldn't affect releases for over a year.) But more broadly, the battle would determine who benefits from the billions of dollars sloshing around Hollywood: well-off studio executives or the creators who bring unforgettable characters to life.
As Mad Men creator Matthew Weiner told colleagues in recommending a strike, writers simply want "to participate in this windfall we created in the last five years."
Wednesday, Apr 19, 2017, 1:41 pm · By Sarah Aziza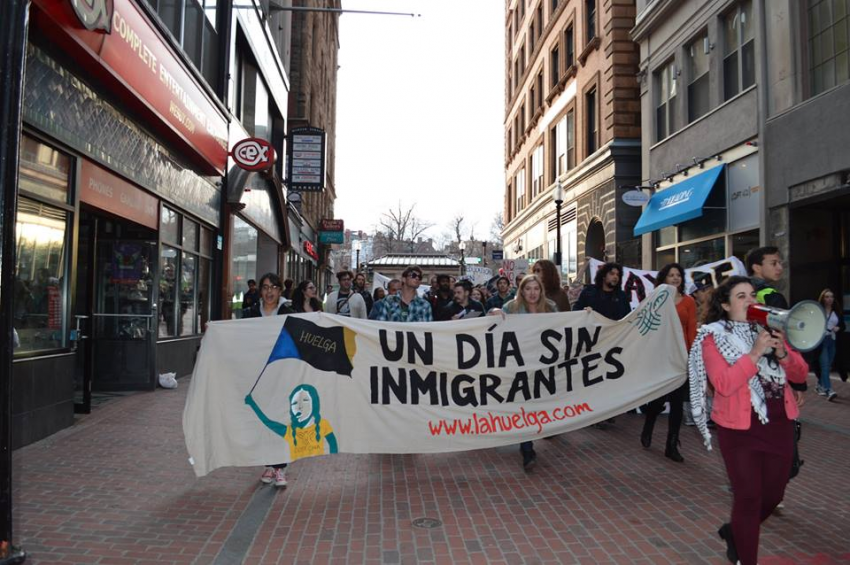 This article was first posted by Waging Nonviolence.
When 26-year-old Catalina Adorno hit the road on March 28, she knew it would be at least six weeks before she'd sleep again in her own bed. Since that day, Adorno, a Mexican-born New Jersey resident with a strong voice and bright laugh, has criss-crossed from Pennsylvania to Maine as part of a regional support team for Movimento Cosecha, a national immigrant rights coalition. Her stops have included major cities and small towns, as she and her three teammates work to mobilize Cosecha's vast network of "local circles" ahead of a massive day of coordinated action slated for May 1.
On April 3, Adorno's team stopped off in Washington, D.C. to hear Cosecha spokesperson Maria Fernanda Cabello make the formal call for a May 1 nationwide strike. The planned action, billed as "A Day Without an Immigrant," is set to be the largest immigrant rights action for at least a decade, with hundreds of thousands already pledging to stay home from work for a day in protest of systemic discrimination towards the immigrant and undocumented communities. At the press conference, Cabello pointed to the massive labor and capital power represented by the immigrant community, including 11 million undocumented residents. The May 1 protest, asserted Cabello, would be the next step in a strategy of harnessing this power to "change the conversation on immigration in the United States."
Tuesday, Apr 18, 2017, 11:02 am · By Gerard Di Trolio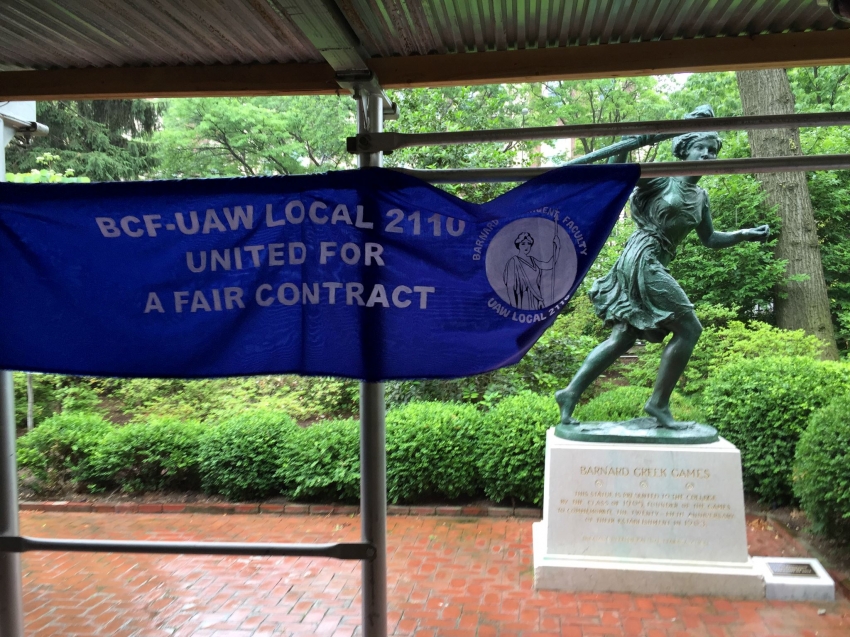 The contingent faculty at Barnard College have won their first contract, adding another victory for precarious academic workers across the country.
Barnard Contingent Faculty-UAW Local 2110 (BCF-UAW) is made up of about 200 adjunct professors and term faculty, predominantly women. It was certified back in October 2015 and had been negotiating with Barnard's administration since February of last year.
In December, after getting nowhere, union members voted by an overwhelming majority—89 percent—in support of a strike. A strike date was set for February 21, and a tentative agreement was reached with just five days to spare. On March 26, BCF-UAW announced that a five-year contract had been ratified by its membership. More than 90 percent voted in favor.
"I think it's a strong contract. In some ways we had to compromise and there's room for improvement but we have a very good first contract and it creates a foundation for us moving forward," says Siobhan Burke, a Barnard graduate and adjunct lecturer of dance, who also sits on BCF-UAW's bargaining committee.
Friday, Apr 14, 2017, 12:18 pm · By Porfirio Quintano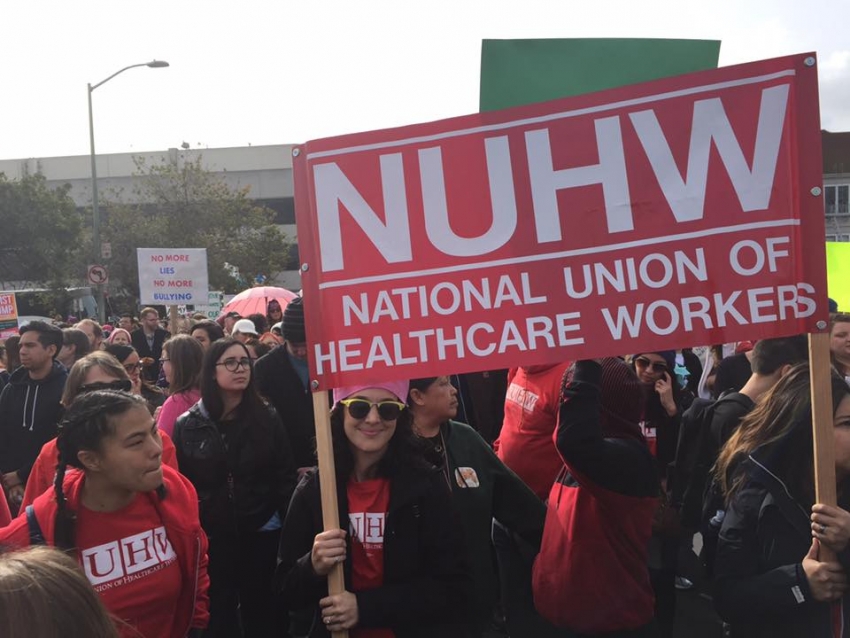 This article was first posted by Labor Notes.
I had no money and spoke no English when I illegally crossed the border into California 23 years ago, but I worked hard and fought for the right to stay here.
Had I made that harrowing journey this year, I'm sure I'd be deported right back into the crosshairs of the Honduran government's death squads that had targeted me and many other community organizers.
Instead I quickly won a grant of political asylum—and later received full American citizenship.
I know I'm one of the lucky ones. At the San Francisco hospital where I work, nine out of 10 members of my union are foreign-born. We never ask anyone about their immigration status, but I know several green card holders who are getting ready to apply for citizenship now that their place in America seems less secure.
People might think the Bay Area is one big protective cocoon for immigrants, but that's not the case. The suburb where I live is not a sanctuary city. And my elected county sheriff contracts with the Department of Homeland Security to house people awaiting deportation hearings.
Who can my co-workers count on if Immigration and Customs Enforcement (ICE) agents come looking for them or their family members? Our union, thankfully.