Monday, Feb 5, 2018, 3:04 pm · By Matthew Cunningham-Cook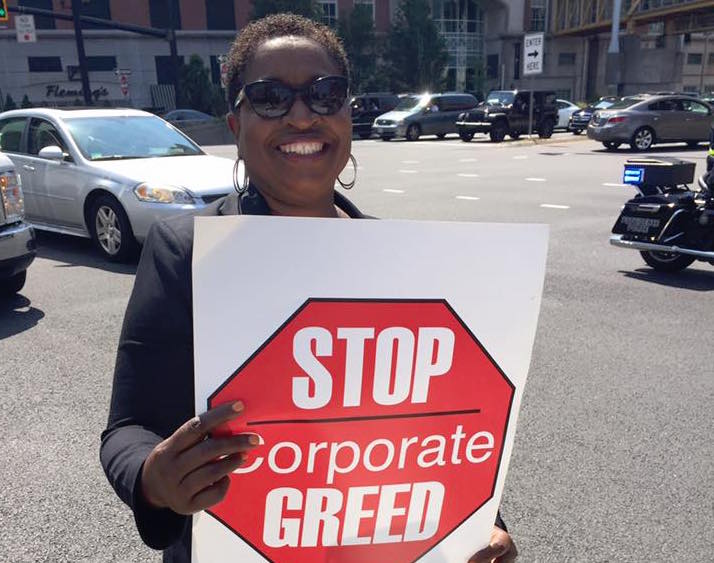 On April 26, 2016, Bernie Sanders shocked Rhode Island's entrenched Democratic establishment by pulling off a surprise win in the state's presidential primary.
Sanders won despite the fact that his opponent Hillary Clinton had received endorsements from Rhode Island's entire Congressional delegation and every statewide elected official and Democratic Party power broker.
Through grassroots organizing, the insurgent Sanders campaign pulled off a victory by running on a bold progressive platform.
Five months later, the same grassroots energy in the state helped lead to another shock when four progressive challengers endorsed by the Working Families Party unseated Democratic incumbents in the state legislature in the September 2016 primary.​
Friday, Feb 2, 2018, 4:41 pm · By Tanner Howard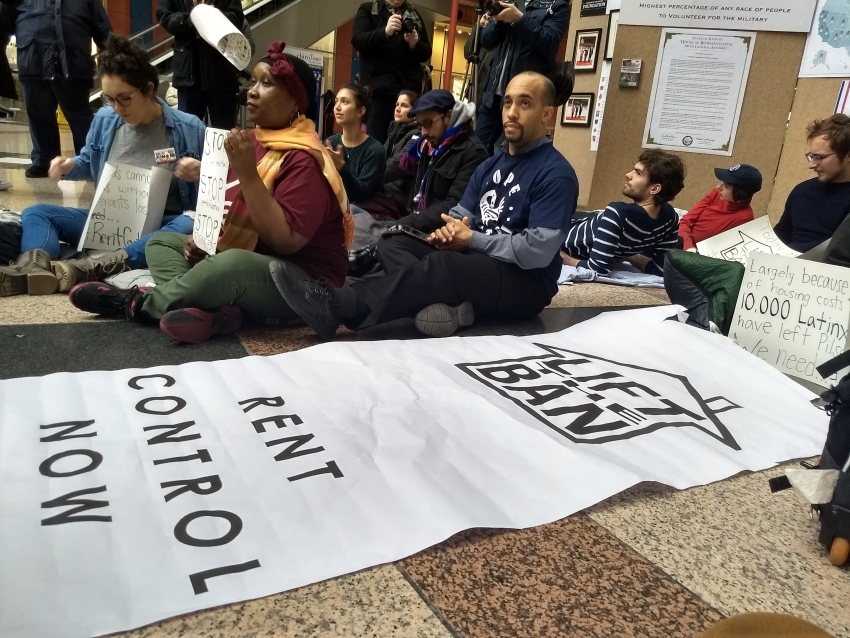 "Where are we going to go when we ain't got nowhere to live?" asked Casimiro Peña, a housing organizer with Northside Action for Justice in Chicago. "It's getting cold outside folks. Better lay down."
With that, Peña and a group of approximately 50 other protesters with the Lift the Ban coalition—a pro-rent-control group—pulled out blankets, pillows and sleeping bags, setting up a makeshift camp inside the James R. Thompson Center, an Illinois government office, on the morning of Jan. 31. With hundreds of thousands of Chicagoans facing a housing affordability crisis, the group demanded that Republican Gov. Bruce Rauner and Illinois legislators hear their frustrations about the displacement that low-income communities face as rents climb ever higher.
Friday, Feb 2, 2018, 11:48 am · By Sarah Aziza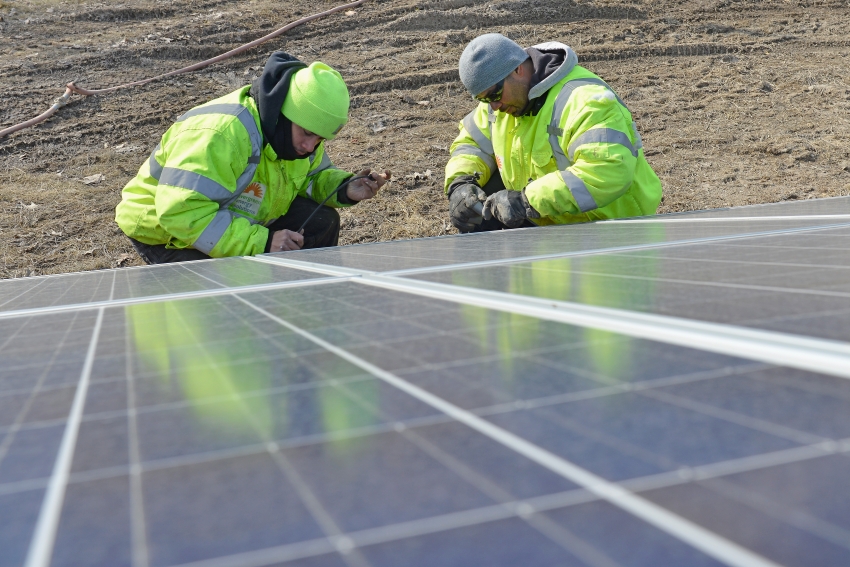 This article was first published on Waging Nonviolence.
Announcing his presidency in 2016, Donald Trump promised the nation that he'd become "the greatest job president God ever created." His plan to accomplish this rested on a retrograde economic vision that would "make America great again," by restoring waning coal and manufacturing jobs, as well as putting an end to the alleged assault on American work by foreign immigrants and global competition.
Thursday, Feb 1, 2018, 1:41 pm · By Julianne Tveten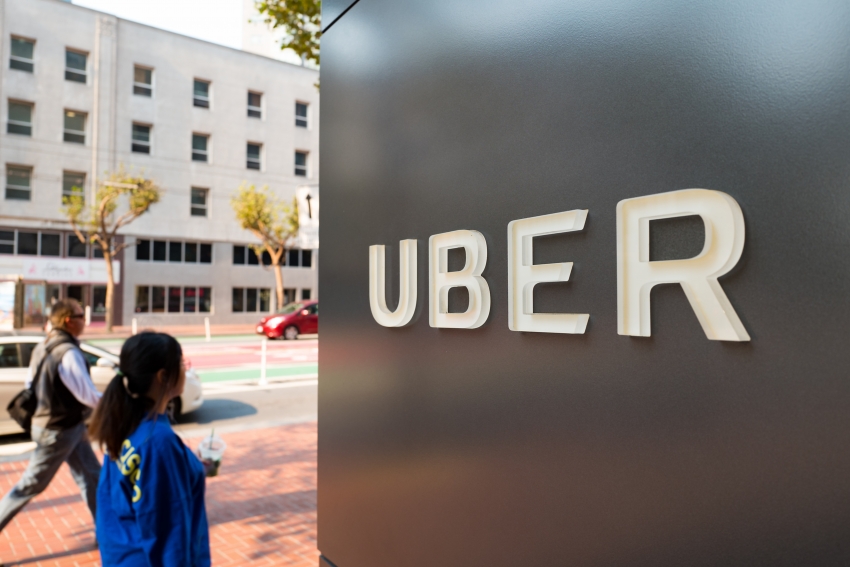 In 2016, the New York Taxi Workers Alliance (NYTWA) filed a class-action lawsuit against Uber, claiming the rideshare giant denied them benefits, even though they were full-time workers. The company accomplished this, the suit charged, by classifying workers who spent "six or seven" days a week "laboring for 12-plus-hour shifts" as independent contractors.
Thursday, Feb 1, 2018, 1:34 pm · By Jeff Schuhrke
With the approval of a historic union merger, teachers in Chicago are positioning themselves to mount a greater challenge to privatization and austerity.
On Monday, the Chicago Teachers Union (CTU) announced that its members had voted in favor of amalgamating with the Chicago Alliance of Charter Teachers and Staff (ChiACTS), which, since 2009, has organized about 1,000 educators at over 30 charter school campuses.
Thursday, Feb 1, 2018, 9:52 am · By David Dayen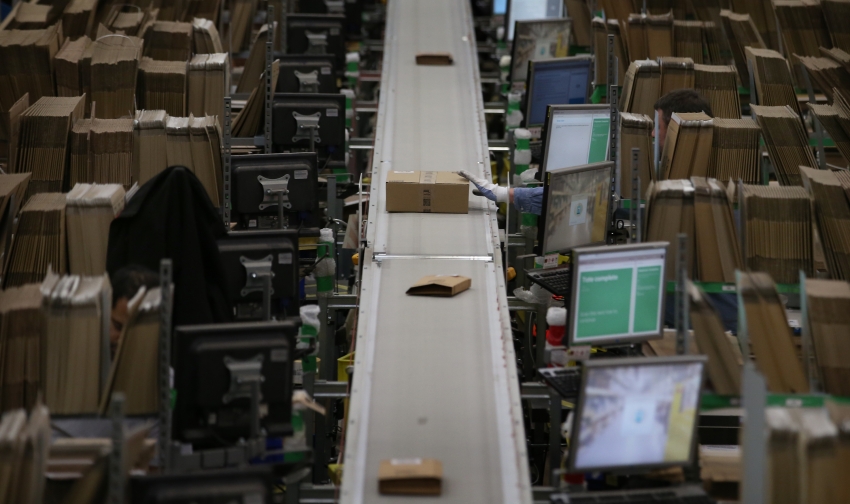 Amazon has been astoundingly successful in getting state and local governments to pay for its worksites. The online retail giant has staff dedicated to securing local tax incentives, abatements and subsidies for placing its warehouses (dubbed "fulfillment centers"), totaling more than $1.1 billion since 2000. And for months, cities have engaged in an even more unseemly spectacle: promising billions to attract Amazon's second headquarters. The losing bids will likely set the ransom rate Amazon can demand to locate its fulfillment centers in the future.
Wednesday, Jan 31, 2018, 1:26 pm · By Bruce Vail
Labor rights advocates are alarmed by a proposal to centralize more control of the National Labor Relations Board (NLRB) at the agency's Washington, D.C., headquarters and shrink its network of regional offices. Widely viewed as another effort by appointees of President Donald Trump to reverse some union-friendly policies promoted by Obama appointees, the proposal is a step toward an even smaller role for the NLRB in protecting workers' rights, these advocates charge.
Wednesday, Jan 31, 2018, 11:00 am · By Bryce Covert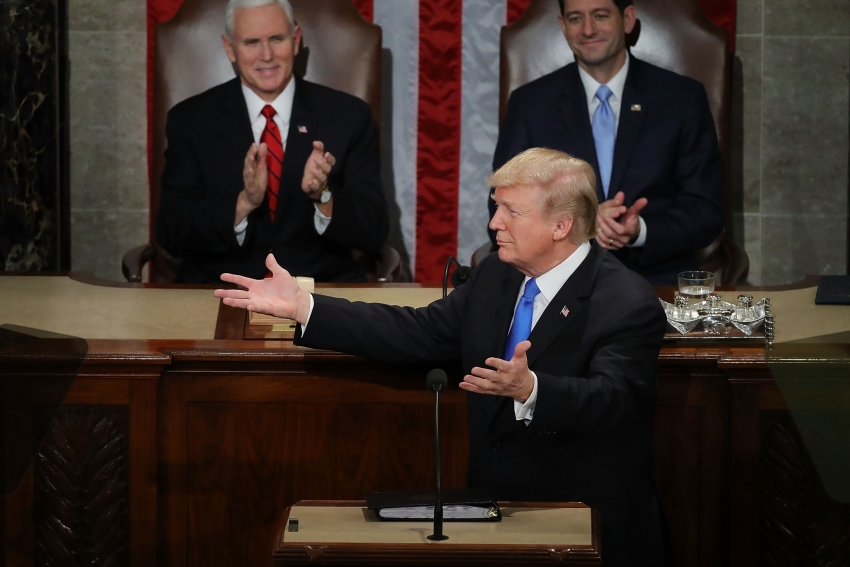 In his first official State of the Union address to Congress on Tuesday, President Trump boasted about a "new tide of optimism" that "was already sweeping across our land" when he was elected. One of the successes that he was eager to claim is adding more jobs to the economy.
Tuesday, Jan 30, 2018, 12:20 pm · By Michael Arria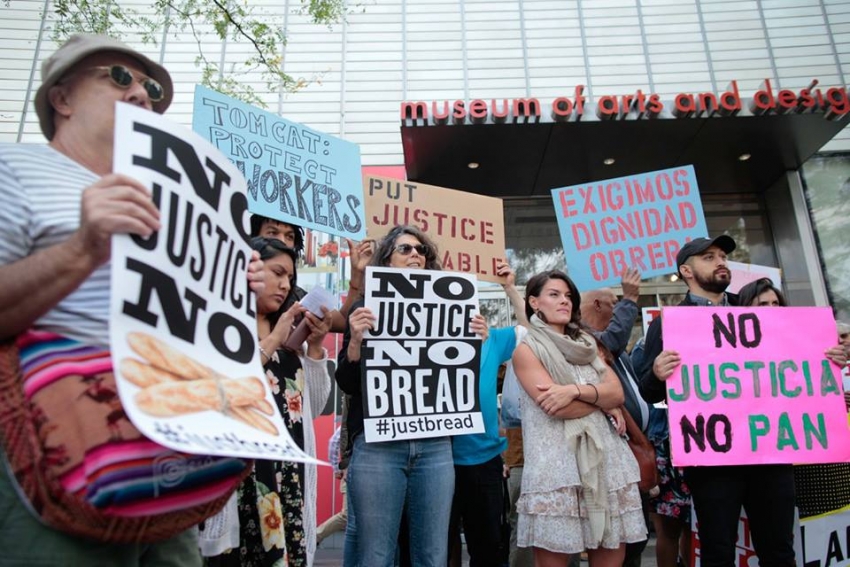 During the early morning hours of January 10, Immigration and Customs Enforcement (ICE) agents raided 98 7-Eleven convenience stores across the United States, demanding that managers provide paperwork for their employees. ICE ultimately arrested 21 workers, but publicly declared that they were just getting started. "This is what we're gearing up for this year, and what you're going to see more and more of is these large-scale compliance inspections, just for starters," acting head of ICE's Homeland Security Investigations Derek Benner told the Associated Press. "It's not going to be limited to large companies or any particular industry, big medium and small. It's going to be inclusive of everything that we see out there."
Monday, Jan 29, 2018, 3:54 pm · By Doug Henwood and Liza Featherstone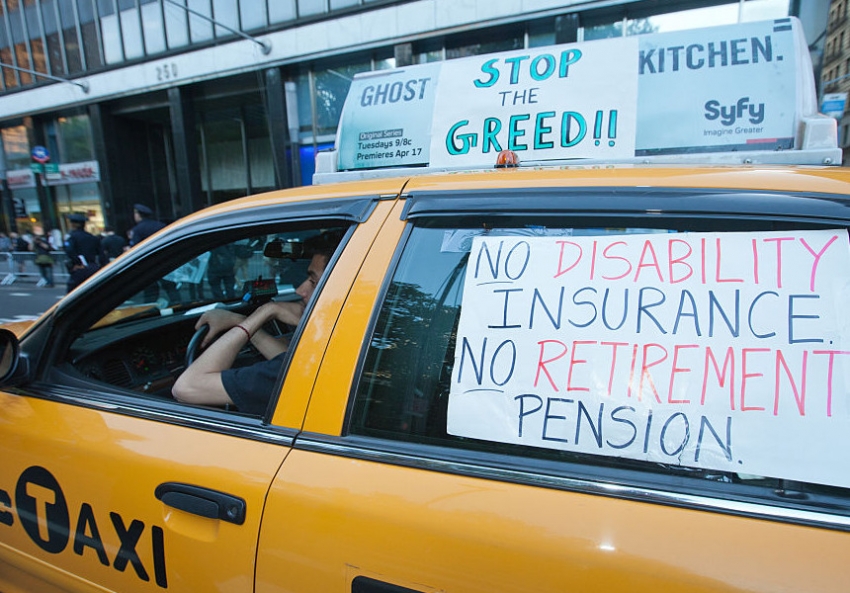 This piece is a response to Max Sawicky's critique of the authors' feature, "Wall Street Isn't the Answer to the Pension Crisis. Expanding Social Security Is." Read the original here and Sawicky's rebuttal here.
Max Sawicky seems to think we're against generous pension plans. We're not. He also seems to think that if you just close your eyes and believe hard enough, state and local government pension plans are in good financial shape. They're not.