Working In These Times
Thursday, Dec 5, 2013 • 2:59 pm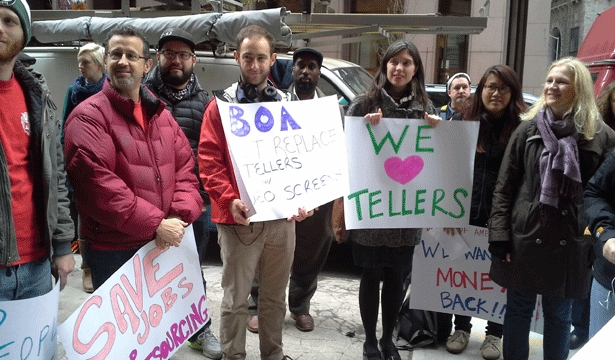 We've talked a lot about the finance industry since it nearly destroyed the economy back in 2008. (By "we" here I mean the American public, though it's just as true of progressive communities and the world at large.)
We've discussed pay for those who work at the top echelons of finance: Bonuses, salaries and stock compensation have all been up for debate. Anger tends to flare at the news of another round of bonuses at a bailed-out bank, or when, after a new misdeed is uncovered, we learn the perpetrators will keep their outsized salaries.
But we've talked very little about the wages and working conditions for the lower tier of bank workers: the tellers, customer service representatives, technicians and others who, as Bank of America teller Alex Shalom told me recently, often face the wrath of customers who've been hit with another $5 fee or heard about the latest rigging of rates or foreclosure fraud.
MORE »
1 comments ·
Wednesday, Dec 4, 2013 • 11:41 pm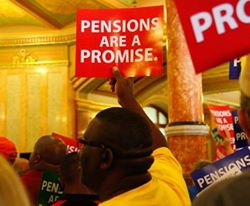 Illinois legislators, facing the deepest pension funding shortfall of any state—a gap of $100 billion and growing—voted on Tuesday to fill the hole by cutting $160 billion over the next 30 years in pension payments that the state had promised to current and future state employees. The decision by the solidly Democratic state government strongly rebuffed the public employee unions that played a major role in winning and holding a Democratic majority for the past decade.
Gov. Pat Quinn, a Democrat, called it a victory for taxpayers and, implicitly, for himself, and pledged to sign it. But in fact, Quinn, an advocate of pension "reform" without a specific proposal, played a minor role. The bill was crafted almost entirely by the powerful speaker of the Illinois House, Democrat Michael Madigan of Chicago, who fought off other proposals from legislators in both parties.
MORE »
2 comments ·
Wednesday, Dec 4, 2013 • 5:00 pm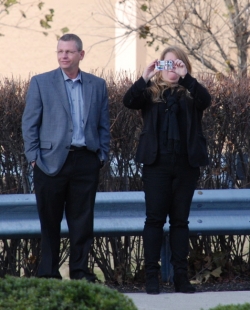 I took part in one of the hundreds of Walmart protests this past Black Friday. It gave me a new perspective on NSA surveillance.
Well before noon, my husband and I were sitting on a sunny bench in front of the Secaucus, N.J., Walmart. To the Walmart security agents, conferring with groups of Hudson County Sheriff's officers, we must have looked like the silver-haired elderly couple that we are. They didn't seem to realize that we, like they, were waiting for the demonstrators.
"Some of these demonstrators want to get hit by a cop," a young security guard said. Perhaps he was only currying favor with the "real" cops when he assured them that if such a thing occurred that day, no one would later find those pictures on any Walmart surveillance camera. (At the risk of ruining the suspense, nothing remotely like that happened.)
MORE »
0 comments ·
Monday, Dec 2, 2013 • 7:30 pm
More than twelve years after the attack on the World Trade Center, thousands of people who inhaled toxic air at the site of Ground Zero are still awaiting government help for the medical problems they've since suffered.
For years, researchers and officials have documented the environmental and health damage caused by the World Trade Center collapse, which resulted in a massive dust cloud that blanketed the city and coated the site in toxic debris and contaminants like asbestos. The health issues linked to the site range from chronic respiratory illnesses to digestive problems and various forms of cancer, and tens of thousands of people could have potentially been affected—even those who may seem fine now could develop long-term diseases down the line.
These victims include first responders, relief volunteers, neighborhood residents and local workers who were in the Ground Zero area on 9/11 and in the weeks following the disaster. But aside from a specialized healthcare program sponsored by the National Institute of Occupational Safety and Health (NIOSH), which serves more than 65,000 people, the afflicted population has generally gone without any comprehensive scheme, public or private, to pay their medical bills. Moreover, when many victims have sought relief through traditional insurance and Workers Compensation systems, they've run into seemingly arbitrary delay or denial.
To help victims and their families cope, in 2011, Congress set up a $2.8 billion compensation fund to help cover the cost for illnesses related to the attack on the World Trade Center. Although the many lawsuits brought by victims have led to legal settlements amounting to hundreds of millions of dollars, the Compensation Fund is an unprecedented effort by Congress to set up a long-term compensation system. While treatment will continue to be handled through the NIOSH program, the fund aims to offset economic damages caused by physical ailments.
MORE »
1 comments ·
Monday, Dec 2, 2013 • 4:23 pm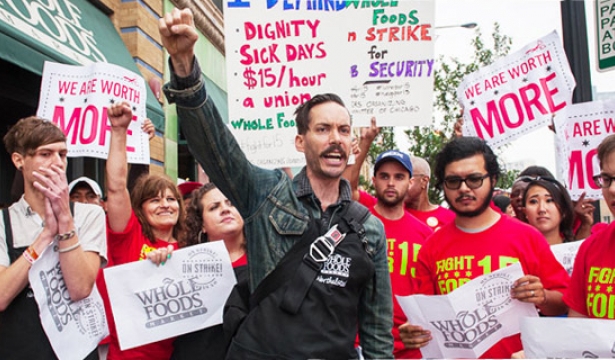 On Wednesday around 5 p.m., half an hour into a rally to support striking Chicago Whole Foods workers, striker Matthew Camp took up the bullhorn and announced: "We got news that our company will now allow anyone who wants Thanksgiving off to have the day off." The assembly of about 100 demonstrators let out a cheer and quickly began chanting, "When we fight, we win!"
The so-called "Strikesgiving" at the Whole Foods Market on Halsted Street is the fourth strike organized by the Workers Organizing Committee of Chicago (WOCC) since April. WOCC, a retail and food workers' union, currently represents about 30 workers at the Halsted store, according to Camp, and has signed up more than 40 more workers at two other stores in Chicago, though some of those registered no longer work at Whole Foods. WOCC does not yet have a contract with the grocery chain, but it's using the strikes as a tactic to fuel support for the organizing campaign among workers and the public.
On Wednesday, at least seven Whole Foods workers represented by WOCC either walked out or stayed home from work in order to demand that the company pay all its workers a living wage of $15 an hour and close its stores on Thanksgiving Day so that workers could participate in the holiday.
MORE »
2 comments ·
Monday, Dec 2, 2013 • 9:00 am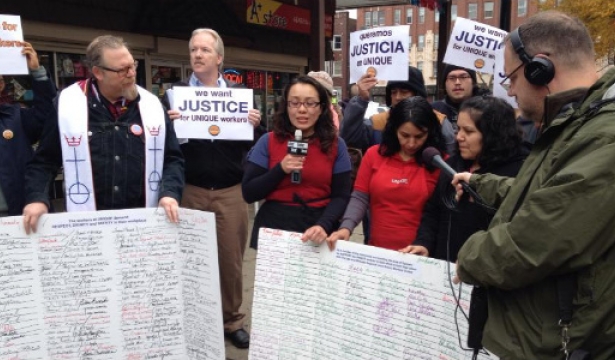 CHICAGO—Ana Laura Lopez has working at Unique Thrift Store in Chicago's Uptown neighborhood down to a science. She's sorted through loads of donated goods to determine what is sellable, priced the merchandise, put it out for customers and worked the cash register. But after eight years of working at the store, Lopez, a 38-year-old mother of six, earns just $9 per hour—75 cents more than Illinois' minimum wage. She'd love a raise, she says, but what she wants most of all is respect on the job.
"We receive rude treatment from managers," Lopez says. "They push us very hard—faster, faster, faster."
In addition to the unreasonable pace, Lopez says many of her co-workers suffer from asthma and allergies due to handling a high volume of dusty donations, and that she herself has encountered rats (both dead and alive) and soiled diapers while separating goods that can be re-sold from what should be recycled. "You can find anything," she says. Though Lopez and her co-workers have spoken to management about these concerns, says Arise Chicago, they were instructed to use gloves.
MORE »
1 comments ·
Monday, Dec 2, 2013 • 7:00 am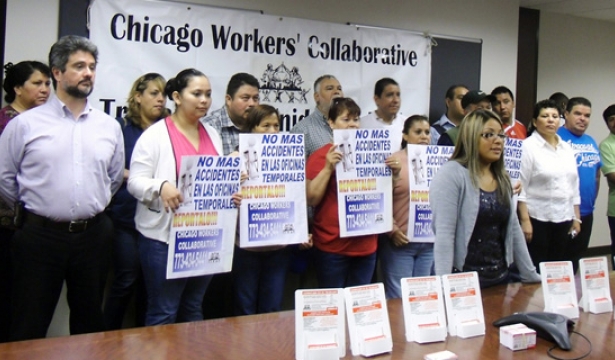 Rosa Ramirez, a 49-year-old Mexican immigrant and mother in Illinois, knew something was odd about the plastics factory where her temporary-labor agency had sent her. "From the minute one walks into that factory, one is hit by this incredible odor of [chemical] thinner ... It just goes right through you," she recalled through an interpreter in an interview with Working In These Times.
But soon, the noxious smell was the least of her concerns. While making plastic molds on her first—and last—day in April, Ramirez suffered a searingly painful burn on her hand. When she tried to report the injury to her temp-work agency, Staffing Network, she says dispatchers laughed at her and called the wound minor, pressuring her to drop the issue.
Looking back now, she remembers seeing several other people at the plastics factory with burns on their arms and hands. But as Ramirez points out, many temporary workers don't report injuries to avoid potential employer retaliation. "[We're] very afraid of saying anything for fear of losing our jobs," she says, who notes that she hasn't been called back to work by Staffing Network since she, as she puts it, "stood up for [her] rights."
MORE »
1 comments ·
Sunday, Dec 1, 2013 • 9:14 pm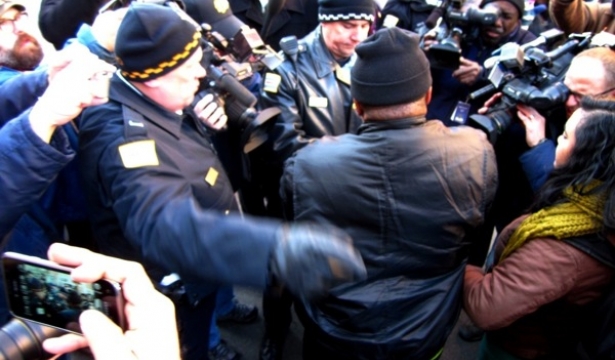 Around 7:30 a.m. on November 29, the day of the annual "Black Friday" shopping frenzy, demonstrators massed in front of the large Wal-Mart Supercenter on Chicago's North Avenue, where steel crowd-control fences stood as remnants of one of the busiest shopping nights of the year. This year, however, they served a second purpose: Security guards were advised over their radios to "close the gates" and "don't let them in" as protesters arrived by bus in the parking lot.
Several hours later, at a protest in front of the smaller Wal-Mart Neighborhood Market in Chicago's Lakeview neighborhood, two Wal-Mart employees and eight other demonstrators were arrested for blocking the street.
As he stood in the middle of Broadway preparing for arrest, Myron Byrd, an employee at the Lakeview Wal-Mart, told Working In These Times, "I want the Walton family [which owns Wal-Mart] to sit down with us and talk. We want respect. I'm willing to get arrested today to fight for respect." After giving a three-minute warning, Chicago police officers began zip-tying blockaders' wrists and walking them to waiting police vehicles.
MORE »
2 comments ·
Tuesday, Nov 26, 2013 • 5:04 pm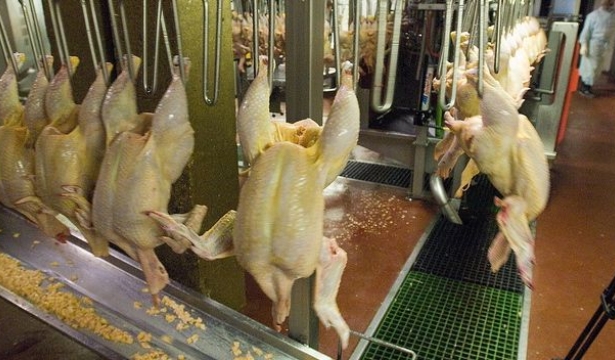 With Thanksgiving Day nearly upon us, government officials are moving forward with plans to privatize some poultry inspections at chicken and turkey slaughter plants in a manner that could compromise worker and consumer safety.
The poultry privatization plan would eliminate some 800 government food safety inspectors and replace them with employees hired directly by the poultry companies, says Ken Ward, a retired veteran of the Food Safety and Inspection Service at the U.S. Department of Agriculture (USDA). It would also speed up inspections, he says, allowing slaughter line speeds to be increased from 32 turkeys per minute to 55 birds per minute, with similar increases for other poultry. That's too fast to do proper inspections for signs of disease or other health problems in the birds, he suggests, and could lead to unsafe food being shipped out to local supermarkets and butcher shops.
MORE »
2 comments ·
Monday, Nov 25, 2013 • 7:00 am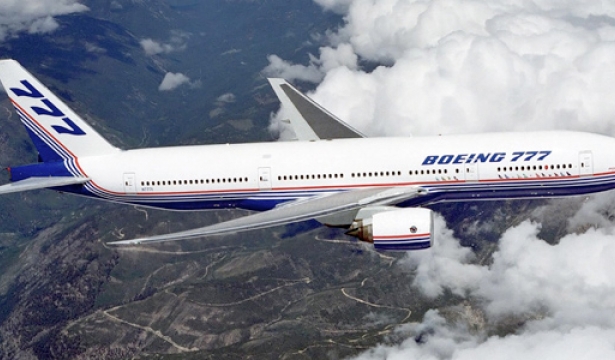 For much of the last few years, Boeing has been soaring. In 2012, the aircraft-manufacturing corporation raked in $3.9 billion in net income; it's projected to earn at least $4.2 billion this year. And thanks to the $95 billion in advance orders of its new 777X airliner, stocks have risen to impressive heights.
Yet despite all this prosperity, Boeing decided to veer into a two-pronged dogfight with the state of Washington and the International Association of Machinists (IAM), using the thousands of Boeing jobs in Seattle's Puget Sound area as leverage to try to obtain lavish tax breaks and enormous contract concessions, respectively. If the state and union didn't grant the company's requests, the company said, it would likely have to move a huge chunk of its new 777X production operations elsewhere.
"We chose to engage in Puget Sound first, but without full acceptance by the union and legislature, we will be left with no choice but to open up the process competitively and pursue other options for locating the 777X work," a spokesperson for Boeing explained in a statement.
MORE »
2 comments ·