Wednesday, Aug 31, 2016, 12:41 pm · By Sonia Singh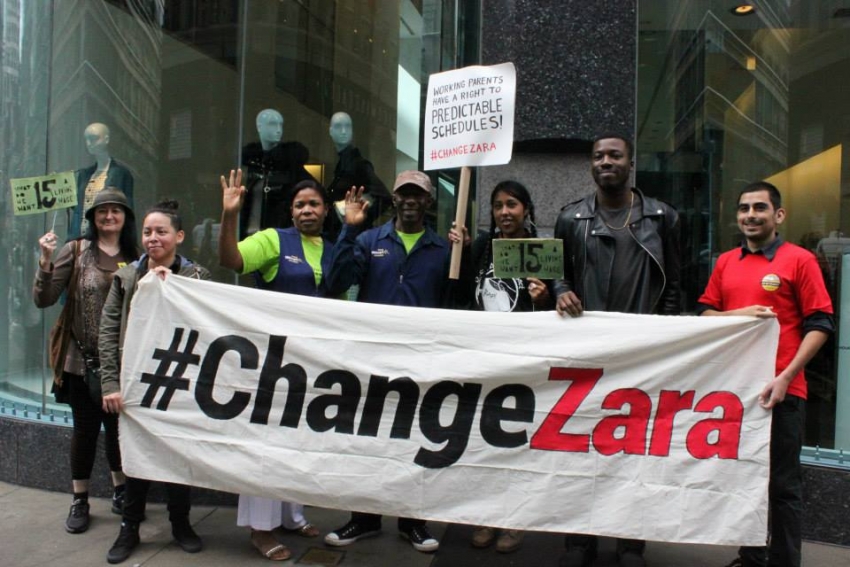 This article was first posted at Labor Notes.
The high turnover in retail makes organizing a huge challenge. But a thousand workers at eight Zara stores in Manhattan beat the odds and unionized.
It's a first for Zara workers in the U.S. The Spanish-owned fashion outlet had agreed to recognize the union after a majority of workers signed cards, a milestone they reached in July. They'll be members of Retail Workers (RWDSU) Local 1102.
Their win relied on international solidarity, in the form of an agreement between the retailer's parent company and a global union.
But equally crucial was the help of a New York City worker center, the Retail Action Project (RAP), that specializes in building workers' skills, including action on the job.
Tuesday, Aug 30, 2016, 6:10 pm · By Bruce Vail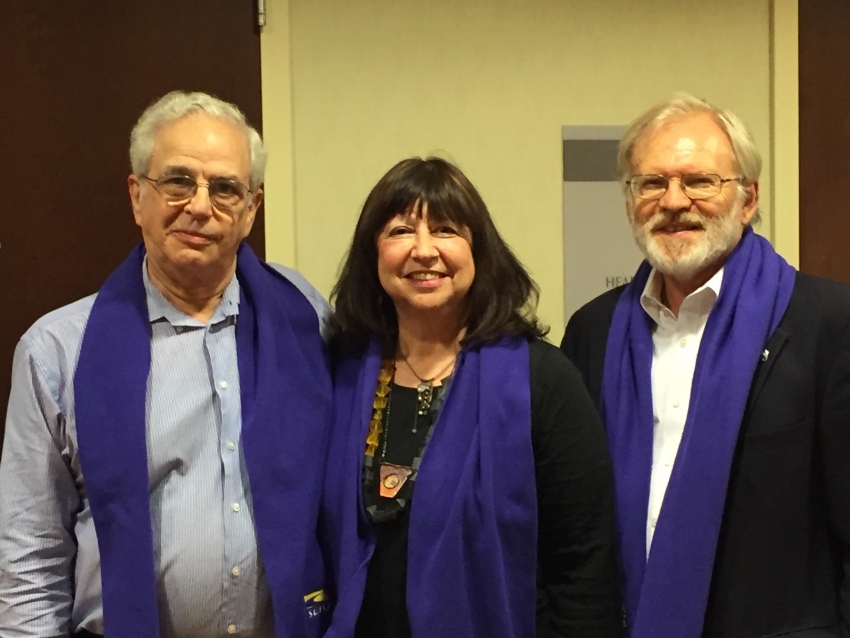 BALTIMORE—Enduring more than 18 months of delays, part-time faculty members at Goucher College officially won their right to a union this month when the National Labor Relations Board (NLRB) finally counted disputed votes from a 2014 election.
The NLRB certified the final tally as 40 votes in favor of union representation, with 36 against. It's a major step forward for the Goucher Faculty Union, an arm of Gaithersburg, Maryland-based Service Employees International Union (SEIU) Local 500.
Monday, Aug 29, 2016, 9:08 pm · By Kate Aronoff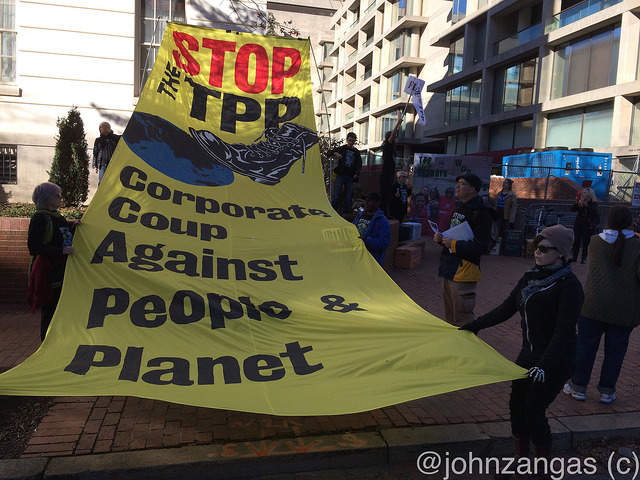 The Trans-Atlantic Trade and Investment Partnership (TTIP) is dead, at least according to Angela Merkel's second-in-command. And the Trans-Pacific Partnership (TPP) may not be far behind.
German Vice Chancellor Sigmar Gabriel said Sunday that "negotiations with the United States have de facto failed, even though nobody is really admitting it." According to Gabriel, who also serves as his country's economy minister, negotiators from the European Union and United States have failed—despite 14 rounds of talks—to align on any item out of 27 chapters being discussed. Gabriel and his ministry are not directly involved in the negotiations.
Friday, Aug 26, 2016, 4:09 pm · By Sady Doyle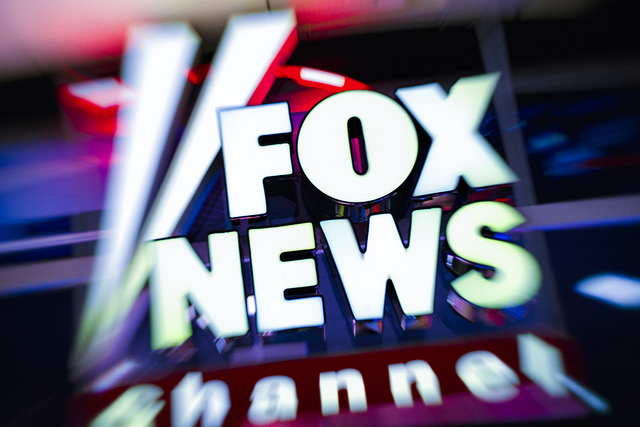 The Roger Ailes harassment scandal was never just about Roger Ailes. We knew that from the beginning: Gretchen Carlson, the woman whose sexual harassment lawsuit helped topple the Fox News chief (and unleashed a flood of similar harassment and assault allegations) stated that she'd only come into Ailes' line of sight because she was pursuing remedy for a different instance of workplace discrimination.
The circumstances of Carlson's suit are indicative of a wider problem. In her suit, Carlson alleges that her Fox & Friends co-host, Steve Doocy, made her life hell by "mocking her during commercial breaks, shunning her off air, refusing to engage with her on air, belittling her contributions to the show, and generally attempting to put her in her place by refusing to accept and treat her as an intelligent and insightful female journalist." When she reported his behavior, Ailes allegedly called Carlson a "man hater" and told her to "get along with the boys," eventually demanding sex in return for his intervention.
With all that in mind, can it really be surprising that yet another woman has now come forward to allege sexual harassment—or that the woman in question, Andrea Tantaros, describes Fox News itself as "a sex-fueled, Playboy Mansion-like cult, steeped in intimidation, indecency, and misogyny?"
Thursday, Aug 25, 2016, 12:33 pm · By Margaret Gray
This article was first posted at Jacobin.
We live in the shadows," explained Javier, a Hudson Valley farmworker, while describing his life to me. "We are treated like unknown people . . . We are not paid well and cannot ask for more." A worker on another farm said, "They treat us like nothing; they only want the work . . . Whether we like it or not, we have to like it."
Some of today's liveliest political conversations concern agricultural production and distribution. But these discussions are also among the most confused.
Wednesday, Aug 24, 2016, 3:08 pm · By David Moberg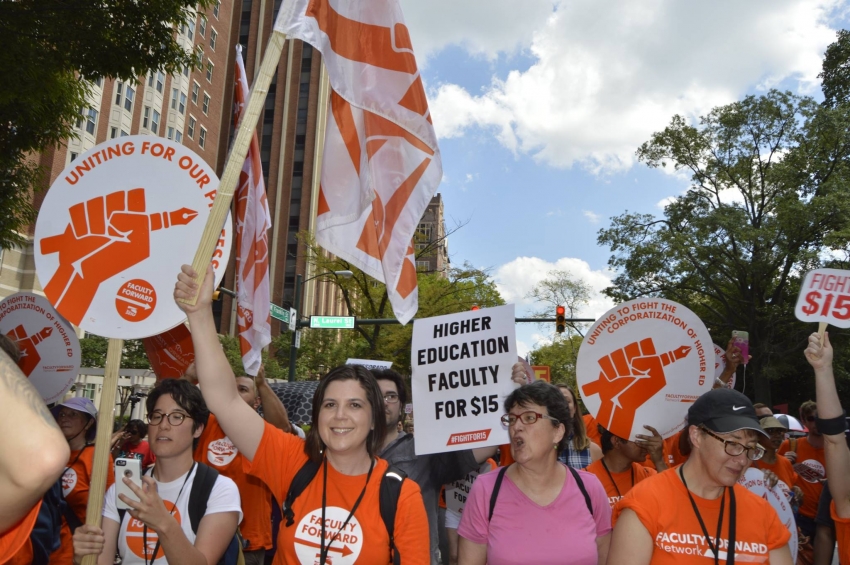 In a strongly-worded opinion released Tuesday, the National Labor Relations Board (NLRB) ruled that teaching and research assistants at Columbia University and at other private institutions of higher education have the right to organize unions and collectively bargain with the universities that both employ and teach them.
The three Democratic NLRB members wrote that even if students are enrolled in the university to educate themselves, they also meet the definition of an employee—working for pay to do what someone else wants them to do. Thus, they should have the same labor rights as any other employee, the members wrote. (The lone Republican member dissented; one seat is vacant.)
Tuesday, Aug 23, 2016, 12:04 pm · By Shaun Richman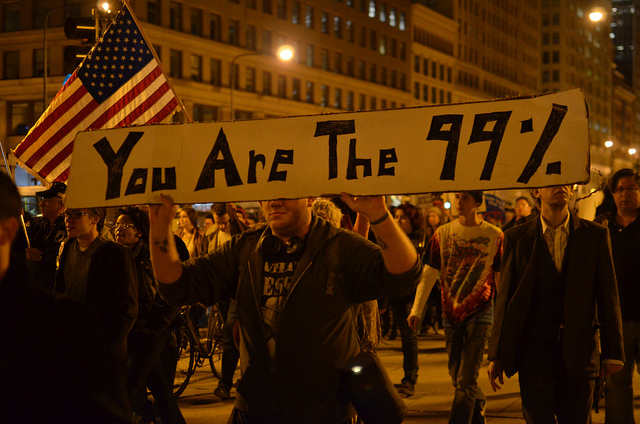 Something is happening. Socialism is no longer a dirty word (the "S-word"), but something a sizeable portion of Americans tell pollsters is their preferred vision for society. It's no longer an anachronism to speak of "the Left." A brave and quickly organized movement for black lives has not only sparked a new civil rights movement but has gotten many of us to see the criminal justice system for what it is: the evolution of Jim Crow. Oh, and a hell of a lot more workers are striking than before.
There have been attempts to describe this emerging movement for social justice in book form before. The latest, Necessary Trouble: Americans in Revolt by Sarah Jaffe, is the best so far. The Nation Books publication was released Tuesday.
Monday, Aug 22, 2016, 12:55 pm · By Barbara Bowen
Earlier this month, the largest number of members in our union's history participated in a contract ratification vote at the City University of New York (CUNY). Nearly three-quarters of eligible voters participated, and the result was a resounding 94 percent "yes." Contract ratification votes don't make the news as often as they should, but this one was preceded by six years of struggle for an agreement and a public debate about its merits—including opinion pieces in these pages and others.
The debate about the CUNY contract, fueled by a vocal "vote no" campaign, might have led readers to conclude that the outcome of the vote would be close, certainly much closer than 94 percent. Why was the contract so hard fought?
Why did it generate such heat? And why did it ultimately receive overwhelming support?
Thursday, Aug 18, 2016, 3:52 pm · By Chris Brooks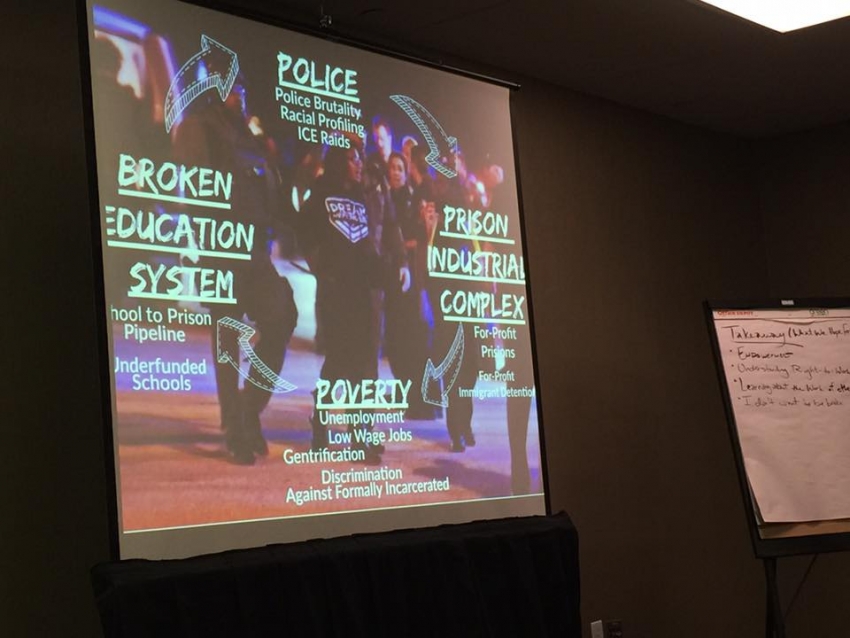 This article was first posted at Labor Notes.
If you've attended a Fight for $15 rally or a Black Lives Matter protest in Chicago recently, chances are you've seen members of Future Fighters.
Their T-shirts proudly proclaim that they are "a movement of young leaders actively fighting against income inequality, racial profiling, police brutality, and homelessness; while engaging and educating other young workers who are taking direct action to unite and rebuild our communities."
It's a promising example of how union members can organize to support the growing movement for police accountability. The Future Fighters—young members of Service Employees Healthcare Illinois-Indiana (SEIU HCII)—are building a bridge between their union's struggle for economic justice and their community's struggle for racial justice.
Wednesday, Aug 17, 2016, 11:17 am · By Bruce Vail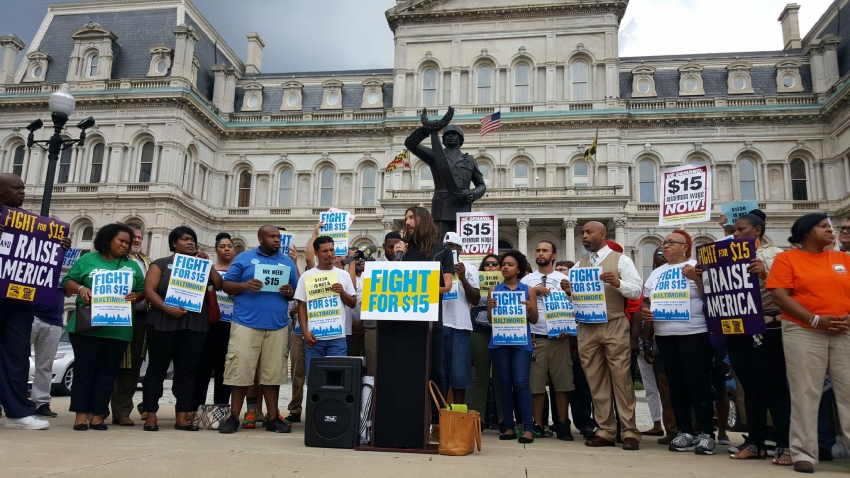 The Baltimore City Council derailed a proposed increase in the minimum wage to $15 an hour Monday, highlighting the ambivalence among many Democratic Party leaders over whether to support the national Fight for $15 movement.
Pro-business members on the all-Democrat 15-member council were able to hold together an alliance against the higher minimum wage and voted 8-6 to return the proposed legislation to committee for revision. The maneuver appears to have effectively killed the bill, at least for this year.
"We live to fight another day," said Councilwoman Mary Pat Clarke, chief sponsor of the legislation.