Tuesday, Jan 17, 2017, 11:09 am · By Sarah Jaffe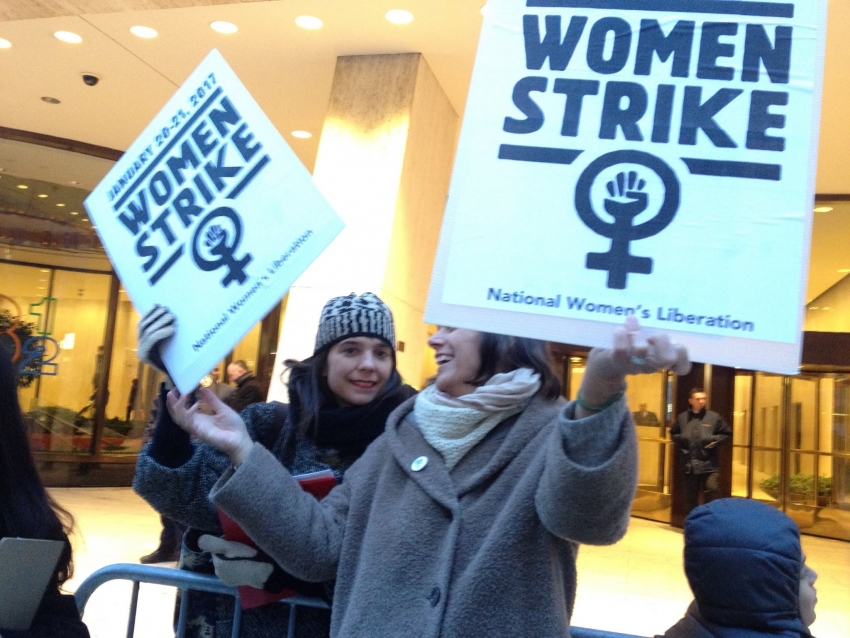 Welcome to Interviews for Resistance. In this series, we talk with organizers, troublemakers, and thinkers who are working both to challenge the Donald Trump administration and the circumstances that created it. It can be easy to despair, to feel like trends toward inequality are impossible to stop, to give in to fear over increased racist, sexist and xenophobic violence. But around the country, people are doing the hard work of fighting back and coming together to plan for what comes next. This series will introduce you to some of them.
As the inauguration of Trump and the Women's March on Washington (and its sister marches around the country) fast approach, one women's group has called for an action beyond simply marching. Erin Mahoney of National Women's Liberation explains.
Friday, Jan 13, 2017, 1:45 pm · By Kate Aronoff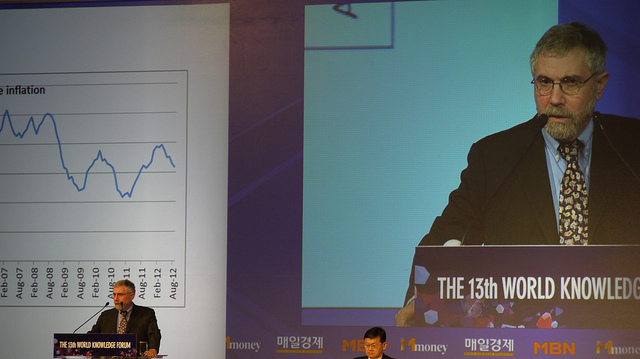 Paul Krugman is worried. Republicans, it seems—after decades of hemming and hawing—have stopped pretending to care about deficits and are preparing to go all-in on a spending-heavy agenda. As a former Senate Republican said recently, concerns about ballooning budgets have "sort of disappeared from the radar." A few years ago, this would have been welcome news to Krugman, who made arguments in support of deficit spending until very recently. But no more.
"Running big deficits is no longer harmless, let alone desirable," he warns. His logic here is two-fold. As the country was recovering from the recession, growing the deficit was a necessary measure to let the economy pick itself back up, per traditional Keynesian doctrine. Today, though, "full employment has been more or less restored," Krugman writes, as evidenced by slightly higher wages and the fact that more workers are quitting their jobs in a show of new-found bargaining power. Deficits—as the title of his recent op-ed reads—"matter again."
Amidst such prosperity, Krugman argues, "government borrowing once again competes with the private sector for a limited amount of money. This means that deficit spending no longer provides much if any economic boost, because it drives up interest rates and 'crowds out' private investment."
To some economists, that's nonsense. "Deficits absolutely matter, always and everywhere," says Pavlina Tcherneva, "but not in the way that people think." Tcherneva is director of Bard College's economics program and a leading scholar of something known as Modern Monetary Theory (MMT).
Friday, Jan 13, 2017, 11:05 am · By Liza Featherstone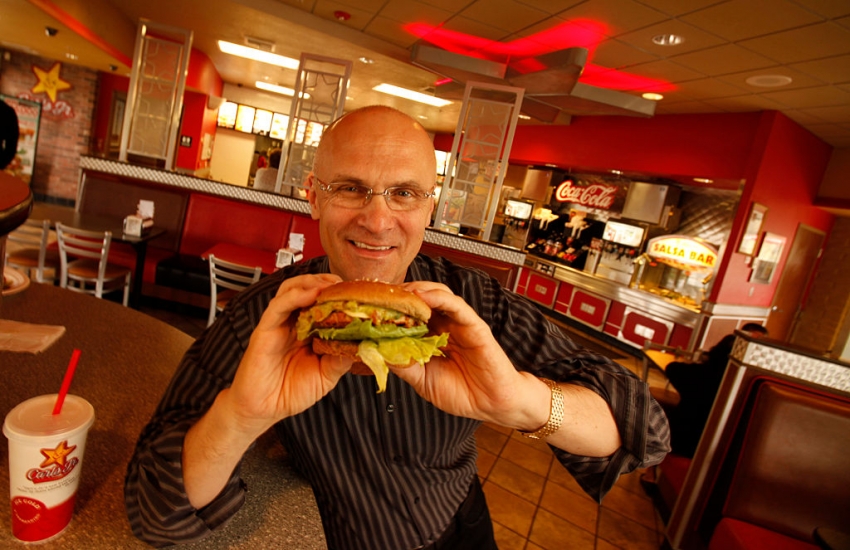 Andrew Puzder, Donald Trump's nominee for labor secretary, is uniquely unqualified for that job. As secretary, he'd be charged with enforcing health and safety, overtime and other labor laws. But as CEO of CKE Restaurants, the parent company of Hardee's and Carl's Jr., he's made his considerable fortune from violating these very same laws, according to a report by the Restaurant Opportunities Centers (ROC) United released this week.
ROC, which advocates for restaurant workers nationwide, surveyed 564 CKE workers, 76 percent of them women. In discussing the results of the survey, it's important to note that while ROC surveyed a large number of workers, the respondents are people who chose to fill out a survey distributed by a workers' rights organization, which they learned about through their social media networks. Still, ROC reported "unprecedented" interest in the survey among workers at CKE and their eagerness to be part of the study, and the experiences they reported, are striking reminders that by tapping Puzder, Trump has made clear that his administration will be a dystopian nightmare for U.S. workers.
Wednesday, Jan 11, 2017, 3:34 pm · By Shaun Richman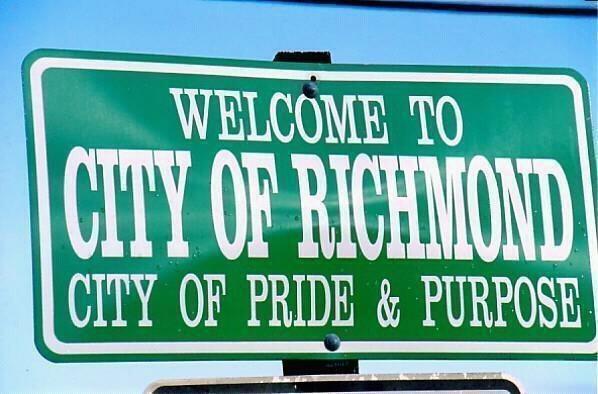 Rebel cities have long been laboratories for progressive policy experimentation. Specifically, the small Bay Area city of Richmond, California has stood out for its boldness. It's now the subject of a new book by Steve Early, Refinery Town: Big Oil, Big Money, and the Remaking of an American City, set to be released next Tuesday by Beacon Press.
A long-time labor activist and frequent writer for In These Times, Early moved to Richmond five years ago. After "thirty-two Boston-area winters," the placid weather was more of a draw than the city's vibrant urban reform movement, Early writes. But, naturally, he soon got involved and began taking notes, eventually producing a lively read—an intimate, warts-and-all look at how a small band of activists fought for and won a slightly better world at home. His book is a ray of hope for anyone wondering how to survive, and possibly even thrive, under Donald Trump and a hostile, Republican Congress.
Wednesday, Jan 11, 2017, 11:31 am · By Dave Kamper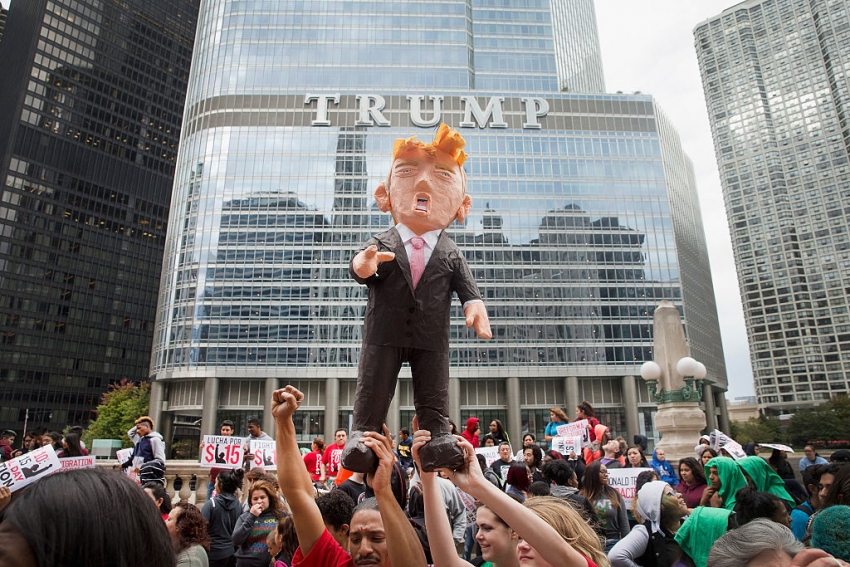 This article was first posted by Jacobin.
According to a recent report, the Service Employees International Union is implementing an immediate 10 percent cut in spending, rising to 30 percent by the beginning of 2018. Bloomberg's Josh Eidelson writes that SEIU president Mary Kay Henry told staffers in a memo that the assaults on labor expected of a Trump presidency and an anti-worker Congress "require us to make tough decisions that allow us to resist these attacks and to fight forward despite dramatically reduced resources."
This is an understandable decision—a Trump presidency will undoubtedly be disastrous for both workers' lives and union budgets. But signaling such a retreat before Trump is even in office is also a significant strategic error and one that will do great harm to unions' ability to fight for working people in the face of right-wing headwinds.
Now is not the time to tighten our belts. Labor must invest in member power now if we're going to save ourselves later.
Monday, Jan 9, 2017, 1:28 pm · By Tyler Zimmer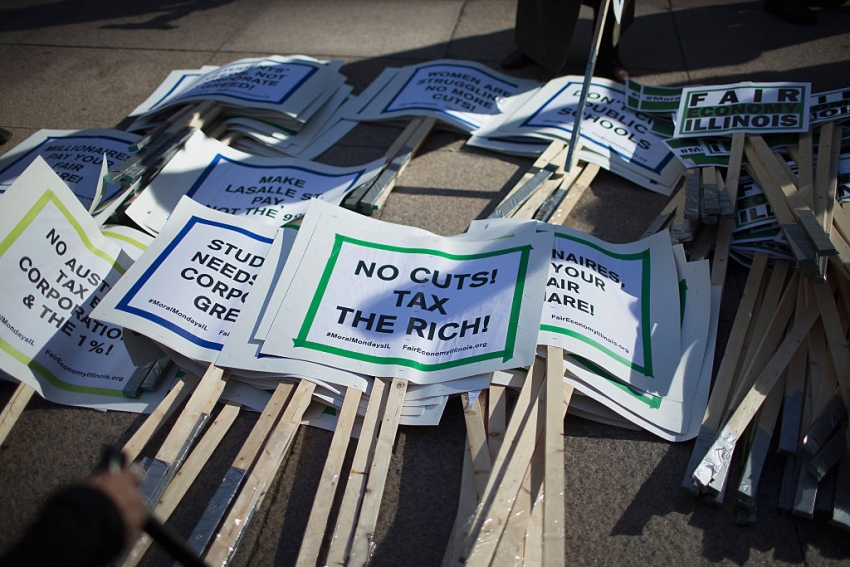 Illinois is heading for a major crisis. It has been more than a year and a half since the state had an official budget that appropriated funds for basic services. And, as of this month, the coffers will dry up and a public sector already on life-support will quickly slip into critical condition.
For the millions of ordinary Illinoisans who rely on the state's network of public institutions, the situation is dire. For the state's near-billionaire Republican governor, however, things appear to be going exactly as planned.
"We've become a collectivist economy in Illinois," Gov. Bruce Rauner recently told the Chicago Tribune. "It's crushing us. And no problem is going to get fixed unless we bring more economic freedom into the state. And I believe that very passionately."
Friday, Jan 6, 2017, 6:55 pm · By Mary Bottari
This article was first posted by the Center for Media and Democracy.
On the first day that the Kentucky legislature got underway with a newly elected Republican House, a Republican Senate and a Republican governor, the Koch brothers' Americans for Prosperity group blew the whistle and legislators jumped to do their bidding.
This week, the Speaker of the House Jeff Hoover rammed through the legislature three bills to break the back of unions and lower wages for highly-skilled construction workers.
It was bare-knuckled partisan politics. "We can pretty much do whatever we want now!" crowed GOP Kentucky Rep. Jim DeCesare behind closed doors.
Friday, Jan 6, 2017, 12:24 pm · By Seth Kershner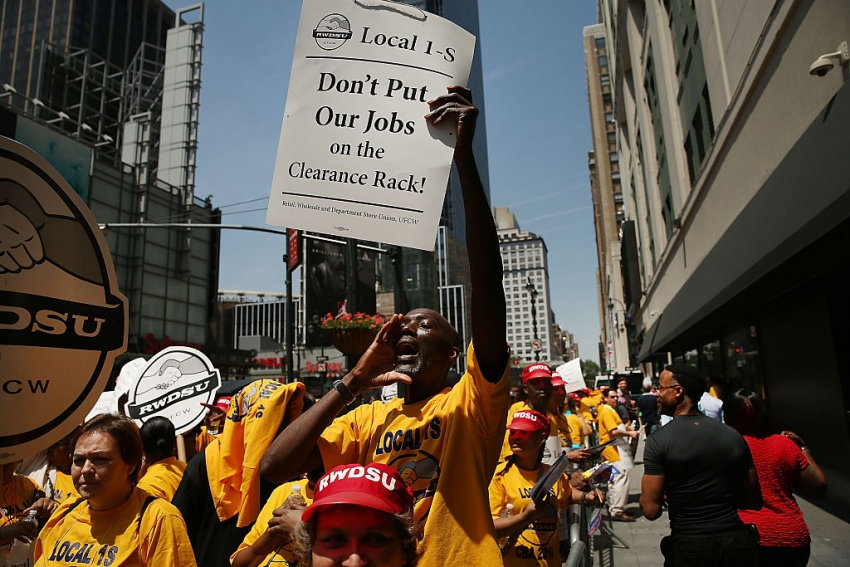 Retail is the nation's largest employer. Since 1980, the number of jobs in retail has reportedly grown nearly 50 percent, from 10.2 to 15.1 million. At the same time, real wages for retail workers have fallen by 11 percent while on-call scheduling, involuntary part-time work and "clopening"—where workers are required to lock up the store late at night and reopen the next morning—have wreaked havoc with workers' lives. Not surprisingly, the retail sector also has one of the lowest rates of unionization in the economy—around the 5 percent mark under which unions have virtually no influence.
It didn't used to be this way.
Retail had 15 percent union density in the 1970s, according to sociologist Peter Ikeler, with the density rate in grocery stores surpassing 31 percent at its peak in 1983. But, as with the rest of the labor movement, retail unionism has taken a steep fall since the early 1980s.
How did it go so wrong?
"There are a lot of parts to that puzzle," says Ikeler, a sociologist at the State University of New York College at Old Westbury and author of the book, Hard Sell: Work and Resistance in Retail Chains.
Thursday, Jan 5, 2017, 1:31 pm · By Bruce Vail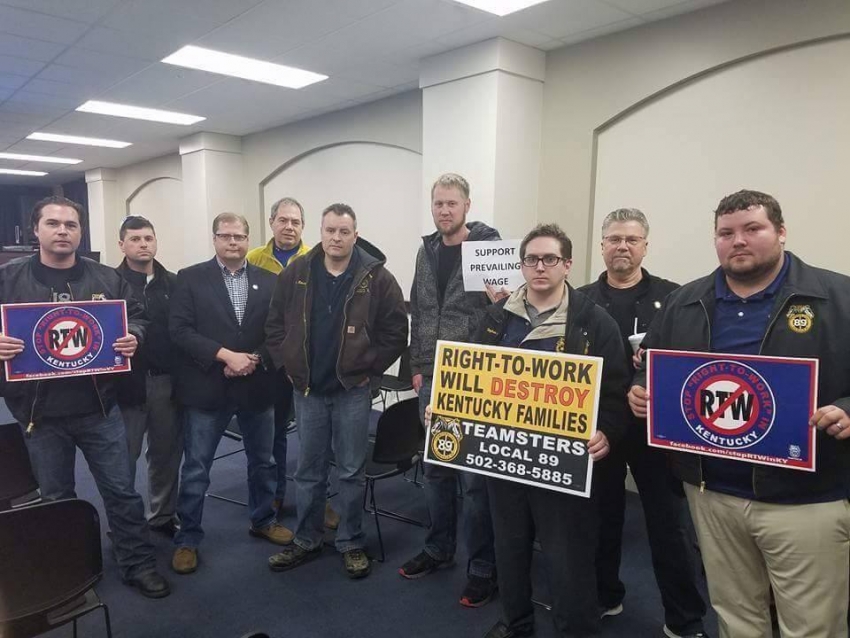 Elections have consequences.
This is no more clear than in Kentucky, where emboldened Republicans are moving fast in the wake of their election victory to make the state a right-to-work state.
If such a law passes, as it looks likely to do, Kentucky will become the 27th state to go right-to-work.
"As I see it, it's pretty much a done deal," says Joe Brennan, director of the pro-union Kentucky Labor Institute.
All the necessary votes are lined up in the legislature and Republican Gov. Matt Bevin is ready to sign, Brennan says, so "it's really only a question of when it will happen, not if it will happen."
Wednesday, Jan 4, 2017, 1:55 pm · By Moshe Z. Marvit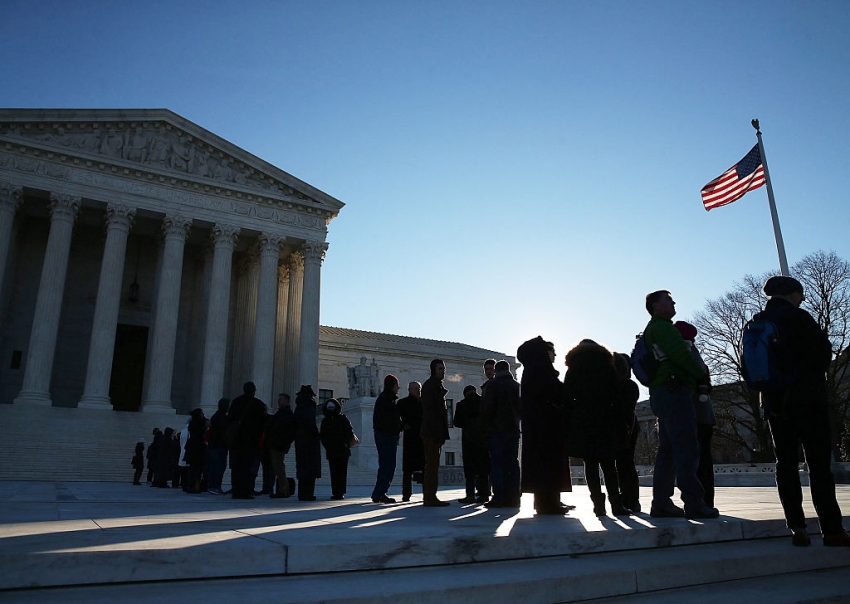 The Supreme Court gave unions an unexpected victory last year when it issued a decision in a case that had threatened to take away the right of public sector unions to collect dues from workers they represent. That win may be short-lived.
Friedrichs v. California Teachers Association was meant to be the capstone in decades of cases that sought to have the courts determine that fair-share fees for public sector workers are unconstitutional. Fair-share fees, or agency fees, require workers represented by a union to pay the portion of fees that covers collective bargaining. They seek to balance the worker's right to dissent from the union by relinquishing membership and not paying for activities that aren't related to collective bargaining, with the union's right to avoid free riders and not be forced to represent a worker who contributes nothing.
The Supreme Court, largely through decisions written by Justice Samuel Alito, had indicated that its 1977 case that allowed for fair-share fees in the public sector was ripe for a rare overturning by the Court. It all but invited a challenge. Several cases were in the pipeline, but Friedrichs took the unusual approach of conceding before each lower court that it should be dismissed so that it could move quickly to the Supreme Court. Friedrichs faced a hostile oral argument before a conservative majority; unions braced for the worst. Then, as the Court was drafting its opinion, Justice Antonin Scalia died, and with him, so did Friedrichs. The Supreme Court issued a tied 4-4 decision affirming the lower court in March.