Monday, Feb 24, 2020, 10:20 am · By Hamilton Nolan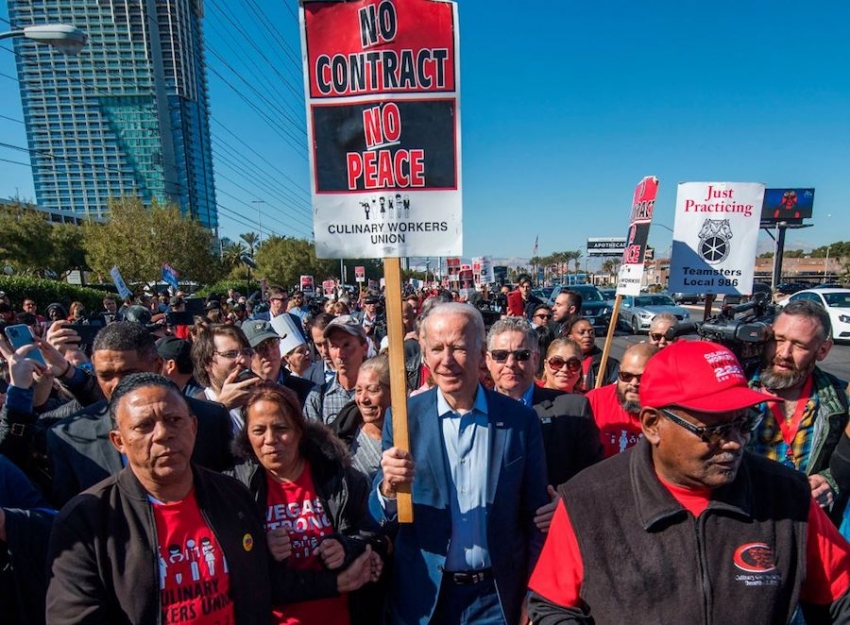 LAS VEGAS—It was the politicians that turned the picket line chaotic. Not the workers. The workers knew just what they were doing. Hundreds and hundreds of them, in their red Culinary Union T-shirts, stretched out down West Flamingo Road in front of the Palms Casino, just off the Vegas Strip last Wednesday. They marched a few hundred yards and back in an orderly if boisterous circle, guided by a battalion of bullhorn-wielding chant leaders. They'd done this before.
Then the presidential candidates showed up.
Wednesday, Feb 19, 2020, 7:21 am · By Hamilton Nolan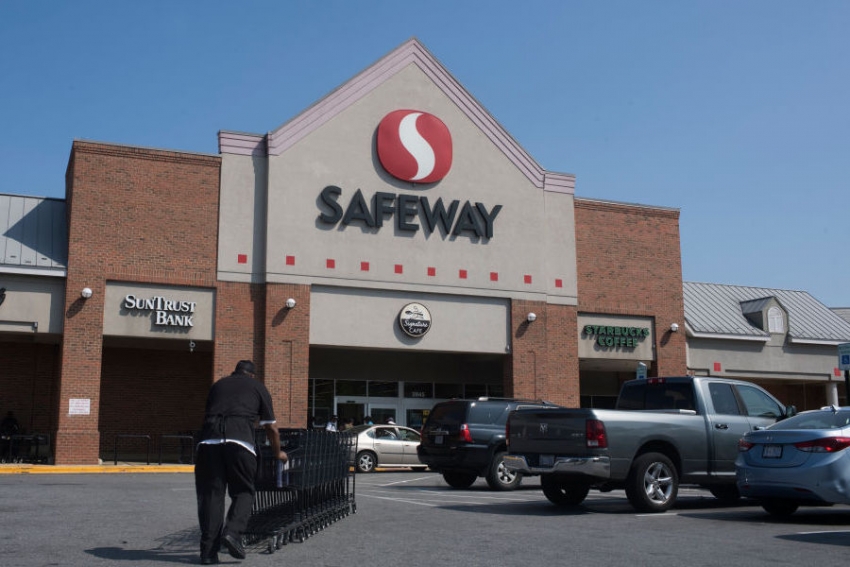 Last April, more than 30,000 Stop & Shop grocery workers across the Northeast won a raucous 11-day strike against the company, beating back health care and pension cuts. Now, another major grocery strike has become a serious possibility, this time in and around the nation's capital.
On Wednesday, UFCW Local 400 announced that it will be holding a strike vote early next month for more than 25,000 workers at hundreds of Giant Foods and Safeway stores across DC, Maryland, and Virginia. The union has separate contracts with Giant and Safeway, but both of those contracts have been expired since last October. Negotiations in the ensuing months proved fruitless, and now the union is preparing for what could become the first large strike of 2020.
Giant is owned by Ahold Delhaize, the same European conglomerate that owns Stop & Shop. Safeway is owned by Albertsons, the national grocery holding company controlled by the private equity firm Cerberus Capital Management. As is common in private equity deals, Cerberus is reportedly eyeing an IPO for Albertsons—placing great pressure on the company to spiff up its balance sheet, including labor and pension costs. Not coincidentally, those issues are now fueling the contract dispute that has brought these UFCW members to the point of a strike vote. In addition to pension cuts, the union says that the companies are pursuing cuts to health care funding, tight restrictions on benefit access for part time employees, and a plan to keep many new hires locked in a minimum wage salary for years.
Tuesday, Feb 18, 2020, 8:50 am · By Hamilton Nolan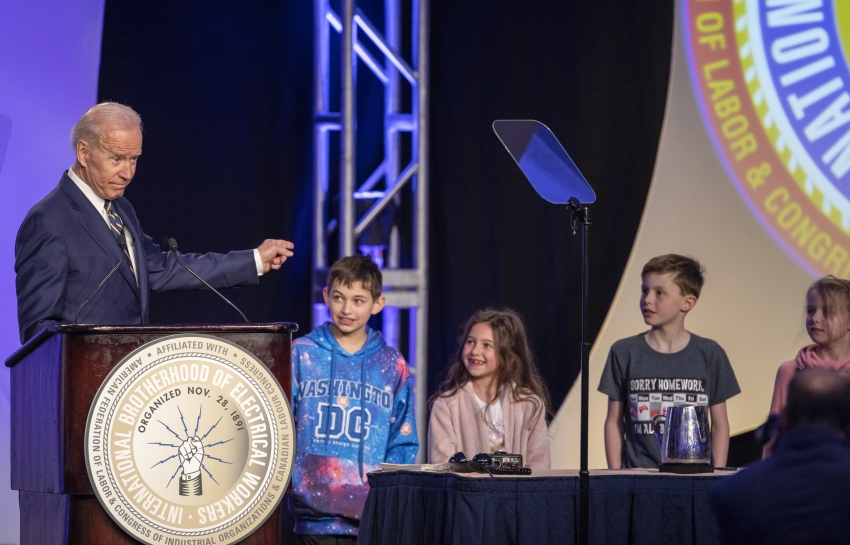 On February 5, the 775,000-member International Brotherhood of Electrical Workers announced that it was endorsing Joe Biden for president. It was Biden's biggest union endorsement campaign so far in his presidential campaign. This week, nearly 1,300 IBEW members who support Bernie Sanders sent a letter to union membership asking them to retract that decision.
Friday, Feb 14, 2020, 2:05 pm · By Emma Roller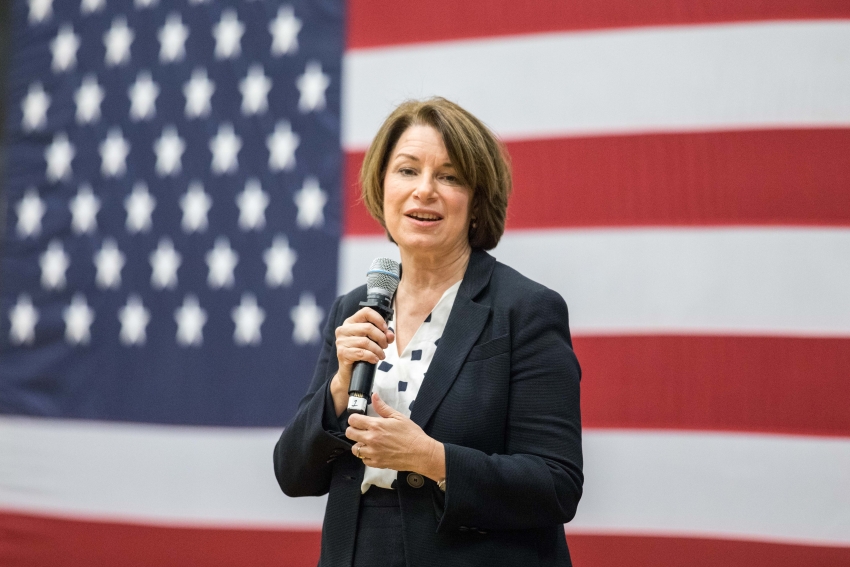 Based on a third-place finish in New Hampshire, pundits have declared Sen. Amy Klobuchar's presidential campaign to be "surging"—despite the fact that national polls show her roughly 16 points behind Sen. Bernie Sanders. CNN analysts are working around the clock on the question of whether her campaign has "momentum."
Friday, Feb 14, 2020, 11:59 am · By Andrew Tripp
One late summer evening in 2000, my home phone rang in Moretown, Vermont. "Can you please hold for Congressman Sanders?" the voice on the line asked.
Thursday, Feb 13, 2020, 8:00 am · By Hamilton Nolan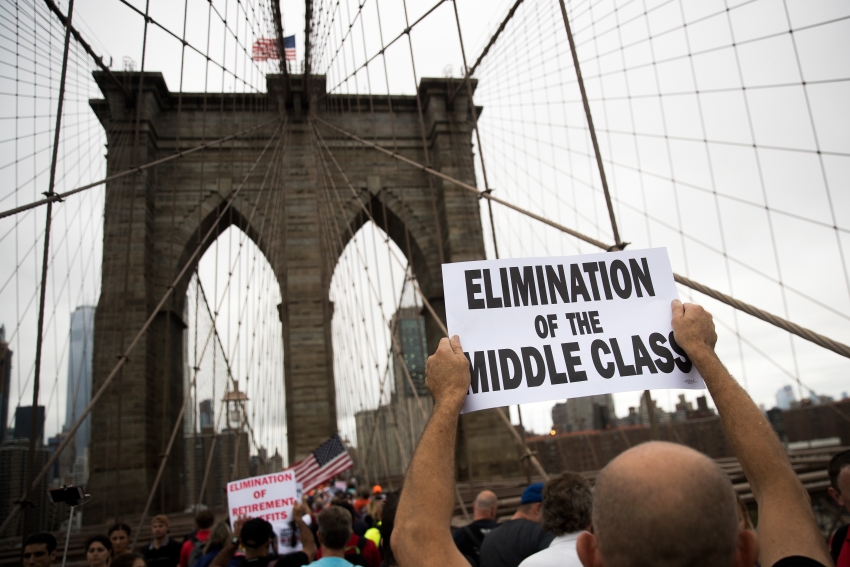 The longest ongoing strike in America today is happening in the media capital of the world. It involves the people who install and repair the cables that bring the news to many of the most influential people in America. But after three long years, the Spectrum workers of New York City are beginning to feel as though everyone has forgotten about them. For those who soldier on, the fight has become much bigger than a contract dispute. It is a fight that can only be won with a wholesale reimagining of public control over corporate power.
Wednesday, Feb 12, 2020, 12:10 pm · By Jeff Schuhrke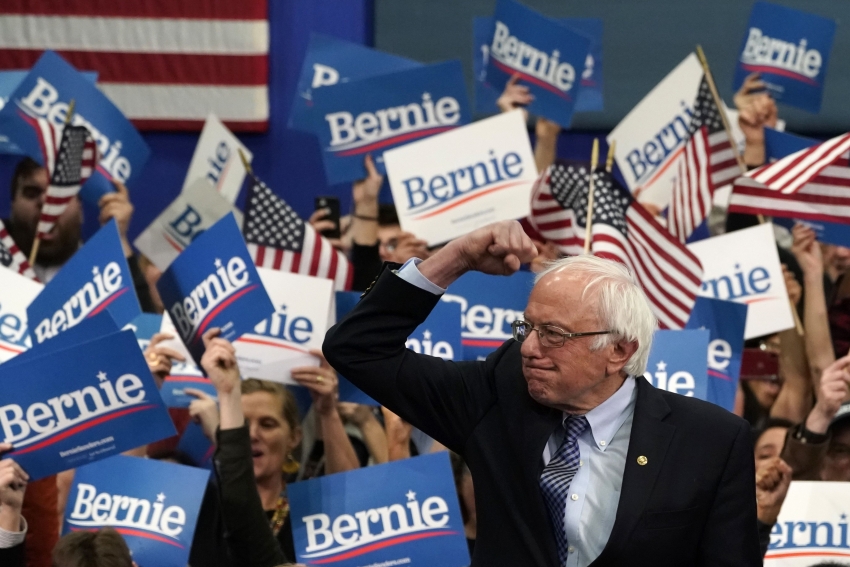 Sen. Bernie Sanders has emerged victorious following the nation's first Democratic primary in New Hampshire on Tuesday. The win further solidifies Sanders' position as the frontrunner in the race to take on President Trump in November's general election.
Friday, Feb 7, 2020, 10:22 am · By Jeremy Gantz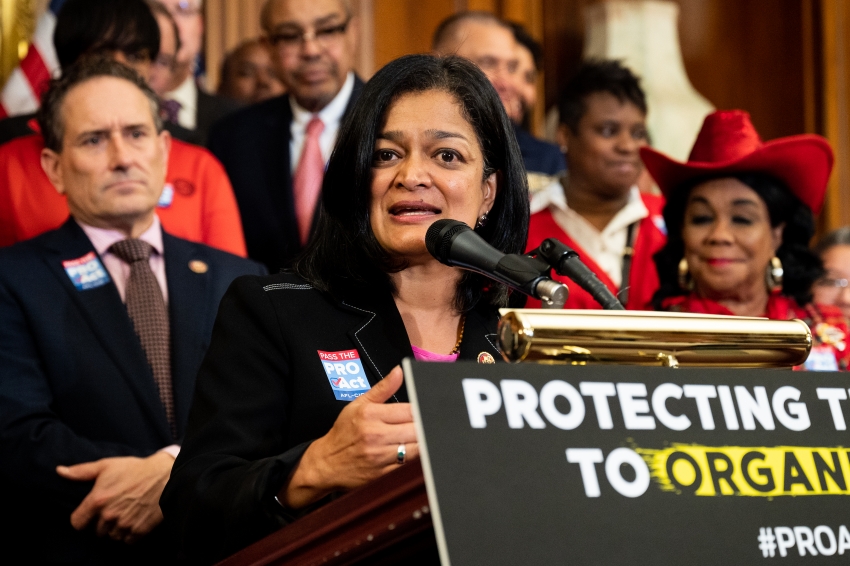 House Democrats just passed an important blueprint for strengthening unions and building worker power. If signed into law, the labor law reforms within the Protecting the Right to Organize (PRO) Act would amount to the biggest change to the rules governing employers and workers in generations. Among other major features, it would bolster workers' ability to unionize, expand organizing rights to more workers and strengthen the right to strike.
Thursday, Feb 6, 2020, 11:12 am · By Alex Press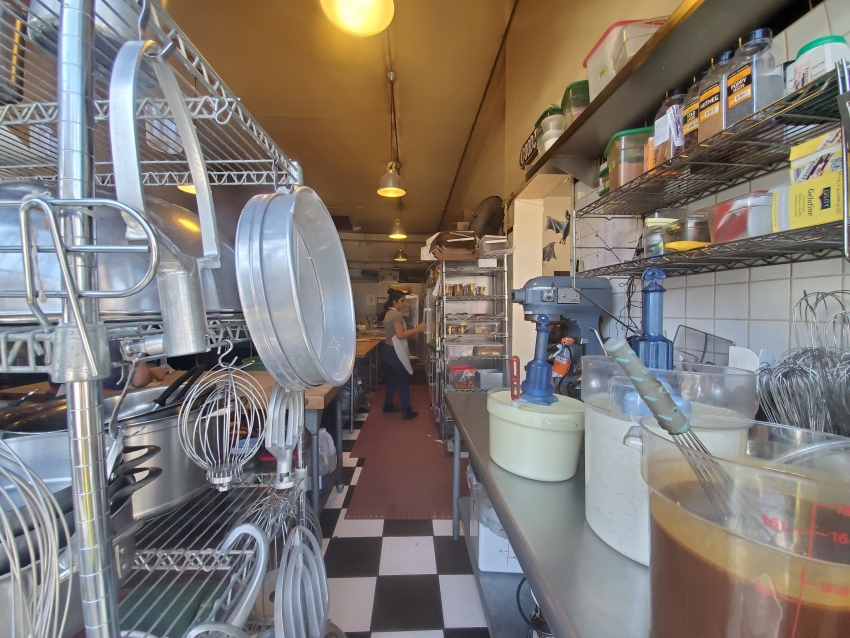 "What if a bakery kept its heart and soul, but always remained open to new ideas?" asks the website for Tartine, the world-renowned Bay Area bakery. Elsewhere on the site, the bakery boasts of "Production at a human scale." Today, the humans who produce Tartine's award-winning bread and pastries have a new idea of their own: a union.
Wednesday, Feb 5, 2020, 2:12 pm · By Mindy Isser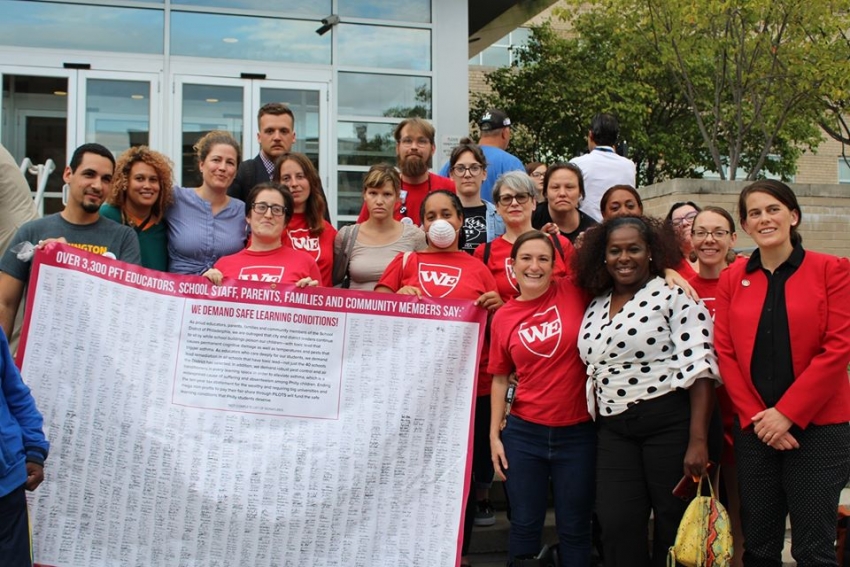 A militant caucus within the Philadelphia Federation of Teachers is showing how, with rank-and-file leadership, unions can be a powerful force for fighting deep-rooted environmental injustice.