Friday, May 22, 2015, 11:59 am · By Anna Waltman, Natasha Raheja and Shannon Ikebe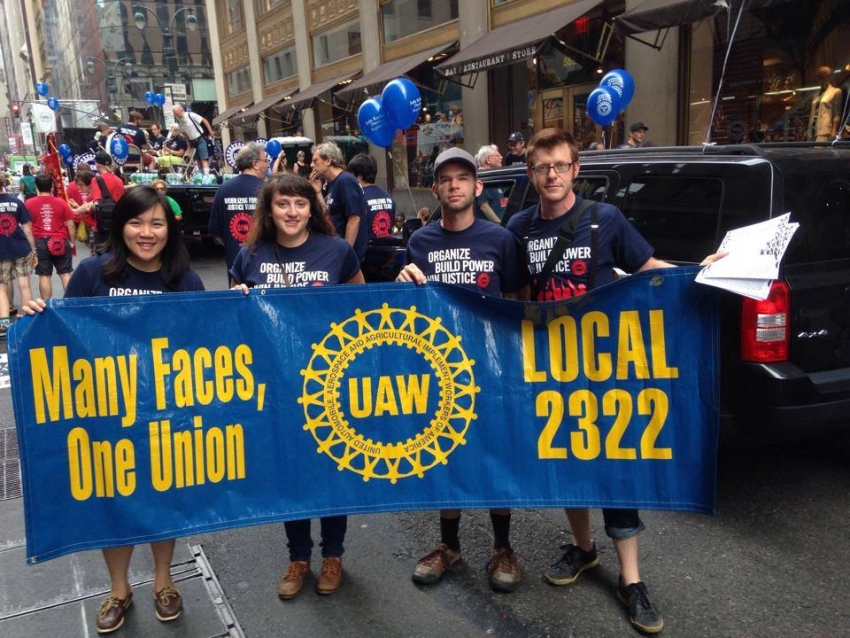 Graduate student-workers perform salaried work that is integral to university operations, including undergraduate education and research. Over the past several months, unionized graduate student-workers at the University of Oregon, NYU, University of Massachusetts-Amherst and UMass-Boston, University of Toronto, York University, Rutgers, Michigan State and the University of Connecticut have used direct action and other tactics to push their university administrations to provide more affordable health insurance that also covers families, fairer expectations regarding workload, living wages and reasonable grievance procedures. Graduate student-workers at Columbia, the New School, the University of Chicago, University of Hawai'i, Yale, Harvard and Cornell are actively organizing their own unions and fighting for collective bargaining rights.
These efforts date back to 1954; the first recognition of graduate students as workers came in 1969, when graduate student-workers joined the faculty bargaining units at CUNY and Rutgers. Soon after, the University of Wisconsin-Madison's Teaching Assistants Association became the first graduate employee union to win collective bargaining rights independent of faculty.
In other words: graduate unionization is not a passing fad, but a movement over half-a-century old.
Given the rich history of student-worker organizing—in and around the New York metropolitan area and around the country, in addition to the highly-publicized, vibrant organizing of private-sector universities challenging the 2004 NLRB decision that has been ongoing in the region for the last two years—we find it disturbing and frustrating that the New York Times failed to interview a single graduate student-worker for its recent op-ed series "Room for Debate" on the graduate and contingent labor movement.
Friday, May 22, 2015, 11:31 am · By Arielle Zionts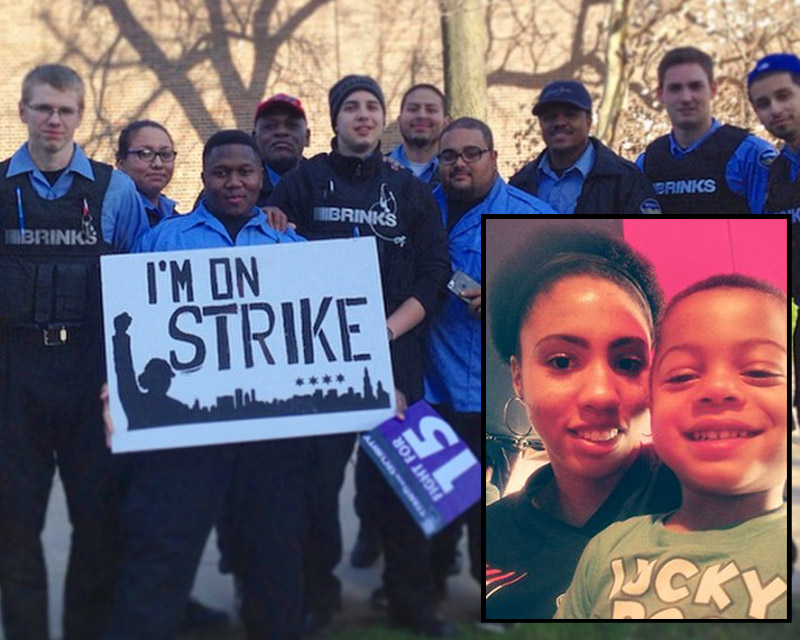 Former Brink's route coordinator Darletta Scruggs says she always tried to keep her activism separate from her work. But when she learned about the working conditions of the armored truck drivers and messengers she scheduled, she felt she couldn't stand idly by.
Among the workers' other grievances, many say they are paid under $15 an hour, rely on poorly maintained trucks and only receive five hours of overtime even though many workers work 60 to 80-hour weeks—all for a job that requires them to risk their lives every day shuttling money and other valuables in their armored trucks. Scruggs said when workers aren't happy, or their trucks are breaking down, it makes her coordinating job more difficult.
Scruggs says she encouraged the workers to form a union and walk of the job on April 15 to join the worldwide Fight for 15 protests but did not walk off the job herself. A week later, Scruggs tried swiping her ID card into work—only to find that she was denied entry. Last week, messenger John Downes was also fired. He participated in the walkout and personally delivered the message notifying managers that the workers were attempting to form a union.
Thursday, May 21, 2015, 2:54 pm · By David Moberg
The men and women who, in the words of McDonald's founder Ray Kroc, "grind out" the burgers and fries that have made the company with the familiar golden arches the second largest private employer in the world dramatically displayed their discontent on Wednesday, returning again early Thursday as shareholders arrived in suburban Chicago for the company's annual meeting.
Over the last two years, the focus of their "Fight for $15 and a union" movement has stayed constant. They want to be paid a living wage, not just a wage at or slightly above a legal minimum wage with steadily shrinking purchasing power. Their goal of $15 an hour has invigorated a broader movement that at this point mainly has boosted wages for everyone in a growing number of cities, most recently Los Angeles.
Thursday, May 21, 2015, 11:30 am · By Mario Vasquez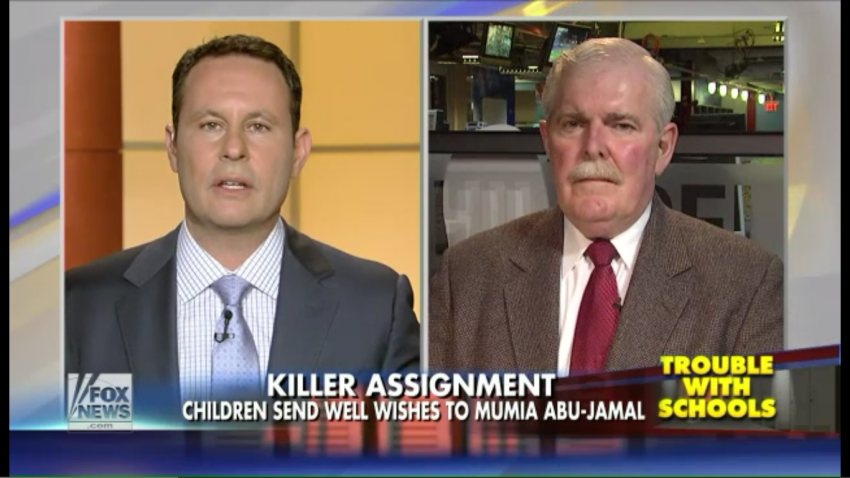 New Jersey's Orange Board of Education fired a first-year language arts and social sciences teacher named Marylin Zuniga on May 13 after lobbying from police union officials angered that Zuniga allowed her students to write letters to jailed black activist Mumia Abu-Jamal.
On February 5, Zuniga gave her third grade students at Forest Street Elementary in Orange, New Jersey, a writing assignment as a part of Black History Month: "What is the main idea of this quote? - 'So long as one just person is silenced, there is no justice.' "
Wednesday, May 20, 2015, 3:41 pm · By Elaine Hui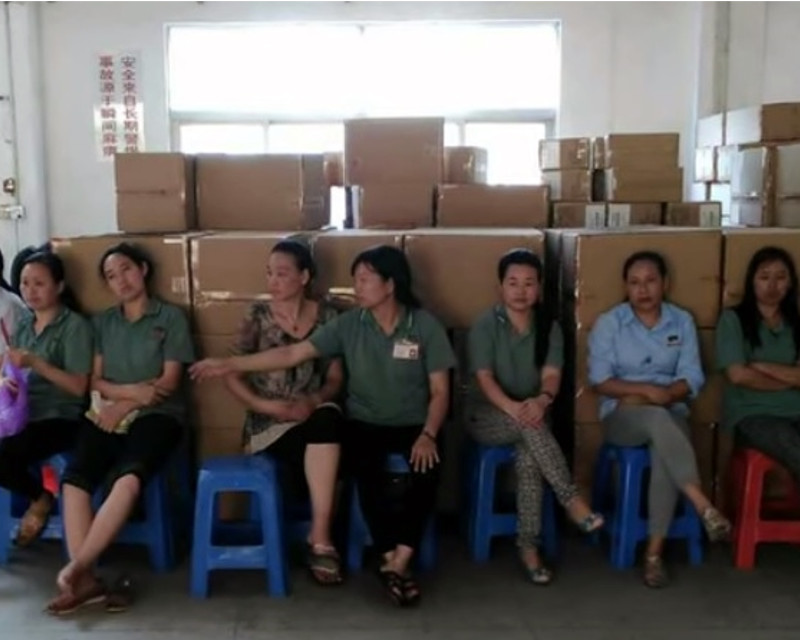 This article was originally published on Labor Notes.
Workers who make bike lights at a factory in Shenzhen, China, have been on strike since April 30, demanding that the company pay up what it legally owes them.
The strikers stayed overnight in the factory, stopping production and delivery for two weeks, until police came to evict them and arrest worker leaders on May 13.
Wednesday, May 20, 2015, 2:19 pm · By Lauren Gaynor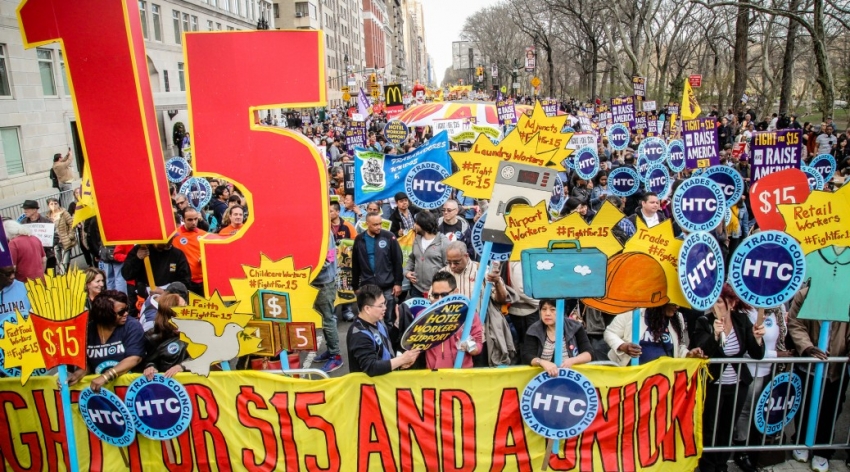 On Tuesday, Los Angeles passed an ordinance that will raise the citywide minimum wage to $15 by 2020. In a motion that was approved by the Los Angeles City Council 14-1, the minimum wage will increase annually over the span of five years. Starting on July 1, 2016, minimum wage will increase from $8.75 to $10.50 and then $12.00 in 2017, $13.25 in 2018 and $14.25 in 2019.
For businesses and non-profits with fewer than 25 employees, the wage increase will begin a year later, in 2017. Non-profits with over 25 employees can be exempt from the wage increase if they fill out a waiver and meet all of the necessary criteria to be exempt.
Wednesday, May 20, 2015, 12:17 pm · By Lauren Gaynor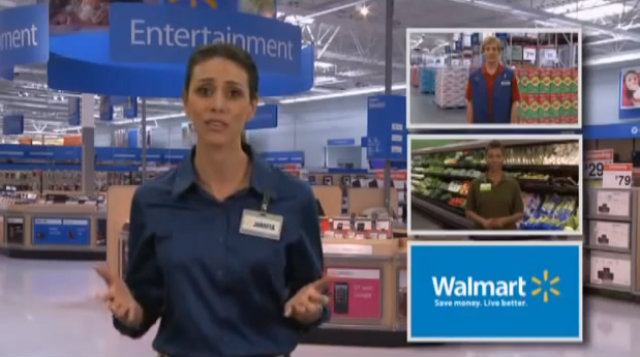 On April 13, Walmart suddenly shut down five stores—two in Texas, one in California, one in Florida and one in Oklahoma—leaving 2,200 workers shocked and unemployed. According to Los Angeles Times reporter Michael Hiltzik, employees were told that the stores have "ongoing plumbing issues that require extensive repairs."
As of April 16, Walmart still had not filed for the permits required to fix the plumbing at the stores, sparking speculation that there might not actually be plumbing problems—just an effort to clamp down on worker organizing.
Wednesday, May 20, 2015, 6:45 am · By David Moberg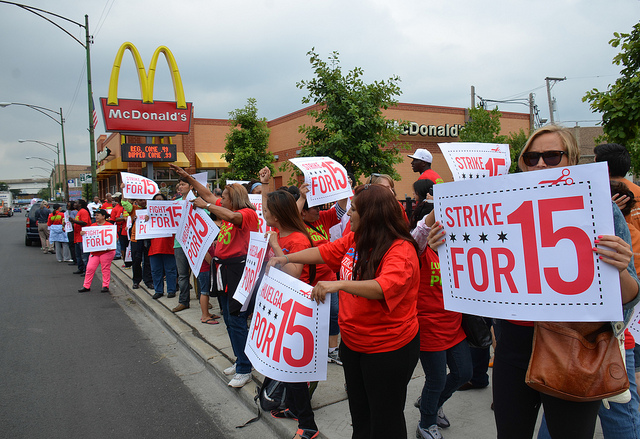 When McDonald's stockholders meet on the leafy corporate campus in suburban Chicago today and tomorrow, thousands of protestors will be ready to greet them, according to organizers of the fast-growing Fight for $15 movement. Last year, in the first such confrontation, a few hundred people marched on and then blocked roads leading on to the company property before police arrested them.
The anticipated jump in numbers reflects the growth of the movement and the expansion of the strategy during this past year.
The movement has stirred up interest among workers far beyond fast foods, including student workers, adjunct teachers and retail workers. The number of people taking part in the national protests/strikes have grown as well.
Tuesday, May 19, 2015, 3:17 pm · By Leo Gerard, United Steelworkers President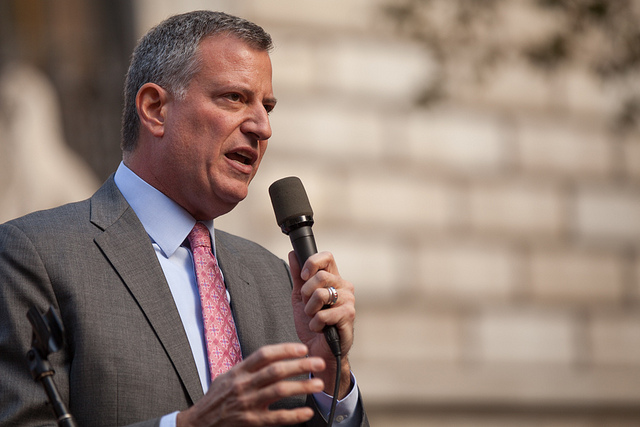 Some of the biggest banks in the world are expected to plead guilty to felonies this week. Felonies! They are scandalous crimes, too: fraud and antitrust violations.
Finally, America will see members of the class that crashed the economy dressed in black and white suits that are hardly the Brooks Brothers pinstripes to which they've grown accustomed.
Oh, wait, no. The New York Times says these felons will just pay some fines and go about their business of playing roulette with the world economy. Of course they won't face prison like normal criminals. They're bankers! Members of the exclusive Too Big to Jail Club. They're protected. Just like millionaires and CEOs are. A CEO can, for example, be fired for failing to produce but still get $21 million in severance, then lose a well-financed race for U.S. Senate and still be considered a viable presidential candidate. That's because the rules are written for them. The economy currently is constructed to ensure their enrichment.
Tuesday, May 19, 2015, 11:42 am · By Kathy Wilkes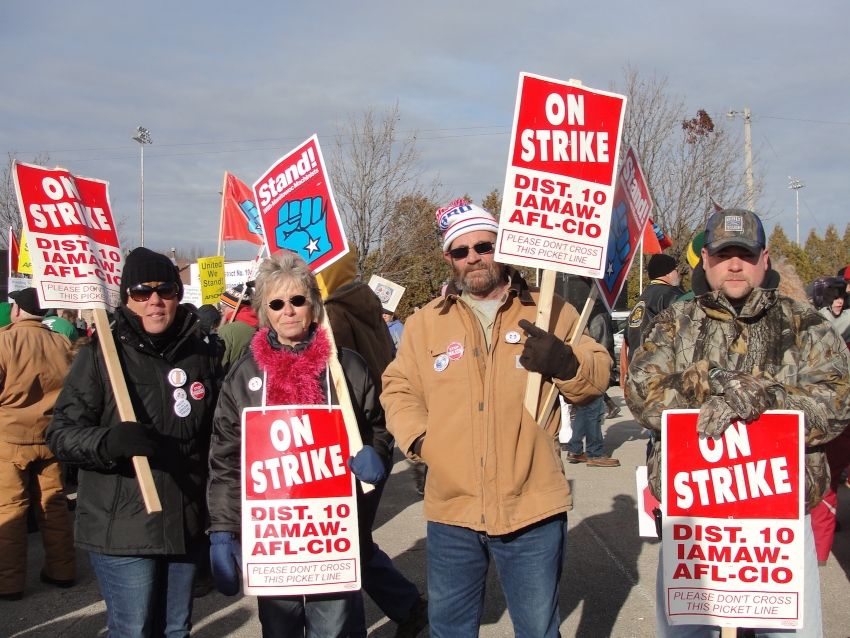 This post first appeared at Labor Notes.
Three years after losing a ten-week strike over the right to collect dues, about 200 union members at Manitowoc Cranes in northeast Wisconsin face continuing efforts to decimate their treasury—an experience other unions may soon also face under the state's new so-called "right to work" law.
"A lot of workers feel pressure," said Bill Brault. A 40-year member of International Association of Machinists (IAM) Local Lodge 516, he abhors the company ultimatum that ended the strike: make dues voluntary and get a raise; or resist and lose jobs to replacement workers, otherwise known as "scabs."
Brault won't say the "S" word or give an opinion about workers who don't pay dues. According to the company's post-strike harassment policy, "I would lose my job," he said.