Friday, Oct 21, 2016, 11:09 am · By Mario Vasquez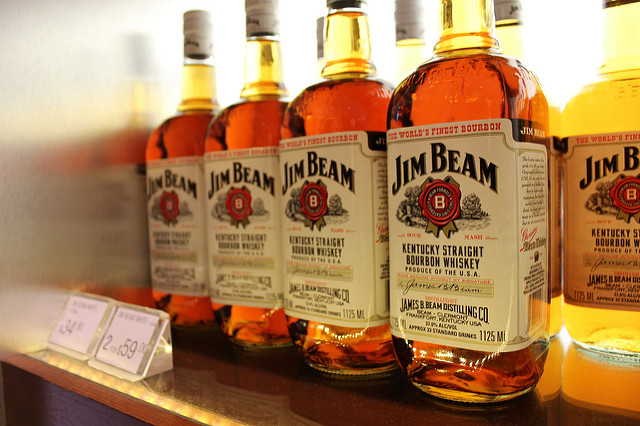 This story has been updated with workers approving a new contract.
"We take great pride in our jobs at Jim Beam because we are Jim Beam," says Troy Frazier, a processing operator with 25 years at the company. "We'd be glad to go back to our jobs that we loved, used to love—the way it used to be as a family—but the way that it's been lately, no one liked their jobs."
After a nearly weeklong strike, more than 200 whiskey workers in Kentucky, represented by United Food and Commercial Workers (UFCW) Local 111D, voted Friday to accept the company's latest contract proposal. They went on strike October 14 after members overwhelmingly approved a work stoppage.
The strike coincided, roughly, with the expiration of Local 111D's contract with Jim Beam's parent company, Beam Suntory.
Thursday, Oct 20, 2016, 3:15 pm · By Jeff Schuhrke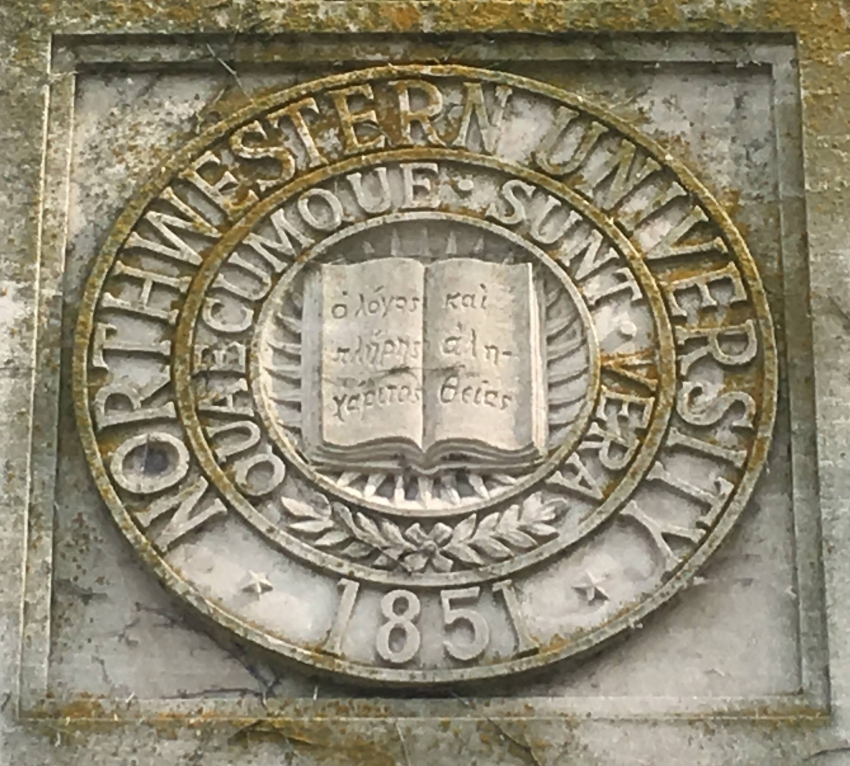 As millions tuned in to see the final presidential debate Wednesday night, about 100 graduate student workers at Northwestern University gathered to watch two unions debate which one can represent them best.
The event was organized by Northwestern University Graduate Workers (NUGW), an organization of teaching and research assistants seeking to unionize in the wake of the National Labor Relations Board's landmark ruling in August that said graduate employees at private universities are indeed workers covered under labor law.
Representatives from the American Federation of Teachers (AFT) and the Service Employees International Union (SEIU) were present. Both unions say they were approached by graduate student workers looking to affiliate with them.
When two unions compete over who will represent a group of workers, they typically make their cases in separate presentations. Wednesday night's debate was unusual.
Tuesday, Oct 18, 2016, 6:29 pm · By Shaun Richman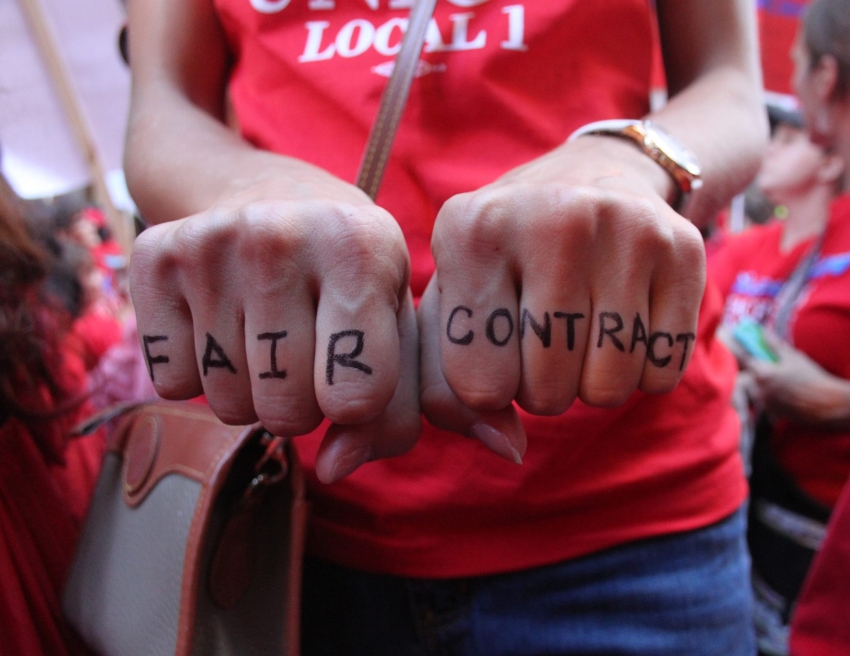 The tentative agreement that the Chicago Teachers Union (CTU) struck with district management less than an hour before a midnight October 10 strike deadline has been hailed by many as a victory. Facing another round of concessionary demands, the union managed to extract $88 million from the mayor's corporate slush fund to restore some badly needed funding to the school system. The union also managed to win an increase in compensation.
But the way that the compensation is structured—with current teachers keeping their current 7 percent pension "pickup," and new hires receiving a salary increase in lieu of a pension contribution—has some critics decrying the deal as a solidarity-killing, two-tier contract. A pickup is the percentage of a worker's pay that an employer puts directly into a pension fund.
The CTU's House of Delegates meets Wednesday to deliberate over the tentative agreement and vote on whether to send it to the entire membership for ratification. If the deal is rejected, there is no guarantee that management will agree to more of the union's demands—or even return to the table.
Monday, Oct 17, 2016, 7:10 pm · By Rebecca Burns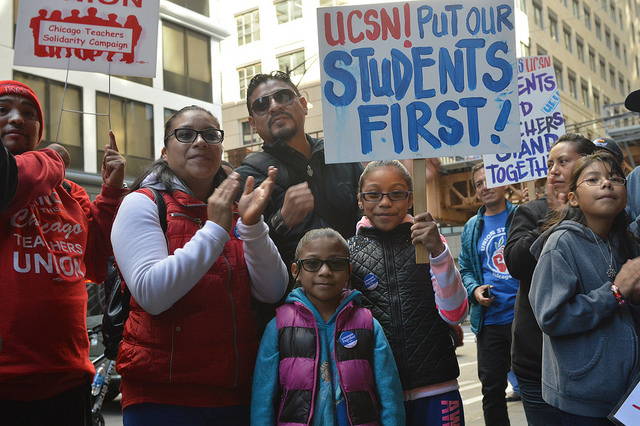 When the Chicago Teachers Union (CTU) struck in 2012, then-CEO of the United Neighborhood Organization (UNO) Juan Rangel took the opportunity to sing the praises of the city's charter schools, which remained open as CTU members walked the picket lines.
"I think parents are going to be frustrated when they see 50,000 kids (charter students) having an education, going to school without interruption and their kids" are not, Rangel told the Chicago Tribune.
Four years later, the tables have turned. An eleventh-hour agreement between the CTU and the school district headed off a second strike in Chicago Public Schools (CPS) last week. But there's another teacher walkout still brewing—this time, at the UNO Charter School Network (UCSN), a group of 15 publicly-funded, privately-managed schools established by Rangel's organization, from which he resigned in 2013. For the past seven months, UCSN teachers have been in a tough contract fight with management. If no agreement is reached this week, teachers plan to strike starting this Wednesday.
Monday, Oct 17, 2016, 1:13 pm · By Tim Shorrock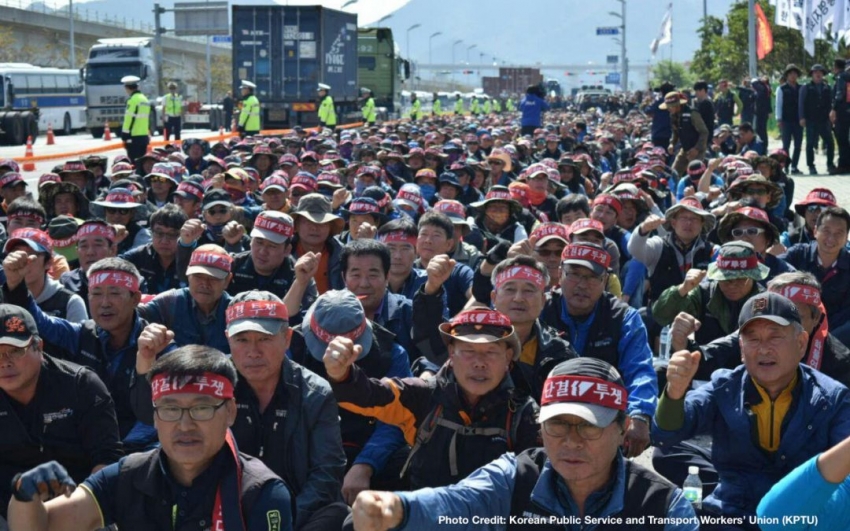 Over the past few weeks, thousands of South Korean transport workers have gone on strike to protest against government "reform" proposals that would make it easier for employers to fire workers, weaken seniority protections won through collective bargaining and privatize some state-owned industries.
The strikes, and the South Korean government's fierce crackdown on labor, have generated an unprecedented response from global unions over what they see as clear-cut violations of workers' rights to freedom of association.
"This has become a challenge to the whole international community and is enormously damaging to the Korean government's international reputation," Stephen Cotton, general secretary of the International Transport Workers' Federation (ITF), told In These Times.
Thursday, Oct 13, 2016, 11:13 am · By Jonathan Timm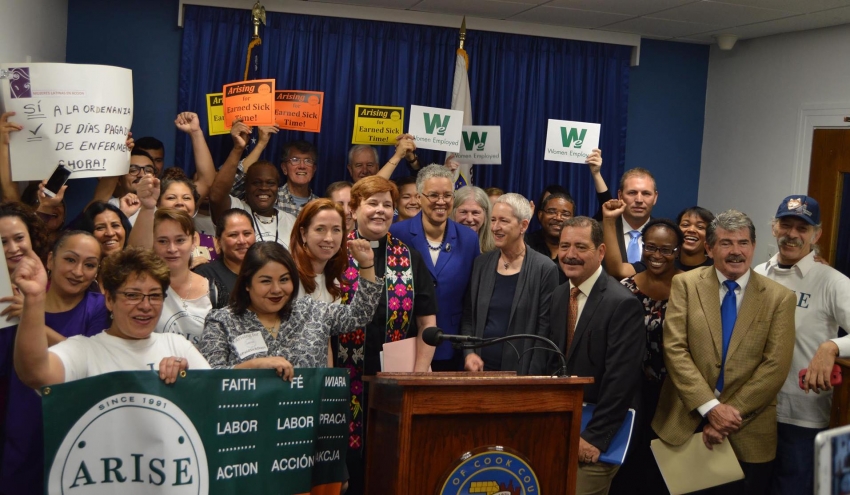 The United States of America: land of liberty, bastion of opportunity, the world's leading economic power.
But if you're a low-wage worker and wake up sick, you'd better clock in on time or you risk losing your wages and even your job.
Paid time off for illness, taken for granted in professional sectors and much of the developed world, remains out of reach for millions of American workers. The United States is the only major developed country that does not guarantee paid sick days to all workers by law. Federal data show that more than one-third of private sector workers throughout the United States do not receive paid sick leave.
Wednesday, Oct 12, 2016, 1:20 pm · By Alexandra Bradbury

This article was first posted at Labor Notes.
At last, November's election deadline is almost here—clinching a dramatic race that featured a nail-biter of a nomination contest, a raucous convention, and an email scandal. Few undecided voters are left. The candidates have painted starkly different visions for the future of jobs, health care, retirement, and democracy itself. Now the outcome depends on how effectively each side can turn out its votes.
Trump vs. Clinton? Nope—I'm talking about the battle for the top seats in the Teamsters Union. Ballots hit the mail October 6, and the vote count begins November 14.
Tuesday, Oct 11, 2016, 2:10 am · By Maha Ahmed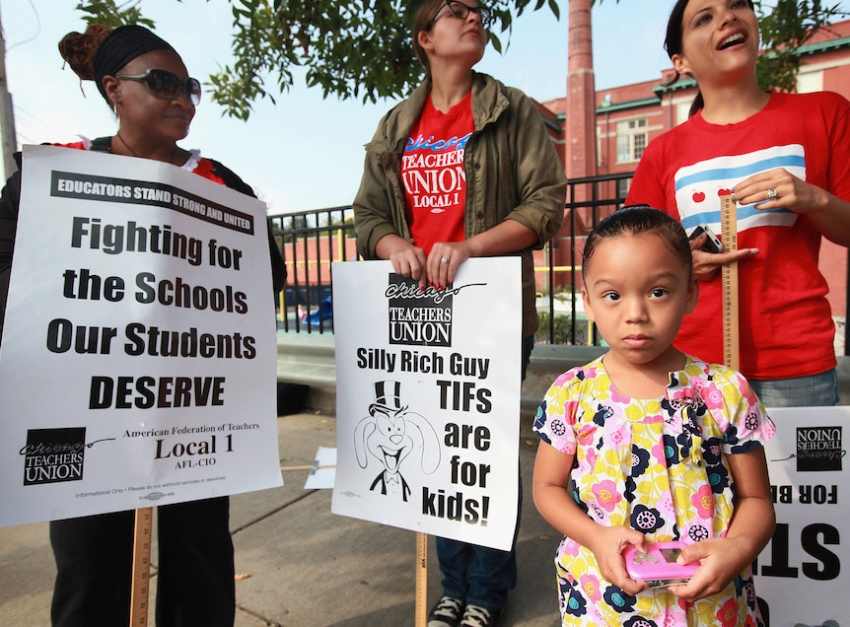 For four months, In These Times has worked with CivicLab's TIF Illumination Project on a nationwide investigation of tax increment financing (TIFs)—a widespread and little-understood tool to divert public funds to development projects. This is the first in a series of reports.
Late Monday evening, the Chicago Teachers Union (CTU) tweeted that only one thing could avert the citywide strike—its second in four years—scheduled for the next day: "We're asking for $500/student for resources. Until the mayor decides to provide from TIFs, negotiations continue."
A few minutes before midnight, CTU President Karen Lewis announced at a press conference that a tentative agreement had been reached and the strike was off. Asked by a reporter whether Mayor Rahm Emanuel had indeed agreed to release tax increment financing, or TIF, funds to the schools, Lewis said with a smile, "Well, it's not in the contract, but there are rumors..."
It seemed that indeed, the mayor had "decided to provide from TIFs." Later, a mayoral spokeperson confirmed to WBEZ that Emanuel was releasing $88 million in TIF money to schools, far less than would be needed to fund the CTU's demand of an additional $500 per pupil.
What are TIFs, and how did this obscure and shadowy public financing tool become central to the battle over the future of Chicago public schools?
Monday, Oct 10, 2016, 10:21 pm · By David Moberg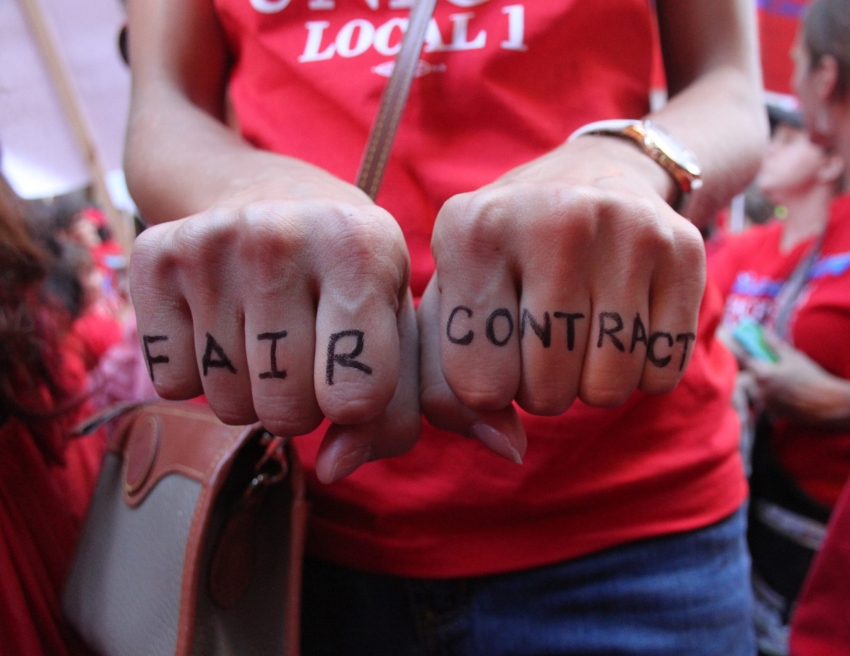 This story has been updated with an agreement.
The Chicago Teachers Union (CTU) reached a last-minute deal with the Board of Education late Monday night, narrowly averting a strike.
"There will be classes in the morning," said CTU President Karen Lewis, announcing the tentative contract agreement.
Chicago teachers had planned to strike starting Tuesday in an escalation of their campaign to defend their jobs and improve the education of the students and the communities they serve.
Four years ago, the CTU won a new contract with a dramatic 7-day strike that captured national attention. Although the CTU was unable in the following years to stop Mayor Rahm Emanuel from closing more than 50 schools, last April the union continued its contract fight with a mayoral-appointed Board of Education by calling for a 1-day strike over the failure of talks to renew their contract.
With the CTU and Chicago Public Schools (CPS) at loggerheads over a new agreement, the teachers had prepared to establish picket lines once again at schools throughout the nation's third-largest school system, taking on the Board of Education, Emanuel, the obsessively anti-union Republican governor, Bruce Rauner, and the local business class.
Friday, Oct 7, 2016, 7:03 pm · By Justin Miller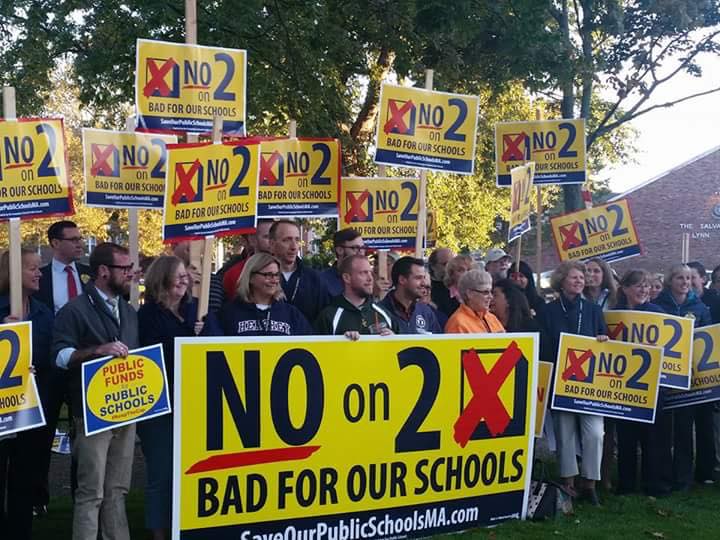 Millions of dollars of dark money are streaming into Massachusetts as charter school proponents try to pass Question 2, a contentious ballot measure that would raise the state's existing cap on charter schools. Teachers unions are scrambling to fight back against what they say is a heavy-handed attempt to dramatically expand public charters while hanging underfunded, traditional public schools out to dry.
Such fights are playing out across the country as the well-funded charter school network has turned its sights—and its millions—on state and local education politics. But Massachusetts, with its strict cap and accountability measures for charters, coupled with a rich tradition of public education, has long been the crown jewel for charter backers.
"They have targeted Massachusetts with the idea that if they can win here, it makes the road to privatization across the country easier," Massachusetts Teachers Association President Barbara Madeloni says. "Blowing this up would really be a feather in their cap."