Friday, Jun 17, 2016, 11:36 am · By Jeff Schuhrke
"I've been working maybe 15 years, and I've never had a paid sick day," says Chicago delivery driver Abraham Cabrera. When he has to miss work to take his asthmatic son to the emergency room, he says he doesn't get paid and fears that he could get fired.
Wednesday, Jun 15, 2016, 6:35 pm · By Shaun Richman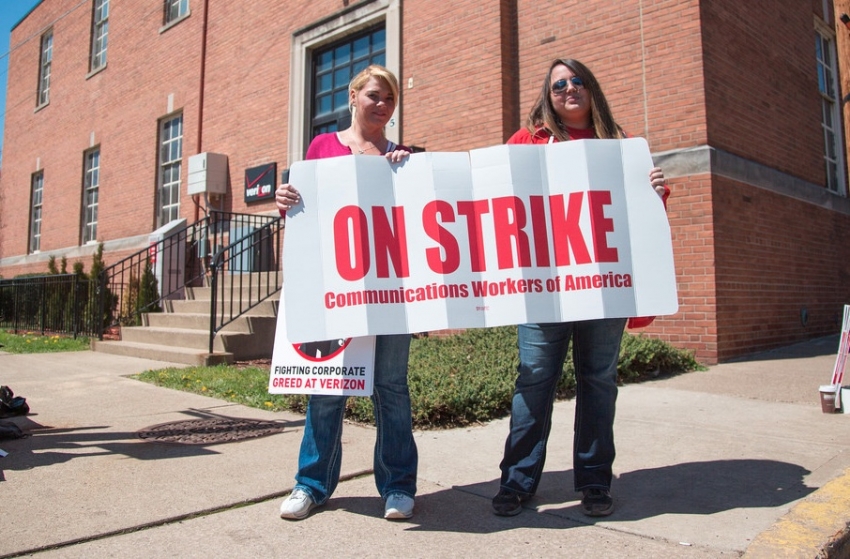 With the decisive victory for union members at Verizon, 2016 is already on pace to be the second year in a row where recorded strike activity has increased over the previous half-decade. Now, a new decision from the National Labor Relations Board (NLRB) could restore legal job protections for striking workers, making workplace job actions a more common—and more powerful—union strategy.
Workers simply do not have a meaningful right to strike if they do not have a right to return to the job when the strike is over. But, thanks to the judicial gutting of labor rights, going on strike is a high stakes proposition for American workers. Not only do striking workers lose out on pay and benefits during the strike, but they run the risk of losing their jobs entirely. So, while work stoppages are on the rise relative to the last few years, they are at historically low levels compared to the post-war era when wages actually rose with corporate profits.
In a new case, American Baptist Homes, the NLRB attempts to strike a balance between workers' statutory right to strike and protection against employer retaliation for union activity and a boss's Supreme Court-granted "right" to hire permanent replacement workers "to protect and continue his business." Thankfully in this case, the exceptionally arrogant and stupid Executive Director of the employer in this case and her counsel went on the record that their use of permanent replacements was meant to "punish the strikers and the Union" and to discourage future strikes, as Benjamin Sachs has detailed.
For much of the last four decades, the NLRB has simply taken a boss's word that the permanent replacement of striking workers was necessary to continue her business. Now, the NLRB has declared that it will return to an earlier, Supreme Court-approved standard in which employers' rights to permanently replace striking workers may be "wholly impeached by the showing of an intent to encroach upon protected rights."
In other words, the NLRB will investigate when an employer hires scabs—and they better have a good case. Since most strikes these days are defensive—pushing back against employers' attempts to gut work rules, slash pay and benefits and bust the union—this is a big deal.
Tuesday, Jun 14, 2016, 4:33 pm · By Samantha Winslow
This post first appeared at Labor Notes.
Two kindergarteners are poking each other with their pencils. What starts as a game soon gets out of hand. With one child bleeding, the teacher brings them to the principal's office. Later, she finds out both kids were suspended and sent home.
It's not an uncommon scenario in today's public schools. But as activists draw attention to high rates of suspensions, racial disparities, and the "school-to-prison pipeline," the political winds are shifting. Policymakers at the federal and district levels have begun to demand fewer suspensions, especially for minor rule-breaking.
It's an issue where not all teachers see eye to eye. But a growing number of teachers and unions are rising to the challenge, pushing their school districts to back up suspension bans with the resources to make alternatives really work.
Tuesday, Jun 14, 2016, 1:57 pm · By Bruce Vail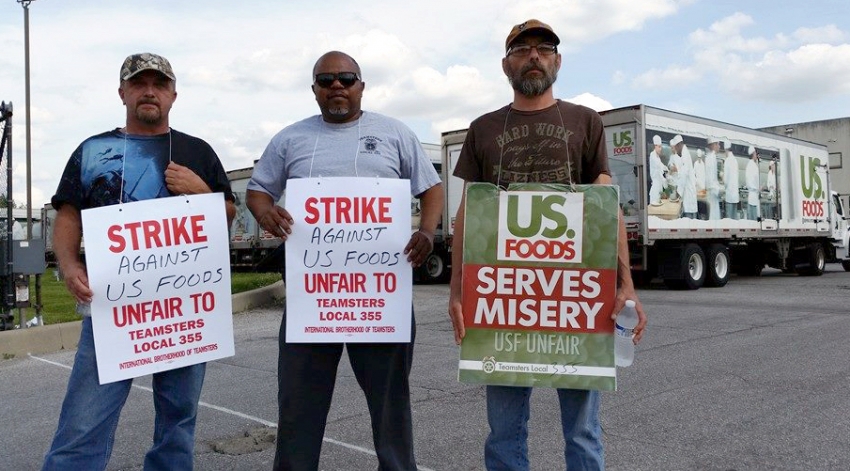 A rolling strike is hitting multiple warehouses operated by the nation-wide grocery distributor US Foods, Inc. as the Teamsters union tries to fight off threats to its jobs by death from a thousand corporate cuts.
The latest in a six-week series of strikes hit a US Foods distribution center in Plymouth, Minnesota, June 8, when truck drivers, warehouse, yard and maintenance workers, and office staff from Teamsters Local 120 honored a picket line manned by Teamsters from Maryland. The job actions have been hitting widely scattered US Foods sites across the country since US Foods triggered a strike in the Baltimore suburb of Severn, Maryland, with a scheme the union says is designed to to fire union workers and shift their jobs to non-union sites.
Monday, Jun 13, 2016, 8:37 pm · By Stephen Franklin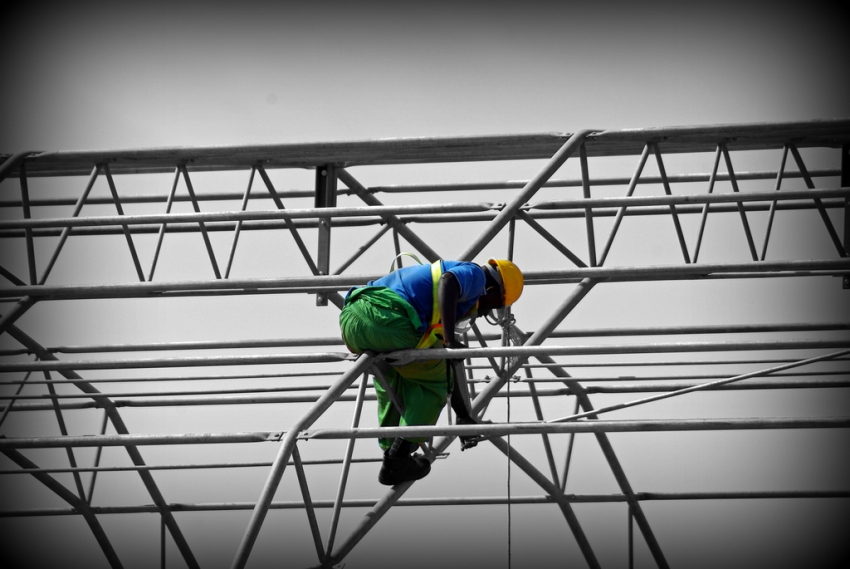 For nearly a century, millions of workers have endured punishing jobs in construction, mining and factory work—jobs with high levels of work-related disability and injury. As a tradeoff for the dangers, they've had the assurance of workers' compensation if injured permanently on the job. Employers accepted this deal, albeit sometimes grudgingly, because it removed the possibility of being sued over work-related injuries.
But as labor has weakened and Republicans have won control of more and more statehouses, states have slowly chipped away at workers' compensation benefits.
Since just 2003, more than 30 states have passed laws that have "reduced benefits for injured workers, created hurdles for medical care or made it more difficult for workers to qualify," according to a recent investigative series by ProPublica and NPR. Some of the harshest cuts came in California, Arizona, Florida, Oklahoma, North Dakota, Kansas, Indiana and Tennessee. Today, according to the federal Occupational Safety and Health Administration (OSHA), many injured and disabled workers "never enter the workers' compensation system." OSHA also estimates that workers' compensation covers only about 21 percent of the lost wages and medical bills encountered by injured workers and their families.
Illinois, long a union stronghold, could nevertheless join the pack of those closing the doors for some to workers' compensation if right-wing millionaire Gov. Bruce Rauner gets his way.
Monday, Jun 13, 2016, 5:08 pm · By Barry Eidlin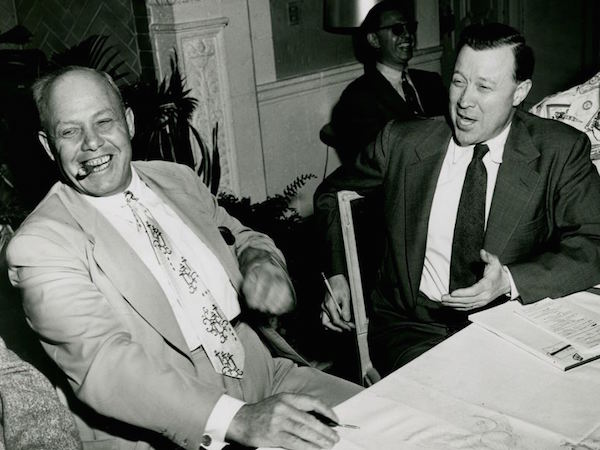 First published at Jacobin.
Things are looking up for student worker unionism. For decades, the legions of graduate and undergraduate teaching and research assistants whose labor is critical to the daily functioning of universities have fought to establish a basic claim: the work they do is, in fact, work—it's not just part of their education.
Monday, Jun 13, 2016, 2:53 pm · By Nadia Prupis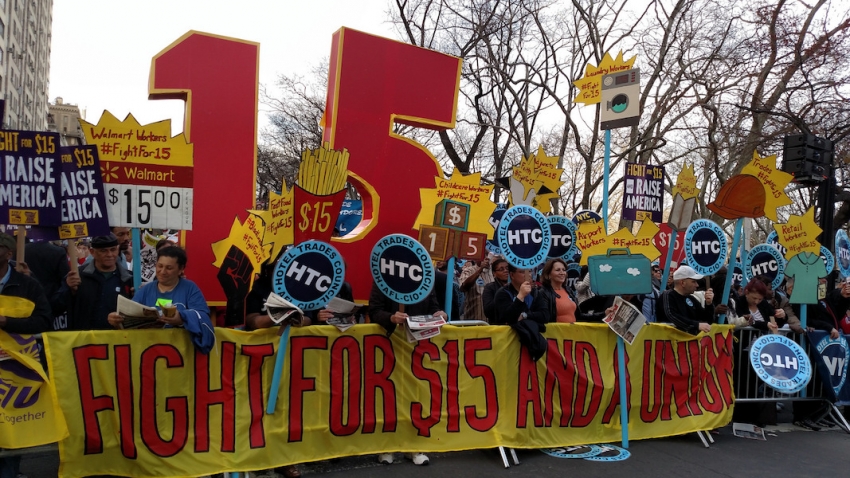 This article first appeared at Common Dreams.
Heralding a new victory for the Fight for $15 movement, lawmakers in Washington, D.C. on Tuesday unanimously approved a measure to raise the city's minimum wage to $15 an hour by 2020, which Mayor Muriel Bowser has promised to sign.
Thursday, Jun 9, 2016, 8:49 pm · By Bill Fletcher, Jr.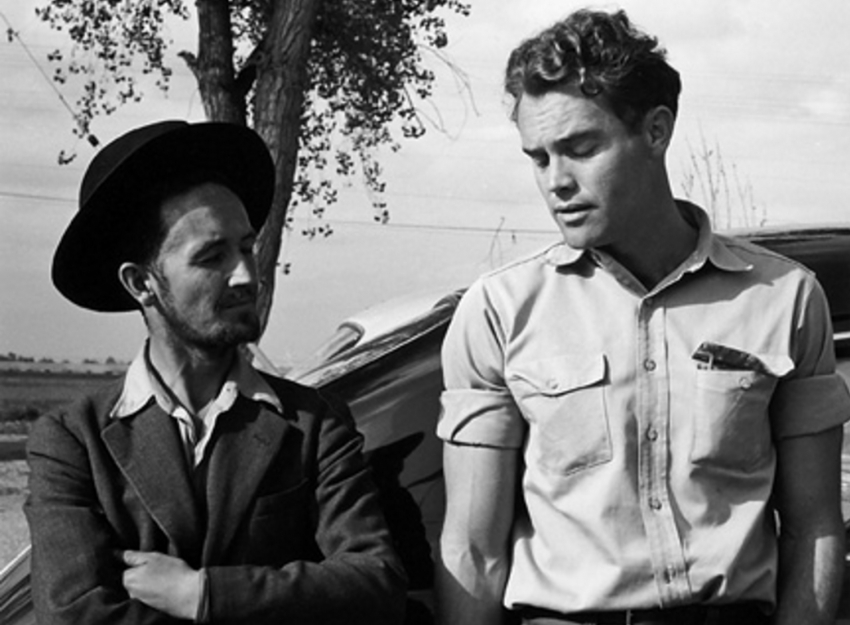 The biographies of icons frequently fall into one of two categories. On the one hand they may be laudatory, in some cases turning the subject into a saint. At the opposite end, they can tend towards tell-all pieces, in some cases aiming to tear down the subject. What makes America's Social Arsonist: Fred Ross and Grassroots Organizing in the Twentieth Century, Gabriel Thompson's new biography of the legendary community organizer, unusual is that it presents a very balanced account of the life and work of one of the foremost progressive organizers of the 20th century, while at the same time offering very useful insights into the art and craft of progressive organizing.
Wednesday, Jun 8, 2016, 6:49 pm · By Robert Schwartz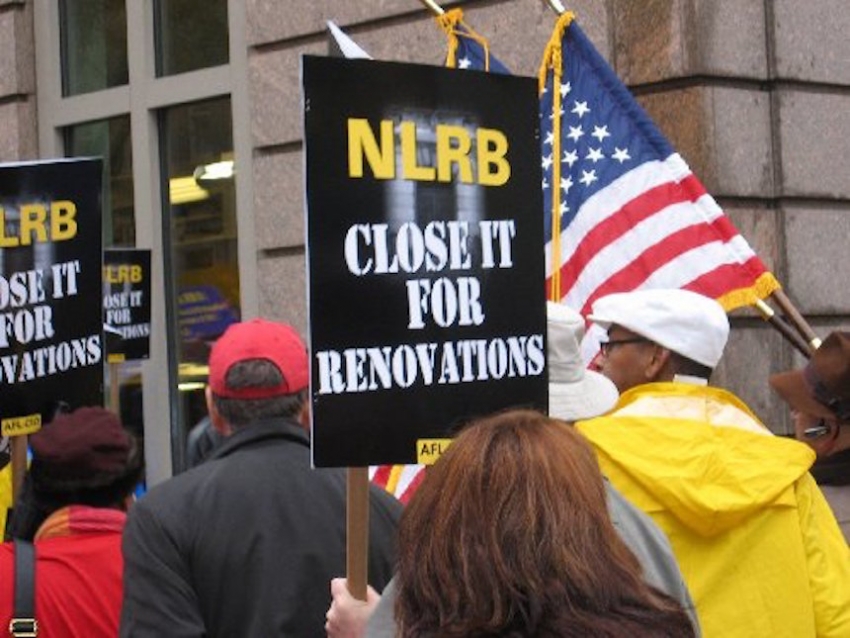 This aricle originally appeared at Labor Notes.
A game-changing interpretation from the Obama-appointed National Labor Relations Board has narrowed the allowable reasons why an employer may hire permanent replacements during a strike.
Wednesday, Jun 8, 2016, 2:20 pm · By Shaun Richman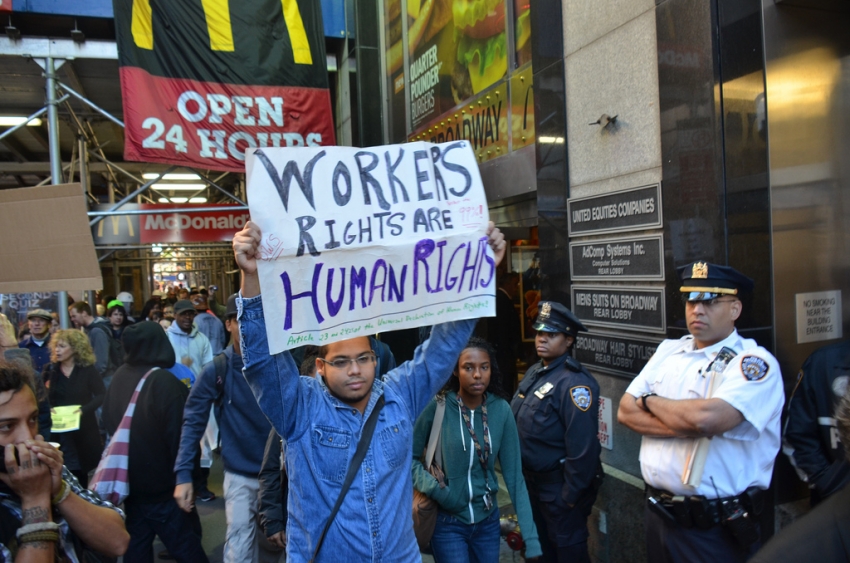 The American working class has been dissed and dismissed. Our unions busted, our wages slashed, our homes foreclosed and our rents raised. We're blamed for the rise of Trump, but otherwise do not exist in the media landscape.
But the working class is a sleeping giant that is beginning to stir and will soon instigate a great campaign for racial and economic justice, according to a new book by Tamara Draut. A vice president of the liberal think tank Demos, Draut's previous book, Strapped: Why America's 20- and 30- Somethings Can't Get Ahead, explored the how the high cost of college, housing and health insurance, combined with stagnant wages and made the usual milestones of adulthood increasingly out of reach for millennials.
Her new book, Sleeping Giant: How the New Working Class Will Transform America, attempts to connect the dots between the struggles of those millennials and the politics of austerity, globalization and the massive transfer of wealth to the 1 percent that has reduced the living standards of almost all working families over the course of the last 40 years. It finds a strong sense of optimism in the recent increase in protest activity.