Monday, Dec 26, 2016, 11:49 am · By Theo Anderson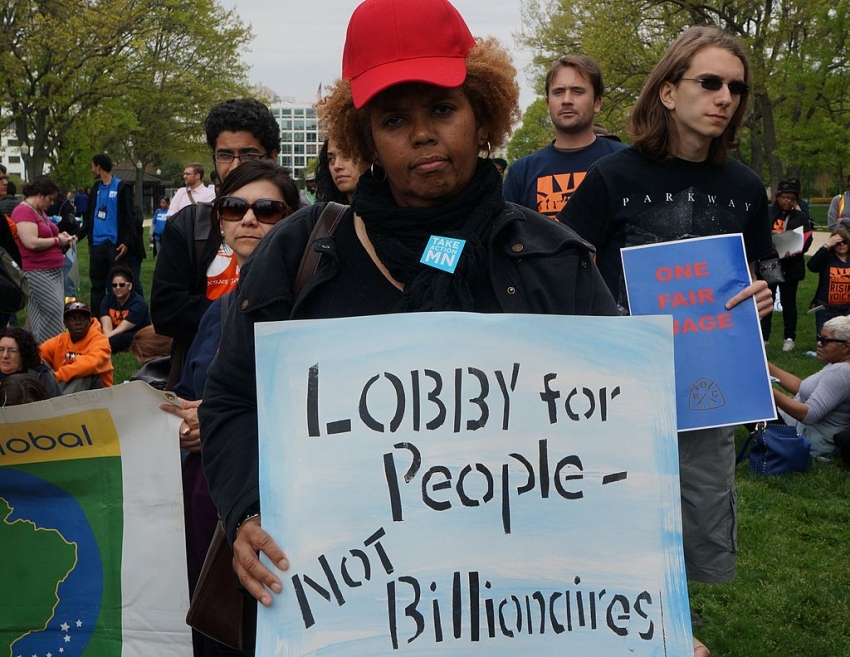 The income gap between the classes is growing at a startling pace in the United States. In 1980, the top 1 percent earned on average 27 times more than workers in the bottom 50 percent. Today, they earn 81 times more.
The widening gap is "due to a boom in capital income," according to research by French economist Thomas Piketty. That means the rich are living off of their wealth rather than investing it in businesses that create jobs, as Republican, supply-side economics predicts they would do.
Piketty played a pivotal role in pushing income inequality to the center of public discussions in 2013 with his book, Capital in the Twenty-First Century. In a new working paper, he and his co-authors report that the average national income per adult grew by 61 percent in the United States between 1980 and 2014. But only the highest earners benefited from that growth.
Thursday, Dec 22, 2016, 12:33 pm · By Jeff Schuhrke
Forklift operator Timi Jernigan hopes President-elect Donald Trump fulfills his campaign promise to bring more manufacturing jobs to the United States. But he knows from experience that not all factory jobs are the same.
"I've worked at union and nonunion facilities," says Jernigan, who's worked at factories around Dayton, Ohio. "And it always was better at the union ones."
He's currently at Fuyao Glass America, a Chinese-owned company that opened an automotive glass plant in the Dayton suburb of Moraine. Jernigan was one of its first employees and is now part of a group of workers trying to organize a union.
Wednesday, Dec 21, 2016, 11:56 am · By Branko Marcetic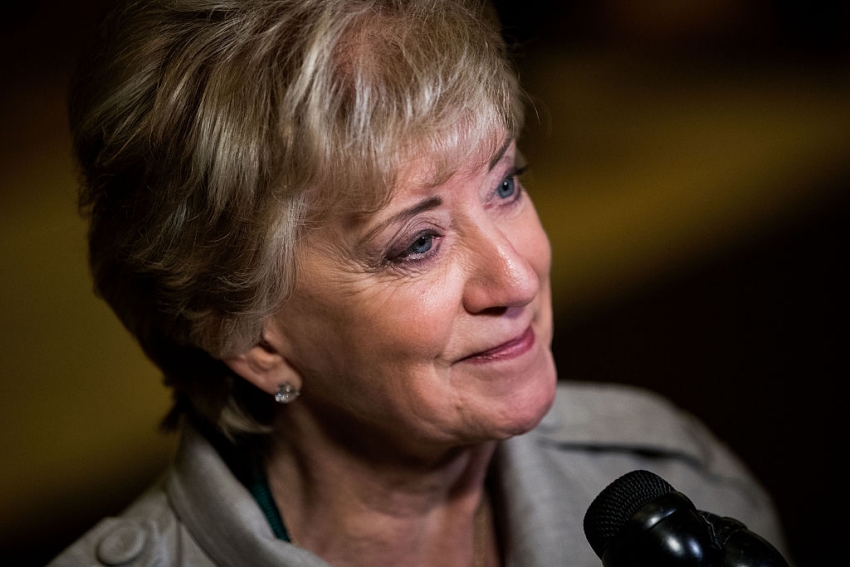 This month, President-elect Donald Trump continued his trend of appointing wealthy businessmen and women with little government experience to government posts by nominating former World Wrestling Entertainment (WWE) chief executive Linda McMahon to head the Small Business Administration (SBA).
Most news reports on her appointment have focused on her net worth and the fact that she donated $7 million to Trump's campaign. Few have talked about the WWE's questionable labor record under McMahon.
Tuesday, Dec 20, 2016, 3:05 pm · By Sonia Singh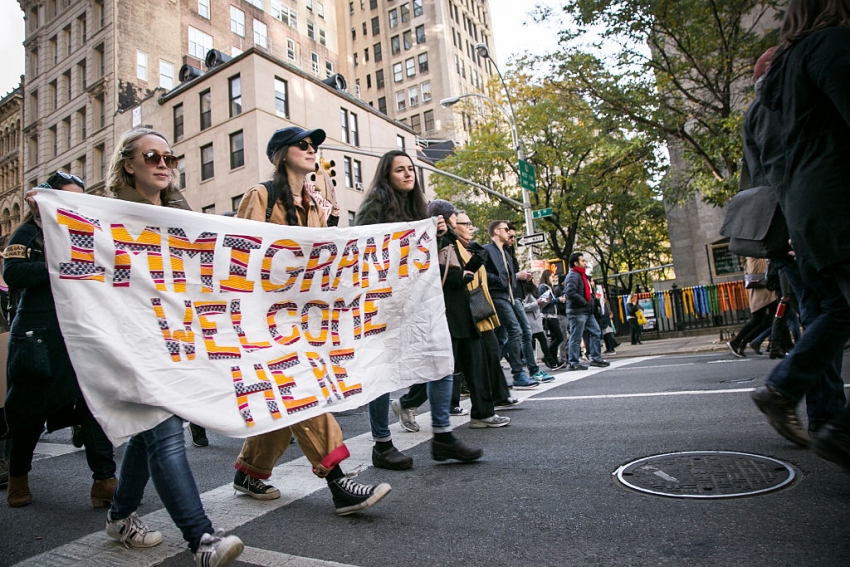 This article was first posted by Labor Notes.
As the reality of a Donald Trump presidency sets in, unions and workers centers are gearing up for a massive fight to defend immigrant members, building on lessons from the past decade.
Undocumented workers are at risk both from the government and from their employers. Sometimes employers are under government pressure themselves. Other times they're using the threat of immigration enforcement to discourage organizing or keep workplace standards low.
Besides workplace or home raids, over the past decade workers have faced:
I-9 audits, where Immigration and Customs Enforcement investigates employers to ensure workers have the right documentation to work legally
No-match letters, where the Social Security Administration notifies employers that the name or social security number on a worker's W-2 form doesn't match its records
E-Verify, an online system that checks workers' eligibility to work, mandatory in some states and voluntary in others
The president-elect campaigned on promises to deport millions of undocumented workers and to target immigrants from Muslim countries. While we don't yet know Trump's game plan for attacking immigrant workers, here's a checklist of five questions to ask as your union or worker center prepares to defend members:
Tuesday, Dec 20, 2016, 11:35 am · By Rebekah Frumkin and Enrica Nicoli-Aldini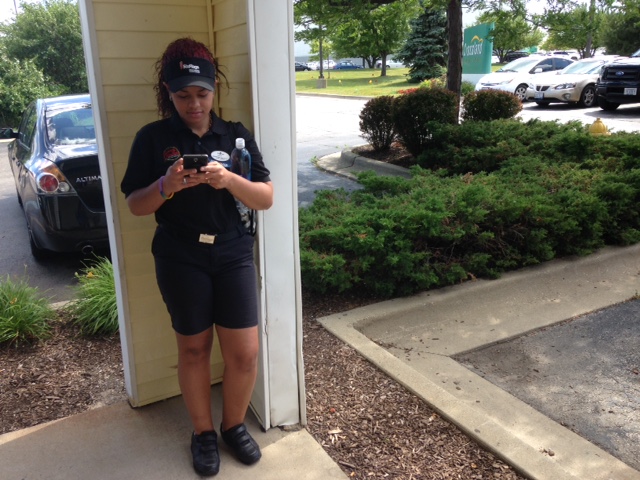 In a cramped hotel room in suburban Chicago, Roxana Cruz, 22, is preparing for another day of work at Six Flags Great America. She worked late the night before—a bus brought her back to the hotel after midnight—and she's facing another long day now. She straps on a park-issued visor and applies makeup that she hopes aloud won't melt in the harsh sun.
Cruz shares the studio-sized room with two roommates: a young woman who sleeps on the full bed in the middle of the room and a 21-year-old woman who asked to go by the name Marie, with whom Cruz shares a bunk bed against the wall. Marie is a pseudonym. The young woman, like some other foreign students in this story, asked that her name not be used for fear Six Flags could use her statements against her.
Both Cruz and Marie hail from the Dominican Republic and work as cashiers at restaurants in the park. Marie says her job is extremely taxing because it involves a lot of heavy lifting of boxes and crates.
"To tell the truth, I'm very disenchanted," she says in Spanish. "I feel like I paid so much money to come here to kill myself physically and go through so much trouble. It's hard to stay here—very, very hard."
Monday, Dec 19, 2016, 11:54 am · By Paul Feldman and Stuart Silverstein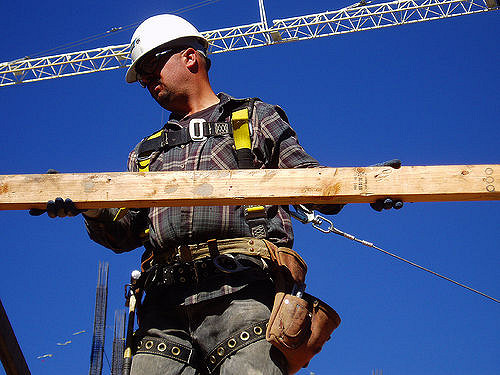 This article was first posted by FairWarning.
Soon after beginning their cleanup of a fume-filled tanker car at an Omaha, Neb., rail maintenance yard, Adrian LaPour and Dallas Foulk were dead.
An explosion that April 2015 afternoon trapped LaPour in a flash fire inside the car and hurled Foulk out the top to his death.
Six months later their employer, Nebraska Railcar Cleaning Services, was hammered by the U.S. Occupational Safety and Health Administration with seven citations for "egregious, willful" workplace violations, along with 26 other charges. The agency proposed fines of nearly $1 million. To top it off, OSHA announced that it was tossing the company into its Severe Violator Enforcement Program, or SVEP.
Friday, Dec 16, 2016, 12:07 pm · By Samantha Winslow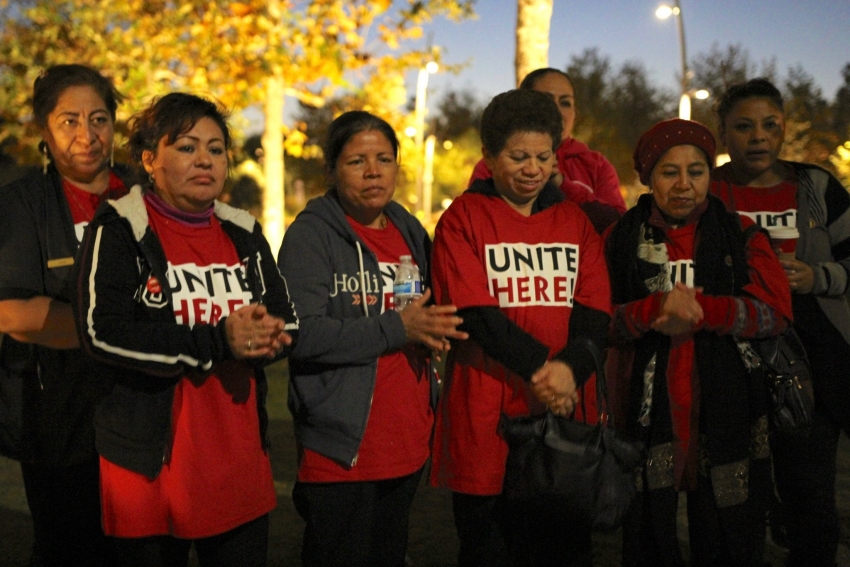 This article was first posted at Labor Notes.
While many union members needed time to recover from the presidential election results, a group of Santa Monica, California, hotel workers didn't have time to spare. News of Donald Trump's victory only pushed them to fight harder to win their union election at a beachfront hotel.
A week after Trump's win, hotel workers at Le Merigot Hotel voted 27 to 15 to unionize with UNITE HERE Local 11.
Throughout his campaign the president-elect routinely vilified immigrants. The hotel workers are mostly immigrant women, a majority of them from Mexico and El Salvador.
"Once Trump takes over it's going to be harder for us," said housekeeper Filadelfia Alcala. "We had to get everyone on board. We wanted to protect ourselves from him."
Thursday, Dec 15, 2016, 1:52 pm · By Jim Morris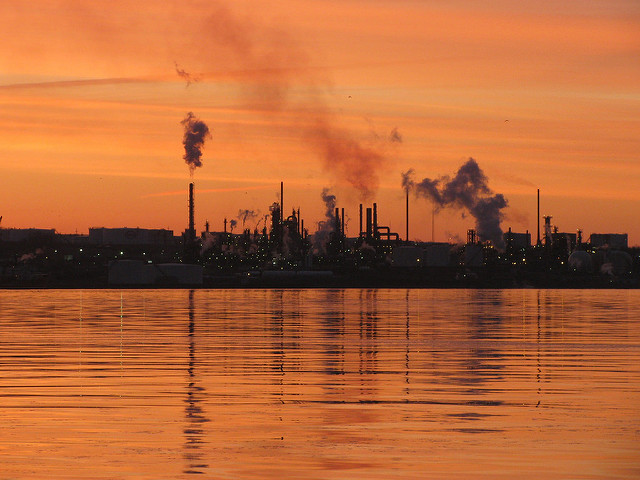 The following is an excerpt of an article first posted by The Center for Public Integrity.
ANACORTES, Washington—From 500 yards away, John Moore felt the concussion before he heard it.
Moore was midway through a 6 p.m.-to-6 a.m. shift as an operator at the Tesoro Corporation's oil refinery in Anacortes, an island town 80 miles north of Seattle. It was 35 minutes after midnight on April 2, 2010.
Up the hill from Moore, in the Naphtha Hydrotreater unit, seven workers were restoring to service a bank of heat exchangers—radiator-like devices, containing flammable hydrocarbons, that had been gummed up by residue and cleaned. Most of the workers didn't need to be there; it was, for them, a training exercise.
Moore was monitoring the job by radio. "They were maybe two-thirds of the way to putting the bank online when I heard a noise from outside," he said. "I felt a tremendous vibration in my feet," followed by the whooshing sound of "a match hitting a barbecue."
Exchanger E-6600E, part of a bank that had kept running while the other one was down, had come apart and disgorged hydrogen and a component of crude oil called naphtha, which ignited. Moore called each of the seven workers on the radio and got no response. Thirty or 40 seconds later he heard the strained voice of the crew's foreman, Lew Janz. "Lew said, 'Get someone up here. We're all dying.'"
Wednesday, Dec 14, 2016, 2:42 pm · By Moshe Z. Marvit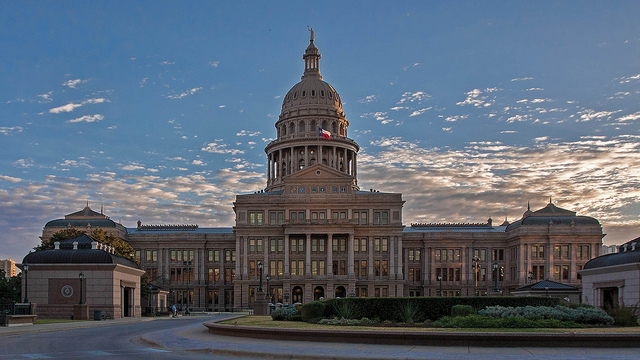 Last month, the highest-ranking member of the Texas Senate, Jane Nelson, pre-filed 11 bills to be considered in the legislative session that begins on January 10. A former teacher, Sen. Nelson has often focused her legislative attention on protecting children, and her new bills are no different—with five of the 11 bills dealing with children. However, nestled between SB 74, which affects children with high mental needs in the foster system, and SB 76, which allows municipalities to prohibit sex offenders from living near a "child safety zone," is SB 75, which seeks to protect children from labor unions.
The bill would prohibit unions from accepting as a member anyone under 18 years of age unless the union first procures a signed consent form from the minor's parent or guardian. According to a statement from Sen. Nelson's office, the bill "protects parental rights by requiring consent before a minor may join a union, and it protects minors from entering into a contract they may not fully understand." (Nelson's staff initially responded to a request for an interview with the senator by asking questions about specifics, but then ignored attempts to schedule one.)
Wednesday, Dec 14, 2016, 11:40 am · By David Moberg
President-elect Donald Trump is wasting no time laying waste to his campaign promise of standing up for working people.
This is no more evident than in who he picked to be labor secretary—Andrew Puzder, chief executive of CKE Restaurants, parent company of fast-food chains Carl's Jr. and Hardee's.
His nomination last week drew immediate fire.
"Mr. Puzder's long track record inspires deep skepticism," said AFL-CIO president Richard Trumka. "It's a track record that raises serious concerns about his qualifications to live up to the promises of the President-elect's campaign. Mr. Trump will never meet those promises by surrounding himself with people, like Mr. Puzder, whose values are completely out of step with America's workers."