Wednesday, Jul 22, 2015, 3:25 pm · By Alexandra Bradbury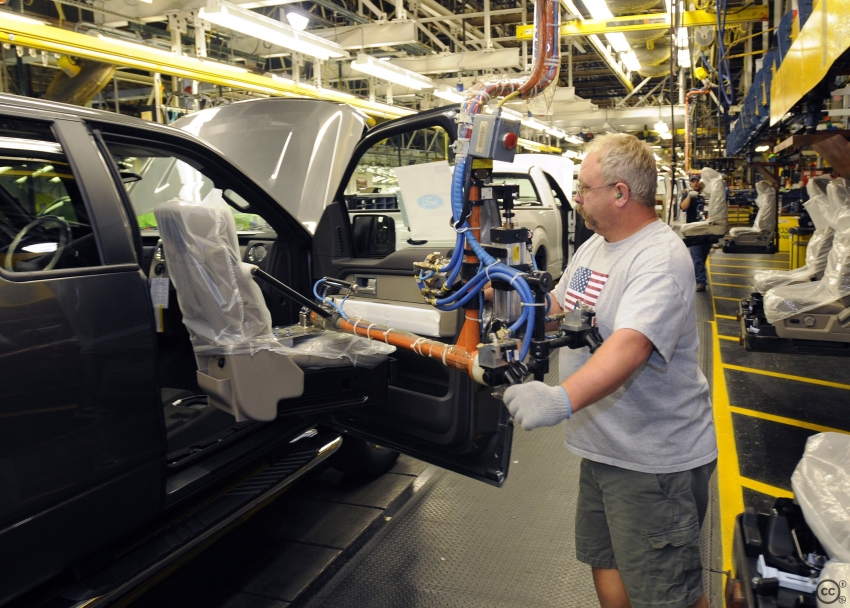 This post first appeared at Labor Notes.
Eight years after accepting a drastic two-tier system of wages and benefits—and nearly a decade since the first tier got a raise—the United Auto Workers are bargaining with the Big 3 automakers.
Talks began July 13 with a ceremonial handshake. It's the first contract expiration since Michigan's "right to work" law went into effect, which means disgruntled members in the union's most populous state could jump ship.
The Big 3 bargain at separate tables. Traditionally, as talks develop, the union will zero in on one to settle with first. The others generally fall in line. Separate local bargaining, already begun, covers non-economic issues like work schedules.
Together the contracts cover about 137,000 workers—including a lower-wage second tier that makes up 45 percent of the workforce at Chrysler, 25 percent at Ford, and 20 percent at General Motors, according to the Center for Automotive Research.
Tier 1 production workers, hired before the 2007 deal, have been frozen at $28.69 ever since. Gone is the cost-of-living raise (COLA) that used to link wages to inflation. They've also been hit by concessions on holiday pay and overtime.
Wednesday, Jul 22, 2015, 11:33 am · By David Moberg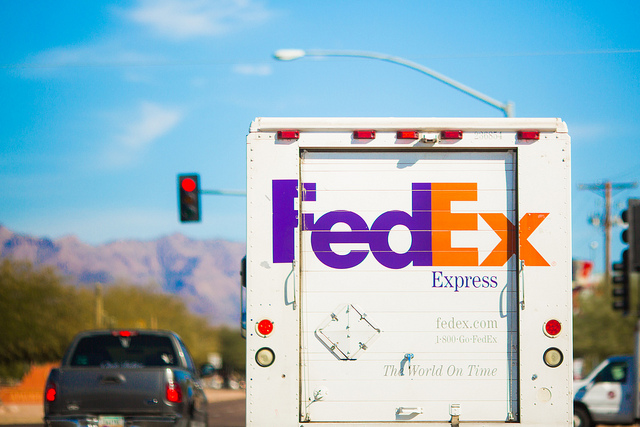 Are you an employee?
It seems like a simple question that must have a simple answer for most people. But definitions in different laws and rulings enforcing the laws vary. And that variation provides an opening for a growing number of employers to cheat governments of taxes and workers of income, benefits and protections by misclassifying their employees, especially as "independent contractors."
Wednesday, Jul 22, 2015, 11:15 am · By Martha Sanchez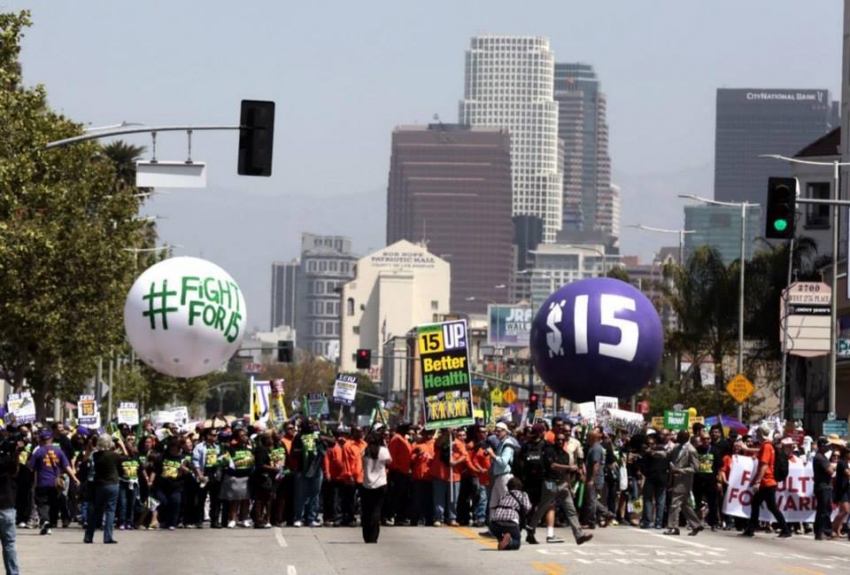 Our economy has long been out of balance. Workers' efforts across the country create wealth, but the profits don't get to the working people who produce them. Correcting that so that workers are paid enough to sustain their families and make ends meet, is not easy. It requires changing rules that unfairly favor the rich and are written by politicians beholden to the wealthy. That's why the recent move by Los Angeles to raise the minimum wage to $15 is so meaningful.
Tuesday, Jul 21, 2015, 4:12 pm · By Michael Arria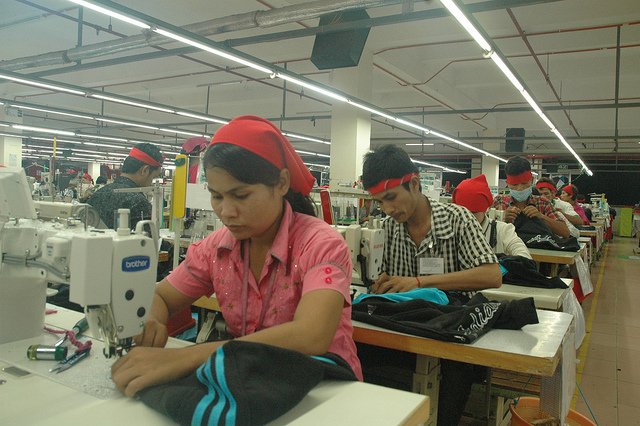 At the end of June, nearly 350 workers fainted in garment factories across Cambodia, with more than 100 collapsing on one day alone. These developments are part of a much wider pattern in the country: In 2011, there were 2,071 incidents of workers fainting, in 2012 there were 2,100. Last spring, nearly 120 workers fainted at two textile factories that make products for Puma and Adidas. From July of last year on, there were 733 fainting incidents across 14 different factories, almost all by women, who make up the vast majority of Cambodia's garment workforce.
Tuesday, Jul 21, 2015, 2:00 pm · By Fred Klonsky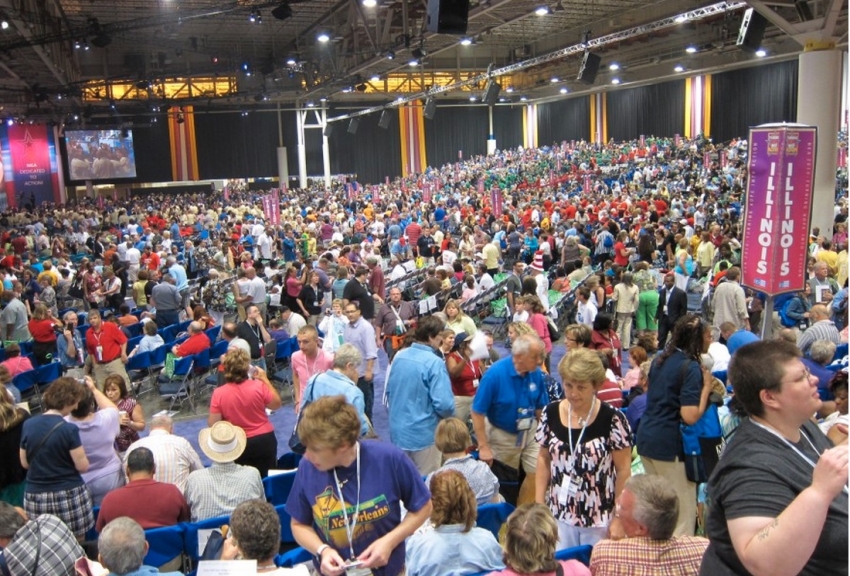 I was recently in Orlando, Florida, a few weeks after the brutal murder of nine African-American members of the historic Emanuel African Methodist Episcopal Church in Charleston, South Carolina, for the annual Representative Assembly of the National Education Association (NEA), the union I am a retiree member of. Just 12 months earlier, the NEA, the nation's largest labor union, made headlines when it elected three women of color to its executive leadership: President Lily Eskelsen Garcia, Vice President Becky Pringle and Treasurer Princess Moss. No other labor union in the United States could make that claim.
This year, a conversation about the issue of race and racism took center stage at our NEA annual meeting, and that seemed to be a big deal to me. I thought it was odd, though, that following this year's Representative Assembly, which took place from June 26 to July 6, there was barely a word in the national mainstream press or the progressive media about what had happened in Orlando.
I was there as a delegate from Illinois. Before arriving I read that an African-American activist, Bree Newsome, had been arrested for bravely climbing a flag pole and taking down the Confederate flag that still waved in front of the South Carolina capitol. I went on social media and suggested that it might be a good idea for the NEA to take some action in support of removing all Confederate flags, symbols, names and memorials from schools and public spaces.
Monday, Jul 20, 2015, 1:03 pm · By Doug Henwood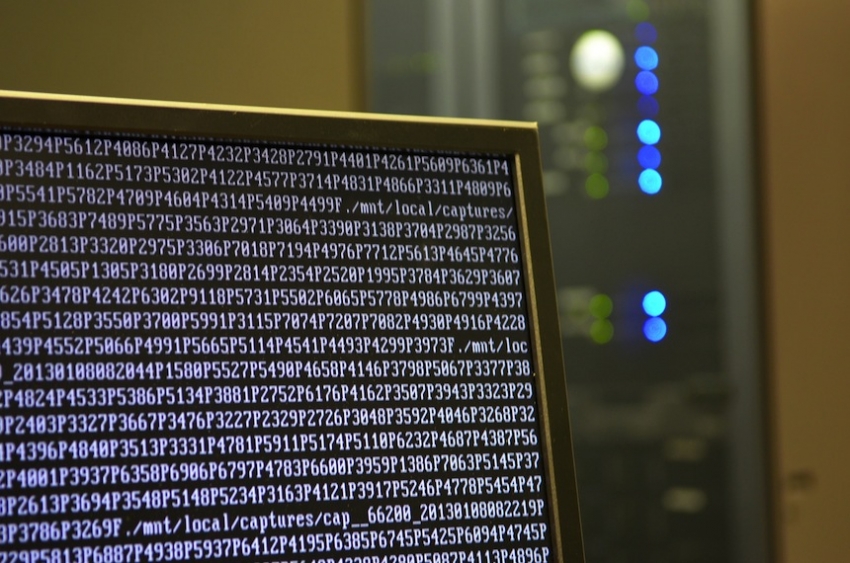 First posted at Left Business Observer.
Paul Mason has a breathless piece in The Guardian making grand New Economy claims that sound like recycled propaganda from the late-1990s—though he gives them a left spin: postmateriality is already liberating us. I wrote a book that was in large part about all that ideological froth, published in 2003, and so far I've been struck by the nonrevival of that discourse despite a new tech bubble. Uber and Snapchat don't excite the same Utopian passions that the initial massification of the web did.
I'll pass on refuting Mason's article, because I already did that twelve years ago. But I do want to comment on one point that Mason makes—one that's ubiquitous in a lot of economic commentary today: capitalists don't need workers anymore. As he puts it:
Postcapitalism is possible because of three major changes information technology has brought about in the past 25 years. First, it has reduced the need for work, blurred the edges between work and free time and loosened the relationship between work and wages. The coming wave of automation, currently stalled because our social infrastructure cannot bear the consequences, will hugely diminish the amount of work needed – not just to subsist but to provide a decent life for all.
Monday, Jul 20, 2015, 11:30 am · By Joseph Sorrentino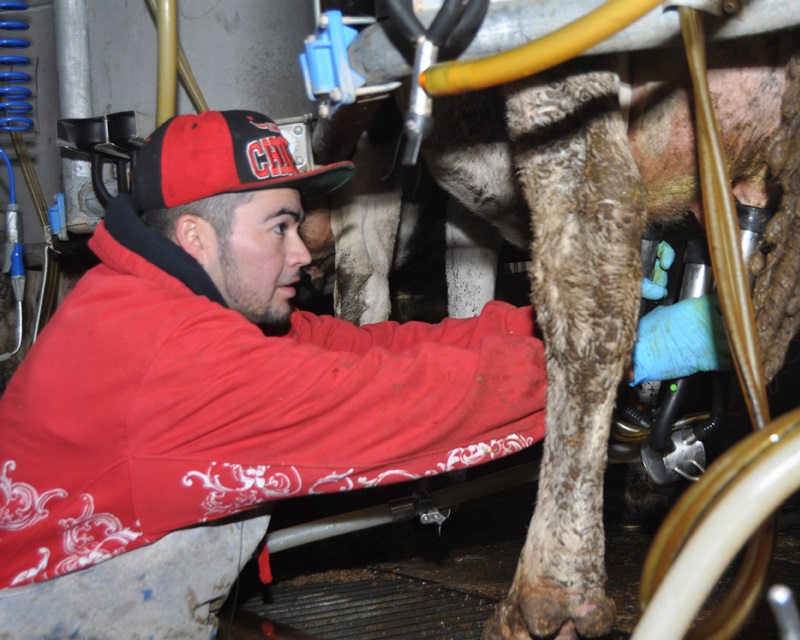 The New Mexico Court of Appeals ruled in June that excluding field and ranch workers from workers' comp protection is unconstitutional. It was the second victory for New Mexico's farmworkers in less than a year—and that's big news in a low-wage sector made up primarily of immigrant workers, where victories tend to be few and far between.
The first victory came last August when farmworkers finally started getting paid the correct minimum wage. Farmworkers were routinely, and incorrectly, paid the federal minimum when they were entitled to the New Mexican minimum wage, which is 25 cents per hour higher. It only amounts to $8 or $10 a week, but it is significant for these workers, who are among the poorest in the United States.
Thursday, Jul 16, 2015, 5:10 pm · By s.e.smith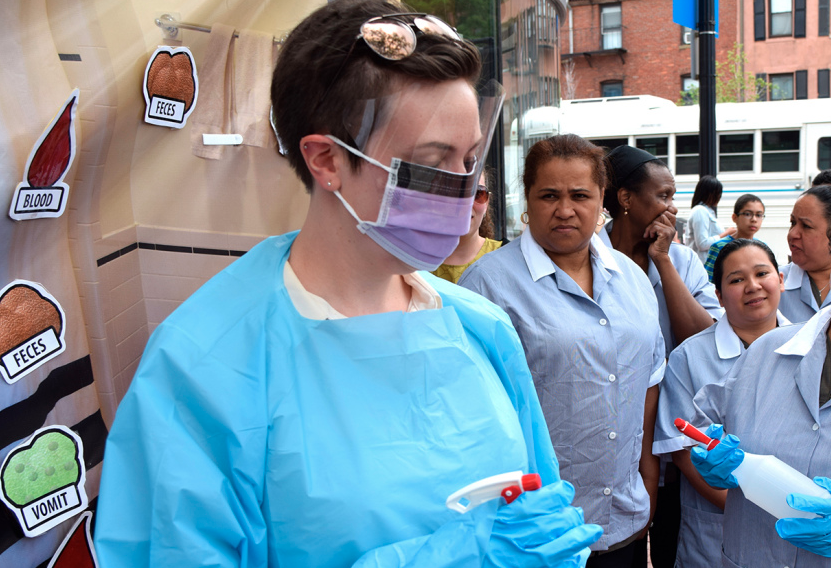 On June 25, workers at Boston's Wyndham Beacon Hill took to the streets to protest unsafe working conditions, the culmination of an escalating fight over biohazards at the hotel. They charge that they're routinely exposed to medical waste that endangers them, while the hotel insists this is not the case. The fight over working conditions at the Wyndham highlights the myriad dangers hotel workers say they face on the job—some of which could be seriously detrimental to their health.
The hotel is located in the city's West End district, a short walk from the historic city's downtown and in the heart of Boston's cluster of famous medical research and treatment facilities. That proximity is one of the hotel's advertising points, as it invites guests to stay while they or family members are seeking treatment and recovering from medical procedures, even offering them a discount. It's also the very thing that employees say may be endangering them. Workers filed an OSHA complaint in May alleging that the hotel exposes them to biohazards on a daily basis with inadequate protective equipment and an utter lack of protocols for handling such materials.
Workers report abysmal conditions that expose them to used sharps and other medical waste along with urine, vomit, blood and feces. The alleged ongoing problem and lack of response from hotel management led the non-union workers to begin organizing around the issue in 2014, reaching out to UNITE HERE Local 26, which represents hotel and other service workers, for assistance. While workers say they are considering unionization in the long term, their priority in the short term was getting safe working conditions and justice in the workplace.
Staffers at Local 26 were horrified by what workers told them. "In 30 years of dealing with the hotel industry," President Brian Lang of Local 26 told In These Times, "I have never heard of such atrocious conditions as have been described by the workers who work there."
Wednesday, Jul 15, 2015, 5:38 pm · By Sonia Singh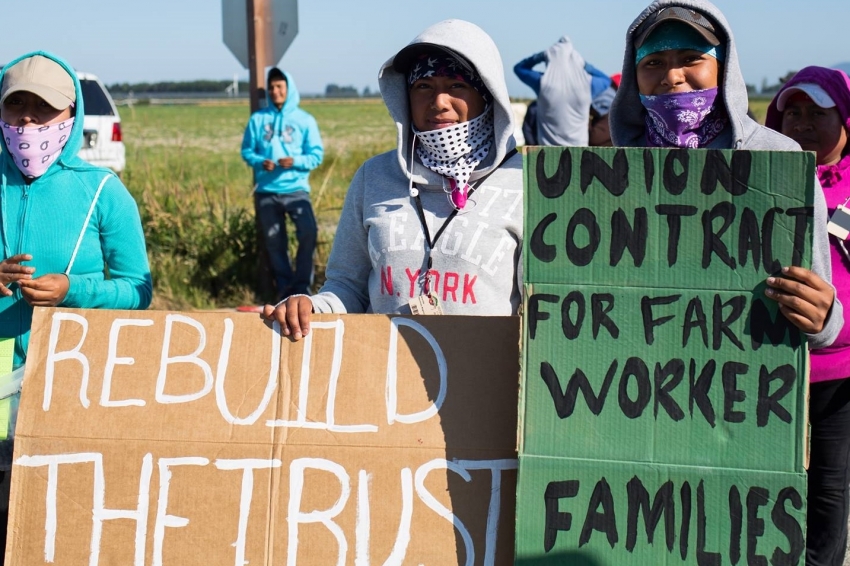 This post first appeared at Labor Notes.
It's been a whirlwind spring of precedent-setting wins for North America's migrant workers, who are making connections across borders.
After three months of strikes and protests, 30,000 berry pickers in Baja California, Mexico, won raises of up to $4 a day and rights to social security benefits and overtime pay.
These workers, mainly indigenous farmworkers from Oaxaca and Guerrero, allied with U.S. groups including the Farm Labor Organizing Committee and galvanized international support.
Wednesday, Jul 15, 2015, 3:45 pm · By David Moberg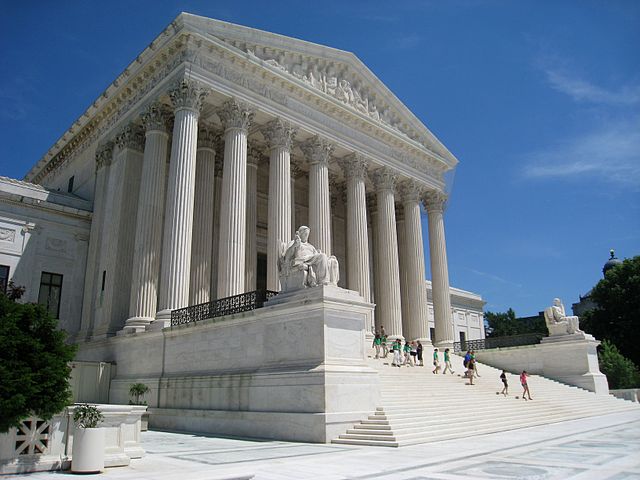 While most liberals were celebrating the Supreme Court's June rulings affirming both marriage equality and Obamacare, many labor leaders were already worrying about next year. They feared that the court might hear a case that many of them saw as potentially delivering a crippling blow to the union movement: Friedrichs v. California Teachers Association. And at the last minute, the court announced it would.
If a majority of the Supreme Court justices back the plaintiff in the Friedrichs case, promoted by a variety of right-wing, anti-union organizations, they will likely overturn the 1977 Abood v. Detroit Board of Education court decision. The Supreme Court ruled in Abood that when a public employee union provided benefits, such as collective bargaining or grievance processing, to both members and non-members alike, the non-members could be charged a "fair share" or "agency shop" fee to cover an appropriate share of union expenses. Critics of the Friedrichs petition say that if justices agreed with its complaint, the Supreme Court's action would have the effect of passing a national right-to-work law for all public employees (even though public employed collective bargaining rights are primarily matters of state law).
The two big teachers unions (American Federation of Teachers and the National Education Association) and the two biggest unions of other public employees (American Federation of State, County and Municipal Employees [AFSCME] and the Service Employees International Union [SEIU]), responded with alarm to the court's announcement: