Thursday, Jun 25, 2015, 12:37 pm · By Ava Tomasula y Garcia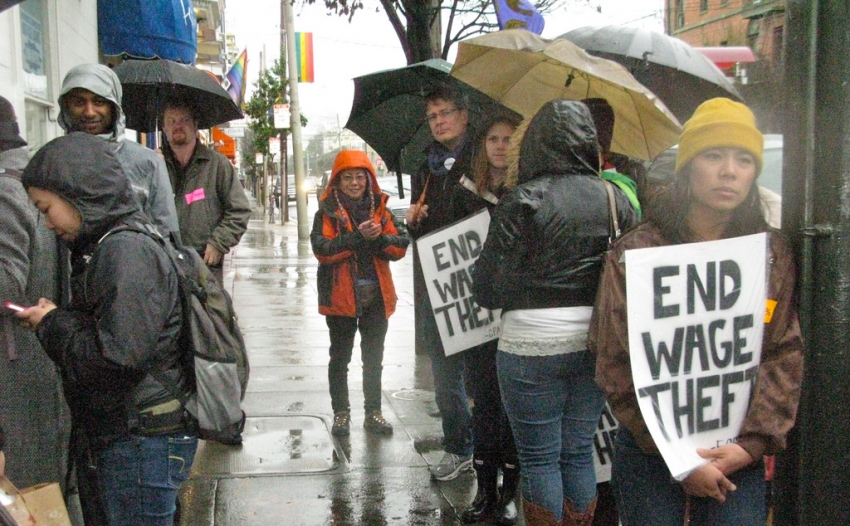 For many employers, wage theft makes good business sense. The probability of getting caught refusing to pay a worker overtime, shaving hours off their check or paying less than the minimum wage is low. And even in the small number of cases pursued by victims that see the inside of a courtroom, employees often only recover a fraction of what they're owed. A new law in Connecticut, however, aims to change this.
This Wednesday, Connecticut Governor Dan Malloy signed into law Senate Bill 914, a measure that will allow victims of wage theft to collect double the amount due them. By making the cost of breaking the law outweigh the cost of following it, business owners will be deterred from committing the crime in the first place.
"This is going to mean the transfer of millions of dollars each year from cheating employers to low-wage workers," says James Bhandary-Alexander, a lawyer for New Haven Legal Assistance who represents victims of wage theft.
Tuesday, Jun 23, 2015, 10:27 am · By Leo Gerard, United Steelworkers President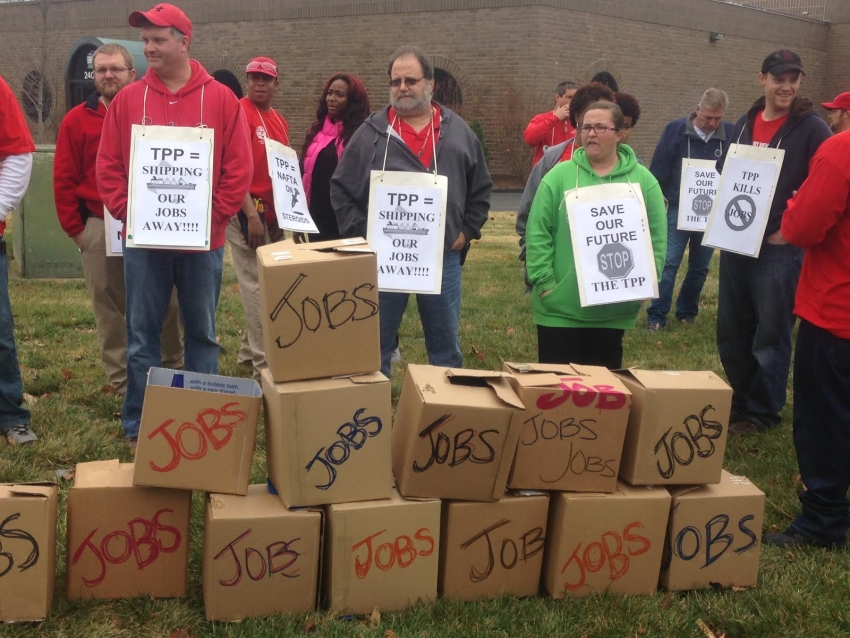 In a close vote last week, a majority in the U.S. House chose to continue glomming onto the same tired old broken-down trade tactics that have closed American factories, cost American jobs and caused massive trade deficits.
The majority voted to sustain for the next six years trade policies that failed American workers for the past 20. The majority abdicated Congress' constitutional responsibility to supervise international trade. Instead, they agreed to allow presidential administrations to once again negotiate trade deals in secret, then whip those corporate-appeasing, clandestine schemes through the Congressional approval process with absolutely no amendments, no changes, no improvements.
Monday, Jun 22, 2015, 5:12 pm · By Dan DiMaggio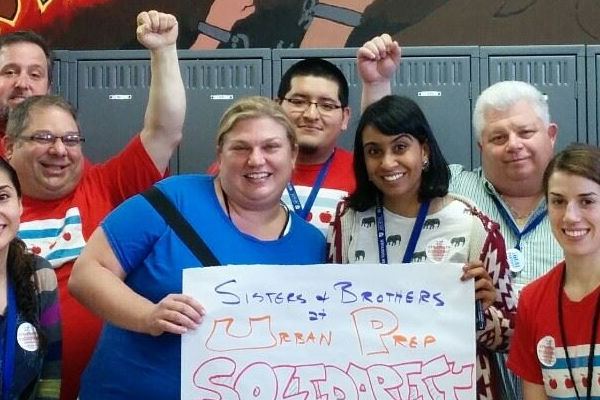 This post first appeared in Labor Notes.

The National Labor Relations Board's new election rule—aimed at reining in employers' power to stall union drives—went into effect April 14. Organizers say the rule has immediately shortened the wait between filing a representation petition and voting.
Bill Zoda, for one, is impressed. Per diem nurses at Brooke Glen Behavioral Hospital filed on May 20 to join the Pennsylvania Association of Staff Nurses and Allied Professionals. Ballots hit the mail June 9.
In the past, "you don't get an election that fast," said Zoda, an organizer with PASNAP. "In a week we had a hearing."
In theory, elections can now happen as fast as two weeks from filing.
In practice, so far under the new rule, the median wait between petition and election is 24 days, according to an analysis covering April 14-June 5 by the National Law Review. Compare that to 38 days in 2014.
A shorter wait helps workers hold out against management's anti-union tactics.
Saturday, Jun 20, 2015, 9:07 am · By Rachel Luban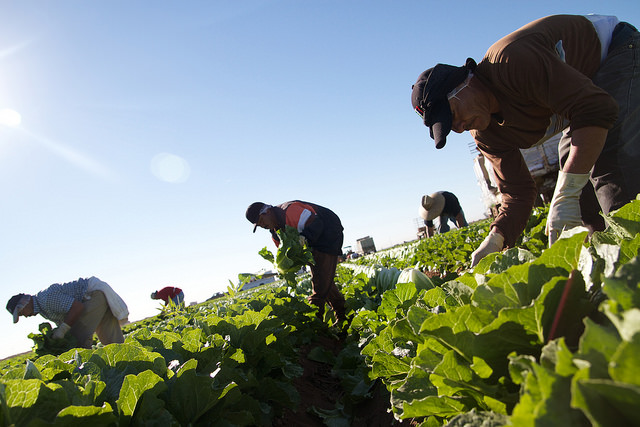 A historic farmworker uprising ignited this March in Baja California, Mexico. Thousands of crop pickers stopped work at peak harvest in the valley of San Quintin, a major source of the U.S.'s tomatoes, cucumbers and berries, demanding better pay, legally mandated benefits and an end to sexual harassment in the fields, among other improvements. The months-long movement received surprisingly little media attention on this side of the border—even though, according to a new documentary by Al Jazeera America, it is the first strike of this scale in Mexico in over a decade.
The short documentary, "Invisible Hands," offers some of the first footage for U.S. audiences of the front lines of the uprising. It shows police crouching behind barriers to shoot rubber bullets at protestors; it shows hundreds of workers crowded outside negotiations with growers and government representatives in nighttime darkness, their backs turned to the police; most important, it shows what the men and women behind the protests endure to get produce to U.S. grocery stores.
Thursday, Jun 18, 2015, 5:18 pm · By Arielle Zionts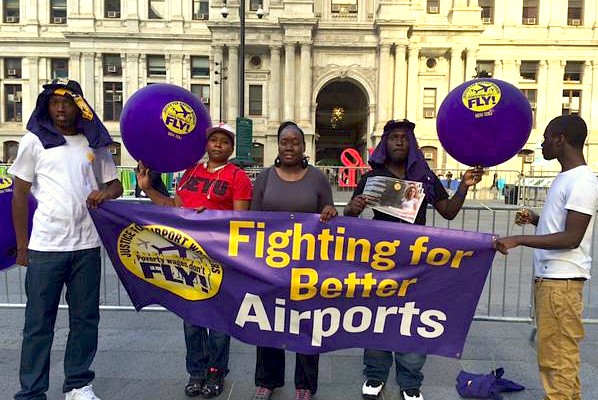 After over a year of worker strikes and solidarity from a labor and faith coalition, Philadelphia International Airport contracted workers received assurance that they can form a union without retaliation and will be paid a $12 minimum wage­­—up from rates as low as $7.25 per hour plus tips. This is a major victory for contracted workers across the country whose bosses and workplaces regularly take advantage of indirect employment arrangements to avoid responsibility for workers' rights and conditions.
Airports and airlines across the country often use contractors to hire baggage handlers, aircraft cleaners and wheelchair assistants. At Philadelphia's airport, around 2,000 staff members work for contractors. Because contractors in all industries commonly label their employees as part-time or temporary workers, those workers often don't receive benefits like healthcare coverage or paid sick leave. Workers directly employed by their workplace are more likely to receive benefits and be union members.
Thursday, Jun 18, 2015, 3:54 pm · By Karen Gwee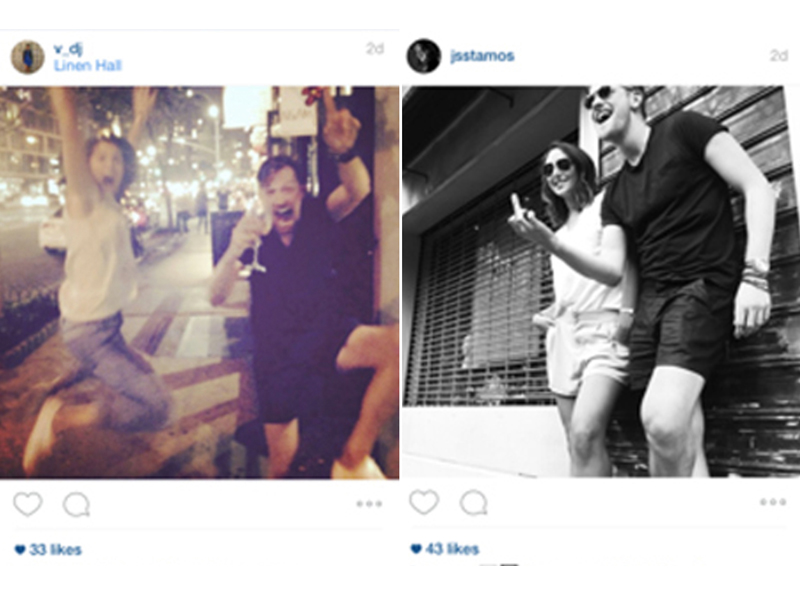 After telling members of his team they had lost their jobs, a J.Crew executive went drinking and celebrating with other employees at a bar, posting goofy photos and The Hunger Games jokes on Instagram.
The New York Post reported that Alejandro Rhett, vice president of men's merchandising at the struggling clothing company, delivered the news Wednesday to some of the 175 workers affected by the layoffs at the company's New York City headquarters. He then went drinking with other employees at the Linen Hall bar, their celebrations documented—and extensively hashtagged—on Instagram.
Thursday, Jun 18, 2015, 2:58 pm · By Crystal Stella Becerril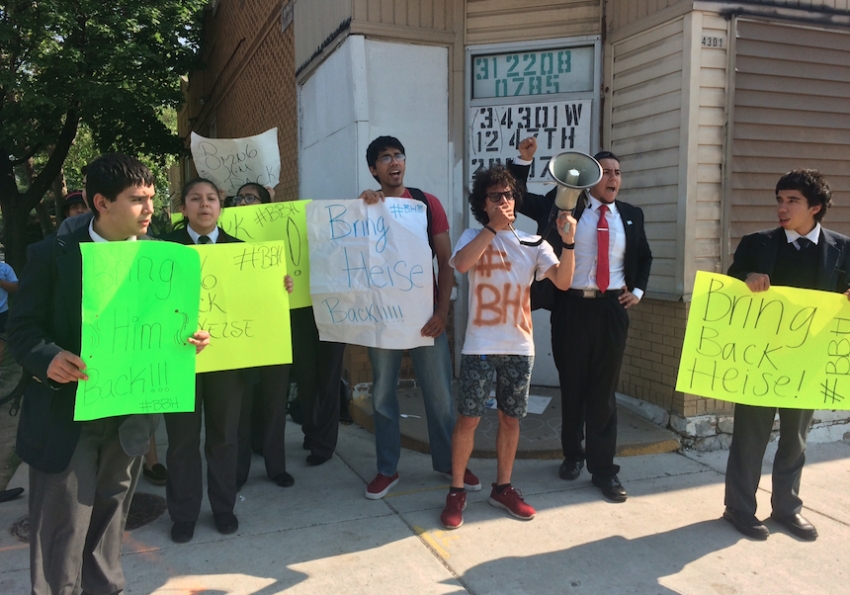 "Who do we want?! Heise! When do we want him?!" "Now!" students chanted on the afternoon of June 9 as commuters drove down 47th street in Chicago, occasionally honking their horns to show support and solidarity.
A young man in a suit and tie led the call-and-response chants, wielding a megaphone and firing up a small crowd of student protesters. That young man is Berto Aguayo, a graduate of Major Hector P. Garcia MD High School, an UNO Network charter school located in the Archer Heights neighborhood on the southwest side of Chicago. He's also a former student of English teacher Rob Heise, who was fired by the school on June 3.
Thursday, Jun 18, 2015, 1:35 pm · By Mario Vasquez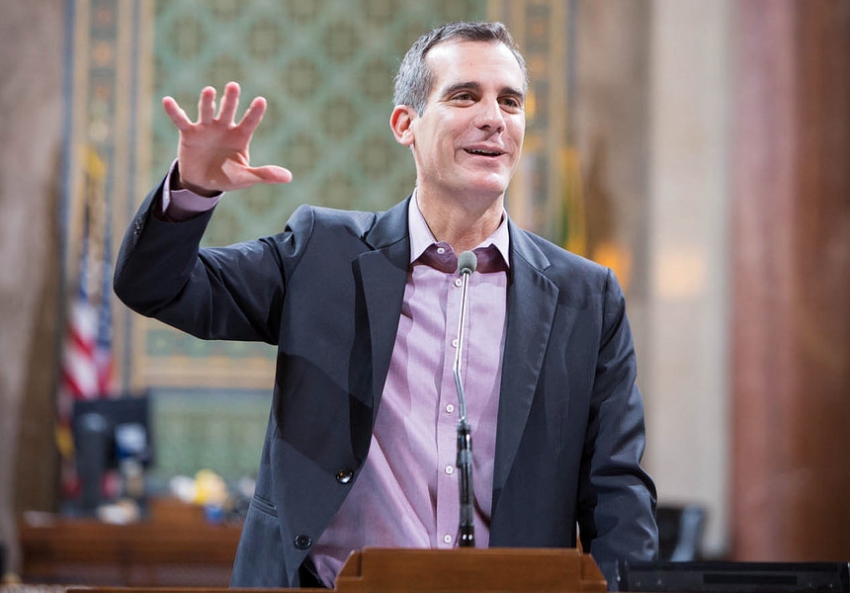 On June 13, Los Angeles Mayor Eric Garcetti signed the city's landmark $15 minimum wage into law. Although the city's workers won't be seeing that full figure until 2020, the new law will bring billions of dollars into the pockets of at least 36% of the workforce, and should be seen as the culmination of grassroots action supported by a coalition of labor groups such as Raise the Wage and Fight for $15.
But in the aftermath of its initial approval a few weeks ago, right-wing pundits, with help from mainstream news outlets, succeeded in pitting minimum-wage activists up against labor leaders, drumming up charges that the unions were acting to actually undermine the minimum-wage-increase movement. Rusty Hicks, the head of the Los Angeles County Federation of Labor, had to save face after he led a failed last-minute push to include a clause into the city's minimum wage ordinance that would allow employees the option of having their collective bargaining agreement supercede the local minimum wage policy.
Wednesday, Jun 17, 2015, 4:30 pm · By Stephen Lerner and Jono Shaffer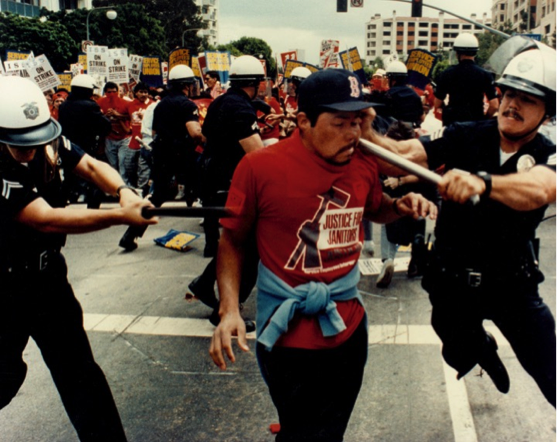 This article was originally published at TalkPoverty.
On June 15, 1990, the Los Angeles Police Department viciously attacked immigrant janitors who were striking for the right to organize in Century City, Los Angeles. In a story that is now all too familiar, the police claimed they were defending themselves. Only later, when TV news footage exposed the police clubbing non-violent strikers, was the self-defense claim discredited. Two women miscarried, dozens were hospitalized, and 60 strikers and supporters were jailed.
Wednesday, Jun 17, 2015, 2:57 pm · By David Bacon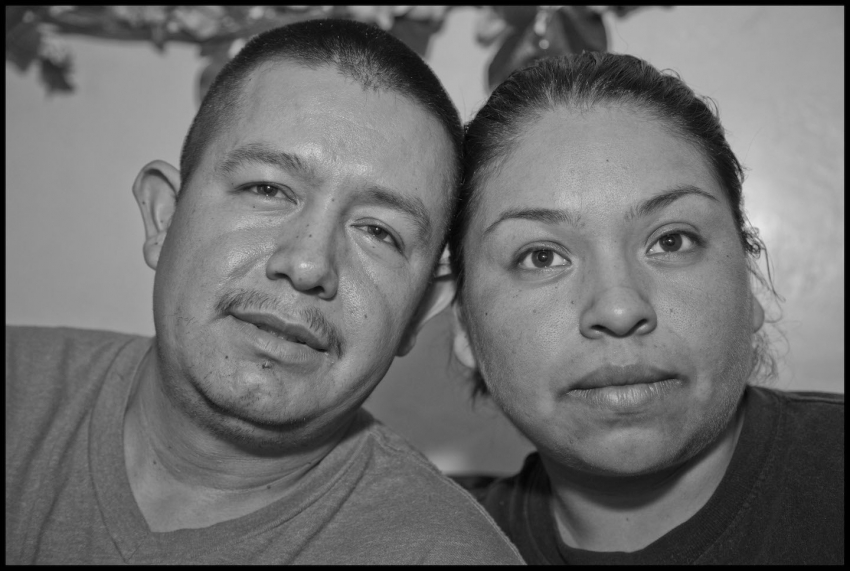 On May 18 in Fresno, California, the state's Court of Appeals for the 5th District ruled that a key provision of the state's unique labor law for field workers is unconstitutional. Should it be upheld by the state's supreme court, this decision will profoundly affect the ability of California farm workers to gain union contracts.
At issue is the "mandatory mediation" provision of the state's Agricultural Labor Relations Act. Using this section of the law, workers can vote for a union, and then call in a mediator if their employer refuses to negotiate a first-time contract. The mediator, chosen by the state, hears from both the union and the grower, and writes a report recommending a settlement. Once the Agricultural Labor Relations Board (ALRB) adopts the report, it becomes a binding union contract.
Associate Justice Stephen Kane, in a 3-0 ruling, said the law illegally delegates authority to the mediator. The Fresno district of the appeals court is well known for its conservative bent. United Farm Workers National Vice President Armando Elenes immediately announced that the union would appeal the decision to the state Supreme Court.
The case has attracted the attention and support of some of the country's most powerful conservative and anti-union organizations. Some have intervened to file briefs challenging the law. Others have joined with the grower in this case, Gerawan Farms, in an elaborate campaign to remove the United Farm Workers as the bargaining representative for the company's workers.