Thursday, Apr 14, 2016, 6:33 am · By Bill Fletcher, Jr.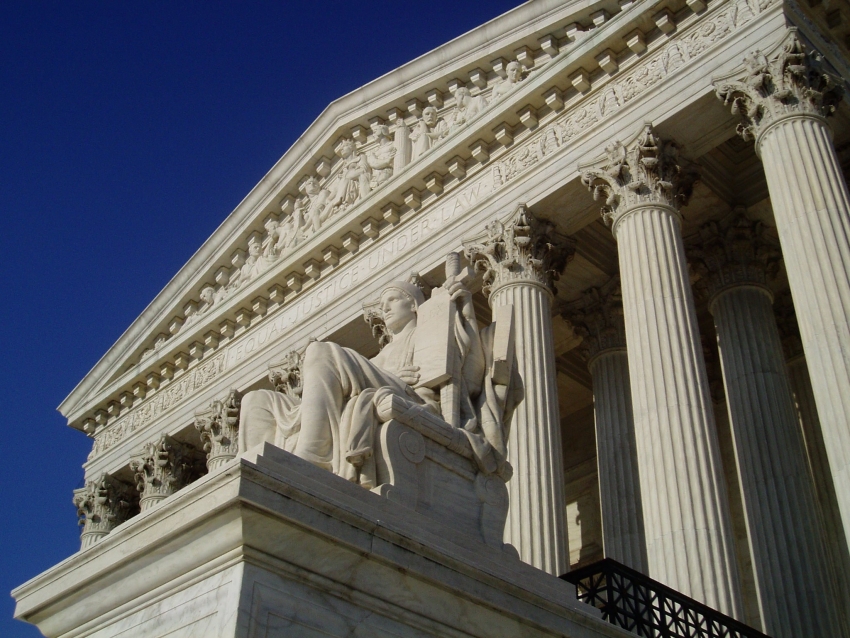 This article first appeared at BeaconBroadside.com
I was driving to a meeting listening to the news this morning and a special segment was announced. It was described as a discussion on the Supreme Court's decision on "union dues." The second time that I heard this promo I stopped my car and called the station. Though I did not reach a human being, I left a pointed message to the effect that this case—Friedrichs v. California Teachers Association—was NOT about union dues. So, if it was not about union dues, what was it about and why would the news station make such a basic error?
The Friedrichs case involved an effort taken by individuals against the California Teachers Association, the union that legally represented them for purposes of collective bargaining. The plaintiffs were arguing that they should not have to pay what is called an agency fee since that, allegedly, interfered with their Constitutional right to freedom of speech. The sophistry contained in this case is unbelievable, and the fact that it reached the US Supreme Court was, itself, unbelievable and unacceptable. This is the sort of case that should never have seen the light of day.
Tuesday, Apr 12, 2016, 1:24 pm · By Elizabeth Grossman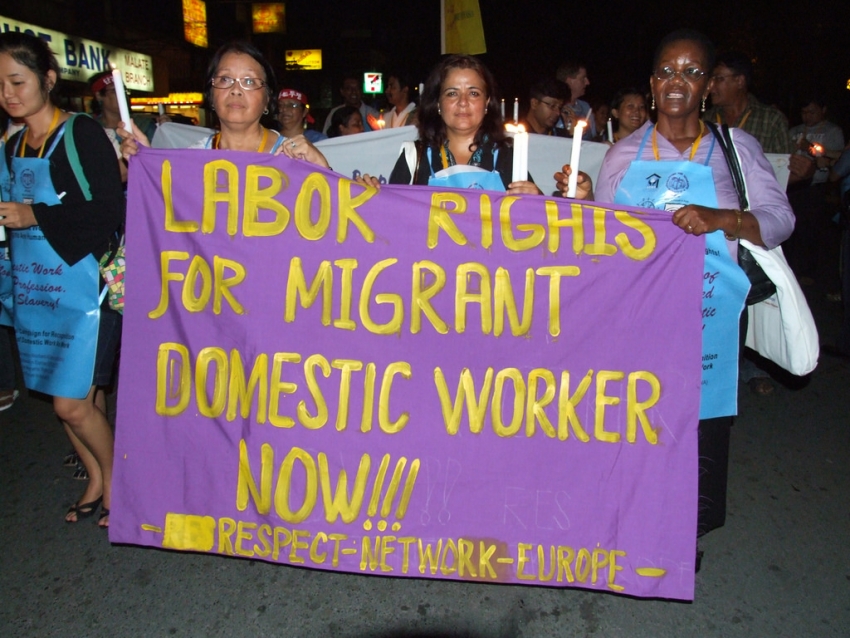 Ninety percent—or 60 million of the world's estimated 67 million domestic workers, some 80 percent of whom are women—labor without any basic social security protections, says a new International Labor Organization (ILO) report. Developing countries have the biggest gaps in coverage but wealthier nations are not immune to this problem.
According to the report, 60 percent of domestic workers in Italy are outside the country's social security system, as are 30 percent of domestic workers in France and Spain. And here in the U.S., domestic workers—housekeepers, house cleaners, nannies, child and elder care providers among others—are not covered by many of the basic workplace protections that most employees take for granted.
Tuesday, Apr 12, 2016, 12:26 pm · By David Moberg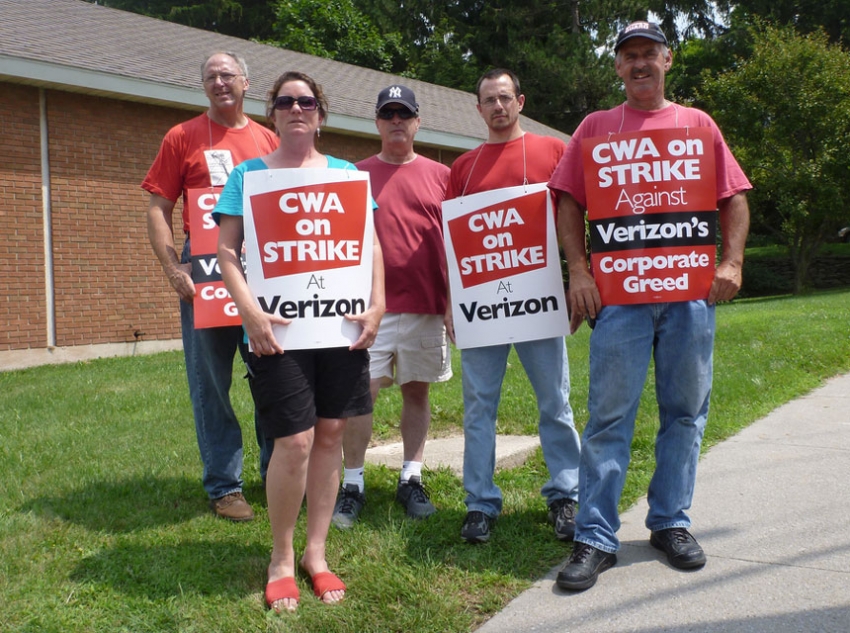 Leaders of the unions representing nearly 40,000 Verizon telecommunications workers in big cities and small towns from Maine to Virginia announced today that their members would be going on strike at 6 a.m. Wednesday without "a major change in direction" in contract talks now underway, according to Communications Workers of America (CWA) president Chris Shelton.
The unions—CWA and IBEW (International Brotherhood of Electrical Workers)—are fighting to keep high-quality working class jobs in the United States.
Friday, Apr 8, 2016, 6:22 pm · By David Moberg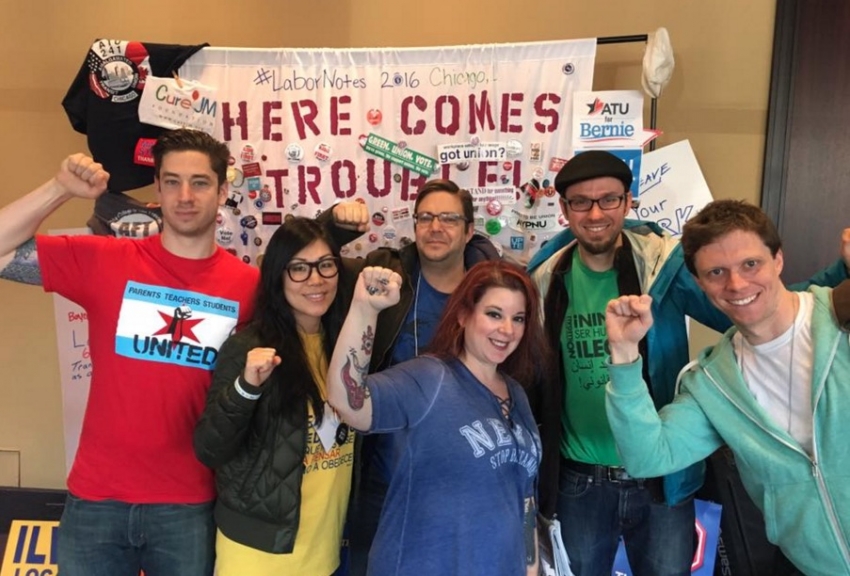 Every two years since 1981, the Detroit- and Brooklyn-based monthly newsletter Labor Notes has rallied union members and wannabe members, as well as some union staff and elected leaders, to join in a long weekend of sharing stories, strategies and wisdom gained in their workplace skirmishes.
They are the sort of people that bosses everywhere—and a few union officials—might call "troublemakers," and they have adopted the moniker as a badge of honor (including holding "troublemaker schools" and producing tactical handbooks for do-it-yourself organizers).
Last weekend, around 2,200 labor activists, from diverse age groups, industries, personal experiences and nations (about 150 visitors from 22 countries), gathered in Chicago for a packed line-up of workshops and plenary sessions in the largest of these conferences.
Wednesday, Apr 6, 2016, 4:59 pm · By Andrew Tillett-Saks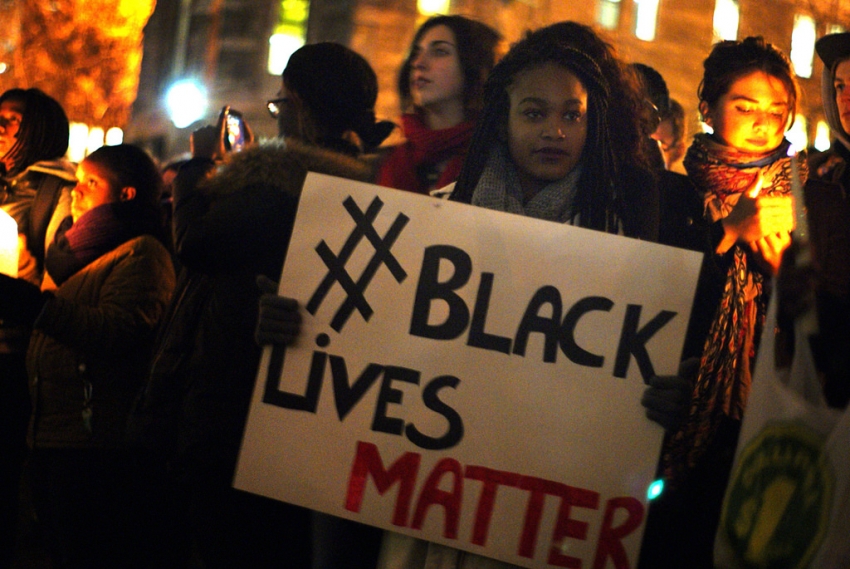 American unions appear on their deathbed. The percentage of workers in unions is at its lowest point in 75 years, corporate politicians have spread union-busting right-to-work laws to more than half the states in the union and labor's traditional strongholds (from manufacturing to the public sector) are rapidly being eroded. But an opportunity for labor to reverse its fortunes looms large in the Black Lives Matter movement, the largest wave of anti-racist struggle in recent memory.
If American labor is going to reverse its declining fortunes, it must begin with attacking American racism.
Racism is the lynchpin that holds corporate America together—as well as the shoals upon which American labor has sunk for centuries. Racism in America—past and present, from the colonial to the Trump era—divides workers so to prevent an effective united front. The American labor movement must seize the opportunity presented by the current upsurge and put its institutional support behind the anti-racist movement. It is more than a moral matter. Organized Labor's very existence depends on it—no American worker movement will succeed so long as racism remains rampant in America.
Activists in the labor movement must recognize that the question of which must take priority, anti-racist or labor struggle, is a false one. The two are inextricably intertwined and mutually dependent. The labor movement will never succeed without fighting and eradicating racism. Likewise, we cannot eliminate racism without eliminating the material inequality upon which it feeds. Racism is not a mere idea floating in the cultural clouds; it is an ideology rooted in and dependent on material inequality along racial lines. In the question of ending racism and economic inequality in America it is not one or the other, but both or none.
Wednesday, Apr 6, 2016, 3:12 pm · By Jeff Schuhrke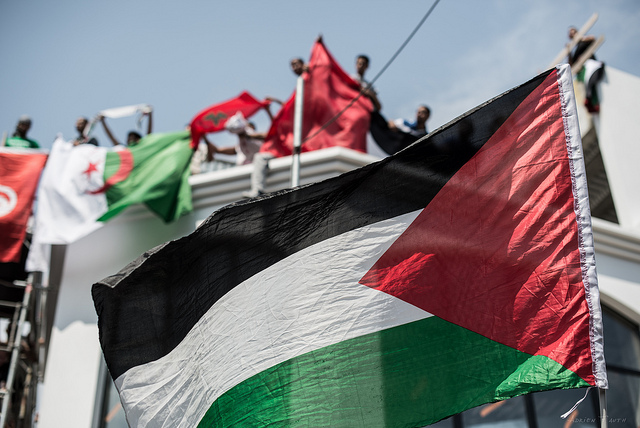 In an address on Middle East policy last month, Bernie Sanders —the first Jewish American to win a presidential primary—did something virtually unheard of in contemporary U.S. politics when he called for an end to "what amounts to the occupation of Palestinian territory" by Israel.
The only candidate to skip the pro-Israel lobby group AIPAC's annual conference in Washington, Sanders instead delivered a speech from Utah in which he acknowledged that "today there is a whole lot of suffering among Palestinians" due to the occupation.
"For a presidential candidate to break from the mold, like it seems maybe Sanders is doing, and to talk about the fact that the occupation needs to end, is something that's exciting to Palestinians," says Manawel Abdel-Al, a member of the general secretariat of the Palestinian General Federation of Trade Unions (PGFTU).
Tuesday, Apr 5, 2016, 12:44 pm · By Mario Vasquez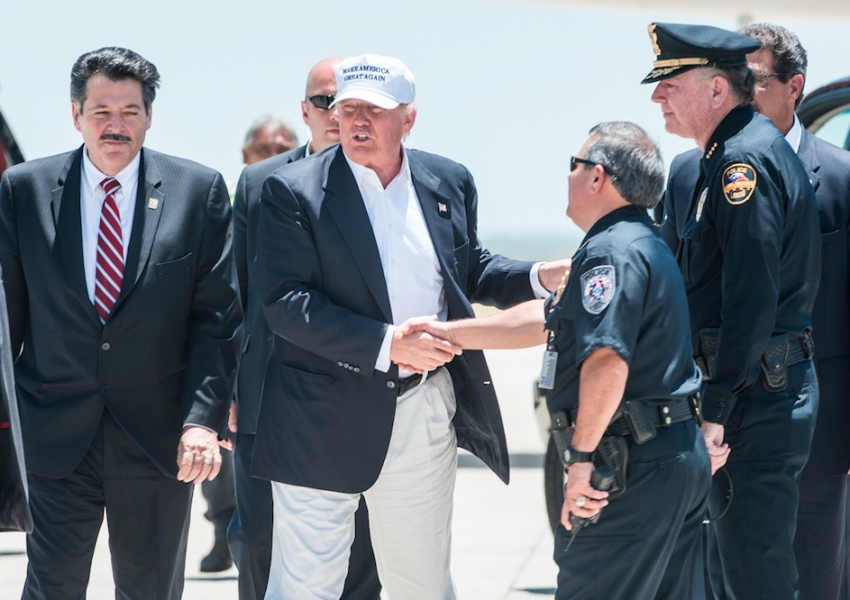 The National Border Patrol Council (NBPC), a union representing 14,000 U.S Border Patrol agents, endorsed Donald Trump for President on March 30. It was the union's first presidential endorsement. In response, Not1More, a national campaign for immigrant rights, released a statement last week calling for the AFL-CIO to end its affiliation with the border patrol agents, declaring "there's no room for hate in the house of labor."
Although the AFL-CIO is a "staunch ally to immigrant communities," according to Not1More organizer Marisa Franco, the NBPC's endorsement represents a "very clear dilemma inside of labor."
Tuesday, Apr 5, 2016, 11:44 am · By Anna-Cat Brigida
"Why did you bring me another black girl?" These were the words that greeted 16-year-old Claribeth Palacios Garcia from an employer when she moved to Medellín to work as a maid years ago. The hateful words stung, but didn't break her. Instead, she says, they left an emotional scar that fuels her fight for respect, dignity and labor rights for all Colombia's domestic workers.
"It's important [to know your rights] because a person can't demand [rights] they don't know [they have]," said Palacios Garcia. "I can't talk about what I don't know."
Palacios Garcia is one of more than 750,000 domestic workers in Colombia who often work long hours for low pay while enduring racism, sexual harassment and labor exploitation. 95 percent of these maids are women, many who flocked to urban centers such as Medellín, Bogotá and Cali fleeing violence from the country's decades-long civil war. The influx of labor workers and lax labor laws made these hardworking women vulnerable to abuse and exploitation. The current peace talks between armed rebels and the Colombian government, due to wrap up at the end of March, have shone a spotlight on the plight of victims of the civil war once again. Domestic workers have made key legislative and cultural advances in recent years, but they remain vulnerable to discrimination and exploitation.
Monday, Apr 4, 2016, 1:34 pm · By Peter Cole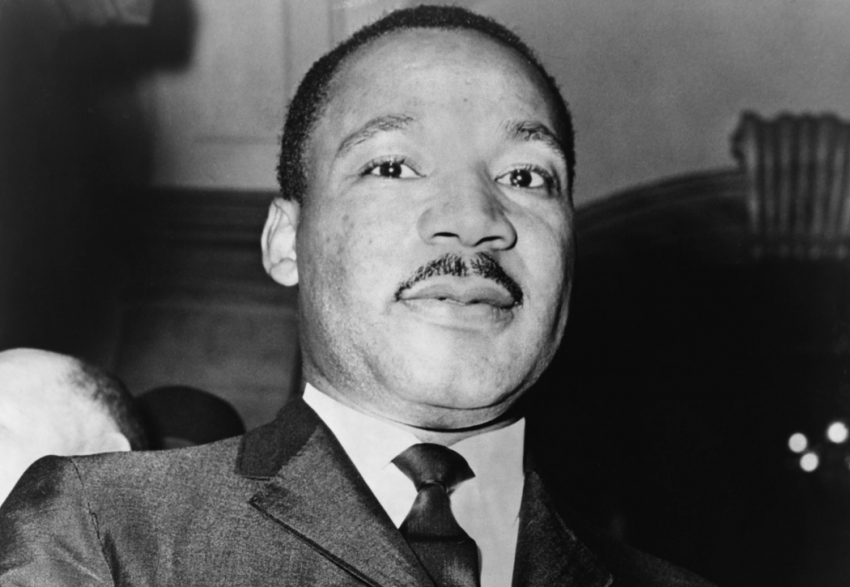 Today, April 4th, we remember the life and dreams of Dr. Martin Luther King, Jr. for on this day, in 1968, he was murdered by a white supremacist at the age of 39.
King literally died while fighting for a union, murdered in Memphis in 1968 while helping that city's sanitation workers, a majority of whom were black, organize a local of the American Federation of State, County, and Municipal Employees (AFSCME). King had repeatedly visited the city in his final months to aid the organizing effort. The city's elected officials were both racist and anti-union—no coincidence.
Though hardly unknown, King's deep commitment to unions remains largely left out of the traditional telling of his story. Indeed, many do not know he championed multiple union causes in addition to fighting to end white supremacy. In fact, King devoted a large part of his short life to advocating that workers—whether African American or not—join unions, for one of his foremost goals was eradicating poverty.
Monday, Apr 4, 2016, 1:10 pm · By Jonathan Rosenblum, Alternet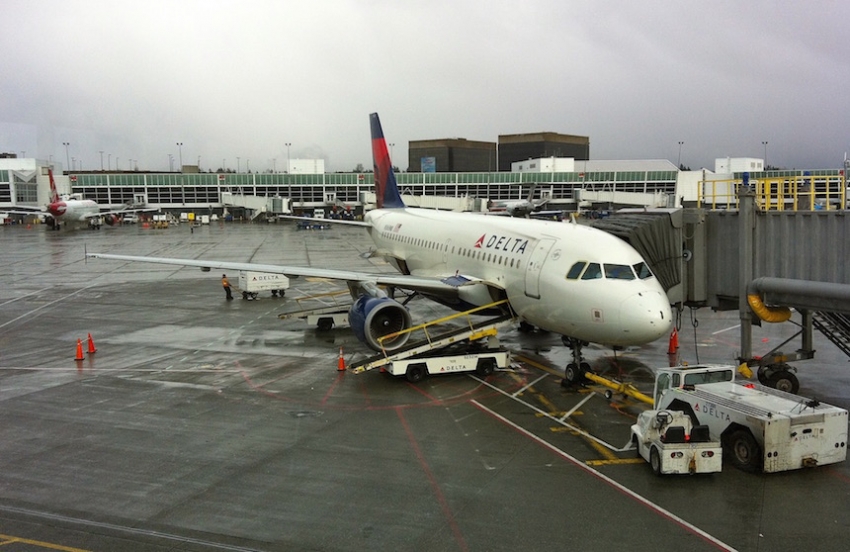 This post first appeared at Alternet.org.
Millions of workers across the country have won wage hikes under the banner of $15, and this week many more in California stand poised to join the parade. But three and a half years after the first picket sign was hoisted demanding $15 per hour and union recognition, very few minimum wage workers are actually getting paid that much. That's because among those crafting wage legislation, it's become an axiom that increases must be phased in over time for the sake of business and economic stability. California Congresswoman Loretta Sanchez reflects a prevailing establishment view that what's needed is "a reasonable, measured approach that would prevent sticker shock for businesses."
Newly adopted $15 minimum wage laws have been unveiled with great fanfare and media coverage. But lost in the headlines is the reality that because of phase-in schedules, workers won't actually see $15 per hour in their pay for three, five or even seven years—at which point the buying power will have been eroded by rent hikes and the rising cost of living.