Tuesday, Aug 4, 2015, 6:00 am · By Pam Galpern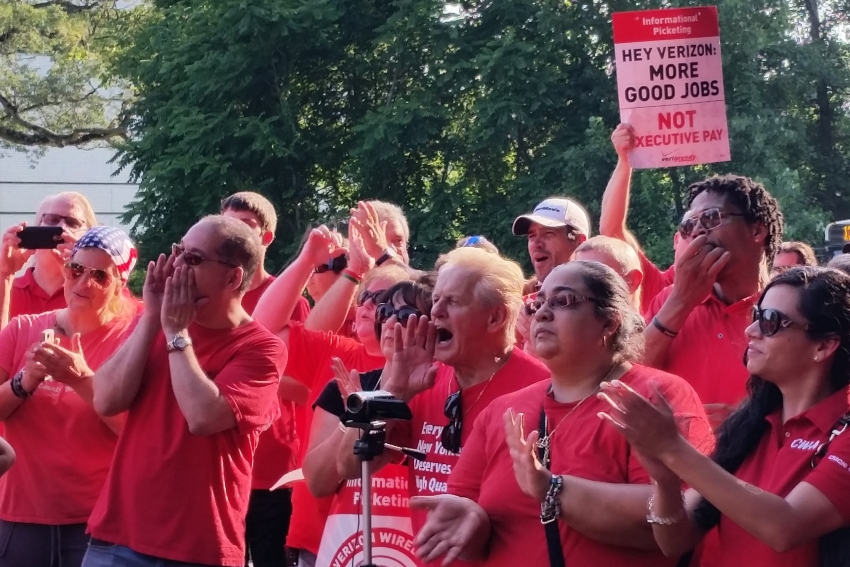 Verizon wants to drive down costs, shrink its union workforce even further, and get out of the landline business. But in negotiations this summer it's coming head-to-head with its unions, who want to protect gains won through decades of struggle.
The Communications Workers of America (CWA) and International Brotherhood of Electrical Workers (IBEW) began bargaining a new contract in June for 38,000 telecom workers in the Northeast from Maine to Virginia. (Full disclosure: The author works for Verizon and is a member of CWA.)
The company raked in $9.6 billion in profits last year, and paid its top five executives $44 million. Yet it opened bargaining with a laundry list of giveback demands.
It wants to eliminate job security language (which permits layoffs only in very specific circumstances), downsize retirement plans, allow more outsourcing, raise members' health care contributions, increase how long and how far workers can be transferred, and take away the unions' right to negotiate retiree health care.
Monday, Aug 3, 2015, 5:52 pm · By Moshe Z. Marvit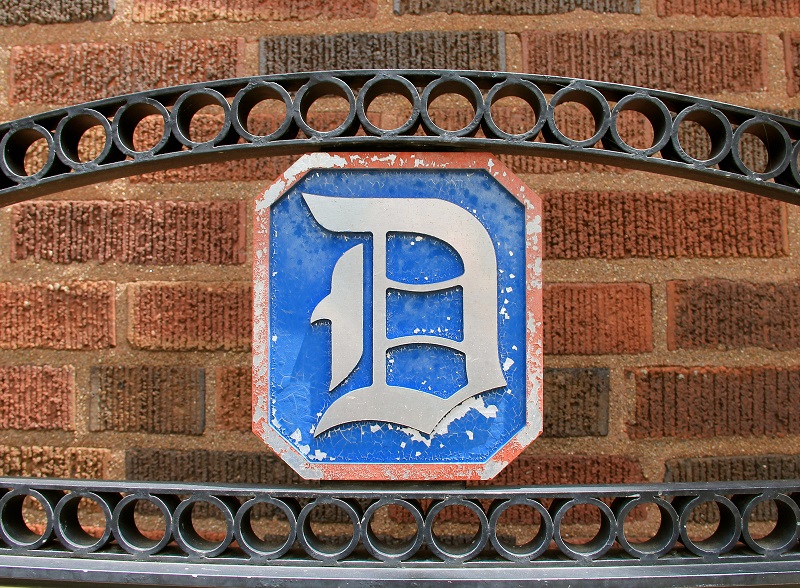 Union busting has become big business in America. It's so common that the run-of-the-mill variety hardly raises an eyebrow. Employers regularly hire anti-union consultants and hold captive audience meetings laced with subtle and not-so-subtle threats of disciplinary action or firings.
But every once in a while, employers try a novel union-busting tactic. In Pittsburgh, in a case that some have suspected is destined for the Supreme Court, Duquesne University has pushed the boundaries of employer intimidation.
On April 29, adjunct professors Clint Benjamin and Adam Davis testified under oath at a hearing at the National Labor Relations Board (NLRB). The topic was Duquesne University's unwillingness to recognize the union that their colleagues overwhelmingly voted for three years ago. After the hearing, the regional director of the NLRB held that Duquesne had to negotiate with the union the adjuncts voted to represent them, United Steelworkers (USW). (Full disclosure: I teach a course at Duquesne Law School, which is a part of Duquesne University, but was not part of this bargaining unit.)
Monday, Aug 3, 2015, 11:49 am · By Mark Dudzic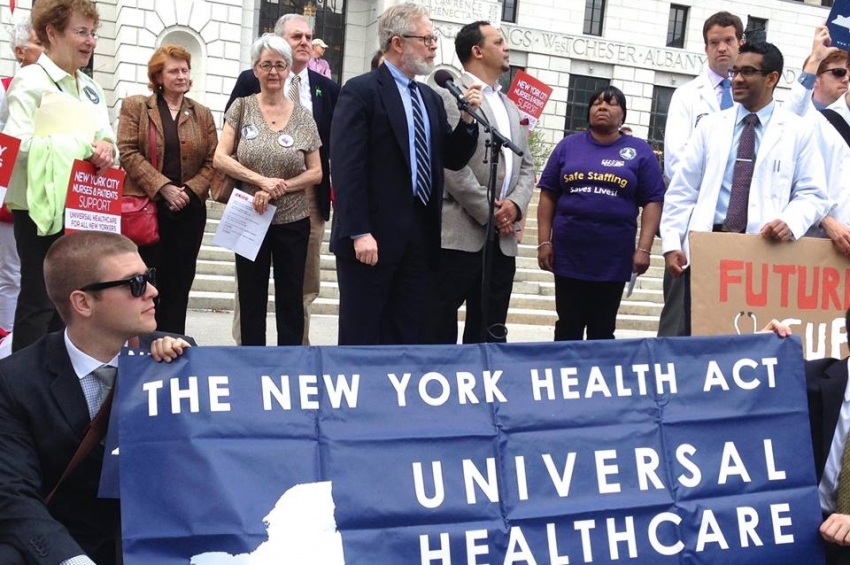 New York's State Assembly in May overwhelmingly passed a bill to establish a single-payer-style health care system.
The bill isn't expected to pass the Senate or be signed into law anytime soon. But getting it through, with unprecedented support from big unions, shows that state-level campaigns are still a fertile ground for health care justice organizing, despite the recent setback in Vermont.
The New York Health Act would eliminate private health insurance and cover all New Yorkers in a publicly financed, universal plan with no patient premiums, deductibles, or co-payments.
"We should be able to go to the doctor when we need to, without worrying whether we can afford it," said its sponsor, Assembly Member Richard Gottfried. "We should choose our doctors and hospitals without worrying about network restrictions."
Friday, Jul 31, 2015, 1:42 pm · By Bruce Vail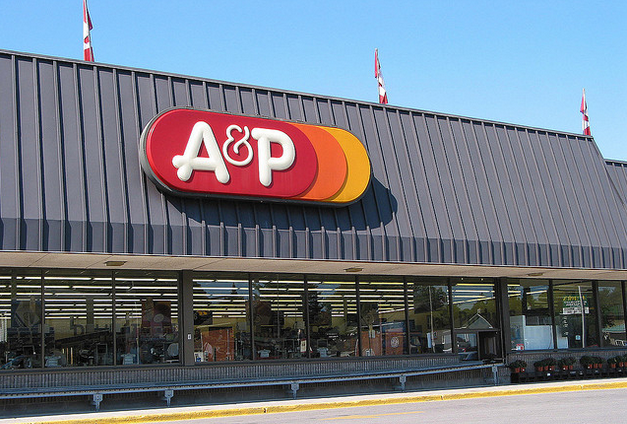 The mass firings of workers at the A&P supermarket chain is set to begin in mid-September, following action this week by a federal bankruptcy court approving a plan to quickly shed some 2,500 jobs at the ailing grocery retailer. The job cuts are a first step in a broader plan to dismember the entire 300-store chain, with expected job losses of 15,000 or more.
First on the chopping block are 1,018 workers at 10 stores in Pennsylvania and New Jersey whose jobs will be terminated September 19, according to official notices filed with state labor agencies. Those job cuts are to be followed in short order by an additional 15 store closings in Pennsylvania, New York and Delaware, where about 1,500 additional grocery workers will be forced on to the unemployment lines in the next two to three months, court documents detail.
Friday, Jul 31, 2015, 1:17 pm · By Marilyn Katz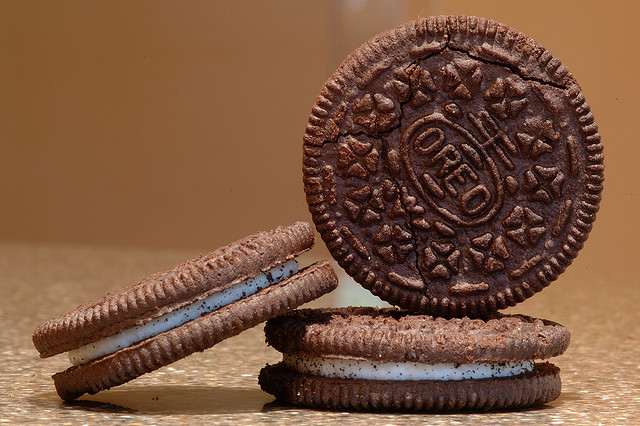 I may have to give up one of my longest-standing indulgences: the dunking of an Oreo cookie in cold milk (whole is preferred). I don't do this lightly, as I have been dunking those deliciously wicked rounds of chocolate and what I choose to believe is cream since I've been three.
Why give them up? Because this week, Irene Rosenfeld, the head of Mondolez (the food conglomerate based in Illinois that has Nabisco in its portfolio), a woman touted for breaking the glass ceiling upon becoming the head of Kraft Foods and then its spin off, announced that rather than invest $130 million in modernizing the plant in Chicago, where Oreos have been lovingly produced for the past 100 years, she will instead move the jobs to a new factory in Mexico. The result: a loss of 600 well-paying and community-sustaining jobs on Chicago's Southwest Side.
Wednesday, Jul 29, 2015, 4:50 pm · By Crystal Stella Becerril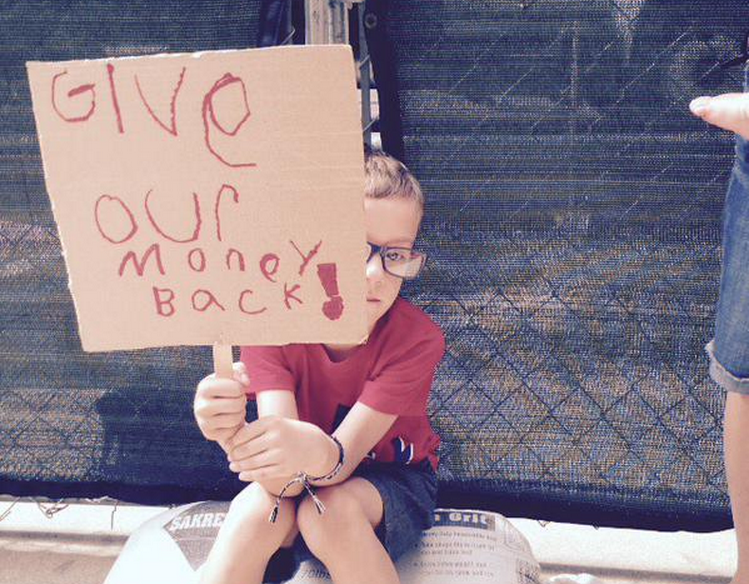 "We need teachers! We need books! We need the money that the banks took!" chanted a group of protesters outside of Chicago Public Schools (CPS) headquarters July 22. The crowd was protesting the Board of Education's recent decision to slash funding to Chicago schools by $200 million while paying massive amounts of debt to banks like Bank of America. This latest round of cuts includes cutting 1,400 positions—200 of which serve special needs students in the city.
In less than an hour, the crowd of about 200 people—most of them members of the Chicago Teachers Union (CTU)—had grown to over 500. Among them were teachers, parents and members of community organizations like Communities United, Brighton Park Neighborhood Council (BPNC), the parent group Bad Ass Moms (BAMs) and Fight for $15, all of whom rejected the cuts and accused the Board of Ed of being "broke on purpose."
"CPS is telling Chicago students and teachers that there is no money, but we see funding being shifted to charter schools and banks," said Rousemary Vega, a CPS parent, education justice activist and founding member of Bad Ass Moms. "CPS just spent 10 million dollars on new furniture! How can you say you don't have money for our schools but you have 10 million for new furniture? Now that's being 'broke on purpose'!"
Wednesday, Jul 29, 2015, 3:51 pm · By Dean Baker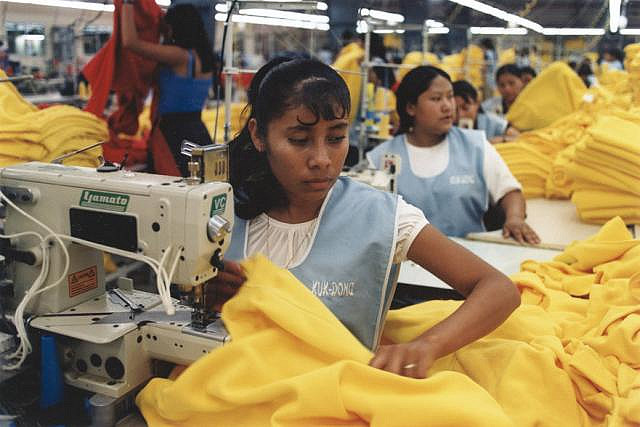 Does foreign investment make the U.S. economy more vulnerable?
Apparently the New York Times believes it does. A lengthy article on the growth of Chinese foreign investment told readers:
But the show of financial strength [foreign investment by China] also makes China—and the world—more vulnerable. Long an engine of global growth, China is taking on new risks by exposing itself to shaky political regimes, volatile emerging markets and other economic forces beyond its control.

Any major problems could weigh on China's growth, particularly at a time when it is already slowing.
Usually investing in other countries is thought to both increase returns to the country doing the investment and diversify risks, since it is unlikely that foreign countries will be subject to the same problems that may be hitting China (or the U.S.) at the same time. It is interesting that the New York Times seems to hold the opposite perspective.
Wednesday, Jul 29, 2015, 11:35 am · By Michael Arria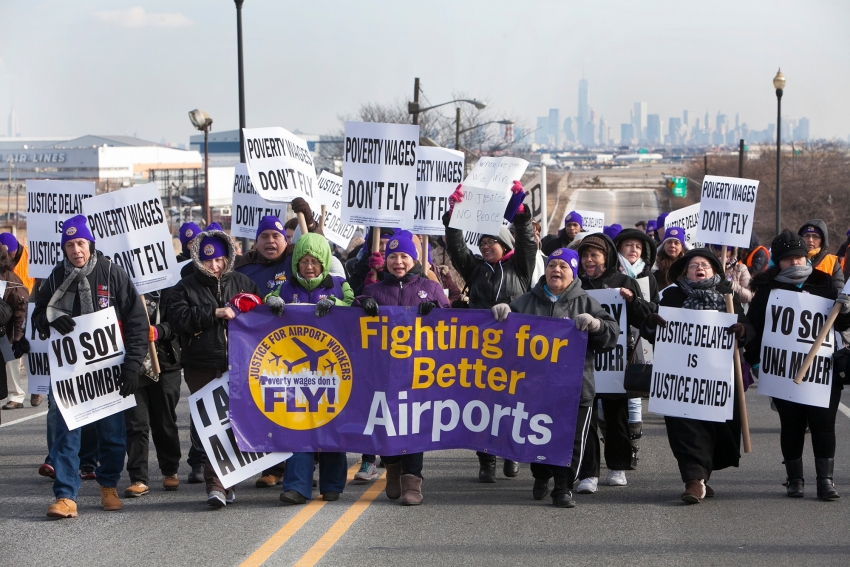 Twelve hundred workers at New York's John F. Kennedy and LaGuardia airports may soon be negotiating a union contract after pressuring management with the threat of a strike. On July 22, Local 32BJ of the Service Employees International Union (SEIU) announced that the workers' employer, Aviation Safeguards, has agreed to remain neutral as they seek to join the SEIU through a "card check" recognition process.
The day before the agreement, employees had vowed to walk off the job and potentially strike. The subcontracted baggage handlers, security guards and wheelchair attendants have been fighting for higher wages and better working conditions for years. In February, a number of Aviation Safeguards baggage handlers went on strike at JFK, despite a threat of termination. Rahim Akhbarally, who has worked for 21 years at the company, told CNN, "We fight, we win. If we don't fight, we're not going to win."
Tuesday, Jul 28, 2015, 6:30 pm · By Luke Niebler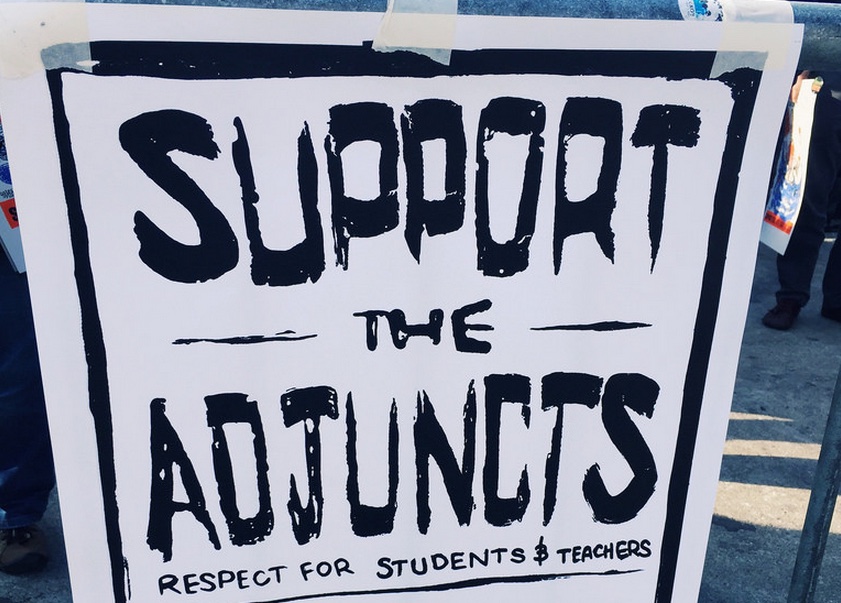 On my first day teaching at the Community College of Allegheny County in Pittsburgh, I was wracked with the normal anxieties of a new college instructor: What if the students don't like me? What if my lesson plan falls apart? Where exactly is the copy machine? What if my hair looks stupid?
However, as I adjusted to life as an adjunct instructor with a semester-to-semester contract, my questions quickly changed: What if my classes don't run and I can't make rent? How do I get from class to my next job in time? How do I meet with students without real office space?
After years of organizing, we have won our union election, and hopefully I can get back to worrying more about lesson plans than my financial stability. On July 14, 86% of my colleagues voted to form a union with the American Federation of Teachers (AFT), effectively unionizing over 800 instructors across CCAC's four campuses. And while this is only the first step before we head to the bargaining table, it represents a huge victory for academic labor and contingent faculty.
Tuesday, Jul 28, 2015, 5:30 pm · By Michael Arria
As protesters handed out flyers to pedestrians walking outside of a Manhattan Uniqlo store on July 15, the chant of "From China to the USA / Worker solidarity!" rang out on 34th Street. The action, organized by Workers United (WU), an affiliate of the Service Employees International Union (SEIU), was taken in solidarity with the workers at China's Shenzhen Artigas Clothing and Leatherware factory, a major contract supplier for Uniqlo, the popular clothing retailer owned by Japan's Fast Retailing Co.
Such acts of international solidarity are not an everyday occurrence within the American labor movement. But WU members were responding to what the Chinese workers say is a particularly egregious case of employer abuse.