Monday, Apr 20, 2015, 5:48 pm · By Alex Lubben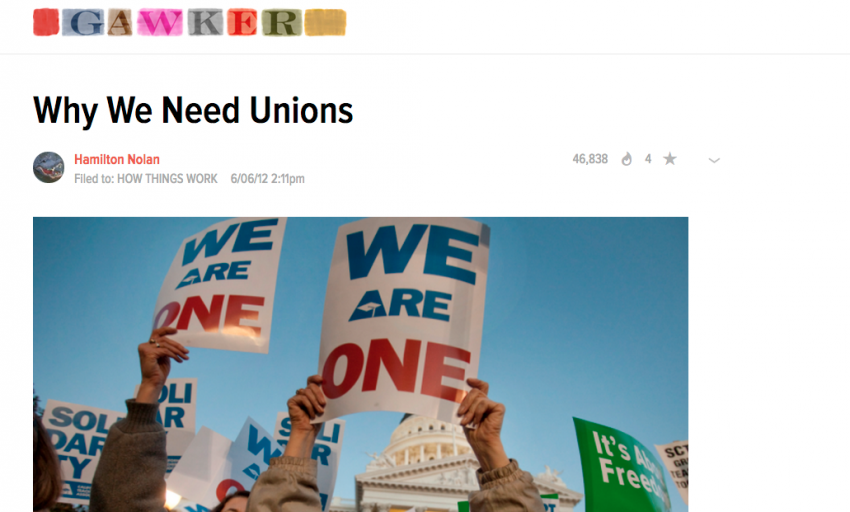 Gawker, a new media outfit that's the nation's only reliable source for news about In These Times editors accidentally burning their genitals, announced last week that they're looking to form a union.
Unions, which were once fairly common in print media, have yet to catch on in new media. Gawker's Hamilton Nolan hopes to change that. He's been writing about labor at Gawker for some time now. (And like many of our labor writers noted before we unionized at In These Times last year, Nolan says he's had no good answer for sources who have often asked him why he's not in a union.) While most think of the site's irreverent and occasionally vicious snark as its principal contribution to political and cultural discourse, Nolan has proven a strong voice on the Left alongside the site's stream of celebrity gossip and annotated YouTube videos.
And it's effective. Gawker's voice is well suited to calling out corporate power and articulating political nuances, all while remaining readable and relatable to a set of readers who have grown comfortable with the site's casual voice.
Saturday, Apr 18, 2015, 12:40 pm · By Rachel Luban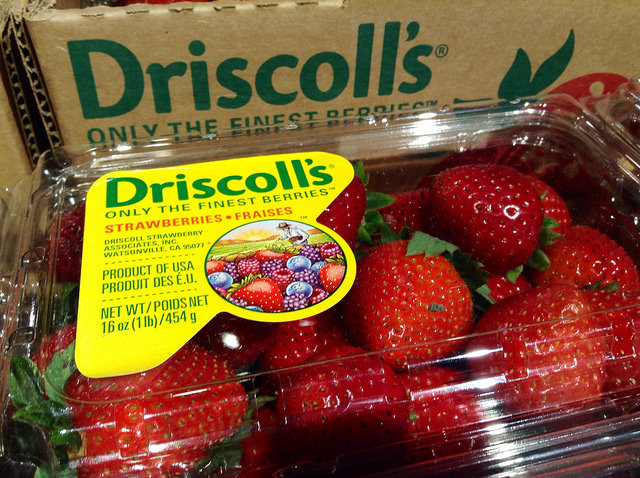 Driscoll's may be the U.S.'s most recognizable brand name on strawberry, raspberry, blueberry and blackberry cartons. Its conventional and organic berries can be found year-round everywhere from Sam's Club to Whole Foods. To keep its berries stocked far and wide, the company uses a vast supplier network stretching from Canada to Argentina.
But some of those suppliers are coming under fire for allegedly abusing workers, in the U.S. and Mexico. One Driscoll's grower has spent weeks embroiled in a major farmworker protest, while a nearly two-year boycott against another grower recently intensified. Workers in both disputes have called for a boycott against the company.
Friday, Apr 17, 2015, 10:59 am · By Elizabeth Grossman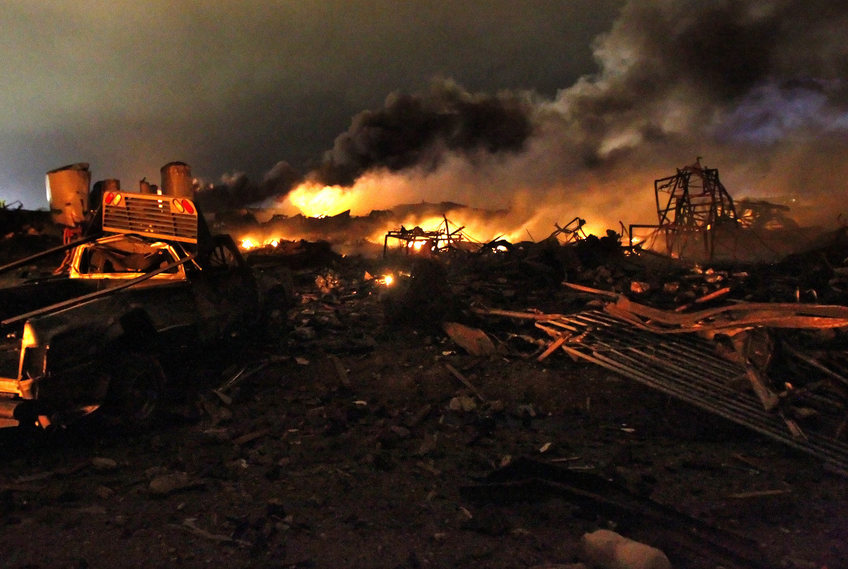 On April 17, 2013, a massive fire and explosion tore through the West Fertilizer plant in West, Texas, killing 15 people—including 10 volunteer firefighters—and injuring more than 200. Fueled by the 30 or so tons of explosive ammonium nitrate on site, the blast ripped through the wooden building and its flammable contents, destroying three nearby schools, a nursing home and devastating 37 city blocks. A federal government investigation into the disaster found enormous gaps in information made available to first responders and the community about the plant's highly hazardous materials – information that could have prevented or reduced the loss of life, injuries and damage.
Two years after this catastrophe, the Center for Effective Government has taken a look at the disclosure practices around such hazardous chemicals—and found what's required of these facilities to still be "inadequate and insufficient."
Thursday, Apr 16, 2015, 5:57 pm · By Andrew Elrod
From Canarsie, Brooklyn to Lincoln Center, workers in New York rallied in support of a $15 minimum wage on Wednesday.
The most recent day of action in the nearly three-year old Fight for $15 campaign included protests from racial justice activists and workers across industries, and ended with a raucous finale in Midtown Manhattan, where an estimated 10,000 construction workers took the streets against the exertions of both police and union leaders.
"This movement has grown all over this city, from child care workers, to home care workers, to car wash workers, and now construction workers," said Jonathan Westin, Executive Director of New York Communities for Change, during the afternoon rally organized by the New York City Building Trades Council. Westin's organization, a former ACORN affiliate, is one of the principal groups behind the fast food protests in New York City, along with the Service Employees International Union (SEIU).
Thursday, Apr 16, 2015, 3:58 pm · By Rebecca Burns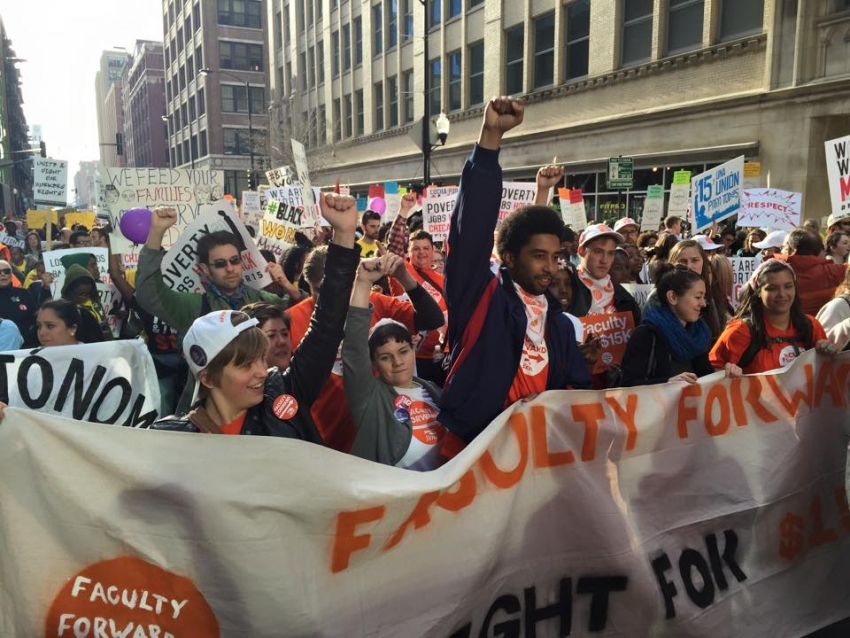 After speaking to an adjunct instructor participating in yesterday's massive low-wage worker protests, I thanked her for her time and walked away. Another adjunct, who had been listening on the sidelines as my interviewee talked about her 12 years piecing together part-time work at five different Chicago colleges, approached and introduced herself. "I just wanted to make sure we connected today," she said to my interviewee before adding knowingly, "It sounds like we have a lot in common!"
A key component of any union drive is workers' recognition that their problems on the job are shared rather than unique ones, and that they therefore must be solved by collective action. Organizers involved in the growing effort to unionize contingent faculty say that this is often an especially difficult realization for highly educated, low-wage workers who are trained to pursue individual success by putting their noses ever harder to the Ivory Tower's grindstone.
But that appears to have changed as of yesterday's walkouts and rallies in more than 200 cities nationwide, in which adjuncts joined fast-food, homecare and other low-wage workers in what organizers say was the largest such protest in history. The day's actions marked a new phase of the "Fight for 15," which will head to colleges as contingent faculty press for union representation, a wage bump and greater job security.
Thursday, Apr 16, 2015, 1:22 pm · By Arielle Zionts and Micah Uetricht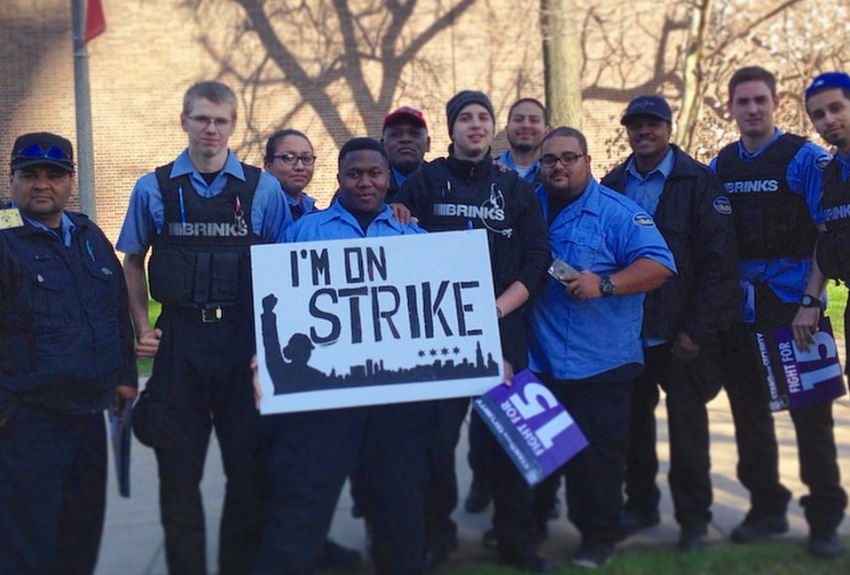 The Fight for 15 campaign says that yesterday's protests in over 200 cities around the country were the biggest yet since the movement began almost three years ago. Organizers say their numbers have grown larger with each round of strikes. But they have also expanded in ways that no one, including the campaign's staffers, thought possible—like when nearly 50 drivers and security guards employed by Brink's, the global security and logistics company known for its armored bulletproof trucks, suddenly decided to walk off the job early Wednesday morning.
The workers say they made the decision that morning after reaching out to an organizer from the campaign a few days before April 15. After making the decision at their headquarters that morning, they were joined by a group of Fight for 15 staffers and supporters. The workers attempted to present a signed letter to management stating they were going on strike, but messenger John Downes says managers refused to come to the door. Workers have not yet received a response from management.
At 5:00 a.m. this morning, a group of about 20 Fight for 15 staffers and community supporters accompanied a group of around two dozen workers back to work, a tactic which the movement has used after every strike. Workers attempted to deliver another letter to management today that explained their strike, but management instead called the police on the group. Staffers say the workers did, however, successfully return to work.
Thursday, Apr 16, 2015, 9:21 am · By David Moberg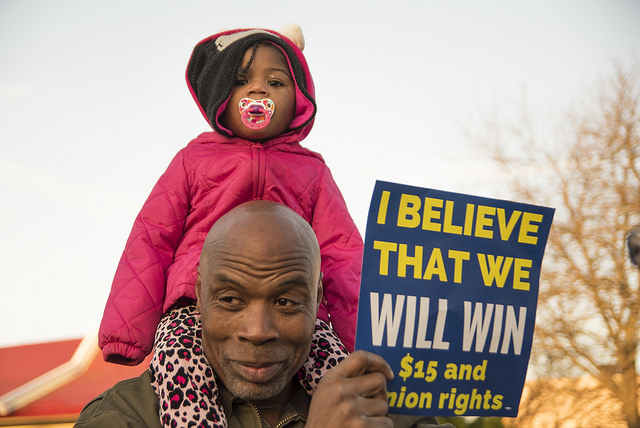 A hand-lettered placard, reading "McDonald's: Stop Fooling Around, $15 and a union," caught the spirit of the crowd of at least 3,000 protestors in Chicago for a march to a McDonald's restaurant in the downtown Loop area connected to the Chicago Board of Trade. In 236 cities in the U.S. and roughly 100 more around the world from Sao Paulo to New Zealand and from Glasgow to Tokyo, according to protest spokespeople, fast food and other low-wage workers joined together to pressure employers like McDonald's to raise their workers' pay.
Organizers claimed that it was the largest protest by low-wage workers in U.S. history. And it may very well rank as one of the broadest global worker protests ever undertaken against multinational corporations—one reinforced by recent investigations and lawsuits in Europe against the company for violations of labor, health, safety, tax and other laws.
Tuesday, Apr 14, 2015, 6:42 pm · By Sonia Singh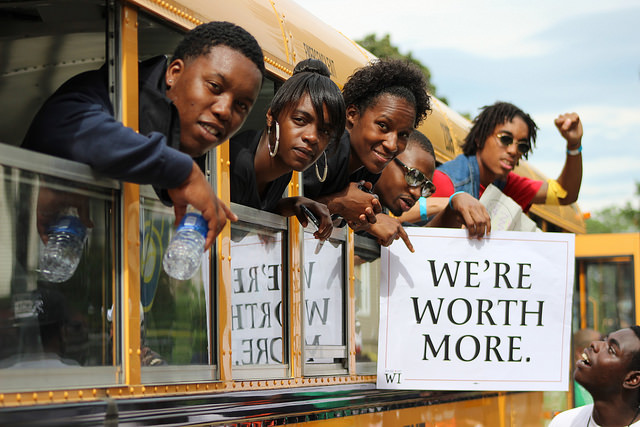 As thousands of low-wage workers are rallying and striking Wednesday, demanding $15 an hour and a union, their high-profile mobilization has already inspired workers in a range of industries far beyond fast food.
From school support staff to UPS part-timers, Fight for 15 is raising the confidence of unions to put bold demands on the bargaining table for their own low-wage members—and to back up those demands with community action.
The surge in low-wage worker organizing is also fueling campaigns to boost the minimum wage, spreading the momentum for $15 to new cities, including a wave of action across Canada.
Tuesday, Apr 14, 2015, 5:57 pm · By Leo Gerard, United Steelworkers President
This is no plea for pity for corporate kingpins like Walmart and McDonald's inundated by workers' demands for living wages.
Raises would, of course, cost these billion-dollar corporations something. More costly, though, is the price paid by minimum-wage workers who have not received a raise in six years. Even more dear is what these workers have paid for their campaign to get raises. Managers have harassed, threatened and fired them.
Despite all that, low-wage workers will return to picket lines and demonstrations Wednesday in a National Day of Action in the fight for $15 an hour.
Monday, Apr 13, 2015, 1:37 pm · By Erik Loomis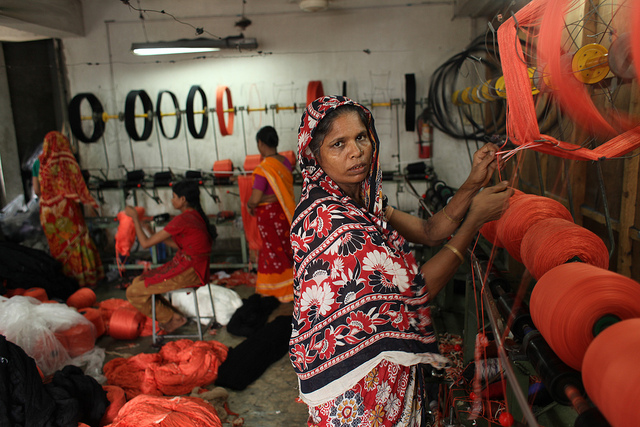 A small news item in the Mumbai Mirror in late October caught my attention. A zipper sweatshop in the city of Ghatkopar was the home of several young boys who were routinely beaten and tortured by the owner. The story quoted an 11-year-old rescued from the sweatshop. Speaking about owner Rajdeep Chaudhary, the boy said:
He used to hit the other two boys with a thick stick. Just like me he did not take them to a doctor even when they were bleeding badly. Finally one day last month, the two boys somehow managed to escape from the factory. Chaudhary did not even bother to look for them, but he started locking me up during the nights after that.
The boys in this sweatshop worked 16-hour days, were rarely fed and even starved, and lived in horrible conditions all too common in the global apparel industry. Such conditions are, if anything, encouraged in the industry by the multinational corporations who have long looked to avoid responsibility for their actions by outsourcing and subcontracting work to ever poorer nations.