Friday, Mar 16, 2018, 4:57 pm · By Sarah Jaffe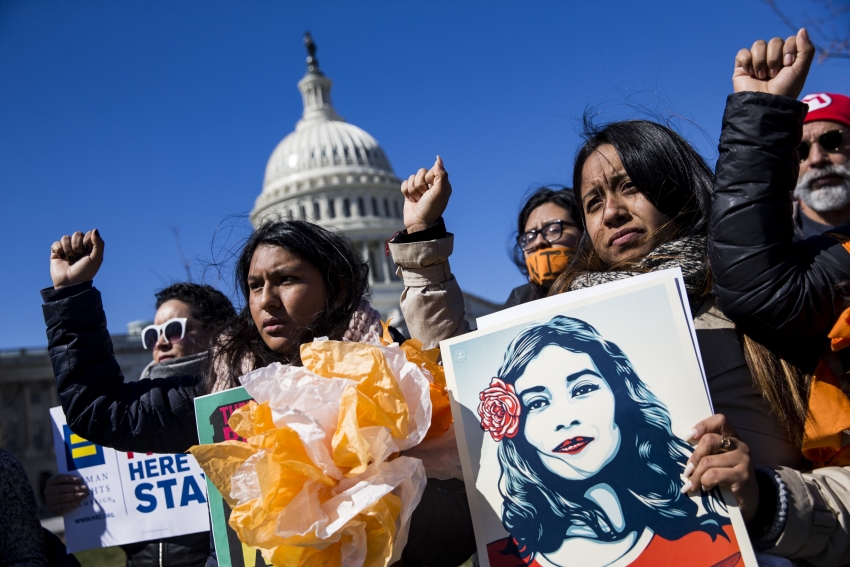 Welcome to Interviews for Resistance. We're now into the second year of the Trump administration, and the last year has been filled with ups and downs, important victories, successful holding campaigns, and painful defeats. We've learned a lot, but there is always more to learn, more to be done. In this now-weekly series, we talk with organizers, agitators, and educators, not only about how to resist, but how to build a better world.
Ady Barkan became somewhat of a household name after he was spotted over and over again at protests against healthcare cuts in Washington during the fight to protect the Affordable Care Act and then against the Republican tax bill. For Barkan, a longtime organizer who was diagnosed in 2016 with amyotrophic lateral sclerosis, or ALS, the fight for healthcare had become very personal. We sat down last week in Baltimore at the Congressional Progressive Caucus strategy summit, where Barkan, who masterminded the Fed Up campaign to challenge the Federal Reserve to adopt pro-worker policies, was being honored with the Tim Carpenter Advocate of the Year award.
Thursday, Mar 15, 2018, 12:22 pm · By Bryce Covert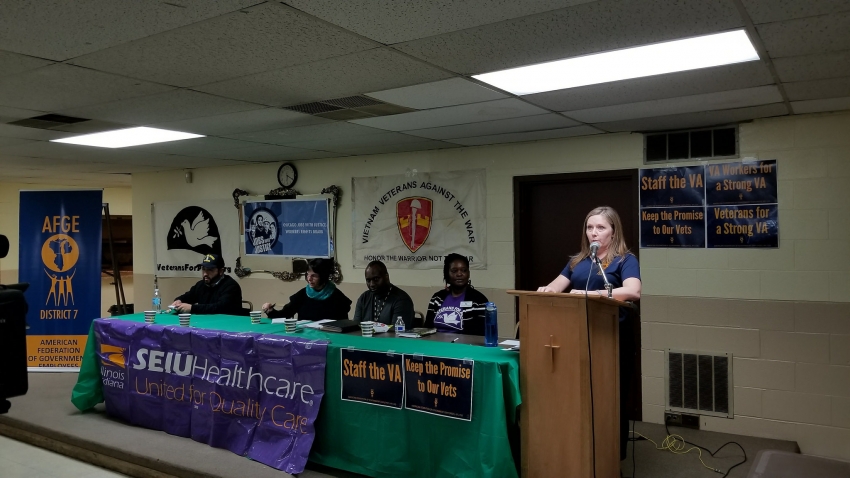 Aaron Hughes, who was deployed to Kuwait and Iraq in 2003 and 2004, now has a serious, very rare lung condition. But he told In These Times he gets "really outstanding care" at the nearby Jesse Brown VA Medical Center. "The doctors are at the top of their class," he said.
Wednesday, Mar 14, 2018, 1:20 pm · By Sarah Lahm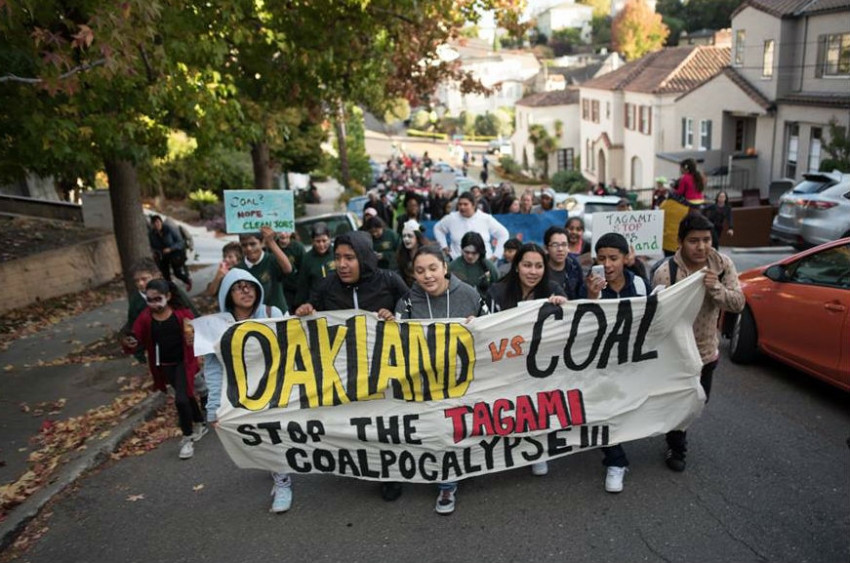 In Oakland, California, labor and environmental activists have worked together to successfully stop—at least temporarily—a new coal export terminal from being built on the city's West Side. After residents learned in 2015 that the export site had been added onto a proposed waterfront project by Bay Area developer Phil Tagami, they quickly organized to convince Oakland City Council to block the project. While a judge considers whether or not to allow the plant to move forward, the story exemplifies a growing trend: Labor and environmental movements are overcoming old antagonisms and increasingly joining forces to protect jobs and build a greener, healthier future.
Tuesday, Mar 13, 2018, 3:15 pm · By Shaun Richman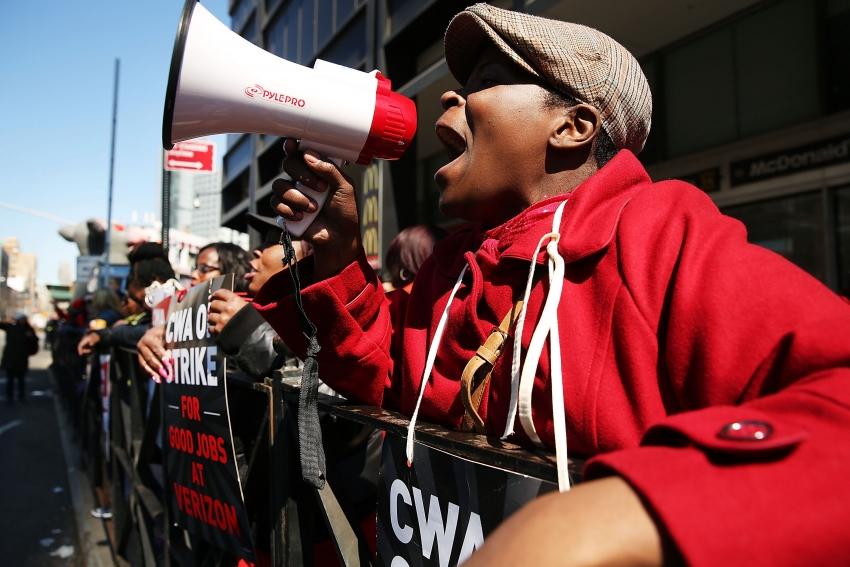 The stunning success of the recent statewide West Virginia teachers' strike makes it one of the most inspiring worker protests of the Trump era.
The walkout over rising health insurance costs and stagnant pay began on Feb. 22 and appeared to be settled by Feb. 27 with promises from Gov. Jim Justice of a 5 percent pay raise for teachers. Union leaders initially accepted that deal in good faith, along with vague assurances that the state would work with them on a solution to escalating out-of-pocket costs for workers' healthcare.
Thursday, Mar 8, 2018, 3:07 pm · By Michael Arria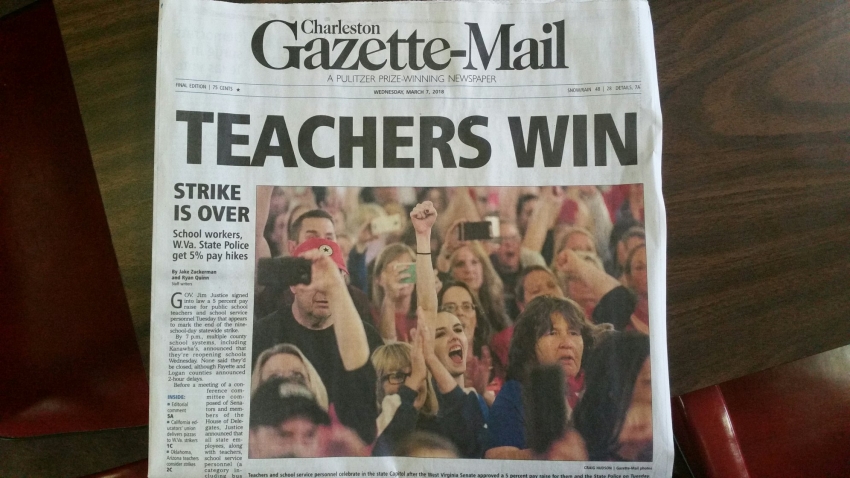 Drawing inspiration from the victory in West Virginia, teachers in Oklahoma are fighting for a raise, and many are prepared to strike if necessary. Their union, the Oklahoma Education Association (OEA), announced yesterday that, if members' demands aren't met, there will be a walkout on April 2.
Wednesday, Mar 7, 2018, 7:09 pm · By Matthew Cunningham-Cook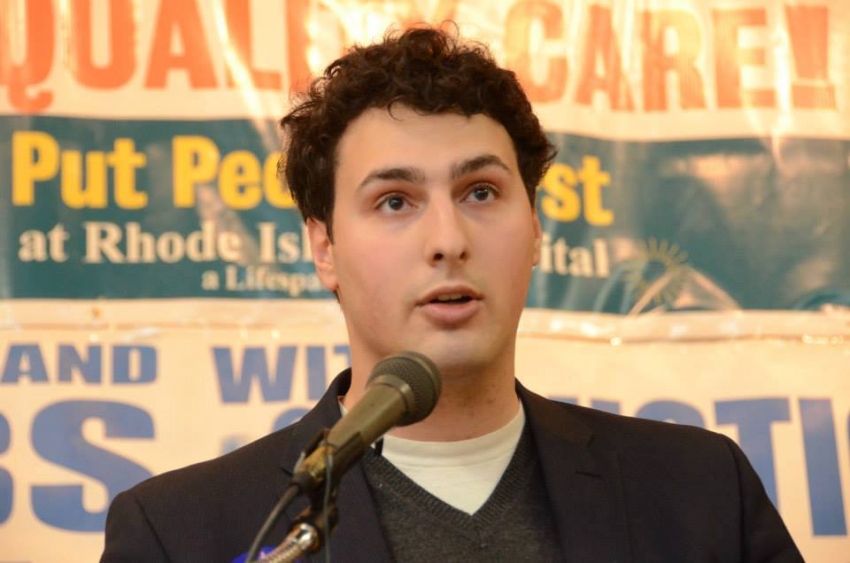 Two-term Rhode Island State Representative Aaron Regunberg is still in his 20s, but already has a long pedigree of organizing for social change.
At 20, Regunberg co-founded the Providence Student Union, a group dedicated to empowering high-school students to "win a fair say in the education system." At 24, Regunberg was elected to the Rhode Island State House after running on a strong progressive platform. At 26, he helped organize Bernie Sanders' come-from-behind victory in the state's Democratic primary. At 27, he sponsored a successful effort to pass paid sick leave legislation. Now, at 28, he's running for lieutenant governor, backed by organized labor and the Ocean State's growing activist community.
Wednesday, Mar 7, 2018, 4:32 pm · By Yawana Wolfe
Charleston, W. Va.—The teachers' strike in West Virginia ended Tuesday after the Republican-controlled West Virginia Senate and House of Delegates voted to pass a 5 percent pay raise bill for public employees that Republican Gov. Jim Justice later signed into law.
The strike, which began on February 22 and continued for nine days across the state, left nearly 277,000 children out of classrooms with their parents scrambling for babysitters. Meanwhile, more than 20,000 red-shirted teachers took to picket lines across all 55 counties and created a massive presence in Charleston, the state capitol. Many teachers wore red bandannas in commemoration of the Battle of Blair Mountain—the largest labor uprising in U.S. history which took place in West Virginia in 1921.
Wednesday, Mar 7, 2018, 1:57 pm · By Jane McAlevey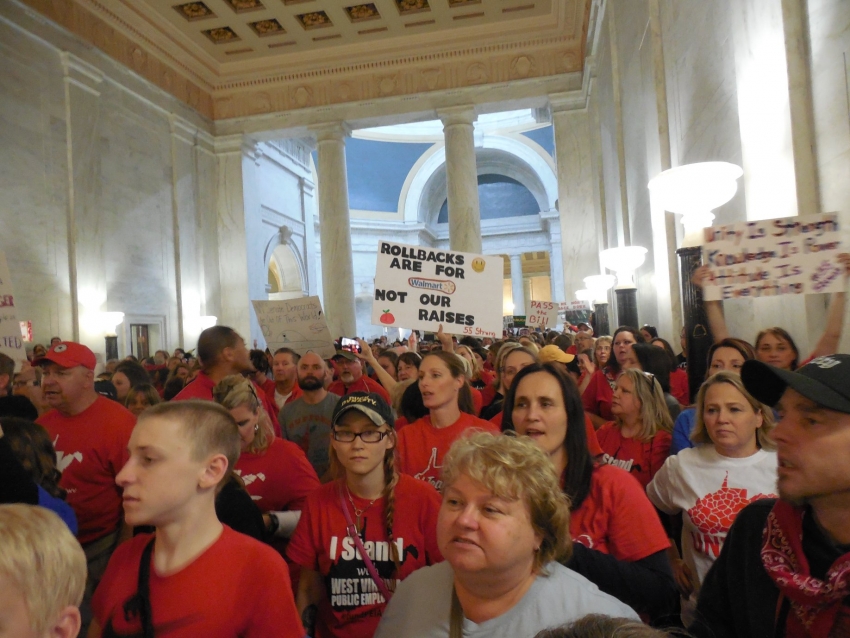 ​Yesterday, West Virginia's educators produced an incredible lesson plan on power. The timing and outcome of their struggle is epic. Before and during their strike—an unprecedented statewide walkout that shuttered doors to every school in the state's 55 counties—the national media was writing the obituary of public-service unions, a narrative driven by the oral arguments in the Supreme Court case Janus vs AFSCME. As Trump's solicitor general bloviated bad things about government workers' unions, it was day three in West Virginia's unauthorized, illegal strike in a state that already has the trappings of the laws that the right wing hopes to nationalize in the Janus case (no worker has to pay dues, fair share or agency fees to his or her union).
Tuesday, Mar 6, 2018, 6:49 pm · By Miles Kampf-Lassin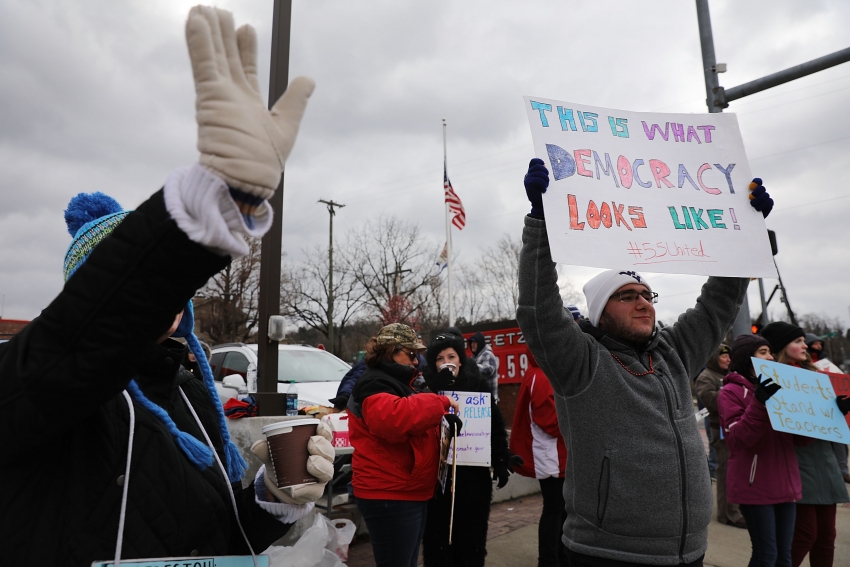 For many years now, observers have been ringing the death knell for the U.S. labor movement. West Virginia teachers haven't just pumped life back into that movement—they've reaffirmed the fundamental principle that the key to building power and winning is for workers to withhold their labor.
On Tuesday, Republican Gov. Jim Justice signed a bill passed by the state legislature that will provide a 5 percent raise for teachers and school personnel. The deal reportedly also includes a 5 percent raise for all state employees, though that will have to be finalized through an upcoming budget bill. The state has also agreed to set up a task force to address the increasing costs in teachers' healthcare plans—a key issue for striking teachers.
Tuesday, Mar 6, 2018, 4:02 pm · By Rachel Johnson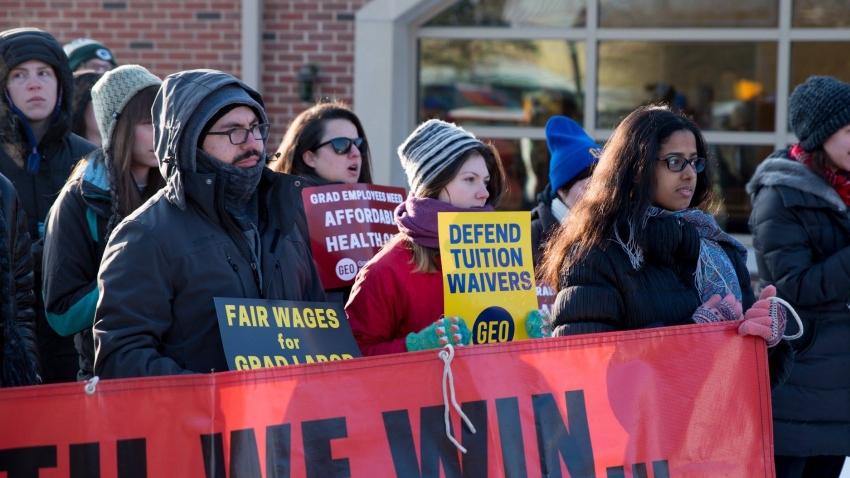 On February 26, four days after teachers in all 55 West Virginia counties walked out on strike, graduate workers at the University of Illinois Urbana-Champaign (UIUC) followed suit. Filling the leafy quad of Illinois' flagship state university, hundreds of graduate workers and supporters gathered to protest a plan that the school's Graduate Employees Union (GEO) argues will turn the university into a "for-profit business, one that leaves poor and working class students out of its storied halls." As of Tuesday, UIUC grad students remain on strike.