Thursday, Mar 31, 2011, 4:15 pm · By Lindsay Beyerstein
A spokesman for Wisconsin Gov. Scott Walker said Thursday that the state will comply with a court order to temporarily halt the implementation of a notorious anti-union law, pending a court challenge.
Last week, the Walker administration stunned the nation by declaring the bill to have the force of law and announcing plans to collect additional pension contributions from state employees—despite a temporary restraining order blocking enactment of the bill. Contrary to popular belief, a bill does not become law in Wisconsin the moment the governor signs it. The legislation is only embued with the force law after it is published through the correct procedural channels.
According to the head of Wisconsin's legislative reference bureau (LRB), a bill becomes law when it is published in the state's official newspaper, the Wisconsin State Journal, by order of the Secretary of State. This has not yet happened. The bill was published on the LRB website, but according to the LRB, that doesn't count.
Thursday, Mar 31, 2011, 8:15 am · By Roger Bybee
Republicans in Wisconsin and elsewhere have become fond of saying, "Elections have consequences."
The implication: the November 2 Republican landslide provided them with an unconditional mandate to enact any measure they feel like, without respect to public opinion or constitutional principles. The chief mandate the Republicans seek to impose: further empowering and enriching the "job creators" of society, the new euphemism they employ for the CEOs who so richly bankroll conservatives' campaigns.
The strategy is clear: who can dare oppose what the "job creators" need since they provide jobs at a time of prolonged unemployment and pay taxes on vital services? But there's an economic problem with this "job-creator"-focused political strategy. General Electric, whose CEO Jeff Immelt was selected by President Obama's to chair his Council on Competitiveness and Jobs, provided an example of this difficulty, as underscored in a NY Times report March 24.
General Electric has eliminated 20 percent of its U.S. jobs since 2002 while serving superbly as a "job creator" in China, India, and Mexico. In one short span, it shut down 17 US plants. Despite its record of domestic job destruction, GE piled up $14.2 billion in profits in 2010 alone—and then managed to gain an additional $3.2 billion in tax benefits from the federal government.
Wednesday, Mar 30, 2011, 12:45 pm · By Akito Yoshikane
Roughly 100 people gathered in New York City's Upper West Side neighborhood last Saturday, March 26, to announce an initiative to improve working conditions at local establishments.

The "Sweatshop Free Campaign" was organized by the workers' rights group Justice Will Be Served! and urges neighborhood businesses to sign a pledge promising to uphold fair labor practices and comply with employment laws.

The event took place in front of Saigon Grill, a Vietnamese restaurant with a history of labor violations and one that is currently embroiled in another conflict despite new ownership.
Wednesday, Mar 30, 2011, 9:46 am · By Michelle Chen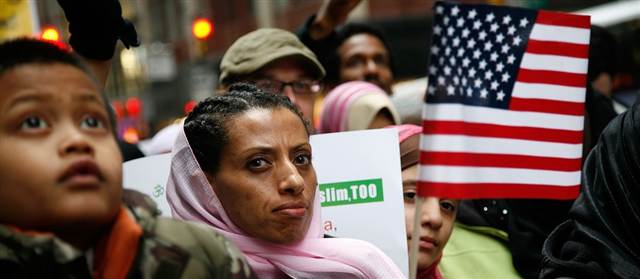 A few weeks ago, Rep. Peter King of Long Island stirred up simmering prejudices with congressional hearings on Islamic "radicalization" in the U.S., which yielded little actual information about security risks and spread plenty of misinformation about Muslim communities. On Tuesday, Sen. Dick Durbin of Illinois tried to counterbalance King's blatherfest with a hearing on Muslim Americans' civil rights. And this time, we did learn something: the bias against Muslims takes many forms other than police harassment, unjust detention, or even the occasional bomb plot. Pervasive anti-Muslim and anti-Arab discrimination impacts people's lives at the intersection of workplace rights and civil liberties.
Employment discrimination surfaced as a key issue during the hearing—and a textbook example of the low-grade alienation that Muslim, South Asian and Arab communities encounter every day.
Sen. Durbin noted in his introductory remarks, "Some have even questioned the premise of today's hearing: that we should protect the civil rights of American Muslims. Such inflammatory speech from prominent public figures creates a fertile climate for discrimination."
Wednesday, Mar 30, 2011, 7:33 am · By Rand Wilson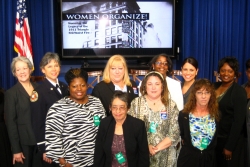 More than a dozen women organizers joined U.S. Secretary of Labor Hilda Solis and White House Senior Advisor Valerie Jarrett for a national forum with women workers and organizers to share their stories of courageous organizing and action.
The "Women Organize!" event, held Monday, March 28, was part of Women's History Month and commemorated the 100th anniversary of the Triangle Shirtwaist Factory fire, in which 146 workers were killed because of employer negligence. Just prior to the tragic fire, workers at Triangle Shirtwaist were trying to form a union to improve their working conditions.
A significant part of the DOL forum focused on what it's like for workers to form unions today. Speakers included Ohio childcare provider Deanna Vizi, domestic worker Allison Julien, Wal-Mart cashier Ernestine Bassett, and T-Mobile Customer Service Rep Liliana Bequer. At the end of the program, about a dozen women organizers took the stage with Solis to briefly describe how they were helping to unite their co-workers in new unions.
Tuesday, Mar 29, 2011, 2:07 pm · By Mike Elk
Is abortion no longer taboo in the labor movement?
Over the weekend, the Wisconsin AFL CIO held a rally with Planned Parenthood. The two organizations stood in solidarity, opposing Gov. Scott Walker's right-wing budget and unionbusting.
It might seem unusual that a labor federation which traditionally has shied away from such social issues would be willing to stand in solidarity with the hot button social issue of abortion. Many union members are social conservatives. Last year, my colleague Roger Bybee pointed out that the AFL-CIO refused to take a position on the Stupak amendment to the Affordable Health Care for America Act - the healthcare reform bill negotiated last year - which restricts women from using health insurance plans toward the cost of abortions.
So why, all of sudden, was the Wisconsin AFL-CIO standing strong in support of reproductive rights?
"As we stood up to the right-wing assault on working families, you could always see as you looked out, no matter the size of the crowd In the protests, no matter the size of the crowd, whether it be 1,000 or 20,000 or 100,000, you could always see the pink signs saying, "I stand with Planned Parenthood," said Wisconsin AFL CIO President Phil Neuenfeld. "It's about standing together, it's about coming together to fight for our rights as workers and middle-class citizens."
Tuesday, Mar 29, 2011, 12:45 pm · By Richard Greenwald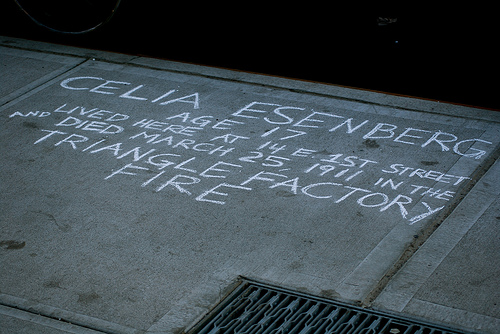 Last week there were, as there should have been, many events in New York City and beyond remembering the Triangle Fire. After all, March 25 was the 100th anniversary of that tragedy, in which 146 mostly young female factory workers perished.
As someone who has written a book about the fire and its influence, I attended as many events as I could. I was struck by how this long-ago tragedy has somehow struck a cord for so many people. As I moved from event to event, I kept thinking that maybe, just maybe, this meant something. Maybe it (the collective remembering) would move beyond mourning to spur a renewed attention to the issues the Triangle Fire itself raised 100 years ago.

The fire was the line in the sand where many Americans said enough: we go no further. It was the moment that a strong collective working class demanded its citizenship rights. And it was the moment that many looked to the state to stand up for the weak against the strong. But as I get some distance on last week's events, I am worried that we are loosing our moral compass, if we have not already lost it by now.


Tuesday, Mar 29, 2011, 6:56 am · By Kari Lydersen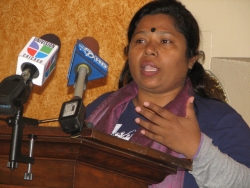 Cynthia Murray and Robert Hines Jr. thought they had seen unfair treatment and bad working conditions at the Maryland Wal-Mart store and Chicago-area Wal-Mart warehouse where they worked, respectively. But they were floored to learn recently of the conditions workers in Bangladesh and other developing countries endure in the factories that produce goods for Wal-Mart.
On the inaugural day of the national "Sweatshop, Warehouse, Walmart: A Worker Truth Tour" in Chicago on Monday, Murray and Hines listened to Kalpona Akter explain how she is facing a potential death sentence or life in prison on criminal charges filed against her and several other organizers with the Bangladesh Center for Worker Solidarity (BCWS), which has fought to improve pay and conditions in garment factories including subcontractors for Wal-Mart.
SweatFree Communities and other groups are asking Wal-Mart to demand the Bangladeshi government drop the charges, which include inciting workers to riot, illegally strike and cause property damage. Akter was arrested and spent a month in jail in August, where she was repeatedly interrogated and allegedly tortured. "They would ask the same questions hundreds, thousands of times," she recalled during a lunch at the Jobs with Justice headquarters before an event in Chicago Monday afternoon.
Monday, Mar 28, 2011, 10:28 am · By Jack Rasmus
It's not workers' fault
State governors across the nation, led by newly elected right-wing Republicans (with several Democratic governors in tow), are whipping up anti-union sentiment by declaring that public workers and their unions are the cause of state budget deficits. They argue that various labor costs are driving up their deficits, and that the lead cause of those labor costs is overly generous increases public employee pension benefits.

But increases in public employee pension benefits are not the cause of the states' budget crises. There are, indeed, serious pension funding gaps in many states' public pension plans. But a close investigation of these gaps clearly shows that they do not exist because of states' granting public employees exorbitant pension benefits.

The real reasons behind the pension funding gap are several. First, the current 'jobless recovery' since the 2007-09 recession has reduced contributions to pension fund balances. Current estimates are that it will take 84-96 months, or 7 to 8 years, for job creation to recover to 2007 levels. That means a projected larger pension gap.
But there's an even greater reason why pension funds have ended up short of income today. It's the practice of 'contribution holidays'; that is, pension managers refusing to put the necessary contributions into the funds—a practice in the public sector that has been going on since the mid-1990s and even before that in the private sector.
Monday, Mar 28, 2011, 6:20 am · By Roger Bybee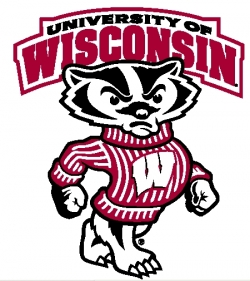 After ramming through their bill to strip almost all public employees of union rights, Gov. Scott Walker and his band of Republican minions are continuing their offensive to re-configure institutions not driven by the profit motive—in this case, the University of Wisconsin's flagship campus in Madison. Their goal is to shield the university from public accountability and re-shape it to meet the needs of major corporations.
On the union issue, the deceptive, polarizing, and contemptuous style of Walker and his minions toward opponents proved to be deeply out of touch with Wisconsin traditions of open government and bi-partisan respect, as historian William Cronon recently argued. (Moreover, the tactics of Walker and his posse were so devious and ham-handed that they inspired a Republican-appointed judge to impose a temporary restraining order against implementation of the new law.) However, Walker and Co. are stubbornly pressing ahead with their agenda, ignoring every indicator of popular opinion.
Walker and his corporate contributors have the transfer of a major public institution in mind: re-shaping one of the state's proudest public treasures, UW-Madison, into a quasi-private institution. Under this "new business model," UW-Madison would be freed from many forms of public accountability and could be integrated more directly into the service of the state's corporations.