Tuesday, Feb 9, 2016, 1:36 pm · By Zach Schwartz-Weinstein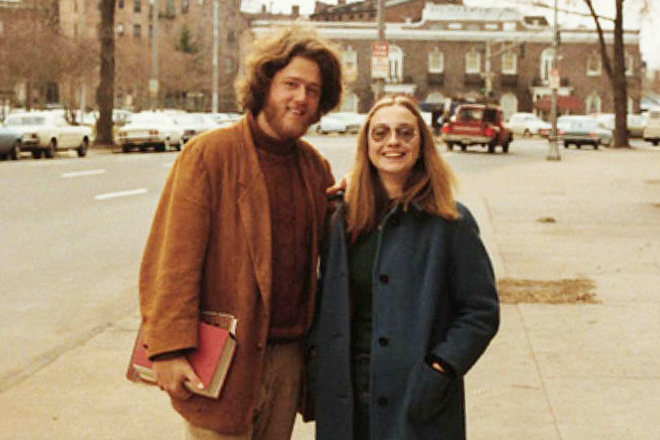 Yale Law School students Hillary Rodham and Bill Clinton were both members, alongside future Connecticut senator Richard Blumenthal and Bill Clinton's eventual Secretary of the U.S. Department of Labor Robert Reich, of the Yale Law School Students Committee for Local 35, the university's blue-collar worker union, and signatories, during the week before the union went on strike, to a statement asserting "WE BELIEVE THE UNION DESERVES THE SUPPORT OF YALE STUDENTS AND FACULTY." Bill Clinton was even, former UNITE HERE President John Wilhelm would note decades later in his eulogy for Vincent Sirabella, the Voter Registration Chairman of the Sirabella for Mayor Campaign.
And yet, on her first date with classmate Clinton in 1971, Rodham would later recall:
We both had wanted to see a Mark Rothko exhibit at the Yale Art Gallery but, because of a labor dispute, some of the university's buildings, including the museum, were closed. As Bill and I walked by, he decided he could get us in if we offered to pick up the litter that had accumulated in the gallery's courtyard. Watching him talk our way in was the first time I saw his persuasiveness in action. We had the entire museum to ourselves. We wandered through the galleries talking about Rothko and twentieth-century art. I admit to being surprised at his interest in and knowledge of subjects that seemed, at first, unusual for a Viking from Arkansas. We ended up in the museum's courtyard, where I sat in the large lap of Henry Moore's sculpture Drape Seated Woman while we talked until dark.
Friday, Feb 12, 2016, 11:30 am · By Shaun Richman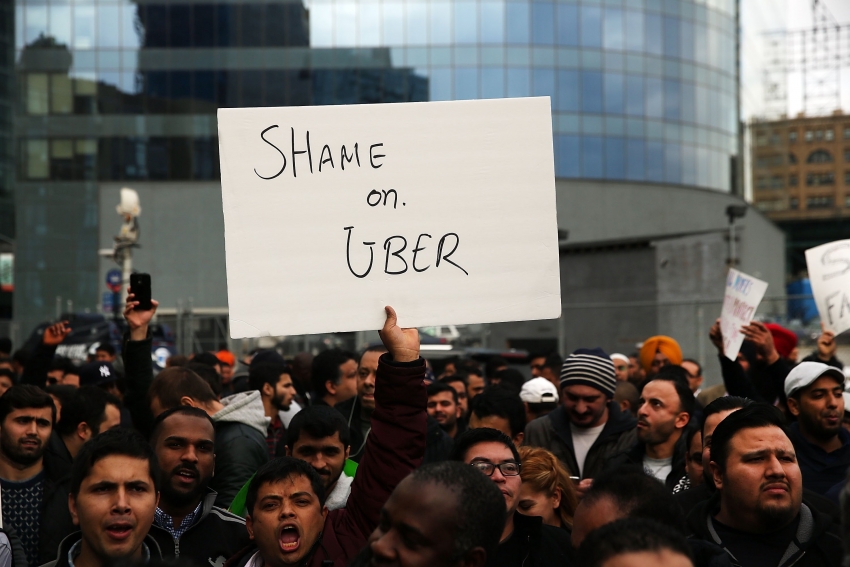 Three high-profile wildcat strikes have caught business watchers and union leaders by surprise in recent weeks. Could they be bellwethers for a rising tide of worker militancy?
A wildcat strike is one that occurs with little notice or legal sanction. Wildcats are often organized in violation of a contractual commitment not to strike or a legal prohibition to do so, and in defiance of both the employer and official union leadership. Non-union workplaces wildcat by striking without formally certifying or affiliating with a union.
Wildcat job actions have sparked some of the largest strike waves and union gains in American history, and the revitalization of the 21st century labor movement will require a degree of worker organizing that is not dependent on union staff and resources. So spontaneous job actions merit attention.
Thursday, Feb 11, 2016, 12:11 pm · By Carrie Gleason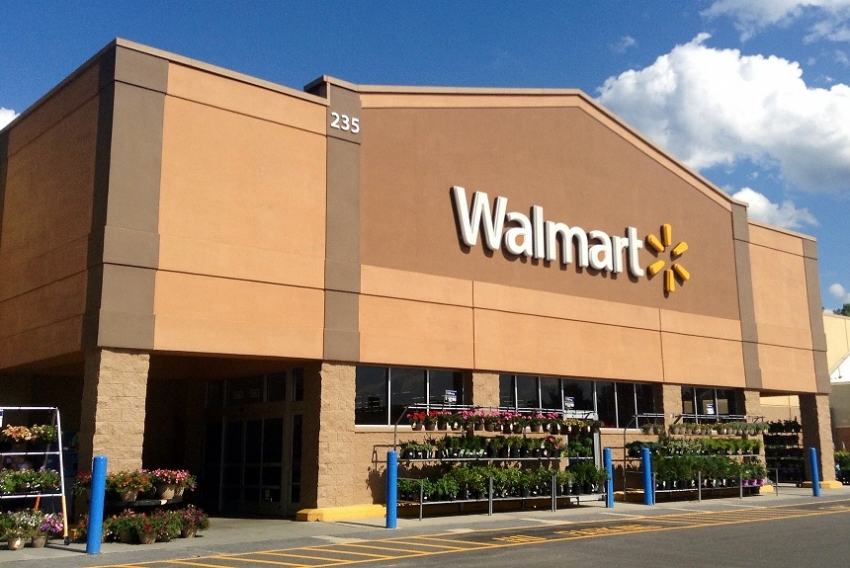 The National Retail Federation is fond of pointing out that "retail means jobs." And it's true: the retail industry today provides one in ten private-sector jobs in the U.S., a number set to grow in the next decade.
Yet new findings show those jobs may be keeping retail workers and their families from rising up the career ladder, exacerbating our country's growing inequality. The findings from the Center for Popular Democracy demonstrate that, for women and people of color especially, working in retail often means instability and low pay. Both groups make up the lion's share of cashiers, movers, and other poorly paid positions and barely figure in the upper ranks of management. In general merchandise—including big-box stores such as Target and Wal-Mart—women hold more than 80 percent of cashier jobs, the lowest-paid position. And in the food and beverage industry, women make up approximately half of the workforce but less than a fifth of managers.
People of color in the retail industry are often relegated to the least lucrative jobs as well. In home and garden stores like Home Depot and Lowes, for example, employees of color account for 24 percent of the total workforce—but 36 percent of jobs that pay least.
Wednesday, Feb 10, 2016, 5:30 pm · By Paula Chakravartty and Nitasha Dhillon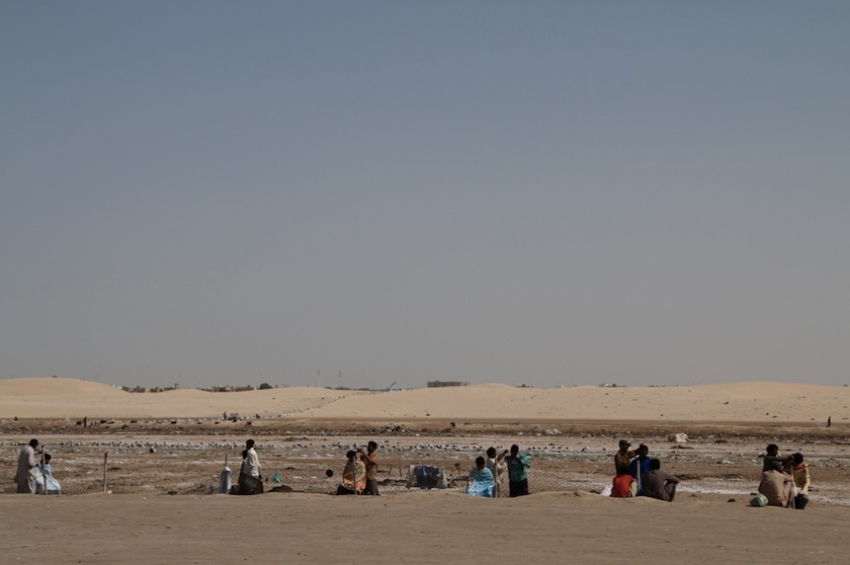 Since 2006, migrant workers have launched a spate of labor actions and strikes in the UAE. These actions, combined with mounting evidence of the mistreatment and deaths of workers building the World Cup infrastructure in neighboring Qatar, has attracted global attention to the plight of the workforce on which the economic growth of the Gulf has been built.
Of the roughly 22 million migrants who currently live in the six Gulf Cooperation Council (GCC) countries, South Asian work­ers have been the primary contributors to the region's pell-mell development since the second oil boom of the 1970s. In the UAE, up to 90 percent of its nine million residents are migrants; "low-skilled" workers from India make up the largest popula­tion (between 2.2 and 2.8 million), followed by workers from Pakistan, Bangladesh, and the Philippines. The number of migrant workers notably spiked after the speculative real estate boom began in 2002, when the Gulf's investors returned to the region following September 11 and a decade-long steep escalation of crude prices. Dubai, which hosted a number of international mega–real estate projects aimed at global elite investors, became an icon for the region's growth.
Tuesday, Feb 9, 2016, 11:22 am · By Douglas Williams and Cato Uticensis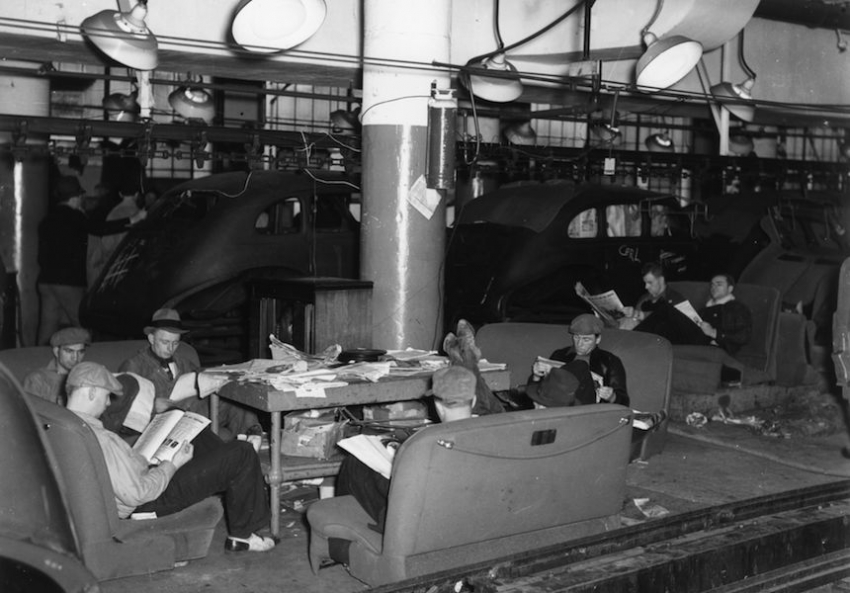 The words on the flag of the International Association of Machinists and Aerospace Workers are a perfect summation of the labor movement at its best: "JUSTICE ON THE JOB, SERVICE TO THE COMMUNITY."
It is that sense of solidarity that drives aggrieved workers to reach out to union organizers in the first place. They know that they are not just signing up to join a local or negotiate a contract, but to be a part of a movement that has been the last line of defense for many a worker since those Mill Girls first walked off the line in Lowell, Massachusetts in 1845. It is a movement that has come out of the shadows of its craft union past to embrace an industrial unionism that places its priorities in growing the ranks of the organized.
Well…not exactly.
Monday, Feb 8, 2016, 6:30 pm · By Jason Pramas
GOFFSTOWN, NEW HAMPSHIRE—The "protest pit" outside the Republican Presidential Debate at Saint Anselm College on Saturday evening was a fenced-in area in a field about a quarter mile down the road from the main entrance to the campus.
Bumper to bumper traffic ran in front of the pit. Odd given that NH State Police were letting few cars onto the campus. Most were told to turn around. No one that Republican leadership didn't want in was getting anywhere near the Carr Center where the debate was taking place.
Powerful lights shone down on the scene from one side — lending it an eerie cast. Behind the fence facing the road were a couple hundred supporters for a few of the Republican candidates. But that was just the first layer. Behind them were about 500 activists with the Fight for 15 campaign — organized and bankrolled for $30 million as of last August by the Service Employees International Union (SEIU), whose leaders had bused in SEIU staff and members, student activists, and allies from other unions and immigrant organizations from around the region. At least 13 busloads from southern New England overall, according to the campaign's registration form for the event.
Monday, Feb 8, 2016, 11:47 am · By Dan DiMaggio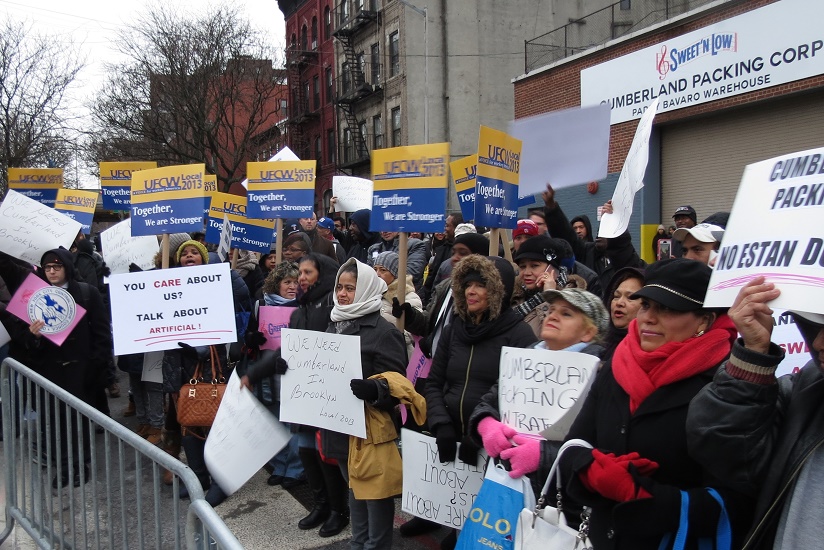 This post first appeared at Labor Notes.
The workers who make Sweet'N Low started the new year with some bitter news. Their factory—in ever-gentrifying Brooklyn, New York—will shut down in the next few months, likely to make way for luxury condos.
"It was a complete blindside," said Louis Mark Carotenuto, president of Food and Commercial Workers (UFCW) Local 2013. Since September the union had been in negotiations with family-owned Cumberland Packing for a new collective bargaining agreement.
At five buildings in and near Brooklyn's Navy Yard, workers produce, package, and ship Sweet'N Low, Stevia, Sugar in the Raw, and other In the Raw products, including a new line of beverages.
"Never during the course of negotiations did they bother to bring up competitive pressures," said Carotenuto. "It's not about competition, it's about real estate value.
Wednesday, Feb 3, 2016, 6:09 pm · By Shaun Richman
The captive audience meeting, "management's most important weapon" in an anti-union campaign, is finally being challenged in a petition to the National Labor Relations Board that could help re-balance the scales in union representation elections.
Held in all-staff, small-group or one-on-one formats, employers use these mandatory meetings to confuse and intimidate employees into voting against union representation. In a 2009 study, labor relations scholar Kate Bronfenbrenner found that nine out of ten employers use captive audience meetings to fight a union organizing drive. Threatening to cut wages and benefits in 47 percent of documented cases, and to go out of business entirely in a staggering 57 percent, these captive audience meetings correlate with an unsurprising 43 percent union win rate when used.
Wednesday, Feb 3, 2016, 5:43 pm · By Justyna Bicz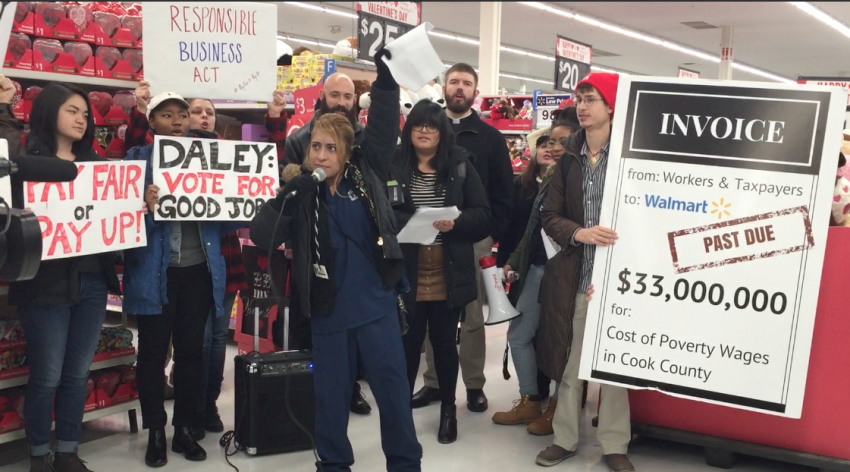 A group of Chicago-area progressive groups and unions are backing a bill that would punish large companies who don't pay their workers a living wage.
The Responsible Business Act would charge corporations who employ more than 750 Cook County workers at less than $15 per hour fees for paying what advocates call poverty-level wages. Since it was introduced in October last year, the act has gained the support of unions and grassroots organizations fighting for economic justice.
Tuesday, Feb 2, 2016, 12:59 pm · By Elizabeth Grossman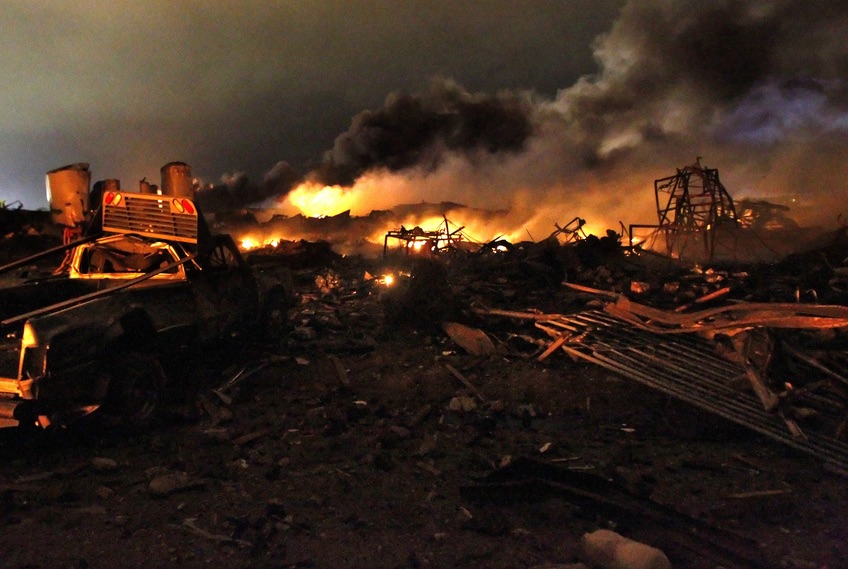 Nearly three years after a catastrophic explosion and fire fueled by about 30 tons of fertilizer grade ammonium nitrate ripped through the West Fertilizer plant in West, Texas—killing 15 people, including 12 first responders, and injuring more than 260 and causing extensive community damage—the Chemical Safety Board (CSB) has released and unanimously approved its final report on the incident. Presented at a public meeting in Waco, Texas on January 28, the CSB's report found that "limited regulatory oversight, poor hazard awareness, inadequate emergency planning and the proximity of the facility to nearby homes and other buildings all led to the incident's severity."
In a statement, CSB Chairperson Vanessa Allen Sutherland called this "one of the most destructive explosions ever investigated by the CSB."