Friday, May 1, 2015, 1:48 pm · By David Goodner
While the labor movement is in some of its more dire straits in over a century, 2015 is also shaping up to be a big year for unions. The "Fight for $15" strikes held in over 200 cities on April 15 indicate that a mass movement for worker justice may be on the verge of exploding, one that blends the best of organized labor, community organizing, Occupy Wall Street and #BlackLivesMatter. Oil workers, truck drivers, and dockworkers also went on widely publicized, confrontational strikes this year, and LA teachers at both public and charter schools are preparing to take action on the job, as are graduate students at the University of Washington and several other campuses.
Today, May 1, a Bay Area local of the International Longshore and Warehouse Union shut down its ports to protest the racism and police brutality against black and brown people, providing a classic example of what "social movement unionism" looks like in practice.
Unions are also fighting hard to block looming pension cuts and derail fast track for the Trans-Pacific Partnership trade agreement. But labor's "Right to Work" defeat in Wisconsin in March was a huge setback, while the results of the April 7 Chicago mayor's race were mixed, at best. Taken as a whole, the small upsurge in labor unrest in recent months has not been enough to slow down, much less stop and reverse, the steep historical decline of the trade union movement.
Given all this, labor needs to take serious stock of the current populist moment, analyze which strategies are actually working and which are not, and start to consider what it's really going to take to change course and rebuild a fighting workers movement from the ground up. Dumping hundreds of millions of dollars down the rabbit-hole of Democratic Party electoral politics during the next presidential election cycle is unlikely to get the job done.
Thursday, Apr 30, 2015, 6:20 pm · By Peter Cole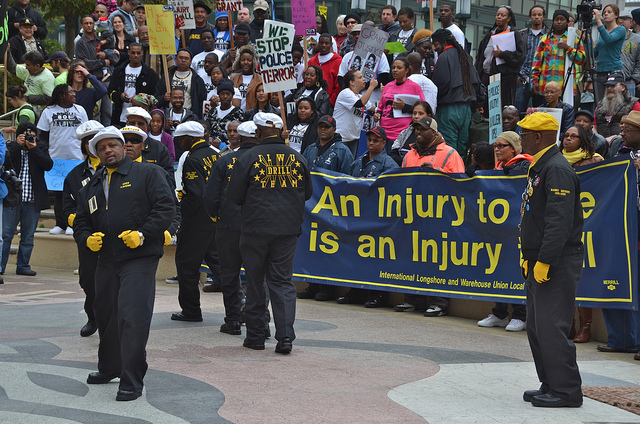 Earlier this month, a video of a white police officer shooting and killing a black man, Walter Scott, fleeing and clearly posing no danger to the cop in North Charleston, South Carolina—like multiple recent videos of unarmed black men being killed by police—went viral. What few know is that his brother is a member of a predominantly black labor union in Charleston—in a state far better known for trying to secede from the Union than organizing one. This union has declared it will protest racist police brutality on May 1, May Day, and called for others to join the protest with actions of their own.
The San Francisco Bay Area longshore union voted to stop work at all Bay Area ports in solidarity. In a sad testament to the ubiquity of such shootings around the country, the walkoff was planned before the police killing of Freddie Gray in Baltimore. But the timing couldn't be better to demonstrate the power of organized labor to forcefully intervene in policy discussions.
Wednesday, Apr 29, 2015, 10:42 pm · By Miriam Shestack
Early Tuesday, National Nurses United (NNU) announced that its 1,500 members at the University of Chicago Medical Center (UCMC) would not go on strike as planned. The union called for a one-day strike set for April 30, following nearly eight months of negotiations and a strike authorization vote on January 29, when 95% of membership voted in favor of authorizing a strike; now, the union is claiming victory in its negotiations with the medical center.
Jan Rodolfo, lead negotiator and Midwest Director of NNU has stated that she "feels wonderful about the outcome, as do nurses. … We accomplished many of our objectives" in negotiations.
Wednesday, Apr 29, 2015, 1:27 pm · By Moshe Z. Marvit
April Bain is a high school math teacher in Los Angeles, and a dues-paying member of her union, Los Angeles Teachers United. She has benefited from this membership, and indeed claims that "everybody has a horror story of a teacher that needed their union." She describes a personal experience of conflict with her principal in which having a union behind her made her feel safe. "You felt safe. You kind of felt like, okay, we can do what's right here and we'll be protected," she has stated.
However, Bain has decided that she does not want to contribute to any of the union's political activities of her union. Bain doesn't specify which of the union's expenditures she specifically disagrees with, but previous objectors to such spending have cited union support or opposition for political candidates, support or opposition for ballot initiatives, support for causes important to the membership, and the like. Though Bain can register as an objector and get a refund of all fees not germane to its representational duties while still being covered under any collective bargaining agreement with the employer, she does not want to exercise that right because she knows that membership has benefits.
Wednesday, Apr 29, 2015, 12:00 pm · By Andrew Elrod
The National Labor Relations Board's (NLRB) complaint for unfair labor practices against the McDonald's corporation inched forward in a Manhattan courtroom last month.
Lawyers representing the company, its franchisees, the Service Employees International Union (SEIU) and the government met to discuss the future of a case that could lay the groundwork for union representation and collective bargaining at the country's largest fast food brand.
Tuesday, Apr 28, 2015, 4:29 pm · By Mario Vasquez
Hundreds of truck drivers operating at the Ports of Los Angeles and Long Beach went on strike Monday morning in protest of wage theft by four of the ports' largest trucking companies, who they say misclassify them as independent contractors rather than full-time employees.
The trucking companies, Pacific 9 Transportation (or "Pac 9"), Intermodal Bridge Transport, Pacer Cartage and Harbor Rail Transport, operate a combined 470 registered trucks and do business in the Southern California ports that currently handle 43% of U.S imports entering the country. The companies under strike count Walmart, Forever 21, Toyota and Costco as clients, among others, according to the union behind organizing efforts, Teamsters Local 848.
Tuesday, Apr 28, 2015, 2:49 pm · By Leo Gerard, United Steelworkers President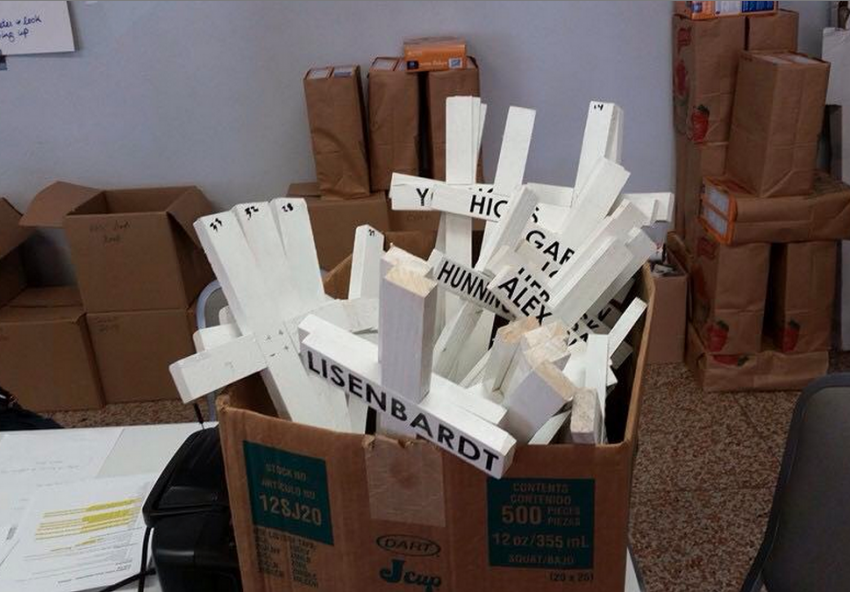 To give voice to 35 workers killed on the job over the past 35 years at a massive refinery in Texas City, hundreds of surviving family members, co-workers and friends gathered there last month to erect white crosses marked with their names.
They conducted the ceremony on the 10th anniversary of an explosion that killed 15 workers and injured more than 170, including townspeople.
Marathon Petroleum Corp., which bought the refinery from BP two years ago, did its best to shut the mourners up. Marathon uprooted the crosses and tossed them in a box like trash within hours of the commemoration.
Monday, Apr 27, 2015, 3:33 pm · By Leo Gerard, United Steelworkers President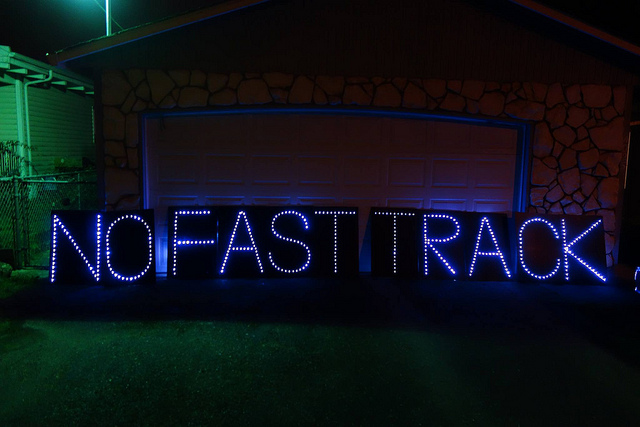 Free traders in Congress formally proposed last week that lawmakers relax, put their feet up and neglect the rigor of legislative review for the Trans-Pacific Partnership (TPP) trade scheme.
The TPP is a secret deal among 12 Pacific Rim nations that was covertly negotiated by unelected officials and corporate bosses. It's so clandestine that lawmakers elected to represent the American people were refused access to the deliberations. It would expand secret trade tribunals that corporations use to sue governments over democratically established laws and win compensation from taxpayers.
The Congressional free traders want to Fast Track authorization of the TPP. Fast Track enables Congress to abdicate its constitutionally mandated duty to regulate international trade. Instead of scrutinizing, amending and improving proposed trade deals, lawmakers use Fast Track to gloss over the specifics and simply vote yea or nay on the entire package as presented. With elected officials excluded from the talks, details of the treaty deliberately shrouded in secrecy and free traders demanding lawmakers ignore the deal's effects on constituents, this process condemns democracy.
As usual, the free traders say, don't worry, the TPP is gonna be great, just great! Trust us, they say.
Friday, Apr 24, 2015, 1:52 pm · By Miriam Shestack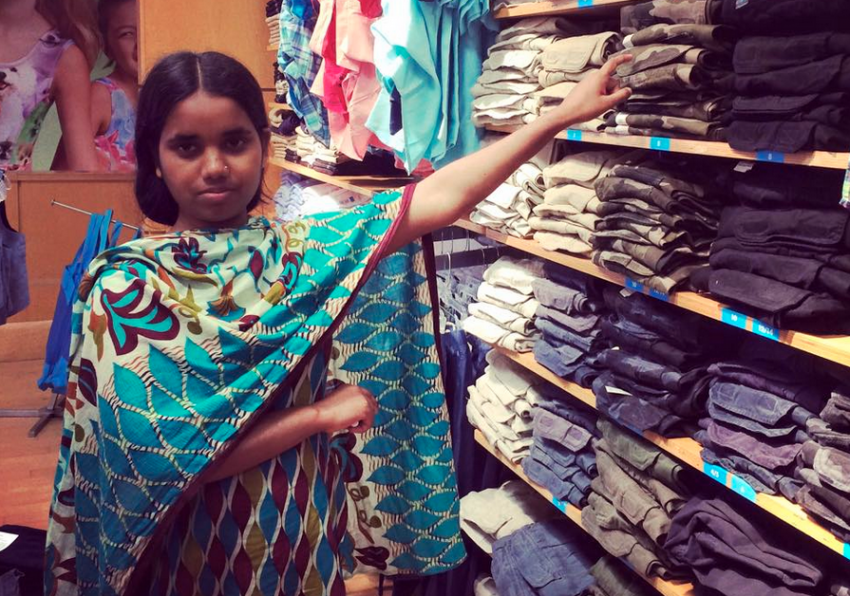 On February 24 Mahinur Begum visited a Children's Place store in Miami where she discovered a shelf full of the pants she used to sew at the Rana Plaza factory in Dhaka, Bangladesh—before the factory where she worked collapsed, burying her in debris and killing hundreds of workers around her.
Mahinur was 16 at the time of the factory collapse, and lost a toe when machinery fell on her. She says she continues to suffer emotional trauma from the event. Workers like Begum, along with students and activists across the U.S., are demanding that brands that sourced from Rana Plaza pay fair compensation to workers that suffered from the factory's collapse and their families. And today, on the two-year anniversary of the factory's collapse, those activists announced a major victory as The Children's Place agreed to pay $2 million into that fund after a months-long battle with workers and advocates.
Friday, Apr 24, 2015, 11:50 am · By Robert Reich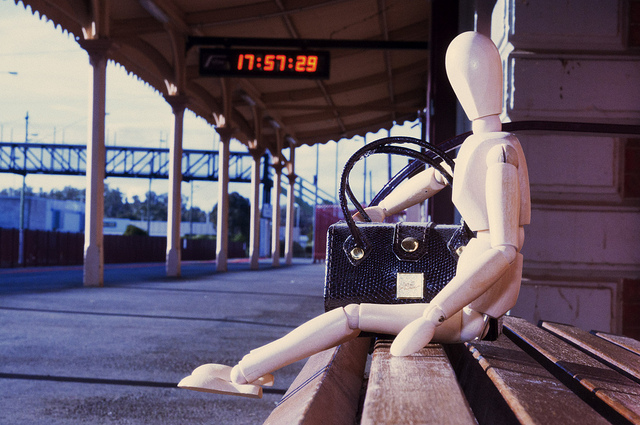 This post originally appeared on Robert Reich's blog.
These days it's not unusual for someone on the way to work to receive a text message from her employer saying she's not needed right then.
Although she's already found someone to pick up her kid from school and arranged for childcare, the work is no longer available and she won't be paid for it.
Just-in-time scheduling like this is the latest new thing, designed to make retail outlets, restaurants, hotels and other customer-driven businesses more nimble and keep costs to a minimum. Software can now predict up-to-the-minute staffing needs on the basis of information such as traffic patterns, weather and sales merely hours or possibly minutes before.
This way, employers don't need to pay anyone to be at work unless they're really needed. Companies can avoid paying wages to workers who'd otherwise just sit around.