Working In These Times
Thursday, Dec 12, 2013 • 9:50 pm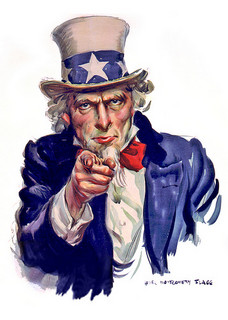 A pair of reports released this week show that the federal government routinely ignores worker safety and labor law violations when awarding contracts to private companies—and that American taxpayers are cheated in the process.
The first comes from the staff of the Senate Health, Education, Labor, and Pension (HELP) Committee, which conducted a yearlong investigation of federal contracting records. Unveiled Wednesday by HELP Chairman Sen. Tom Harkin (D-Iowa), the report provides a long list of specific companies that break safety and labor laws yet continue to receive big government contracts. In particular, it names 49 law-breaking contractors that got more than $81 billion from Uncle Sam in 2012 alone—including AT&T, Home Depot and GM.
The HELP report was paired with one from the Center For American Progress (CAP) Action Fund, a Democratic Party advocacy group, which examined whether government contractors are actually fulfilling their contracts. The CAP report found that a number of companies shortchange taxpayers through poor performance, and names specific companies that stand out in this respect, including Lockheed Martin and KBR. Some of these scofflaw companies, such as international oil giant BP, overlapped with the HELP report lists.
MORE »
0 comments ·
Thursday, Dec 12, 2013 • 3:25 pm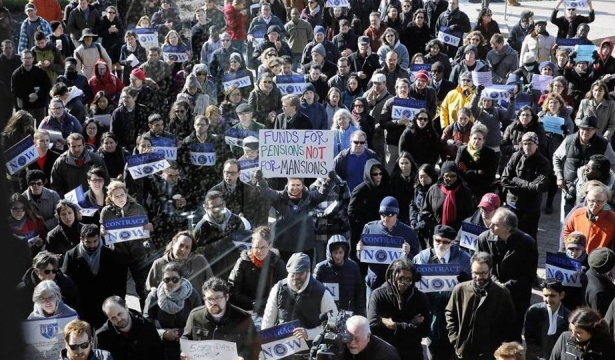 The teaching force at the University of Illinois Chicago (UIC), which unionized in 2011, has been at the bargaining table fighting for changes that include improved compensation for non-tenure-track professors and shared governance in the university decision-making process. And after 15 months without results, they're starting to get fed up. Faculty voted last week to authorize a strike if contract negotiations remain at an impasse.
About 79 percent of union members participated in the vote, with 95 percent agreeing to authorize a strike if necessary, according to John Shuler, spokesperson for the University of Illinois Chicago United Faculty (UICUF). This overwhelming endorsement reflects "the conviction that we deserve a fair and honest contract, and the frustration with how long this process has taken," says Shuler, who is also a member of UICUF's bargaining committee.
In the hopes of averting a walkout, bargaining will continue through early January with the help of a federal mediator. Such a strike would be another unprecedented labor action at the University of Illinois from UIC faculty, whose push to organize in 2011 was both a first for the state's public research universities and one of the first nationwide since a wave of unionization at state universities during the 1960s and '70s died down.
Help keep this reporting possible by making a donation today.
MORE »
0 comments ·
Thursday, Dec 12, 2013 • 2:30 pm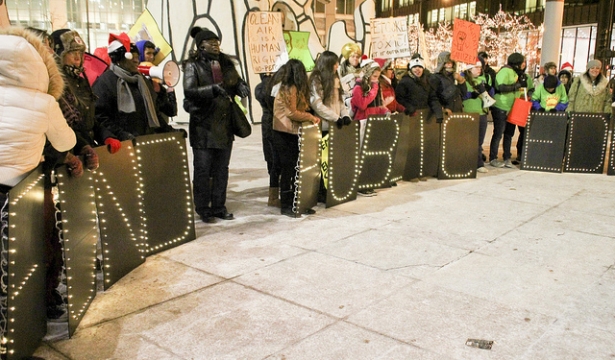 After years of being backed into a corner, on Monday public-school teachers stood up in defiance against what they see as their chief bully—budget-slashing school reforms that have made school more stressful and less fulfilling for both them and their students.
Under the banner of a National Day of Action to Reclaim the Promise of Public Education, educators, students and community groups coordinated demonstrations, rallies and other public gatherings in dozens of cities. In the long run, the day of action kicked off a broader campaign by a coalition of unions and community groups to chart an alternative path to education reform.
According to a policy statement by the American Federation of Teachers (AFT), the leading union behind the campaign, and its partner groups, the goal is to foster "a community-union movement for educational equity and excellence." While that agenda may sound neutral to the uninitiated, it speaks to growing resentment toward the prevailing reform rhetoric pushed by the White House and many politicians: corporate-oriented "standards" and "management," leading to a test-heavy curriculum focused on math and reading at the expense of all else. First imposed under the No Child Left Behind law of the Bush administration, this hardline approach rests on the belief that a lack of academic rigor and "ineffective" educators are impeding U.S. students' performance. The prescription has been an avalanche of high-stakes testing, public-school funding cuts and free-market privatization measures such as charter schools, often funded by corporate-oriented philanthropists and Silicon Valley entrepreneurs.
MORE »
0 comments ·
Wednesday, Dec 11, 2013 • 6:00 pm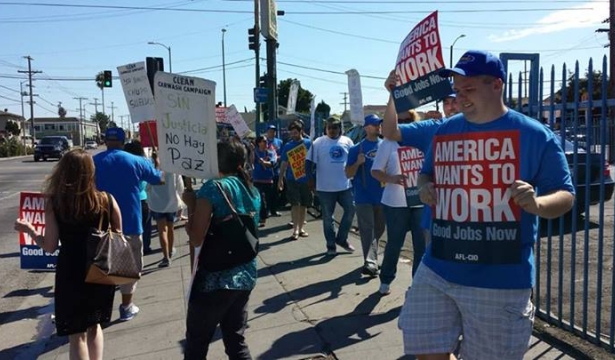 With union membership in a decades-long decline, recruiting a new generation of workers is crucial to keeping labor alive. Yet young workers are (and always have been) less likely to be in a union than their older counterparts: As of 2012, only 9.5 percent of 25-34 year old workers and 4.2 percent of 16-24 year old workers were union members, compared to 11.3 percent of all workers.
At the same time, nearly two-thirds of 18–29-year olds have a favorable impression of unions, more than any other age bracket. The time is ripe for labor leaders to bring the next generation into the fold.
In practice, however, unions attempting to recruit younger workers butt heads with the same forces that threaten labor's existence writ large. Declining union density means younger workers may be less aware of the value of unionization or, within unions, less acquainted with older leaders who carry the tradition of rank-and-file leadership. With changes in the nature of work, such as the rise of minimum-wage and precarious employment, younger workers have fewer experiences with good jobs to compare against the new, worse ones and, in turn, less clarity about what organizing could accomplish. And there are sometimes generational tensions within unions: For instance, in industries such as auto manufacturing, some unions have submitted to two-tiered contracts, which set wages or benefits at lower rates for new workers—undermining intergenerational solidarity and relegating younger workers to second-class status.
MORE »
0 comments ·
Wednesday, Dec 11, 2013 • 3:25 pm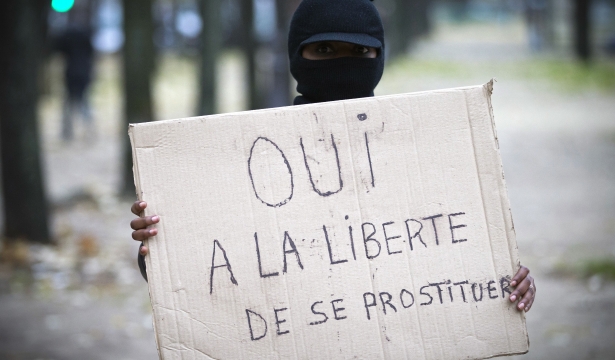 These days, French political culture appears to be retreating from its stereotypical liberalism on one of its best-known "vice" industries: the sex trade. Controversial new legislation in the country would criminalize paid sex—and sex workers see the proposed law as an assault on their dignity and safety.
The legislation—which just passed a vote in the Assemblée Nationale and is slated for a Senate vote soon—does not explicitly outlaw the act of selling sex, but it penalizes its purchase: A prostitution client may be fined up to 1,500 Euros. This penalty would build on a number of existing French constraints on sex work-related activities, such as pimping or running a brothel, that stop just short of outlawing prostitution altogether.
The aim of the legislation, which mirrors a widely praised model policy originating from Sweden, is to "reduce demand" by criminalizing the procurement of sexual services. But the ostensible moral purpose of the law—to protect women, especially underage girls, from exploitation and violence—obscures broader questions of economic agency, sexual prudence and social stigma. And that's why many of its opponents are the very same people the law purports to "save."
Help keep this reporting possible by making a donation today.
MORE »
1 comments ·
Tuesday, Dec 10, 2013 • 10:50 pm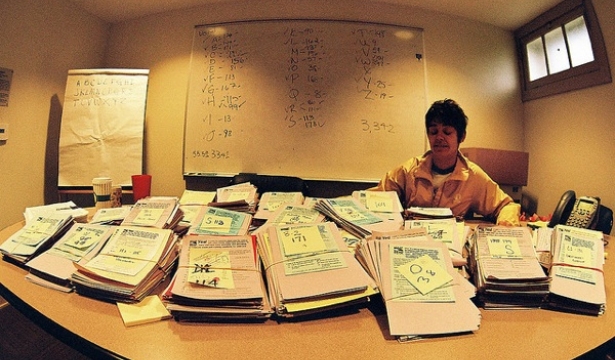 Unions dodged a bullet today when the Supreme Court took the unusual step of dismissing the strange and possibly disastrous case of Mulhall v. Unite Here Local 355 as "improvidently granted."
Though the dismissal leaves some bad law in place in the 11th Circuit Court of Appeals, which includes Florida, Alabama and Georgia, labor should nonetheless breathe a sigh of relief.
In Mulhall, a Florida casino employee backed by the anti-union National Right to Work Legal Defense Foundation (NRTW) argued that neutrality agreements violate an anti-bribery provision in the Taft Hartley Act of 1947 and therefore constitute a federal crime.
MORE »
3 comments ·
Tuesday, Dec 10, 2013 • 4:55 pm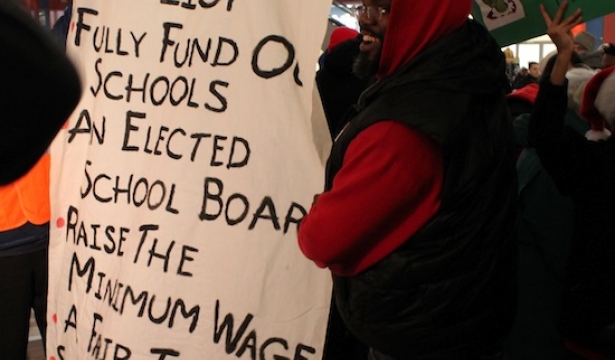 "Those aldermen who support the TIF surplus ordinance: They are on our good list," Michael Brunson, recording secretary for the Chicago Teachers Union, declared to a few dozen protesters on a freezing Monday afternoon outside Chicago City Hall. "However, we're going to tell those who rejected the TIF surplus ordinance they have been naughty."
The holiday-themed shaming was part of a National Day of Action to Reclaim Public Education held by the American Federation of Teachers on December 9 in some 60 cities. The day was conceived as a way for union locals and community groups to act together on shared education goals. In New York City, for example, the call was for universal pre-kindergarten; in Houston, fairer teacher evaluations.
MORE »
0 comments ·
Monday, Dec 9, 2013 • 10:00 pm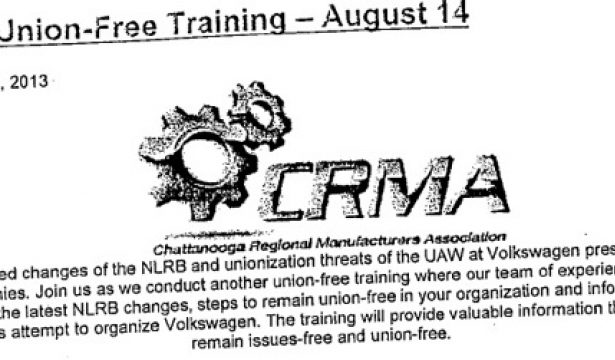 CHATTANOOGA, TENN.—Volkswagen America recently told Working In These Times that it was not funding efforts to stop the United Auto Worker (UAW) union drive at the VW plant in Chattanooga, and that it supported the right of employees to unionize. Now, evidence has emerged connecting VW to another anti-union group.
Last month, WITT asked VW why it donated to a gala held in June by the right-wing Competitive Enterprise Institute—whose then-employee, Matt Patterson, had launched a media and community-awareness blitz against the UAW campaign in Chattanooga. Volkswagen America spokesman Carson Krebs responded, "We didn't support CEI for any specific action or any action against UAW. Our Governmental Affairs Department attended a dinner featuring Senator Rand Paul—so did Ford and the Auto Alliance. As a general principle, Volkswagen supports the right of employees to representation at all its plants and is in favor of good cooperation with the trade union or unions represented at its plants."
However, Working In These Times has uncovered that Volkswagen America supports a second group engaged in anti-UAW activity in Chattanooga: the Chattanooga Regional Manufacturer Association (CRMA). The local industry group boasts VW as a member, and the CEO of Volkswagen America's Chattanooga Operation, Frank Fischer, sits on its board of directors.
CRMA engages in a variety of anti-union and anti-worker activities that would seem to run counter to Volkswagen's stated position of supporting "the right of employees to representation at all its plants." The organization promotes Chattanooga as attractive to manufacturers because workers receive "cost-competitive wages that are below national norms, including total average industrial earnings (83%), manufacturing wages (75%), and service sector salaries (81%)." In a membership brochure, CRMA advertises its "union avoidance/labor relations" seminars.
MORE »
2 comments ·
Monday, Dec 9, 2013 • 1:01 pm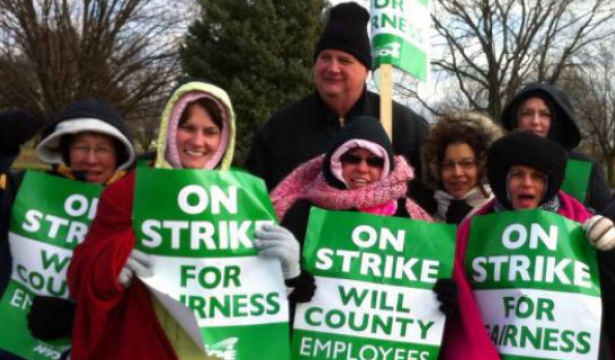 On 2:30 a.m. on Wednesday, union leaders and government officials in Will County, Ill., finally hammered out a contract agreement for county public workers after 15 months of negotiations and a three-week strike. Union members ratified the contract on Thursday with 95 percent support, ushering in four years of wage increases, in addition to an income-based sliding scale for worker contributions to healthcare premiums.
American Federation of State, County and Municipal Employees (AFSCME) Local 1028 represents the workers, whose ranks include, among others, health and highway department employees and administrators at the county clerk's office and courthouse. Dave Delrose, president of Local 1028, portrayed the strike and ensuing contract as a productive step toward "ensuring that county employees have the fair pay and affordable healthcare they deserve in return for their hard work."
In a statement released on Thursday night, Delrose continued, "By standing together, we reached a fair settlement that achieves these goals."
Will County executive Lawrence Walsh was less optimistic in his own public statement. Regarding healthcare, for example, he claimed, "Ultimately, no one was completely happy with these agreed-to amounts—which often means this was a true compromise."
MORE »
0 comments ·
Friday, Dec 6, 2013 • 3:13 pm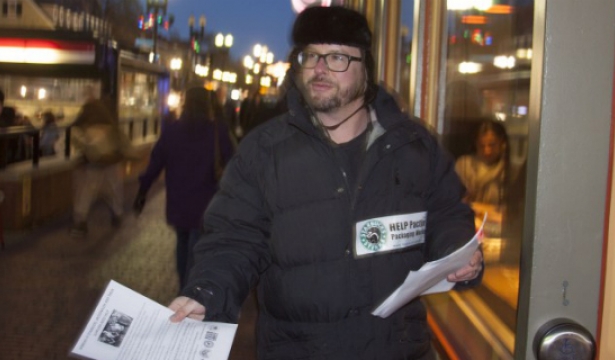 The Starbucks cup, with its iconic green mermaid logo and smart cardboard sleeve, seems to embody the essence of the urbane yuppie lifestyle. But the carefully constructed cool of the coffee mega-brand belies some serious anger percolating beneath the surface of Starbucks' supply chain.
That cup means something different to Ray Allen, a machine operator at a paper goods plant run by Pactiv, a major Starbucks supplier. Allen got his first full-time job at the Stockton, Calif. factory; now, more than a decade later, the steady employment has allowed him to own a home and raise a family. But it hasn't come without cost.
"I have given [Pactiv] my blood, sweat, and tears throughout the years," said Allen in a recent testimonial. "I have missed many events in my children's lives for this job with no regrets. All I ask for in return is a fair contract to preserve our well-deserved and hard-earned middle-class way of life."
Since the Stockton factory's parent company, Dopaco, was taken over by Lake Forest, Ill.-based Pactiv in 2011, Allen's union, Association of Western Pulp and Paper Workers Local 83, has been fighting for such a fair contract. The union says that management is pushing for unreasonable cutbacks on benefits and trying to allow temporary agency workers, hired outside the union, into the plant—a major departure from the old contract terms. They also claim the company wants to take away paid mealtimes, which they fear would significantly cut wages for a standard workweek.
MORE »
3 comments ·