Tuesday, Jul 28, 2015, 11:02 am · By Leo Gerard, United Steelworkers President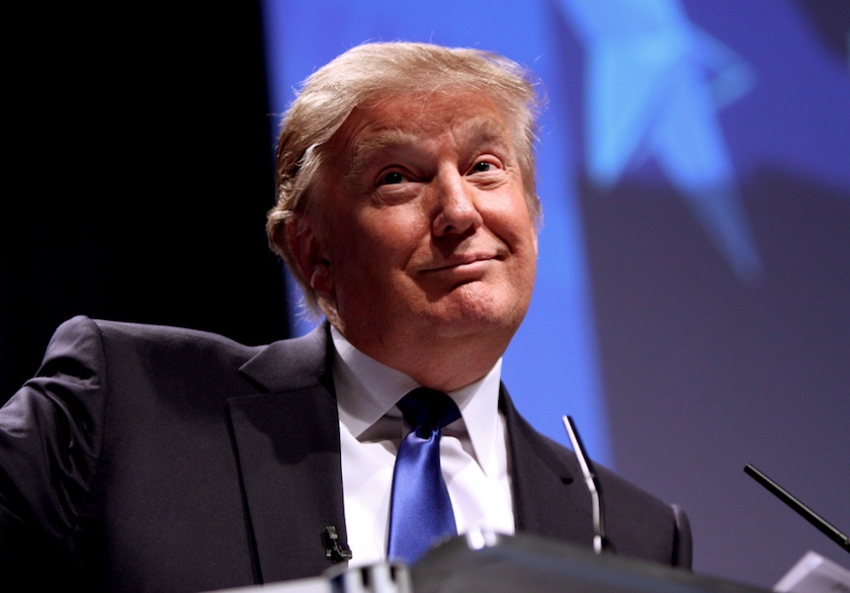 Donald Trump says exactly what the GOP believes. It's a simple axiom: personal wealth accumulation is everything. Republican Party officials believe individuals like The Donald attain riches through their own guts, glory and gumption with not an iota of aid from community, country or, frankly, inherited wealth.
It's just that when The Donald expresses their credo, he ignores the shinola and emphasizes the crass. Instead of going with the slick 2012 GOP convention theme, "I built that," to aggrandize individual capitalist conquest, The Donald slammed a group of his primary competitors for serving their nation instead of themselves.
Monday, Jul 27, 2015, 5:30 pm · By Alisa Robinson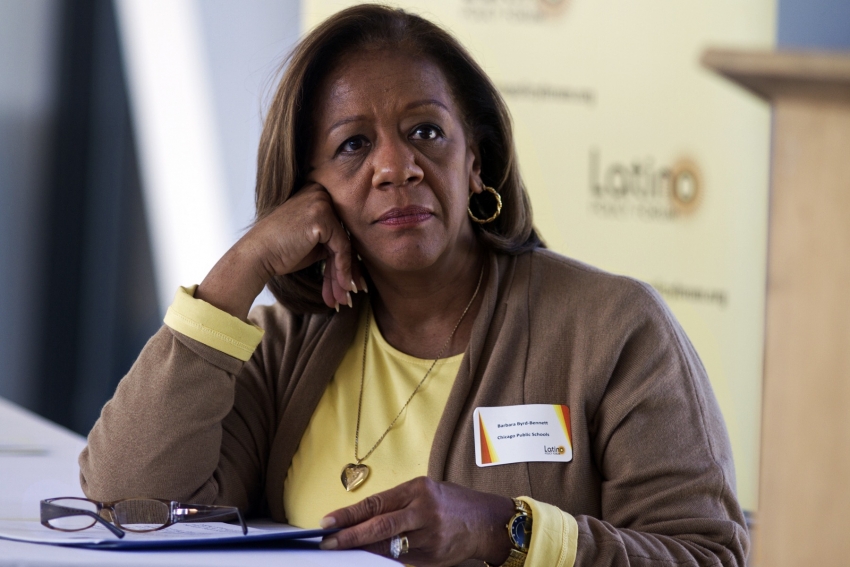 After serving as the CEO of Chicago Public Schools from 2012 to 2015, Barbara Byrd-Bennett was recently forced to resign from her position in the wake of a scandal over her approval of a major school leadership development contract with her former employer. Now that Byrd-Bennett's tenure at the head of the third largest school district in America has ended, it's a good time to assess the legacy she leaves CPS.
Little about that legacy can be seen as positive. Nearly every major decision that Barbara Byrd-Bennett made as the CEO of Chicago Public Schools benefited wealthy white power brokers at the expense of poor and working-class black students, parents and teachers.
Monday, Jul 27, 2015, 11:51 am · By Mario Vasquez
United Auto Workers Local 2865, the union representing 13,000 teaching assistants and other student workers throughout the University of California, called on the AFL-CIO to end its affiliation with the International Union of Police Associations (IUPA) in a resolution passed by its governing body on July 25.
The resolution came in the wake of a letter written by the UAW's Black Interests Coordinating Committee (BICC). The group formed in December 2014 in response to the acquittals of police officers in the deaths of Mike Brown and Eric Garner and is largely inspired by recent actions in the Black Lives Matter movement. With the letter, BICC aims to "start a really difficult conversation that the labor movement has had in the past and needs to continue to have around the intersections of race and labor, economic privation and racial disparity," according to BICC member Brandon Buchanan, a graduate student currently studying Sociology at UC Davis who serves as Head Steward.
Friday, Jul 24, 2015, 11:40 am · By Yana Kunichoff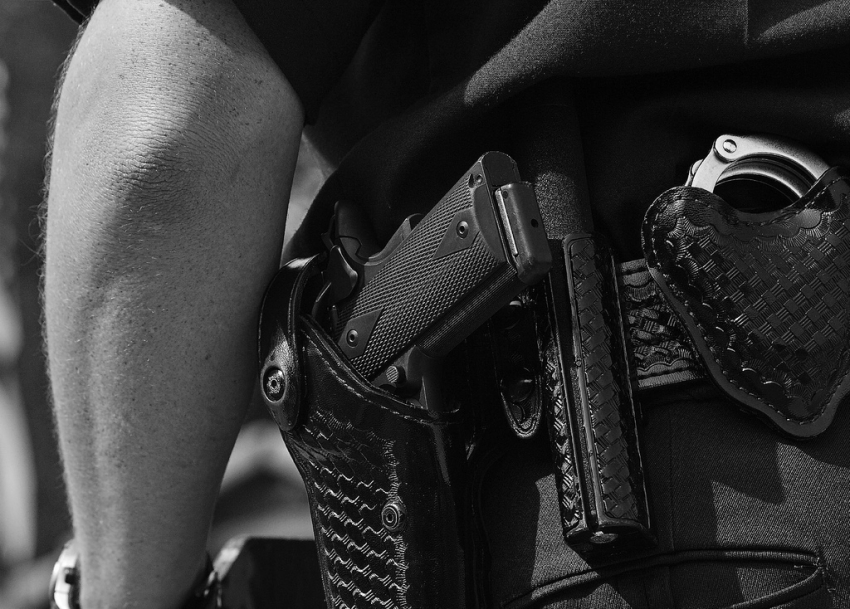 On Friday, June 26, workers from the Ruprecht Company's meatpacking factory in Mundelein, Illinois, walked off the job in a spontaneous strike against a pending immigration audit. Several weeks later, eight Ruprecht workers, three of whom are members of UNITE HERE Local 1, have been apprehended by immigration authorities.
In a statement, Immigration and Customs Enforcement (ICE) said the eight workers were picked up after the department discovered the workers had records that fall within its priorities for arrest during a routine immigration audit. ICE claims the workers' past charges include drunk driving, theft and felony fraud. But organizers argue that the audit and subsequent arrests, which took place while a group of Ruprecht workers were in union negotiations and followed the filing of two unfair labor practices (ULPs) could violate ICE's own rules against interfering in workplaces that are in the midst of labor disputes.
Wednesday, Jul 22, 2015, 5:01 pm · By Bruce Vail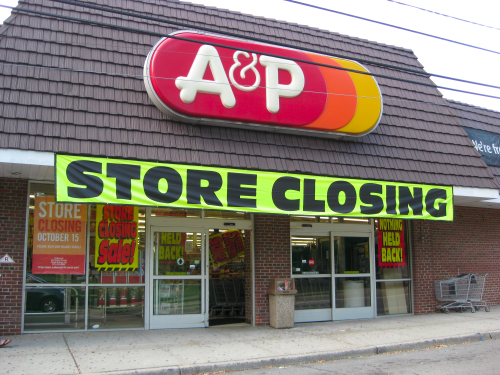 Plans to dismember the A&P supermarket chain were revealed in a federal bankruptcy court in New York this week, with dire results predicted for more than 15,000 members of the United Food and Commercial Workers (UFCW) union.
The historic grocery retailer—the original Great Atlantic & Pacific Tea Co. was formed back in 1859—intends to sell or close all of its 300 stores spread across six Mid-Atlantic states, according to documents filed Monday in the U.S. Bankruptcy Court for the Southern District of New York. The plan will affect every one of an estimated 30,000 UFCW members currently employed with the company, with more than half of those in real danger of losing their jobs soon, union officials say.
The bad news for the union was partially tempered with the announcement that A&P had already lined up the sale of 120 of its stores to other regional grocery chains that also have UFCW contracts. If those sales go forward as planned, most of the 12,500 union members at those 120 stores would be expected to retain their jobs under the new owners. The prospective buyers—ACME Markets, Ahold USA (operator of Stop & Shop) and Key Food—already have UFCW collective bargaining agreements covering the 120 stores in Pennsylvania, New York and New Jersey (A&P stores are also located in Connecticut, Delaware and Maryland).
Wednesday, Jul 22, 2015, 3:25 pm · By Alexandra Bradbury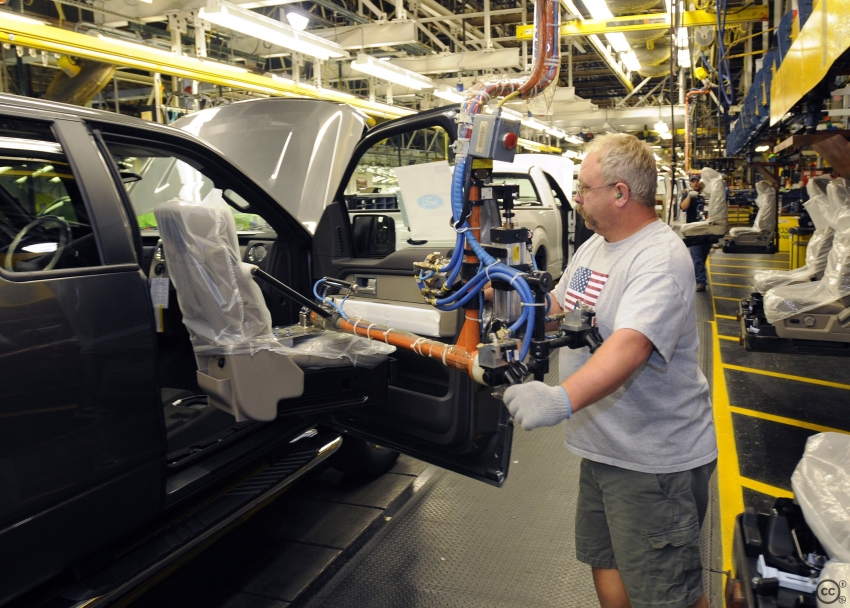 This post first appeared at Labor Notes.
Eight years after accepting a drastic two-tier system of wages and benefits—and nearly a decade since the first tier got a raise—the United Auto Workers are bargaining with the Big 3 automakers.
Talks began July 13 with a ceremonial handshake. It's the first contract expiration since Michigan's "right to work" law went into effect, which means disgruntled members in the union's most populous state could jump ship.
The Big 3 bargain at separate tables. Traditionally, as talks develop, the union will zero in on one to settle with first. The others generally fall in line. Separate local bargaining, already begun, covers non-economic issues like work schedules.
Together the contracts cover about 137,000 workers—including a lower-wage second tier that makes up 45 percent of the workforce at Chrysler, 25 percent at Ford, and 20 percent at General Motors, according to the Center for Automotive Research.
Tier 1 production workers, hired before the 2007 deal, have been frozen at $28.69 ever since. Gone is the cost-of-living raise (COLA) that used to link wages to inflation. They've also been hit by concessions on holiday pay and overtime.
Wednesday, Jul 22, 2015, 11:33 am · By David Moberg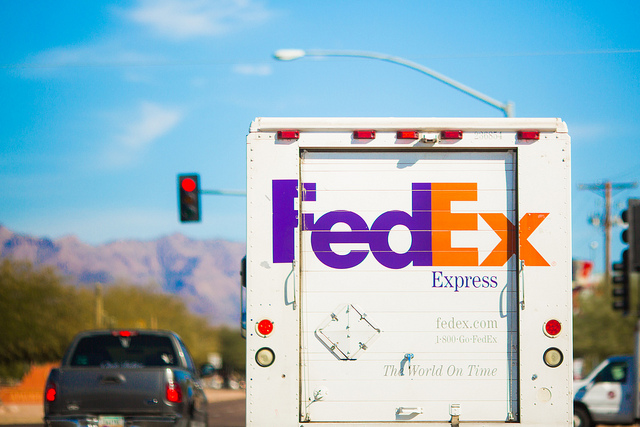 Are you an employee?
It seems like a simple question that must have a simple answer for most people. But definitions in different laws and rulings enforcing the laws vary. And that variation provides an opening for a growing number of employers to cheat governments of taxes and workers of income, benefits and protections by misclassifying their employees, especially as "independent contractors."
Wednesday, Jul 22, 2015, 11:15 am · By Martha Sanchez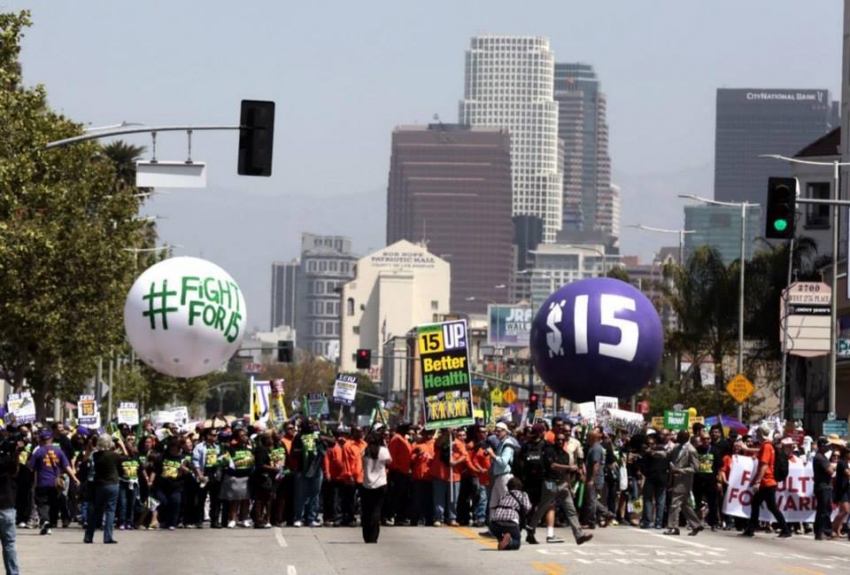 Our economy has long been out of balance. Workers' efforts across the country create wealth, but the profits don't get to the working people who produce them. Correcting that so that workers are paid enough to sustain their families and make ends meet, is not easy. It requires changing rules that unfairly favor the rich and are written by politicians beholden to the wealthy. That's why the recent move by Los Angeles to raise the minimum wage to $15 is so meaningful.
Tuesday, Jul 21, 2015, 4:12 pm · By Michael Arria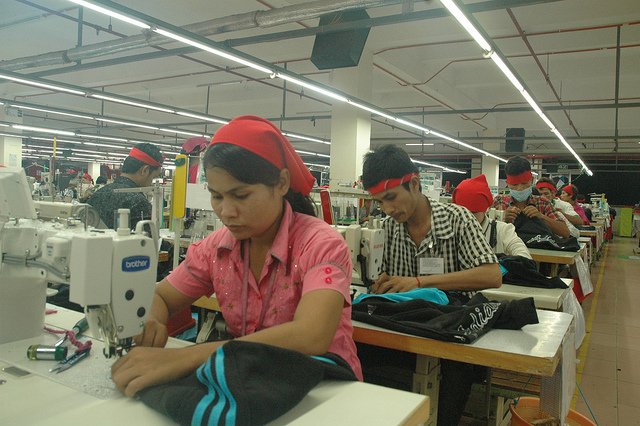 At the end of June, nearly 350 workers fainted in garment factories across Cambodia, with more than 100 collapsing on one day alone. These developments are part of a much wider pattern in the country: In 2011, there were 2,071 incidents of workers fainting, in 2012 there were 2,100. Last spring, nearly 120 workers fainted at two textile factories that make products for Puma and Adidas. From July of last year on, there were 733 fainting incidents across 14 different factories, almost all by women, who make up the vast majority of Cambodia's garment workforce.
Tuesday, Jul 21, 2015, 2:00 pm · By Fred Klonsky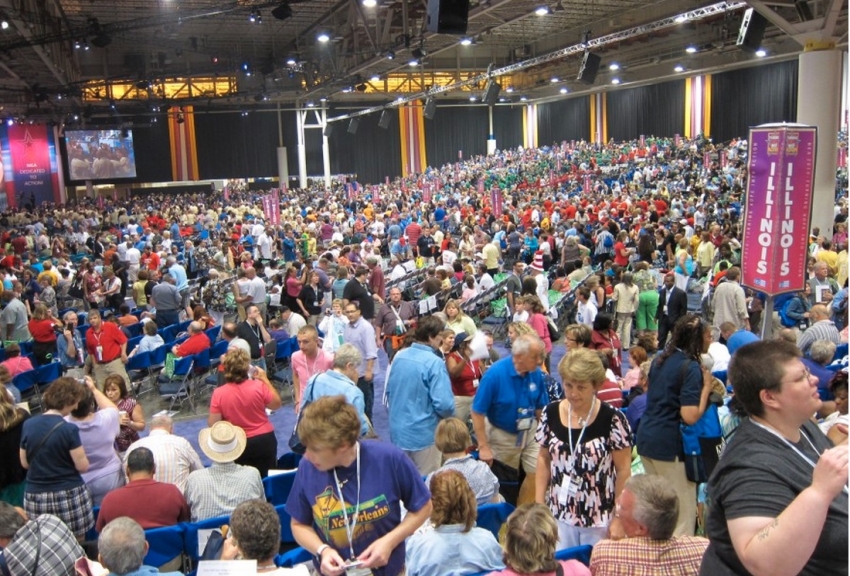 I was recently in Orlando, Florida, a few weeks after the brutal murder of nine African-American members of the historic Emanuel African Methodist Episcopal Church in Charleston, South Carolina, for the annual Representative Assembly of the National Education Association (NEA), the union I am a retiree member of. Just 12 months earlier, the NEA, the nation's largest labor union, made headlines when it elected three women of color to its executive leadership: President Lily Eskelsen Garcia, Vice President Becky Pringle and Treasurer Princess Moss. No other labor union in the United States could make that claim.
This year, a conversation about the issue of race and racism took center stage at our NEA annual meeting, and that seemed to be a big deal to me. I thought it was odd, though, that following this year's Representative Assembly, which took place from June 26 to July 6, there was barely a word in the national mainstream press or the progressive media about what had happened in Orlando.
I was there as a delegate from Illinois. Before arriving I read that an African-American activist, Bree Newsome, had been arrested for bravely climbing a flag pole and taking down the Confederate flag that still waved in front of the South Carolina capitol. I went on social media and suggested that it might be a good idea for the NEA to take some action in support of removing all Confederate flags, symbols, names and memorials from schools and public spaces.