Monday, Mar 13, 2017, 11:53 am · By Bruce Vail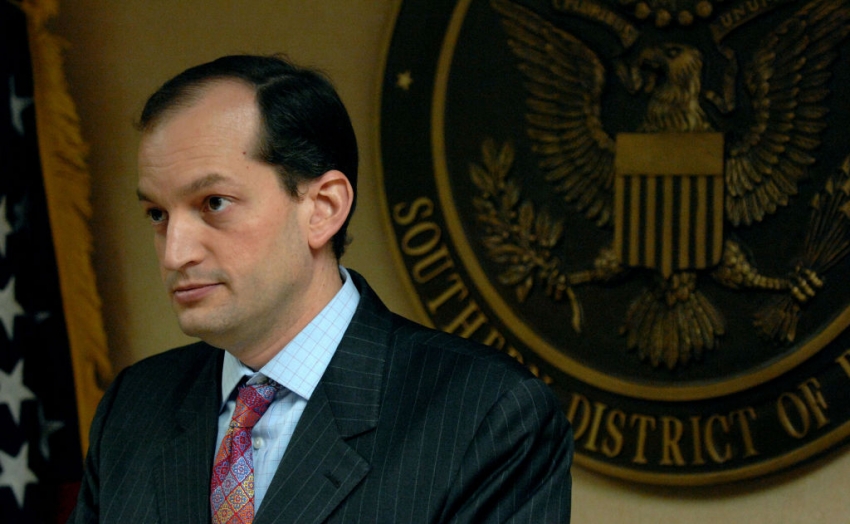 President Donald Trump's new pick to head the Labor Department is getting an early boost from a "divide-and-conquer" strategy against labor unions and their allies, even before his qualifications and background as a civil servant are scrutinized in a Senate confirmation hearing.
The nomination of R. Alexander Acosta was announced by Trump less than 24 hours after the president's first choice for the job, hamburger-chain executive Andrew Puzder, dropped out of consideration. Puzder faced mounting Senate opposition, even from some conservative Republicans, because of disclosures that he had personally broken labor law by hiring an undocumented household servant, and also that he had been accused of spousal abuse many years ago.
Labor unions and Democratic Party leaders in Washington, D.C., had maintained a unified front against the Puzder nomination but that unity dissolved almost immediately with the announcement of Acosta's nomination February 16. His first confirmation hearing, which was scheduled for this week, has been moved to March 22.
The first endorsement came from the International Union of Operating Engineers, followed by one from the International Association of Fire Fighters and then the Laborers International Union of North America (LIUNA) got on board. AFL-CIO President Richard Trumka even offered lukewarm praise, telling MSNBC News: "Well, we're going to vet him, but he does have a history of enforcing the laws that protect workers, which is a real plus, whereas Puzder had a history of violating the rules."
Friday, Mar 10, 2017, 12:18 pm · By Bruce Vail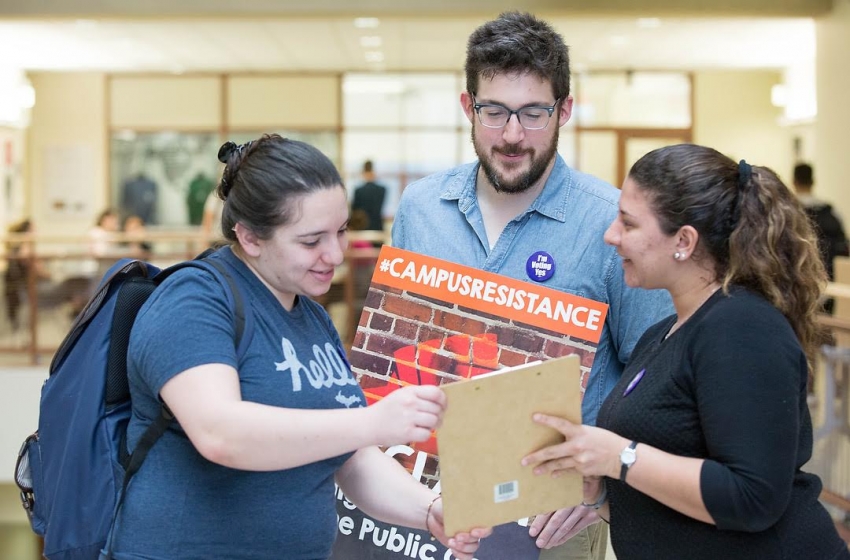 Graduate students who work as faculty assistants at American University (AU) in Washington, D.C., are forging ahead in their efforts to form a union, despite the uncertainty caused by President Donald Trump's conflicting signals on federal labor policy and anxiety among some foreign students over his anti-immigrant rhetoric.
Backed by Service Employees International Union (SEIU) Local 500, the students filed for an election with the National Labor Relations Board (NLRB) late last month. According to the NLRB petition, the union seeks to represent about 700 students serving as "Teaching Assistants, Research Assistants, Graduate Assistants, Laboratory Assistants Teaching Apprentices, Dean's Fellows, Instructors, Graders, Preceptors, Section Leaders, and Tutors" at AU's Washington, D.C., campus. Voting will be conducted by mail and begin March 20.
The student workers want to vote as soon as possible, says Scott Patrick, a member of the union organizing committee. Some 300 graduate employees have already signed cards indicating their desire for an election, he says, and union advocates feel confident they can win.
"It's time to bring academia into the 21st century in terms of how it treats its labor force," says Patrick.
Thursday, Mar 9, 2017, 11:59 am · By Jeff Schuhrke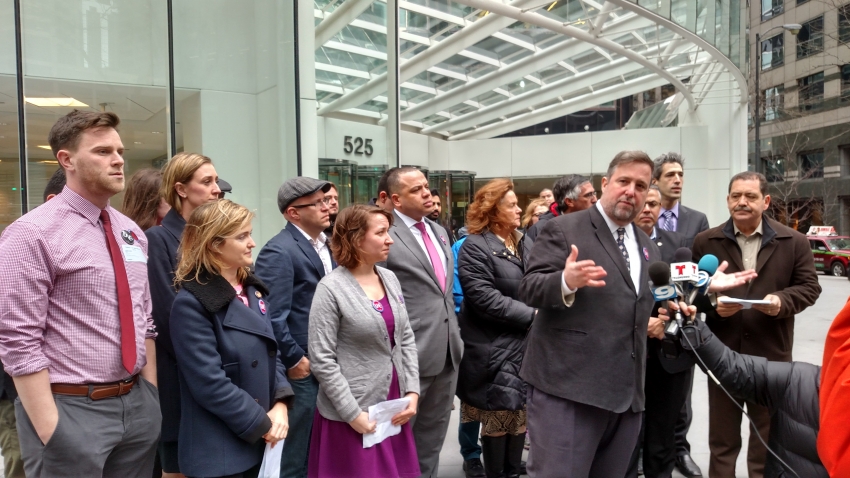 As Education Secretary Betsy DeVos calls for expanding charter schools and voucher programs in the name of "choice," teachers at Chicago's largest charter school have declared their choice to form a union.
Announcing the creation of the Union of Noble Educators last Friday, workers from Noble Network's 17 charter high schools hope to follow in the footsteps of teachers and staff from 32 other Chicago charter schools who have already unionized with the help of the Chicago Alliance of Charter Teachers and Staff (Chicago ACTS), Local 4343 of the American Federation of Teachers (AFT).
If successful, the 800 or so educators and staff at Noble would comprise the largest unionized charter school network in the country.
Wednesday, Mar 8, 2017, 12:46 pm · By Liza Featherstone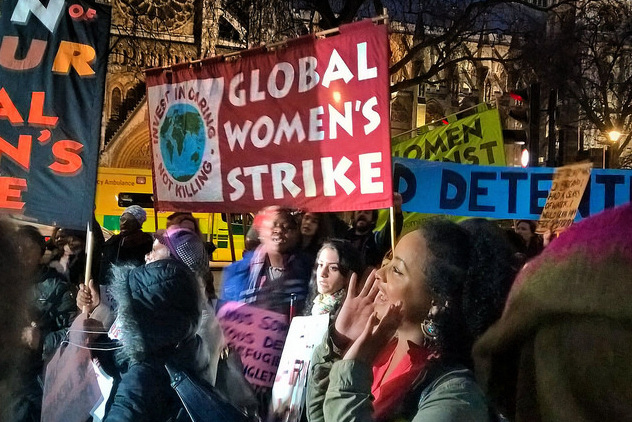 Babeland, a female-owned sex toy emporium founded in 1990s Seattle, would appear to be the ideal feminist enterprise. Charismatic female employees exude a blunt sex-positivity that has been responsible for the business' success, making the store a go-to place for dildos of all colors, angles and sizes. Now boasting three New York City locations, Babeland is all about female empowerment. Yet many employees' experience with this model of feminist capitalism underscores precisely why a women's strike on March 8, International Women's Day, is needed.
After management dragged out union contract negotiations for months, workers voted to authorize a strike the weekend before Valentine's Day, Babeland's busiest season. The threat worked. Workers won their demands, which included more full-time staff, pay increases, a more relaxed dress code, more holidays (including May Day) and easier communication between workers and the union, according to Octavia Leona Kohner, a Babeland worker active in the union.
Because of that experience at Babeland, Kohner explains, she and many of her colleagues wanted to participate in Wednesday's action "to raise awareness of the power of workers coming together. And the history of unions is women coming together." Kohner points to the importance of seamstresses and other women's struggles in shaping U.S. labor history. Like the Babeland workers' strike threat, she says, this women's strike will send the message that "without us you have no business."
Wednesday, Mar 8, 2017, 11:46 am · By Kate Aronoff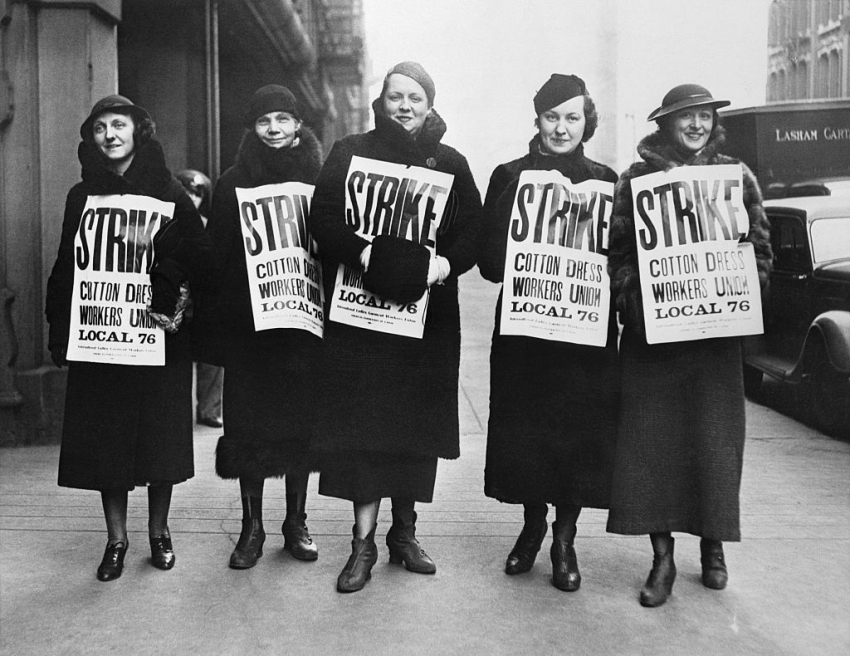 As this week's Women's Strike makes headlines, there's a strange idea floating around the Internet: that striking is for the privileged, the province of well-off women with the luxury of being able to claim a vacation day or hire other people to take care of their children and loved ones.
In a country with a union density just south of 11 percent, there are a number of legitimate questions to be raised about the feasibility of a strike in 2017. Workers' bargaining power stands at historic lows, and the institutions that once supported striking workers (namely, unions) have been eroded by a mix of neoliberal assault and market forces. Women, in particular—inordinately represented in low-wage service work—enjoy perilously few protections on the job, and are all too likely to face retaliation from their bosses for not showing up. Thanks to these and other structural factors, what happens will not be a truly mass strike. That's why organizers have outlined a number of ways to plug into the day's events, inside and outside the workplace.
Still, what's troubling about an analysis that claims striking-as-privilege is its near-total disconnection from American labor history. Women's strikes have never been about "abdicat[ing] parenting responsibilities in solidarity," as Quartz's Maureen Shaw put it—performing the role of a dutiful, privileged ally—but about recognizing a shared struggle across a workplace, industry, class or (in this case) country. Meghan Daum, at the Los Angeles Times, made an argument similar to Shaw's but still more ill-informed: that women striking would somehow show that they are an accessory to the economy, instead of critical to its functioning.
Tuesday, Mar 7, 2017, 11:52 am · By Sarah Jaffe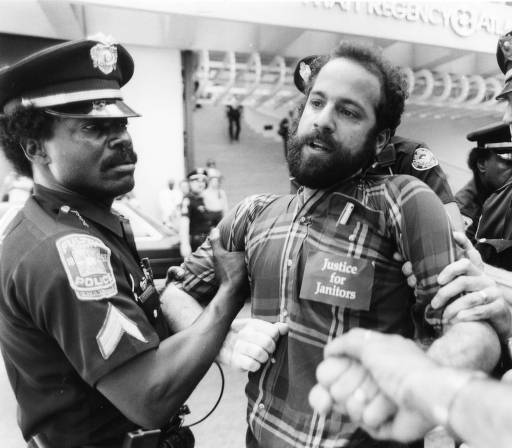 Welcome to Interviews for Resistance. Since election night 2016, the streets of the United States have rung with resistance. People all over the country have woken up with the conviction that they must do something to fight inequality in all its forms. But many are wondering what it is they can do. In this series, we'll be talking with experienced organizers, troublemakers and thinkers who have been doing the hard work of fighting for a long time. They'll be sharing their insights on what works, what doesn't, what has changed and what is still the same.
Stephen Lerner: My name is Stephen Lerner. I am a fellow at Georgetown's Kalmanovitz Initiative for Labor and the Working Poor. I work on the HedgeClippers and bank workers and a number of different campaigns that are all focused on looking up the money tree at who is really running the politics and the economy of the country.
Friday, Mar 3, 2017, 4:01 pm · By Dan DiMaggio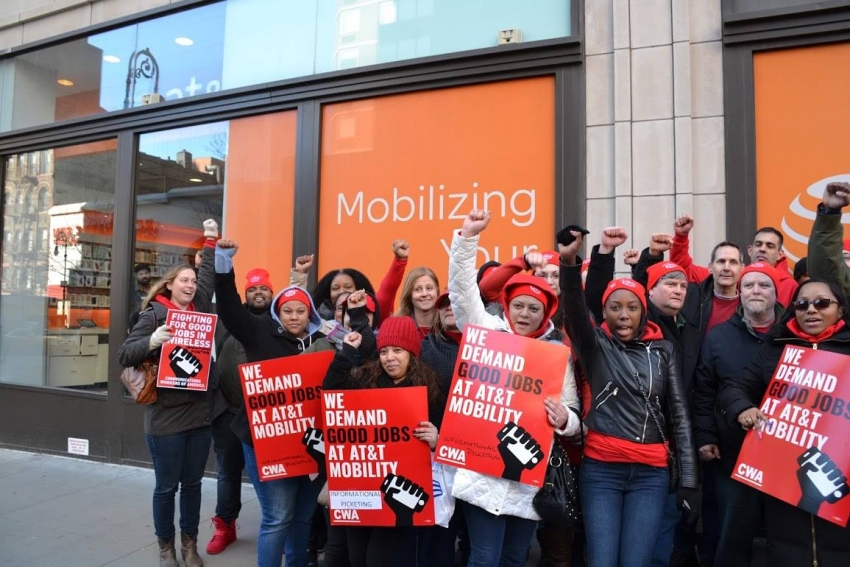 This article was first posted by Labor Notes.
AT&T Mobility workers are waging their largest-ever contract mobilization. In retail stores and call centers across the country they're sporting "We Demand Good Jobs" buttons, picketing on their days off, plastering union flyers on their lockers, and blowing up Facebook with pictures of their activities. These actions are helping knit together a sense of solidarity among 21,000 union members dispersed throughout 36 states.
"They've taken the career out of this job," says Heather Trainor of Communications Workers (CWA) Local 1101 in New York City. "Now they just want to put a body in the store to make them money. They've forgotten that we're human beings."
Friday, Mar 3, 2017, 1:57 pm · By Tim Shorrock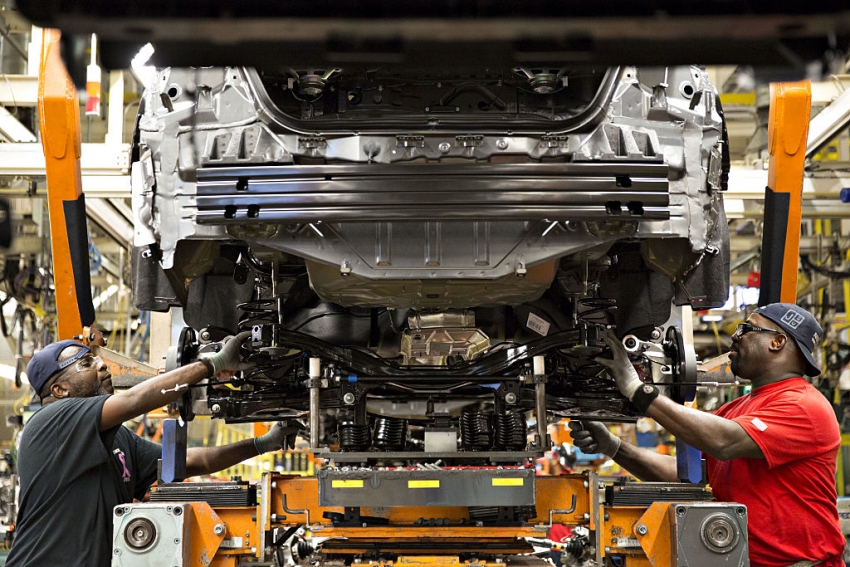 Workers, trade unionists, clergy and social justice activists will join Sen. Bernie Sanders, actor Danny Glover and leaders of the NAACP for a march Saturday to support workers at Nissan's giant auto plant in Canton, Mississippi.
The action is organized by the Mississippi Alliance for Fairness at Nissan, a coalition of faith and civil rights leaders seeking to bring attention to Nissan's labor practices at the plant, where the vast majority of the 6,400 or so workers are African-American. The United Autoworkers Union (UAW) launched an organizing drive in Canton in 2012.
Specifically, coalition leaders want Nissan, a Japanese corporation in partnership with France's Renault, to end what they claim are intimidation tactics against rank-and-file activists seeking UAW representation and curtail its use of temporary employees, who make up about a quarter of the total workforce.
They also want to help Nissan workers address concerns about safety and working conditions and the company's arbitrary decisions on work shifts and hours.
Thursday, Mar 2, 2017, 5:22 pm · By Jeremy Brecher and Joe Uehlein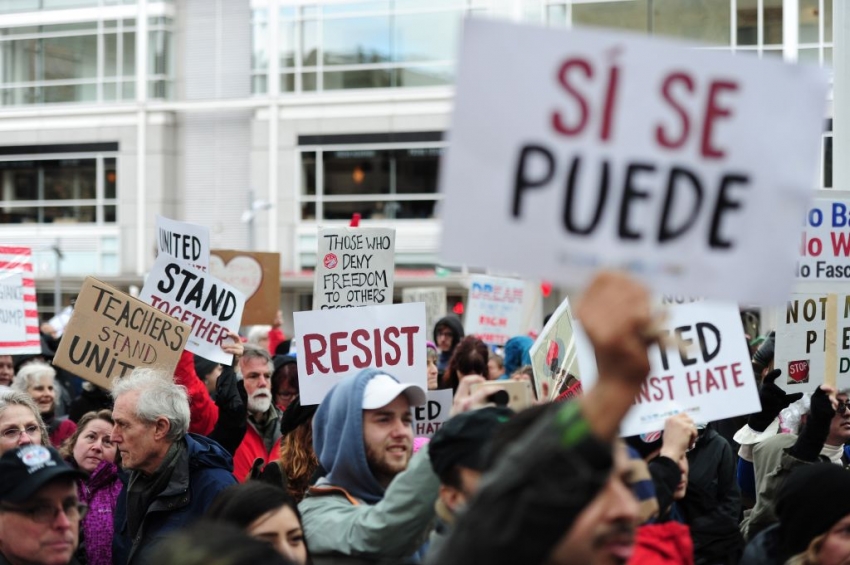 The Trump presidency presents organized labor with a dilemma.
On the one hand, Trump's advocacy for fossil fuel, infrastructure and military expansion promises to provide jobs for some union workers. His proposals to end trade deals and put tariffs on manufacturing imports align with long-standing labor opposition to pro-corporate globalization.
On the other hand, Trump and his Republican allies in Congress propose tax, budget and social welfare policies that would impoverish most workers. His Cabinet nominees are proven enemies of organized labor and the rights of workers. And his executive policies, legislative priorities and likely Supreme Court appointments point towards catastrophic restrictions on organized labor.
Wednesday, Mar 1, 2017, 1:59 pm · By Elizabeth Grossman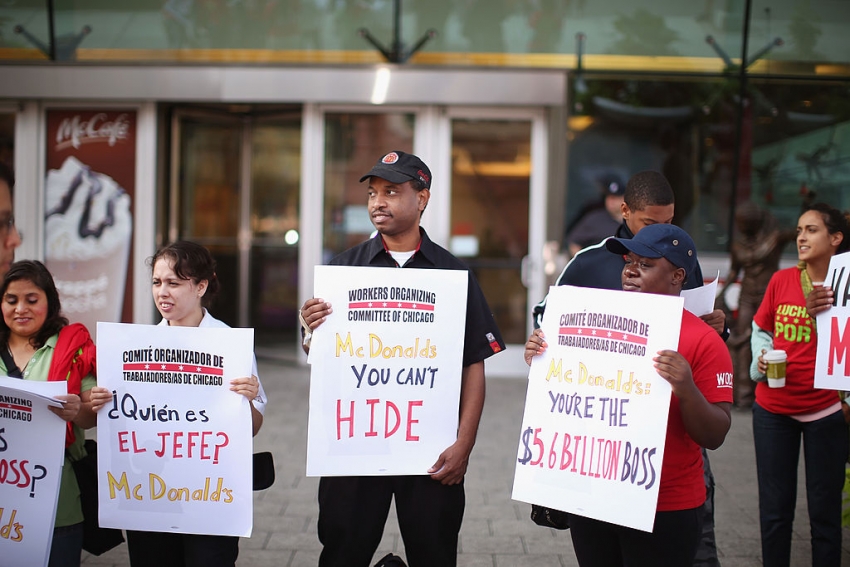 House Republicans have long sought to undermine the National Labor Relations Board (NLRB), claiming it destroys jobs, chills employer free speech and makes life harder for businesses, generally. The House Committee on Education and the Workforce continued that attack last month, holding a subcommittee hearing, entitled "Restoring Balance and Fairness to the National Relations Board."
Chaired by Rep. Tim Walberg, a Republican from Michigan, the hearing focused on the NLRB's recent joint employer standard, its recognition of so-called micro-unions and the board's new election rules, which Walberg called an "ambush election" rule.
"We have repeatedly seen the Obama NLRB overturn long-standing labor policies and put in place new policies designed to empower special interests," Walberg said in his opening statement. "In the weeks and months ahead, we will do everything we can to turn back this failed, activist agenda and restore balance and fairness to the board."