Tuesday, Jul 22, 2014, 3:00 pm · By Joseph Sorrentino
Following an investigation I conducted for In These Times last year that exposed wage theft in New Mexico's chile fields, it looked as though New Mexico Department of Workforce Solutions (DWS) was taking action to ensure that chileros (chile pickers) and other farmworkers in the state were finally going to get the pay they're legally entitled to. But new findings suggest that hourly workers are still being shorted and the DWS is doing little, if anything, about it.
In December 2013, I reported that, when paid hourly, farmworkers in New Mexico were routinely paid less than the state minimum wage of $7.50 an hour. For years, contratistas (labor contractors) and growers had erroneously believed they were only required to pay the slightly lower federal minimum of $7.25. I,reported this to DWS and, after attorneys at the New Mexico Center on Law and Poverty (NMCLP) applied some additional pressure, DWS sent out a letter earlier this year informing all registered contratistas that they were required to pay the higher state wage.
However, when I returned to the fields to do follow-up reporting this April, it appeared that the letter had had little effect on the hourly wages paid for weeding.
Chile and onion fields are weeded manually. Workers use hoes to dig up the weeds that in between the rows of crops, but for weeds that grow between the chile plants or onions, workers get on their knees and pull them out by hand. It may not be the most strenuous work that farmworkers do, but it produces sore backs and knees and by mid-morning, the heat from the southern New Mexico sun begins to take its toll. For this kind of labor, workers are paid by the hour (when harvesting crops, they're typically paid a piece rate, getting paid a certain amount for what they pick).
Monday, Jul 21, 2014, 8:00 am · By Matthew Blake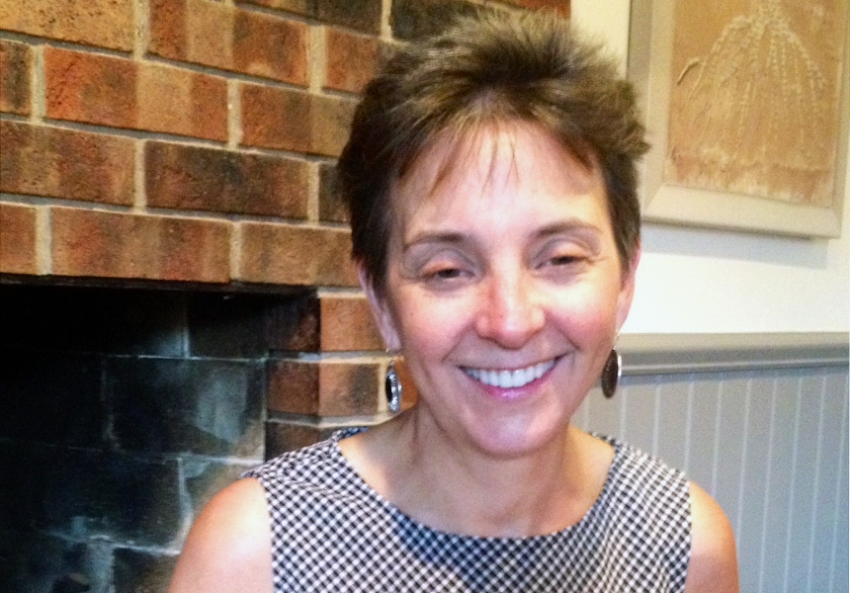 For three years in the early 1970s, journalist Studs Terkel gathered stories from a variety of American workers. He then compiled them into Working, an oral-history collection that went on to become a classic. Four decades after its publication, Working is more relevant than ever. Terkel, who regularly contributed to In These Times, once wrote, "I know the good fight—the fight for democracy, for civil rights, for the rights of workers has a future, for these values will live on in the pages of In These Times." In honor of that sentiment and of Working's 40th anniversary, ITT writers have invited a broad range of American workers to describe what they do, in their own words. More "Working at 40" stories can be found here.
Nino Guidici, a pharmacist who worked in a rapidly gentrifying neighborhood, told Terkel in Working that although he could have retired years before his interview, he would have missed his regular interactions with the customers who depended on him to dispense their acne medication, mix up an ointment or, once, patch up an artery-damaging knife wound. "I'm not saying I love people, but you miss 'em," he said to Terkel—and the comfortable salary didn't hurt, either.
Lisa Vogel of Naperville, Illinois has been a pharmacist for more than 30 years; she currently works at Thorek Memorial Hospital in Chicago's Lakeview neighborhood. After going to college in Nebraska, Vogel returned to her home state of Illinois, where she opened a pharmacy with her father, also a pharmacist, in Peoria. After co-running the family business for six years, Vogel moved with her husband to the Chicago area. Since then, she's held down several pharmacy jobs and raised five children; like Guidici, she enjoys the relative financial stability of the profession.
In These Times spoke with Vogel at a coffee shop in Chicago. She'd just finished an eight-hour shift, at which she'd filled almost 100 prescriptions.
Wednesday, Jul 16, 2014, 6:09 pm · By David Moberg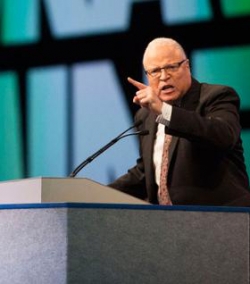 The just-released results of a six-month initiative by the American Federation of State, County and Municipal Employees (AFSCME) suggest that the dark cloud cast over public sector unionism by a recent Supreme Court decision may not be so threatening after all.
Many analysts saw the court's ruling last month in Harris v. Quinn as a profound blow to public sector unions such as AFSCME. In a case involving workers who receive state funds to provide home care for people with disabilities, the court found that the Service Employees International Union (SEIU) could not collect "fair share" payments from workers who declined to join the union. A significant share of public workers—especially in home care work, where workers are spread out over various workplaces—have been required to pay these reduced dues to compensate unions such as AFSCME and for their bargaining and representation work. Unions fear that in future rulings, the Supreme Court will eventually nix fair share fees for all public workers, or even all workers.
But a recent experiment by AFSCME may point the way to how unions can reduce the harmful effects of Harris.
Wednesday, Jul 16, 2014, 5:15 pm · By Decca Muldowney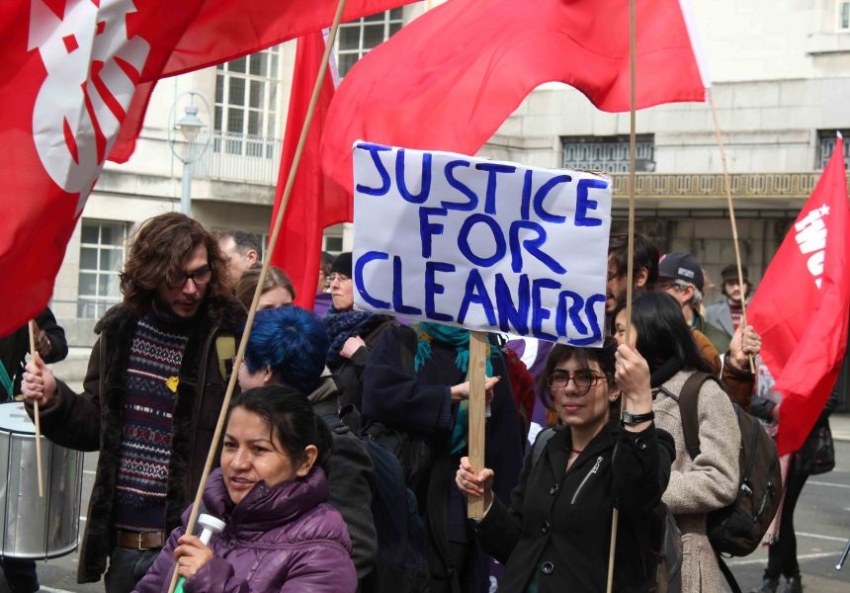 On July 10, hundreds of thousands of public sector workers across the United Kingdom—including firefighters, teachers, civil servants, National Health Service staff and local government workers — went on strike against pay freezes and pension cuts. The strike was coordinated by six of the United Kingdom's largest trade unions, and leaders claimed that it was the biggest strike since the 1926 General Strike. Dan Rawnsley, a teaching assistant and member of Unison, the United Kingdom's largest public-sector union, joined the strike rally in central London. "Days like this are really important," he said, "because it shows you the workers' movement is a force in society. But I think that rank-and-file members need to have much more control over the strategy for the strike. We need a plan to win, not just a plan for one-day protest strikes."
This sentiment — that labor struggles should shift away from top-down organizing methods like massive, symbolic one-day strikes—has been growing in the United Kingdom, especially since labor's leadership capitulated after a lackluster anti-austerity campaign in 2011. Yet, while the largest trade unions continue to use more traditional methods, low-paid, precarious workers across the United Kingdom are taking matters into their own hands through a series of smaller, more confrontational struggles that may be able to breathe new life into British trade unionism.
One of these grassroots initiatives is being led by workers at The Ritzy, a renowned art-house cinema in Brixton, South London. They have been campaigning to earn a living wage — which, in London, is 8.80 pounds ($15) an hour—for the last 10 months. Since April, they have held nine one-day strikes, attracting a huge amount of publicity and support, including from the high-profile film directors Ken Loach and Mike Leigh.
Wednesday, Jul 16, 2014, 2:20 pm · By Sarah Jaffe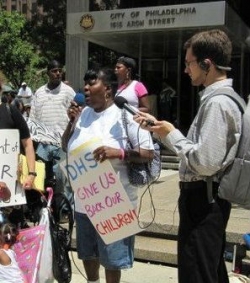 Carolyn Hill still remembers the night, two years ago, when the Philadelphia Department of Human Services (DHS) came to take her nieces away. The girls, ages 1 and 2, had been placed with her about a year earlier, after being removed from their mother's custody due to her mental health issues. Hill thought she'd begun the process of adopting the girls: She'd taken parenting classes at the request of the agency and had begun paperwork so that she could go forward with adoption.
But on Tuesday April 3, 2012, Hill got a call from the Lutheran Children and Family Service (LCFS), a nonprofit that had taken over her case the previous fall (Philadelphia's DHS farms out its caretaking services to a number of nonprofits). The caller said that she needed to speak with Hill that day. The social worker who had called Hill arrived at her home after 5pm and, without prior warning, took Hill's nieces away. "She didn't even let them finish eating—I had stopped to get them some food, but she just took them right on out," Hill tells In These Times. (LCFS did not return a request for comment.)
When Hill called DHS to find out why the girls had been removed from her care, she was told that everyone was on Easter vacation (Easter would fall on the following Sunday, a full five days away). "It felt like it was a set-up for them to come get the kids [at a time] when I can't get in touch with anybody," she says. Hill went to court the following Monday. She says she was not informed by the agency of how she could fight the removal: "I was supposed to go within 30 days [of the court hearing] and file an appeal—file for standing—but nobody told me about that."
Two years later, she still isn't sure why the girls were removed from her custody. The answers, she says, keep changing. The agencies brought up a drug conviction for which she served six months' probation in 1999—something the city knew about when she first took custody of her nieces, she says—and accused her of having mental health issues because she possessed Ambien to help her sleep. They also complained that she did not have a GED.
Monday, Jul 14, 2014, 2:45 pm · By Melinda Tuhus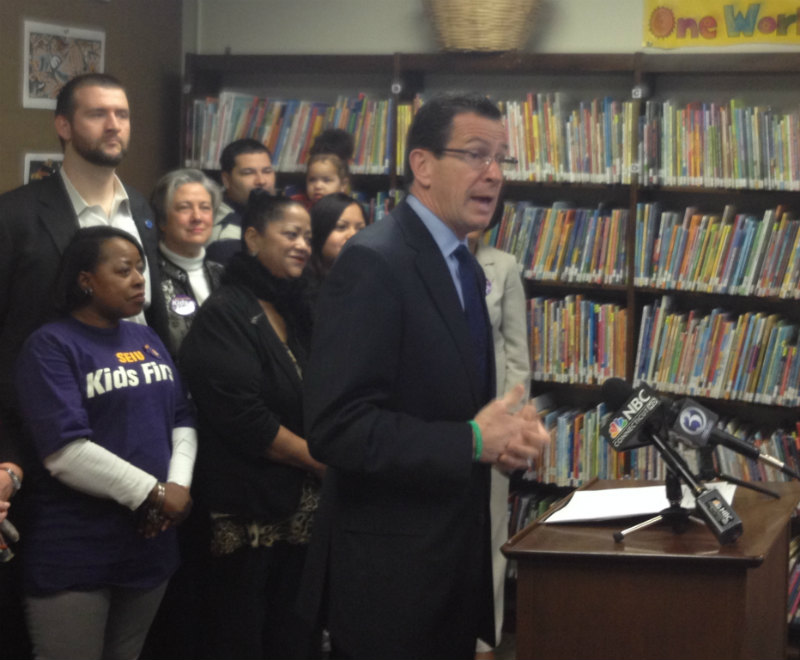 On June 30, the Supreme Court ruled in Harris v. Quinn that home healthcare workers in Illinois who declined to join the Service Employees International Union representing them did not have to pay a "fair share" provision for the benefits they've reaped from the organization. Technically speaking, the Supreme Court only considered Illinois care employees in its decision; however, activists fear that the ruling has potential consequences in a variety of sectors—and care workers in other states are watching the fallout especially closely.
Those in Connecticut have particular cause for concern. The day after the Harris v. Quinn decision was announced, the first-ever contract for 6,500 home care staff in the state came into effect. And the similarities between the situation in Connecticut and the one in Illinois are not lost on the Connecticut care workers' union, SEIU1199, or its potential foes.
Monday, Jul 14, 2014, 8:00 am · By Matthew Blake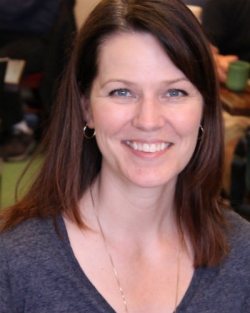 For three years in the early 1970s, journalist Studs Terkel gathered stories from a variety of American workers. He then compiled them into Working, an oral-history collection that went on to become a classic. Four decades after its publication, Working is more relevant than ever. Terkel, who regularly contributed to In These Times, once wrote, "I know the good fight—the fight for democracy, for civil rights, for the rights of workers has a future, for these values will live on in the pages of In These Times." In honor of that sentiment and of Working's 40th anniversary, ITT writers have invited a broad range of American workers to describe what they do, in their own words. More "Working at 40" stories can be found here.
In the '60s, Terkel interviewed Arny Freeman, who became so well-known for appearing on commercials that strangers would ask him for autographs on the street. He told Terkel, "I'm a working actor. If you want to work, you have to do everything."

Similarly, Loretta Rezos, a Chicago-based actor, has juggled a combination of theater, commercial and voiceover roles since matriculating at DePaul University in 1994. Rezos isn't famous, but neither is she struggling. In These Times spoke with her in May at a Chicago coffee shop about her career. This interview has been edited and abridged.
Friday, Jul 11, 2014, 4:30 pm · By Bruce Vail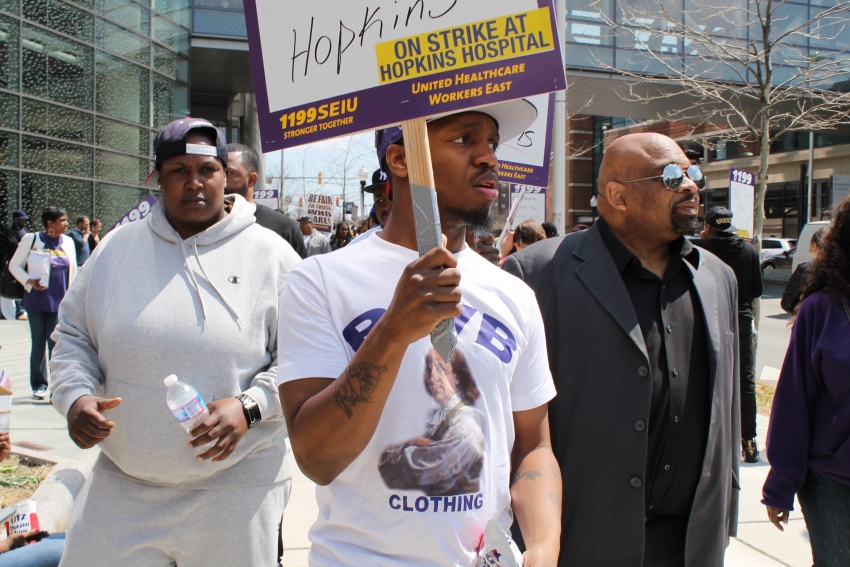 BALTIMORE—A bruising four-month fight between healthcare workers' union 1199SEIU United Healthcare Workers East and Johns Hopkins Hospital is coming to an end: Members voted on Thursday and Friday to ratify a new agreement covering about 2,000 medical center employees.
The battle has been unusually intense compared with negotiations in the past, featuring a three-day strike in April and a voracious media campaign shaming the wealthy hospital for abandoning its lowest-paid workers. And though the new contract falls short of initial demands that would have more widely boosted wages among staff, local 1199SEIU leaders still view its ratification as a welcome victory after months of struggle.
"It was a tough negotiation. They are hard bargainers," John Reid, Executive Vice President for 1199SEIU's Maryland/District of Columbia region, tells In These Times about Hopkins representatives. "They act as if they have no respect for their own workforce."
The contract, says 1199SEIU spokesperson Jim McNeill, calls for across-the-board wage increases of 2 percent a year in each of the first three years, followed by a 2.75 percent increase in 2017. In addition, it calls for a one-half percent salary bonus in the first year.
All in all, the union estimates, the employees whose salaries fall at the lower end of the scale could see a pay bump of an additional $4.30 per hour over the life of the four-and-a-half year contract.
Currently, the maintenance, food service and miscellaneous technical staff covered by the 1199SEIU agreement make an hourly minimum wage of $10.71. (The best-paid union members earn as much as $27.88 an hour.) By 2018, the new contract will have increased that to $13. Though that's progress for Hopkins employees, many of whom have to rely on food stamps or other public assistance programs to get by, it's not quite the $15-an-hour goal for which the union originally aimed.
Reid says this change stems from Johns Hopkins' apparent unwillingness to acknowledge that its pay just isn't high enough to support many staff members.
"We've moved forward, but it's still just outrageous that a wealthy institution like Hopkins doesn't understand that Baltimore workers need a living wage," he continues. In Reid's opinion, that living wage would amount to at least $15 an hour.
In order to garner support from other workers and the Baltimore public during its campaign, the union contrasted the modest incomes of maintenance and food-service staff at the hospital with the lavish compensation arrangements for the facility's senior administrators. For example, according to an 1199SEIU analysis of public documents, Hopkins President Ronald Peterson was the highest-paid hospital executive in the state in 2012. And Internal Revenue Service Records show that the next year, he received a $1.2 million salary—plus a bonus of $455,714 and a one-time $11.9 million pension benefit based on his 40 years of service with the hospital.
Though Hopkins has been publicly mum about the issue thus far, the high pay for its executives is one indication of the elevated status enjoyed by the hospital and its related organizations in the Baltimore area. According to Hopkins spokesperson Kim Hoppe, the hospital's parent organization Johns Hopkins Health Systems (JHHS) alone employs 20,000 workers at the sprawling East Baltimore medical complex; that number does not include the many others employed by Johns Hopkins University (JHU) elsewhere in the city. Taken together, JHHS and JHU are the largest employers in the entire state of Maryland.
Hopkins exerts such powerful regional weight that even nominally pro-labor elected officials such as Gov. Martin O'Malley (D) and Mayor Stephanie Rawlings-Blake (D) appeared fearful of backing the union in its wage fight. Neither publicly endorsed the union's contract campaign, and Rawlings-Blake even turned down an invitation to speak at a public 1199SEIU rally at the city's Inner Harbor in early May.
O'Malley did ask the two sides to return to the bargaining table in late June, when a second strike at the hospital appeared imminent, but the union did not seek that intervention, Reid says.
And Hopkins' wide-ranging influence will mean that its now-ratified contract with 1199SEIU will have an impact beyond the facility's campus. The union has collective bargaining agreements with Sinai Hospital and Greater Baltimore Medical Center, two other hospitals in the Baltimore metro area. Those contracts, Reid notes, have historically followed the pattern set by Hopkins.
"I think that Hopkins sets the standard in Baltimore. The other hospitals, even the non-union hospitals, will keep pace with Hopkins," he says.
Wednesday, Jul 9, 2014, 7:13 pm · By George Joseph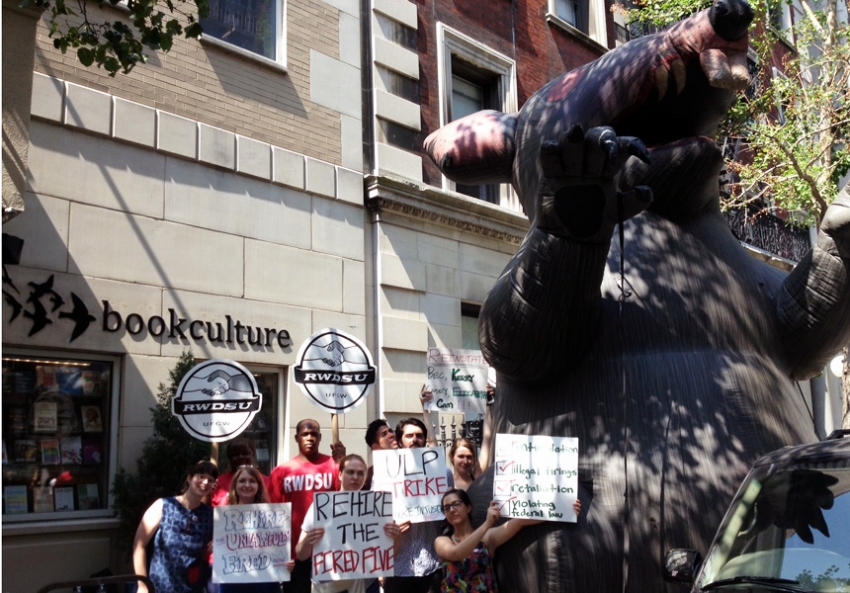 A few blocks away from Columbia University, independent bookstore chain Book Culture's two Morningside Heights locations are often packed with young patrons poring over Feuerbach critical readers or Camus postcards. So many of the company's progressive customers were dismayed when, on June 27, they received a mass email from Book Culture owner Chris Doeblin informing them that several store managers had been fired for voting to unionize, along with one other worker accused of a separate infraction.
"It became clear that several of the store's supervisors were not willing to continue to perform the role of supervisors within the new environment of having the unionized workforce," Doeblin wrote. "We respect them for their candor, but they could not continue as employees when they were unwilling to perform their job's most essential functions."
In response to the five firings, the Retail, Wholesale, and Department Store Union, the workers' prospective union, filed an Unfair Labor Practice complaint with the National Labor Relations Board. RWDSU members also picketed outside both stores every day for a week, blowing up inflatable rats and encouraging onlookers to boycott the establishments. On July 2, nearly every worker walked out on a one-day strike.
The next day, Book Culture hired back all four fired supervisory workers and negotiated a compensation package for the fifth, officially retracting its claim that she had been eavesdropping on management conversations.
Wednesday, Jul 9, 2014, 5:21 pm · By William A. Hudson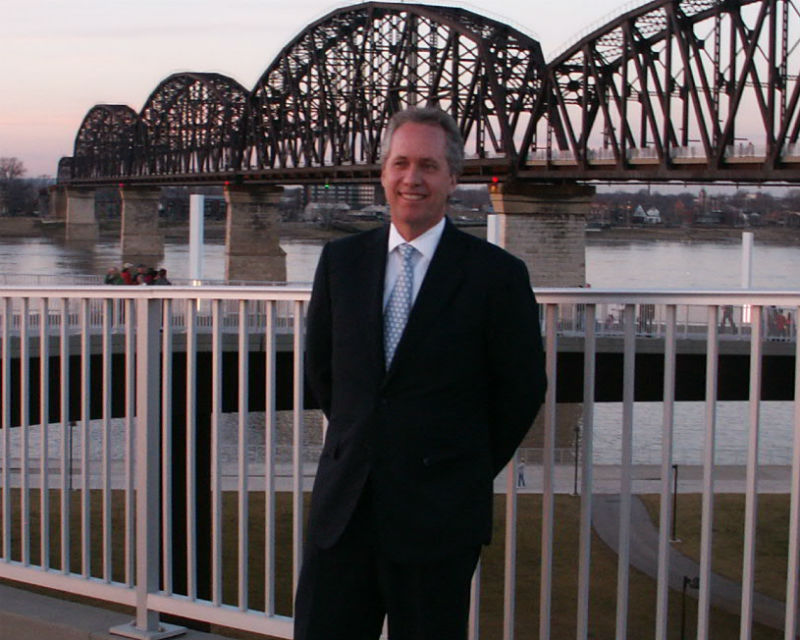 Angelina Justice has been working as a youth services librarian assistant at the Free Public Library (LFPL) in Louisville, Kentucky since 2004. Though she says she loves helping the children who visit the library, she and other unionized city workers have faced a series of cutbacks and declining work conditions since Mayor Greg Fischer took office in 2011.
Like her co-workers at LFPL, Justice is a member of AFSCME Local 3425—and she says the Fischer administration's current contract with the union makes it almost impossible for her and her family to survive.
"If my household didn't have a second income, we wouldn't make it as a family of five," she tells In These Times.