Wednesday, May 20, 2015, 2:19 pm · By Lauren Gaynor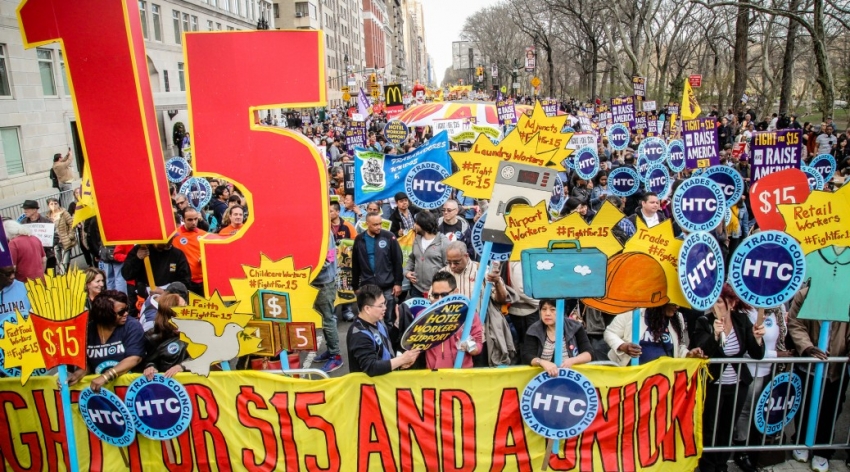 On Tuesday, Los Angeles passed an ordinance that will raise the citywide minimum wage to $15 by 2020. In a motion that was approved by the Los Angeles City Council 14-1, the minimum wage will increase annually over the span of five years. Starting on July 1, 2016, minimum wage will increase from $8.75 to $10.50 and then $12.00 in 2017, $13.25 in 2018 and $14.25 in 2019.
For businesses and non-profits with fewer than 25 employees, the wage increase will begin a year later, in 2017. Non-profits with over 25 employees can be exempt from the wage increase if they fill out a waiver and meet all of the necessary criteria to be exempt.
Wednesday, May 20, 2015, 12:17 pm · By Lauren Gaynor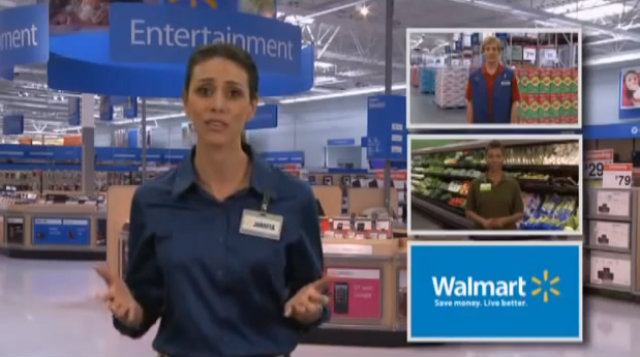 On April 13, Walmart suddenly shut down five stores—two in Texas, one in California, one in Florida and one in Oklahoma—leaving 2,200 workers shocked and unemployed. According to Los Angeles Times reporter Michael Hiltzik, employees were told that the stores have "ongoing plumbing issues that require extensive repairs."
As of April 16, Walmart still had not filed for the permits required to fix the plumbing at the stores, sparking speculation that there might not actually be plumbing problems—just an effort to clamp down on worker organizing.
Wednesday, May 20, 2015, 6:45 am · By David Moberg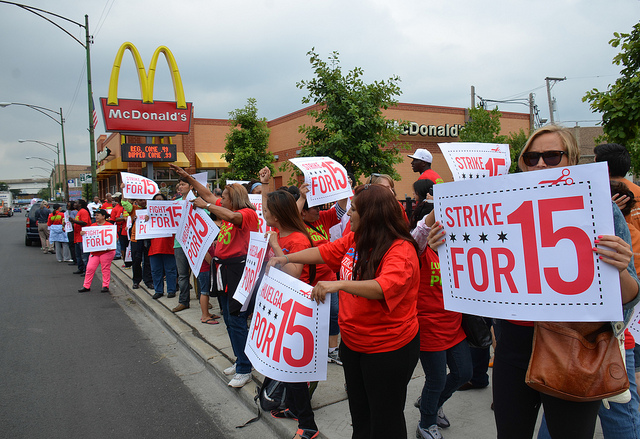 When McDonald's stockholders meet on the leafy corporate campus in suburban Chicago today and tomorrow, thousands of protestors will be ready to greet them, according to organizers of the fast-growing Fight for $15 movement. Last year, in the first such confrontation, a few hundred people marched on and then blocked roads leading on to the company property before police arrested them.
The anticipated jump in numbers reflects the growth of the movement and the expansion of the strategy during this past year.
The movement has stirred up interest among workers far beyond fast foods, including student workers, adjunct teachers and retail workers. The number of people taking part in the national protests/strikes have grown as well.
Tuesday, May 19, 2015, 3:17 pm · By Leo Gerard, United Steelworkers President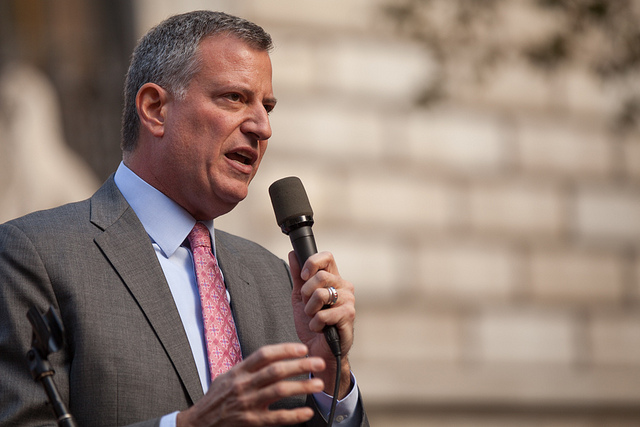 Some of the biggest banks in the world are expected to plead guilty to felonies this week. Felonies! They are scandalous crimes, too: fraud and antitrust violations.
Finally, America will see members of the class that crashed the economy dressed in black and white suits that are hardly the Brooks Brothers pinstripes to which they've grown accustomed.
Oh, wait, no. The New York Times says these felons will just pay some fines and go about their business of playing roulette with the world economy. Of course they won't face prison like normal criminals. They're bankers! Members of the exclusive Too Big to Jail Club. They're protected. Just like millionaires and CEOs are. A CEO can, for example, be fired for failing to produce but still get $21 million in severance, then lose a well-financed race for U.S. Senate and still be considered a viable presidential candidate. That's because the rules are written for them. The economy currently is constructed to ensure their enrichment.
Tuesday, May 19, 2015, 11:42 am · By Kathy Wilkes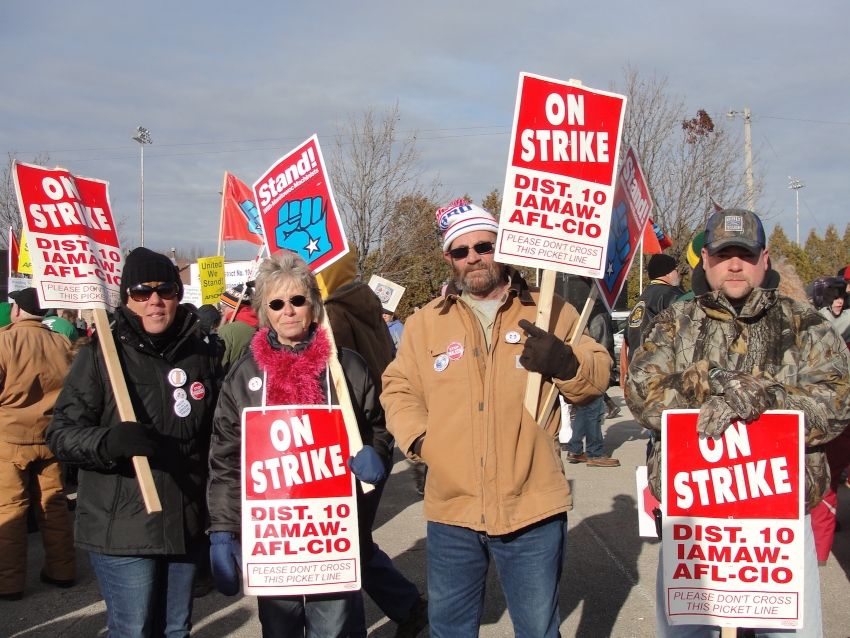 This post first appeared at Labor Notes.
Three years after losing a ten-week strike over the right to collect dues, about 200 union members at Manitowoc Cranes in northeast Wisconsin face continuing efforts to decimate their treasury—an experience other unions may soon also face under the state's new so-called "right to work" law.
"A lot of workers feel pressure," said Bill Brault. A 40-year member of International Association of Machinists (IAM) Local Lodge 516, he abhors the company ultimatum that ended the strike: make dues voluntary and get a raise; or resist and lose jobs to replacement workers, otherwise known as "scabs."
Brault won't say the "S" word or give an opinion about workers who don't pay dues. According to the company's post-strike harassment policy, "I would lose my job," he said.
Friday, May 15, 2015, 3:41 pm · By Lauren Gaynor
On Wednesday, 72 employees were killed and many were left injured in a large industrial fire in the Philippines. The Kentex Manufacturing Corporation, a footwear manufacturing plant in Valenzuela, started on fire when welders were working on the metal front gate of the building. The fire was sparked when chemicals used in the production of rubber slippers were ignited near the gate and grew quickly due to the abundance of flammable material inside of the building.
"The situation happened very fast," said the city spokesman, Rhay R. Sousa, according to New York Times reporter Floyd Whaley. "Some people had to jump from the building to escape."
Friday, May 15, 2015, 12:17 pm · By David Moberg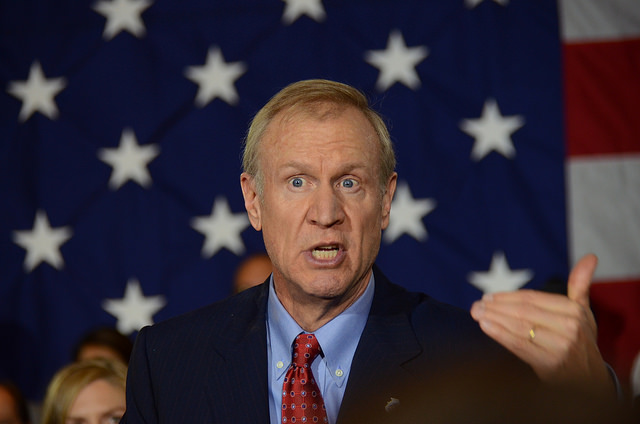 Bruce Rauner, the new Republican governor of Illinois, has been learning this week that it's harder to impose a right-wing, pro-business agenda on a big state government than it is to overhaul a corporation after a hostile takeover—the work that yielded him nearly a billion dollars as a private equity investor before getting into politics.
It's harder yet when it's a heavily industrial state with union members who still turn out for protests, even in small towns, and where even the moderate Democrats controlling the state legislature can unite in opposition to Republican initiatives—whether for the benefit of their constituents or to simply exercise partisan power.
Friday, May 15, 2015, 12:05 pm · By Kari Lydersen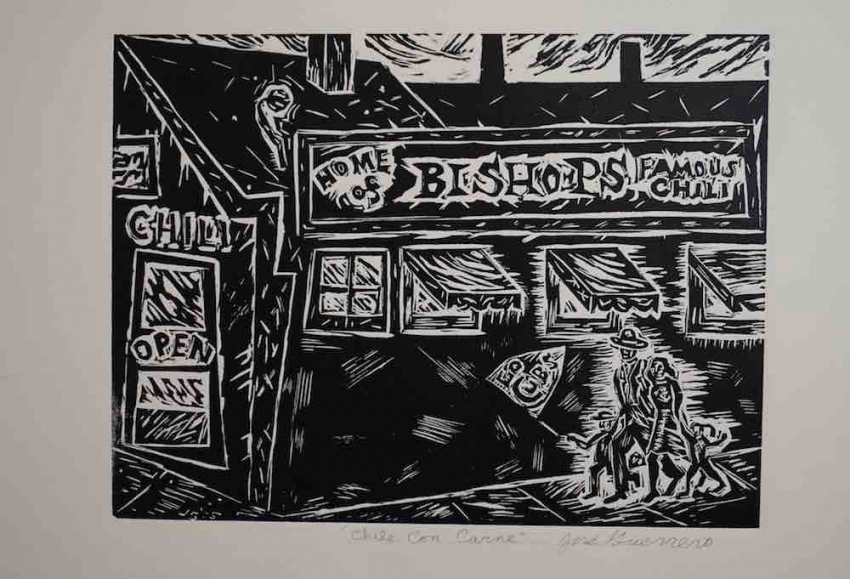 Enter Prospectus Gallery in Chicago's Pilsen neighborhood—a longtime bastion of immigrant rights and community activism—and you enter the world as seen by Jose Guerrero.
It is a world full of injustice and violence, a gritty and reeling place where people nonetheless rise up in resistance, solidarity and joy; where even death itself is vanquished by the grinning skeletal calaveras who continue celebrating life on the other side.
For four decades Guerrero has been a well-known and well-loved artist here, a prolific print-maker who also painted murals, taught print-making to adults and kids and led thousands of visitors and college students from around the country on tours of the murals, with the outfit Pilsen Mural Tours that he started in 1985.
The retrospective, organized by Prospectus director Israel Hernandez, shows Guerrero's world view, his deep roots in the neighborhood and the way he places local struggles for justice, survival and dignity in a larger context sweeping across the globe and across time. Guerrero's work celebrates regular people—workers, women, immigrants—oppressed by the evils of capitalism, racism and greed but tirelessly fighting back, defiant and oftentimes victorious in their vision of a better world.
Friday, May 15, 2015, 11:31 am · By Michael Arria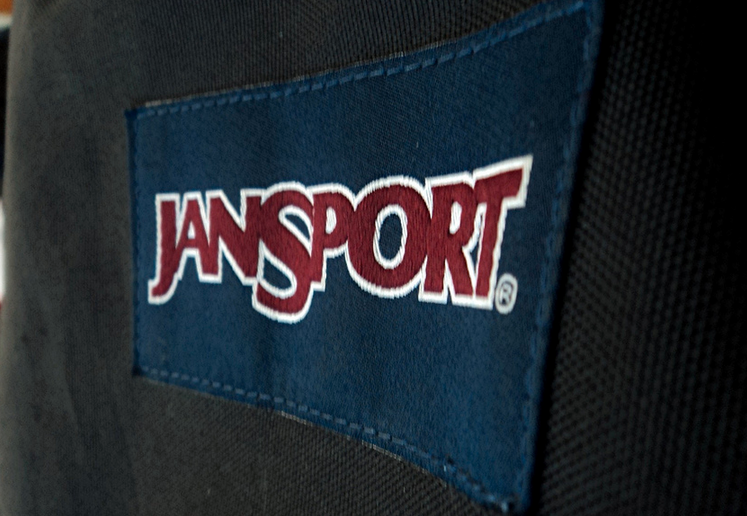 This past April marked the anniversary of the Rana Plaza factory collapse, a tragedy that called attention to the horrible labor conditions many Bangladeshi workers labor under. That disaster also led to new regulations, most notably the Accord on Fire and Building Safety in Bangladesh, a five-year legally binding agreement between brands, retailers and trade unions to build a safe garment industry throughout the region through an independent inspection program which identifies safety hazards. The Accord's investigations are conducted in conjunction with union members and workers to ensure full transparency. Additionally, democratically elected safety commissions act on all health-related issues that are discovered within the factories.
Many U.S. companies like American Eagle and Fruit of the Loom have signed the safety accord, but some notable brands have refused. One of the corporations that won't sign is a company that many Americans are unfamiliar with: VF Corporation, a Greensboro, North Carolina-based clothing business that owns over 30 brands. One them is currently the target of campus activism throughout the country: the collegiate apparel and backpack brand JanSport.
Friday, May 15, 2015, 11:00 am · By Mario Vasquez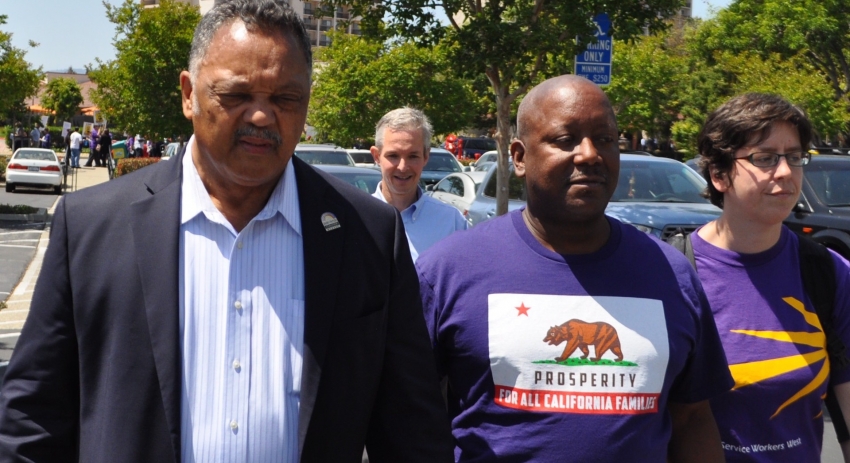 On May 5, Silicon Valley security officers rallied outside the office of Broadcom, a wireless-component maker (which produces the WiFi chips in Apple iPhones), in hope of drumming up support for an organizing campaign at the company's security subcontractor, Universal Protection Service (UPS). They were joined by a high-profile supporter: Rev. Jesse Jackson.
"We must confront income inequality in Silicon Valley," says Jackson, who has launched a campaign to diversify the tech industry. He calls the valley "an oasis for some, a desert for others."