Tuesday, Dec 9, 2014, 5:09 pm · By Bruce Vail
The U.S. Senate voted Monday to confirm the nomination of pro-union Democrat Lauren McFerran to the National Labor Relations Board (NLRB), an action that insures the panel will continue to operate normally as Republicans take full control of the Senate next year.
Tuesday, Dec 9, 2014, 5:01 pm · By Leo Gerard, United Steelworkers President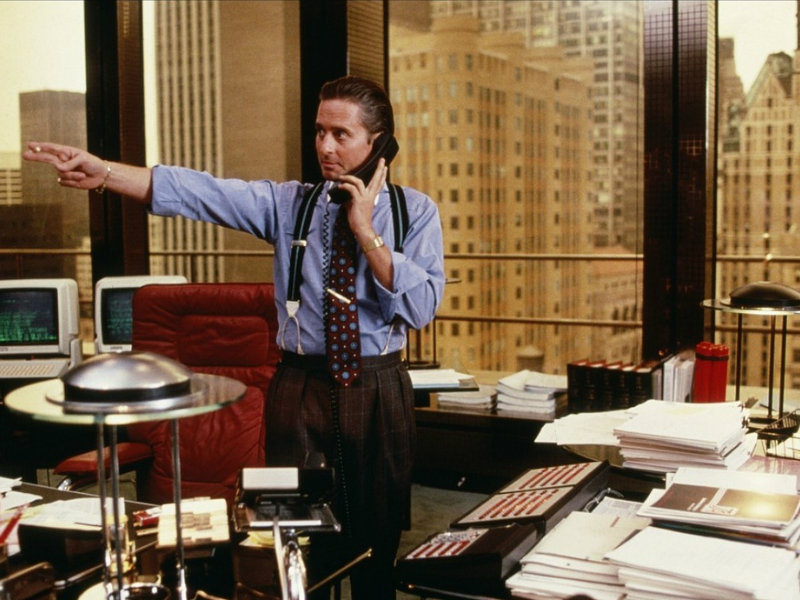 Holiday bells are silent in the homes of America's struggling working poor, even with gasoline prices at their lowest levels in years. These are people derided as moochers because their starvation wages force them to accept food stamps to feed their children.
On the other side of town, inside gated communities where guards demand photo ID even from Santa, CEOs' Christmas plums are super-sugared with record-breaking corporate profits.
These are people somehow not derided as moochers, even though their million-dollar pay packages are propped up by tax breaks.
Tuesday, Dec 9, 2014, 3:45 am · By Jordan McCurdy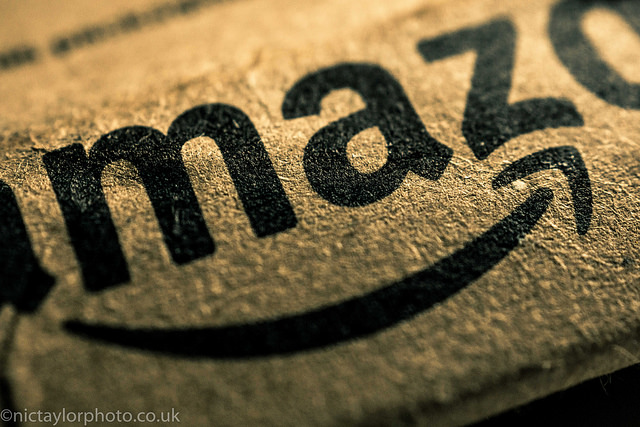 On Monday afternoon, Amazon workers from two German warehouses went on strike, demanding Amazon.com, Inc. negotiate a wage agreement for its 10,000 German employees.
For Verdi, the union that represents retail workers across Germany, the strike is an escalation in its yearlong battle with Amazon and the company's refusal to increase workers' wages.
Amazon classifies their warehouse employees as logistics staff, arguing that their employees earn an above-average wage for that sector of the German economy. Verdi, however, asserts that Amazon employees are retail industry workers and should be rightfully compensated for the pressures they face not just during the holiday season but throughout the year.
Monday, Dec 8, 2014, 12:08 pm · By Jenny Brown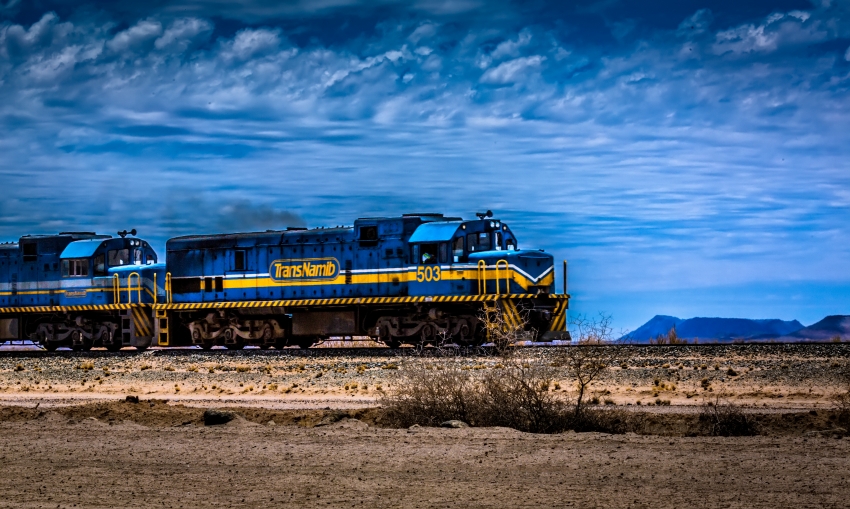 Paul Proudlock went to bed at midnight to calibrate his sleep for a freight train he was to drive at 2 p.m. the next day. At 2:15 A.M., a Canadian Pacific dispatcher called him and asked him to take a passenger train in three hours.
"I'm not rested," Proudlock is heard explaining in a company recording. The dispatcher threatened to discipline him and cancel his 2 P.M. train. "You're obligated to go. If you answer the phone, you have to go."
"No, I'm not," said Proudlock. "I'm obligated to do the safe thing first… I drive a train."
This kind of pressure is commonplace, according to railroad and airline workers. They say managers push workers to pilot planes, trains and buses when they are too tired to safely do so. The stakes are high for the workers—and for the general public.
Friday, Dec 5, 2014, 5:00 am · By David Sirota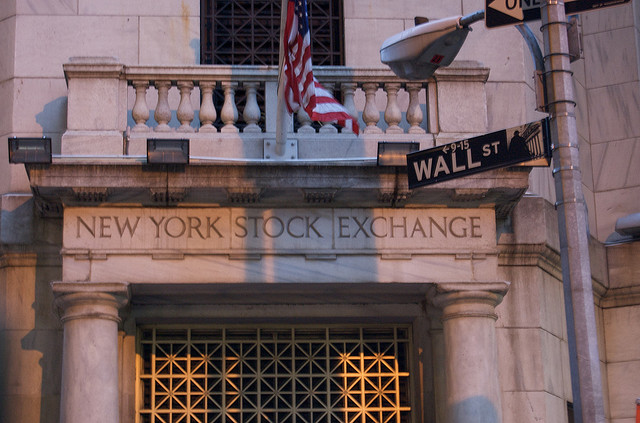 If you are a public school teacher in Kentucky, the state has a message for you: You have no right to know the details of the investments being made with your retirement savings.
That was the crux of the declaration issued by state officials to a high school history teacher when he asked to see the terms of the agreements between the Kentucky Teachers' Retirement System and the Wall Street firms that are managing the system's money on behalf of him, his colleagues and thousands of retirees.
Thursday, Dec 4, 2014, 5:44 pm · By David Moberg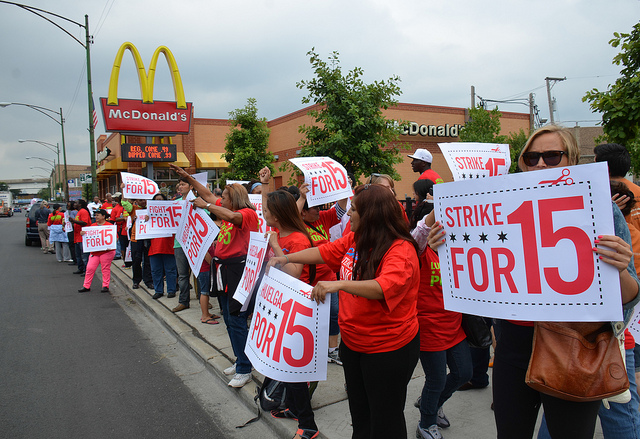 Two years after fast food workers in New York walked out of stores and restaurants throughout the city to demand $15 an hour and a union, their movement has grown and changed dramatically. That was evident on December 4, when fast food workers in approximately 190 cities went out on strike, according to organizers—the largest number so far.
In addition, since the "Fight for 15" came at a time of continuing decline in real wages for most Americans, the workers' demands have triggered new, broad-based campaigns that are winning much higher minimum wages than anyone dreamed possible in many states and localities. Organizers claim that in large part thanks to this spreading campaign, nearly 7 million workers have received significant pay raises.
But the workers' reliance on direct action, including civil disobedience that started last year and has been part of many protests and strikes since, has also inspired workers from other industries to join in, especially low-wage service workers who are largely interchangeable in the job market.
Thursday, Dec 4, 2014, 1:30 pm · By Will Craft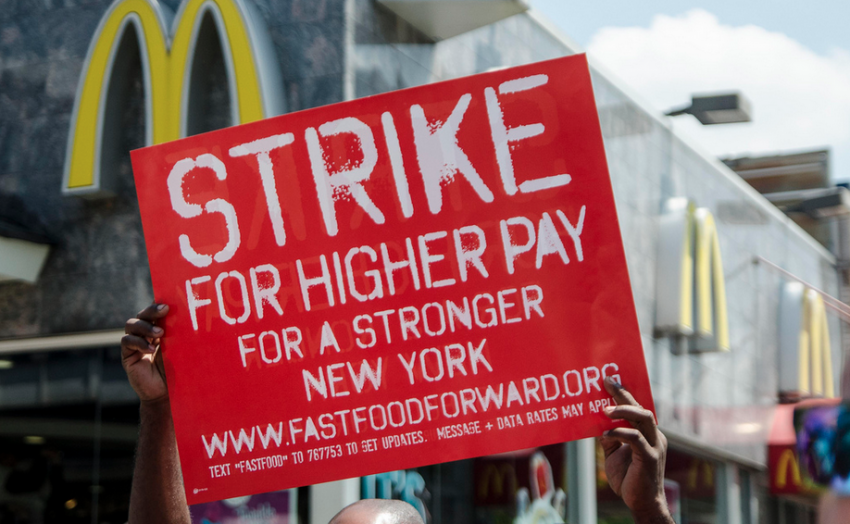 The Chicago City Council has approved a bill to raise the city's minimum wage to $13 an hour by 2019. The proposal, put forward by Mayor Rahm Emanuel, will give Chicago the second highest minimum wage in the nation, behind Seattle's $15, set to take effect by 2018.
Approved by a vote of 44-5, the vote phases in the increase over the next five years, from the current minimum wage of $8.25 to $10 by July 2015, then $11 by 2017, and $13 by 2019.
Thursday, Dec 4, 2014, 12:00 pm · By Bruce Vail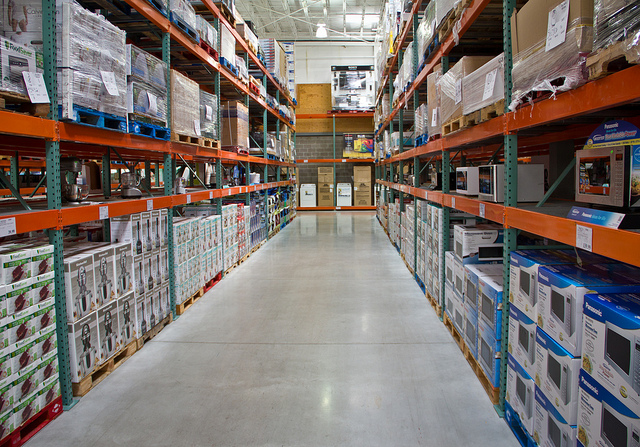 In a new version of the old ploy of manipulating federal bankruptcy courts to bludgeon unions into economic concessions or givebacks, the nation's largest grocery wholesaler used sped-up court procedures to make a quick buy of one of its regional competitors last month—and, in the process, slash the pensions and benefits of 1,100 truck drivers and warehouse workers.
Members of the International Brotherhood of Teamsters in Pennsylvania, New York and New Jersey are angry over the loss and apprehensive about their futures, union leaders say. Their new employer, C&S Wholesale Grocers, has a reputation of buying up unionized companies, shifting the work of handling retail food products to non-union distribution centers and then getting rid of the union members altogether.
"The [members feel] they got screwed. … They are dissatisfied and angry," says Bill Shappell, President of Teamsters Local 429 in Wyomissing, Pennsylvania, which represents about 450 warehouse workers, truck drivers and mechanics who have been affected.
Thursday, Dec 4, 2014, 7:00 am · By Sarah Chambers
Excerpted from More Than a Score, out now from Haymarket Books.
It was testing day. I had just read the directions, which instructed my students to fill in the bubble of the letter that corresponds to the best answer choice and the students had dutifully began reading passages and darkly shading bubbles with their number-two pencils.
All the students had begun except for one of my eleven-year-old boys at the end of the row of desks, who had stalled and was slouched over his test booklet. I watched as he plucked out his black eyelashes one by one, agonizing over a standardized test that would determine, in part, my efficacy as teacher and contribute to the overall rating of our school.
In that moment, I thought to myself, "This over-testing is child abuse." I cannot inflict this mental and emotional harm on one more student. That's when the word "boycott" first flashed across my mind.
Wednesday, Dec 3, 2014, 8:29 pm · By Cole Stangler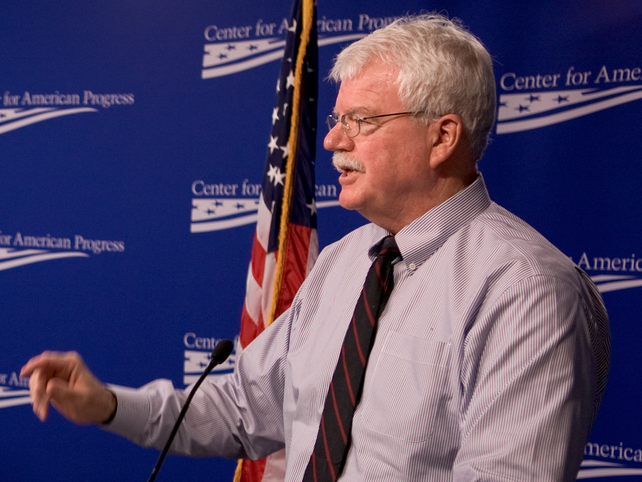 Congress is nearing a vote on arguably the biggest change to private pension law in decades.
The proposed reforms would grant sweeping new authority to the trustees of some "deeply troubled" multi-employer pension plans to slash benefits promised to current retirees—something that's illegal under existing law. A cornerstone of some collective bargaining agreements, multi-employer plans cover more than 10 million workers, mostly in construction but also in the transportation, manufacturing, retail and service sectors.
Reps. John Kline (R-Minnesota) and George Miller (D-California), the highest-ranking members on the House Education and Workforce Committee, have brokered a last-minute deal to reform multi-employer pensions, In These Times has learned. They're now urging party leaders to include the plan as part of an omnibus spending bill, just before the 113th Congress is set to leave Washington for good on December 11.