Monday, May 15, 2017, 2:04 pm · By Sam Wheeler and Leo Gertner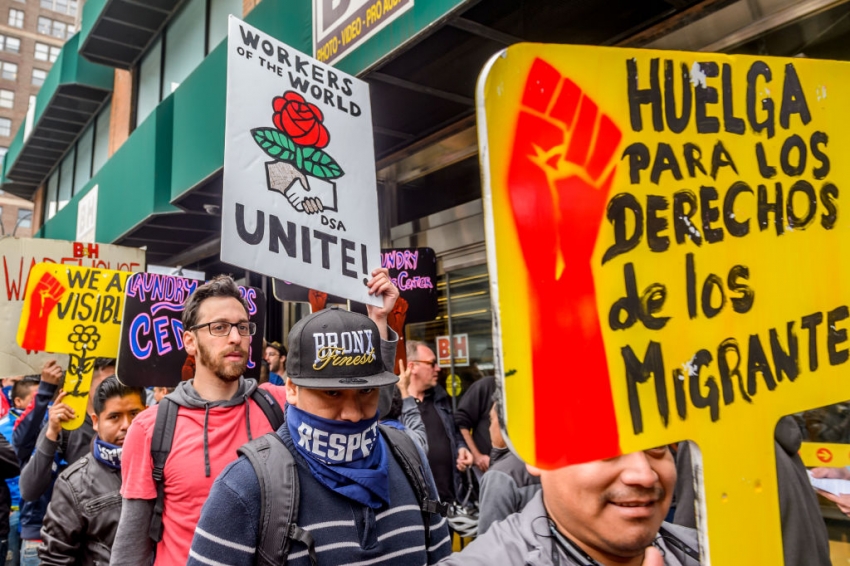 In the past several months, there's been a noted uptick in political speech at work. That speech has often made national news, from Sally Yates' dismissal as interim attorney general to IBM workers organizing against their employer's support of Donald Trump. In the early days of the Trump administration, the New York Taxi Workers Alliance's strike against the Muslim ban at John F. Kennedy International Airport stood out as an impressive act of resistance and solidarity. And even before Trump's election, Colin Kaepernick, then a quarterback for the San Francisco 49ers, sparked a national discussion when he refused to stand during the national anthem in protest of racism against African-Americans and other people of color.
Protests against the administration are building quickly, with diverse groups organizing mass protests against the administration's policies. This month, on May Day—otherwise known as International Workers' Day—thousands of workers across the country took to the streets to challenge Trump's draconian and unconstitutional immigration policies. In all likelihood, political activity at work will only increase throughout the Trump administration, all of which begs the question: How protected are workers who talk politics on the job?
Friday, May 12, 2017, 6:22 pm · By Joseph Bullington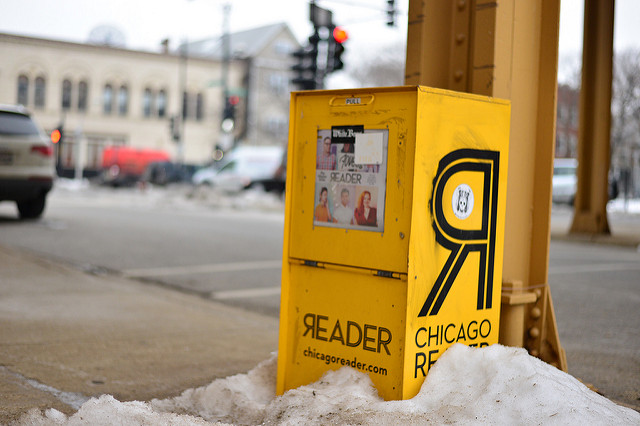 The unionized editorial staff of the Chicago Reader, the city's premier alternative weekly, voted 17-0 Friday to authorize a strike. The vote does not trigger a strike but does allow the staff's representatives in collective bargaining to call a walkout at any time.
The newly formed union completed a proposal for its first contract 16 months ago, according to a statement released by the staff after the vote, but negotiations with Wrapports LLC, the paper's owner, have failed to reach an agreement.
"Management seems to think it can get rid of its union problem by dragging this out until the entire staff quits to find work that will pay the bills," said Philip Montoro, the Reader's music editor and head of the bargaining committee. "Many of us are working second jobs or subletting our apartments to get by because the paper's hugely wealthy owners seem to think they can retain talented full-time staff with decades of experience by paying them salaries that were substandard 10 years ago."
Friday, May 12, 2017, 4:01 pm · By Theo Anderson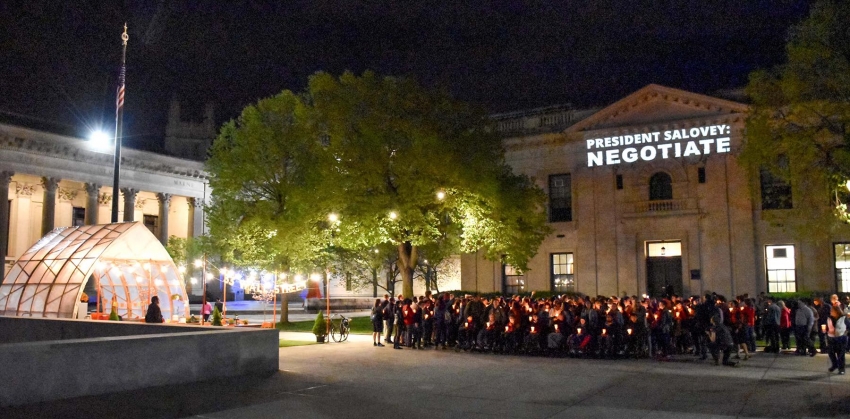 Twenty-three Yale graduate students were arrested Thursday in a civil disobedience aimed at pressuring the university to recognize its recently certified union of graduate student teachers, UNITE HERE Local 33.
Eight members of the union began a hunger strike on April 25. Thursday's civil disobedience was the first time the union had staged a protest in city streets. Students blocked three busy intersections in downtown New Haven, Connecticut. Three were reportedly taken into custody for refusing to accept their court summons; Twenty more were ticketed and voluntarily accepted their summons.
Thursday was "move-out" day for Yale undergraduates, which gave the action increased impact and visibility. The union plans to continue the fasts and protests indefinitely.
Friday, May 12, 2017, 11:09 am · By Kate Aronoff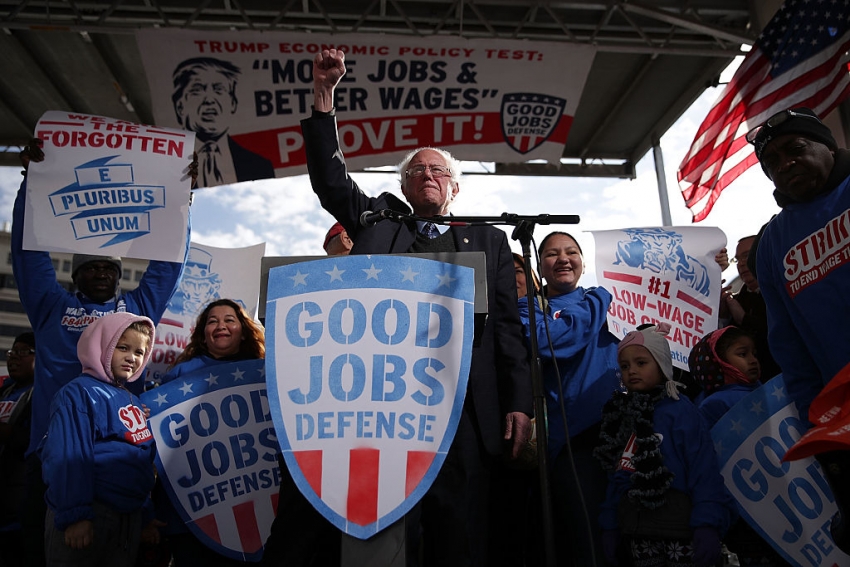 The last few days have been a bit of a whirlwind, politically speaking. Most of it has to do with the onslaught of chaos that followed Donald Trump's abrupt firing of FBI Director James Comey—a move political scientists agree is off the spectrum of normalcy in the history of the American presidency. Before his termination, Comey was leading an investigation into the Trump team's alleged ties to the Russian government. Keith Ellison, deputy chairman of the Democratic National Committee, has said "we are witnessing a constitutional crisis." Calls for impeachment are in the air, along with a good deal of conspiracy theorizing.
In sum, the republic as we know it may be its closest yet to tatters. Enter: Bernie Sanders, the senator from Vermont and the country's most popular politician. He—alongside Democratic Sens. Patrick Leahy, from Vermont, Kirsten Gillibrand, from New York, and Maggie Hassan, from New Hampshire—is encouraging workers to take control of the means of production.
Thursday, May 11, 2017, 3:33 pm · By Eli Horowitz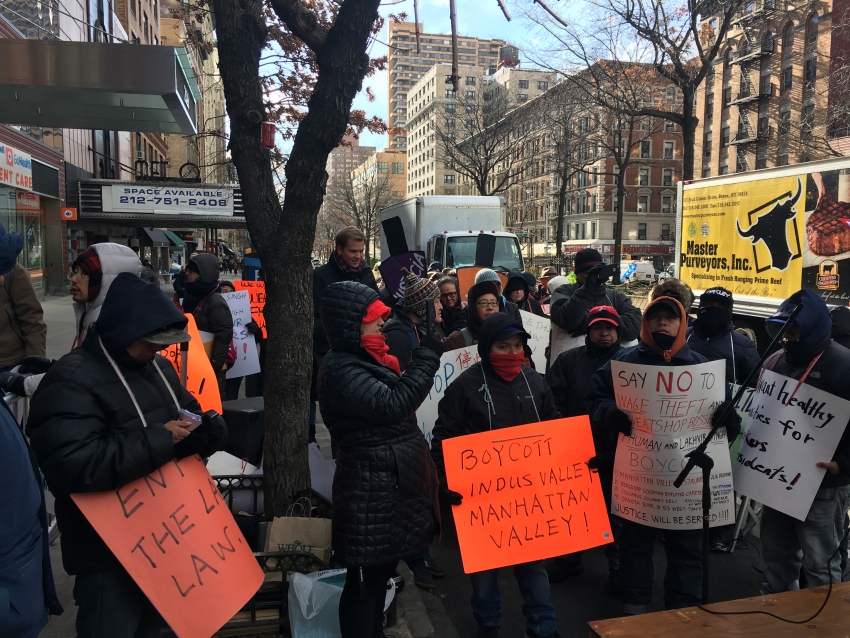 At the intersection of West 100th Street and Broadway, in a fenced-in area spanning six storefronts and flanked by a NYPD vehicle, workers were getting ready to protest outside of an Indian restaurant called Manhattan Valley. Efren Caballero De Jesus, a former worker there, smiled as volunteers passed out fliers and signs to restaurant and delivery workers, nail salon employees, home attendants and organizers. Even New York Assemblywoman Linda Rosenthal braved the December cold to stand in solidarity with former employees of Indus Valley, now called Manhattan Valley.
"What do we want? Enforcement of the labor law! When do we want it? Now!" the group chanted. "Phuman and Lakhvir Singh! Sweat Shop Bosses!"
Wednesday, May 10, 2017, 11:38 am · By Samantha Winslow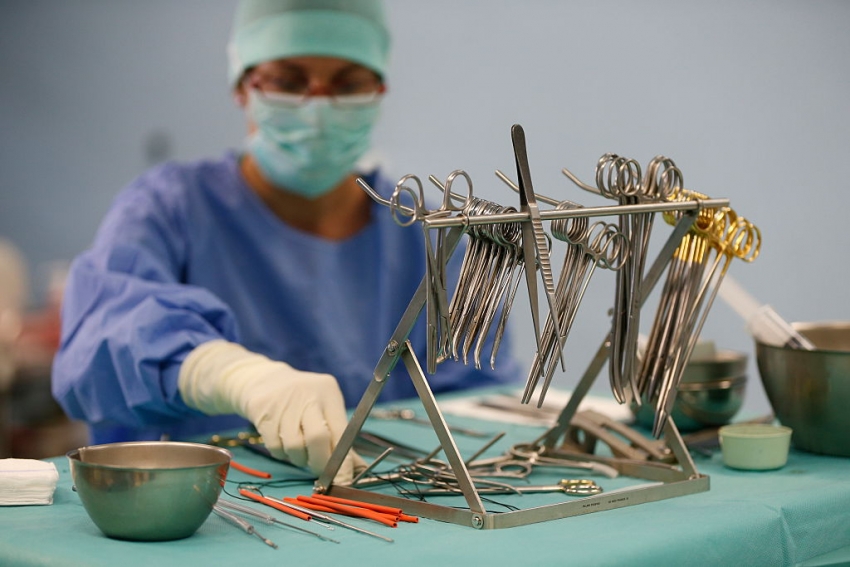 This article was first posted by Labor Notes.
It started when a few nurses at Temple University Hospital told stewards that they weren't being paid for their experience.
One of the first to speak up was Jessy Palathinkal, who had become a nurse in India in 1990. She got her U.S. nursing license when she moved here in 1995. But when she started working at Temple, her placement on the pay scale was as though those five years of nursing never happened.
She asked why. Human Resources told her the hospital didn't count years of experience in foreign countries.
"I was feeling a little bit upset. I had all the certification," Palathinkal said. "I thought, 'Well, that's not right, but what can I do?'"
Monday, May 8, 2017, 5:38 pm · By Liza Featherstone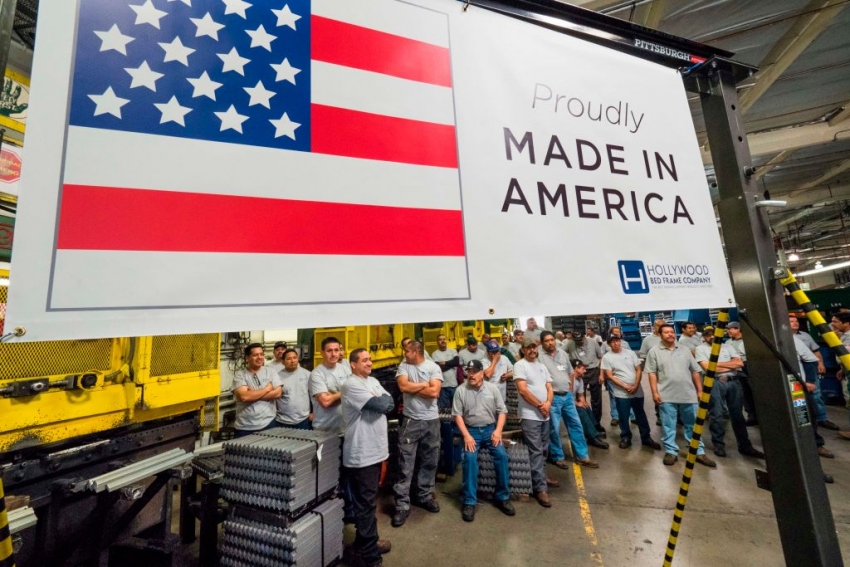 Manufacturing, once nearly a third of U.S. gross domestic product, has dwindled to around 12 percent, a punch to the gut for the American working class. Indeed, the sufferings of that sector's former workers—and of those who live in once-thriving factory towns—may be responsible for Donald Trump's extraordinary and catastrophic victory over Hillary Clinton in November.
A billionaire fixing to wage a horrific war on the working class now that he is president—by gutting its healthcare and labor rights—Trump nonetheless seemed to be listening to these forgotten people during his campaign. He went to their towns. He spoke with compassion about opioid addiction. He promised to "Make America Great Again," a racist slogan, to be sure, but also a seductive one, implying that under Trump, American workers would enjoy the prosperity of bygone manufacturing days. We would make things again and feel proud of ourselves.
Friday, May 5, 2017, 12:48 pm · By Shaun Richman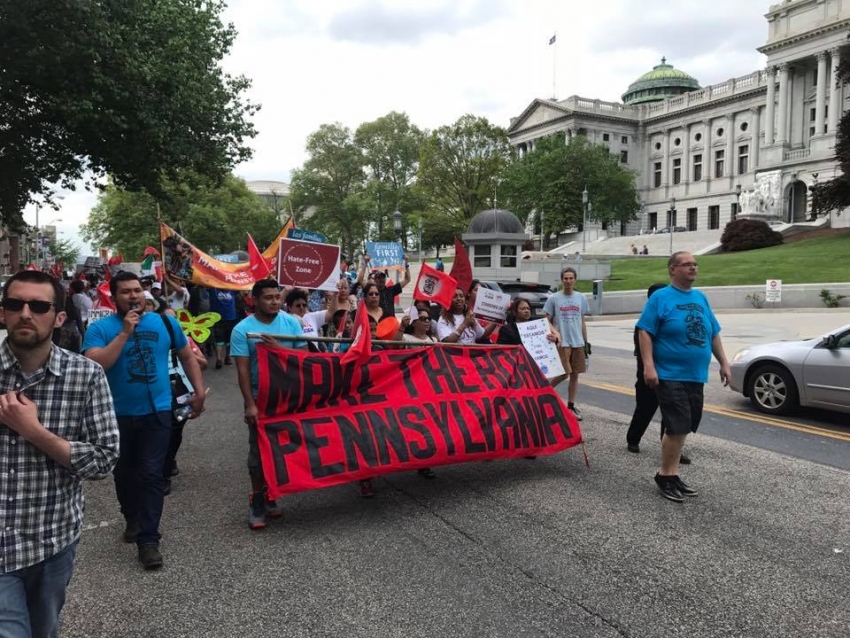 The first May Day of the Trump era saw scores of major actions in cities across the United States, but perhaps the most impressive demonstration of worker power took place in the small city of Reading, Pennsylvania. There, 127 stores—about three-quarters of the businesses in the city—shut down in protest, and an additional 500 mostly agricultural and construction workers participated in the general strike, according to organizers. The protest even spread to nearby Allentown, where two dozen more stores closed for the day.
Spearheaded by Make the Road Pennsylvania, a community group that organizes working-class Latinos, the strike was a protest of the county sheriff's plan to authorize his deputies to act as immigration agents, in cooperation with the Trump administration's assault on immigrants. While Berks County is one of the economically depressed areas that carried Trump to a win in Pennsylvania, the people of Reading are as unlikely to support his vision for "making America great again" as they are to agree that "America is already great."
Although the majority of Reading's residents are Latino, and another significant percentage of the population is African-American, Reading's mayor and city council are almost entirely white, thanks to a combination of gerrymandering and the political donor class. That's where the idea of hitting decision-makers in the wallet developed.
Thursday, May 4, 2017, 1:55 pm · By Sarah Jaffe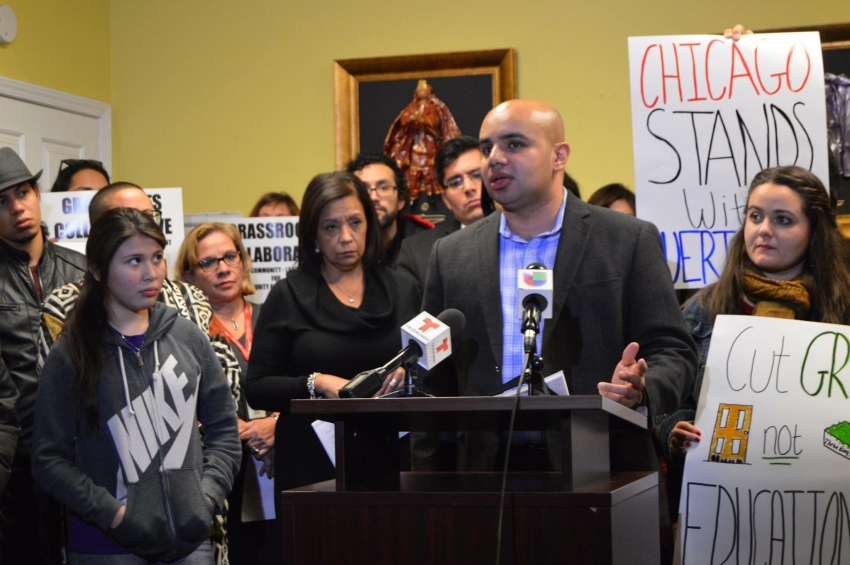 Welcome to Interviews for Resistance. Since election night 2016, the streets of the United States have rung with resistance. People all over the country have woken up with the conviction that they must do something to fight inequality in all its forms. But many are wondering what it is they can do. In this series, we'll be talking with experienced organizers, troublemakers and thinkers who have been doing the hard work of fighting for a long time. They'll be sharing their insights on what works, what doesn't, what's changed and what is still the same.
Maurice Weeks: My name is Maurice BP-Weeks. I am the co-executive director of the Action Center on Race and the Economy (ACRE) and I am based in Detroit, Michigan.
Saqib Bhatti: I am Saqib Bhatti. I am the other co-executive director of ACRE and I am based in Chicago.
Sarah Jaffe: Your organization is just getting off the ground. Tell us about the idea behind it and why you're launching now?
Maurice: The idea behind the Action Center on Race and the Economy is that there is lots of really great economic justice work being done looking at the role that Wall Street plays in everyday people's lives. What we do here at the Action Center on Race and the Economy is do that work that goes after Wall Street and corporations who we all know are extracting wealth from communities, with an explicitly racial justice lens.
Basically, the way that we have talked about economic justice work in the past on the left has been, when we bring race into the conversation, it is often through the lens of disparate impact. We say, "Bad guys do stuff at the top and it disproportionately affects people at the bottom." What we do here at the Action Center on Race and the Economy is look at campaigns with a slightly different lens, saying that the actual function of how these companies operate is built on the extraction of wealth from people of color. It is not an afterthought. It is actually core to their business model. All the campaigns that we do live at this intersection of corporate accountability, Wall Street accountability, economic justice, and race with that particular lens.
Wednesday, May 3, 2017, 6:07 pm · By Elizabeth Grossman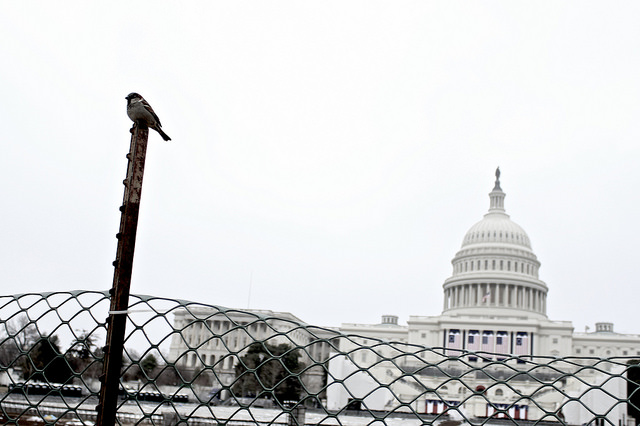 Republicans have passed yet another bill that erodes protections for working families.
A bill Republicans have been pushing for years that undermines overtime pay just cleared the House. Called the "Working Families Flexibility Act" (H.R. 1180), it would amend the Fair Labor Standards Act to allow private companies to offer employees "comp" time instead of overtime pay for hours worked beyond a 40-hour work week.
The bill is being sold by Republicans as family friendly and "pro-worker," allowing workers to take time off to attend to family needs. But Democrats and scores of labor and worker advocacy groups oppose the bill, saying it offers employees a false choice between pay and time off, effectively depriving workers of earned overtime without providing guarantees of family leave or stable work schedules.