Tuesday, Oct 14, 2014, 1:14 pm · By Arun Gupta
I was pleased to learn in late September of Politico's plans to launch a labor reporting desk—I am of a "more the merrier" mindset when it comes to journalism, especially on a topic so underreported as labor.
Politico apparently sees money to be made in labor journalism, even as this vital beat fades in newsrooms across the country. According to the Huffington Post, "Politico's market research suggested that stakeholders in government, lobbying and Fortune 500 companies were looking for the 'nitty-gritty' details of labor policy." "Labor and Workplace Policy" will join Politico's portfolio of 13 other "Pro Verticals," paywall-protected sections that cover single topics like education, transportation, technology and the military. Subscriptions to the verticals can run into the thousands of dollars, the HuffPost says.
Tuesday, Oct 14, 2014, 7:00 am · By David Dayen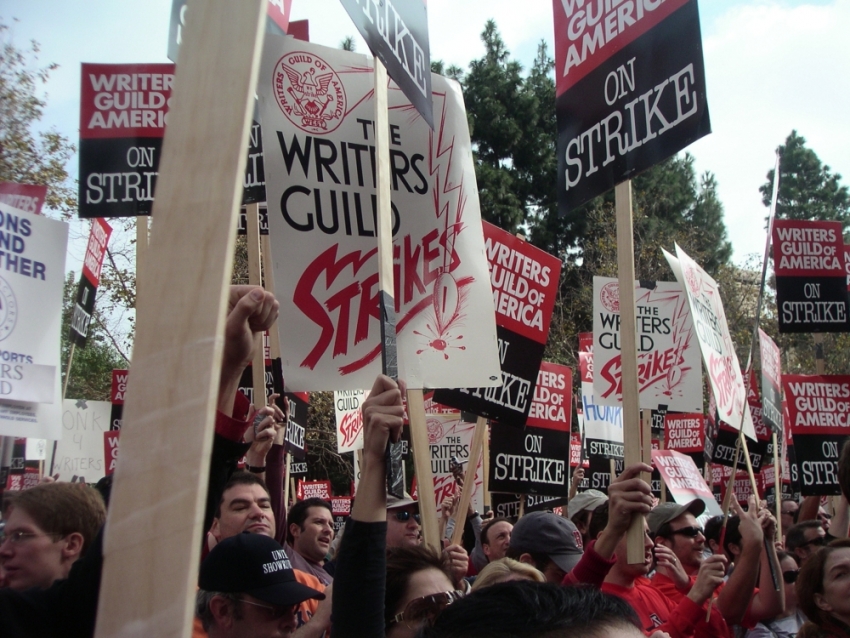 On September 10, 16 editors on the Bravo reality show Shahs of Sunset walked off the job in Hollywood after informing their employer, Ryan Seacrest Productions, of their intentions to unionize. The next day, Bravo announced they would delay the premiere of the fourth season.
"We thought it was about time, in the fourth season of a popular show, to get health care and pension benefits," says Vanessa Hughes, one of the editors seeking representation through the Motion Picture Editors Guild, a division of the International Association of Stage and Theatrical Employees (IATSE). "We thought it'd take a day or so of picketing."
But on September 26, Bravo announced they would take over production of the show, and the striking editors would be fired—leading workers to believe that Bravo would complete the season with scabs.
Monday, Oct 13, 2014, 4:39 pm · By Jordan McCurdy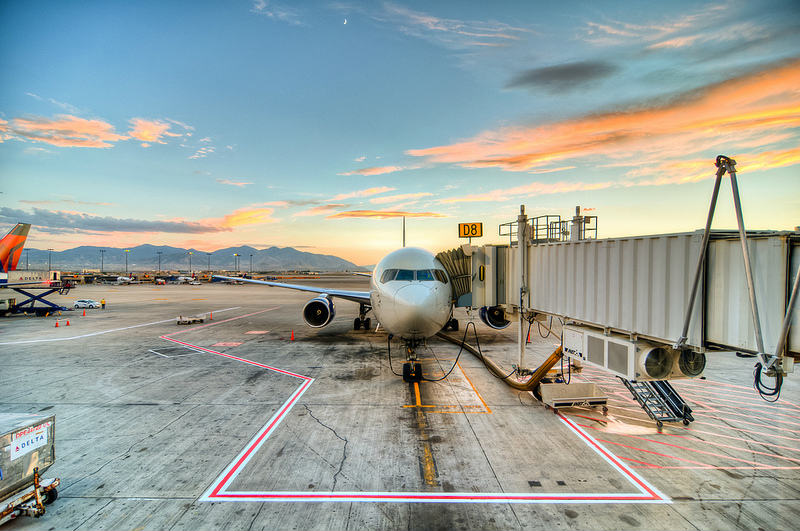 Since the Center for Disease Control and Prevention confirmed the nation's first diagnosis of Ebola on September 30, the Federal Aviation Administration and the National Academy of Sciences have demanded that airlines begin screening passengers arriving from African countries most affected by the pandemic for the disease. While this might contain the virus, it does so within the confines of each plane—leaving airline workers with increased exposure risks.
Dangers like this led LaGuardia airport workers to go on strike last week, demanding better health and safety protections.
Monday, Oct 13, 2014, 11:50 am · By Alex Lubben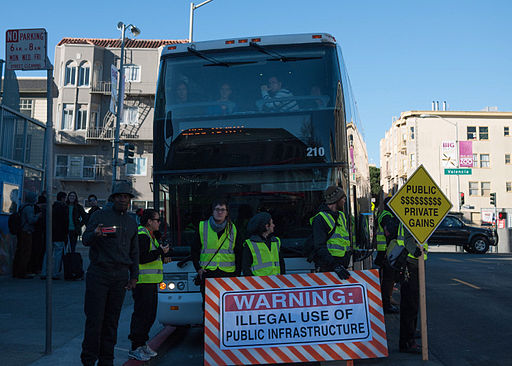 The tech industry loves to celebrate its propensity for "disruption," upending all of our old traditions to create better, more efficient ways of doing things. Less often trumpeted is the industry's creation of a new underclass of blue-collar workers—the janitors, cooks, drivers and security guards who keep the sprawling tech campuses running smoothly but see almost none of the industry's booming profits. And while tech's aversion to organized labor has kept most of these workers from organizing, Silicon Valley may soon have to confront a growing unionized blue-collar workforce.
Facebook's shuttle bus drivers are no exception. They ferry the social media giant's employees from San Francisco and Oakland out to Facebook's offices in Menlo Park every day and can't afford to live where they work.
Friday, Oct 10, 2014, 11:20 am · By Marina Fang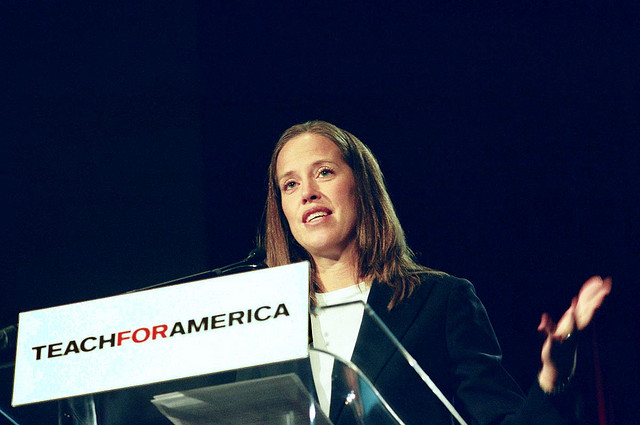 Teach for America, long associated with recruiting elite college students to teach in low-income communities, is facing mounting opposition from students at the very universities from which it recruits.
On September 26, members of Harvard's Students Labor Action Movement (SLAM) delivered a letter to the school's president, Drew Gilpin Faust, demanding that Harvard discontinue its relationship with TFA unless the organization makes major reforms.
Thursday, Oct 9, 2014, 1:30 pm · By Joe Berry and Helena Worthen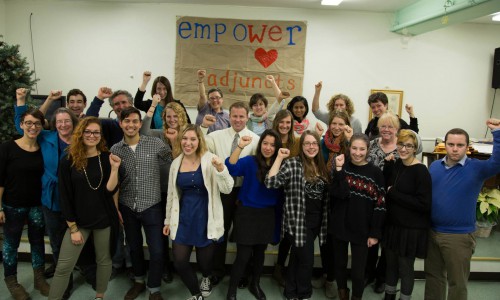 A wave of organizing is sweeping contingent faculty. Below, a list of current campaigns in 22 states and D.C. shows how far and wide this wave has spread.
The new thing is the Metro Strategy, where multiple institutions are targeted at once so a whole regional workforce becomes unionized. This takes advantage of how contingent (also known as adjunct) faculty members typically commute among various campuses, facing equally bad working conditions everywhere they go.
Wednesday, Oct 8, 2014, 2:04 pm · By Kevin Solari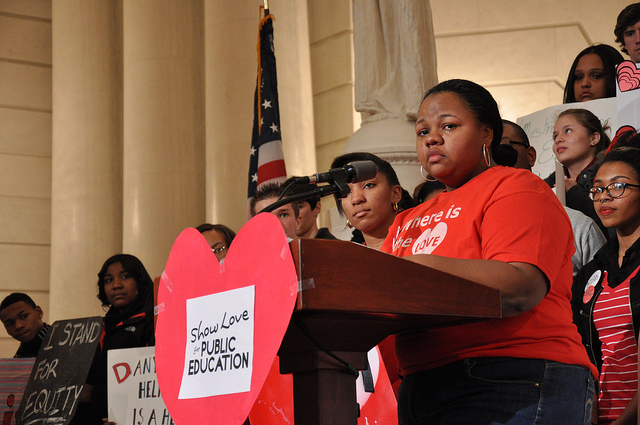 Public school teachers around the country have long insisted their profession is under attack, but rarely has that attack included a total scrapping of a teachers' union contract. But that's exactly what the Philadelphia School Reform Commission (SRC) did on Monday morning, canceling its contract with Philadelphia Federation of Teachers (PFT).
Wednesday, Oct 8, 2014, 10:30 am · By Amien Essif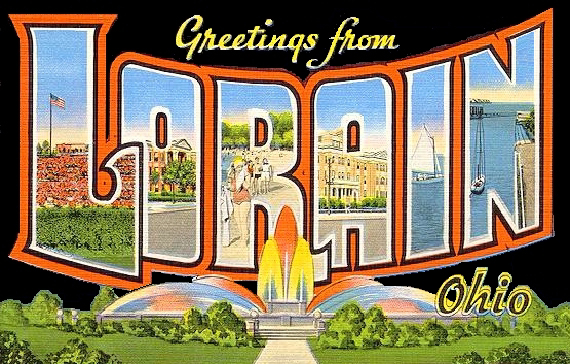 The relationship between the American labor movement and the Democratic Party has long been fairly predictable. For the better part of a century, labor has depended on the Democrats for favorable policy, and the Democrats have depended on labor for votes. Few from either side of the bargain anticipate an immediate future where that arrangement will be upset.
So when rumblings started coming out of Ohio late last year about breaking with the Democrats, many in the labor movement were startled. Last November, in the small county of Lorain, Ohio, local labor leaders who were intimately wedded to the Democratic establishment broke rank and supported three independent pro-labor candidates in county elections, all of whom won.
Tuesday, Oct 7, 2014, 4:42 pm · By Bruce Vail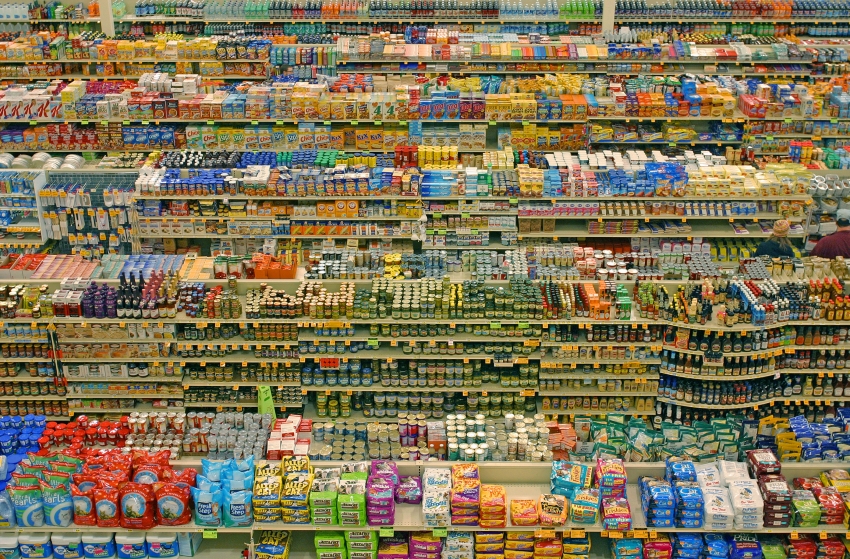 Leaders of the International Brotherhood of Teamsters are mobilizing their forces in the wake of an unexpected attack by a notoriously anti-union warehousing company looking to undermine workers with back-room tactics in federal bankruptcy court.
The Keene, New Hampshire-based C&S Wholesale Grocers's actions could prove to be an immediate threat to the livelihoods of about 1,100 Teamster members in the Mid-Atlantic region, the latest in a series of damaging anti-union maneuvers by the company. The action also highlights the growing market power of C&S, a low-profile company that has quietly grown into the nation's largest warehousing corporation.
Tuesday, Oct 7, 2014, 3:50 pm · By Kevin Solari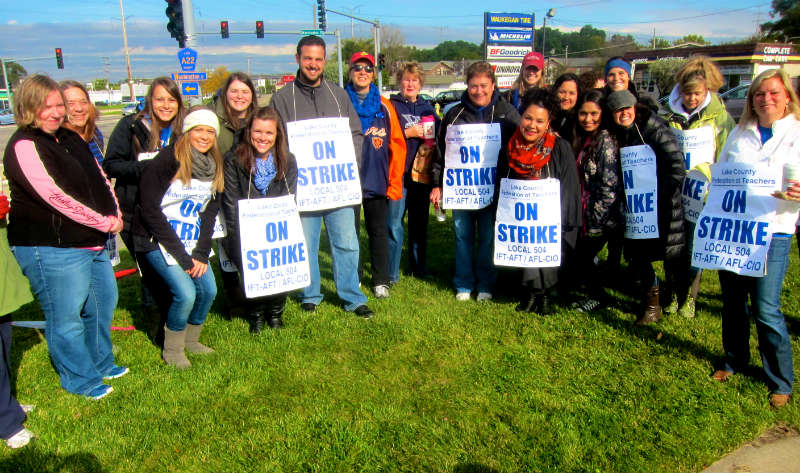 After a breakdown in negotiations with district administrators last week, District 60 teachers in Waukegan, Illinois, are on strike.
The issues under negotiation include professional development, length of school year and, perhaps principally, salary increases and healthcare benefits.
District 60 serves 17,000 students in the city near Chicago. On the district's website, the school board says teacher requests for increases in salary and healthcare benefits would threaten the solvency of the district, which has had financial troubles for much of the last decade.