Friday, Jan 30, 2015, 4:51 pm · By Jenny Brown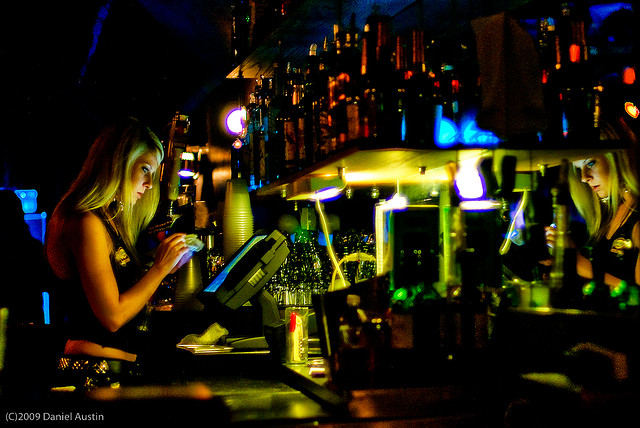 First published at Labor Notes.
While I was writing about sexual harassment of women workers at Ford, restaurant workers reminded me that 37 percent of Equal Employment Opportunity Commission claims of sexual harassment come from their industry. These dismal stats are connected to how many restaurant workers get paid: tips.
Thursday, Jan 29, 2015, 3:56 pm · By Jon Shelton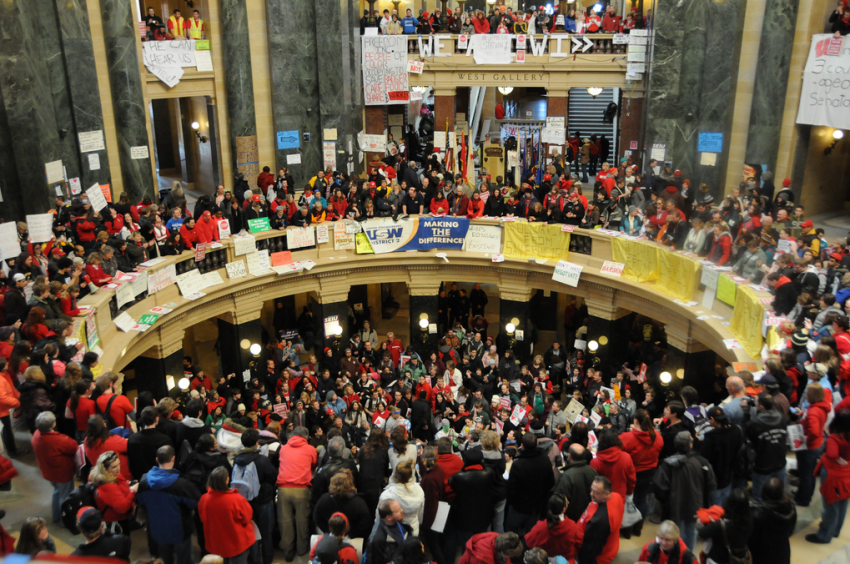 Those in and around the labor movement in the U.S. ought to pay considerable attention to a new book out this January, Government against Itself: Public Union Power and Its Consequences (Oxford University Press). Written by Daniel DiSalvo, a rising star political science professor at City College of New York who opposes paying agency fees to his own union (in New York, public sector labor contracts typically include fair share arrangements, which require all employees covered by a collectively bargained contract to contribute to representation costs) the book argues that public sector unions should not be able to engage in collective bargaining.
Now, it's easy enough to find arguments against public sector unionization these days—look at the newsletter of single-issue political advocacy groups like the National Right to Work Committee (NRTWC), who were responsible for challenging agency fees for home care workers in Illinois in last summer's Harris v. Quinn Supreme Court case; or the recent handiwork of Republican administrations in states like Wisconsin; or, for cruder examples, the open comments section of virtually any newspaper article on public employees.
But Government against Itself is notable because it is more than a polemic. DiSalvo is a legitimate scholar, and, though it may be surprising to hear me, a labor historian, say this, he correctly argues that the relatively better position of unionized public sector workers has become a serious problem in American politics.
Tuesday, Jan 27, 2015, 4:47 pm · By Kevin Solari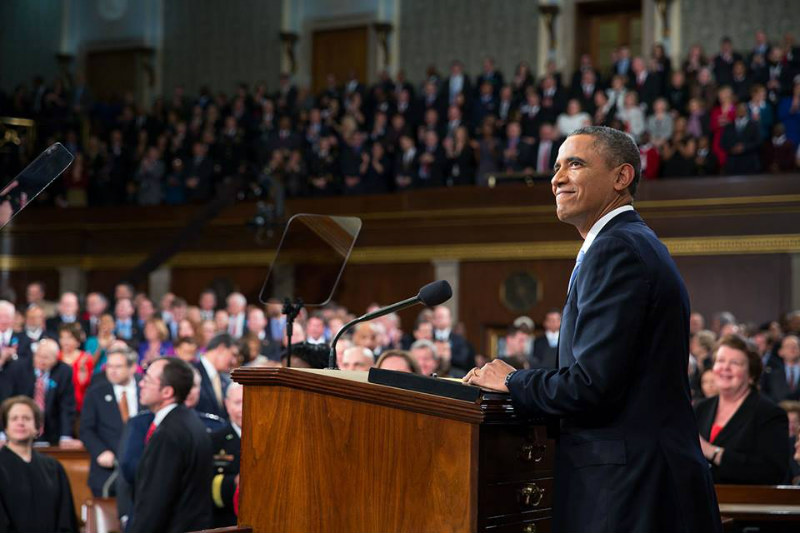 In his State of the Union address last week, President Obama outlined a plan to bring America in line with the rest of the industrialized world and provide paid sick and family leave for workers. Before the address, he had issued a memorandum granting federal employees six weeks of paid sick leave for the birth of a child and asked Congress to legislate another six weeks.
Although Obama's measure only applies to employees of the federal government, he challenged Congress to address the issue on a national level.
"Today, we are the only advanced country on Earth that doesn't guarantee paid sick leave or paid maternity leave to our workers," the President said in his address. "And since paid sick leave won where it was on the ballot last November, let's put it to a vote right here in Washington. Send me a bill that gives every worker in America the opportunity to earn seven days of paid sick leave. It's the right thing to do."
Tuesday, Jan 27, 2015, 4:15 pm · By Kevin Solari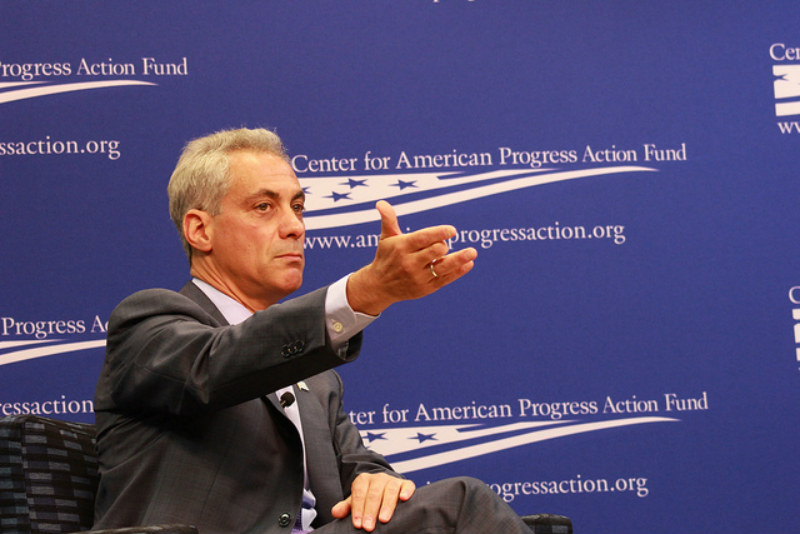 Monday, In These Times Senior Editor David Moberg appeared on Chicago's NPR affiliate, WBEZ, for their series "Grading Rahm," assessing Rahm Emanuel's first term as mayor. Moberg, who wrote about the Chicago labor movement's fraught relationship with Emanuel for our most recent issue, contributed to the discussion surrounding Emanuel and his efforts to create jobs and fuel the Chicago economy.
Moberg gave the mayor a "D," citing the emphasis Emanuel has put toward revitalizing the downtown area while neglecting other parts of the city. "One of the major short comings of the mayor's economic record is this continued inequality, the cliché of 'Two Chicagos' that continues to exist. I think the kind of focus he's brought to big projects, close to downtown, doesn't do anything to reverse that record."
Monday, Jan 26, 2015, 5:00 pm · By Kevin Solari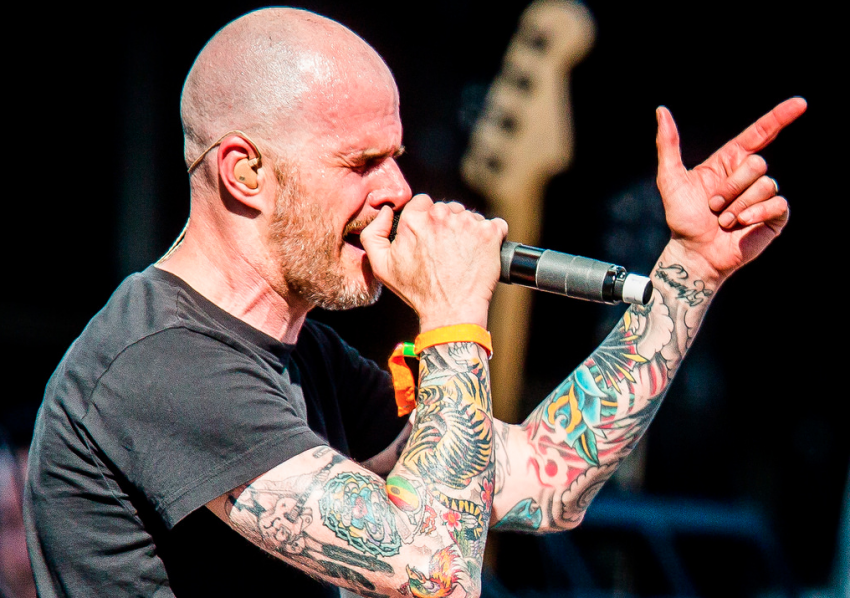 This past weekend, at the Iowa Freedom Summit, union-busting Gov. Scott Walker, who may be considering a push for a right-to-work law in Wisconsin, took the stage using Dropkick Murphys' "I'm Shipping Up to Boston" as his entry music. Although Walker may be a fan of the Boston celtic-punk group, the feeling is not mutual. In fact, they literally hate him.
Monday, Jan 26, 2015, 11:56 am · By Jane Slaughter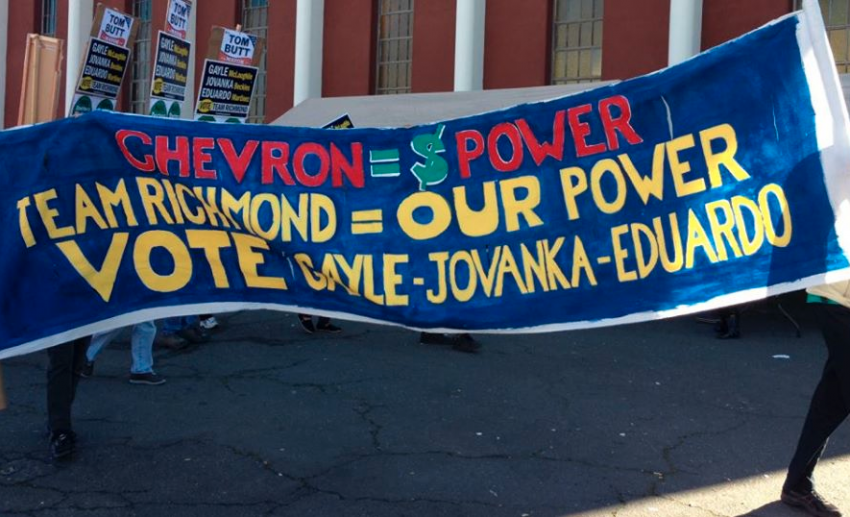 First published at Labor Notes.
It's not often that a city council race in a city of 100,000 draws national attention. It happened in Richmond, California, this fall because one big corporation was so shameless in its open attempt to buy the election.
But even more remarkable was the fact that the corporation got beat. Up against the Democratic Party establishment, plus $3 million in campaign spending by Chevron—the third-largest company in the world—a grassroots group won.
Richmond, north of Berkeley in the East Bay, grew up during the shipyard boom and war production of World War II, when workers from other parts of the country flooded in. More recently, it's been known for its problems: population loss, high crime, bankruptcy, the hollowing out of downtown, dirty air, poverty. The city is now 40 percent Latino, 26 percent Black, 17 percent white, and 14 percent Asian. A fifth of the population was born outside the U.S.
Friday, Jan 23, 2015, 1:30 pm · By Alex Lubben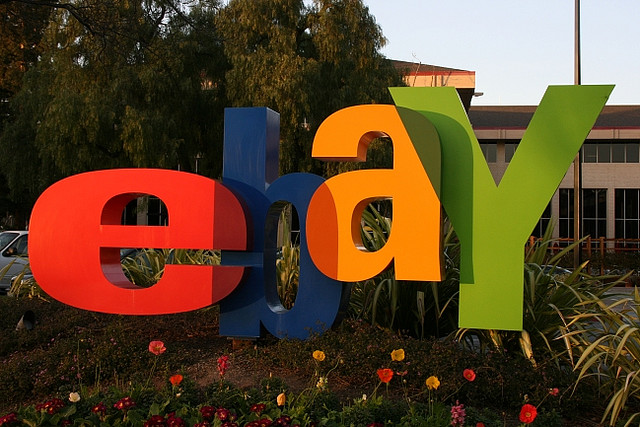 Back in November, drivers for Facebook's shuttle-bus contractor voted 43-28 in favor of unionizing with the Teamsters, a rare win for labor in the tech industry. Now, shuttle drivers at six other companies in Silicon Valley are looking to follow the drivers' lead.
The Teamsters have contacted the CEOs of eBay, Apple, Genentch, Zynga, Amtrak and Yahoo, informing them that their drivers want to join a union. The union says the majority of the 120 drivers have already signed union cards.
Friday, Jan 23, 2015, 1:16 pm · By Doug Henwood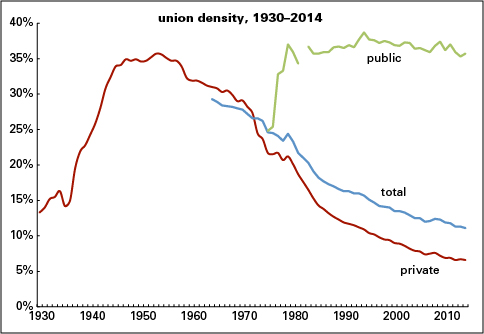 The Bureau of Labor Statistics is just out with its figures on union membership in 2014. Overall membership, aka density, fell to 11.1% of the workforce, from 11.3% in 2013. The decline was more than entirely the result of slippage in the private sector, down from 6.7% to 6.6%. Public sector density, perhaps surprisingly, rose, from 35.3% to 35.7%. Since private sector employment is more than five times that of the public sector, the private sector decline dominated the public sector's rise, producing the overall drop.
Thursday, Jan 22, 2015, 5:00 pm · By David Moberg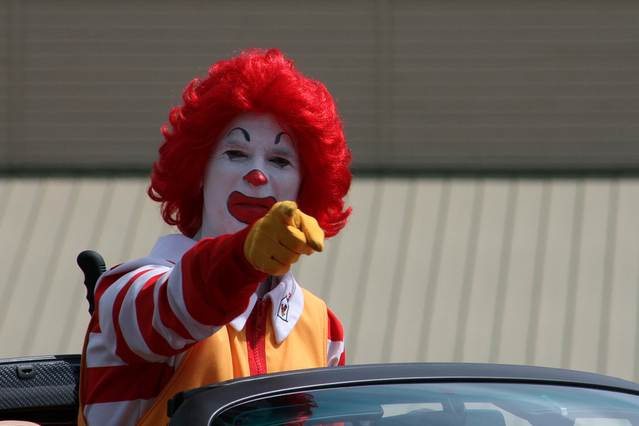 McDonald's Corporation shares legal responsibility with three Virginia franchise restaurants and their owner for rampant racial and sexual harassment in those workplaces, according to a federal lawsuit that ten former workers filed on January 22 alleging violations of their civil rights.
They accuse the franchise owner of firing them, despite their managers' acknowledgement of their good work records, simply in order to reduce the proportion of non-white employees.
"All of a sudden, they let me go for no other reason than I 'didn't fit the profile' they wanted at the store," said fired plaintiff Willie Betts. "I worked at McDonald's for almost five years, I was on time every day at 4:00 in the morning to open the store, and I never had a disciplinary write-up. They took away the only source of income I have to support my family."
Thursday, Jan 22, 2015, 2:08 pm · By Steve Payne
When I scanned my metro card in São Paulo the morning of January 6, the price rang up at 3.5 reals (1.33 US dollars)—50 centavos more than yesterday.
I'd been in São Paulo for about a week and a half, and the fare had been 3 reals every other day. Had I missed something?
As it turned out, the municipal government had just increased the cost of subway trips. I had seen "passe livre ja!" ("free passes now!") graffiti around the city. And in 2013, militant protests, including many during the World Cup, beat back a 20 centavo fare increase.
Movement participants celebrated that victory and continued fighting for completely free, public transit system. And on Friday, January 9, tens of thousands of Paulistanos, as residents of São Paulo are known, rallied and marched against the most recent fare increase.