Monday, Apr 14, 2014, 4:20 pm · By Bruce Vail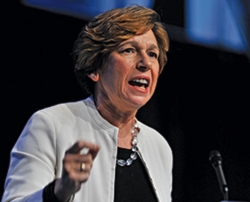 On the eve of the Jewish high holy days of Passover, union leaders and Jewish labor activists in Philadelphia and beyond are ramping up efforts to defeat a plan by one of the area's small private religious schools to bust its teachers union. Both groups are outraged at the school's implicit claim that there's a conflict between Judaism and workers' rights.
The issue erupted late last month when the board of the Perelman Jewish Day School notified the school's roughly 60 teachers that it would no longer negotiate with their long-established labor union. Instead, the board proclaimed, each teacher must make individual arrangements with the school administrators for the conditions of future employment. The union busting was justified, the Perelman teachers were told, as a measure to advance the religious objectives of the K-5 school, and was legally supported by court rulings reaching all the way to the Supreme Court. The school was likely referring to the high court's 1979 ruling in NLRB v Catholic Bishop of Chicago that religious schools were exempt from some labor law.
"Everybody feels that we were disrespected, and undermined" by the school board decision, says Lisa Richman, president of the Perelman Jewish Day School Faculty Association Local 3578, a unit of the American Federation of Teachers (AFT). "Everybody [on the faculty] is petrified, or scared, or angry," she says.
Monday, Apr 14, 2014, 3:50 pm · By Sarah Jaffe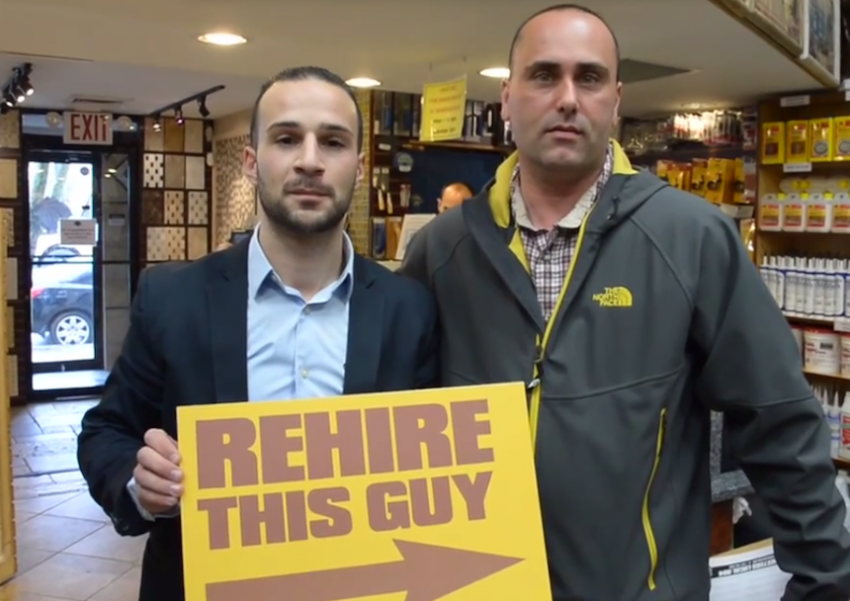 Two hundred and fifty UPS drivers, clad in their brown uniforms, rallying in a Queens parking lot, must have been quite a sight. Not very many people got to see it, however. The 90-minute work stoppage outside the Maspeth, Queens, UPS facility on February 26 was a spontaneous protest against the firing, allegedly without due process, of one of their colleagues, Jairo Reyes.
On March 26, UPS retaliated by beginning to give all 250 notices that they'd be terminated—but the company did not fire the workers all at once. According to the Teamsters, UPS fired 20 drivers on March 31 and kept the rest waiting for the axe to fall while their replacements were trained.
Nearly two months later, all 250, including Reyes, will be headed back to work, their terminations reduced to ten-day suspensions. Driver Steven Curcio, who says he was one of the first to be fired, credits the support of the community, elected officials and particularly his own customers.
Tim Sylvester, president of Teamsters Local 804, the union that represents the Queens drivers, said, "The drivers delivered their message to UPS about unfair treatment. Now every one of them will be back delivering packages."
Friday, Apr 11, 2014, 6:14 pm · By Matthew Blake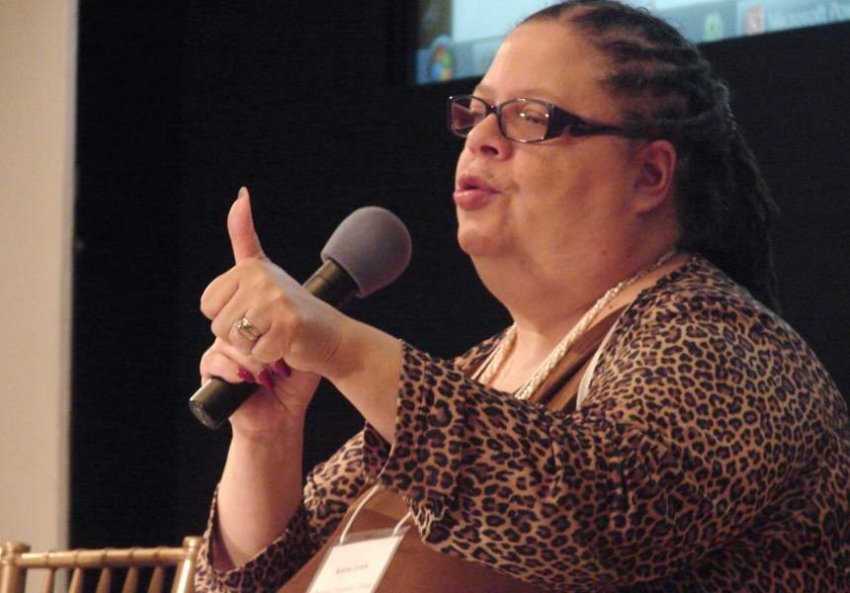 Faced with a debt crisis eerily reminiscent of Detroit's financial straits, Chicago Mayor Rahm Emanuel now wants to slash retirement benefits for city workers, who have already seen their pension funds erode from decades of mismanagement and delayed payments.
Because the state government has control over Chicago public worker pensions, Emanuel's first fund-cutting measures have surfaced in the form of proposed legislation. Last week, Emanuel announced a proposal to cut city employee retirement funds; longtime House Speaker Mike Madigan (D-Chicago) then wrote it into Senate Bill 1922.
And on Tuesday, the Illinois legislature passed that bill, which calls for a combination of raised revenue streams and benefit cuts to ensure that the city's retirement system for municipal employees and laborers—just 35 percent funded today—will be 90 percent funded by 2055. The proposal would affect the pensions of 56,000 city workers affiliated with 31 different unions.
Despite the hit to their members' pensions, 28 out of those 31 unions support the bill.
Friday, Apr 11, 2014, 1:01 pm · By Jonathan Leavitt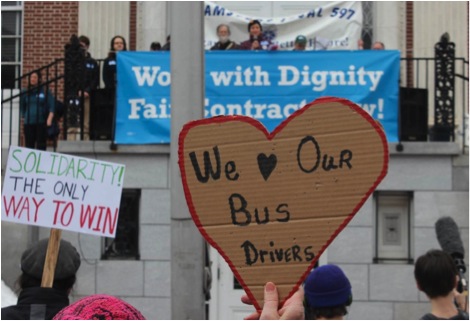 At 6am on March 17, St. Patrick's Day, 40 bus drivers and a dozen community members defied negative-10-degree weather to picket outside the Chittenden County Transportation Authority (CCTA) bus garage in Burlington, Vt. The action marked the beginning of nearly three-week-long transit strike over concessionary contract demands that would capture the imagination of much of Vermont and culminate in victory.
"Management misjudged us," said CCTA driver Jim Fouts, speaking to In These Times from the impromptu victory rally on April 3. "We don't drive together, we don't have a lunch room to eat together," said Fouts. But on the picket line, he says, "we turned into icicles together and we started to get to know one another."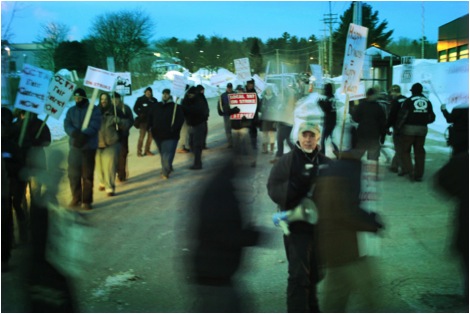 Traven Leyshon of the Vermont AFL-CIO leading Teamsters 597 members and supporters in chants on a negative 10 degree picket line. (Full disclosure: The author was part of the strike's solidarity committee and is a member of the Vermont Workers' Center, which supported the strike.)
After months of failed negotiations and working without a contract since June 30 of last year, drivers voted 54-0 on March 12th to reject CCTA management's final contract offer. Drivers could not stomach monitoring disciplinary procedures that they saw as "abusive," such as being tailed by supervisors, reviewed via bus videotapes, and suspensions of as long as a month. The added demand that drivers work eight hours over the course of an exhausting 13.5-hour "split shift," which could be extended through forced overtime to 15 hours, sparked concerns among bus drivers and community members that CCTA management's demands risked "community safety."
Thursday, Apr 10, 2014, 4:05 pm · By Moshe Marvit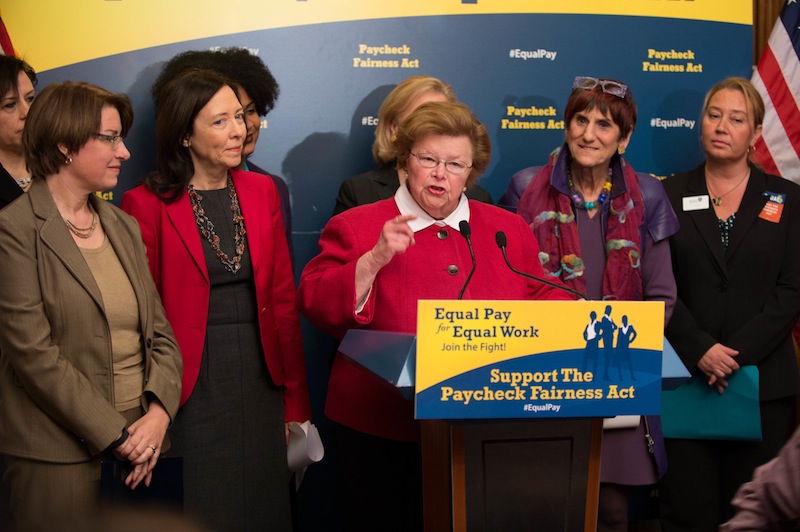 Despite being a part of the U.S. workforce for decades, American women are still earning 77 cents for every dollar their male counterparts make. In an effort to close that persistent gap, Democrats in Congress have tried three times since 2009 to pass the Paycheck Fairness Act. And all three times—most recently on Wednesday morning—Republicans in Congress have blocked the bill from proceeding to debate and a full vote.
Though the act was framed as a way to fight the enduring discrepancy in wages among genders, in reality, it would have helped work toward better conditions for all workers. On Tuesday, President Obama signed executive orders that acted as a parallel Paycheck Fairness Act for federal contractors and publicly urged Congress to pass the bill.
Predictably, Republicans responded by calling the act a job-killer and a non-starter in the current economy. If passed, the bill would have made several amendments to the Fair Labor Standards Act of 1938 (FLSA) and the Civil Rights Act of 1964. Specifically, it would have mandated that factors used to justify wage differences were not based on gender divisions and were consistent with business necessity; it would have required the Equal Employment Opportunity Commission (EEOC) to collect data from employers regarding the sex, race, and national origin of employees, thus discouraging discriminatory compensation decisions; and it would have prohibited employer retaliation against employees who disclose their wages to each other.
This last provision was meant to shine a light on workers' pay so that it would be more difficult for employers to secretly pay women—or anyone—less than equally qualified colleagues. Though it was a central part of the legislation that Republicans vilified as economically problematic, it actually broke no new legal grounds.
Thursday, Apr 10, 2014, 3:16 pm · By Melinda Tuhus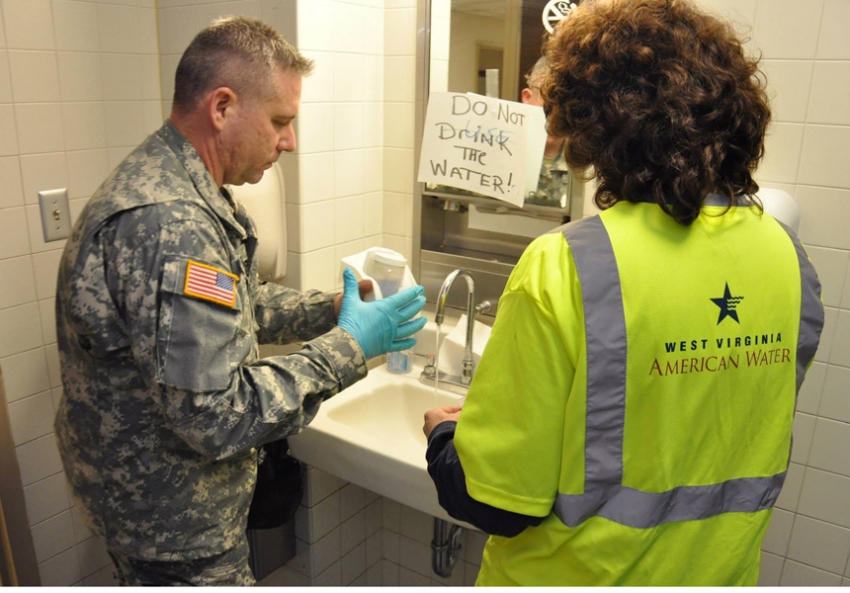 Joe Stanley, a former miner in West Virginia, is no stranger to MCHM (4-Methylcyclohexane Methanol), the licorice-scented chemical that leaked into the water supply of up to 300,000 West Virginians on January 9. Once it was eventually reported, residents in a nine-county region were warned not to use the water for any purpose. Even though the West Virginia American Water Company told the general public a few days later that the pipes had been flushed and the water was safe, many in the area still refuse to drink it today.
To some living around Charleston, the revelation that their water had been contaminated came as a shock. But as far as many activists are concerned, the spill was an inevitable result of West Virginia's notoriously lax environmental laws. For example, West Virginia had no regulations covering inspection of aboveground storage tanks until this year, when a bill to address this oversight—and other aspects of the leak's aftermath—made its way to the legislature.
On March 8, in the last week of the legislative session, supporters of the bill rallied at the state capitol in hopes of preventing another such disaster. Stanley, who spent the last 17 years of his career surrounded by toxic waste leavings in a coal preparation plant, was one of them. He hoped that his experience with MCHM, and with the industry in general, would lend extra credence to his advocacy at Charleston.
Thursday, Apr 10, 2014, 3:16 pm · By Bruce Vail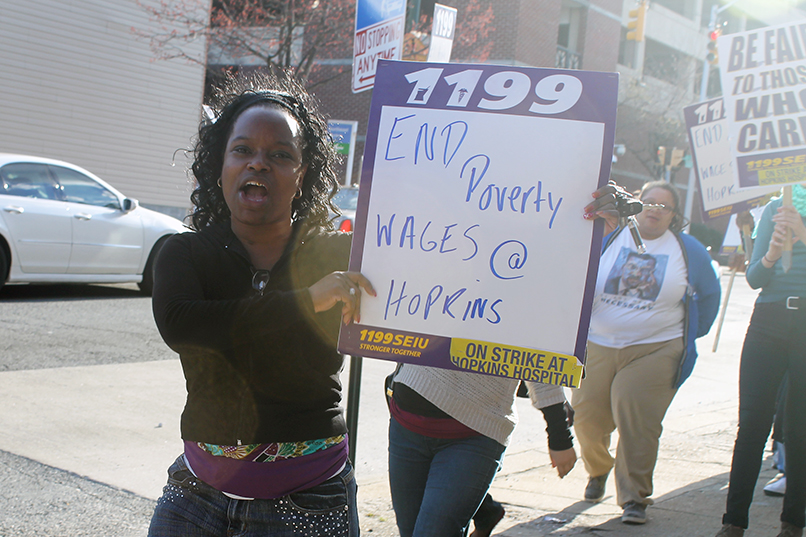 Some 2,000 union workers went out on strike Wednesday at Johns Hopkins Hospital in a protest aimed primarily at exposing low wages at Baltimore's second biggest employer and one of the nation's most prestigious hospitals.
Members of
1199SEIU United Health Workers East
hit the picket lines at 6:00 a.m. April 9 for a three-day strike provoked by a stalemate in negotiations for a new contract to cover the union workers. The previous contract expired March 31, and renewal talks earlier this week stalled on the key issue of raising wages, according to 1199SEIU spokesperson Jim McNeill.
Hospital executives had received a ten-day warning of the strike, says 1199SEIU Vice President Vanessa Johnson, so there was ample time to ensure that patient care would not be adversely affected. Union members are primarily in maintenance and food service, with some technical workers such as surgical techs. Operations at the enormous Hopkins medical complex are
reported to be near-normal
with non-union nurses, administrators and temporaries filling in for the unionized strikers. Hopkins spokesperson Kim Hoppe would not respond to repeated inquiries for additional information from Working In These Times.
Monday, Apr 7, 2014, 5:38 pm · By Bruce Vail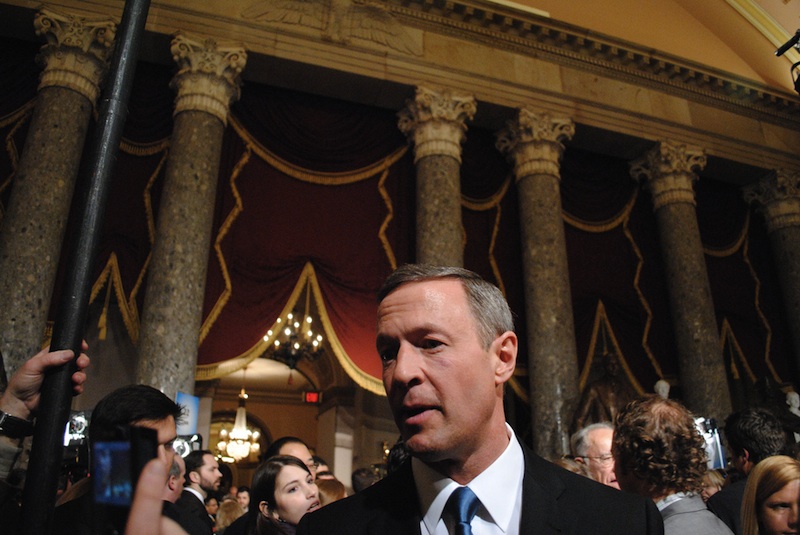 Maryland is on the verge of becoming the second state, after Connecticut, to heed President Barack Obama's call for a new national minimum wage of $10.10 an hour.
Lawmakers moved in a special weekend session to pass a measure hiking the state's minimum to $10.10 an hour, up sharply from the current minimum of $7.25. The Maryland Senate passed the bill on April 5, and the House of Delegates gave its approval around midday on April 7, just hours before the year's legislative session ended.
Gov. Martin O'Malley (D) is expected to sign the bill into law promptly. In January, he called the wage hike his top legislative priority for the year.
The victory for low-wage workers, however, has left some progressive groups frustrated and a little angry. The reason? They say the most potent attempts to kill, dilute or delay the bill came from Democratic Party legislators who publicly proclaim their support for the working poor, yet worked behind the scenes to undermine the new minimum wage law. Democrats enjoy large majorities in both houses of the legislature.
Thursday, Apr 3, 2014, 10:55 pm · By Alexandra Bradbury and Jane Slaughter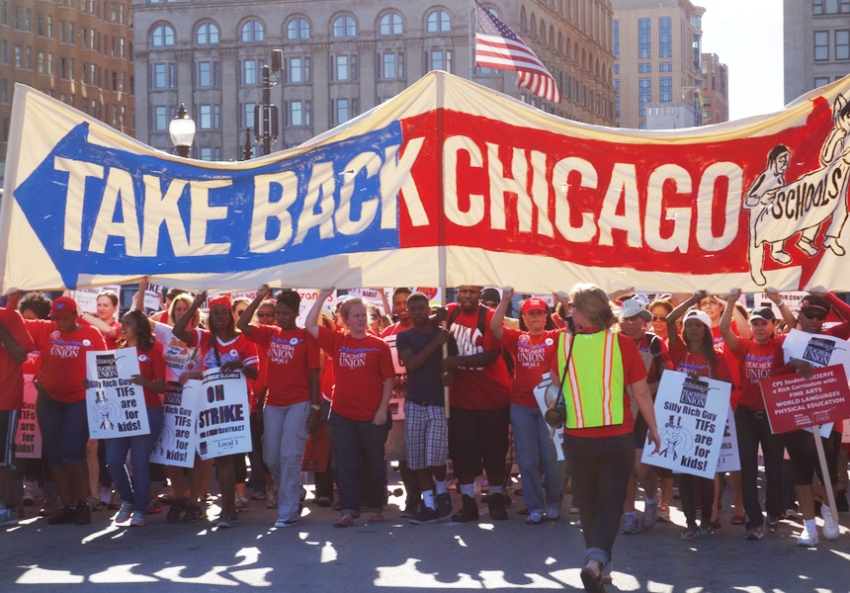 We troublemakers keep hoping for the spark that will set a wildfire of workers in motion. The worse our situation gets—economically, politically, ecologically—the more we yearn for a vast movement to erupt and transform the landscape.
It's not impossible. Look at 1937, when workplace occupations spread everywhere, from auto factories to Woolworth's. The 1930s wave of militancy forced Congress to aid union organizing with new laws and to enact Social Security and unemployment insurance. Industrial unions formed during that upsurge continue to this day.
So why not here and now?
Thursday, Apr 3, 2014, 9:44 pm · By Jake Blumgart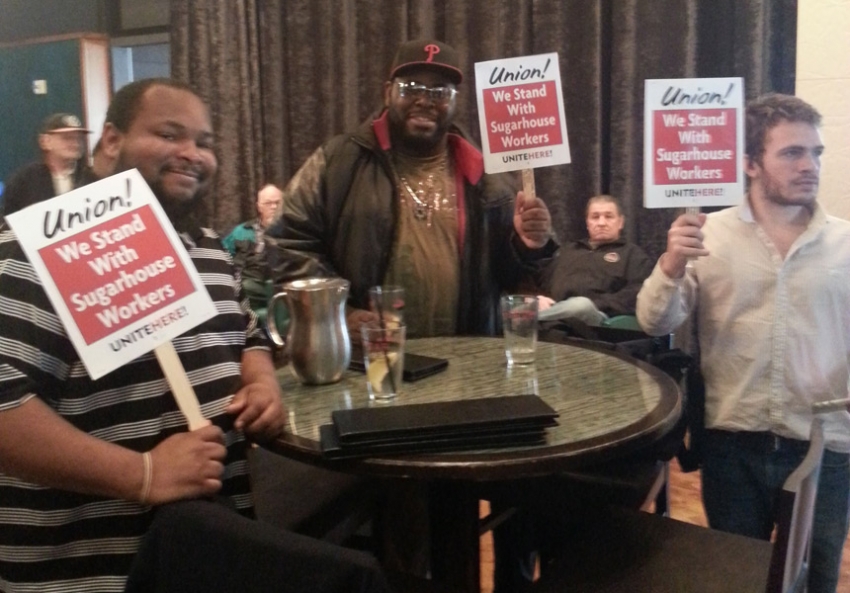 Philadelphia's SugarHouse Casino opened almost four years ago. Unite Here Local 54's campaign to unionize workers there is almost as old. And at the end of the month, after a history of reported union-busting activity that includes alleged retaliatory firings, SugarHouse will face its first National Labor Relations Board hearing. According to the complaint filed with the NLRB, a manager stopped a few workers from handing out union literature, crumpled it up and threw it away, also known as "interfering with, restraining and coercing employees in the exercise of rights."
On April 2, in response to the increasingly tense work environment, union members, staffers and a variety of concerned Philadelphians came together to organize a "sip-in" at SugarHouse.
SugarHouse workers cite a wide variety of reasons for wanting to unionize, including low wages (they estimate $11 or $12 to be the hourly median), expensive healthcare, and what they call "rampant bullying and favoritism" by managers. And then there is the exceedingly strict attendance policy. In addition to a few call-out days, workers say they're each alloted six "points" for their tenure at the casino. According to employees, missing work or arriving late, for any reason, results in a yearlong one-point deduction for each infraction. No more points means no more job.