Tuesday, Sep 27, 2011, 1:46 pm
Fed Workers Union: Bush Holdovers Dragging Feet on Bargaining at TSA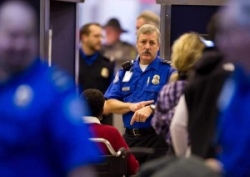 Last June, thousands of TSA workers voted to join the American Federation of Government Employees in what was the largest federal workers union election in history. About 9,000 security officers—out of about 44,000 TSA employees eligible to vote—chose AFGE over National Treasury Employees Union, which received about 8,500 votes. (A majority of workers in the bargaining unit didn't vote.)
But just like workers in other industries trying to unionize, these government employees have had a hard time gaining a first contract.
In a memo this month to leaders of TSA locals, AFGE Chief of Staff Brian DeWyngaert described TSA's commitment to fulfill employees' new collective bargaining rights (the government's decision to grant these rights is called a "Determination"; before this year, TSA did not have the right to join a union). "In general, it is apparent that despite our best hopes that TSA would move quickly to fulfill the Determination's outline for a collaborative relationship, the TSA managers around Pistole responsible for implementing the Determination appear to be dragging their feet and being anything but collaborative", DeWyngaert says.
AFGE, disappointed with the speed of bargaining thus far, has already requested that the Federal Mediation and Conciliation Service push the bargaining process forward. Despite having been engaged in bargaining for nearly four months, TSA has not agreed on a process for dues collection from union members – a basic service employers typically provide without protest.
In a statement to In These Times, TSA said it is "committed to working in a collaborative with AFGE to continue to support TSA's workplace efforts without sacrificing security. " ... TSA and AFGE are in regular contact during this transition period as the parties lay the foundation for constructive labor relations and prepare to begin the formal process of negotiating a proposed collective bargaining agreement later this fall. Negotiation of ground rules which will determine the official start date for negotiation of the collective bargaining agreement between TSA and AFGE is scheduled to begin in the coming weeks."
TSA did not respond to questions about why they have so far refused to agree to a service as basic as dues collection.
Reports and surveys by the Department of Homeland Security's inspector general show morale among TSA workers is at record lows, and that this jeopardizes airport security. According to AFGE officials, many TSA supervisors are former military members who create a hostile work environment for employees.
"It is no secret that the morale of the TSA workforce is terrible as a result of favoritism, a lack of fair and respectful treatment from many managers, poor and unhealthy conditions in some airports, poor training and testing protocols and a poor pay system," says AFGE National President John Gage.
Union leaders say that the same military types brought in to run the TSA during the Bush Administration (the agency was created after 9/11) have created problems during the current collective bargaining process.
"On things that if someone was really trying to meet us halfway, they haven't given us these things" says Peter Winch, AFGE's deputy director, Field Services and Education Department. "I think Bush holdovers in TSA are causing them to dragging their own feet in the bargaining process".
---

Mike Elk
Mike Elk wrote for In These Times and its labor blog, Working In These Times, from 2010 to 2014. He is currently a labor reporter at Politico.
View Comments