Tuesday, Oct 11, 2011, 3:47 pm
Obama Averts Railroad Workers' Strike, Extending Concessions Conflict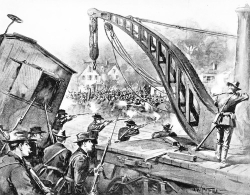 WASHINGTON D.C.—While the growing Occupy Wall Street movement was grabbing headlines last week, little attention was paid to President Obama's decision to block a massive railroad strike called for by nearly 25,000 railroad workers. Railroad strikes are powerful: They disrupt the normal flow of commerce and in the late 1880s created the leverage that helped launch the labor movement.
Explaining his decision to avert a rail strike, President Obama said, "It's in our national interest to make sure our freight rail system runs smoothly, since a disruption could affect businesses across the country and cause unnecessary damage to our already-fragile economy." Obama's decision to prevent the strike must be a relief to investors, many of whom have likely watched activists' new "occupations" with gritted teeth.
Currently, 11 unions representing 92,000 railroad workers are negotiating a contract with the the National Carriers' Conference Committee (NCCC), an industry group representing the major railroad associations. Despite the four largest railroad carriers alone making more $8.5 billion in profits last year, the industry is asking their workers to pay more for healthcare. The National Carriers' Conference Committee, which represents more than 30 railroad companies in negotiations, has pushed for all unions to accept the compromises included in the United Transportation Union's contract earlier this year.
Explaining the decision to accept the contract, UTU leaders told 40,000 union members in written statements that, "Historically, rail unions do poorly after rejecting tentative agreements." The other eleven unions decided to hold out and fight for a better contract.
On October 3, The Brotherhood of Locomotive Engineers and Trainmen (BLET), one of the largest rail workers union in the country (representing 25,000 workers) voted to strike on October 7 if the NCCC did not withdrawal its demands for a concessionary contract. They were joined in their calls for a strike by the Brotherhood of Railway Signalmen; several other unions are considering joining their call for a strike.
"It is unfortunate that, in this time of record industry profits, the carriers insist upon attempting to take advantage of a weakened general economy to further line its corporate pockets at the expense of the railroad workers whose labor generates those profits," BLET National President Dennis Pierce said. "And it is shameful that the carriers have chosen to specifically target those railroad workers who are most vulnerable — older workers and the sick and injured — to shoulder a disproportionate share of the demanded givebacks."
A NCCC statement says that the unions rejected a wage increase of 17 percent over 6 years. Unions have said that the offer really represented a 14-percent wage increase and that despite "record profitability" for the railroads, the proposed wage increase is lower than that won during negotiations for the current five-year contract.
Last Thursday, Obama stepped in to prevent the strike under the powers granted to the president under the Railway Labor Act, which governs labor relations in the railway and airline industry. It was the first time a president stepped in to avoid a private sector strike since President George W. Bush prevented a strike at Amtrak in 2007.
Obama also formed a Presidential Emergency Board comprised of five members that will have 30 days to recommend a contract. After an additional 30-day cooling-off period, the unions would be allowed to strike if they cannot agree to a contract. However, the Railway Labor Act allows Congress to step in and impose a contract on the workers unilaterally. The last time railroad workers went on strike in 1991, the strike lasted 14 hours before Congress passed a bill and the president created a board to unilaterally impose a concessionary contract on railroad workers
Jonathan Flanders, an IAM union member and railroad machinist in a CSX locomotive shop in New York, says that if Obama ultimately signs a bill unilaterally imposing a concessionary contract on railroad workers, "It would be more evidence of who Obama serves. If banks disrupt commerce, they get a bailout. If workers disrupt commerce, it's another story. We get forced to work under a contract we wouldn't agree to otherwise."
---
Help In These Times Continue Publishing
Progressive journalism is needed now more than ever, and In These Times needs you.
Like many nonprofits, we expect In These Times to struggle financially as a result of this crisis. But in a moment like this, we can't afford to scale back or be silent, not when so much is at stake. If it is within your means, please consider making an emergency donation to help fund our coverage during this critical time.

Mike Elk
Mike Elk wrote for In These Times and its labor blog, Working In These Times, from 2010 to 2014. He is currently a labor reporter at Politico.
View Comments