Saturday, Mar 24, 2012, 4:32 pm
As Helping Hands for Elders, Home Care Workers Push for Respect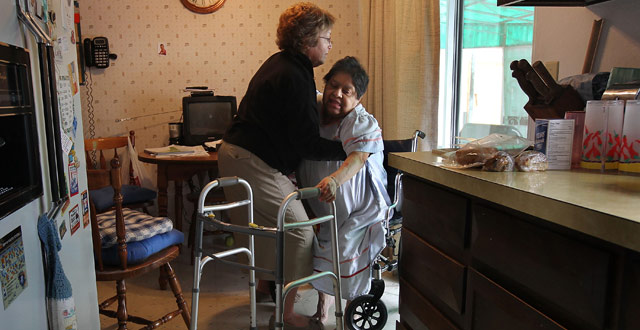 Somewhere in your community today, an elder person is wondering when she'll be able to take her medicine today, or have a chance to see the sun. And her mind will be put at ease once her aide arrives to help her get dressed, eat breakfast or take a walk in the park. For millions of aging households, a home care worker is the only person who provides the day-to-day assistance and emotional interaction they need to function. Yet, typically, that worker is neglected herself--by the government.
Workers caring for our greying population are intimately woven into our family lives, but are alienated from essential labor protections--though that could change soon. As we've reported previously, a longstanding loophole in the Fair Labor Standards Act excludes home care or "companionship" workers from minimum wage and time-and-a-half overtime regulations. Nationwide, about 2.5 million home care and personal assistance aides--projected to grow to about 3.8 million by 2020--work around the clock to help their clients handle the basics of life, while often themselves scraping by on poverty wages.
Back in the early 1970s, Rep. Shirley Chisholm called attention to the plight of home-based workers who had been shut out of regular labor standards. A generation later, workers' rights advocates are pushing the Labor Department to follow through on a proposed rule change to extend federal minimum wage and overtime protections to currently excluded home care workers--who are disproportionately female and of color.
According to the National Employment Law Project:
The annual income for a home care worker employed for 40 hours per week at the 2009 median wage of $9.34 an hour for the industry was just $20,283—far below a basic self-sufficiency income for a single adult, let alone someone supporting a family as many home care workers do.
State laws offer only incomplete protections for these aides. As the need for community-based health services expands and the healthcare affordability crisis strains state and family budgets, advocates say time is running out to create a sustainable home care workforce.
At a recent House subcommittee hearing, NELP legal co-director Catherine Ruckelshaus described how the law hurts both the workers and the people in their care:
[W]hile most home care workers are currently paid a dollar or two more than the federal minimum wage for hours that they work directly providing care, their exclusion from the minimum wage means that employers are not required to pay them for all of their work hours, including work time spent traveling from one client's home to another. …

[The] lack of ordinary overtime coverage has likely been one of the factors that has encouraged the use of a high-hours staffing approach by some employers when serving the very small proportion of home care consumers who receive seven-day-a-week care.
Moreover, as with other marginalized job sectors, such as farmworkers, exclusion from federal labor law means that the home care workforce suffers generally from high turnover, and is more vulnerable to workplace injuries. Adding to the day-to-day miseries of the job is the fact that many of these workers earn so little they have to rely on public assistance to get by. Since the government is footing much of the nation's bill for both elder care services and public benefits for workers, Ruckelhaus stated, "Raising wages modestly could therefore result in an overall costs savings to Medicaid home care programs and state budgets."

The video narrative of Maria Luna from Mexico--part of the Caring Across Generations campaign, which advocates for home care workers' rights--reveals the tender paradox of their struggle:
I heard that older people in the United States spend a lot of time alone, or many times when they are old, their sons and daughters abandon them. And even if these elders had everything, their sons and daughters were not with them... I remember deciding that I'm going to make a difference when I work with elder people. I will BE this difference.
But the grandmother goes on to talk about how workers like her have to struggle without health insurance. Someday she'll need someone to look after her. How sad that the workers fighting to sustain this virtuous circle--the will to care for the generations who raised us--have so long been trapped in the cycle of poverty.
---

Michelle Chen
Michelle Chen is a historian based in New York City, a contributing writer at In These Times and The Nation, a contributing editor at Dissent and a co-producer of the Belabored podcast. She tweets at @meeshellchen.
View Comments