Wednesday, Mar 28, 2012, 3:11 pm
Citing 'Tradition,' Big Ag Fights Reforms for Child Farmworkers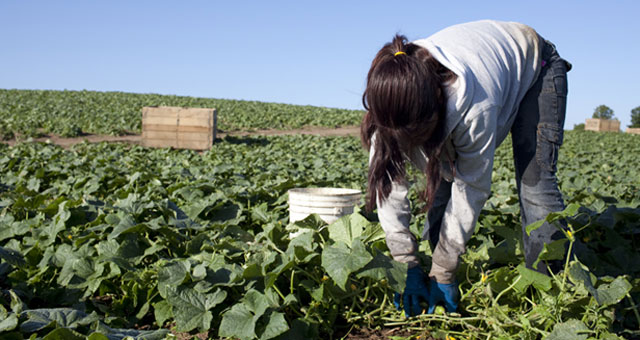 Advocates push for stronger protections during National Farmworker Awareness Week
"[When I was 12] they gave me my first knife. Week after week I was cutting myself. Every week I had a new scar. My hands have a lot of stories."
--17-year-old boy who started working at age 11 in Michigan (Human Rights Watch)
America's farm workers have always had it tough, toiling for endless hours in the fields under brutal conditions. But those workers do benefit from a unique income subsidy in the country's industrial farming system: children.
In every region of the country, bountiful harvests are regularly gathered by the tender hands of child poverty: several hundred thousand kids work on farms, often just to help their families survive. Those children who deliver crisp peppers and sweet grapes to the mouths of other kids every day represent the devastating social toll of the dysfunctional food industry.
The Child Labor Coalition, which advocates for the rights of exploited children around the world, documents a cornupcopia of abuses in the backyard of a global superpower:
More children die in agriculture than in any other industry.
According to the National Institute of Occupational Safety and Health (NIOSH), between 1995 and 2002, an estimated 907 youth died on American farms—that's well over 100 preventable deaths of youth per year.
In 2011, 12 of the 16 children under the age of 16 who suffered fatal occupational injuries worked in crop production, according to the Bureau of Labor Statistics.
When you include older children, more than half of all workers under age 18 who died from work-related injuries worked in crop production.
Advocates have for months been pressing the Labor Department to finalize a rule change that would help shield child farm workers from some of the most severe occupational hazards, such as handling pesticides and dangerous farm equipment, and would beef up protections for workers under age 16 (currently, children as young as 12 can legally work on farms, thanks to a loophole in federal labor law, and many younger ones have worked illegally, according to recent reports).
The reforms would largely impact youth in the migrant communities that fuel the agricultural labor force, filled with poor and Latino workers who are extremely vulnerable to abuse.
Under the banner of National Farmworker Awareness Week (March 25-31), consumer and labor groups are working to educate communities about egregious conditions on farms. Now that organizations like the Florida-based Coalition of Immokalee Workers have begun to rattle the food industry with colorful worker- and consumer-driven campaigns, Washington should be ripe for long-overdue reforms to curb the worst forms of child labor.
But common decency has again been overshadowed by a well-oiled campaign by the agricultural industry lobby, which has pushed to block the rule changes by claiming that child labor reflects good old American values.
The "Preserving America's Family Farms Act," proposed by Rep. Tom Latham of Iowa, targets the pending reforms as a threat to a time-honored "tradition" of child farm labor. Evoking an imaginary pastoral ideal of the American homestead, the bill argues that the strengthening of child labor protections would "adversely impact the long standing tradition of youth working on farms to gain valuable skills and lessons on hard work, character, and leadership" and would hurt their opportunities to "gain experiential learning and hands-on skills."
Apparently, a great way to build kids' character is pushing them into backbreaking, dangerous labor—rather than going to school or otherwise developing themselves in a way that's less profitable for agribusiness. You might wonder how many of the bill's sponsors regularly send their children to pick produce all day to cultivate "leadership" skills.
The saddest aspect of this political debate around farm labor is that the most systemic abuses would not be stopped by just tightening child regulations—not even by enacting the stronger restrictions on child labor that lawmakers have previously proposed in the Children's Act for Responsible Employment. Whatever the law says, the marginalization of the farm workforce makes comprehensive enforcement nearly impossible.
Justin Feldman of Public Citizen told In These Times, "People are afraid because of immigration status, because of limited English ability, because of poverty and all sorts of issues. They're afraid to come forward to authorities and report."
In The Atlantic, restaurant industry veteran Helene York cites the underlying the economic dilemma: "Migrant families will lose their children's wages and would be unable to move with available work. What's needed is more income paid to laborers for the really hard work."
Feldman noted, "one of the reasons that we have children and whole families working on farms is to subsidize the underpayment of the workers.... Looking at it holistically, we need to broaden immigrant rights and workers rights, and not much can change until that happens."
Child labor is a symptom of a monstrous blight across the food system: consumers relish cheap prices and companies reap profits, and workers pay the human cost. Maybe that is an American value, of sorts.
---
Help In These Times Continue Publishing
Progressive journalism is needed now more than ever, and In These Times needs you.
Like many nonprofits, we expect In These Times to struggle financially as a result of this crisis. But in a moment like this, we can't afford to scale back or be silent, not when so much is at stake. If it is within your means, please consider making an emergency donation to help fund our coverage during this critical time.

Michelle Chen
Michelle Chen is a historian based in New York City, a contributing writer at In These Times and The Nation, a contributing editor at Dissent and a co-producer of the Belabored podcast. She tweets at @meeshellchen.
View Comments