Wednesday, Apr 4, 2012, 1:00 pm
Unrest in Indonesia's Mines: Local Chaos and Global Injustice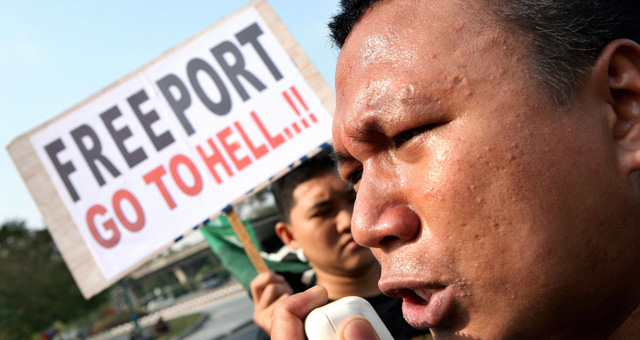 Buried in Indonesia's rich soil is a minefield of brutality, literally. Last year, the Grasberg mine of the Freeport McMoran Copper & Gold, one of the largest such operations in the world, shut down after thousands of workers launched a strike to demand higher wages. Work recently resumed, but the suffering continues while officials and multinationals maneuver to manage Southeast Asia's resource curse.
In the midst of the massive strike, the company cited "sabotage and security concerns" and the blockade of a critical pipeline, and there were reports of internal conflicts among employees. But the worst impact of the chaos fell on the workers who were mysteriously gunned down. The exact source of the attacks is unclear, but they could be tied into a long-running struggle for control over local mineral assets between the police and military.
Mine workers weren't the only ones being targeted. While strikers and police clashed in October, leading to the deaths of two unionists, indigenous activists in Jayapura, West Papua, were reportedly struck with batons and bullets at a pro-independence rally.
The unrest surrounding Grasberg exposed both the vulnerability of organized labor and the brute power of the industry. From its Phoenix headquarters, Freeport's global empire stretches across various political hotspots: Indonesia, Peru, and Democratic Republic of Congo.
To safeguard its Indonesian assets, according to John McBeth at Asia Times, the company has erected its own massive security complex:
the police assumed responsibility for internal security at the Freeport mine, a controversial arrangement under which the company last year paid the paramilitary Police Mobil Brigade $14 million in security-related allowances, food and other in-kind necessities. … The company also spent $28 million last year on its own unarmed security force, up from $22 million in 2009.
A few weeks ago, Grasberg went back to work following wage concessions to the workers. But the trauma continues to resonate; after an estimated fifteen shooting deaths and dozens of others wounded since mid-2009, the culprit remains buried in Indonesia's political quagmire.
In the wake of the strike, the Indonesian government has moved to limit foreign investment in mines to 49 percent. Yet, though the measure may smack of "resource nationalism"--an idea that's been floated in some mineral-rich "developing" nations like Venezuela--it won't necesarily bring any economic justice for workers.
Regardless of foreign investment, Indonesia's government isn't about to relinquish its brutal grip on civil society, nor will the resistance die down. Dick Blin of the International Federation of Chemical, Energy, Mine and General Workers' Unions (ICEM) told In These Times that the Freeport uprising, together with the local ethnic conflicts, reflected cycles of conflict in the region.
There always has been an indigenous movement here to stop all mining, and the strike gave this movement new momentum. Clear and simple, the union won this strike because all the stars lined up correctly to allow it to do so.
Though this labor dispute may be resolved for now, in the long run, structural inequalities and violence will remain embedded in mining. From tragic and sadly preventable disaster at Massey Energy's Upper Big Branch mine in Virginia, to epidemic fatalities in Chinese coal mines, this is a global pattern. Workers' bodies are as cheap as the resources are precious, and adequate safety regulations or living wages don't fit the cost-benefit analysis.
The prioritization of minerals over people can also happen in Global South countries that assert populist nationalism through control over their mining sectors. Rising tensions in South American indigenous communities over the rush for lithium mining show that the basic capitalist impulse to exploit prevails, with or without foreign help.
Back in Indonesia, another recent labor conflict highlights the structure of corporate-state oppression. Government forces reportedly cracked down on labor activists following a standoff involving a major coal producer, KPC, and its Australian partner Thiess. "When strikers came to the company's offices then on 24 March," ICEM reported, "they were met by police and the mobile brigade wielding batons and other instruments of force." Brutal beatings and detentions of unionists followed.
Though violence against mine workers seems to come from all directions, the terrors that fill the world's mines are all driven by the same business model: a partnership between the industry that plunders local communities, and the regime that keeps people from fighting back.
---
Help In These Times Continue Publishing
Progressive journalism is needed now more than ever, and In These Times needs you.
Like many nonprofits, we expect In These Times to struggle financially as a result of this crisis. But in a moment like this, we can't afford to scale back or be silent, not when so much is at stake. If it is within your means, please consider making an emergency donation to help fund our coverage during this critical time.

Michelle Chen
Michelle Chen is a historian based in New York City, a contributing writer at In These Times and The Nation, a contributing editor at Dissent and a co-producer of the Belabored podcast. She tweets at @meeshellchen.
View Comments