Friday, Aug 24, 2012, 4:00 pm
Looking for a Good Job? Don't Get Your Hopes Up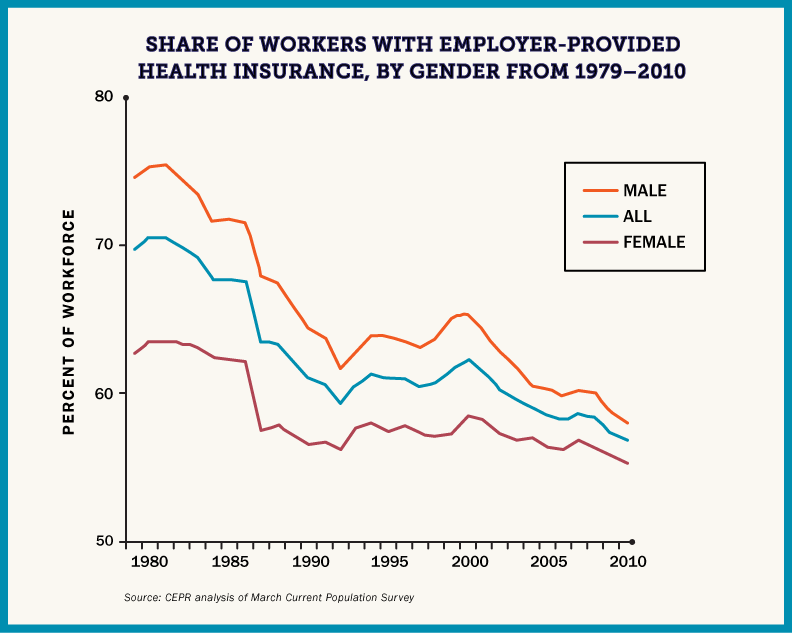 If you think your job stinks, you're not alone. And if you're still looking for a decent job, don't expect to find one anytime soon, or ever.
A new analysis of job quality, assessing various measures of benefits and wages, confirms what many of us already suspected: Good jobs are vanishing from the United States, with global trade and social disinvestment leaving workers stranded on a barren economic landscape.
The report, published by John Schmitt and Janelle Jones from the Center for Economic and Policy Reseach (CEPR), shows that the downward spiral began long before the recent economic crisis. It notes that since 1979, the "good job" (one that "pays at least $18.50 an hour, has employer provided health insurance, and some kind of retirement plan") has become an endangered species:
[T]he economy has lost about one-third (28 to 38 percent) of its capacity to generate good jobs. The data show only minor differences between 2007, before the Great Recession began, and 2010, the low point for the labor market.
In 2010, "less than one-fourth (24.6 percent) of the workforce" possessed those precious good jobs. And the clincher is this downturn is beginning to look like a sad plateau:
The deterioration in the economy's ability to generate good jobs reflects long-run changes in the U.S. economy, not short-run factors related to the recession or recent economic policy.
While workers around the world have witnessed massive economic volatility in the recent boom-bust cycles, food crises and political upheavals, the trend line of labor hardship holds steady. The societal impacts of unemployment crises parallel the effect of long-term effects on individual workers, especially young ones--a self-perpetuating sense of despair and isolation, and perhaps entrenched, long-term suffering.
The report's long-term prognosis undercuts the historically entrenched national mythology of upward mobility. Alan Barber, a spokesperson for CEPR, tells In These Times via email:
It may come as a surprise or at least run against logic to some readers because even though the workforce is better educated and older, one would expect that more people have good job. Conventional wisdom holds that if a person goes to college and gets a degree they will get better jobs. It also holds that the longer you are in the workforce the better your prospects for getting a good job. But as the report shows this is not the case.
The divergence between the American Dream and American reality has widened as neoliberal policies have assaulted workers under the guise of promoting "personal responsibility." The belief that hard work pays off has been betrayed by the degradation of public trusts like education and health care, while mortgage and student debt crises and the decline of union representation, hollow out communities from within.
The erosion of public services and social programs is nothing new, but the flip side of a shrinking safety net--a crumbling labor market--pushes self-sufficiency even further out of reach for millions.
The vanishing promise of social mobility may have an even more severe impact across generations. According to the Pew Economic Mobility project's report on intergenerational prosperity:
Eighty-four percent of Americans have higher family incomes than their parents did.

Those born at the top and bottom of the income ladder are likely to stay there as adults. More than 40 percent of Americans raised in the bottom quintile of the family income ladder remain stuck there as adults, and 70 percent remain below the middle.

African Americans are more likely to be stuck at the bottom and fall from the middle of the economic ladder across a generation.
So apparently the traditional rungs by which earlier generations climbed the class ladder--a bachelor's degree, a first home, "loyalty" to a single company--are now shakier than ever. Pew researchers uncovered a cleft in mobility over time: in terms of "relative" mobility, people tend to do a bit better than their parents. But the gains often fail to add up to "absolute" mobility, which means people don't ascend to a significantly better income bracket. Many are actually falling behind relative to the rest of the economy. About 16 percent are "downwardly mobile," staying put or falling in the class hierarchy. Overall, some 20 percent "make more money than their parents did, but have actually fallen to a lower rung of the income ladder."
The withering of the middle class is deeply skewed by race, with black and white households moving ahead at vastly different rates. According to Pew, "only 23 percent of blacks raised in the middle exceed their parents' wealth compared with 56 percent of whites."
So what's left for workers who not only face a lifetime of economic hopelessness, but also can't even give their kids the hope of achieving something more? The CEPR report doesn't offer policy prescriptions, but does note that the shrinking share of good jobs in the U.S. workforce is not an inevitability. The research connects the decline in quality jobs to the dismantling of the economic supports that make work fair and rewarding, including union power and industry regulations. On a macro level:
the decline in the economy's ability to create good jobs is related to a deterioration in the bargaining power of workers, especially those at the middle and the bottom of the income scale. The main cause of the loss of bargaining power is the large-scale restructuring of the labor market that began at the end of the 1970s and continues to the present.
The public sector has suffered under privatization, and once-solid middle-class jobs have been lost to the tides of global commerce. Immigrants meanwhile have been absorbed into a precarious low-wage workforce that feeds raging inequality. And meanwhile, political elites are finding new and creative ways to siphon more resources away from the public and subsidize predatory corporate wealth.
The deficit in good jobs can't be simply chalked up to globalization or a decline in American workers' "competitiveness." It's a reflection of a deficit in power at the bottom, and a surplus of greed at the top.
---
Help In These Times Continue Publishing
Progressive journalism is needed now more than ever, and In These Times needs you.
Like many nonprofits, we expect In These Times to struggle financially as a result of this crisis. But in a moment like this, we can't afford to scale back or be silent, not when so much is at stake. If it is within your means, please consider making an emergency donation to help fund our coverage during this critical time.

Michelle Chen
Michelle Chen is a historian based in New York City, a contributing writer at In These Times and The Nation, a contributing editor at Dissent and a co-producer of the Belabored podcast. She tweets at @meeshellchen.
View Comments